Flash Harry
Formed: 1970
Band Members:
1976
Trevor Mugleston – Guitar and vocals
Steven Day – Bass
[Also in: Ragnork, Breaking Point]
David Lawrence – Keyboards
Graham Smith – Percussion
[Also in: Inertia, Heimdall, Lucifer, Time Bandits, Lounge Lizards]
Variation No. 1:
1978
Trevor Mugleston – Guitar
Steve Day – Bass
Andy Baldwin – Vocals
[Also in: Those Attractive Magnets]
Andy Guest – Drums
Gigs:
04/01/76
Jazz Rock
Concept, Flash Harry, Les Hatton
Tamworth Football Club
08/02/76
Jazz Rock
Concept, Flash Harry and Guests
Tamworth FC Social Club
18/11/77
Flash Harry
Tamworth Arts Centre
26/11/77
Flash Harry
Tamworth Arts Centre
The second rock gig at the Arts Centre
14/07/78
Flash Harry
Tamworth Arts Centre
06/08/78
Flash Harry
Tamworth Castle Grounds
3.00-5.00pm
Admission: Free
03/11/78
Flash Harry
Tamworth Arts Centre
16/04/79
Arts Festival
Castle Grounds
Ice, Brewster, Ramblin' Band, Flash Harry, Asylum
12/04/80
Flash Harry
Rock at the Warren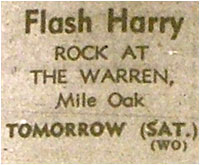 29/05/80
Flash Harry
Two Gates Working Mens Club
14/06/80
Flash Harry
The Warren
04/10/80
Flash Harry
Those Attractive Magnets
Mile Oak
17/10/81
Rock for Jobs
Flash Harry
Classified Ads
Tamworth College
26/02/82
Flash Harry
Lichfield Arts Centre
29/03/82
Flash Harry
The Warren
Mile Oak
14/04/82
Flash Harry
The Warren
Mile Oak
28/04/82
Flash Harry
Omen
The Warren
12/05/82
Flash Harry
Ethis
The Warren
Mile Oak
06/09/82
Flash Harry
Polesworth Working Mens Club
18/10/82
Flash Harry
Polesworth Working Mens Club
29/11/82
Flash Harry
Polesworth Working Mens Club
20/12/82
Flash Harry
Badger
Polesworth Working Mens Club
24/01/83
Flash Harry
Polesworth Working Men's Club
---
Tamworth Herald – 02/01/76
Musicbox –Watch out for Flash Harry!
Watch out for a talented local band called Flash Harry.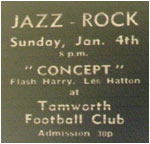 After five years of personnel changes, the band has finally settled down to their preset line-up.
David Lawrence is on keyboards; Graham Smith (percussion); Stephen Day (bass) and Trevor Muggleston (guitar and vocals).
Graham Smith and Trevor Muggleston were the founder members of Flash Harry, having both played together in Inertia and Houndall (sic.) (Heimdall - Ed.) with other musicians who have since gone their separate ways.
Stephen Day used to appear in another local group, Ragnork, but progression was held back and he decided to join Graham and Trevor in, at the time, Inertia.
David Lawrence, the latest member of the band, has had little experience within rock music, having been classically taught piano for ten years. But the result of the integration has proved favourable all round.
With all four members having different influences on their playing, various styles are incorporated in the overall music, which is all self-composed within the band.
Obvious financial problems have already risen for the band but the last few months have at last begun to aim them in the right direction.
Flash Harry can be seen, along with Concept and other guests at the Tamworth FC Social Club on Sunday, January 4 in the series of jazz-rock clubs being held there on the first Sunday in every month.
For 30p it promises to be an excellent night of good music, open to members and non-members. See you there.
Tamworth Herald – 18/11/77
Scene Around - Flash Harry's in town
The sound of rock comes to Tamworth Arts Centre tonight. In concert from 8.30 on will be local foursome "Flash Harry" – lead guitarist Trevor Mugleston, bass-player Steve Day, singer Andy Baldwin and drummer Andy Guest.
Trevor and Steve have been appearing together for three years, and the other two joined the band over the last 12 months.
Emphasis is on variety of style, they say, with Trevor composing most of their material and Andy Baldwin writing lyrics.
Describing themselves as a really committed rock band – finance so far has come out of members' own pockets and adds up to around £3,500 – they're on the lookout for an agent or manager to help them get the bigger breaks.
And they hope rock gigs at the Arts Centre – over 70 people turned up at the first one at the end of September – will boost interest in rock music in Tamworth.
A revival could pave the way for a big band show in a larger hall – possibly the Assembly Rooms.
Tamworth Herald – 27/04/79
Scene Around
MORE than 300 people converged on Tamworth's Castle pleasure grounds on Easter Monday to watch the town's first open-air rock festival.
Topping the bill were Tabitha recording artists Ice. The band who play melodic rock performed a selection of tracks from their debut album release "Saga of the Ice King."
The five-piece outfit received an enthusiastic reception from the crowd. Particularly impressive was drummer, Stephen Sheldon.
Appearing with them were the country-and-western "Ramblin' Band", "Brewster", "Flash Harry" and "Asylum" all of whom were warmly received.
The concert which was part of the Tamworth Arts Festival, lasted throughout the afternoon.
Ice have set their sights on a European tour later this year and have hoped that their album will be released on the continent.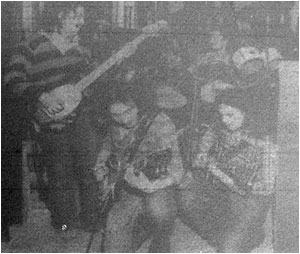 Tamworth Herald – 25/03/80
Musicbox - Flash Harry get it taped
Caption: Flash Harry – Tony Lakin, Trevor Muglestone, Steve Birch and drummer Robert Horne – practice for the debut concert.
NEW LOOK Tamworth heavy rock band Flash Harry make their debut performance tonight (Friday) at the town's Arts Centre.
Although their name has been around for more than five years the present line-up was completed at Christmas and since then the four-piece outfit have been recording and preparing for their first gig.
Rhythm guitarist Steve Birch said they hoped the Arts Centre concert would be the first of many in the area.
"We want to play for the Tamworth kids as well as spreading our wings further afield."
Flash Harry have already recorded some tapes at the town's Steve Adams' Studio and are sending them out to record companies with the hope of releasing an album.
Writing all their own material and producing their own original sound, the line-up also includes Trevor Muglestone, on lead guitar, Tony Lakin, on bass guitar and Robert Horne on drums, the vocals are shared between the four.
Tamworth Herald – 20/06/80
Musicbox – No ordinary Harry – that's Flash!
Flash Harry, The Warren
After years playing the local rock circuit in different bands, the four members of Flash Harry are enjoying a well-earned taste of success.
They recently reached the final of a major music competition and record companies have shown more than a passing interest in a demo tape recorded by the group.
With all this activity and a firm challenge that Flash Harry could prove they were Tamworth's best rock band I went along to see what they were made of.
And guess what? I liked every minute of it. What the gig lacked in musical finesse it certainly made up for in atmosphere and surprise and was one of the best nights out I've had with live music in Tamworth.
CONVICTION
They are capable of giving a punch-packed performance full of fire and variety that the excitement is enough to knock any crowd sideways.
Indeed one department where Flash Harry score over any other band in the area is in the large following their music attracts.
Every snarling guitar riff, every cymbal thrash and every splash of light brings a positive response from the crowd.
Flash Harry seem full of ideas and have the conviction to execute them convincingly.
All the songs are original and their show rocks along with bags of spontaneity.
The gig was split into two longish, but never boring sets, with an encore which gave them the chance to play some gritty rock 'n' roll.
But that's not to say that all the numbers were blasted out in true hard-rock style. They alternated between the hard-hitting stuff and some good slow material all played with an attack that demanded total attention.
Trevor Muglestone, who takes most of the vocals, looked extremely comfortable in his role as lead guitarist and received very able musical support from rhythm guitarist Steve Birch and bassist Tony Lakin.
Special commendation should go to Robert Horne for an excellent performance on drums and for giving us a really powerful no messin' sound towards the end.
Both vocally and visually Flash Harry look good – and it's nice to see a group so together instead of a front man calling the tune all the time.
As for local bands, Flash Harry are the best I've seen yet. They are better not least because they have sufficient respect for their own original material to want it to be heard as music rather than felt as noise.
Rob Sly
Tamworth Herald – 20/06/80
Musicbox - …a band that's going places
FLASH Harry are a Tamworth band who are really going places.
Their roots go back some eight years and lead guitarist Trevor Muglestone is the only original member left.
But the present line-up is one they should stick with because they're easily the most entertaining band in the area.
Flash Harry are made up of Steve Birch, rhythm guitar, Tony Lakin, bass guitar, Robert Horne, drums and Trevor on guitar.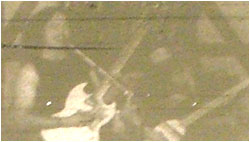 They came together at the end of last year after all playing in other bands and the gig at the Warren was their third together in Tamworth.
Last month the group played in the regional final of "Rock bands for the 80s" sponsored by Melody Maker and have now been picked for the prestige University circuit.
Before last Saturday's gig Flash Harry threw down the gauntlet and claimed that they were the best band in the area. Well, is anyone going to take them up on the challenge?
Tamworth Herald – 03/10/80
Musicbox – Flash Harry – It's no one day wonder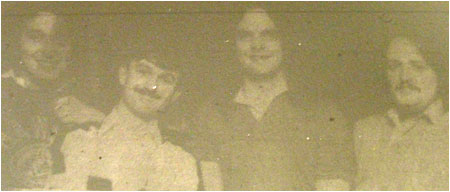 Tamworth Herald – 19/12/80
Musicbox – Flash Harry sparks Stateside invite
Caption: Flash Harry heading Stateside. From left: Steve Birch, Rob Horne, Trevor Muglestone and Tony Lakin.
TOP Tamworth rock band Flash Harry could be on the verge of the big breakthrough they have been waiting for.
For the dynamic town group have been promised a two-week promotional tour of the United States from an American record company.
The news comes through this week that the California-based Forum Music wanted the four-piece band to head stateside.
At the moment talks are taking place to send Flash Harry over there. If the deal is finished then the tour will feature a large amount of press coverage, including TV shots, radio interviews plus of course some gigs.
The tour offer comes after the band sent demo tapes to the States hoping to impress people in the record business.
Recorded at the Steve Adams Studio in Birchmoor the tapes included four songs that the band use in live performances namely "First Time Love", "JAC", "Don't Look Back" and "Can't Stand To Lose Your Love".
And Flash Harry who certainly have the biggest following of any band in the Tamworth area, are looking forward to the prospect of a visit to America.
"It's great news," said drummer Rob Horne, "If we go down well at the gigs in the States, the record company might be willing to give us a contract."
And this view is backed up by the rest of the band – lead guitarist Trevor Muglestone, rhythm guitarist Steve Birch and bass man Tony Lakin.
If everything is settled then it's likely that Flash Harry will be jetting out to America in the middle of next year. Let's hope so because as they say in the business, this could be the "big one".
CHANCE
More news about Flash Harry is that fans now have the chance to buy the band's official T-Shirts which are available from either Steve Birch or at gigs.
And talking of gigs, Flash Harry are planning to give their Tamworth fans a special treat over the festive season with a Christmas Concert at The Warren, Mile Oak on Saturday December 27, Admission is 75p – be there!
Tamworth Herald – 16/10/81
Musicbox – Harry and the 'Ads rock on
TOMORROW night (Saturday) a "Rock for Jobs" concert will be held at Tamworth College of Further Education.
The gig, organised by, Tamworth Unemployment Committee, will feature local bands Flash Harry and The Classified Ads.
A committee spokesman said: "The concert is to attract Tamworth's young people to the activities of the committee and to highlight the unemployment situation in the town."
The concert sparks a return to the local scene for Flash Harry and another chance for the Ads to show their ever-improving talents.
Admission is free and the gig starts at 8pm. There will also be a collection during the evening.
Tamworth Herald – 19/03/82
Musicbox – Flash Harry looking for support
SEASONED Tamworth rock band Flash Harry, are set to become a regular feature at The Warren.
They will be playing fortnightly gigs at the Mile Oak venue on Wednesday. And if the early gigs are successful other local bands could be drafted in to provide a double bill.
Bands interested in supporting Flash Harry should contact Pete. The next gig is March 29.
Tamworth Herald – 08/04/82
Musicbox – Warren date
SEASONED Tamworth rock band Flash Harry play another in their series of fortnightly gigs at The Warren, Mile Oak on Wednesday April 14.
Tamworth Herald – 23/04/82
Musicbox – Double HM bill
TAMWORTH's heavy rock fraternity have a double-bill to savour next week when two of the top bands in the area join forces for a one-off gig.
Omen join Flash Harry for one of FH's fortnightly gigs at the Warren, Mile Oak next Wednesday. FH are always a powerful draw wherever they play, and the addition of young hopefuls Omen to the bill should make it an evening to remember.
Tamworth Herald – 17/12/82
Musicbox – Badger's Set
TOW top local HM bands Flash Harry and Badger join forces for a special pre-Christmas gig at Polesworth Working Mens Club (Top Club) on Monday night – December 20th. For Badger it will be the first Tamworth gig since they recruited Tim Latham from Omen.
Tamworth Herald – 14/01/83
Musicbox – Farewell…
MONDAY night (January 24) is a sad one for fans of Tamworth music. For veteran heavy rock band Flash Harry are playing their last-ever gig together at Polesworth Top Club. Go along and take your handkerchief.
Tamworth Herald – 26/07/85
Musicbox – GIG GUIDE
IN AT THE DEEP END!
NEW Tamworth outfit, Depth Charge, make their Arts Centre debut tomorrow night – playing with a nationally recognised psychedelic outfit, Mournblade.
For Depth Charge who will be opening The August Bank Holiday Festival, this will be a welcome return to the local stage.
Former Flash Harry favourite, Trevor Mugglestone will be playing his first gig for three years.
Depth Charge are a heavy outfit who are something of an unknown quantity, but are determined to get their name known before they kick off the festival next month.
Playing with them, a band who already have their name very well known in certain circles, Mournblade have already played gigs with Hawkwind and Lick Turner and they were also on the main bill of the now infamous Stonehenge '84 festival.
The band who hail from London are currently on a national tour to promote their new album "Time's Running Out" on Flick Knife Records. They promise a visual as well as an audio performance with theatrics and projector shows to keep people entertained.
Tickets for this intriguing gig cost just £1 on the night, and it certainly sounds like a treat for the town's rock fans. The whole show should get under way at about 8pm.
---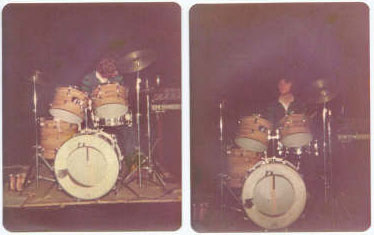 Graham Smith - Drums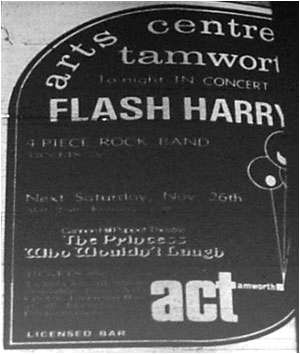 26/11/77 - Tamworth Arts Centre
The second rock gig at the Arts Centre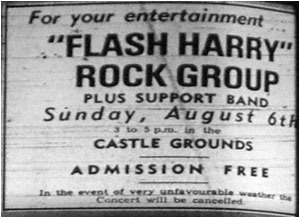 06/08/78 - Tamworth Castle Grounds
3.00-5.00pm - Admission: Free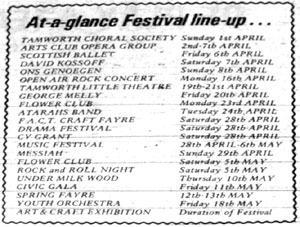 16/04/79 - As part of the Spring Festival of 1979, the first Tamworth Rock Festival.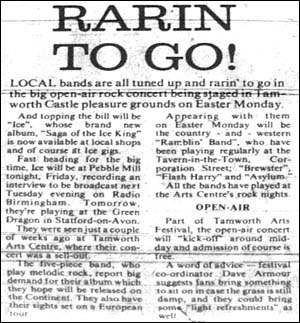 16/04/79 - As part of the Spring Festival of 1979, the first Tamworth Rock Festival.
The full profile and history of Flash Harry has yet to be added to TamworthBands.com Call back soon to read the full band details.
If you have any further information about this band please email: info@tamworthbands.com