Heimdall
Musical Genre/Type: Space Rock
Steve Owen - Vocals
Chris Gould - Lead Guitar
Chippy - Bass
Gray Smith - Drums
Gigs: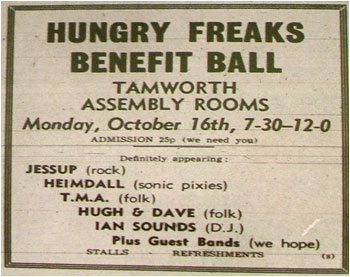 16/10/72
Hungry Freaks Benefit Ball
Jessup, Heimdall, TMA, Hugh & Dave, Ian Sounds
Assembly Rooms
Admission: 25p
I can't believe it, after over 30 or more years someone actually remembered the gig (see below). I'm Gray Smith who was the drummer in the band. It was about 1971 and we were all about 14 years old. We actually had access to the Scout Hut for about a week and we really had a freak-out in there.
The Stacey dances were certain girls who danced erotically to our music like Stacey who was a near naked dancer in Hawkwind.1
I can only remember 3 songs: Mushroom by CAN, Evil by Heimdall and some 12 bar space blues. I remember the dancers too, joss sticks and patchouli oil everywhere. We also played Leyfields Community Centre and Tamworth Assembly Rooms before going separate ways.
I was also the drummer in LUCIFER, FLASH HARRY, THE LOUNGE LIZARDS until my body got fed up of falling off the drum stool due to rather large amounts of a certain liquid. Hic…hic.
Gray Smith

Heimdall did a fantastic gig at 'Hopwas Scout Hut' and were very Hawkwind inspired. They had (from failing middle aged memory) Chris Gould, Clifford (Chippy) Chipman and Steve Owen as members. They had a following who did some 'Stacey dances' stuff but with clothes on i.e. headbanging/cosmic posing etc. The only song that I can remember was written by Chris Gould and it was called 'Witch Woman Reserat Lemtrac' or something like that and it was written about a friend of mine who was a goth before there were goths. I'd love to hear about Heimdall and if anyone has got any memories about that fantastic gig at the Scout Hut!
Tina Jameson
1Stacia Hawkwind (Mime & Dance) - October 1971 – August 1975
The full profile and history of Heimdall has yet to be added to TamworthBands.com Call back soon to read the full band details.
If you have any further information or photographs about this band please email: info@tamworthbands.com

Thanks to: Gray Smith and Tina Jameson