ICE
Formed: 1978
Line-up:
Mick Rutherford – Singer (Baddesley Ensor)
Andy Radek – Guitar (Tamworth)
Colin Richardson – Bass (Lichfield)
Steve Sheldon – Drums (Wilnecote)
Paul Watts – Guitar (Lichfield)
Additional Members: Paul Reeves (drums).
Gigs:
09/06/78
ICE
Tamworth Arts Centre
13/08/78
ICE
Castle Grounds
13/10/78
ICE
Tamworth Arts Centre
26/01/79
Ice
Tamworth Arts Centre
30/03/79
ICE
Tamworth Arts Centre
16/04/79
Arts Festival
Castle Grounds
Ice, Brewster, Ramblin' Band, Flash Harry, Asylum
11/08/79
Ice
Chequers, Hopwas
17/08/79
Ice
Troubador, Burntwood.
18/09/79
Ice
Bowling Green, Lichfield.
06/10/79
Ice
Tamworth Arts Centre
26/01/80
Ice
Glascote Working Mens Club
31/05/80
Ice
Hurley Working Mens Club
19/07/80
Ice
Hurley Working Mens Club
02/08/80
Ice
Glascote Working Mens Club
16/08/80
Ice
Trinity Carnival
08/11/80
Ice
The Gunpowder Rally
13/11/80
Titan, Ice
Assembly Rooms
15/11/80
Ice
Chequers
03/07/81
Ice
The Chequers
Memories
ICE played many venues in and around Tamworth. As Willow they were the first band to play at the Tamworth Arts Centre. They were also regulars at The Chequers, Hopwas and The Lichfield Arts Centre. The first line up was Mick Rutherford (vocals) Colin Richardson (Bass) Paul Watts (Guitar) Andy Radek (Guitar) and Steve Sheldon (Drums). Steve left the band in 1979 and was replaced by Paul Reeves on drums. This line up remained until the band split in 1982. Mick Rutherford and Paul Reeves re-emerged in 1984 as members of Dickens.
Mick Rutherford was described, in the Tamworth Herald, as the 'Godfather of Tamworth Rock'. Read the Mick Rutherford profile in the characters section of this website.
Their 1979 album, 'Saga of the Ice King', was a concept album released by Storm Records, released in the middle of the Punk/New Wave era but was pure rock.
A little known fact about the album is that the strings were arranged by Mick Rutherford, who, with the other members of the band, produced the album. The album was recorded in Colin Richardson's garden shed which was converted into a studio.
Mick Rutherford
---
Tamworth Herald – 02/06/78
Musicbox - Exciting band at Arts Centre
A talented new band makes its debut at Tamworth Arts Centre on June 9th.
Called Ice, the five-piece band will be performing a stage version of their forthcoming album release "Saga of the Ice King."
Song-writing duo Mick Rutherford and Colin Richardson formed the band and both have five-year writing contracts with Patch Music, together with a three-year recording contract with Tabitha Records.
"We are planning to release the "Ice King" album as soon as possible," said Mick Rutherford.
"The album will have many different effects and we are hoping to have the Staffs Youth Orchestra helping us out on the record," he added.
The ban's line-up is: Mick Rutherford, lead vocals, acoustic guitar, percussion; Paul Watts, electric and acoustic guitars; Colin Richardson, bass and acoustic guitars, vocals; Andy Radek, electric and acoustic guitars; Steve Sheldon, drums, percussion and vocals.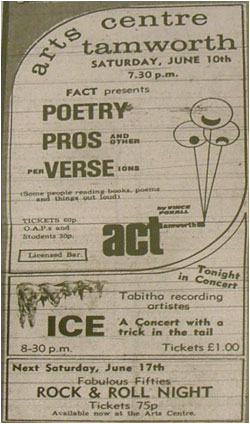 Formed only two months ago, the band's first gig – at the Arts Centre – starts at 8.30pm a week tonight.
Tamworth Herald – 30/03/79
'Ice' – set to break into the big time
A local rock band launched just a year ago lost no time making their mark on the Midland music scene.
An now 'Ice' are heading for the big-time with a new album due out soon and offers of radio and TV work pouring in.
'Ice' got their name from a book about the legends of the Norselands. But they didn't stop there – they've based their new album on the same stirring stories.
Called "Saga of the Ice King", it was produced, written and arranged by the group, recorded at their own studio in Lichfield and mastered in Blackpool.
The five-piece band who play melodic rock, will be in concert tonight, Friday, at Tamworth Arts Centre.
And they are to top the bill at the open-air concert in Tamworth Castle Grounds on Easter Monday.
COVER
In the line-up are Mick Rutherford, lead voice from Baddesley, Colin Richardson, bass and Paul Watts lead guitarist, both from Lichfield. Andy Radek, second guitarist from Glascote and Steve Sheldon, drums, from Wilnecote.
The "Ice King" album should have been out today, Friday, but because of industrial problems beyond the band's control the cover isn't ready yet.
With strings and horn played by four members of the Staffordshire Youth Orchestra it should be out in a matter of weeks.
The band have lined up several gigs in Birmingham, Nottingham, Stratford and Leeds as well as at local centres.
And they've been appearing on Radio Derby's weekly rock show "Solid Air".
Aiming to turn fully professional, Ice have high hopes that the "Ice King" album will be released in Holland, Belgium, Luxembourg, France and Spain and their record company are also hoping to send them on a European tour before the end of the year.
Tamworth Herald – 06/04/79
Seeing stars…at Tamworth festival
Extravaganza with something for all
The spotlight turned on Tamworth this week as the town launched its first major Arts Festival – a springtime extravaganza promising entertainment for everyone.
The feast of music, song, drama and comedy is spread over two months and organisers have aimed to cater for all tastes.
Hear a Shakespearian actor and an international jazz pianist…toe-tap to the stirring strains of a top brass band…have fun with flowers…browse around an arts-and-crafts exhibition…get chuckling with master-of-comedy Alan Ayckbourne.
It's all happening in Tamworth over the next two months.
Well over 20 events, some of them spread over several days are lined up for the town's SPRING ARTS FESTIVAL.
On Easter Monday, rock and country-and-western fans can warm up at an Open Air Concert in the Castle Pleasure Grounds.
It will feature bands including Ice, whose new album should be out by then, the Ramblin' Band and Brewster.
Tamworth Herald – 27/04/79
Scene Around
MORE than 300 people converged on Tamworth's Castle pleasure grounds on Easter Monday to watch the town's first open-air rock festival.
Topping the bill were Tabitha recording artists Ice. The band who play melodic rock performed a selection of tracks from their debut album release "Saga of the Ice King."
The five-piece outfit received an enthusiastic reception from the crowd. Particularly impressive was drummer, Stephen Sheldon.
Appearing with them were the country-and-western "Ramblin' Band", "Brewster", "Flash Harry" and "Asylum" all of whom were warmly received.
The concert which was part of the Tamworth Arts Festival, lasted throughout the afternoon.
Ice have set their sights on a European tour later this year and have hoped that their album will be released on the continent.
Tamworth Herald – 15/06/79
Musicbox – Rockin' success with 'Ice King'
TAMWORTH Music fans have an opportunity to support their local rock band with the release of the first album from "Ice."
The album is called "The Saga of the Ice King" and it tells the story of a time when the earth was ruled by the Nordic Kings.
It is an ambitious concept for a debut, but "Ice" succeed remarkably well in capturing the feel of the story.
They never run short of ideas and the whole album is characterised by rapidly changing tempos and moods.
The individual musicianship of the five members is another praiseworthy factor.
Highlights are Andy Radek's beautifully flowing acoustic guitar on "The Bridge", "Dawn/The Battle" which is reminiscent of early Black Sabbath and the more commercial sounding "Journey into Exile"
The albums only let down is in the recording quality which is far below that of modern LPs.
However that should not detract from a fine first album – released by Tabitha – which could go some way to putting Tamworth on the rock music map.
Tamworth Herald – 10/08/79
Musicbox – 'Ice' set for Dutch polish
TAMWORTH's top rock band "Ice" are setting their sights high in a bold and ambitious bid for stardom.
The five piece band – who released their first album on Tabitha records at Easter – have planned an exhausting programme of events which they hope will launch them into the big time.
And the band's attempt to join the rock music elite has got off to an encouraging start with sales of the album "Saga of the Ice King" already exceeding their earliest expectations.
Now they have formed themselves into a company "Ice Limited" as another step towards successfully marketing the band to the music public.
There is also the possibility of adding another member to their line-up within the next few months.
A Dutch tour which had been arranged for next month is now likely to be postponed but the group will definitely be paying four visits to Holland next year.
By that time they hope to have recorded their second album in their back garden studio at the Lichfield home of bass player Colin Richardson.
SOPHISTICATED
Suvvess in Holland could mean a chance to release "Journey Into Exile" as a European singleand an opportunity to re-record the first album in a more sophisticated Dutch studio.
Lead singer Mick Rutherford said "We had a lot of problems recording "Saga", we weren't happy with it although it seems to have been well received by the public."
"We have just bought a new stereo mixing deck and this should make things a lot easier next time," Mick added.
But fans of the concept style of album are in for a disappointment, "The next album will not be a concept," Mick said.
Also in the pipeline is a special Christmas concert to be called "The Ice Christmas Party", but plans for this are still in a formative stage.
Another plan is to buy an old coach which they hope to convert into a mobile home for tours.
All this and it is only 11 months since the band first played together.
Three local gigs have been lined up in the next few months. This Saturday they play at the Chequers in Hopwas and on Friday August 17 at the Troubador in Burntwood. September 18 sees them at the Bowling Green, Lichfield.
Tamworth Herald – 05/10/79
Musicbox - Centre date
TOP rock band "Ice" play their first Tamworth gig for six months when they hit the stage at the Arts Centre tomorrow night (Saturday).
Anyone who has not yet seen the band live but who likes music in the Rush, Genesis and Yes vein should go along for an entertaining evening.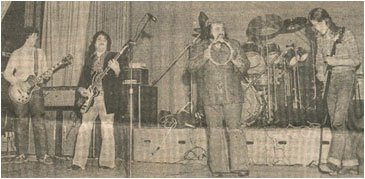 Tamworth Herald – 11/01/80
Musicbox – Not a slip from 'Ice'
The year ahead will be a crucial one in deciding the future of Tamworth's top rock band "Ice."
For it will see the release of their second album which they hope will catapult them to super stardom.
And their bid to join rock's elite began with a special Christmas concert at Tamworth Assembly Rooms.
Armed with new material the band delivered the best set I have ever seen them play, easily eclipsing the last time I saw them at the Arts Centre almost a year ago.
The only let-down was the size of the crowd. Band member Andy Radek told me as the group prepared to take to the stage that they take inspiration from the audience.
It was just a pity that more local fans did not bother to brave the monsoon conditions to see them.
With all proceeds going to multiple sclerosis and with so much energetic organisation having gone into the event, the size of the crowd only served as a kick in the teeth for everyone involved.
Still, the deathly atmosphere did little to dispel the determination of "Ice". Driven on by the searing lead guitars of Andy Radek and Paul Watts, they never let the heat drop from the moment they struck the opening chords of "Ride".
I thought I noticed a slight shift in direction in the newer numbers. To my ears at least, "Ice" seem to have adopted a more-heavy metal style, aggressive stance of late.
Despite this though, the night's show-stopper for me was "Asgard", a track from their first album.
All in all, and despite the meagre attendance, the first "Ice" Christmas Party was a success and the band can now look forward to their year of decision with confidence.
Last-minute support band D.H.S.S. provided an interesting foil for "Ice" with their own brand of new wave music.
Singer, Edward Ian Armchair said later "We were a bit upset about the gig. The sound in the Assembly Rooms is bad and the crowd was not very responsive."
Richard Whitehead
Tamworth Herald – 25/01/80
Musicbox – Ice on tour
ICE – Tamworth's top rock band – are taking to the road.
The five-piece outfit have won themselves a Midland tour playing at clubs and pubds around the region.
Lead singer Mick Rutherford said "It is very pleasing as we were only going to do three gigs in January because we thought we would concentrate on the album."
Included in the nine-date tour is Glascote W.M.C., tomorrow, Erdington, Tyburn House on January 31, the Chequers, at Hopwas on February 2 and the Chestnut Tree at Nuneaton February 11.
Tamworth Herald – 23/05/80
Musicbox – Ice cool summer sound
MUSIC lovers look out for Ice the Tamworth rock band who pack the sledgehammer punch are back on the local scene.
Yes, Mick Rutherford and his merry men are back with new plans and a new sound for the summer.
For Mick reckons that the group have improved beyond all recognition since they recorded their debut album "Saga of the Ice King."
And they have just finished recording their next disc – a maxi-single.
The A-side of the single will be a new track called "Clouds of Cirrus."
"It's a number that's been going down very well live," Mick said.
And the B side will feature two tracks from the following three, "Ride", "The Gambler" and "If the cat don't get ya."
At present Ice are touring the Midlands hoping to establish a reputation outside Lichfield and Tamworth.
Dates include: May 29 at the Golden Eagle in Birmingham, May 30 at Lichfield Arts Centre, May 31 at Hurley WMC, June 5 at the Fosseway Hotel and on June 6 the Chequers in Hopwas.
Tamworth Herald – 05/06/80
Musicbox – Red hot – that's Ice
Ice, Lichfield Arts Centre
It was to the fair and fragrant city of Lichfield that I wended my merry way to see Ice – still in my mind at least – the best rock band in the area.
Yes, that's right Lichfield, the city across the way! But do you know something, come ye here and I'll whisper in your ear – as far as I'm concerned I'll take a Lichfield audience to a Tamworth one.
A little bit older and therefore that little bit more knowledgeable this lot packed the city's compact arts centre to hear Ice play some red hot rock 'n' roll.
I know you have heard me say this half-a-dozen times or more but Ice, really do rock with conviction. They are in tune enough with current trends to have added a harder edge to their act and accordingly the denim and leather brigade who like their rock heavy but with a touch of subtlety are lapping it up
Singer Mick Rutherford has dropped the "Ice King" guise which was once a feature of their set and he now appears resplendent in a studded denim cut-off, guitarists Paul Watts and Andy Radek have dropped the jackets and ties in favour of more relaxed gear. For a start the band look better now.
Set opener as usual was "Ride" a powerful number which is set to appear on the B side of their maxi single. I couldn't help thinking that it would perhaps make a better A side for it's not without commercial appeal despite the snarling riff and driving solo.
After that titanic opening Ice kept up the pressure with "The Gambler" – a new one with a Jimmy Page like intro from Paul Watts – and "Pool Room Brawl" which featured a lengthy guitar passage in the middle.
By now the crowd were warming to every number and the Sabbathesque "Dawn", The Battle," from the album, had them cheering and stamping like football spectators trying to keep warm on a frosty January afternoon.
"Rock Band" gave drummer Steve Sheldon a chance to show his incredible talent and I would be failing in my duty if I didn't give bassist Colin Richardson a pat on the back as well.
Afterwards, I might add each band member complained that technical problems had ruined the set.
Mick Rutherford even called it a "disaster". I tell you now lads, you're wrong, the only people that had a disastrous evening were those that stayed at home.
Richard Whitehead
Tamworth Herald – 04/07/80
Musicbox – Ice play it cool on town tag row
MICK Rutherford, lead singer with top rock band Ice, this week refused to get in a slanging match with other Tamworth bands over the "best in the town" tag.
After their recent gig with Big Daisy in Lichfield controversy blew up over which band should have had the support slot. Mick refused to get in a similar verbal battle in Tamworth saying that his band's past record said more than he could.
"There is no antagonism between us and any other band in Tamworth, we are just not interested in that sort of thing," he said.
"The people that come and see us know exactly who the best band is, we don't have to argue with anybody," added Mick.
Aside from the wrangling Mick was pleased to announce another series of Midland dates for the band proving once again just how their reputation is spreading.
Sadly the nearest date to Tamworth on the tour will be at Glascote Working Men's Club and Mick bemoaned the decline of Tamworth Arts Centre as a regular rock venue.
"It's a shame. Not long ago we used to have regular Arts Centre gigs in Tamworth, but the attendances got so bad that is just wasn't worth it. People in Tamworth don't like paying to hear good music," he said.
Tamworth Herald – 15/08/80
Musicbox – Ice back home
AT last a chance to see Ice, live and resplendent, in Tamworth.
For the powerful five-some are returning to the town where many of their gigs have been dogged by poor attendances, to play at Trinity Carnival tomorrow (Saturday)
Those of you who decide not to brave the barrage of screeching guitars at Donington Park should venture up to the Ninefoot Recreation Ground at about 8pm to catch the red-hot band.
While Tamworth, the home of two of the band's members, has remained largely indifferent to their distinctive driving music, Ice have worked hard and established a dedicated following in many other Midland towns.
So don't pass up the opportunity to see them again. Support will be the Kippa Disco, and if Ice fire on all cylinders then they'll melt the carnival stage.
And if you're dedicated and slightly looney and like humping large, heavy pieces of equipment around at all hours of the day and night, Ice want to hear from you.
For the band are looking for a roadie to supplement their road crew and if you think you'd like to get in on the rock business at the lowest rung on the ladder then give singer Mick Rutherford a call on Atherstone 66571.
There's an update on the tour dates announced last month, the new date being at The Red lion at Warwick on Friday September 5.
Tamworth Herald – 05/09/80
Musicbox - Ice sign up
TAMWORTH based Ice have just signed an important money-spinning deal with a top Birmingham management agency.
The five-piece outfit, who have just completed a major summer tour, have secured a three year deal with the T.W.O. management agency which they hope will provide even more work than they are currently getting.
Negotiations are still taking place over the release of their long awaited maxi-single and the band hop to have the disc in the shops before long.
Singer Mick Rutherford said "We are absolutely delighted about the deal we hope they will be able to provide us with a lot of work over the next three years."
Their current tour ends tonight (September 5) at the Red Lion in Warwick but more dates have now been added for September.
…the most prestigious of the current crop of dates is undoubtedly their third open air performance of the summer at a Bikers festival in Lutterworth.
Tamworth Herald – 03/10/80
Musicbox – Now Ice get a warm reception
ROCK band Ice have found a silver lining in a black cloud that descended over the Chequers venue in Hopwas.
For they have stepped into the breach left by another band at the popular venue and have lined up four dates before Christmas.
The band have dubbed the series of gigs "The Tamworth Blitz" and they are hoping that local fans who missed their triumphant return to town stages at Trinity Carnival will have a chance to assess the music's undoubted development.
"We were happy to step in when the Chequers were in trouble. It's a good venue and we're looking forward to playing there again," said singer Mick Rutherford.
Their performance at the Lutterworth Biker's Rally delighted Mick and judging by his comments, the crowd as well.
"It was out of this world, the reaction from the bikers was amazing," he said.
Fans will have their first chance to buy the new official Ice T-shirt at the Chequers and other gigs.
OFFERING
The shirts, in a choice of black, red or blue are also available by post from Andy Radek. The price is £2.75 plus 25p postage and packing. You should state size (small, Medium, Large or extra large).
Ice are also offering a special deal to new fans who missed the chance to buy their "Saga of the Ice King" L.P., when it was first released. The recording can be obtained from the band of the bargain price of £3.50.
Tamworth Herald – 10/10/80
Musicbox - Ice man Mick in hospital
THE ICE gig at the Chequers last Friday was cancelled after singer Mick Rutherford was taken to hospital with a suspected heart attack.
Dozens of fans turned up for the first of the "Tamworth Blitz" gigs but Mick had to be taken to George Eliot hospital in Nuneaton after violent chest pains the day before the concert.
Happily he is now out of hospital and off the danger list and is determined that the band will fulfil all their commitments.
"I would like to apologise to all the people who turned up for the gig. The attack is not going to stop the band if I have to use a walking stick to get on stage I will do so," Mick said.
Tamworth Herald – 24/10/80
Musicbox – The Ice blitz
THE Ice kings march on. Like a musical snow plough this splendid band…all before them and on a night when the average Eskimo would have preferred to stay in their igloo, they attracted a dedicated band of followers.
Now we are witnessing the birth of the "Ice…" Fans were wearing the new Ice t-shirts and others had Ice motifs sewn on their denim jackets next to Led Zeppelin and the like.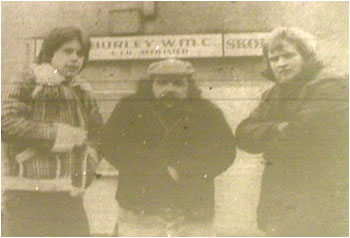 Tamworth Herald – 07/11/80 - Front Page
'Too loud' Ice frozen out by club
Caption: Out in the cold at Hurley W.M.C…'Ice' guitarist Andy Radek, vocalist Mick Rutherford and drummer Steve Sheldon.
A Tamworth rock group who have been banned from the Working Men's Club in Hurley are urging the Musicians' Union to take up their case.
Popular Tamworth based group Ice claim the club have pulled out of a booking the band had for December and that the ban imposed on them is unjustified.
And they have issued a statement attacking the club's reasons for banning the group.
Members of Hurley Working Men's Club committee met after the band's last appearance at the club in May and decided to ban them because they took too long to pack away their equipment and their music was too loud.
But Ice say these are not good enough reasons for cancelling the December booking and they are asking the Musician's Union to investigate.
In their statement, the group say "We left the club five minutes earlier than when we played there the previous month even though our usual road crew were three men short."
And their sound engineer denies that he was asked by club committee members to turn the volume down.
A spokesman for the Musicians' Union said that the union did not often take such actions to court but there was a possibility that some sort of warning about Hurley W.M.C. could be issued to other members of the union.
Tamworth Herald – 07/11/80
Musicbox – Bikers welcome back 'Ice'
A MYSTERY venue will be the scene of the biggest-ever concert played by top local rock band Ice.
The five-piece outfit, who have had their busiest and most successful year yet, will be the headlining act at the biggest bikers convention of the year The Gunpoweder Rally which is tomorrow (Saturday).
But because of the possibility of violence the venue for this gathering of bikers from all over the British Isles is still a secret even to the band.
It's the first time that any band have ever been asked to play two major bikers rallies in one year – earlier this year Ice headlined over two other bands at the Clover Leaf rally near Lutterworth.
A crowd of 1,500 is expected to gather in a huge marquee to watch Ice tomorrow night.
Singer Mick Rutherford said "We are absolutely over the moon about this, it's probably the biggest gig in the history of Ice."
Following this prestige date Ice will return to Chequers in Hopwas on Saturday November 15 for the second-leg of their pre-Christmas Tamworth blitz.
Mick also announced that there is a possibility of another major tour in the offing for the end of the year or the beginning of 1981.
Watch Musicbox for exclusive news of the date sand another announcement of major importance to Ice fans in the next few weeks.
Tamworth Herald – 07/11/80
Musicbox – Heavy date
ROCK fans everywhere make sure you're at the Assembly Rooms next Thursday night to witness a heavy metal blockbuster.
For town newcomers Titan and old favourites Ice are playing a special double-headed gig.
And both bands hope that this could lead to a series of gigs at the town centre venue.

Tamworth Herald – 21/11/80
Musicbox – Titan win the day…but Ice won't melt away
Ice/Titan – Assembly Rooms
Caption: Ice…powerful rhythmic songs. From left are Mick Rutherford, Paul Watts, Steve Sheldon, Andy Radek and Colin Richardson.
Caption: Titan…music with maximum impact. From left are Martin Schell, John Floyd and Pete Johnson
THE long-awaited battle of the bands was fought at the Assembly Rooms last Thursday night in front of a crowd that should have been three or four times bigger.
Following Titan's three gigs at Polesworth "Top Club" where they played in front of audiences of more than 500, it was disappointing to see only about 100 people pass through the doors to watch their first double-headed gig with that other popular town band, Ice.
Maybe it was the admission fee. I don't know. But to charge £1.50 is a bit crazy anyway. As one kid said outside the hall: "I could have gone and seen Genesis for that".
I'm not blaming the organisers. They did a great to get a gig of that stature on in a town where good venues are hard to find. But if Titan and Ice are to return to the Assembly Rooms – and I hope so – then let's see that admission fee halved.
Anyway less of all that and more about the gig. Ice are first on stage and give us a set rich in variety and made up of almost completely original material.
The band have an excellent sound and each member impresses. But it's drummer Steve Sheldon who steals the show with an excellent performance including a no messin' solo towards the end.
Ice storm through their set playing powerful rhythmic songs that are becoming old favourites to some Tamworth rock fans. Numbers like "Ride", "Pool Room Brawl" and "The Gambler" are strident, forceful pieces with good lyrics to back them up.
But Ice don't use the stage as well as they could. Too often the band seem huddled together when ample room is available and this detracts from a stage presence which already lacks a bit of character.
MELODY
Nevertheless they are warmly received and their act is leagues better than the kast time I saw them. As we've said in this column Ice are refreshing because they add touches of melody and harmony to what is basically a heavy metal sound.
Titan are altogether different in their approach and they win the day for an exciting performance and a perfect illustration of how to use a stage properly, putting over their music with maximum impact. Within minutes of the first riff the kids are on their feet headbanging in front of the stage.
Setting aside personal music tastes this band are something else! They've emerged over the last month or so and have quite literally taken the local music scene by the scruff of the neck and given in a good shake up.
Titan play without an ounce of compromise. Bassman John Floyd and guitarist Martin Schell run around stage forcefully playing their instruments and making the headbangers go wild.
Drummer Pete Johnson sits behind the drum kit thrashing out as powerful a beat as you're ever likely to hear. While Titan's amazing singer Bob S… runs around the stage looking like the original heavy metal demon, full of character and bags of energy.
Songs from their first album like "Easy Wind" and "Loosing the Fight" screech along full of guitar riffs and throbbing drum parts.
This set was the best I've ever seen from a band in this area. Titan are poised fir the success they deserve.
Tamworth Herald – 19/12/80
Musicbox – Ice talks
TALKS are underway at the moment to set up a major tour early in the new year for Ice.
Management officials for the popular five piece are working out the last minute details for a series of dates.
Watch this space for the first announcement.
Tamworth Herald – 27/02/81
Musicbox - A cooler for Ice
Mick Rutherford, lead singer with one of the area's biggest names, Ice, reckons an unwillingness to part with cash is at the heart of Tamworth's problem.
"The people of Tamworth don't want to pay to go and see a live band", Mick said.
"They are quite prepared to come and see us at the Chequers in Hopwas, where they don't have to pay but we have played at Tamworth Arts Centre and twice at the Assembly Rooms and the attendances have been terrible.
"It doesn't give the promoters any heart. If the people won't come out to see the local bands, they won't come out to see anybody else", he added.
Ice, who played before a crowd of a thousand at a bikers rally last year, have always been disappointed with their Tamworth audiences.
"We play at a place called Mere near Stoke and the last time we went there it was £1 to get in and the doors had to be locked at 9pm," said Mick.
"Both times we played at the Assembly Rooms, the turn-out was abysmal. There is no way we can get back the money paid out to hire the place."
And Mick's final word seemed to sum up the plight of the local bands.
"We're a Tamworth bands and we can't afford to play in Tamworth," he said.
Tamworth Herald – 26/03/81
Musicbox – Fans warm to an Ice idea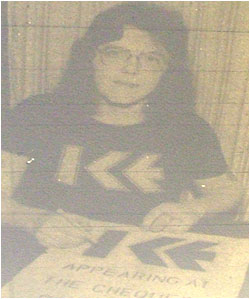 DAVE Westmancoat finds it hard to explain what is so special about the music of top local band Ice.
"It's the sort of music I like," he says thoughtfully, "Ice are completely original, there's no way they can be classified."
That was the first thing that struck Dave the first time he saw the band at Glascote Working Men's Club less than 12 months ago – they were totally original.
Over the next few months his liking for the band grew and in January he hit on the ideal way of making his own contribution to the Ice bid for stardom.
"I thought about ways of helping the band along before I hit on the idea of the "Ice Fan Club", he said.
Now the first fan club for any local band (as far as I am aware, anyway) is in full swing.
Membership is 90p and for that the member gets a booklet packed with information about Ice plus a membership card and a discount on T-shirts and badges.
In addition, Dave compiles a newsletter with a full gig list every two months.
And the most recent copy of the newsletter features a blow-by-blow account of the January "Winter Blizzard" tour.
The idea is to get people involved with the group in a small way and to spread the word about Ice over an even bigger area", Dave says.
Anyone thinking of joining the Ice fan club should write to Dave Westmancoat.
Tamworth Herald – 01/05/81
Musicbox – Ice hits Germany
Band lands a prestige 15-day tour
ICE, Tamworth's most seasoned rock band, are broadening their horizons with a prestige 15-date tour of West Germany next month.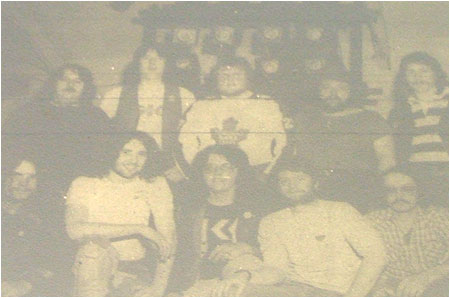 Caption: The Ice touring party. Back row – the group – Colin Richardson, Andy Radek, Steve Sheldon (who will be substituted), Mick Rutherford and Paul Watts. Front row – the roadies – Gaz, Akka, Dave Westmancoat, Steve Edge and Ted Turner.
The experienced five-piece are taking off on May 30 in their tour bus at the start of their hectic schedule. They play their first date on June 1 and then have a gig each day for the next 14 days – and the venues are all over Germany.
Stepping in at the last moment is Paul Reeves, formerly of the Nuneaton rock band Sneak Preview. He takes over as drummer from the talented Steve Sheldon who has had to pull-out from the tour to be with his wife who is expecting a baby at the end of May.
Paul will be introduced slowly into the band at their gigs immediately before the German gigs.
And on certain dates Ice may well take a leaf out of the Adam and the Ants book and use two drummers.
Ice vocalist Mick Rutherford said: "We are absolutely chuffed about the tour. It is a fantastic opportunity fir the band and everyone connected with Ice is delighted."
Tamworth fans will have a chance to give the band a rousing send-off at the Chequers on May 22.
DISCO
After that they are at a Tramps disco at the Wagon and Horses in Mere on May 23 and have lunch and evening sessions at the Coach and Horses in West Bromwich on May 24.
Following their return from Germany they are at the Double M club in Heath Hayes on June 20, the Star Club in Stoke-on-Trent on June 21 and finally the 75 Club in Burton-on-Trent on June 25.
Tamworth Herald – 15/05/81
Musicbox – Ice set for tour
The five members of Ice were this week dusting off their suitcases and renewing their passports in eager readiness for their German tour.
As preparations reached their final stages, Mick Rutherford said, "If only it was a matter of just getting on the bus and going, everything would be okay.
"But the trouble is it's not like that. I have had to type nine pages of Do's and Don'ts for each member of the party and of course the bus has to be got up to scratch for the German road regulations," he said.
Following their return they will be playing a "welcome home" gig at the Chequers on July 3.
Tamworth Herald – 17/07/81
Musicbox – Ice man breaks away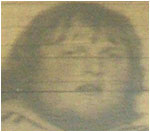 TALENTED drummer Steve Sheldon has quit Ice – the band he helped to form three years ago.
Steve says he needs to be in a band working more regularly than Ice have been this summer and at the moment is looking for work with a new outfit.
Disillusionment over whether or not the band would be going to Germany later in the year was also a reason he claimed.
His replacement is former Sneak Preview drummer Paul Reeves who has been gigging with the band in preparation for the projected German tour.
Both parties stress that the split was amicable and Mick Rutherford said: We were all sorry to see Steve go because it breaks up the original Ice who have been going for three years. But Paul is a fine drummer and his introduction has given the band new impetus.
Tamworth Herald – 18/09/81
Musicbox – Ice hits Germany
TAMWORTH rock band Ice set out on a 16-date tour of Germany. The experienced five-piece start their hectic schedule in Munich on Monday night.
Lining up for Ice on the German tour will be Mick Rutherford (vocals), Andy Radek (guitar), Colin Richardson (guitar), Paul Watts (bass) and Paul Reeves (drums).
Tamworth Herald – 06/11/81
Musicbox – Winter warm-up after an Ice-cold summer
Experienced Tamworth rock band Ice are back on the road after a summer of discontent.
The five-piece have managed a return to their old haunts around the Midlands.
This week they played at Sylvesters in Nuneaton and tonight (Friday) they're at the Double M Club in Heath Hayes.
Tomorrow (Saturday) sees them headlining for the second year running at the massive Gunpowder Rally, the biker's event near Coventry.
On November 8 they have lunchtime and evening sessions at the Coach and Horses in West Bromwich and on November 9 at the Riverside Recreation Centre in Stafford.
The mini-tour ends with dates at the Crown Hotel in Leamington Spa on November 17 and the Brimington Tavern in Chesterfield on November 20.
Their planned German tour this summer fell through and the wrangle between Ice and the agent involved is now in the hands of the Musicians Union.
Tamworth Herald – 12/02/82
Musicbox – The Ice Age is back with us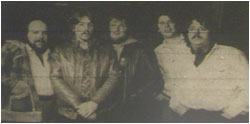 VETERAN Tamworth rock band Ice are hitting the road again this month at the beginning of their biggest-ever tour of the country.
The hard-working five piece had an uncomfortable year in 1981 with the departure of drummer Steve Sheldon and the last minute cancellation of their German tour.
But the new year resolution from Ice is to shake off that disappointment and start extensive gigging again as soon as possible.
Now with Paul Reeves firmly installed in Steve's old stool, they have put together this series of dates.
The tour began last Sunday at the Star Club in Stoke and continued at the New Tavern in Offord this week.
Tamworth Herald – 12/03/82
Musicbox – Ice Clear
We have been asked to point out that the reason for Ice being unable to go on their planned summer tour of Germany was nothing to do with the departure of drummer
Steve Sheldon.
Tamworth Herald – 02/07/82
Musicbox – Ice want a voice…
HIGHLY experienced Tamworth band Ice are on the look-out for a new vocalist.
After several years treading the boards in some of the Midland's best-known heavy rock venues, the band have decided to go for a new approach.
Guitarist Andy Radek said: "We are writing a lot of new material with the aim of giving the band a new sound.
"Obviously there are prospects of regular work in the future. Ice have always been a working band and we hope that will continue," added Andy.