Lucifer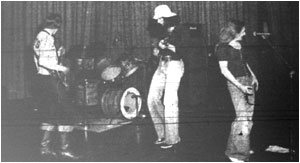 Lucifer circa 1977
Photograph courtesy: Tamworth Herald

The Gallery
Formed: 1976
Band Members:
Dave Garner – Lead Vocals (Wilnecote)
Mick Griffiths – Lead Guitar (Coton Green)
[Also in: Satans Effergy, Magnadaw]
Kevin 'Ossie' Osborne – Bass
[Also in: Satans Effergy, Magnadaw]
Graham Smith - Drums
Other Members:
Roy Cole - Drums
Gigs:
20/05/77
Lichfield Civic Hall
Lucifer
Support: Edge and Sounds Exclusive Disco
Admission: £1.00
07/06/77
Lucifer
Amington Liberal Club
03/07/77
Lucifer
Tamworth Progressive Club
Tamworth Herald Feature
Tamworth Herald – 03/12/76
Musicbox – Aiming for the top – that's Lucifer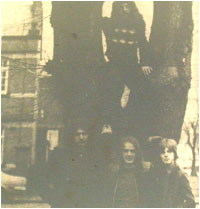 If you don't like rock music, talent or comedy then don't read on
But you see, there's this local band called LUCIFER who guarantee to please.
Talented they certainly are. And their music is adaptable – they prefer to play rock, but are exceptionally adept at playing all sorts of music. The comedy is definitely not part of their act…but once you've met them you'll see how their humour will, without a doubt, carry them to the top.
Lucifer are a four piece unit, dedicated to playing good music and, formed only a month ago, the band is already becoming a firm favourite.
On Sunday, they played at Kingshurst's Mountford Inn and the capacity audience just wouldn't let them off the stage. They had to do a couple of encores and enjoyed every minute.
Lead singer Dave Garner, who lives at Wilnecote, has plenty of experience…and ti shows. He has a great voice and constantly maintains friendly contact with audiences.
Dave started singing when he was 16 and joined a band called R.I.P. which he stayed with for two years.
He then went professional and joined top Birmingham band Sweet Rain, before singing with Leicester outfit, The Decoys. They split after six months and Dave was involved with two or three bands before forming Lucifer with drummer Roy Cole.
Now, drummer Roy is something else. He's been around as long as singer Dave – probably longer, and although he reckons Ringo Starr, just beat him to joining The Beatles, there's probably some truth in the rumour that he's certainly been playing as long as the "Fab Four".
Roy is the band's joker…but when it comes to his music, then it's a different matter.
"We are all aiming to be the best rock band in the area," he said.
"We have a good band and are improving all the time. There's simply no point in being content to never improve. Lucifer's aim is to give the kids value for money and we reckon we can succeed."
Lead guitarist Mick Griffiths, who lives at Coton Green, is an essential 'front man', th the band, long with singer Dave.
Mick's guitar playing is exceptional and is improving all the time and is a former member of Magnadaw and has done sessions for various artists.
Lucifer's bass guitarist Kevin Osbourne is also a former member of Magnadaw. He has played numerous sessions for bands and has developed an original style of bass playing.
So there you have it, Lucifer are a talented band, and there is no need to take the "Herald" word for it, take the chance, go and see them and judge for yourself.
You have singer Dave and drummer Roy's vast musical experience. He has played with such bands as The Vibrators, Bitch, Heavy Boots – and the freshness of guitarists Mick Griffiths and Kevin Osbourne making a band of definite promise.
And because Lucifer have only been formed a month, they have some dates available. If you are interested in booking them, call Bob Paterson at the "Herald" on Lichfield 52716 (evenings).
Certainly prospects look good for Lucifer. Not only do they play recognised rock, but they are also furiously writing their own songs.
Can't be bad!
Tamworth Herald – 13/05/77
Musicbox - Exciting rock concert
An exciting rock concert is scheduled at Lichfield's Civic Hall a week today (May 20th).
The show starts at 8 p.m. and carried on until midnight with non-stop rock music.
Three groups will be playing at the event, which has been organised by the Lichfield Adventure Playground and all proceeds go towards their funds.
As well as three talented bands, there are two DJ's. One of the main attractions is Tamworth based rock group Lucifer, who are currently gaining tremendous support in the rock circuit.
Lucifer are a high energy band, with lead singer Dave Garner fronting a band with plenty of talent and experience.
Mick Griffiths, lead guitarist with Lucifer, is an imaginative young man, while Kevin "Ozzie" Osbourne provides the unique bass sound.
Another up and coming band, Edge, are also billed to appear at the gig, while Sounds Exclusive complete the bill. DJ's are Nigg Nolan and Tom Greene.
Tickets are now on sale and cost £1 and can be obtained from the Civic Hall box office or any of the Adventure Playgrounds.
Tamworth Herald – 03/06/77
Musicbox - Lucifer
LUCIFER…Tamworth based rock band in action during the recent concert at Lichfield Civic Hall. The event went down well and also on the bill were Edge and Sounds Exclusive.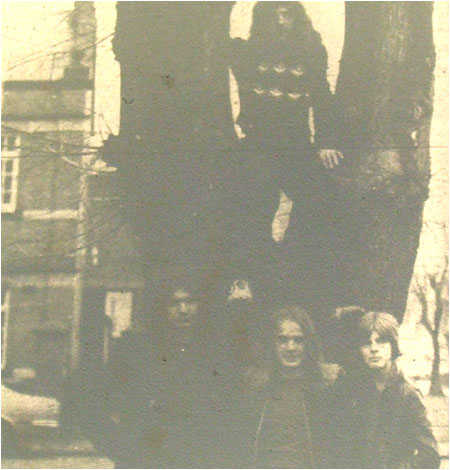 Lucifer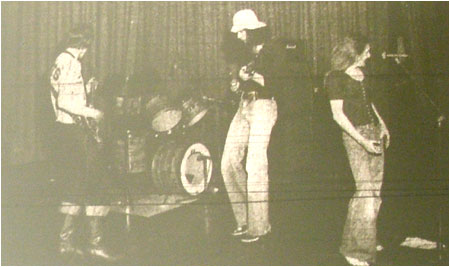 LUCIFER…Tamworth based rock band in action during the recent concert at Lichfield Civic Hall. The event went down well and also on the bill were Edge and Sounds Exclusive.
If you have any further information about this band please email: info@tamworthbands.com