Omen
Musical Genre/Type: Rock
Line-up:
Ted Wilson - Guitar (Dosthill)
[Later of The Great Express]
Tim Latham - Guitar (Fazeley)
[Later of One On One]
Darren Williamson - Drums (Glascote)
[Later of The Wipeouts, The Less, Jupiter Rhythm Kings]
Richard 'Rick' Liggins - Vocals and Bass Guitar (Deer Park)
Ian Jenkins - Keyboards
Thanks to: Pete Williams
Gigs
01/05/81
Omen
Classified Ads
(Fetch the) Comfy Jigsaw
Wigginton Village Hall
18/07/81
Omen
Tamworth Arts Centre
11/11/81
Omen
Wilnecote Youth Club
08/01/82
Omen
Ethis
Tamworth Arts Centre
09/01/82
Ethis
Omen
Tamworth Arts Centre
28/04/82
Flash Harry
Omen
The Warren
19/07/82
Exodus and Omen
Polesworth Working Mens Club
23/07/82
Omen
Tusk
Donnisthorpe Miners Welfare Club
02/08/82
Omen
Polesworth Working Mens Club
10/09/82
Omen
Badger
Tamworth Arts Centre
29/08/83
Tamworth Rock Festival
Sitting Pretty
Those Attractive Magnets
Hardware
Royal Family
Omen 2
Time Bandits
Tamworth Castle Grounds
16/09/83
Omen 2
Tamworth Arts Centre
Tamworth Herald – 03/04/81
Musicbox - Good Omen in on the way…The boys are back on fine form
HALFWAY through listening to the demo tape new Tamworth band Omen had supplied me with, I scribbled in my notebook: "If they can reproduce this sort of music live they could be very good indeed.
For quite honestly, the thundering riffs, shattering vocals and doom-laden lyrics that were pouring forth from the tape left me tingling with anticipation for the first time I see this exciting new band live.
And when they do start to get more live gigs I hope they can, as I said earlier, really reproduce the quality of music on that tape.
The important thing to remember is that Omen's first venture onto tape was five months ago.
Now, they claim, they have honed down that initial sound a lot. Moved away from the frenzied approach of their early rehearsals and added a touch more subtlety and thought to their music.
Omen are Steve Wilson, guitar; Tim Latham, guitar and vocals; Rick Liggins, bass and lead vocals and "Daz" Williamson, percussion.
All the band went to Wilnecote High School and readers with good memories will remember Steve from Hard Road, a school band highlighted in Musicbox last year.
Tamworth Herald – 08/05/81
Musicbox – Omen points to a fine future - New band's talent shows
OMEN : Wigginton
ON Saturday night it was the turn of yet another young Tamworth band to shine in front of a local audience.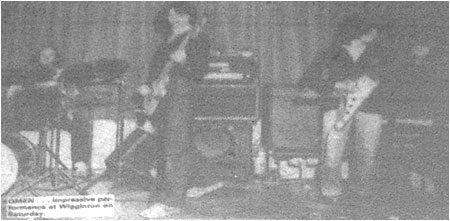 Omen, impressive performance at Wigginton.
For Omen, a powerful four-piece outfit, gave an impressive performance before an enthusiastic gathering at Wigginton Village Hall.
Instead of the predictable thrash dished up by so many heavy bands, Omen played a thoughtful, well-constructed set which showed enormous talent.
The band obviously came well rehearsed and certainly lived up to the expectations voiced in our feature on them last month.
There was that added touch of subtlety to their music which set Omen apart from other local bands.
Omen were musically very tight and the vocals superb.
Guitarists Tim Latham and Steve Wilson provided some thundering riffs while drummer Daz Williamson kept a steady beat behind the front men.
Over this, lead singer Rick Liggins executed some fine lyrics with a voice of interesting quality. Now and again he swapped vocal duties with Tim Latham, an idea which worked well.
…overall rhythm with some thumping bass lines.
An excellent performance from Omen who are an exciting addition to the local scene.
Supporting them were two up-and-coming Tamworth bands, Classified Ads and Comfy Jigsaw who both continued to gain valuable live experience.
Tamworth Herald – 25/06/81
Musicbox – Rock on at town venue
ROCK returns to Tamworth Arts Centre on Saturday July 18 when Omen will bring their own brand of heavy metal to the town centre venue.
Tamworth Herald – 17/07/81
Musicbox – Is this the good omen Arts Centre needs?
TWO Tamworth bands re-open the town's Arts Centre as a rock venue tomorrow (Saturday) with what would be one of the most important gigs in the area for a long time.
Omen who are one of the town's most promising young bands, play the Church Street venue tomorrow night – and if there is enough support for the concert, others might follow.
A few years ago the Arts Centre was a regular concert venue but poor turn-outs put paid to the gigs.
Now, with more bands than ever on the local scene, the small theatre-style venue is set to make a much-needed comeback.
Aardwolf are new to local people and it will be interesting to see what reaction they get.
Tamworth Herald – 24/07/81
Musicbox – A stylish new look
THE OMEN : Arts Centre
NOT only have Omen improved musically, but their whole approach seems to have steadied.
Their act was more colourful, visually exciting and their confidence helped to boost their sound.
Their set was basically the same as their previous gig with new songs added here and there. I got the impression, though, that what the band really wanted to play was not necessarily what the HM-orientated crowd of Tamworth wanted to hear. I would not class Omen as just another heavy metal outfit, for their subtleties put them beyond that category.
I felt that the audience were a little ignorant towards some of Omen's more stylish songs, which would make superb listening on an LP. It is these self-composed numbers that put Omen into a class of their own.
Only time will tell if Omen's potential is realised, but I, for one, sincerely hope that the group continue to follow their natural direction, for it is that route which will bring them the real success.
Members of Omen and Aardwolf were "knocked out" by the response to Saturday's gig – the first at the Arts Centre for some time.
A capacity crowd – around 100 people – packed into the centre while another 40 had to be locked out. Let's hope this encouraging turn-out will be the start of regular gigs at the Church Street venue.
The two bands would like to apologise to the people who could not get into the Arts Centre, but thank them for their support.
Tamworth Herald – 30/10/81
Musicbox – Omens are good
OUTSTANDING young heavy rock band Omen return to Wilnecote Youth Club in their first gig as a five-piece.
Tamworth Herald – 06/11/81
Musicbox – Catch this!
OMEN'S ever-growing army of fans will make their way to Wilnecote youth club once again on Wednesday (November 11) for what should be a great gig.
But don't let the Omen-army force you out. Why not make your own way up to Wilnecote and get a first hand look at the band who packed out Tamworth Arts Centre not long back.
Tamworth Herald – 20/11/81
Musicbox – Magical Omen
Omen: Wilnecote Youth Club
OMEN – Firing on five cylinders for the first time – produced one of the best gigs seen in Tamworth this year and confirmed their leading status among the town's young bands.
Tamworth Herald – 18/12/81
Musicbox - A sparkling double for new year
TWO of Tamworth's top young heavy rock bands have joined forces for a bold venture early in the new year.
Omen and Ethis, considered by many to be Tamworth's great white hopes, have lined up a two-night double-bill at the town's Arts Centre.
The gigs are on Friday January 8 and Saturday January 9.
This is the first time that any band has been ambitious enough to try to play two consecutive nights at the town centre venue.
On Friday Omen will play first and Ethis second, and on Saturday, this will be reversed.
Tamworth Herald – 08/01/82
Musicbox – Busy Rockin' Weekend
MUSIC fans in Tamworth have lots to look forward to this weekend.
Tonight (Friday) sees the first of the two Omen/Ethis gigs at the Arts Centre. The second gig takes place tomorrow night.
Tickets are priced 60p for both nights and can be bought from the Arts Centre, Fazeley's One Stop Music, members of either band, or on the door.
And don't forget there is a fully-licensed bar.
As an alternative to heavy metal, Tamworth's Breakthrough group are tomorrow night (Saturday) presenting another in their successful series of concerts.
Sfynx, a four-piece rock band from Manchester, will be appearing at St. Paul's Church, Fazeley.
They will be supported by Birmingham-based theatre group Back to Back, who won this year's Greenbelt drama competition. The concert starts at 7.30pm and admission is 60p.
So there you are folks, a varied musical weekend – get out and enjoy yourselves!
Tamworth Herald – 15/01/82
Musicbox – Red hot HM warms cold crowds
Ethis/Omen: Tamworth Arts Centre
Tamworth Herald – 26/03/82
Musicbox – A night not to forget
Bashful Alley/Omen : Tamworth Arts Centre
THE foundations of Tamworth Arts Centre must have taken a bit of a bettering on Saturday night. In fact, if I was in charge of the building, I'd be inclined to order a full structural survey straight away.
When architects and designers drew up the plans for the A.C. building, I bet they didn't reckon on the combined power of two first-rate heavy rock bands in full rampant flight.
Once again, for the third gig running, the homely, convivial venue was packed and than can only be good news for live music in Tamworth.
Omen were first up, but really I'm fast running out of things to say about this band. I seem to have said before that if material and musicianship was all that counted, they'd be at the top already – and that's still true.
Their ideas, composing maturity and sheer skill are all a marvel, and on Saturday they added a slice of visual attack as well which was good to see. But, it's vital that they start to progress now.
They must start to play gigs outside Tamworth, cut a three or four track tape and promote it for all their worth. Omen are just too good to be allowed to die without ever having a smell of success, and the individuals within the band must ensure that they don't fold. That would be a tragic waste of talent.
Bashful Alley are another story. I make no apologies for the predictions I made about this band last week, for after seeing this display of awesome metallic power, I'm even more convinced of their big-time potential.
Flash-bombs, tortured guitar solos, powerhouse drumming, a bassist whi clambered on the seats and even a bass guitar which sprayed a firework all over the audience, are part of the Bashful Alley stock-in-trade.
The audience loved it, and so did I. Metal with no artificial preservations, nothing added, nothing taken away. It was, as the theatre critics say, a night to remember.
Tamworth Herald – 23/04/82
Musicbox – Double HM bill
TAMWORTH's heavy rock fraternity have a double-bill to savour next week when two of the top bands in the area join forces for a one-off gig.
Omen join Flash Harry for one of FH's fortnightly gigs at the Warren, Mile Oak next Wednesday. FH are always a powerful draw wherever they play, and the addition of young hopefuls Omen to the bill should make it an evening to remember.
Tamworth Herald – 07/05/82
Musicbox – MISSING FANS, BUT IT'S NOT BAD OMEN
Omen, Flash Harry : The Warren
TAMWORTH music followers gained more points in their bid to win the national apathy league on this bright Wednesday evening.
But their effort was largely wasted for they must be so far in front of their apathetic rivals that any league table would be declared a white wash.
"Why don't they turn up?" said depressed Ethis vocalist Roger 'Budgie' Bird after Flash Harry's excellent set.
Well if I knew, I'd put him out of his misery, but I'm afraid I don't have the solution to that conundrum anymore than I do the rubic cube.
On the face of it here were two first class heavy rock bands – one of them young the other deeply experienced and in an area which broadly falls into the heavy rock orientated West Midlands they ought to have proved a sizeable draw.
Is it that today's HR followers are too young for pub venues? Could it be that none of them believe that local bands are good enough to entertain them? Is it that in these recession-hit times people just don't have any money on Wednesday evenings? Or is it just plain apathy?
My guess is that the true answer is somewhere between all of these. Either way it's sad and I really can't see an immediate solution.
Anyway that's enough of the gloom and doom. Omen – although not at their supreme best – were still immensely enjoyable.
At the moment the band are in the process of hunting for a vocalist and they must leave no stone unturned in their search.
A dynamic forceful front man would be just the tonic Omen need to lift them a few more rungs up the ladder and into the sort of company where their material decrees they should be.
Flash Harry already have a vocalist in the person of the excellent Trevor Mugglestone.
However, I must confess when I saw the band last year at Tamworth College I was not over impressed.
But things were very different tonight with FH turning on a display of majestic power with the aforementioned Mugglestone winning the honours for his superb, raunchy singing.
Tamworth Herald – 16/07/82
Musicbox – Dates
On Monday, Omen make their first appearance at the town's new heavy rock venue, Polesworth Top Club, on a double bill with Exodus.
The next Friday night the band appear at Donisthorpe Miners' Welfare Club over at Measham along with Tusk. Finally on Monday, August 2, they return to Polesworth Top Club for another gig there.
Tamworth Herald – 30/07/82
Musicbox – Help wanted
OMEN complete their series of three dates on Monday night with a gig at Polesworth Top Club.
The band are still on the look-out for a vocalist by the way and anyone interested should contact the band. Better still, go and see them on Monday.
Tamworth Herald – 13/08/82
Musicbox – Why it's a bad Omen…
IT'S NOW about two years since Steve Wilson, Tim Latham, Daz Williamson and Richard Liggins sat down together and decided to form a band.
In two years they have played to sell-out audiences at Tamworth Arts Centre, added a keyboard player to their original line-up, written some classy progressive rock numbers and generally established a fair reputation locally.
However, all those achievements will pale into insignificance if Omen don't now start to take more steps forward.
This latest Polesworth set was the first time I've not really enjoyed one of their performances.
Despite the fine material – including a superb new number 'Please Let Me Die' – their lack of stage presence and inability to entice any response from a large but uninspiring audience meant that all the good songs in the world wouldn't have made any difference.
They need a vocalist/front man who can command a stage and demand attention from lethargic audiences.
They need to learn how to present and structure a set and stop doing things like opening with hackneyed cover versions such as 'Green Manalishi' when they have an ideal opener in the self-penned 'Get Out'.
TAPE
They need to record a tape of four of their best numbers and having done that, not leave it to collect dust, but promote and tout it as widely as possible. As everyone knows a good tape is the key that opens the door to more gigs, more press coverage and a record deal.
In short Omen need to do all these things or else a band with so much to offer will simply sink without trace.
Tamworth Herald – 13/08/82
Musicbox
MUSICBOX reader Troy Morgan delivered his own account of the Omen concert to the Herald offices.
We decided that Troy's review was so well written and controversial that it just couldn't be left out. So take it away Troy.
OMEN are a heavy rock band. They play songs with titles like 'Revolution', 'Dawn of the Dead' and 'Children of Sound'.
They have lots of shiny, expensive guitars and they write their own material. These are the facts. The truth of the matter is that Omen are unbelievably dull.
Music of any sort – whether it be punk, jazz, funk or HM should set out to excite, inspire and uplift the listener.
However, Omen fail to give vent to any of these emotions.
They fail to excite because they themselves appear to be utterly bored with their own music. Or at least this is the impression given by their total lack of stage presence.
In fact, as their set dragged on, many people didn't bother to face the stage. They merely talked among themselves as the music droned on in the background. What an advertisement for live music!
The band also fail to succeed on an inspirational level. Their lyrics – at least those that were decipherable – are mostly standard HM fare i.e. demons, devils, doom, gloom and more doom.
A bit old hat in other words. Groups like Black Sabbath and Uriah Heep drained the doom-laden theme dry in the early 1970s.
Omen prove that 'expensive equipment does not a good band make'. OK, their guitars make lots of weird and astonishing sounds – so what?
Music is about self-expression, passion and energy. Omen have none of these things – so why waste hundreds of pounds on equipment if you play with all the passion and energy of the next-door neighbour's tom-cat?
To sum up, Omen so nothing for Tamworth's music scene. They are a giant step backwards. If they played with more enthusiasm, dash and style, then perhaps they would gain some admiration for trying.
Omen are everything the Tamworth music scene doesn't need. A town in the doldrums needs fresh ideas and vitality.
TROY MORGAN
Tamworth Herald – 20/08/82
Musicbox – Letter – Don't condemn our one bad gig
Troy Morgan's controversial Omen review last week has, as expected, provoked reaction from the band. Here bassist/vocalist and group spokesman Richard Liggins replies to some of Troy's criticisms.
"Firstly, Troy Morgan implies that we cannot play our guitars (he makes no mention of drums or keyboards). I cannot speak for myself, but I know many people who reckon Tim Latham and Steve Wilson are the best guitarists in the area – myself included.
"Troy Morgan appears to be obsessed with our 'shiny expensive guitars'. The only one that was really expensive is Steve Wilson's Gibson SG standard, his other being a John birch SG copy that cost £100.
"Tim plays an old, battered Kay copy and a Vox standard, recently bought to supplement his dodgy Kay."
Ability
"If our equipment is so good why then have we never played a gig without something going wrong with it? On the whole we have been able to cope with such mishaps but breaking the E-string on a bass guitar and then discovering that a bass amp isn't working is a situation that can't be ignored.
"I make no apology for our lack of stage presentation. This is something we have been working on and in the past our musical ability has carried us through. This time, incidentally the first gig at which I have seen Mr. Morgan, it let us down.
"We admit we did not play well, but are we to be written off simply because we play one bad gig?
"Mr. Morgan's comments about our lyrics are simply wrong. If they were indecipherable that was because he wasn't listening. Everyone else I spoke to after the gig seemed to think it was OK.
"Only one song in the 15-song set made any reference to 'demons, devils, doom, gloom and more doom". This song is 'Dawn of the Dead' the first song we ever wrote and certainly a HR cliché."
Moving
"He ignores songs like 'The Clouds' and 'Through Another's Eys', the latter being total self-expressionist.
"Omen have spent the last two years trying to get the Tamworth scene moving and we have worked along with other bands like the Classified Ads', Thirty Frames a Second, Ethis and Aardwolf. It's only negative reviews like Mr. Morgan's that damage the scene.
"If perhaps he played a few gigs around Tamworth, perhaps he would discover the barrier of lethargy we have had to face for the last two years."
RICHARD LIGGINS
Tamworth Herald – 03/09/82
Musicbox – Finale for the heavy guys?
TAMWORTH's top heavy rock outfit Omen return to their favourite venue the town's Arts Centre next Friday – and the gig could be their last.
The five-piece band who have played to sell-out crowds at the Arts Centre three times in their two-year career, are returning for what could be their farewell appearance.
At the moment they are unsure about their future. Guitarist Ted Wilson said: "We are not saying that Omen will definitely split up after this performance but it has been talked about within the band."
Drummer Daz Williamson agreed: "For a long time we have been apathetic about the group. We have not seized on opportunities we have had to play gigs outside Tamworth or promoted the band in the way we should have done."
But despite these rather gloomy comments, Omen are determined that the gig next Friday will be one to remember – whether it's their last or not.
They were stung by criticism of them in a recent live review by Troy Morgan and are determined to present a good live show as well as their normal impeccable musical display.
"Stage presentation is something we have been working on for some time and for this gig we have put even more effort in," said Ted.
"I also think we probably tried to write too many long, epic numbers too early in our career," he said.
Whatever the band decide to do – and I hope they opt to stay together at least in some form – there's no doubt that next Friday's (September 10) gig will be one to remember. Tickets are available from the Arts Centre.
Tamworth Herald – 17/09/82
Musicbox – Rich nights of fun, rock and song
Omen/Badger/Dave Hewitt/Edward Ian Armchair: Tamworth Arts Centre
TWO VERY different gigs at Tamworth Arts Centre provided two nights of really first class entertainment for the punters.
It is hard to imagine a greater contrast between the comedy and song of Dave Hewitt combined with the poetry of Edward ian Armchair and the heavy rock of Badger and Omen but both nights were rich in enjoyment though for totally different reasons.
Knowing it was their final gig, Omen pulled out all the stops to play their finest ever set. All the tension that has always existed between the members of the band had gone and they attacked their songs with real energy and passion.
Skilled
'Revelation', 'Searching', 'The Clouds', 'Castles', 'Get Out', 'Equilibrium', 'Through Different Eyes' and best of all 'Please Let Me Die' – all their great compositions – were played with really refreshing enthusiasm.
None of their movements were in the least bit choreographed, they just wanted to bow out with a gig to remember and at last silenced criticism of their lack of stage presence.
From the enthusiastic response from the audience I suspect I'm not alone in mourning the passing of Omen – they were a really innovative and skilled outfit and the local scene will be all the poorer for their break-up.
Badger on the other hand are just beginning to get going. Their material apart from one Bad Company sound-alike, was very metallic and very much in an 80s HM mould.
Vocalist Mick Swan, brother of Tytan front-man Norman was the most promising member. Although his voice needs time to mature, he showed considerable talent considering his lack of gig experience.
The theatre was less full on Saturday but not noticeably so, and the attendance was higher than Dave and Edward's last gig a few weeks ago.
Dave's mixture of blues, folk and protest songs together with his own brand of humour kept the crowd thoroughly entertained throughout his two sets.
His delivery and timing was impeccable, his guitar playing incisive and his singing superb as he went through a set of self-penned songs and his own versions of other artistes material.
Highlights were an acoustic version of Hendrix's 'Purple Haze' with the lyrics changed to suit Dave's commentary on British public transport entitled 'British Trains', a satirical look at HM, two punk songs performed with Jed Moore and a stunning instrumental called 'India'.
Edward, seated appropriately in an armchair, read some of his poems featured on his recently-released cassette 'The Armchair Guide to Insanity'.
His word pictures were vividly painted, his delivery was suitably dry and his social comment biting.
I particularly enjoyed 'Beach Ball and Swimming Trunks', a new poem vividly capturing a family day out at the seaside.
The excellent sound system was provided on both night by Tamworth's own PA hire company T.T. sound.
---
Tamworth Herald – 26/08/83
Musicbox – Local line-up for a holiday rock special
THE Castle Grounds is the setting on Monday for the biggest rock event in Tamworth this year.
Five local bands have already been confirmed for a Bank Holiday rock festival – the first in the town for four years.
And the formidable line-up promises to make it an afternoon that has something for everyone.
Hardware will be headlining the show and they have already enlisted Those Attractive Magnets, The Royal Family, Omen 2 and Sitting Pretty as support.
The whole event has been organised by Hardware and Gary Holt from the Arts Centre.
"We decided it would be nice to get a few bands together and we just hope there will be a lot of people there," said Garry Norris of Hardware.
The gig begins at 2pm and is completely free. No running order has yet been made but there is likely to be a DJ to host the afternoon and introduce the bands.
The afternoon promises to be extremely varied ranging from the synth pop of Those Attractive Magnets to the more traditional rock of Hardware.
As well as these two well-known local bands, the festival will also provide an excellent opportunity for three newer outfits to make an impression on the local scene.
Great acclaim
Omen 2 are the follow-up to the once popular men and they have promised a totally new sound.
The Royal Family are a talented blues rock band who have already gained great acclaim following performances at the Tavern.
And the gig will be the first major outing for Sitting Pretty, a new band recently formed by 'Tambeat' editor Mike Turner.
There is also a chance that other bands will be added to the line-up – the Classified Ads have still to confirm – and it all looks set to be an excellent afternoon for the town's rock fans.
All it needs is for Tamworth people to pack the Castle Grounds and ensure that the Bank Holiday festival becomes a firm date for the local music scene.
Tamworth Herald – 16/09/83
Musicbox – Omen bounce back
OMEN 2 who made such an exciting debut at the Tamworth Rock Festival will be playing a gig in their own right tonight at the town's Arts Centre.
The band are the Omen of old with the addition of one of Tamworth's finest drummers Stu Pickett.
And they look set to follow former triumphs at the Arts Centre, which was their happiest hunting ground during their period as the town's top rock band.
The gig is likely to be another sell out so if you want a ticket you will have to hurry!
---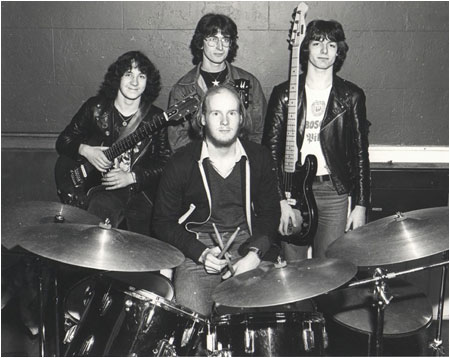 Omen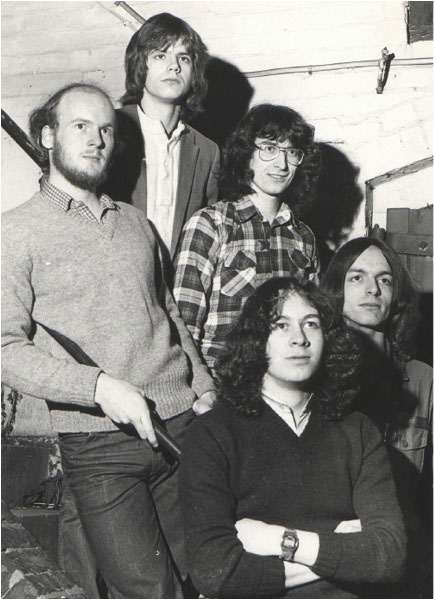 Omen
Left to right: Darren Williamson, Ian Jenkins, Tim Latham, Ted Wilson and Rick Liggins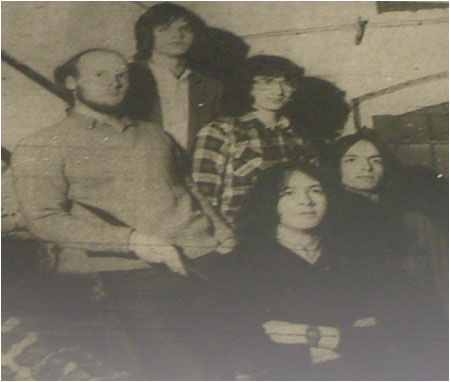 Caption: Omen…looking towards the future. Pictured are Ian Jenkins, Tim Latham, 'Daz' Williamson. Rick Liggins and 'Ted' Wilson.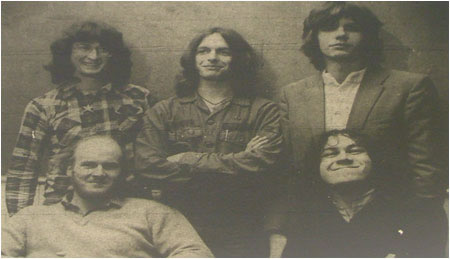 Caption: Omen…a band with a great future, or old hat failures? The answer to that question lies with the members.
The full profile and history of Omen has yet to be added to TamworthBands.com Call back soon to read the full band details.
If you have any further information about this band please email: info@tamworthbands.com