Depth Charge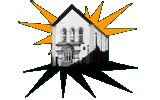 Musical Genre/Type: Rock
Formed: 1983
Band Members:
Tony Lakin
[Also in: Flash Harry]
Trevor Muggleston
[Also in: Flash Harry]
John Haslam
[Also in: Ethis]
Garry Dobson
Gigs
27/07/85
Depth Charge
Tamworth Arts Centre
Mournblade
16/02/86
Wolfsbane
Depth Charge
The Me
The Parade
Battle of the Bands
Tamworth Arts Centre
11/04/86
Depth Charge
The First
Tamworth Arts Centre
13/04/86
Depth Charge
Spirit Lake
Burnin' Sky
The Rathole
30/05/86
Rock Against The Dole
The Green Swings
Depth Charge
Tamworth Arts Centre
01/06/86
The Original Royal Family
Depth Charge
The Rathole
21/06/86
Burnin' Sky
Depth Charge
Seventh Star
Coleshill Town Hall
17/07/86
Depth Charge
Tavern in the Town
14/02/87
Battle of the Bands
Catch 23
Depth Charge
Shellshock
Tamworth Arts Centre
Tamworth Herald – 15/07/83
Musicbox – Band set to cause an explosion
EX-MEMBERS of two Tamworth bands have come together with a new sound.
Tony Lakin and Trevor Muggleston formerly of Flash Harry and ex-Ethis member John Haslam have joined up with Garry Dobson to form Depth Charge.
But the newly-formed rock band need a vocalist.
Tamworth Herald – 26/07/85
Musicbox – GIG GUIDE
IN AT THE DEEP END!
NEW Tamworth outfit, Depth Charge, make their Arts Centre debut tomorrow night – playing with a nationally recognised psychedelic outfit, Mournblade.
For Depth Charge who will be opening The August Bank Holiday Festival, this will be a welcome return to the local stage.
Former Flash Harry favourite, Trevor Mugglestone will be playing his first gig for three years.
Depth Charge are a heavy outfit who are something of an unknown quantity, but are determined to get their name known before they kick off the festival next month.
Playing with them, a band who already have their name very well known in certain circles, Mournblade have already played gigs with Hawkwind and Lick Turner and they were also on the main bill of the now infamous Stonehenge '84 festival.
The band who hail from London are currently on a national tour to promote their new album "Time's Running Out" on Flick Knife Records. They promise a visual as well as an audio performance with theatrics and projector shows to keep people entertained.
Tickets for this intriguing gig cost just £1 on the night, and it certainly sounds like a treat for the town's rock fans. The whole show should get under way at about 8pm.
Tamworth Herald – 29/11/85
Musicbox – SNIPS
DEPTH CHARGE have lined up a special Christmas gig on December 23, at the Arts Centre, when they hope to be supported by a group called the Boozy Brothers whose lead singer has the wonderful monicker of Simon Le Chien!
Tamworth Herald – 13/12/85
Musicbox – Depth charge put heart and sole into fun show


IN ALL the understandable euphoria about next Friday and Saturday's Tamworth Rocks For Ethiopia concerts, a special Christmas gig by one of the town's most interesting new bands looks in danger of being overlooked.
For on December 23, Depth Charge make their first headlining show at Tamworth Arts Centre alongside heavy outfit Earthquake and the eccentric Boozy Brothers.
It is a show that according to lead singer Mick Goodby will be packed full of traditional spirit of all kinds.
"It should be a good night and we are all looking forward to it," said Mick. Depth Charge play rock music which combines traditional progressive rock with the more modern 'pop metal' to make a guitar-dominated sound that can be both powerful and subtle.
They first came to most people's attention at this year's Rock Festival, where they successfully opened the show, with their old line-up.
It was 'old' in the sense that Trevor Muggleston and Darren Milner had been working together for some time, and had recruited Tony Lakin, Garry Dobson and Dave Fitzgerald en-route. When vocalist Dave left, in stepped Mick Goodby, the former BHX and Witzend singer, and one of the most popular people on the local scene. To put it mildly, he found his new band a bit different from BHX.
"It is a lot more relaxed and I am really enjoying myself," he said. "We take the music, very seriously and that always comes first, but we still have a lot of fun." Said Mick.
Depth Charge signals the end of Mick's hyped-up glam image. They are a band who think that the chords are more important then the corduroys. It makes fro a refreshing outlook and a refreshing sound, so if you have still got any money left after the alcohol-ridden Ethiopia gigs, then this is where to spend it. It costs just 75p for a rock and roll party and this includes the chance to see the legendary Simon Le Chien and his Boozy Brothers!
Tamworth Herald 03/01/86
Musicbox – Factory floor the opposition to make a hat-trick…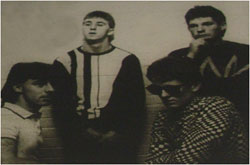 THE Dream Factory have done it again! Yes, for the third year in succession, Tamworth's favourite soul men have pipped all opposition to once again claim the top local band slot in the Musicbox poll.
They did so despite a fantastic turnout of votes for new boys Terroa, who just lost out by virtue of the masses of votes the Factory received not only for first place (which was worth three points) but also for second (two points) and third (one). Wolfsbane, Breaking Point and Royal Family fans by the score put the Factory as their second choice and as the poll entered its last frantic days, it was clear the band were going to do it again.
Landslide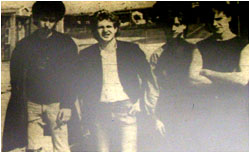 But that was not the only joy for the band. Because they have had such a big national profile all year I allowed them to be included in the Top National Band sector – and they won that with a landslide.
And the same went for the band's tremendous 'Wine and Roses' single which floored all the opposition.
Just to complete the (wine and ) rosy picture, the group had four songs in the top twenty local song section, and also had Mark Mortimer and Tim Goode voted into the top five local personality section.
Dream factory take a bow – you have won it again and you have deserved to do so.
It wasn't only The Dream Factory's poll though. Terroa as well as scooping the runners-up slot in the top local band, also won the best local song award with the excellent 'Thunder and Lightening'. If the views of the hundreds of people who voted (we passed the 500 vote mark with ease) are anything to go by, Terroa are the group you think are going to make it next year.
Still in the local band section, The Royal Family finished a strong third well ahead of the bands beneath them. Like The Factory they seem to have universal support from people of all musical tastes and there is no doubt their popularity is now at an all-time peak.
It should bring a smile of Steve Martin-style proportions from Dave Smith and Eddie Blunt!
Places four and five went to two bands from the Atherstone area Dance Stance and The Me, a band who seem pretty big in North Warwickshire and will be investigated further in the near future.
It was nice to see Dance Stance up there – and also the likeable Paul Hanlon in the personality section – and with Nick Reed now in their line-up, I have a sneak feeling '86 will be very good indeed for the Atherstone band.
Elsewhere, Freight Train showed they have made considerable impact and Wolfsbane proved that their appeal goes far beyond strict heavy metal types judging from the people who voted for Jeff, Bayley, Jase and Stakk.
Breaking Point also had their best ever poll result and it was very nice to see the now defunct Love On Board still hold a special place in a lot of people's hearts.
Delighted
Completing the top ten are Femme Fatale who will be delighted with their debut show in the poll, and then the next five or six bands all came very close indeed to one another. The Sway, Magnets and Sitting Pretty all started well but faded somewhat but overall it was nice to see that virtually every band in the whole district had some supporters.
Just missing the top twenty, for example, were Depth Charge, Banned Wagon, Scarab, Boozy Brothers and Pulsebeat.
The local songs section was pretty reflective of the local band poll but it was pleasing to see people voting for songs that were not by their favourite band, which showed there is a lot of unbiased 'general' listeners among local rock fans.
Perhaps the only surprise was that Breaking Point only managed a top twenty placing (and that was at 17) but you can't have everything.
In conclusion, everyone who votes, many thanks and to all the bands who have made the year so exciting, a double-dose of thanks. Let's now make '86 even better.
Top local band
1. The Dream Factory
2. Terroa
3. The Royal Family
4. Dance Stance
5. The Me
6. Freight Train
7. Wolfsbane
8. Breaking Point
9. Love on Board
10. Femme Fatale
11. The Sway
12. Spirit of Water
13. The Parade
14. Sitting Pretty
15. Trout Meets The Cavalry
16. Dickens
17. Judas Cradle
18. The Magnets
19. Powerplay
And no here's how I'd have voted
Just to complete the overall local music award section, here are the people, the musicians and bands that I think deserve credit in '85:
Top Band – Breaking Point
Top Local Song – 'Come The Day' – Breaking Point
Guitarist – Jase The Ace/Tim Latham/Nick Reed
Drummer – Stuart Blane/Steve Quilton
Bass – Daydo/Mark Mortimer
Keyboards – Rikk Quay
Vocalists – Dave Ingham/Dave Smith/Debbie Whitty
Best Live Band – Wolfsbane
Most Improved Band – Dance Stance
Most Likely to Make it in '86 – Dream Factory
Best Gig – Breaking Point, The Sway, The Magnets Tamworth Arts Centre
Best Demo – Wolfsbane
Best DJ – Buttercup
Best Songwriters – Kevin Briggs/Bryan Lacey/Jase The Ace/John Reeman
Best Lyricist – Bryan Lacey
Haircut – Mick Rutherford
Best Dressed Person – Jeff Hateley
Saying of the Year – "I can't get me breath' – Buttercup
Personalities of local music scene – Ian Gibbons, Tim Goode, Rikk Quay, Eddie Madden, Blaze Bayley, Dave Ingham, Mike Turner, Paul Speare, Phil Smith, John Reeman, John James, Mike Fleming, Sage Side Psycho, Mark Mortimer, Jeff Hateley, Kevin Briggs, Star Trek, Trevor Muglestone, Dave Smith, Mick Goodby, Buttercup and everyone else I've missed.
SAM HOLLIDAY
Tamworth Herald – 17/01/86
Musicbox – Bands tune up for five nights
TAMWORTH'S second annual Battle of the Bands contest looks set to be a great success with 16 groups – some completely new to the scene – taking part. The event has been stretched over five nights, with four heats and a final which will possibly be judged by a celebrity.
And as well as winning the accolade of Tamworth's best band, and a Young People's Arts Festival trophy, the successful band will also win £50 worth of recording time at the Expresso Bongo studios.
The whole event will get underway two weeks on Sunday at Tamworth Arts Centre.
Sunday February 2 – Caprice and Femme Fatale take on the unknown quantities of Coleshill's Burnin' Sky and new Anice Byfield group Precious Toys.
Sunday February 9 – The Australians, One On One, Dance Stance and another new one, Drowning Pool.
Sunday, February 16 – Depth Charge, Wolfsbane, The Me and The Parade.
Sunday, February 23 – Terroa, Spirit Lake, Judas Cradle and Breaking Point.
Friday February 28 – The Final.
Tamworth Herald – 14/02/86
Musicbox – Another battle royale
THE THIRD intriguing night of the Battle of the Bands contest gets underway on Sunday when heat-favourites Wolfsbane take on the varied talents of Depth Charge, The Me and the always-interesting Parade.
It is probably the most diverse night yet in the contest ensuring another bumper attendance at the Arts Centre from a Tamworth audience that has really taken a liking to the competition.
First up – at around 5pm – will be Depth Charge the progressive rock band fronted by former BHX favourite Mick Goodby. The outfit, who were given a good reception the last time they played the Centre, play melodic rock that appeals to more than just rock fans and they should set the night off to a vibrant start.
That vibrant atmosphere will be more than sustained by rock and roll degenerates Wolfsbane who come up second. Their dynamic 100 miles per hour sleaze has the ability to stun an audience at 30 paces and they go into the heat as red-hot favourites to win.
Probably the least known band on the line-up is The Me who take the third slot. The Me, who scored well in the MUSICBOX poll are an amalgam of well-respected musicians with good track records. As little is known about them they should prove a big draw and the other three bands on the night will obviously worry about not knowing quite what to expect.
Finally on the night, will be The Parade – a good outside bet for victory. The committed trio play powerful modern music, built around the songwriting prowess of lead singer Bryan Lacey. They rarely disappoint and if they are on form they could be very difficult to beat. So yet another heat looks like causing quite a stir in the local music scene. Entry is once again free – even the February 28 final will only be 75p or less – and the night looks like being another great success for musicians and spectators alike.
Tamworth Herald – 21/02/86
Musicbox – Sparkling Wolf in winners' clothing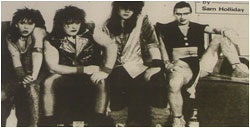 BATTLE REVIEW
Battle of the Bands – Tamworth Arts Centre
POWERFUL Wolfsbane scraped through to the final of the Battle of the Bands on Sunday night, in another close-fought encounter.
Wolfsbane won their heat by just one point, to conclude a night that was once again a triumph for the local scene.
First up were Depth Charge, who turned out to be, perhaps, the biggest surprise of all. A new mood of confidence and aggression has hit the band, and the resulting sound is one that won them many friends among the packed Arts Centre crowd.
The opening two numbers, 'Running Away' and 'In My Car' were two of the best I have heard in the whole contest, and they were both sparkling and very well played. The tight power of the band was quite inspiring and to many ears – mine included – it seemed hard to see how they could be beaten.
Wolfsbane, perhaps because they were carrying around their necks the unwelcome albatross of being the red-hot favourites, started their set off uncharacteristically uncertain. Slowly, however, things began to 'click' and it was clear that whatever Bayley, Jase, Stakk and The Slut have been up to these past couple of months, it has been worthwhile.
'I'm Not A Baby No More' was particularly dynamic, but the award for best song of the set – and the night – certainly went to 'Clutching At Straws' which is a track to get your rock and roll hankies out to.
As Spirit Lake singer Dylan said afterwards, the song is a real classic, and as Dance Stance guitarist Nick Reed also said afterwards, Wolfsbane were tremendous.
By way of a contrast, The Me were next to show. The Me are a likeable r 'n' b combo with a cheerfully spaced-out sound that is very soothing. Lead singer Andy Meakin was especially good, coming across as a sort of erstwhile Lou Reed character. He gave the sort of impression all r 'n' b singers should aim for – a kind of alcoholic nonchalance.
Exciting demos
Finally, came The Parade, who turned in a show made up largely of their exciting two demos. It was direct, powerful and impressive and even when Bryan Lacey's guitar cut out, the group's on-stage enthusiasm couldn't be denied. The three judges on the night, Paul Speare, Phil Smith and Graham Phelps, were all agreed on one thing – with the right handling, The Parade could go a long way.
In the end, however, there could be only one winner and although two bands were almost neck and neck in the judges' view, Wolfsbane were given the nod to take part in next Friday's final.
Tamworth Herald – 07/03/86
Musicbox – SNIPS
Trout Joins The Cavalry are urgently seeking a jazz/blues singer to replace the departing Roger who has sadly had to leave to love in London. Anyone interested must have good pitch, timing and an ability to communicate easily with an audience.
Depth Charge, who I'm told gave a very good account of themselves at their recent 'Bubbles' concert in Hinckley are on the lookout for a keyboard player.
Tamworth Herald – 11/04/86
Musicbox – A buzz of gigs takes off and the choice is yours
THE LOCAL rock scene is set for its busiest weekend of the year so far with a whole host of bands playing impressive shows over the next three days.
The buzz of local activity is proof that after a slow start to the year, local bands have at last found their feet and are breathing fresh, optimistic air once again.
It means rock punters in the region have the chance to see bands as varied as the Dance Stance, Burnin' Sky and Depth Charge in a variety of gigs across the region.
Depth Charge and The First open the proceedings with an Arts Centre show tonight (Friday) and then on Saturday you can catch The Dance Stance at Polesworth Memorial Hall.
And to round off the weekend on Sunday night 'The Rathole' stages its second major show with Depth Charge, Spirit Lake and Burnin' Sky.
The healthy amount of concerts shows that the highly-successful 'Battle of the bands' event has put musicians back in the 'mood' for action as they begin the long build-up to the August Bank Holiday Festival.
One band who should figure prominently in the festival, Depth Charge, set the rocking weekend off to a powerful start when they team up with The First tonight. Depth Charge who have just released their first demo (To be reviewed shortly) play progressive, melodic rock that has won them many admirers at recent shows.
Unlucky
They were desperately unlucky not to win their 'Battle of the bands' heat and if they are half as good tonight as they were then, it should be a fine show.
Headlining the gig are The First – as you must have gathered by the billboard-size posters around the town – they are a perfect foil for Depth Charge, playing music that owes as much to modern 'epic' rock as the traditional rock base which is their roots. U2 and INXS comparisons abound, but don't go along expecting to hear 'I Will Follow'. The First are very definitely their own band.
Saturday night sees one of the most eagerly-awaited shows of the year so far when the legion of Dance Stance members bring a fresh, new set to their legion of fans at Polesworth Memorial Hall.
The band printed 150 tickets in advance and were pleasantly surprised to see them all snapped up, so with people playing on the door as well, there should be a packed audience to watch an intriguing show.
And so to Sunday, The Rathole opens its doors for the second week running hoping for another night to match last week's dazzling opening. Depth Charge will make their second appearance of the weekend alongside Burnin' Sky and progressive outfit Spirit Lake.
Sleaze
Burnin's Sky will bring a mixture of sleaze and blues rock to Tamworth's favourite 'hole' and for people who like an almost literal trip down memory lane, there should be much to appreciate in Spirit Lake's sound.
We must hope that they forget their lethal smoke bombs this time, otherwise people will swarm for the exits like rats leaving a smoking hole.
So a great weekend all round. Ticket prices obviously vary but if you take along about £1 for admission and arrive at about 8pm you should be safe at all the events.
Tamworth Herald – 02/05/86
Musicbox – SNIPS
Just an apology (and especially to Depth Charge) for the time it has taken for me to review various demos. It is entirely due to the wonderful electricity of the very busy music scene but I promise I will get round to it eventually!
Tamworth Herald – 30/05/86
Musicbox - JUST TAKE YOUR PICK!

Caption: The Factory's brass and keyboard section (Left to right) Greg Stevenson, Neil Gledhill, Paul Scragg, Paul Stansfield and Nigel Atherley.
IT'S GOING to be a crazy night for Tamworth's rock scene tonight (Friday) with no less than three excellent concerts on offer.
At the Sacred Heart Centre, the increasingly popular Dance Stance will hit the boards, at Tamworth Arts Centre there is another Rock Against The Dole show featuring The Green Swings and Depth Charge and finally at Polesworth Top Club there is the eagerly-awaited return of The Dream Factory.
Most local rock fans are going to be spoilt for choice so here is a description of what exactly is going on so you can make your decision on where to head for.
Probably the most talked about concert of the three is The Dream Factory's return with their new line-up. The band haven't played Tamworth since Lloyd Barnett and Steve Quilton quit and it will be the first time local punters will be able to assess the talent of new guitarist Dave Stevenson and drummer Batman. The success of a few warm up gigs for The Factory have left them in no doubt that tonight will be the triumph we are all hoping for.
"The gigs at Salisbury and Cannock were great and we are all feeling very confident indeed now," said bassist Mark Mortimer.
A relatively new set is also anticipated at the Top Club so the band say that the new sound they are producing is better than ever, and no one should leave disappointed.
There is a chance a support band may join the bill, but regardless of this the band will be joined by a full supporting disco. It costs just £1.50.
Meanwhile up the road at Glascote. The Factory's keenest rivals The Dance Stance will bring the legion of members (an increasing the legion of supporters) to the Sacred Heart Centre. A great deal of glowing praise has been uttered about the new look.
Dance Stance, lately their sound is now a tight, funky one – drawing on influences from the 60s, 70s and 80s. At everyone of their concerts recently they have won over new converts and their confidence is almost at fever pitch. They are due to hit the stage at around 9.30 but if attendance at recent concerts are anything to go by the message is get there early!
Finally, tonight, completing a quite incredible night of top quality concerts, is the Tamworth Labour Party sponsored 'Rock Against The Dole' gig. The concert is a good humoured evening of entertainment to focus young people's minds on the most serious problems affecting the town at the moment. Spearheading the gig are powerful rock outfit Depth Charge – (whose excellent demo I still haven't had time to review as they keep on telling me!) and the Green Swings; probably one of Tamworth's newest bands. The two bands will be supporting tonight's 75p Arts Centre show, and will probably also be in the running for a much larger Assembly Rooms concert to be organised by the labour party which may see Billy Bragg in town.
So a trio of concerts that offer a simply excellent choice for local rock fans. I can understand the dilemma facing people over 'choice' as I would personally like to go to all three gigs. But the simple message is make sure you go to at least one!
Tamworth Herald – 30/05/86
Musicbox – SNIPS
THE Original Royal Family return to live action on Sunday with a special one-off gig with Depth Charge at The Rathole. It all starts at 8pm and a great night is in prospect.
Tamworth Herald – 20/06/86
Musicbox – Ready for rock shockers, or try a lazy trout
The tomorrow night Coleshill Town Hall is the place to be for a fine triple bill. Coleshill's local heroes Burnin' Sky return to the hall after a number of successful out-of-town concerts and will be joined by a new band Seventh Star and a rather older one Depth Charge. Burnin' Sky are keenly looking forward to the show (which costs a reasonable £1 for the three bands) and Depth Charge are also keen to move into the virgin territory for the group. A warning to all spectators and Burnin' Sky personnel however – do NOT ask Depth Charge's Mick Goodby to relate his sick jokes.
Tamworth Herald – 27/06/86
Musicbox – Labellers who come unstuck…
Depth Charge – Demo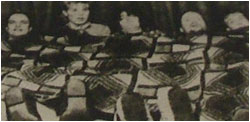 LABELS really get on my wick sometimes. I mean to all intents and purpose, Depth Charge are a ROCK band and for that reason the 'look is everything' types (whose attitude bores me to death) will no doubt choose to ignore them and not give them anything like the respect they deserve.
Which is very frustrating indeed because Depth Charge are a band who I believe could appeal to a far greater audience that they now enjoy.
Regardless of what we choose to call it, this is good strong music played by a band who should not be dismissed because they cannot recite the entire New Model Army lyrics backwards.
The simply key to their accessibility is their tunes. As regular MUSICBOX readers will know. I am a sucker for a good tune. I don't care what style of music I am listening to if it all has good melody it gives my ears that vital 'Domestos quality – staying power'
Wolfsbane, Breaking Point, Dance Stance, One On One, The Dream Factory and my other favourite local bands all play totally different music but they are united by a common bond of being able to write tunes that transcend the simple boxes people like me are all too ready to slot them into.
As proof, if Marillion ever managed to write one half-decent tune in their entire life I am sure I would like that too.
So, armed with these fine tunes, Depth Charge have produced a four-track demo which is very enjoyable indeed. Skilfully put together by Expresso Bongo men Paul Speare and Phil Smith (who have long championed the band) it is a tape that shows that Depth Charge do mean business.
The best number of the four is undoubtedly the opener 'In My Car' which is something of a killer track. Based around a dominant guitar riff and a sawing, well-balanced vocal, the song has a melodic appeal which has made it one of the outstanding live tracks in the band's repertoire.
Particularly impressive is twisting guitar break by Trevor Mugglestone (which owes more to the Hanoi Rocks school of thought that more traditional rock) and a mixture of vocal harmonies that provide a triumphant layer over the top.
Also impressive is the band's best live song – the proudly powerful 'Running Away'.
Tamworth Herald – 11/07/86
Musicbox - SNIPS
DEPTH CHARGE return to live action on Thursday night with a show at the Tavern in the Town. The Tavern has started to have bands most Thursday nights and there is no doubt that this will be among the best yet.
Tamworth Herald – 25/07/86
Musicbox - Blood, sweat and filthy rich…
FOLLOWING Their stirring and unbelievably sweaty performance in front of a packed-out Rathole at the recent Beki Bondage show, Tamworth's finest filth-merchants, Wolfsbane, found out that all the hard work had been well worthwhile.
Our heroes so impressed the Bombshells' management that they were immediately booked as support for the remainder of a national tour, and have been displaying their undoubted talents to audiences across the country, on a tour which included a sate at the semi-legendary Marquee Club in London. Doesn't beat playing at the Rathole though does it lads?
This Sunday night's concert at the Rathole featuring Depth Charge will be an important one as the proceeds will go towards providing a stage at the August rock festival.
Everyone involved will be giving their services free, so make sure you're there to swell the total!
Tamworth Herald – 22/08/86
Musicbox – Here's the fabulous festival line-up
TAMWORTH'S fourth annual Bank holiday rock festival blazes into action this weekend and promises to be the biggest and best the Town has ever seen.
Eighteen bands will take to the Castle Grounds stage on Sunday and Monday offering a varied and exciting package of local talent.
And, to give the festival the best possible start, Tamworth Arts Centre will tonight (Friday) and tomorrow stage two festival party nights featuring among others Wolfsbane, Breaking Point and a one-off show from Love On Board.
All in all it looks like being a festival to remember and here in full details is what is happening where and when.
Tonight
The festival starts with an Arts Centre triple bill featuring three bands from the heavier side of life. New boys Shellshock will join up with not-so-new boys Kara and positively-old boys Wolfsbane for a sparkling three band show. As with last years, the Arts Centre pre-festival nights are designed to be party-style events and everyone petting into the spirit (and spirits) of the weekend. It starts at 8pm costs 50p and should be excellent.
Saturday
ANOTHER enticing triple bill will especially interest people of an alternative (sic) persuasion. Breaking Point, who hope to have their debut single out this week, will headline the show and in support will be two unusual acts. First is 13th Reunion featuring the immortal Gerald on bass and second is Love On Board making a special one-off comeback gig to join in the party atmosphere. It adds up to a superb bill which marks the debut show for 13th Reunion, and once again is a meagre – nay, measly! – 50p
Sunday
AND SO to the main event. Two days of exciting, varied rock music in the Castle Grounds. Once again the stage will be set up in front of the tennis courts at the far end of the Castle Grounds, and as with the past couple of years, it will cost you nothing to watch. Here is a quick one-line description of all the bands on show and their (approximate) appearance times…
Heavy
Freefall (12.20) A Coventry heavy band (that's all I know!)
Attica (1.05) Powerful bass-driven combo who crimp their hair and slice their guitars.
Shellshock (1.40) Young lusty metal sound, who smile a lot.
Soil Brothers (2.15) Skiffle-style pop played with coconuts, cardboard and oodles of enthusiasm.
One On One (2.50) Nose-perfect rock music played by soon-to-be superstars.
Noise
Kara (3.25) loud Americanised noises played by local Anglicised noise-makers.
XPD (4.00) Stylish alternative pop music, which cab be summed up as 'ego-shock' rock.
Catch 23 (4.35) Pure-punk-period pop music with panache, power and passion.
The Magnets (5.10) Modern synthesised pop music played by modern synthesised pop people.
Monday
ONCE MORE the Castle Grounds plays host to nine more varied outfits who line up like this.
Burnin' Sky (12.30) Coleshill-based r 'n' b band who revel in the smoky, sleazy way of life.
Beyond Elysium (1.05) Dark sombre sounds with a modern appeal and feel.
Funky
Cuddly Spiders (1.40) Laid-back harmless flares rock.
Breaking Point (2.15) Passion-packed soaring, roaring rock music.
Dance Stance (2.50) Tight, funky nouveau-pop with a burning soul.
Wolfsbane (3.25) Gentle, middle of the road folk band made up of four charmingly polite young boys. A mud afternoon break from all this rock nonsense.
Depth Charge (4.00) Cuddly rock and roll pirates bursting with good times.
Orange (4.35) Deceptively light pop music with a telling edge. Bright, breezy, orangey.
The Royal Family (5.10) regal r 'n' b with guaranteed dance-ability and toe-tapping tendencies.
Tamworth Herald – 13/02/87
Musicbox – Charge of a Valentine massacre
THE SECOND HEAT of the Tamworth Battle of the Bands blazes into action tomorrow night (Saturday), when Atherstone favourites Catch 23 take on the might of two rock outfits – Depth Charge and Shellshock.
All three bands have every reason to feel confident of success on the night and on paper it seems the Arts Centre concert is wide open.
Staring proceedings on Saturday will be Depth Charge, who are looking forward to this their first concert for some time.
The band – who recently flirted with names like The Muff Doctors and Caging The Raven before returning wisely to their original monicker – were desperately unlucky not to win their 'Battle ' heat last year, when they were just edged out by Wolfsbane.
Then, like now, Depth Charge played the sort of music people like me hate – i.e. the sort that is very difficult to label. It is rock in essence, but rock owing more to the spirit of the mid-late Seventies rather than the mid-late Eighties.
It has a popular edge and a well-disciplined sound and Depth Charge earn almost universal respect among the town's musicians.
Accolade
A rare accolade and an enjoyable band who will kick off Saturday's Arts Centre proceedings at around 8.30pm.
Next up will be Shellshock, playing their first Tamworth concert with new lead singer Andy Mottram. Andy who hails from Measham, has already impressed many people after fronting the band at three Burton shows and Tamworth's rock fans will be able to make their minds up tomorrow.
The band say their music can best be summed up as heavy rock with an occasional metal edge, and they are confident that it has improved and refined since their last appearances around the time of the Rock Festival.
The group have also expanded their set somewhat and are confident that their songs are now more complete and well-structured. They are keenly awaiting their show which comes hours after their gig at Burton tonight.
Completing the three-band extravaganza are Catch 23 who really made their name by appearing in last year's 'Battle'. Since then the band have been regularly in action and have made friends with every single show.
According to the band, their music is 'pop with aggression', an all-embracing term which shows their all-embracing appeal. It is stylish, spirited and polished power pop and the band will approach Saturday's show with their normal enthusiasm and determination.
A quick head-count with some local music-watchers made Catch 23 favourites to win the heat but as any good bookmaker will tell you the favourites don't always win.
Great
So there it is – another fine, varied and enjoyable concert. One winner will be chosen by the three judges – Martin Warrilow, former Orange singer Anice Byfield and XPD man John Reeman – but in the real tradition of the 'Battle of the Bands' this is not just about competition.
It is about bringing together three different bands to produce one great night out for local gig-goers. It costs just £1 to enter (starts at 8 and finishes at 11) and as it is Valentine's Night why not be romantic and bring a friend?
After all what could be more romantic than spending Valentine's day in a sweaty little room full of loud noises, screaming singers and pulsating speakers? Answers on a postcard please to St. Valentine's Day Massacred, Tamworth Herald, etc. etc.
N.B. Will all bands please arrive at the Arts Centre at 5.45 – and be prepared to stop and sort out the stage at the end of the evening.
Tamworth Herald – 20/02/87
Musicbox – Exciting time with the famous five…
THE SECOND night of the 'Battle of the Bands' was yet another exciting, powerful night of pop fun. All three groups – Depth Charge, Shellshock and Catch 23 – played as well as I have seen them play before, and the large, good-humoured audience gave each of the bands an enthusiastic response. And, it all went like this…
DEPTH CHARGE
Back with a new line-up and back with a bang. The group have obviously spent a long time sprucing up their image and sound, and effect certainly worked.
Opening up with the excellent 'Back on my feet again', the group soon settled down to turn in a professional, enjoyable and very uplifting set. Trevor and John Muggleston combined for a superb joint-guitar attack and with good work from Gary, Steve and the ever-improving Mick Goodby, Depth Charge proved they are well on course in their masterplan to take over the universe as we know it!
SHELLSHOCK
Another honest and pulsating set from a band who have tightened up beyond belief since their pre-Christmas days. Andy Mottram adds a strong dimension to the overall attack with the powerful vocals and full credit to drummer Bruno Edwards whose technique and confidence seem to have improved beyond recognition. Although this is obviously metal music, the opener in particular showed that the band have the ability to cross over strict metal barriers and appeal to an even wider audience. The best Shellshock set I have seen to date.
CATCH 23
Well, what can say? This was simply outstanding and ranks as one of the finest set I have EVER seen a local band perform. The group were confident, stylish, musically ambitious and literally oozing with potential and promise. They have matured from a good young band into a great young band, and they never put a foot wrong all night. I felt rather as I did last year when I saw Dance Stance play at the Rathole and came out saying 'that's it, they are going to make it." Catch 23 I salute you. Your time has come – and this was a magnificent set.
THE JUDGE'S VERDICT
Had Depth Charge and indeed Shellshock played on any other night they may have made the final. But against Catch 23 in this form they were always on an uphill struggle. Catch 23 scored what I think is the highest mark ever seen in a Battle of the Bands heat and their overall sound and impact seemed to hit the judges right between the eyes. The opening two bands both excelled themselves, but even Shellshock singer Andy Mottram knew that the young Atherstonians had snatched it. The judges were – unlike last week – unanimous.
MY VERDICT
Well this week I had to agree with the judges. I stood with my mouth open from the first until the last note of Catch 23's set and everything about this exciting quintet impressed me. ON Saturday I could see the band maturing before my eyes and it was a maturing process I found very, very exciting. Worthy winners and I would say a good bet for next week's final.
Tamworth Herald – 20/02/87
Musicbox – Catch 23 will support Dance Stance in a special show in Lichfield on Saturday night.
Tamworth Herald – 27/03/87
Musicbox – Band reaches new heights
Depth Charge – Demo
THE FIRST thing that struck me when I heard Depth Charge's new demo was that, well, it didn't sound like Depth Charge at all. I mean I know they've changed their line-up and all that, but that doesn't normally mean they have to change their sound as well.
For gone is the Depth Charge of "In My Car" and simple endearing rockers like that and in has come something altogether more expansive and original. What we have here is a magnificently produced tape that bears all the hallmarks of a new and fresh beginning for Depth Charge.
Even Mick Goodby - one of my oldest friends on the local music scene and one who I didn't think could surprise me anymore – sounds like he has had some mysterious operation. His voice has undergone a high-pitched metamorphosis that is a real shock.
Mick now sounds like Robert Plant in his pre-Yuppie-CD days as lead singer of Led Zeppelin. Mick's roar has become a more controlled vocal with a far wider range than he has ever hinted at before.
The opening track as a whole "Only Love Can" (I think it's called that!) is very reminiscent of that mid-Seventies Zeppelin feel with Mick leading the song well and the rest of the band slamming out a well-crafted and original ballad behind him. I remember the last time I saw Depth Charge that some young ladies attempted to bit both my ears off for daring to suggest that Depth Charge sounded like mid-Seventies rock but that is EXACTLY what this tape reminds me of. And let's face it, that music wasn't what you would call successful.
The second track takes us into yet uncharted Depth Charge areas – Genesis country! 'Inner Eye' has a classy, classical feeling which is very well written and very well played.
I respect Depth Charge a great deal and hope this new impressive two-tracker will open even more doors for them in the future.
Tamworth Herald - 15/01/88
Musicbox – SNIPS
Depth Charge have changed their name to Never Say Die which, according to guitarist Trevor Mugglestone, 'sums us up perfectly'.