Classified Ads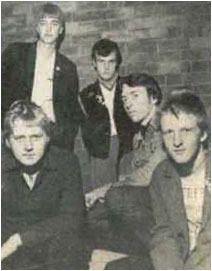 Classified Ads - 1981
Photograph courtesy: Tamworth Herald
Gallery
Musical Genre/Type: New Wave Rock 'n' Roll
Formed: 1978 Split: 1984
Line-up:
Sam Holliday - Vocals (Leyfields)
Alan Turner - Lead Guitar/Backing Vocals (Kettlebrook)
Paul Clements - Bass Guitar (Leyfields)
Simon Webster - Drums (Leyfields)
Derek Goodwin - Keyboards/Backing Vocals (Coton Green)
Songs:
Telephone (Turner)
Just Take a Look at Yourself (Goodwin/Holliday)
Anger can be Power (Classified Ads)
Wonderful World of Sex (Classified Ads)
Mr. Nobody (Classified Ads)
Schoolboy Bands (Classified Ads)
Brilliant America (Classified Ads)
Not Quite Black and White (Classified Ads)
Gigs:
01/05/81
Omen
Classified Ads
(Fetch the) Comfy Jigsaw
Wigginton Village Hall
09/09/81
Thirty Frames a Second
Classified Ads
The Assets
St. John's Youth Club
16/09/81
Thirty Frames a Second
Classified Ads
The Assets
Wilnecote Youth Club
17/10/81
Rock for Jobs
Flash Harry
Classified Ads
Tamworth College
04/11/81
Musicians Union Contest
Classified Ads
Burton Town Hall
12/03/82
Classified Ads
Ulterior Motives
Data Control
Tamworth College
23/04/82
Classified Ads
The Unknown
St. Johns Guildhall
12/06/82
Private Property
Classified Ads
The Restricted
Wigginton Village Hall
17/06/82
Rock for Jobs
Classified Ads
Badger
Tamworth Assembly Rooms
10/01/83
Classified Ads
Tamworth Youth Centre
02/09/83
Classified Ads
Sitting Pretty
Masonic Rooms
05/09/83
Classified Ads
Tavern in the Town
07/09/83
Classified Ads
St. John's Youth Club
13/04/84
Friday The 13th Blitz
Classified Ads
Sitting Pretty
Mystic Hero
Tamworth Arts Centre
11/08/84
Love On Board
Classified Ads
Mystic Hero
Tamworth Arts Centre
24/08/84
Sitting Pretty
Classified Ads
Tamworth Arts Centre
22/09/90
Classified Ads
Embassy Suite
First Gig: QEMS (Queen Elizabeth Mercian Grammar School)
Last Gig: Tamworth Arts Centre
Memories:
St. Johns. 3 watt practice amps. Schoolboy bands. Youth club tours. Eyeliner.
Tamworth Herald Features
Tamworth Herald – 04/09/81
Musicbox – Seriously now, here come the Frames
REMEMBER the dark winter month of February when the evenings were long and chilly and the rain and snow never seemed to stop?
If you do, can you also cast your mind back and remember how the Tamworth music scene was perked up at that time by a cheeky bunch of young lunatics who gave themselves the unlikely name of (Fetch the) Comfy Jigsaw.
Their jaunty antics and lively sense of humour put them along with the short-lived but equally quirky Lounge Lizards – at the top of my winter cheerfulness league.
Well those of you who like me had been wondering what had happened to CJ over the last few months can now stop wondering and read on.
Paul Summers, keyboards and occasional percussion and Andrew Baines, guitar and keyboards have joined the established trio of Mark Mortimer, bass and vocals, Donald Skinner, drums and keyboards and Matthew Lees, lead vocals and guitar to make the new look band.
The name's changed as well. Thirty Frames A Second is the new, more sensible, title. "Everything is a bit more sensible now," said Mark.
Over the last month or so, Thirty Frames have been doing a tour of local youth clubs with The Classified Ads and The Assets in a bid to try out their new material live.
Anyone who has not caught them yet can see all three bands at St. John's Youth Club in Tamworth on Wednesday, September 9 and Wilnecote Youth Club on Wednesday September 16.
TWO SIDES
Keyboards, as you would expect have a big influence on the new TFS sound.
"The extra keyboards mean there are two sides to our sound. We hope the audience won't get fed-up with the sound of guitar and so they will be bombarded with keyboards," said Matthew.
Among the new numbers are "Look at the Mountain", "Houses and Trees", "Love Never Ends" and "Remember Me".
After trying out there new songs the band hope to record a … tape and there is a possibility that copies will be …
Tamworth Herald – 16/10/81
Musicbox – Harry and the 'Ads rock on
TOMORROW night (Saturday) a "Rock for Jobs" concert will be held at Tamworth College of Further Education.
The gig, organised by, Tamworth Unemployment Committee, will feature local bands Flash Harry and The Classified Ads.
A committee spokesman said: "The concert is to attract Tamworth's young people to the activities of the committee and to highlight the unemployment situation in the town."
The concert sparks a return to the local scene for Flash Harry and another chance for the Ads to show their ever-improving talents.
Admission is free and the gig starts at 8pm. There will also be a collection during the evening.
Tamworth Herald – 30/10/81
Musicbox – Classified Info
THE CLASSIFIED ADS will join musicians from all over the Midlands in a major competition next month.
For on Wednesday November 4 they will be Tamworth's only representatives in a Musicians Union contest at Burton Town Hall.
A day in a recording studio is the contests prize and we would like to wish the Ads well in the competition.
Tamworth Herald – 13/11/81
Musicbox - Congratulations
CONGRATULATIONS to the Classified Ads who finished fourth out of the six in their heat of the Musicians' union contest at Burton Town Hall.
Playing to an audience of around 300, the band performed creditably to keep the Tamworth flag flying. Well done lads.
Tamworth Herald – 29/01/82
Musicbox – Classified Ads want record contract


ONE of Tamworth's most enterprising young bands, Classified Ads, have made their first venture into the recording studios and come up with a three-track demo tape.
The tape is part of a concerted bid by the 'Ads to win wider recognition in the form of a recording contract.
Recorded earlier this month in a small Birmingham studio, the tape features three tracks – "Black is the Night", "Summer of '81" and "Mr. Nobody".
Now the band plan to send a copy of the tape to large and small record companies in the hope that some A and R man will recognise their undoubted talents.
For such a young band, the quality of the tape is quite an achievement, and their rapid progress to this stage fully illustrates the great leaps the group has made in the last six months.
My live favourite "Black is the Night" opens up proceedings and, while it lacks the aggression of the live versions, newer listeners will still get a chance to hear what a fine song it really is.
It seems that in their efforts to get everything right, the band have forsaken some of the knock-about violence which makes them such a live treat – but this is entirely understandable. "Summer of '81" is the track the 'Ads are promoting as the potential 'A' side single. And while I remain a dedicated "Black is the Night" addict, I can see the reasons for that decision.
Sam Holliday's biting lyrics about last summer's riots fit neatly into guitarist Alan Turner's light, poppy music. Overall, it's an unlikely combination, but it works beautifully.
"Mr. Nobody" concludes the tape. Personally, I would rather they had included "Not Quite Black and White", "Aftermath", or even "Schoolboy Bands", but "Mr. Nobody" is still a fine track illustrating clearly their distinct new wave influence.
The main purpose of this 11-hour session in the studios is to secure that all-important recording deal, but some copies of the tape are on sale.
Anyone interested in purchasing a copy of the fairly modest price of £1, can write to Sam Holliday.
Tamworth Herald – 12/03/82
Musicbox – College date gives 'Ads chance on wider scene
ROCK returns to Tamworth College in a big way tonight, with what promises to be an exciting triple bill concert.
Data Control, a Lichfield-based new wave outfit, head a bill which also includes another top cathedral city band Ulterior Motives and our own favourites, Classified Ads.
FIRST
It will be the first gig in the area for Data Control, but Ulterior Motives have appeared before, at the popular Chequers venue.
DC have been going in one form for four years and last year went into a Worcester studio to record their first single.
"Prosecution Time", "Brainwash" and "Pig Mire" are three tracks the band laid down, and they are hoping that the single will be released in the next few weeks.
For the 'Ads, the presence of some Lichfield punters will give them a chance to impress their distinctive new wave pop sound on unfamiliar ears.
Admission for what promises to be a fine evening's entertainment is 75p.
Tamworth Herald – 30/04/82
Musicbox – Where are the fans? The answer is Unknown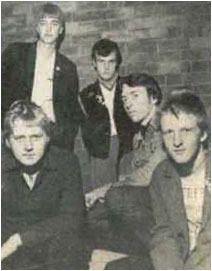 The Unknown, Classified Ads : St. John's Guildhall
TAMWORTH has one of the largest teenage populations in the Midlands…and you did not have to have a census report under your arm to establish that fact on Friday evening.
As I walked through the town centre streets on my way to the Guildhall, the area was alive with young people intent on enjoying their evening out.
Sadly though, none of them were going to the Guildhall, for when I got to the venue only about 25 people were dotted around the room.
And that, it seems, is the crux of the problem facing local bands. How do you persuade the potential punters that attending a gig might just be more enjoyable than an evening in a pub?
Well, I'm afraid I don't have the answer to that one. What I can tell everyone who didn't go to the Guildhall is that they missed a fine show from two first-rate young bands.
The Unknown had been sensible enough to take the precaution of not playing their first gig until they were sure they wouldn't fall flat on their faces.
The Glascote-based three-piece showed hardly any nerves, and played one of the best debut sets I've ever heard.
POPULAR
Musically, it was doomy, grey and fairly monotone – heavily influenced by the Banshees – but it was the sort of thing that's very popular at the moment and with the right behind-the-scenes work The Unknown could become very well known.
The Classified Ads were their usually cheery selves and they were, as always, highly enjoyable.
Some impressive new numbers were wheeled out alongside the old favourites and while it wasn't the best set they have ever played, it was their 25th gig, which speaks volumes for their "play anywhere, anytime" philosophy.
Tamworth Herald – 02/06/82
Musicbox – Another 'Rock for Jobs' Concert
TAMWORTH'S Unemployment Committee are organising another 'Rock for Jobs' concert in the town later this month.
The event which will be the first gig at Tamworth Assembly Rooms for nearly two years, takes place on Thursday, June 17.
HM Band, Badger and new wave outfit Classified Ads are the local bands who will be appearing with a disco thrown in for good measure.
For more details nearer the time, watch this space.
Tamworth Herald – 11/06/82
Musicbox – Badger to shine in 'metal' concert
BADGER, the HM band formed out of the ashes of Aardwolf, are the main attraction at next week's 'Rock for Jobs' gig at Tamworth Assembly Rooms.
The gig will give the new-look heavies a chance to shine before what should be a large crowd.
Badger were formed by ex-Aardwolf members Andy Malkin, guitar, Stuart Pickett, drums and John Archer, bass.
But the really interesting part of their line-up is young vocalist Mick Swan – brother of Tytan front man Norman.
Since leaving Tamworth to join Tytan, Norman and the band have attracted considerable attention from all sides of the national music press and this makes his brother's prowess all the more interesting.
Andy Malkin said: "Mick is keen that people should forget about his brother. He wants to prove himself in his own right – obviously he is still very inexperienced."
Talented new wave outfit Classified Ads are also appearing and there will be a disco as well. Admission will be £1 and 50p for the unemployed.
Tamworth Herald – 18/06/82
Musicbox – Let's get up and dance
Cheers to a bright young outfit
Private Property / Classified Ads / The Restricted : Wigginton Village Hall
SOME months ago Private Property's Mark Mortimer said he wanted his new band to put some much-needed excitement back into the Tamworth music scene.
Saturday night's enjoyable, dance-orientated set by the band went a long way to achieving this end.
The audience danced, sang and cheered more than any other seen by me since The Fretz's classic debut of three years past.
However it has to be said that the band relied too heavily on their repertoire of Jam cover-versions. Hopefully the group will use these songs less as they mature and their own songwriting talents will become somewhat more apparent.
However it seems that, by the end of this year, Private Property will be the most popular band in Tamworth – and for such a young outfit that's really saying something.
The Classified Ads appear to have problems. Their set, easily the most passionate, imaginative and inspiring of the night, was ignored by the crowd.
Simon Webster's brilliant, deft drumming, Sam Holliday's passionate vocal performance and Derek Goodwin's essential synth playing all contributed to a group who are becoming more introspective and refreshing by the month.
However, it seems that dance music was the order of the day and Private Property showed that 'Tears are not enough.'
Unfortunately, The Restricted's messy set was a great disappointment considering their brilliant seven-track demo tape recorded earlier this year.
Brian Pear, however, once again proved himself to be the best drummer in the area.
Tamworth Herald – 07/01/83
Musicbox – Bands set for studio session
TWO OF TAMWORTH'S most hardworking bands – The Classified Ads and The Restricted – will be returning to the studios in the spring to record new demo tapes.
The Restricted, Tamworth's finest punk band, released a powerful seven-track cassette last year to a decidedly mixed reception, but the band are convinced that their next venture into the studio will show considerable musical progress.
The Classified Ads, meanwhile, have been quiet of late because three of the band's members have gone to college. However, the band are still very much alive and keen to return to the studio.
They intend to add the new tracks to the previously-released cassette, making a six-track maxi-demo which should be available in April.
Tamworth Herald – 14/01/83
Musicbox – Variety from the 'Ads
THE Classified Ads made a spirited return to the local scene last week, with a one off gig at Tamworth Youth Centre.
The band who hadn't played together for three months, produced a varied set combining old standards such as 'Telephone' and 'Black is the Night' with newer, stronger material like 'Nostalgia Time' and 'I Fear the Outcast'.
A new song written especially for the gig – 'Where?' – was also performed and it received a warm response from a small crowd.
Tamworth Herald – 02/09/83
Musicbox – Synth or rock…it's a night to note
TAMWORTH's once-decaying rock scene seems to be finally coming to life. Not only did we have a bumper concert at the Castle Grounds on Monday but tonight fans have a choice of two great gigs to attend.
The first is at the Arts Centre where Those Attractive Magnets are playing with the new electronic duo Select Elect, in what promises to be an exciting night for fans of synth music.
But if more traditional rock is more to your taste, then the place to be is the Masonic Rooms in Lichfield Street where the Classified Ads will be lining up with Sitting Pretty in a gig to launch Tamdisk records.
Both gigs will be a perfect combination of the old and the new. The Magnets are one of the town's oldest groups who now seem to be having a rebirth with the release of their excellent debut single 'Nightlife'. And in contrast it is the first time 'Select Elect', the young electronic duo, will take to a main town stage.
Meanwhile over the road at the Masonic Rooms, Tamworth veterans the Classified Ads – who were twice voted Tamworth's top band in the fanzine 'Tambeat' – will provide a nice balance with Sitting Pretty who made their debut on Monday.
The Ads play new wave orientated pop music whereas Sitting Pretty describe their sound as 'music of the 80s with 60s overtones'.
Both gigs look intriguing and they reflect a general reawakening of the Tamworth music scene. All we need now is two bumper crowds to support these gigs so we can really get things moving again.
FOOTNOTE: The Ads will be back in action on Monday evening when they play at the popular Tavern in the Town.
Tamworth Herald – 13/01/84
Musicbox – Long Live the Ads. Infinitum!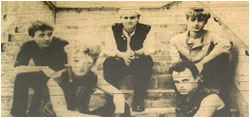 Classified Ads – Tavern in the Town
THE first thing you notice about the Ads as they squeeze uncomfortably on to the tiny Tavern stage is how much they've CHANGED since I used to see them regularly at St. John's Youth Club.
Then – when the song 'Schoolboy Bands' still had some relevance – they were fresh-faced young and blessed with an endearing enthusiasm.
Not much of that has changed but these days drummer Simon Webster, bassist Paul Clements and keyboard player Derek Goodwin look very from young and fresh-faced.
Sitting uncomfortably
The music has also changed beyond recognition. Old classics like "Black is the Night" and "Telephone" sat rather uncomfortably alongside newer numbers like "Where" and "Helpless (In the Hour of Need)".
Despite this apparent problem, the audience enjoyed and applauded every number, and most didn't even mind a level of volume which could be described as paralysing.
Musically it was as near a spot-on performance as you could wish to see from the Ads, although when Alan Turner strummed a few chords of tasty blues guitar in one number, it seemed as out of place as a mud pie in a launderette.
Vocals and jokes
Vocalists Sam Holliday was, as always in lively form, sharing a joke with the audience between each number, and adding a touch of colour to some monochrome music.
Nowadays the Ads are only playing gigs when various band members are at home from university, and all credit to them for carrying on this way.
They may cringe at the thought, but the Ads are as much a part of Tamworth's music heritage as Brewster. Long may they prosper.
Richard Whitehead
Tamworth Herald – 13/04/84
Musicbox – Blitz trio make it a lucky 13th
TAMWORTH ARTS CENTRE will once again be under the spotlight tonight (Friday) when three of the town's most energetic and diverse bands will take part in the 'Friday The 13th Blitz'. Topping the bill are the town's longest-serving band The Classified Ads who will be playing their own unique brand of hard, melodic new wave music.
It will be the Ads' first show in three months, and they are all looking forward to it to make-up for the disappointment of having their mid-day concert at QEM School cancelled at the last moment because of industrial action by teaching staff.
Joining the Ads tonight will be two-other entertaining young bands – Sitting Pretty and the new Mystic Hero.
Sitting Pretty, whose popularity is starting to reach fever pitch, have grown steadily better and more confident with every show and tonight launches an extremely busy month for the quartet.
Tomorrow they will make their second trip to the studio and then on April 27 and May 4 they will return to the Arts Centre for two more headlining concerts.
Both Ads and Sitting Pretty have a vast number of gigs under their belts but tonight will be a stage debut for Mystic Hero.
The trio, comprising Mike Bygrave on lead guitar and vocals, Dave Goode on bass, vocals and keyboards and Bill Morton on rhythm guitar and vocals, have influences ranging from Steeley Span to Big Country.
Listening to their debut demo-cassette, the band appear as varied as their influences with high-powered, cheerful numbers like 'July beaches' sitting comfortably by more soothing and well-crafted tracks like 'It's Too Late'.
On the strength of this cassette, the trio certainly have a lot to offer the Tamworth scene.
The contrast in the styles and sounds of tonight's three bands make it look like an enjoyable event and with tickets costing just 50p, there is no excuse for the Arts Centre not to be packed to the rafters.
Tamworth Herald – 27/04/84
Musicbox – Heroes and villains pack a pretty punch
FOR SMUG, complacent souls content to drift through life, don't go to see the Classified Ads.
The experience will hit you below the belt, twist you inside out, and send you freaking to your nearest doctor. Not only do the Ads ask questions, they demand answers. Through a combination of frenzied sound, and passionate vocals, they tear at the social conscience of the audience.
Lashes out
Brandishing a whip, frontman Sam Holliday, lashes out with a venom reminiscent of early punk. And strains of punk, in fact, are clearly discernable in the rawness of the music, though the final effect is individualistic.
In the song 'Take A look At Yourself' the result is mind-bogglingly impressive. It swirls around the anguished lyric 'this society makes you selfish', before breaking into a drum-thumping chant, made even more moving by a superbly dragging bass line.
The final number 'I Fear the Outcast' is enough to send you racing for cover. Built up around a squelchy, keyboard riff it works up into a frenzy of sound that not even the most passive member of the audience can ignore.
The opening act of the night saw the Mystic Hero make a refreshingly relaxed stage debut.
The vocal harmonies of lead guitarist Mike Bygrave and Bill Morton on rhythm guitar, create a warm bank of sound pleasing to the ear. It's a quality one suspects, good enough to carry a bad song.
Not that the songs are bad. They are not. The band turned out a surprisingly bright and varied set – which though often poetical and evocative of pastel colours, contained enough drive to prevent and descent into insipidity.
'Gloria' for instance, proved an instant winner. Mike Bygrave's powerful delivery, immediately stirred the audience and would no doubt, in a larger venue, have incited many to join in the chorus.
And as if to prove they hadn't come to play safe, the band saved their most adventurous number until the end. About an alien from outer space, the music constantly threatened. A recurrent whiff throughout repeatedly surged forward and retreated, leaving everyone in suspense.
A pleasure
As for Sitting Pretty, the name says it all. Immediately they cam under the spotlight they had the evening's success sewn up.
The textures in their music, the interplay of guitars and keyboard and their easy stage style make the band a pleasure to watch. Their popularity, after all, is no fluke.
From the steely 'Concrete City', with all guitars thrashing, to the beautiful 'Inspiration', with its catchy melody, the band laid on a set with sufficient diversity in tone to prevent boredom.
In fact with three such different bands performing on the same night, variety was the hallmark of a very enjoyable event.
MARCUS DAY
Tamworth Herald – 10/08/84
Musicbox - Come join the bands
It's going to be another hectic week end for gig-goers, with five of Tamworth's top bands in action over the next two nights at the Arts Centre.
Tonight (Friday) The Elusive They will headline the first show alongside the rejuvenated Talk Back, who have promised a totally different set.
And the tomorrow night, ever active Love On Board will headline a show which will also feature the return of The Classified Ads and confident pop outfit Mystic Hero.
Tonight's two-band show looks interesting for a number of reasons. The Elusive They, who made such an impression with the loopy Delusions of Grandeur, have a rich synthesiser based sound which has more than a touch of Soft Cell about it. Avoiding many of the normal synth band clichés, the group play an enthusiastic set of originals which are made all the more palatable by the buoyant onstage antics of the trio.
They are the sort of band who are determined to enjoy themselves no matter what anyone else thinks and it is that easy-going attitude that will probably make them a big hit tonight.
Support act Talk Back, who are probably one of Tamworth's most consistent live acts, have promised a totally different set to what spectators may have been used to in the past. The band have spent a long time writing new material in time for the Bank Holiday Rock Festival and they are keen to test the water at the Arts Centre in advance.
The gig is set for an 8pm kick-off and tickets should be available on the door.
Twenty-four hours later on Saturday night, Love On Board will step out to headline at what is expected to be a capacity Arts Centre gig. The band, who have made the summer all their own, have a very broad-based appeal wrapping up several musical passages inside a commercial framework which guarantees a big following.
They have a sound that fits into the current wave of 'modern pop', an all-embracing term covering bands such as Aztec Camera, Orange Juice, Friends Again and The Farmers Boys. The band have several other elements creeping into their sound, chiefly a touch of the late 60s/early 70s, Lou Reed and Velvet Underground, which helps to add even more colour to their overall panorama.
The Velvets are a band who have also recently influenced support act the Classified Ads. The Ads who have gone through several waves and changes in their past four and a half years appear to be coming through their very black period and have added a touch more commerciality to their hard-edged new wave music. The band have promised a good visual display and are hoping to improve on what they see as their disastrous last appearance at the Centre.
Opening Saturday's show will be lively quartet Mystic Hero who are bursting with enthusiasm and seem to improve with every show. Mystic Hero can also boast a very broad appeal and have the ability to combine simplistic pop songs with more meaty numbers packed with a carefully concealed warmth.
Tamworth Herald 26/10/84
Musicbox – Sleaze, murk…and lots more Hallowe'en treats!
HALLOWE'EN is just around the corner and for two of Tamworth's most atmosphere conscious bands, the occasion will be celebrated in style.
For in Sunday night the dynamic Wolfsbane will be joined by fellow 'ghostbusters' The Classified Ads for a night that promises to be a visual and musical extravaganza.
The bands both of whom enjoy creating dark, sinister images, are expecting a packed Arts Centre to join in the low-down spirit of the night and there is likely to be a prize for the most bizarre looking person on view.
The Hallowe'en Party will kick off at around 8pm on Sunday night when the leather, bleach and whips of The Classified Ads will hit the stage. The Ads, who are now nearly fiver years old, believed their rambling post-punk sleaze with traditional Wolfsbanians who share a similar murky outlook.
The Ads who may have a big surprise up their sleeves, will be playing a set combining older numbers with more recent creations, such as "The Wonderful World", "Anger Can Be Power" and "Derek Don't Wear Hats".
There is even a possibility that the old favourite "Black IS The Night" may be resurrected to fit into the atmosphere of the band's set.
Shortly after the Ads' set Wolfsbane will hit the stage hoping to continue their run of successful gigs which stretches back to their opening show just a few months agao.
The band have gone from strength to strength, filling out everywhere they play and almost bringing the house down at The Tavern recently.
Their set boasts ultra-powerful numbers like "Save Our Souls" (an anthem for a generation if I ever heard one) and more mellow bursts such as "Clutching At Straws".
They have an effect of having a perfect excuse to dress up – they will no doubt go even further over the top than usual.
The bands are hoping to create a good on stage show and they are expecting a full Arts Centre to relish both the unique atmosphere of the hallowe'en gig and the unusual pleasure of a Sunday night gig.
The doors open at 7.30pm and judging by recent attendances at Wolfsbane gigs, the message is – get their early.
Tamworth Herald 02/11/84
Musicbox – Ads split after emotional finale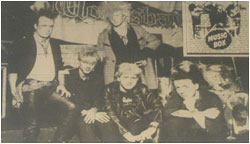 THE Classified Ads, Tamworth's longest serving band have officially split-up. The band, generally regarded as the town's only truly 'alternative' outfit, announced their surprise decision to quit in the middle of Sunday night's Hallowe'en gig with Wolfsbane.
The decision was taken by the band a few weeks earlier, but they decided to wait until they were up on stage before announcing it to the people who have supported them over the past four and a half years.
The reason for the split-up is described as 'purely geographical'. For the past three years, the group has carried on despite its members going to universities and colleges all round Britain. Now, however, with bassist Paul Clements and keyboard player Derek Goodwin working in Manchester, guitarist Alan Turner working in Basingstoke and drummer Simon Webster at university in Liverpool, only one member of the Ads is permanently based in Tamworth.
"It has come to the point where we have had to say it is impossible to continue, although that is very, very sad," said keyboard player Derek Goodwin.
The Classified Ads – originally called The Cuts – were formed in January 1980, at a time when Tamworth's music scene was dominated by long hair, guitar solos and denim. The Ads were never quite sure what they wanted to sound like but they were determined to broaden Tamworth's heavy based image. Their songs at the time were a cross between The Stranglers and The Beatles and the band were described in their first MUSICBOX article as being 'new wave rock 'n' roll'. The Ads however, were always keen to change and as they joined the increasing throng of St. John's Youth Club based schoolboy bands, they gained something of a reputation for energetic, if not always musically, spot-on live performances
They made just one visit to the recording studio, coming out with a three-tracker, featuring their most famous number "Black IS The Night", the riot song "Summer of '81" and the heartfelt appeal for fame "Mr. Nobody".
The tape brought considerable local interest and the Ads continued gigging at their normal rate, playing shows in aid of Oxfam and also giving a special performance to a group of mentally and physically handicapped people from all over the area.
By now, however, their minds were set on leaving Tamworth to pursue university and college courses – but they were determined to carry on gigging.
Every holiday they had, the Ads would arrange a gig, often turning up at places such as their favourite pub, The Tavern or the Arts Centre, unrehearsed but determined to enjoy themselves.
However, their dreams of permanent survival came to an end on Sunday night in a moving concert at the Arts Centre. The band poured 'bubbly' over the audience and they all came back at the end to say thank-you to everyone who has supported them over the years. In their time, they twice won the Tambeat records' Band of the Year, and last year came third in the MUSICBOX poll. Now, all five members are hoping to have a bit of a rest before coming back in new guises and new disguises.
For reasons obvious to most MUSICBOX readers, I would also add my voice of sadness to the passing of the Ads. For me, for the band and for the town's scene as a whole, it really is the end of an era.
N.B. A review of the Hallowe'en gig will appear shortly.
Tamworth Herald – 22/02/85
Musicbox – GOSSIPBOX
THIS column's debut was very well received last week and so we hope to make it a regular feature. If you have news about local bands or musicians be sure to let us know so the truth can be told!
Well we start this week with a happy rumour that Talk Back have been linked with no less a label than EMI. According to my reliable informant, the label are very interested in the ambitious quartet and are considering sending someone up to watch them in action.
On the subject of live action. Sacred Oath are apparently planning to ask Wolfsbane to another 'Battle of the Bands' at the Arts Centre. Although Wolfsbane did a similar highly successful thing with BHX last year, the indications are that they won't pick up the gauntlet. Sacred Oath however, claim that this would be an automatic victory for their outfit.
Sitting Pretty it seems are now 'back on course' according to lead singer Mike Turner. They have recruited former Breaking Point drummer Clark Stewart and experienced bass play Steve Parkin to the line-up and although it is the latest in a series of changes, there is a general feeling that this one is going to stick.
Talking of Sitting Pretty, what have their guitarist, Julian Amos, One On One drummer Stuart Blaine and Caprice singer Mike Fleming all got in common?
Well, strange as it may seem, they have all been members of heavy band BHX at one stage. This was just one of the fascinating facts I picked up when researching BHX's history for their forthcoming national tour programme. The tour has already started to blossom with venues as glamorous as Dudley, Blackburn and Stoke-on-Trent on the itinerary. More info later.
And finally this week, news that former Classified Ads members Derek Goodwin and Paul Clements have formed a new 'sexdeath' combo on Manchester. The duo's first manic performance was described as a 'hideous noise' which apparently pleased both members very much indeed. It's all a far cry from the Classified Ads playing 'Telephone' but then again who remembers the band anyway?
SAM HOLLIDAY
Tamworth Herald – 26/04/85
Musicbox – GOSSIPBOX
Derek Goodwin, the former keyboard player in the Classified Ads is also swapping his organ for the stage. Derek is trying to get into a major play about the Spanish Civil War in Manchester.
He claims to be inspired by Bill Maynard and Roy Kinnear, but says he didn't want to cut his now notorious hair.
So if offered Startford-upon-Avon at the same time as a pair of scissors, it seems he will refuse both. The question now is – did they have bleach-blonde nail varnish-wearing poseurs in the Spanish Civil War?
Tamworth Herald – 12/07/85
Musicbox – SNIPS
Someone who is smiling is former Classified Ads drummer Simon Webster who this week drives another nail in the coffin of the idea that rock musicians are one-track minded, by passing his degree. Simon is now a BA Hons in Modern History although as yet the wonderful world of work seems to have passed him by. Never mind Simon, there are not many drummers in Tamworth who know everything there is to know about the rise and fall of the Nazi empire…
Tamworth Herald – 06/09/85
Musicbox – GOSSIPBOX
Talking of major cities, former Classified Ads – and Tam Aid – guitarist Alan Turner is all set to go transatlantic shortly. What makes Alan's visit to the States so ironic is that Al was one of the writers of the highly cynical Classified Ads somg 'Brilliant America' which included the line about the USA that 'there entire system makes me choke. I certainly hope you don't choke on the plane Al!
Tamworth Herald – 18/04/86
Musicbox – Paul unlocks his alternative Fun house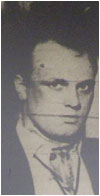 Caption: Paul Clements hoping for a psychedelic sell-out.
SPIKEY TOPS of all shapes, sizes and poseur-levels will make their way to The Rathole on Sunday night when Tamworth welcomes its first ever alternative disco.
The DJ on the night will be Paul Clements, a top alternative record spinner from Manchester, better known to most of you as the former bassist in The Classified Ads.
Paul, who will be calling his show "The Funhouse" has promised to cater for every possible alternative taste – including his own.
"I don't mind what I play as long as it is interesting, different and gives me the chance to put on some of my own goodies," he said.
Sell-out
By 'alternative', Paul means anything that you normally won't find at discos. That means as well as the odd (understandably grudging) blast of The Cult, Sisters of Mercy and the like, Paul will also resurrect many wonderful old punk gems, bits of late Sixties pyschedelia, and the best of today's music.
"We should appeal not only to punks and alternative types but also to people who like The Dream Factory and stuff like that," said Paul.
Paul is hoping that the disco will be the first of many alternative shows at The Rathole. Tamworth's alternative sector has grown considerably over the last few years – as the recent Cradle concert proved – and if they all turn out on Sunday night a sell-out will be the result.
Requests
"I hope an awful lot of people will come along and enjoy themselves. If they don't it will show that there is no call for music like this in Tamworth and there may not be another one so it is worthy of support," he said.
Paul will be basing his "Funhouse" how on the "Psychedelic Jungle" disco he holds in Manchester. His aim is to cut down on between-track chat and just serve up four hours of solid, exciting music. He hopes it will be like The Powerhouse and Zig Zag alternative nights – without the rubbish.
"Unlike The Powerhouse we will play a lot of oldies but goldies like The Clash, Damned, Stranglers, Ramones, bots and so on. It should be a nostalgic night."
And that nostalgia should go back even further with The Stones, T-Rex, rock 'n' roll; in fact anything that people will dance to.
"It would be easy to just play The Cult all night but I want to be more adventurous than that. I don't really want people to bring their own records along but we will play as many requests as possible."
Once again most of the money on the night will be heading for the John Hodgetts fund, currently being swelled by local rock fans. It promises to be an exciting and genuinely different night out for anyone whose musical appreciation extends further that the Top Ten. It all starts at 8pm and the message from Paul is "be there or be square". Welcome to the funhouse indeed.
Tamworth Herald – 25/07/86
Musicbox – Tracking back to Tamaid
TAMAID – Anger Can Be Power (Extended Version)
IT'S BEEN 12 months since the hallmark Tamworth tape was recorded and only now have I got my hands on Paul Speare's devilish re-mix.
As you may remember, TAMAID was the town's own Band Aid where all the area's best singers came together to record two Classified Ads songs about the Ethiopian famine.
The tape was a great success and it was recorded on a day few of us will ever forget. That is why it is such a pleasure to re-live the memories with this suitably unpredictable re—mix.
It is basically the same song with bits of over-dubs, studio tricks and an extended sax break (no prizes for guessing who from!), which add even more power and strength to this worthwhile, entertaining track.
What this re-mix proves to me is two things:
1. Considering it was Expresso Bongo's first commercial recording, it shows how naturally adept Paul and Phil are, and
2. It is high time TAMAID came together again to record something brand new. My thinking cap is now on…
Tamworth Herald – 25/07/86
Musicbox – ADS FULL OF BRILLIANCE…
RECENTLY we told you how former Classified Ads bassist Paul Clements has just become a father of twins. Well another old Ad also had reason to smile last week, when former guitarist Alan Turner heard that he had passed his degree in electronics at the highest possible level – a First.
This to my mind proves that the Ads are the most intellectual band Tamworth has ever produced. Between the five of them they scooped 30 O' Levels, 12 A' Levels (four at Grade A), two degrees and three professional qualifications. It's just a pity they couldn't play.
Tamworth Herald – 28/09/90
Musicbox – Holliday stars in Tamworth's gig of the year!
THE CLASSIFIED ADS – Embassy Suite, Tamworth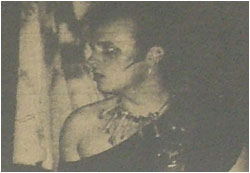 ELVIS LIVES! The Beatles get back together! The Alarm make a good record! The Classified Ads reform!
Unfortunately only one of the above is true. Nearly six years after going their own separate ways into the big bad world, The Classified Ads throw their caps in the air one more time.
To the uninitiated, The Ads were the schoolboy band that starred Sam Holliday in his pre-Musicbox days. A band with a social awareness that at their sweet and tender ages they had no rights no rights having, a band that showed anger really could be power.
Last Saturday, The Ads returned to the town from their various corners of the world and re-united for a short, sharp set at Sam's wedding reception.
And what a reunion! Those of us who could remember how good The Ads were in their day, were not at all disappointed, and the mystique that surrounds the almost legendary lads, was not shattered.
The years have obviously been kind to them all. They all seem as sane as they ever were. Sam remains Sam – the original man in black – mic-hugging, head bowed, giving it his all. If you closed your eyes it was the early 80s all over again. In fact, 'The Summer of '81' and 'Brilliant America' are just as relevant today, in this summer of violence with the American presence in the Gulf, as they were during those days of riots and Reagan.
As if seeing The Ads wasn't enough, the congregation were treated to a quick blast from Catch 23 and a wonderful five minutes of Wolfsbane, who had stopped off from their tour with Iron Maiden, just to share in Sam's day. The party peaked when Sam played the role of the 'fifth' Wolfie and became backing vocalist on 'Paint The Town Red' – only this time singing in tune.
As wedding receptions go this was a corker. I still can't get over seeing The Ads on stage at the Embassy. With the tinsel curtain backdrop it was like 'The Ads' go Vegas!' A splendid time was had by all.
Don't leave it another six years 'til you do it again though, eh lads?
MIKE TURNER
On the morning after, Ads guitarist Paul Clements pleaded with us not to review this – but never having seen the Ads before Saturday, all I have to say is 'Great potential, great songs…but they really ought to get a new singer!"
MARTIN WARRILLOW

Gallery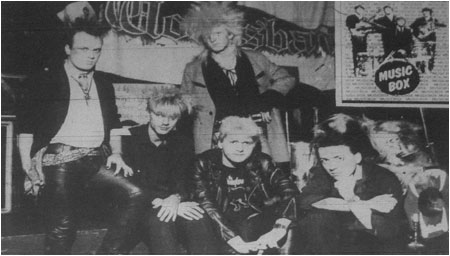 Ads split after an emotional finale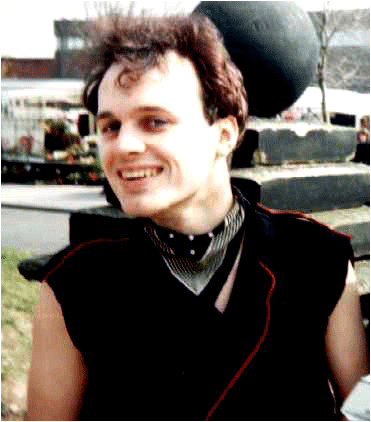 Paul Clements - The Classified Ads circa. 1983
Photo courtesy: Mark Mortimer

Tamworth Herald Review: The Classified Ads, The Assets, Thirty Frames a Second, kingsbury Youth Centre (1981)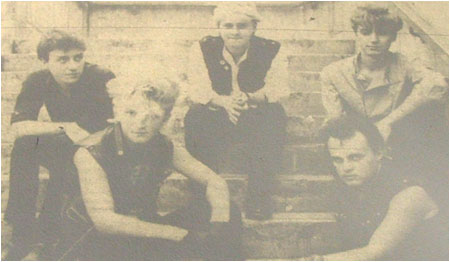 The Ads will be back in action on Monday evening when they play at the popular Tavern in the Town.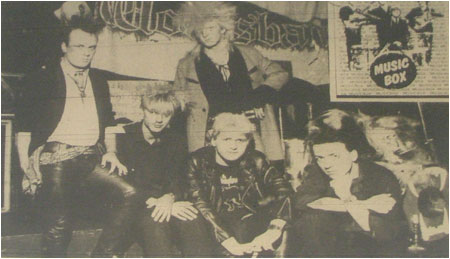 Thanks to: Paul Clements
If you have any further information about this band please email: info@tamworthbands.com