Tamworth Bands History : 1960-1990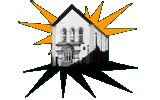 Memories from those early days of 1960 when Lonnie Donegan sang 'My Old Man's A Dustman' and in Tamworth you could see Alan Melville and His Band at Wilnecote Village Hall for 5/-, to 1990 when New Order sang 'World in Motion' with the England football team and in Tamworth you could choose between the Arts Centre, Lincolns or Night Moves to see your favourite local band. Here you will find the complete history of Tamworth bands and the Tamworth music scene over three decades.
Why not read the history of Tamworth Arts Centre and Hamlets Wine Bar - two iconic buildings in the history of Tamworth bands or how about the history of the Disco in Tamworth - another facinating read. See how the Tamworth Rock Festival expanded over the years.
Read the fascinating story of how the Tamworth music scene responded to Elvis, The Beatles and Flower Power. Progressive and Glam Rock, Punk, Heavy Metal, the New Romantics and Indie.