Ramblin' Band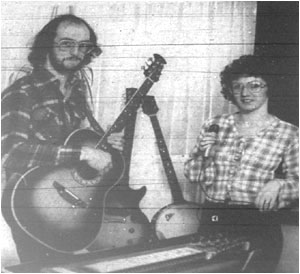 Ramblin' Band - 1979
Photograph courtesy: Tamworth Herald
Formed: December 1978
Line-up:
Steve Harrop – Pedal steel guitar, lead guitar, Banjo (Stoneydelph)
Janet Harrop – Vocals (Stoneydelph)
Martin "Stalky" Gleeson – Drums (Ashby)
Colin Howson – Bass (Coalvlle)
Graham Torn – Guitar/fiddle (Coalville)
Band Variations:
Kev 'Rickenbacker' Bourne - Bass
'J.R.' Fox - Bass
Gigs
16/04/79
Arts Festival
Castle Grounds
Ice, Brewster, Ramblin' Band, Flash Harry, Asylum
28/07/79
Ramblin' Band
Elford Working Mens Club
11/08/79
Ramblin' Band
Dordon Working Mens Club
03/02/80
Ramblin' Band
Belgrave Sports and Social Club
---
Tamworth Herald – 26/01/79
'RAMBLIN SOUND' NOTE OF SUCCESS
ALL set to go places on the entertainment scene are Tamworth's newest country-and-western group 'Ramblin' Band'
Launched just before Christmas, they're playing at pubs, clubs and American Air Force bases where the 'Ramblin' sound is proving a big hit.
The five-strong band was started by 19-year-old Steve Harrop, who lives at Calder. Stoneydelph, with his wife Janet and two young children.
Professional musician Steve, he plays pedal steel guitar, lead guitar and banjo – appeared with many different bands in the Birmingham area before moving to Tamworth just over 12 years ago.
"I felt it was time to have a go at forming a band of my own, and I'm really pleased at the way things have worked out," he said.
"We play country-and-western and country rock depending on the venue. We're different from most other groups at the moment – we're a lot closer to American country rock bands like The Outlaws..
"We offer traditional and contemporary music in our own particular style and I think we've achieved quite a distinctive sound."
In the line-up are a drummer called Stalkey, who lives at Ashby and two members from Coalville – bass player Colin and guitarist Graham.
Tamworth Herald – 16/02/79
Ramblin' into regular venue
The Ramblin' sound…Tamworth's newest country and western group have got themselves a regular nightspot at the Tavern-in-the-Town.
The band – Steve Harrop of Calder, Stonydelph, his singer wife Janet, drummer Martin "Stalky" Gleeson, bass player Colin Howson and guitarist Graham Torn – are playing fortnightly on Monday evenings at the Corporation Street pub.
BOOKINGS
"A chance to play regularly for local people was just what we were looking for, although bookings are rolling in from other parts of the country." Said 29-year-old Steve, who plays pedal steel guitar, lead guitar and banjo.
"We hope this will lead to more bookings for gigs in the Tamworth area."
Ramblin' Band offer traditional and contemporary music in their own particular style, says Steve, and they're already travelling quite long distances to keep dates at clubs and American Air Force bases.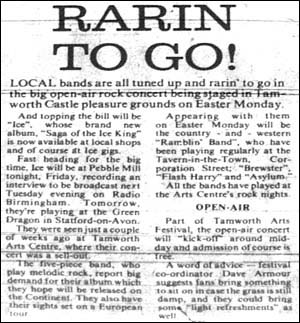 Tamworth Spring Festival 1979 - Easter Monday concert at Tamworth Castle Grounds, featuring Ramblin' Band, Flash Harry, Brewster and Asylum.
Tamworth Herald – 06/04/79
Seeing stars…at Tamworth festival
Extravaganza with something for all
The spotlight turned on Tamworth this week as the town launched its first major Arts Festival – a springtime extravaganza promising entertainment for everyone.
The feast of music, song, drama and comedy is spread over two months and organisers have aimed to cater for all tastes.
Hear a Shakespearian actor and an international jazz pianist…toe-tap to the stirring strains of a top brass band…have fun with flowers…browse around an arts-and-crafts exhibition…get chuckling with master-of-comedy Alan Ayckbourne.
It's all happening in Tamworth over the next two months.
Well over 20 events, some of them spread over several days are lined up for the town's SPRING ARTS FESTIVAL.
On Easter Monday, rock and country-and-western fans can warm up at an Open Air Concert in the Castle Pleasure Grounds.
It will feature bands including Ice, whose new album should be out by then, the Ramblin' Band and Brewster.
Tamworth Herald – 27/04/79
Scene Around
MORE than 300 people converged on Tamworth's Castle pleasure grounds on Easter Monday to watch the town's first open-air rock festival.
Topping the bill were Tabitha recording artists Ice. The band who play melodic rock performed a selection of tracks from their debut album release "Saga of the Ice King."
The five-piece outfit received an enthusiastic reception from the crowd. Particularly impressive was drummer, Stephen Sheldon.
Appearing with them were the country-and-western "Ramblin' Band", "Brewster", "Flash Harry" and "Asylum" all of whom were warmly received.
The concert which was part of the Tamworth Arts Festival, lasted throughout the afternoon.
Ice have set their sights on a European tour later this year and have hoped that their album will be released on the continent.
Tamworth Herald – 24/06/83
Ramblin' Band
Well established local outfit Ramblin' Band are on the look-out for a roadie.
Anyone interested in filling the vacancy should have a van or a car and a tow hook. Interested? Contact Steve…
---
Memories
The band originally started off as Hard Likker, a 7-piece band including sax and electric piano. The aim was to play what was later described as new country. The emphasis being on the rockier West Coast type of country. After the first gig at the Three Horse Shoes, Scottoe, near Norwich, the bands next seven gigs were cancelled as news spread via the country club scene that Hard Likker were a heavy rock band!!!
The singer at the time was not Janet (as pictured), but I can't remember her name, only that she was from Stechford. The band was then paired down to a 5-piece and changed it's name to Ramblin' Band who went on for a few years, myself playing drums for around 2 of those years.
During that time we actually went through 14 bass players including Tamworth man Kev 'Rickenbacker' Bourne, local bass player 'J.R.' Fox (later to join chart band Jigsaw), and a female bass player who went on to join the legendary Ivy Benson Band and was married to Wizard's keyboard player.
After leaving I went on to join 60's pop band Pinkertons Assorted Colours from Rugby.

Memorable moments:
Backing 60's crooner Ricky Valance (Tell Laura I love her)
Backing Jed Ford on tour (Country and Western comedian and hypnotist!)
Backing blue grass legends Bill Grant and Delia Bell (whose songs were later recorded by Emmylou Harris!)
Being arrested but not charged for 'mooning' at the crowd during Flash Harry's set at the 1979 Easter Monday concert at Tamworth Castle Grounds.
The publicity photo that the band used most regularly actually featured Steve and Janet's next door neighbour posing as the fifth member of the band as, at the time, there was no bass player!

Just remembered another bass man, Derek Woods who played amazing slap bass and left to go on tour with Josephs Amazing Technicolour Dream Coat orchestra.

Martyn "Stalky" Gleeson (original drummer with Ramblin Band)
If you have any further information about this band please email: info@tamworthbands.com

Thanks to: Martyn "Stalky" Gleeson