Tamworth hasn't had it's own 'Town Trail' as is the case in many other small picturesque towns across the country - until now that is. Here we have it, the Tamworth Heritage Trail - that is: the Tamworth Bands Heritage Trail. Yes, in a leisurely 45 minute amble around the town you can take in all the major sites that have featured in the history of Tamworth Bands.

Take a shortcut
If you want a quick preview of the trail - visit the Thumbnail Gallery and click on the thumbnail images to find out more.
Print a Copy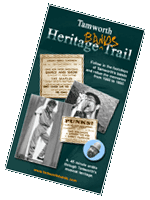 If you'd like to print a copy of the trail to take with you as you walk around the town you can print it here in PDF format. You will soon be able to obtain copies from the Tourist Information Centre, 29 Market Street, Tamworth.
Tamworth Bands Heritage Trail (PDF format 235kb)
To view PDF documents on the Tamworth Bands website you will need to download and install a free copy of Adobe Acrobat Reader.
If you spot any errors or omissions or if you have suggestions for additions to the Tamworth Bands Heritage Trail then please compete the Contact Form here.