Brewster
Musical Genre/Type: Rock
Formed: 1974 - Split 1981
Re-formed as Hardware 1983 - Split 1986
Line-up:
Gary Norris – Drums (Bolehall)
Tony Beaumont – Vocals (Bolehall)
Keith Buck – Guitar (Measham)
Tony Stanley – Guitar – (Lichfield)
Ron Allcott – Bass (Moira)
[Also in: The Teen Beats]
Brewster - A History...by Gary Norris
I'm Gary Norris and in May 2007 I'll be 50 years old. So if I think back 32 years to the spring of 1975 I replied to an advert in the Tamworth Herald for a drummer to audition for a gigging rock band called Brewster. I found out that the original drummer Phil Berrow had recently departed to open Tamworth's first music store (One Stop Music).

I went for an audition in a place called Smisby which is pretty close to Moira where Ron Allcott the bass player lived. I arrived, impressed the band at the audition at Smisby Village Hall and was immediately enrolled into the band at the tender age of 18. The rest of the group consisted of accomplished musicians -Tony Beaumont on lead vocals, he had also played drums in previous bands and hailed from Bolehall. Tony Stanley - nicknamed Big-T played lead guitar and sang backing vocals and was a big contributor to the main writing of the bands original songs in their later material. Keith Buck was the baby of the band at just 17 years old but was a fantastic lead guitarist. So with the 5 piece line up complete we set about practising our 1 hour set of mainly cover versions. Material was mainly decided by the partnership of Ron and Big -T, as far as I can remember the opening set included Peter Frampton's - Show Me The Way, a soul classic called - Hold Back The Night, Itchycoo Park by The Small Faces and Delilah by Tom Jones. Now if you think that this sounds distinctly like a club band doing pop covers then you would be right, we had practised some rock numbers but most of the early gigs we did were at working men's clubs and there bingo loving audiences were definitely not ready for the likes of our later heavy rock material.
As the gigs rolled in we invested the money in bigger and better public address sound equipment and a group van.

We practised our one hour set until we were happy with it and commenced our list of local working men's clubs gigs. During 1976 we gigged regularly and ploughed all earnings in to a group van and upgrading our equipment.
During a gig over at a hotel in Derby, we were approached by a chap named Mick Bowman who wanted to represent us as our manager. After lengthy discussions we signed a 12 month contract and a week later headed out on our first professional gig to Doncaster in Yorkshire. I remember distinctly that it was an uncomfortable ride in a small Austin J4 van with 5 blokes and a load of equipment. We arrived at the Doncaster working men's club some two and a half hours later. As we got out of the van and opened the doors to move the gear into the club, the entrance door opened and out walked a 6 foot 6 inch hells angel wearing a sleeveless leather bikers jacket and sporting a 6 inch knife scar running down the left side of his face. "Your f*****g late , I hope your gonna play your rock set tonight , if you don't play rock all night , you will get bottles and cans thrown at you", he said.
Unfortunately you will appreciate that up to this point we had been playing mostly pop and soul classics at local Tamworth working men's clubs. We new about 30 minutes worth of heavy rock songs, including Thin Lizzy, Sassafras Schooldays and a couple of new tunes we had written on the way to the gig but not performed live.
When we started the gig everything went fine until we ran out of rock songs and started repeating them for the second time. A fight broke out in the front row and one biker grabbed another in a headlock and raced towards the front of the stage. They promptly put their heads through the bass drum skin and we decided discretion was better than a beating and rapidly left the stage until order was restored.
Gary Norris
---
Gigs:
17/01/76
Brewster
Glascote Working Mens Club
14/02/76
Brewster
Glascote Working Mens Club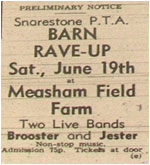 19/06/76
Barn Rave-up
Brooster (sic.), Jester
19/06/76
Brewster
Glascote Working Mens Club
1977
19/03/77
Brewster
Warton Working Mens Club
04/02/77
Kwil
Brewster
Measham Welfare Club
03/06/77
Roasted Hogs Bar-B-Q
DJs Johnny Slade and John Green
Bruster (sic.) and Kwil
Ashlands Farm, Ashby Road
11/06/77
Brewster
Tamworth Working Mens Club
25/06/77
Barn Rave-Up
Kwill (sic.), Brooster (sic.), Richard John Disco
04/08/77
Brewster
Polesworth Working Mens Club
Warton WMC – 28/09/77 – 40p
20/10/77
Brewster
Polesworth Working Mens Club
1978
19/01/78
Brewster
Polesworth Working Mens Club
20/01/78
Brewster
Tamworth Arts Centre
05/02/78
Brewster
Glascote Working Mens Club
18/05/78
Brewster
Polesworth Working Mens Club
29/06/78
Brewster
Polesworth Working Mens Club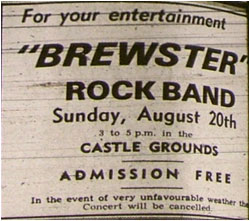 27/07/78
Brewster
Polesworth Working Mens Club
20/08/78
Brewster
Castle Grounds
31/08/78
Brewster
Polesworth Working Mens Club
09/11/78
Brewster
Polesworth Working Mens Club
14/12/78
Brewster
Polesworth Working Mens Club
1979
04/01/79
Brewster
Polesworth Working Mens Club
16/04/79
Arts Festival
Castle Grounds
Ice, Brewster, Ramblin' Band, Flash Harry, Asylum
20/05/79
Brewster
Dordon Working Mens Club
20/07/79
Brewster
Lichfield Arts Centre
05/08/79
Brewster
Dordon Working Mens Club
07/09/79
Brewster
Kingsbury Working Mens Club
19/10/79
Brewster
Kingsbury Working Mens Club
02/11/79
Brewster
Kingsbury Working Mens Club
18/11/79
Brewster
Austrey Working Mens Club
28/12/79
Brewster
Kingsbury Working Mens Club
30/12/79
Brewster
Dordon Working Mens Club#
20/06/80
Brewster
Chequers
12/07/80
Brewster
The Chequers
22/07/83
Brewster
Tamworth Arts Centre
---
Tamworth Herald – 21/01/77
Musicbox - Brewster - aiming for the top
Brewster are a five piece band intent on reaching the top.
The band has been formed seven months now and has several bookings in the area in the next few weeks.
Line-up is: Gary Norris, drummer, from Bolehall; Tony Beaumont, singer, from Bolehall; Keith Buck, guitarist, from Measham; Tony Stanley, guitarist, from Lichfield and Ron Allcott, bass, from Moira.
The band has been doing mainly club work and writes a lot of it's own material. The lads are on the same bill as Kwil early next month and play at Measham Welfare Club on February 4.
They are turning professional in April and are hoping for success. The band plays mainly rock and pop and has an average age of 20.
20/01/78
Musicbox - Arts Centre rock tonight
TAMWORTH Arts Centre stages another rock concert tonight and officials hope that it will meet with improved success.
The few rock events so far held at the Arts Centre have attracted below par audiences but local band Brewster hope to change all that.
The local four piece hand is in action tonight (tickets £1.00) and will be treating rock fans to their own particular brand of funky music.
Brewster are: Gary Norris (drums), Ron Allcott (bass), Keith Buck (lead guitar) and Tony Beaumont (singer).
The band has been formed just over a year and has just completed a mini tour of the Midlands, ending at Stafford's Bingley Hall.
The band begin their first set at the Arts Centre tonight at 8.30 pm and there is a licensed bar.
Tamworth Herald - 13/10/78
Scene Around…
Brewster
Local music fans are in for a treat next week with Tamworth's "Brewster" returning to the local scene. The band line-up is: Gary Norris – Drums (Bolehall), Tony Beaumont – Vocals (Bolehall), Keith Buck – Guitar (Measham), Tony Stanley – Guitar – (Lichfield), Ron Allcott – Bass (Moira).
The band practise in the town and can be seen 'live' appearing once a month on a regular basis at the Chequers at Hopwas.
They play progressive rock and about 30 per cent of their set is their own. They're influenced mainly by Deep Purple and Thin Lizzie (sic.)
"I'd say we're a dedicated band," says Gary. "We aim to please the audience and any money we earn is ploughed back into equipment."
As well as playing at the Arts Centre on October 20, "Brewster" have concerts lined up at Measham Bottom Club tomorrow Saturday, and at the Troubadour, Burntwood, next Wednesday.
They've played at Bingley Hall, Stafford and in the Measham area last summer they entertained up to a thousand people at a time.
Local fans also saw them at the open-air concerts in the Castle pleasure grounds.
Tamworth Herald – 06/04/79
Seeing stars…at Tamworth festival
Extravaganza with something for all
The spotlight turned on Tamworth this week as the town launched its first major Arts Festival – a springtime extravaganza promising entertainment for everyone.
The feast of music, song, drama and comedy is spread over two months and organisers have aimed to cater for all tastes.
Hear a Shakespearian actor and an international jazz pianist…toe-tap to the stirring strains of a top brass band…have fun with flowers…browse around an arts-and-crafts exhibition…get chuckling with master-of-comedy Alan Ayckbourne.
It's all happening in Tamworth over the next two months.
Well over 20 events, some of them spread over several days are lined up for the town's SPRING ARTS FESTIVAL.
On Easter Monday, rock and country-and-western fans can warm up at an Open Air Concert in the Castle Pleasure Grounds.
It will feature bands including Ice, whose new album should be out by then, the Ramblin' Band and Brewster.
Tamworth Herald – 27/04/79
Scene Around
MORE than 300 people converged on Tamworth's Castle pleasure grounds on Easter Monday to watch the town's first open-air rock festival.
Topping the bill were Tabitha recording artists Ice. The band who play melodic rock performed a selection of tracks from their debut album release "Saga of the Ice King."
The five-piece outfit received an enthusiastic reception from the crowd. Particularly impressive was drummer, Stephen Sheldon.
Appearing with them were the country-and-western "Ramblin' Band", "Brewster", "Flash Harry" and "Asylum" all of whom were warmly received.
The concert which was part of the Tamworth Arts Festival, lasted throughout the afternoon.
Ice have set their sights on a European tour later this year and have hoped that their album will be released on the continent.
Tamworth Herald - 20/07/79
ROCK AT THE ARTS CENTRE
LOCAL rock band "Brewster", who have a faithful following in the Tamworth, Ashby and Leicester areas, are to appear at Lichfield Arts Centre tonight, Friday.
It will be the first time they've played a gig in Lichfield and they're hoping for a good turnout.
Demonstration tapes recorded by the band have created a lot of interest and talks are now going on about the possibility of a recording contract.
Brewster hope to bring out their first album in the near future.
Tamworth Herald – 01/02/80
Musicbox – Regular spot for local band
TAMWORTH rock band Brewster have won themselves a regular Thursday night spot at Erdington's Tyburn House.
The band – who have been off the road since lead guitarist Keith Buck left – hope to build up a big following at the pub and make it a permanent venue.
At the moment they are managing with just one guitarist but they are auditioning for a replacement to boost their membership back up to five.
Tamworth Herald – 11/07/80
Musicbox – Brewster are back
Yes, those seasoned campaigners are back on the Tamworth rock scene again after an all too lengthy break.
Tomorrow night (July 12th) Brewster are live on stage at the Chequers in Hopwas.
Member Gary Norris revealed that the band have been playing dates around the Midlands in the last few months including one last week in Twycross.
Gary still insists that the Brewster philosophy hasn't changed over the years – they still aim to give audiences the best possible entertainment.
So get down to the Chequers and see what you've been missing.
Tamworth Herald – 12/09/80
Musicbox – Brewster returns
TAMWORTH rock band Brewster make a return to the local scene tonight (Friday) with their first gig for a month at the Chequers venue in Hopwas.
Brewster's recent gigs at the Chequers have been sell-outs and they're hoping to pack the crowds in tonight. So get along and watch the band with the "good-time" reputation.
Band member Gary Norris said Brewster would soon be adding a fifth member to their current line-up.
Tamworth Herald – 07/11/80
Musicbox – and Brewster return
TOMORROW night (Saturday) sees the return to Tamworth of those seasoned heavy rock campaigners Brewster.
For the popular outfit will be playing at the Chequers in Hopwas and the gig will be the first home appearance for new member Mick Griffiths.
"We are now concentrating more on original material and with Mick joining us we have got the old twin lead sound back again," said group member Gary Norris.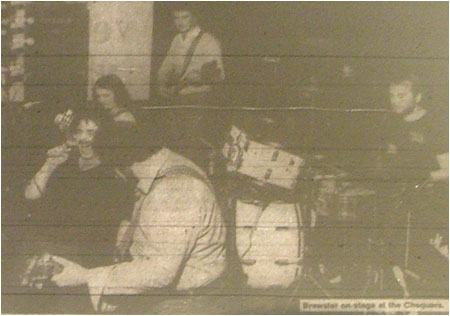 Tamworth Herald – 14/11/80
Musicbox – Triumphant return with a special brew
BREWSTER, the band with the "good time" reputation made a triumphant return to the Tamworth rock scene with an impressive if not inspiring performance at the Chequers on Saturday night.
Over the years Brewster have built up a big following around this area and this was clearly apparent as they played more than 80 minutes of riveting rock to a small, smokey hall brimming to capacity.
In the past the group's act has largely been made up of other artistes work but recently they've been writing more and more of their own material and eventually they hope to arrive at a 50-50 situation.
Let's hope so as it was good to see them play original songs to an appreciative if not over-enthusiastic audience.
Don't get me wrong, Brewster play cover versions that are sometimes better than the originals, but repeating the same stuff over and over again is the first sign of any band's downfall.
Then again this lot are so well established that things would be different without them.
RAUNCHY
Anyway enough of what might happen and more about the gig. It was split into two sets. The first to these ears at any rate, a lot better that the second.
Brewster kick off with a sound, that grabs your attention within seconds. They play short raunchy punch-packed songs, well put together with a raw energy that so often is missing nowadays.
New guitarist Mick Griffiths looks good alongside Brewster's original guitar man Tony Stanley producing a twin-lead sound that strides along full of exciting riffs and jabs.
Then there's bassman Ron Allcott plucking away like there's no tomorrow and drummer Gary Norris providing a solid, powerful beat behind the front men. Over this, singer Tony Beaumont gives us a strong vocal performance and genuinely enjoys every minute of it all.
Combine this with their expertly handled covers which include a string of Thin Lizzy hits plus Neil Young Whitesnake songs and you've got a gig worth venturing out for.
Each member of the band shows us they are more than competent players but particularly impressive is Tony Stanley who makes up in enthusiasm and style what he carries in years.
All in all a good performance from Brewster. At least the packed crowd must have thought so judging by the calls for encores.
There's nothing really new or innovative about this band but they give audiences what they want to hear and surely that's what it all about.
Tamworth Herald – 30/01/81
Musicbox – Trying a new brew
BREWSTER – the Tamworth band that rocked local audiences for more than five years – have split up.
The news came this week that the energetic get-up-and-go band had gone.
But all is not lost, for three of their members are planning to forma new group with the same dynamic approach that the old Brewster band had.
And lead singer Tony Beaumont, bassman Ron Allcott and recent addition, guitarist Mick Griffiths, want to hear from anyone who's keen on joining the new outfit.
The other two members, drummer Gary Norris and guitarist Tony Stanley are also open to offers. Gary says "anything and everything" will be considered but Tony wants to get involved with something completely different and try his luck with a jazz/jazz rock band.
All the five members agree the split was amicable, but even so, they'll certainly be missed. Brewster have always been one of the most consistent bands in the area and were very popular with the crowds.
Tamworth Herald – 27/02/81
Musicbox – Gary takes a jazzy new line


JAZZ rock could become a regular sound in Tamworth if former Brewster drummer Gary Norris has his way.
For Gary has teamed-up with an un-named jazz rock guitarist and they are now looking for a bass player.
If and when they find one Gary and his new band will be looking for a regular venue in Tamworth to play their new style of music and attract other bands in a similar vein.
"We're keeping a low profile at the moment," said Gary: "But when we have found a bass player we hope to start up a regular jazz rock venue somewhere in the town."
But Gary stressed that any likely applicants for the post must have "more than the normal amount of talent" and be able to handle the complexities of jazz rock.
Tamworth Herald – 15/07/83
Musicbox – Band set to cause an explosion
EX-MEMBERS of two Tamworth bands have come together with a new sound.
Tony Lakin and Trevor Muggleston formerly of Flash Harry and ex-Ethis member John Haslam have joined up with Garry Dobson to form Depth Charge.
But the newly-formed rock band need a vocalist.
Another old Tamworth favourite, Brewster, have also got back together.
The band which went their different ways in January '81, have a gig at Tamworth Arts Centre on July 22.
Tamworth Herald – 22/07/83
Musicbox – A new brew's coming
ONE OF Tamworth's most popular heavy bands, Brewster, who split two years ago, have re-formed with a new line-up and a new name.
Hardware, as they are now called, will be making their first appearance tomorrow night at the Arts Centre. The gig costs £1 – or 50p on production of a UB40 card – and begins at 8pm. For a further look at the band see next week's Musicbox.
---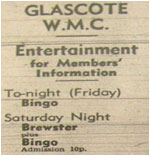 17/01/76 - Brewster, Glascote Working Mens Club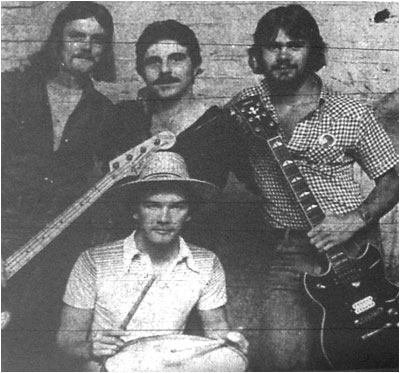 Brewster - 1978
Photograph courtesy: Tamworth Herald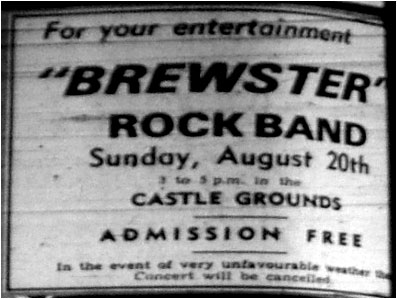 Brewster, along with Flash Harry and Ice played open air concerts in the Castle Grounds in 1978
Photograph courtesy: Tamworth Herald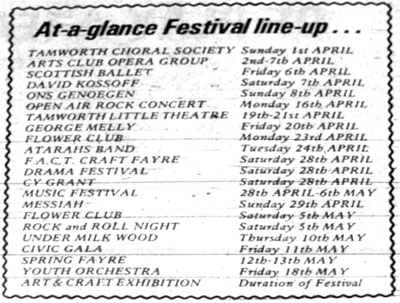 The very first Tamworth Rock Festival - part of the Spring festival of 1979
Photograph courtesy: Tamworth Herald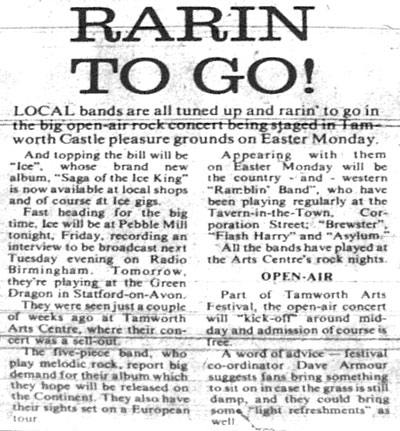 The very first Tamworth Rock Festival as featured in the Tamworth Herald (16/04/79) - part of the Spring Festival.
Photograph courtesy: Tamworth Herald
I love Dave Armour's advice to fans "...bring something to sit on in case the grass is still damp and..bring some light refreshments aswell". Ed.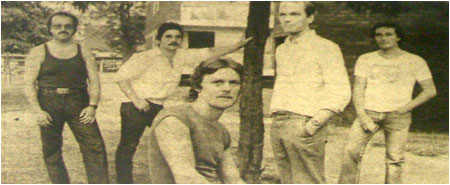 Brewster
If you have any further information about this band please email: info@tamworthbands.com