Edward ian Armchair (Performance Poet)
Musical Genre/Type: Alternative/Punk Poetry
Formed: 1980

Members:
Edward ian Armchair - Words (Amington)
[Also in: Ed Ake & the Painkillers, The Reliants v1,The Reliable Duo, The Reliants#2, DHSSv1, DHSSv2, The Ornaments, Ulterior Motives, Norman Conquest, Formaldehyde Daffodils, DHSSv4, DHSSv5, The Foundation]

Gigs


You need to upgrade your Flash Player.

21/06/80
The DHSS v3 and The Magnets
Edward ian Armchair
The Stable

13/08/82
Dave Hewitt
Edward ian Armchair
Jed Moore
Tamworth Arts Centre

11/09/82
Dave Hewitt
Edward ian Armchair
Tamworth Arts Centre

14/10/83
Nick Lowe
Edward ian Armchair
Dead Captain Speaks
Those Attractive Magnets
Tamworth Arts Centre

08/02/85
Edward ian Armchair
The Parade
Love On Board
Tamworth Arts Centre

18/04/87
Rape In Yellow
The Calling
Edward ian Armchair
Tamworth Arts Centre

03/07/87
Catch 23
The Wilsons
Edward ian Armchair
Tamworth Arts Centre

15/05/88
Bop Baroque
Edward ian Armchair
Tamworth Arts Centre
---
Tamworth Herald – 25/07/80
Musicbox - Rock takes a back seat to poetry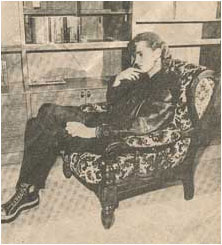 EX-LEAD singer of the D.H.S.S. Edward ian Armchair, paused reflectively, and said "What I was doing with the group was pointless really."
Now the highly individualistic, Ed, is bringing his distinctive lyrics to the fore, not with any other Tamworth band but as a solo artist.
Following in the footsteps of John Cooper-Clarke and Linton Kwesi Johnson, Ed has joined the clan of modern poets offering an alternative to more traditional verse.
Over the past few years he has fronted many groups, the well-known of these being punk-band The Reliants and more recently of course The Department of Happiness and Self-Satisfaction.
But Ed has become disillusioned with the traditional music scene and has decided to go it alone.
"What I was doing with the groups was basically pointless, the only real attraction was the music. The only way to get my ideas across was to do a solo spot," he said.
WRITING
Ed has been writing lyrics for about four or five years now and has performed several times at The Stable in Corporation Street before turning his attention to singing.
Now Ed wants to find places in Tamworth where he can recite his work to a live audience.
"What I want to do would probably be acceptable in a working men's club. I might even use a backing band or just have music in the background," he explained.
Ed admits that Cooper Clarke and Kwesi Johnson have opened up the field for this kind of work but points out that any similarity is purely coincidental.
"They have unlocked the door for me but I don't want to be compared to them," he said.
His work revolves around the everyday emotions of people. Some of the poems are blatantly serious and others light-hearted but all have an important theme runnig through them.
"I write about my own emotions and I try to analyse other peoples' so I can find out what they think and put it into words.
"I also do a few amusing poems because people become bored if it's all serious. There's no point in writing about political things because no one will listen," he added.
Ed plans to go into the studio soon and record three or four poems with a view to possibly landing a contract. "I might not have music on that, just incidental chat between the tracks. I suppose I'm a talking book really."
Tamworth Herald – 20/08/82
Musicbox –Vitriolic view from an armchair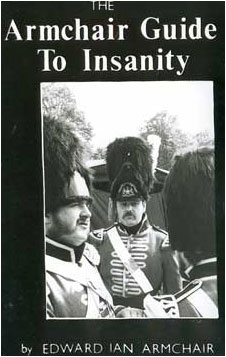 Tamworth's rock poet Edward ian Armchair follows the recent trend set by local groups of producing and promoting their own tapes.
But while Ed recorded at Tamworth's Magnadrive studios and is selling the tape for £1.99 at Rock-It Records, there the musical similarity ends.
The cleverly named and designed "Armchair Guide to Insanity" is basically Ed reading out his poems he's written since 1975, with simple synth and drum backing from his ex-DHSS co-founder Rikk Quay – now of the Magnets.
My first thought was - who is this John Cooper Clarke anyway? (And while we're name dropping JCC read out Ed's 'Adam and Eve' track on Radio One's Studio B15 programme recently).
The 11 tracks are all pretty powerful, image-laden, sharp observations of things around.
And Ed seems to see things pretty vitriolically. I found a definite menacing edge on all the tracks but especially 'In Our House', 'Dolls, and the 'Little Boy Down the Road'.
There's also a sense of humour tucked away in the instructions on when to turn over the tape and in 'The End'.
In the title track Ed asks "Why do armchairs talk when no one listens?" One listen to this tape and it's something you can't forget.
CATHY PETTIGREW
Tamworth Herald – 27/08/82
Musicbox – Alternatively speaking, a great night
Dave Hewitt: Tamworth Arts Centre
DAVE HEWITT'S 'Evening of Alternative Entertainment' turned out to be a welcome change in Tamworth and a very enjoyable gig.
Dave opened the show, treating the crowd to some great folk and blues-orientated songs which covered such subjects as CND, smoking and politics.
In among these original numbers were songs by James Taylor, John Martyn and he also played his own versions of the Doors classic, 'Light My Fire' and Jimi Hendrix's 'Hey Joe' – all backed up by some fine guitar work.
Comedy
One track which particularly impressed was an instrumental titled 'India'.
All through the show, Dave held the audience with a mixture of comedy and music which was well received.
Edward ian Armchair gave a contrasting show, performing material from his recently-released tape.
The Arts Centre's very own Jed also joined Dave to perform, 'Sick on You'.
All in all, a very unusual night, but with our all-too-common small turn-out.
TED WILSON
Tamworth Herald – 10/09/82
Musicbox – Night of music and poems
TAMWORTH'S two alternative entertainers Dave Hewitt and Edward Ian Armchair have lined up an evening of their own particular brand of music and poetry at the town's arts centre tomorrow (Saturday) night.
This is the second such concert arranged by the pair and the last one a few short weeks ago was a 'tremendous success'.
Dave explains the aim behind the gig "We just want to present an evening of entertainment that's totally different from anything normally seen in Tamworth."
"The idea is that we should give people something they will enjoy and be entertained by," Dave added.
Edward will be presenting a half-hour to 40 minutes set featuring some of the material on his recently released cassette 'The Armchair Guide to Insanity'.
Anything
Dave's part of the evening will feature his own material – songs about politics, war and 'just about everything else', he says.
Musically Dave draws his influence from James Taylor and John Martyn and lyrically from the American Larry Norman.
His set also includes some Hendrix cover versions and Dave is hoping to persuade a number of 'special guests' to join him.
Admission for what should be an entertaining and highly original evening is 50p.
Tamworth Herald – 17/09/82
Musicbox – Rich nights of fun, rock and song
Omen/Badger/Dave Hewitt/Edward Ian Armchair: Tamworth Arts Centre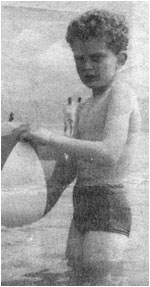 TWO VERY different gigs at Tamworth Arts Centre provided two nights of really first class entertainment for the punters.
It is hard to imagine a greater contrast between the comedy and song of Dave Hewitt combined with the poetry of Edward ian Armchair and the heavy rock of Badger and Omen but both nights were rich in enjoyment though for totally different reasons.
Knowing it was their final gig, Omen pulled out all the stops to play their finest ever set. All the tension that has always existed between the members of the band had gone and they attacked their songs with real energy and passion.
Skilled
'Revelation', 'Searching', 'The Clouds', 'Castles', 'Get Out', 'Equilibrium', 'Through Different Eyes' and best of all 'Please Let Me Die' – all their great compositions – were played with really refreshing enthusiasm.
None of their movements were in the least bit choreographed, they just wanted to bow out with a gig to remember and at last silenced criticism of their lack of stage presence.
From the enthusiastic response from the audience I suspect I'm not alone in mourning the passing of Omen – they were a really innovative and skilled outfit and the local scene will be all the poorer for their break-up.
Badger on the other hand are just beginning to get going. Their material apart from one Bad Company sound-alike, was very metallic and very much in an 80s HM mould.
Vocalist Mick Swan, brother of Tytan front-man Norman was the most promising member. Although his voice needs time to mature, he showed considerable talent considering his lack of gig experience.
The theatre was less full on Saturday but not noticeably so, and the attendance was higher than Dave and Edward's last gig a few weeks ago.
Dave's mixture of blues, folk and protest songs together with his own brand of humour kept the crowd thoroughly entertained throughout his two sets.
His delivery and timing was impeccable, his guitar playing incisive and his singing superb as he went through a set of self-penned songs and his own versions of other artistes material.
Highlights were an acoustic version of Hendrix's 'Purple Haze' with the lyrics changed to suit Dave's commentary on British public transport entitled 'British Trains', a satirical look at HM, two punk songs performed with Jed Moore and a stunning instrumental called 'India'.
Edward, seated appropriately in an armchair, read some of his poems featured on his recently-released cassette 'The Armchair Guide to Insanity'.
His word pictures were vividly painted, his delivery was suitably dry and his social comment biting.
I particularly enjoyed 'Beach Ball and Swimming Trunks', a new poem vividly capturing a family day out at the seaside.
The excellent sound system was provided on both night by Tamworth's own PA hire company T.T. sound.
Tamworth Herald – 31/03/83
Musicbox – Alternatively, it's two of the best
TAMWORTH'S top two alternative entertainers are back on their old stomping ground on Saturday April 9.
Folk singer/comedian Dave Hewitt and poet Edward Ian Armchair are presenting their own unique brand of entertainment at Tamworth Arts Centre on that evening.
The previous two shows have produced good attendances and a rich mixture of music, poetry and humour.
Dave said: "The format will be the same as the other gigs we have done together and I promise there will be something for everyone."
A couple of well-known local guests have also been lined-up to appear during the performance.
"I've got a few surprises lined-up but that's all I'm saying at the moment," said Dave.
There will be a bar and the doors open at 7.30pn with admission 50p.
Dave is also appearing at the Three Tuns, Fazeley this Saturday (April 2) in a special folk bill which also includes Andy Dwyer. Admission is 75p.
Tamworth Herald – 08/04/83
Musicbox – Norman Conquest to take the chair…
PUNTERS attending tomorrow night's 'evening of alternative entertainment' at Tamworth Arts Centre are likely to be in for a surprise.
For if they go along expecting to see singer/songwriter/comedian Dave Hewitt and poet Edward ian Armchair teaming up, then they'll be disappointed.
Dave will be there all right providing his usual mixture of song and laughs but Edward will not be appearing.
But lovers of modern poetry need have no fear, for another highly talented poet has been lined up.
Norman Conquest, another local poet, is now on the bill.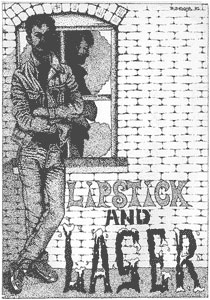 Norman explained his work: "I write mainly about very relevant subjects, the social climate, that sort of thing."
His work will be put to music and the former DHSS members Vince and Martin Watts – now called The Daffodils (Formaldehyde Daffodils – Ed.) - are providing the backing.
Meanwhile Edward ian Armchair, has entered two of his pieces in a competition organised by BBC Wales.
The theme of the competition is Castles and Ed has submitted 'Daytrip to the Seaside' and 'Englishman's Home is His Castle'.
Both have been put to music with the help of Dave Hawkins and Ed has also had one of his poems 'Adam and Eve' published in a BBC book 'Lipstick and Lager'.
Tamworth Herald – 14/10/83
Musicbox – Bowing out – on a real treat of a night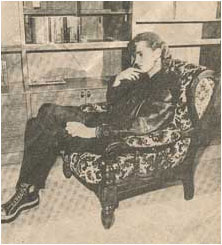 ONE of the Tamworth music scene's most colourful figures, Edward ian Armchair, will be playing his last gig in the town tonight.
And it could prove to be a nostalgic night for Edward who has been an active part of the local scene for more than six years after once singing with the legendary punk band The Reliants.
Edward, who is becoming well-known as an alternative poet, says he wants to concentrate on writing material but he has said his last live show will be a fitting farewell.
"I don't want to give too much away about my performance, but I would like to thank the Co-op for lending me the props." He said.
The gig also boasts the first live show by the Dead Captain Speaks.
The duo – Donald Skinner and Barry Douce – have been formed several months, but they have had to delay their debut because of various other commitments including Donald's much praised work with the Dream Factory.
Dead Captain Speaks are said to have an original sound which includes the use of backing tapes. If they are anything like the duo's former outfit – DHSS – then Tamworth fans are in for a real treat tonight.
And the treats continue with a headlining performance by local heroes Those Attractive Magnets.
The Magnets must be almost embarrassed at how well things are going for them at the moment, and they are sure to prove the night's biggest crowd pullers.
Line-up
The line-up is completed by Nick Lowe, the folk singer who has become a veteran of local gigs and seems to be an almost permanent fixture on certain stages.
With these four very different acts combining, there is no reason why the Arts Centre should not be packed to the rafters – and at 75p a ticket the gig is excellent value for money.
SAM HOLLIDAY
Tamworth Herald – 21/10/83
Musicbox – In the chair for a grand finale!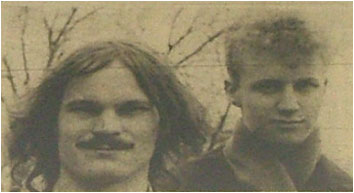 Edward ian Armchair/Those Attractive Magnets/Dead Captain Speaks/Nick Lowe : Tamworth Arts Centre
EDWARD Ian Armchair said goodbye to the Tamworth music scene in the best possible way on Friday night – with an excellent performance at the Arts Centre.
Edward gave a marvellously enlightening show of modern poetry, which delighted the audience and must have made him wonder whether he really should retire from live gigs.
His poetry was occasionally rude, occasionally witty and always perceptive. It revealed an incredibly alert mind at work and often delved into beautiful passages of prose.
Edward now looks forward to taking his poetry to a wider audience but his departure from Tamworth's music scene added a touch of sadness to an otherwise uplifting performance.
But such is the state of the local scene that as one flower dies another starts to bloom. The new bloom is the Dead Captain Speaks, a unique duo who played their first-ever set before Edward played his last.
The band gave a remarkable and intriguing show of music that has certainly never been heard in the town before. To put a label on their sound is as impossible as trying to describe the taste of water. Suffice to say this is not pop music!
But what certainly is pop music is the always interesting sound of Those Attractive Magnets. The Magnets had only 20 minutes to wind up the gig, but they did it magnificently. Every one of their five songs was a highlight in itself, but without doubt the outstanding track was "The Age of Innocence".
Straight after the gig and during the ensuing week-end there was unconfirmed rumours that the Magnets had split up. If this is true, it, will be a disaster for the town's music scene and we must just hope the band patch up their differences soon.
The evening was completed by another solo show by Nick Lowe who played an enjoyable, if perhaps overlong, set packed full of original folk numbers.
But the night undoubtedly belonged to Edward. It was a fitting end to a varied and enterprising live career and if he manages to translate his words into print we could have a major alternative star on our hands. In fact, this could just be the beginning…
SAM HOLLIDAY
Tamworth Herald – 08/02/85
Musicbox – Sitting in on a poet with the pits at heart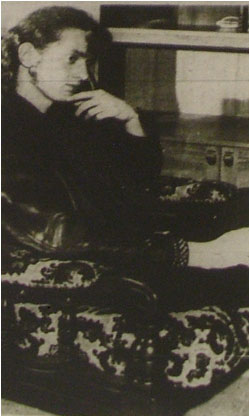 TAMWORTH'S alternative poet Edward ian Armchair will come out of retirement tonight to join The Parade and Love On Board in the first ever miners' benefit concert in the town.
Edward who gave up stagework in 1983, felt it was time local musicians did something positive to support the miners – and so he decided to take the initiative himself.
After gaining the support of fellow sympathisers The Parade and Love On Board, Edward booked the Arts Centre and is now set to perform tonight's unique show.
"Although I gave up performing a while ago, I have wanted to do a miners' benefit for several months, and so I finally made the decision to go ahead and do it," said Edward.
He is convince that local young people support the miners' cause, and he is confident many of them will rally round to attend the gig.
"I think is important we do concerts about issues at home because a lot of people are suffering hardship through this dispute. Even if they reach agreement there will be a lot of families in financial difficulty so we must do everything in our power to help them," said Edward.
Politics aside, the concert will also be a chance for some people to hear Edward's unique brand of poetry for the first time.
Rare chance
Since being a founder member of legendary punk band The Reliants, Edward has always had a high profile in the local scene. But it is with his original poetry performance that he has probably made most friends.
His poems cover a whole variety of modern issues – serious and not so serious – and give people a rare chance to hear modern live poetry.
Joining Edward tonight will be a superb trio The Parade who dedicated one of their songs at the 'Rock for Ethiopia' gig to the miners. The band who have an excellent three-track demo under their belts, play powerful new wave-orientated pop which combines speed with subtlety and aggression with sobriety.
Completing the official line-up is Love On Board whose recent re-appearance at the Tamworth Rocks for Ethiopia gig brought delight to many people. Their jovial modern pop sound has made them many friends and there is no doubt that their appearance will bring extra money – and people – into the event.
Tonight's gig – which may also feature other as yet unconfirmed names – kicks off at around 8pm and Edward is banking on a good response from local people.
"The miners are fighting for the working man and we will all suffer if they lose that fight."
Entry to the gig is £1.
Tamworth Herald – 09/05/86
Musicbox – SNIPS
The line-up for this year's Tamworth Rock Festival is now complete – and all 20-plus bands involved have pledged to make the event the biggest and best yet. A highly successful meeting of all the band members and committee was held on Sunday and it was vowed to make the festival as professional and varied as possible this year. For the first time there will also be festival t-shirts courtesy of the talented Edward Ian Armchair whose Thistle Print organisation will also design the posters and promotional materials for the event.
Tamworth Herald – 04/07/86
Musicbox – But would he buy a t-shirt?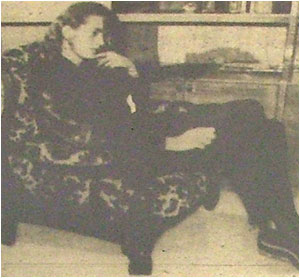 EDWARD IAN ARMCHAIR – aka Kevin Knowles – came face to face with the well-known pop fan and occasional heir to the throne, Prince Charles last week.
Edward, former singer with punk kings The Reliants and still Tamworth's most acidic new wave poet, met Prince Charles during the heir apparent's trip to Birmingham. Edward was there to talk about his screen printing business he has set up as part of the TAMSEC organisation. Apparently the Prince was suitably impressed and also said he had heard of Tamworth. What I want to know however is did Edward try to sell the would-be monarch one of our rock festival t-shirts? As you may know Edward is designing and printing Tamworth Rock festival t-shirts ands posters and surely there would have been no better publicity for the event that seeing Prince Charles attending a local gala with one of our festival t-shirts emblazoned across his chest!
Tamworth Herald – 17/04/87
Musicbox – A fine trio is fired up for a free-for-all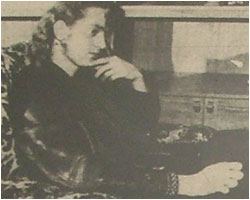 Caption: Edward ian Armchair…welcome back
TAMWORTH ARTS CENTRE plays host to a unique free concert on Saturday night – which brings together three exciting and varied acts.
Spearheading the show will be the ambitious Rape in Yellow, who will be joined by The Calling and Tamworth's first ever alternative poet Edward ian Armchair, making a surprise and very welcome return to the stage.
The show has been put together by Rape in Yellow, a band who are determined to build on the success of their debut at Tamworth Battle of the Bands.Armed with an all-new 45 minute set, a strong committed line-up and bucketloads of confidence the band are eager to show the town's music fans just what they can do.
"We want to be up there with Wolfsbane and Dance Stance as soon as possible," said singer Graham Harwood. "We think we have got some interesting songs and we hope people will see we have improved a lot since the Battle of the Bands."
At their debut show, many people were very impressed with the band's modern, intelligent outlook and they very varied sound, which encompassed everything from the Kinks to The Cure.
Among those bowled over by Rape in Yellow was T-shirt supreme Edward ian Armchair. He was so impressed with the group that as well as helping them out with merchandise he has agreed to come out of semi-retirement to join Saturday night's freebie concert.
Edward, who hasn't performed live in eons, will no doubt be watched with extreme interest by the new-wave of wordsmiths, such as Jed Moore and Kevin McGough. Edward always produced a quite superb, entertaining set and I for one am keen to see him back in that famous old armchair…
Completing tonight's show (and going on last of all) will be The Calling who have not split up contrary to wild press claims (!). The group have hinted that they will play a very long set indeed and there is no doubt it will be lapped up hungrily by the town's alternative fans.
Three very different acts, all capable of stealing the show and best of all it's free, free absolutely free. If you miss Saturday's show, I hope you choke on your Easter eggs.
Tamworth Herald – 18/09/87
Musicbox – Decade with a herald of punk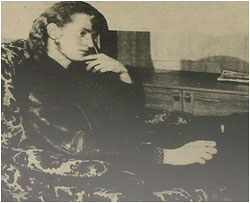 Caption: Edward ian Armchair…in reflective mood ten years after the birth of a Tamworth musical institution.
AN IMPORTANT moment in local history passed last week with hardly anyone noticing.
For this time ten years ago a band called The Reliants were formed in Tamworth. They got together days after the Herald (in pre-Musicbox days) did a half-page special about 'punk rock' (or apparently misquoting) an eloquent young man named Edward ian Armchair.
Eddie believes the article set the punk ball rolling again in Tamworth even though it was intended to say that the new wave was a dead wave in the area. Shirtly after the article appeared Edward met up with Vince Watts and Tamworth's first and perhaps truest punk rock band The Reliants were formed.
They did a whole host of concerts locally at a time when apart from one or two rock bands like Ice and Brewster, the Tamworth scene was as dead as the proverbial dodo. In their own way they inspired a whole new mood and feeling in the area and directly or indirectly because of the Reliants, bands such as Those Attractive Magnets, DHSS, The Classified Ads, The Fretz et al felt the desire to actually play music and put the area firmly on the map.
"However boring it may be to the younger bands in Tamworth, I'm confident that the Reliants had a big effect on certain people in Tamworth which has given us a flourishing music scene in the town." Said Edward this week.
And the good news for all of us who were ensnared by the Reliants web, is that the band are hoping to reform in time to do a one-off show at next year's Tamworth Rock festival. To the band itself, the show will be an important trip down memory lane but for many other people it will be the first chance to see a band whose influence on this area cannot be overstated.
Tamworth Herald – 20/11/87
Musicbox – SNIPS
Heaven with the Smiths
LOVERS of the already much-missed Smiths are in for a real treat tonight (Friday). For mega-Smiths fan Mr. Edward ian Armchair is running a special Smiths-only disco at Tamworth Arts Centre to celebrate the passing of this most important of British outfits.
Edward wants all Smiths fans from the area to descend on the Arts Centre, dance a bit, cry a bit and generally acknowledge a group who will be remembered with affection by all of us who they touched. It starts at around 8pm and ALL you will hear ALL night is Smiths music, more Smiths magic and yet more Smiths music. Sounds heavenly.
Tamworth Herald – 24/03/89
Cabaret night bubbles over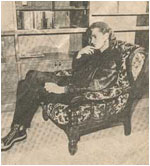 IT's Friday Night Live cabaret time again at Tamworth Arts Centre this Friday, March 24, with the promoters Tamworth's Open Arts team, aiming for their third sell-out success.
Edwardian ian Armchair is in the line-up this time while topping the bill are the Mike Pinder Sextet. Sean Percival and Nine-piece jazz band the Expresso Bongo Orchestra are also appearing as are the five-man 'countrybilly Soil Brothers.
And inimitable compere once again with be The Great Stan.
Kick off is 8pm
---
Memories
Although it was a long time ago my over riding memory of your poems was "Wow, he really hates his Mum!" It was probably some metaphor I didn't get. Rob Cross

---
Memories
Taken from Memories by Edward ian Armchair from www.eddiearmchair.com
Ed Ake was sitting in Tamworth Reference Library. He was bored with Ed Ake and needed a new persona, he'd already tried Edward Sutherland but wasn't happy. Everyone knew him as Edward but that was all. Flicking through the Oxford English Dictionary: Edam, Eden, Edition, Edriophethalmium, Edwardian. Yes, Edwardian, Edward - ian, that has possibilities. But Edward ian what - Armchair of course. The Armchair was born.
In May 1980 The D.H.S.S. v2 gig at The Stable had been a great success, but… Edward and Vince had finally parted company and the Armchair had decided that it was time to go his own way. (Vince continued with The D.H.S.S. v3 (Do Have Some Speed) including taking part in the March for Jobs, during the height of unemployment in Thatcher's Britain, in 1981).
The first thing to do was to go to Musicbox at the Tamworth Herald and announce his intentions to the world. New Editor Rob Sly lead with the quote "What I was doing with the group was pointless really." What was meant was, as the content of the lyrics of the songs was always of paramount importance, the only way of getting the message across, was not to have music. Edward ian Armchair, the performance poet was born.
The press photograph was booked, Johnnie 'smile boys!' Walker arrived and he and the Armchair went off to the Co-Op furniture department. The most expensive, plush armchair was found, handily in a room setting and the Armchair was snapped. This back-fired slightly as the public then thought Armchair lived in the lap of luxury - not quite the case.
The Armchair had of course performed his poems locally many times before at The Stable, but over the next three years it became a regular event that he took to the stage at The Arts Centre, reciting a selection of his poetic works. Audience favourites included: Little Red Riding Hood, Fat Gut, Bald Head, Smart Grey Suit and A Day Trip to the Seaside with my Beachball and Swimming Trunks.
---
21/06/80: The DHSS v3, The Magnets and Edward ian Armchair at The Stable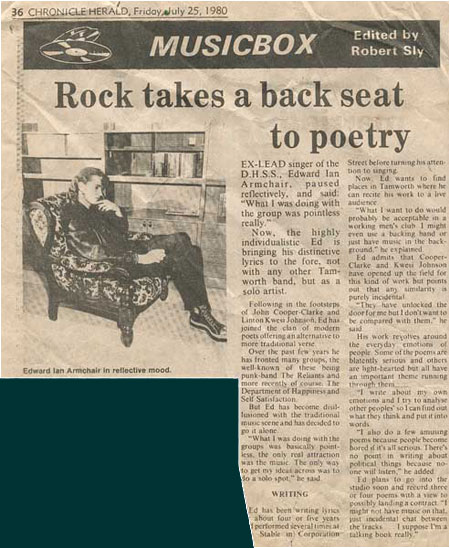 25/07/80 - Tamworth Herald - Rock takes a back seat to poetry
Thanks to: Rob Cross