The Reliants v2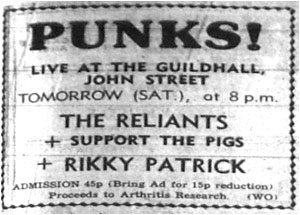 Musical Genre: Punk
Formed: January 1979 Split: June 1979
Band Members:
Edward ian Armchair - Lead Vocals (Amington)
[Also in: Ed Ake & the Painkillers, The Reliants v.1, The Reliable Duo, The DHSS v.1, The DHSS v.2, The Ornaments, Edward ian Armchair - Performance Poet, Ulterior Motives, Norman Conquest, Formaldehyde Daffodils, The DHSS v.4, The DHSS v.5, The Foundation]
Vincent G. Watts - Guitar and Backing Vocals (Glascote)
[Also in: The Reliants v.1, The Reliable Duo, The Ornaments, The DHSS v.1, The DHSS v.2, The DHSS v.3, Formaldehyde Daffodils]
Baz Douce - Bass (Glascote)
[Also in: The DHSS v.2, The DHSS v.3, Dead Captain Speaks, Freight Train]
John Higgins - Drums (Glascote)
[Also in The Reliants v.1, The DHSS v.2, Those Attractive Magnets, The First Conspiracy]
Graham Mason - Vocals (Town Centre)
[Also in: Those Attractive Magnets]
Gigs:
26/05/79
The Reliants
Plus Rikky Patrick
Guildhall
Songs:
Just Look at You (Armchair/Watts)
Commodity (Armchair/Watts)
Living in a Monochrome World (Armchair/Watts)
This is Rock and Roll (Armchair/Watts)
---
Tamworth Herald – 25/05/79
'PUNK' SHOW FOR CHARITY
Tamworth 'punk' rock group The Reliants are putting on a show in the town tomorrow, Saturday night – and aiming to donate the proceeds to charity.
The concert will be staged at the Guildhall next to St. John's Church, from 8p.m.
In the line-up are vocalists Kevin Knowles, from Sharpe Street, Amington, guitarist Vincent G. Watts from Barlow Close, Glascote, Baz Douce, bass guitarist of Basin Lane, Glascote, drummer John Higgins of Argyle Street, Glascote, and Graham Mason, vocalist, who lives in the town centre. All are in their teens.
The band started up about a year ago, have since played in Great Barr, at the Star Club, Birmingham, the Bowling Green at Lichfield and at Tamworth Arts Centre.
"I suppose what we do is pretty rough but then it's the kids we're appealing to," said Kevin who appears on stage as Edward ian Armchair.
"This time we just felt we'd like to do something for charity. We haven't actually named on yet, but I think we'd like some money to go to the disabled."
The full profile and history of The Band has yet to be added to TamworthBands.com Call back soon to read the full band details.
---

Memories
Diary entry from then teenager Andy Morgan, guitarist with The Less, The Wipeouts and the Jupiter Rhythm Kings.
Saturday 26th May 1979
"Went to see The Reliants -'Tamworth's answer to The Sex Pistols' - at hall in Tamworth. Gig ended in chaos. Just D.J. on at first. When Reliants came on, they were pissed and feedback was awful. So bad it wasn't worth playing. Did a few numbers. Sounded crap. Guitarist got really angry and smashed his guitar to pieces. Few cans thrown beforehand and guitarist had set fire to stage. After guitar smashing incident, chairs started to be thrown so we left hastily. Happy because realised we could do better. Apprehensive if that's the kind of audience
we'll get" AM.

---
Memories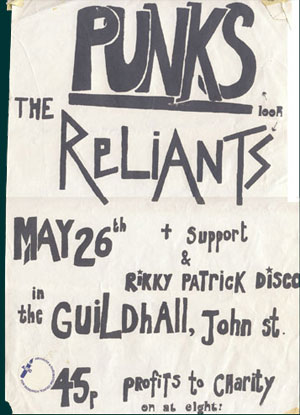 Taken from Band Memories by Edward ian Armchair from www.eddiearmchair.com

The time is early 1979. After the demise of the original Reliants, things moved on. Eddie Armchair and Vince Watts stayed together and met up with Hofner Violin Bass playing, Afghan coat wearing Barry Douce. Practising in the cellar of the Douce family home, a small set of songs were gathered together. John Higgins was again recruited as drummer.
During this time, experimentation began in the pleasures of exotic substances and Mr. Armchair began to rattle with his excessive level of pill consumption. The delights of The Tavern in the Town had been discovered and things were generally fun, fun, fun. For some unknown reason it was decided that a second vocalist would be a good idea and the band recruited one Graham Mason, a gig was organised at St. John's Guildhall for May 1979.
During the morning of the gig, a slight problem arose. Vince and Barry on their way to the last practice session, decided they wanted some sweeties out of a tuppenny sweet machine on a street corner. When the offending machine refused to deliver Vince's gobstopper, he decided to teach it a lesson and punched it, in the process severely damaging his hand. He couldn't play his guitar!
Adverts had been placed in the local press. 'PUNKS' bring this advert for 15p reduction' – Admission was 45p - what a bargain! So inevitably the place was full, mainly with our new found friends - the Tamworth Rockers from the Tavern, a fine bunch of chaps who could be rather boisterous at times - the second Guildhall Massacre was to ensue!! Mick 'Captain' Green was on the door, so those who didn't get in for half-price got in for free. Rikky Patrick (Rikk Quay) was again the DJ and Rikk and Ed had erected an enormous stage to parade the talents that were to be, The Reliants v2.
The place was packed. Rikk got the audience going. The band played their set, Graham Mason remaining strangely silent and they ended on a droning 'This is Rock 'n' Roll', which went on and on and on. This gave Vince the ideal opportunity to show off his famed Jimi Hendrix impression. His freshly purchased can of lighter fluid in-hand, the on-loan Les Paul copy was set alight. The guitar smashed with some difficulty, but the neck stuck in the ceiling quite easily. The toilet ripped out and sitting in the middle of the dance floor was something of a shock and the mountain of bent chairs in the corner, raised an eyebrow or two.
The local Police were called - the entire force arriving - only to be met by a deserted hall with a few bemused punks lurking around. Ed went home, depressed and he and Vince were to go their separate ways - temporarily. The Reliants were no more, and St. John's Guildhall was surprisingly, no longer used as a concert venue. Ed.

Thanks to: Andy Morgan
If you have any further information about this band please email: info@tamworthbands.com