The DHSS v3 (Do Have Some Speed)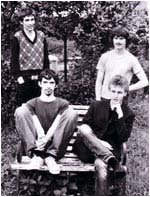 The DHSS v.3
Photographs courtesy of:
Edward ian Armchair
The Gallery
Musical Genre/Type: Alternative
Formed: June 1980
Band Members:
Vince Watts - Guitar/Lead Vocals (Glascote)
[Also in: The Reliants v.1, The Reliable Duo, The Reliants v.2, The Ornaments, The DHSS v.1, The DHSS v.2, Formaldehyde Daffodils]
Donald Skinner - Guitar/Keyboards (Wigginton)
[Also in: The Fretz, Thirty Frames A Second, (Fetch) The Comfy Jigsaw, Private Proprerty, The Alternative Monganies, The Dead Captain Speaks, Freight Train]
Barry Douce - Bass Guitar/Backing Vocals (Glascote)
[Also in:The Reliants v2, The DHSS v.2, Dead Captain Speaks, Freight Train]
Martin Watts - Drums (Glascote)
[Also in The Flids, The DHSS v5, All Before Them, Pepperland]
Additional Band Members:
Wayne Thompson - Guitar
Gigs
21/06/80
The DHSS v3 and The Magnets
Edward ian Armchair
The Stable
12/03/81
The DHSS v3
The Lounge Lizards
The Warren
07/08/81
The Assets
The DHSS
St. Johns Youth Club
12/09/81
The DHSS
Thirty Frames a Second
Wilnecote Village Hall
30/10/81
The DHSS
The Chequers
November 1981
The DHSS
Tamworth WMC
26/11/81
The DHSS
Wilnecote Youth Club
17/04/82
The DHSS
Wigginton Village Hall
22/05/82
The DHSS
Animal and Stick Band
Dave Hewitt
Wigginton Village Hall
12/06/82
Dave Hewitt
Badger
DHSS
St. Johns Guildhall
Tamworth Herald – 20/06/80
Musicbox – Back at the Stable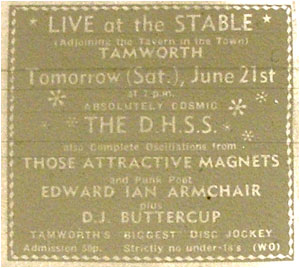 TWO of Tamworth's up-and-coming bands make a return to the Stable venue in Corporation Street tomorrow night (Saturday).
The two bands, Those Attractive Magnets and DHSS will be hoping to pull in similar crowds to those when they played together last month.
The Magnets are out to make up for that debut appearance when they were forced to finish early but this time they will be support group to DHSS.
Tomorrow night's gig starts at 8pm and the event will be backed by a special disco run by the Buttercup Roadshow.
So if you're not venturing down to Knebworth for the day, why not go along and support some home grown talent.
Tamworth Herald – 05/03/81
Musicbox – DHSS
After a few months cosmetic surgery, DHSS are back on the local scene with a gig next week.
For the revamped line-up of Vince Watts, lead guitar and vocals, Wayne Thompson, guitar, Barry Douce, bass and Martin Watts drums will be supporting the Lounge Lizards at the Warren next Thursday March 12.
Vince promises me that DHSS are better than ever so if you missed the Lizards last time – why not go along and take a look.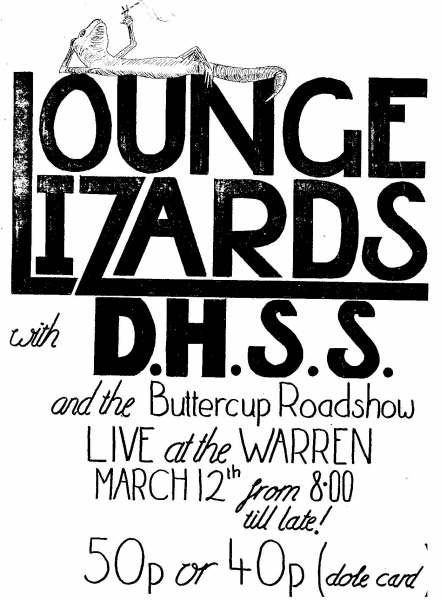 Tamworth Herald – 20/03/81
Musicbox - Review Spot – DHSS/The Lounge Lizards – The Warren
CONSOLIDATION was the name of the game for the Lounge Lizards.
After the success of their debut gig the band wanted to build on that encouraging start and they achieved this goal without any hiccups.
In some ways perhaps they lost the riotous spontaneity which was the most enjoyable feature of their debut but on the other hand the whole evening had a more organised feel to it which was no bad thing.
Their set was enjoyable without being scintillating but taking into account the fact that the Lizards had an emergency bass player – the sound they achieved was pretty good.
AMIABLE
Led by the amiable Richard Bujack, the Lizardz played a mixture of cover versions and their own material.
I enjoyed the covers more but given time to work on their own compositions, there's not telling what they might come up with.
Best of the lot was once again "Sultans of Swing" featuring some quite astonishingly stylish guitar work.
DHSS, back on the boards again after a lengthy lay-off, failed to win much recognition from the audience but they had one or two interesting moments with Vince Watts playing some mean lead guitar.
Tamworth Herald – 25/06/81
Musicbox – Benefits of the new DHSS
THE Department of Happiness and Self Satisfaction – DHSS to me and you – are bouncing back on to the local scene with a new look line-up, a new sound and a single later in the year.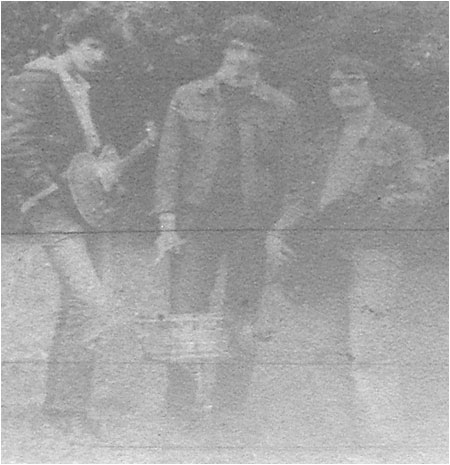 The new DHSS, left to right: Vince Watts, guitar, Martin Watts, drums and Barry Douce, bass.
The band, who have been almost invisible for over a year now are making strides towards success with a fresh, new approach.
Readers with long memories will remember the original DHSS emerging at the end of 1979. Then their line-up included punk poet Edward ian Armchair and Rikk Quay now with Those Attractive Magnets.
That band inclined towards…synthesisers and doomy lyrics but the new look DHSS are a far cry from that sort of thing.
Talented guitarist Vince Watts remains from the original band and he has been joined by Barry Douce on bass and brother Martin Watts on drums.
They have been out to the wilds of Birchmoor to record a three-track tape at Steve Adams' studio and are now hoping to release two of the tracks as a single.
Vince takes up the story: "The music and vocals are completely different this time."
"We are definitely going to put a single out. We shall be trying…to get a deal with n of the small labels but if we don't get a contract we will pay for the record to be released with our own money," Vince adds.
He explains that the group have…together to finance about 500 copies of the single if they fail in their bid to get a recording deal.
There is also the prospect of them joining forces with the 'Magnets' to issue a joint single…still in their infancy.
And having a single to promote obviously means that the band will have to start gigging.
And what about the music?
"…new waveish with hard rock leanings.
Tamworth Herald – 14/08/81
Musicbox – Young bands pack a punch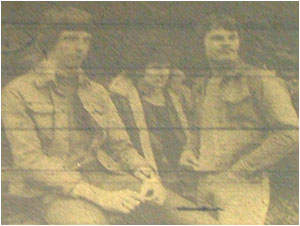 The Assets, DHSS: St. John's Youth Club
TAMWORTH punk band The Assets took to the stage and began what was to become their best gig to date.
Guitarist Roger Moore was in powerful form, playing un-relenting thrash guitar. He and drummer Bryan Pear punched out a tight set, full of excitement.
Indeed. Bryan Pear was the star of the entire evening, producing some of the best rhythm I've seen from any young local band.
New bassist Andy Tuffield fitted in well with the rest of the group. Vocalist Wiggall was also in fine form.
Then the headliners, DHSS, took to the stage. The three-piece band played one of the longest sets ever seen at the youth club.
But this did not deter the band from providing another very entertaining set of what could only be described as new wave music.
Their set was bolstered by the exciting guitar playing of Vince Watts. The band were exciting and gave the audience an encore at the end.
This concert was one of the best I've seen this year and it gave a hint that Tamworth will in future not be seen as just a heavy rock venue.
For the town is now seeing more and more younger bands determined to put over different musical ideas.
Mark Mortimer

Tamworth Herald – 11/09/81
Musicbox
Tamworth bands DHSS and Thirty Frames a Second, will be appearing at Wilnecote Village Hall tomorrow (Saturday). Admission is only 30p so everyone get along there and pack the place out. It will be the first time these two young and exciting bands have lined up alongside each other.
Tamworth Herald – 25/09/81
Musicbox – Fun with the frames
Thirty Frames a Second/DHSS: Wigginton
TWO of Tamworth's finest young bands, Thirty Frames a Second and DHSS, responded to a healthy turn-out and a happy atmosphere to put on a great gig at Wigginton.
Tamworth Herald – 30/10/81
Musicbox – Keyboard quest by busy DHSS
TOP Tamworth band DHSS play at the Chequers in Hopwas tonight (Friday).
The busy three-piece have also lined up a date at Wilnecote Youth Club on November 26.
At the moment the band are looking to expand their line-up with a keyboard player.
Guitarist Vince Watts said "We feel the keyboards would really add something to the band's sound."
Tamworth Herald – 20/11/81
Musicbox – DHSS date
DHSS follow their recent appearance at Tamworth WMC with a gig at Wilnecote Youth Club next Wednesday November 26.
Tamworth Herald – 16/04/82
Musicbox – DHSS are back
DHSS make their long-awaited return to town stages tomorrow night with a gig at Wigginton Village Hall.
Vince Watts and his merry men will be blasting out their own highly distinctive brand of power-laden, new wave, rock at the small but atmospheric venue.
Support will be provided by Animal and the Stick Band – a new outfit which is the brainchild of the ubiquitous Donald Skinner – and The Long Days – another new outfit featuring former Thirty Frames a Second members Andrew Baines, Matthew Lees and Paul Summers.
Admission for what should be a varied evening's entertainment is 30p.
Tamworth Herald – 28/05/82
Musicbox – Has a star risen from our midst?
DHSS, THE ANIMAL AND STICK BAND, DAVE HEWITT : Wigginton Village Hall
A SMALL but appreciative crowd turned up at Wigginton Village Hall on cup final night to witness three very different acts.
Dave Hewitt, an amazingly confident, Jasper Carrott-type performer opened the gig.
For the next 30 minutes the audience were treated to songs about HM, Moses, appendicitis and even Mrs Thatcher's drug habits.
Dave was both original and funny and his easy, relaxed rapport with the audience made me feel we might have a star in our midst.
The Animal and Stick Band, an equally bizarre looking prospect to the stage next. Their songs ranged from charming jigs to long, rambling, self-indulgent blues numbers.
All the songs appeared untitled, disorganised and unrehearsed and yet all remained strangely successful. It was also refreshing to see a band clearly enjoying themselves, particularly the ever-leering Donald Skinner.
Finally on stage were my old favourites DHSS.
They had altered quite a lot over recent months and their set is now shorter and more compact than before.
The old songs "The Grass is Greener", "Together" and the stunning "Holocaust 81" have been supplemented by new ambitious sings such as the brilliant "revenge" and the catchy "My Life".
In my opinion Vince, Barry and Martin just get better and better, and the sooner somebody signs them the sooner more people will realise that fact.
So closed an enjoyable evening's entertainment. The diversity of talent showed just how healthy the Tamworth music scene is – it's just a pity there are not more punters who can be bothered to find out for themselves.
SAM HOLLIDAY
Tamworth Herald – 11/06/82
Musicbox – Now for something very different…
PEOPLE who complain about a lack of variety at local gigs might like to put their heads around the door at St. John's Guildhall tonight.
For at the venue, three decidedly different artistes will be peddling their wares.
Dave Hewitt, solo songster and witty alternative entertainer, will bring his own brand of music and humour to the hall.
And if Dave's sense of humour and odd taste in trousers is not to your satisfaction, new HM outfit Badger are also on the bill.
Badger will be using this gig as a warm-up for their important Assembly Rooms date previewed elsewhere on this page.
Finally DHSS are due to play their first town gig for some time on the same bill.
The is only the second gig the band have played with their new quieter, more restrained sound and the results could well prove interesting.
Tamworth Herald – 09/07/82
Musicbox – Magnetic sounds on showcase disc
A NEW album – released this month – features tracks from two Tamworth bands.
The album entitled 'Synthetic Romance' features 11 groups and artistes from all over the country – among them local outfits Those Attractive Magnets and DHSS.
'Synthetic Romance' – released by Hull-based independent label Ebony Records – will appeal to fans of modern and futuristic music.
The groups featured are from all walks of life, but have one thing in common – the synthesiser.
The album is intended to promote new groups performing their own material.
'Fade Into Secret Silence' was the Magnets' choice for the LP while DHSS are to be heard playing 'Together'.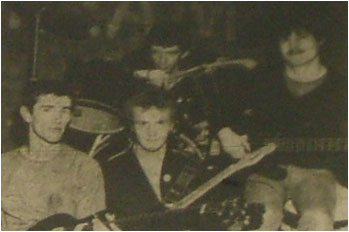 Robert Sly writes; 'Fade Into Secret Silence' has always been the Magnets' strongest song and was an obvious choice for the album.
It is probably the most commercial thing the group has ever done and deserves the privilege of being put out as a single rather than sandwiched between album tracks.
Nevertheless, it sounds as good as ever on 'Synthetic Romance' and is one of the brightest tracks on the album.
Richard Whitehead writes: 'Together' has undergone a total metamorphosis since I first heard it on the ban's three-track demo tape recorded at Steve Adams studio last year.
Sadly, though, the track doesn't appear to have progressed in any way at all.
The addition of a rather pale synthesiser for the album recording has taken away much of the passion which was a feature of the song and left it as little more that a shadow of its former self.
It's been hard work getting there, but at last two groups can now see their names on vinyl.
Three cheers for Those Attractive Magnets and DHSS is what we say – and let's hope they keep up the good work.
Tamworth Herald – 05/11/82
Musicbox – New benefits from the stylish DHSS

DHSS : four track demo
'NOBODY ever stays the same' – that's the first line from one of the four tracks on the new DHSS demo tape – and how very apt it is.
People who remember DHSS as an aggressive, bass-driven new wave band are likely to be surprised at the melodic musical style the group are now pursuing.
This change which has happened only fairly recently has turned DHSS into a stylish professional outfit.
This new demo contains four fairly new tracks which seem light years away from the old DHSS standards like 'The Grass is Greener' or 'Going Mushroom Picking'.
These days the band seem to be playing music more akin to Scritti Politti, The Doors and even occasionally David Bowie.
Ironically, only 'The Same, The Same' has a traditional DHSS feel, but it is only for this reason that I would say it is the best track.
It is a catchy, cleverly constructed song and is an obvious first single.
The other three songs are only slightly less successful. 'Glassy Eyes' which opens proceedings, is a languid, impressive piece rather reminiscent of The Beatles.
'I'm On My Way' is the second track and is particularly noticeable for some excellent vocal work by Barry Douce, who almost sounds like Tamworth frontman Julian Cope in places.
The tape closes with a superb new song 'Turning Wind' which has a truly epic chorus.
If I have any criticism to make of the tape it is that perhaps the numbers, particularly 'I'm On My Way' could have been shorter and more compact but this apart, the tape really is a very impressive piece of work.
SAM HOLLIDAY
---
The Gallery - Click on the thumbnail images

All photographs ©Edward ian Armchair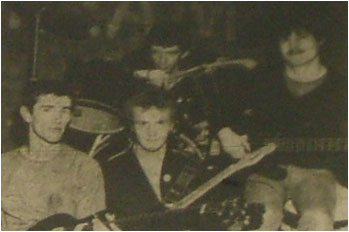 DHSS are to be heard playing 'Together'.
If you have any further information about this band please email: info@tamworthbands.com