The DHSS v2
Musical Genre/Type: Punk
Formed: January 1980 Split: June 1980
Band Members:
Edward ian Armchair - Lead Vocals
[Also in: Ed Ake & the Painkillers, The Reliants v.1, The Reliable Duo, The Reliants v.2, The DHSS v.1, The Ornaments, Edward ian Armchair - Performance Poet, Ulterior Motives, Norman Conquest, Formaldehyde Daffodils, The DHSS v.4, The DHSS v.5, The Foundation]
Vince Watts - Lead Guitar/Vocals
[Also in: The Reliants v.1, The Reliable Duo, The Reliants v.2, The Ornaments, The DHSS v.1, The DHSS v.3, Formaldehyde Daffodils]
Barry Douce - Bass Guitar
[Also in:The Reliants v2, The DHSS v.3, Dead Captain Speaks, Freight Train]
John Higgins - Drums
[Also in The Reliants v.1, The Reliants v.2, Those Attractive Magnets, The Conspiracy]
---
Gigs
02/05/80
The DHSS v2, RPM, The Relays, The Sucks
The Friary School, Lichfield
23/05/80
Those Attractive Magnets
The DHSS v2
The Stable, Tavern in the Town
---
Songs
Dear Image - Armchair/Watts
Shadows in the Sheets - Armchair/Watts
Walls and Glass - Armchair/Watts
Nothing New Can Avoid Abuse - Armchair/Watts
---
Tamworth Herald – 02/05/80
Musicbox – Satisfying Comeback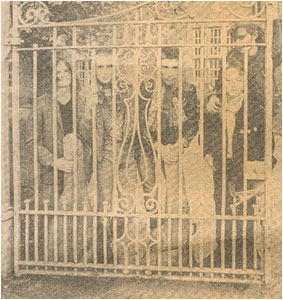 TAMWORTH'S most promising band last year – the Department of Happiness and Self-Satisfaction – make their big comeback tonight (Friday).
The four-piece outfit have been inactive for a couple of months and hope to re-establish themselves on the local music scene by taking part in a concert at the town's college in Upper Gungate.
Also on the bill will be three bands from Lichfield, namely R.P.M., The Relayers (sic.) and The Sucks.
The college gig will also be a chance for The DHSS to try out their new line-up. Bassist Barry Douce and drummer John Higgins have joined original members Vince Watts and Edward Ian Armchair.
COMPUTER ROCK
Their music has changed as well. The computer rock and synthesisers has been replaced with a more basic style – similar to the approach adopted by Public Image.
Indeed the new line-up is the same as the old Reliants who proved very popular on the local music scene around two years ago.
The group go into the studio in a couple of months to record a new single – courtesy of existing deal with the London based company Rough Trade.
Tonight's gig starts at 8 p.m. and admission is £1.
Licfield Mercury - 09/05/80
Lichfield Mercury 'Sounds Around' Review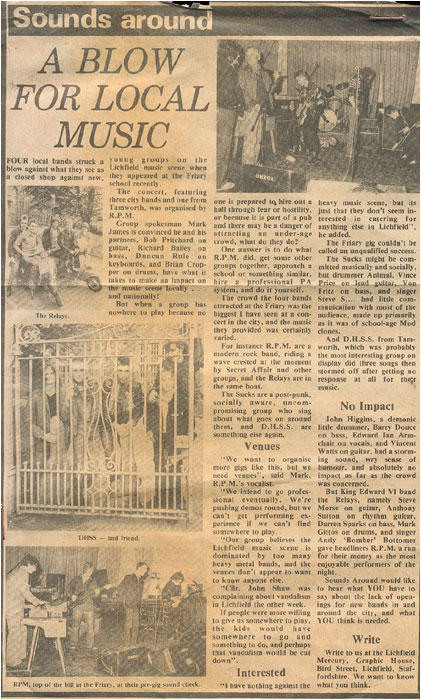 ...DHSS are something else again. And DHSS from Tamworth which was probably the most interesting group did three songs then stormed off after getting no response at all for their music.
NO IMPACT
John Higgins, a demonic little drummer, Barry Douce on bass, Edward ian Armchair on vocals and Vincent Watts on guitar, had a storming sound, wry sense of humour, and absolutely no impact as far as the crowd was concerned.
Tamworth Herald – 23/05/80
Musicbox – Magnets have the power to draw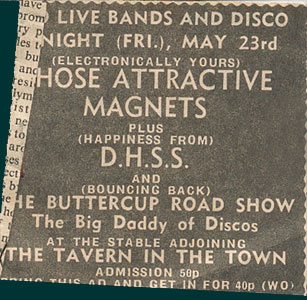 TAMWORTH's latest rock band – Those Attractive Magnets – are hoping to draw in the crowds tonight (Friday).
The three piece outfit make their debut appearance at the Stable in Corporation Street alongside that other up and coming band D.H.S.S.
Their music travels way past the space-age Gary Numan style and into the electronic realms of synthesised rock.
The three members Rikk Quay, Gray to Blue and Grimsby Fish have all been members of other Tamworth groups.
Rikk, a former disk jockey was once a vital part of the DHSS line-up, but left after a difference of opinion over the musical direction the band was taking.
Gray to Blue is a former vocalist with punk band the Reliants and Grimsby Fish once played with Flash Harry.
They formed about six months ago and have concentrated on intensive rehearsing before playing publicly.
The group are influenced by Ultravox, David Bowie and the Sex Pistols. "They were all original and that's what we want to be," says Gray to Blue.
On stage the group use a whole range of electronic instruments including various synthesisers and a syndrome (sic.) as well as a lead guitar.
They plan to go into the Steve Adam's studio in Tamworth shortly to record their first single.
The double concert featuring the fresh new sound of Those Attractive Magnets and the raw approach of DHSS will include a special disco run by the Buttercup Roadshow.
Tonight's gig starts at 7.30 p.m. and the admission is 40p. Be there!
Tamworth Herald – 30/05/80
Musicbox – Down in The Stable something stirs – at last
Those Attractive Magnets/D.H.S.S. : The Stable
For a long time rock events in Tamworth have been the victims of poor turn-outs but this gig made nonsense of that.
An incredible crowd of 100 plus – more than anyone could have hoped for – packed the Stable venue on Corporation Street and gave the Tamworth rock scene a much needed boost.
The gig promised everything with 'Those Attractive Magnets' making their debut and the up-and-coming D.H.S.S. providing the support.
Unfortunately the headliners were beset with first night problems. Things were just not going right for the three-piece outfit but they battled on against all the odds.
Finally technical difficulties forced them to cut their set short and what looked to be a golden chance to win new fans disappeared.
Nevertheless, the band showed they have enough mettle and enthusiasm to put this minor setback behind them and start afresh later.
Too often rock gigs fall short in the sound department – the sound on Friday night was surprisingly good. Rikk Quay and Andy Baldwin's synthesised music came through good and strong before they were hit by the problems.
Afterwards Rikk admitted he was disappointed with the gig, "We want to apologise to all the people who turned up to see us. In the end it was impossible to carry on," he said.
Rikk added that the band were now looking for a new member after the departure of lead vocalist Gray to Blue.
First on were the four-piece D.H.S.S. who simply got better and better as their show progressed.
They gave a performance full of energy and simplicity that it became fascinating watching.
Their image and movements have natural rhythm and co-ordination and the whole band seemed to be enjoying themselves.
There was the powerful guitar playing of Vince Watts and the thumping bass lines of Barry Douce. Over this singer Edward ian Armchair gave vent to a voice of interesting quality.
But the night really belonged to their diminutive drummer John Higgins who kept a steady beat throughout and is a constant bundle of energy behind the front-men.
Robert Sly
---
Memories
Diary entry from then teenager Andy Morgan, guitarist with The Less, The Wipeouts and the Jupiter Rhythm Kings.
Saturday 23rd May 1980
"At night went to see DHSS (ex-Reliants) and Those Attractive Magnets. DHSS on first. First number was 'Bye Bye Johnny' - it was awful - don't know whether they did it on purpose - but they improved through the set + they were good. Attractive Magnets were all synthesisers, sci-fi, Gary Numan type rock. Much technical trouble. Lead singer blamed DHSS who he said had tampered with their stuff and there was a scuffle. All very entertaining"

---
Memories


Taken from Band Memories by Edward ian Armchair from www.eddiearmchair.com
It's 1980. The 70's are over, you can buy bondage trousers in your Mum's Littlewoods catalogue and Thatcher is now in power.
Just after New Year, the Eddie Armchair, Rikk Quay and Vince Watts met in Hamlets Wine Bar, Lower Gungate, Tamworth. Nothing had happened since the multiple sclerosis gig with Ice just after Christmas but it was time to decide what to do next. When asked in what direction he wanted the band to go Rikk said, "I want to do stuff like Lena Lovich." She'd just had a hit with, 'Lucky Number'. When Vince and Ed responded to the same question their taste was for "music like The Fall". There was no debate. Eddie and Vince went off together and Rikk went back to The Tavern and on to create Those Attractive Magnets.
Back to Barry Douce's cellar, Ed and Vince were joined by Barry on bass and John Higgins again on drums, and The D.H.S.S. number 2 was formed. The music and lyrics were changing quite dramatically. With the first D.H.S.S., Ed had been heavily influenced by reading Brave New World, 1984 and We by Yevgeny Zamyatin and lyrically was up his own arse. With version #2 of the band it was a chance to get back to basics. Musically, influence of The Fall could be detected. Ed and Watts had seen the band several times since 1977, including as support to The Buzzcocks and The Damned. Also at this time, the influence of chemicals of varying levels of legality was beginning to tell. Watts and Douce mainly went down the herbal route whilst Ed had his own personal medicine cabinet and was prescribed pills of assorted hues. Songs such as Shadows in the Sheets and poems like The Armchair Guide to Insanity give some hint as to the influence of these substances. Aahhh! what a splendid time we had.
A very small set of songs was assembled and the band were on the lookout for a gig. At this time The Jam were enormous, Quadrophenia had recently been released and there was a Mod revival taking place nationally. All around Tamworth boys wore fishtail parkas with targets on the back and little girlies wore black and white dresses. There were no local Mod bands but one such band, RPM, existed in Lichfield, and the drummer, Brian Cropper was at college in Tamworth. Ed was friendly with Cropper and found out that his band were to play at The Friary School in Lichfield. They had a brief conversation where the possibility of The D.H.S.S. supporting had been mentioned. The night of the gig arrives, The D.H.S.S. travel there on the bus, guitars and drum sticks in hand, they're joined by Martin France, a young chap from Glascote.
Problems occurred as another band had turned up to play (The Sucks) and there's no space on the bill for Tamworth's finest. Being extremely miffed Ed and Vince start threatening another Mod band The Relays (in a drug induced stupor) and are allowed to perform three songs. The D.H.S.S. take to the stage and perform Dear Image, Walls and Glass and Shadows in the Sheets, they go down a storm. With the reaction being so positive they try and do another song only to find everything has been unplugged. Storming off the stage, Armchair and Watts are mobbed by a gaggle of fawning school kids and sign autographs aplenty.
A couple of weeks later the band play again, This time at The Stable at The Tavern in the Town which was quickly becoming the venue in Tamworth. Supporting Rikk's Those Attractive Magnets in their first gig, the reaction was excellent with songs such as Dear Image and Nothing New Can Avoid Abuse going down particularly well.
It should be mentioned that at this time, the group of Tamworth punks had one by one been up to various misdemeanours and had been caught by the local constabulary. The only one to escape was Mr. Armchair. This was to change in mid-1980 and the ensuing mental trauma saw him retreat into his shell. This isolation was to manifest itself as the solo, performance poet, Edward ian Armchair.
If you have any further information about this band please email: info@tamworthbands.com