Dead Captain Speaks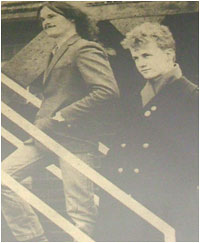 Looking up…'Dead Captain' duo Barry Douce (left) and Donald Skinner.
Photograph courtesy: Tamworth Herald

The Gallery
Musical Genre/Type: Pop
Formed: 1983
Band Members:
Barry Douce (Bass Guitar and Vocals)
[Also in: The Reliants v.2, The DHSS v.2, The DHSS v.3, The Hamilton Hammond Extension, Freight Train]
Donald Skinner (Keyboards and Vocals)
[Also in: The Fretz, Thirty Frames A Second, (Fetch) The Comfy Jigsaw, Private Proprerty, The Alternative Monganies, The DHSS v. 3, Dream Factory, Freight Train]
Gigs:
14/10/83
Nick Lowe
Edward ian Armchair
Dead Captain Speaks
Those Attractive Magnets
Tamworth Arts Centre
Tamworth Herald – 31/03/83
Musicbox – DHSS die – long live the Captain
THERE IS A peculiar significance about the name of a new Tamworth band 'The Dead Captain Speaks'. For in a way the band is a voice from the dead – the remains of one of the most durable Tamworth bands ever, DHSS.
DHSS – in one form or another – slogged around the local circuit for a number of years before finally calling it a day towards the end of 1982.
Now, 'The Dead Captain Speaks' is one half of the old DHSS.
Long-standing bassist Barry Douce and keyboards man Donald Skinner stayed together after the demise of DHSS with the intention of sticking to the two-piece format.
Barry takes up the story: "Since then we have written about seven songs and we reckon that after a couple more we will be ready to play live again."
United
Don added: "We will stay as a two-piece and probably use backing tracks when we play live.
"The advantages of being a duo is that you tend to have a more united direction musically and not get bogged down in arguments," said Don.
"We're just trying to get off the ground first and then see where we go from here," said Barry.
Tamworth Herald – 14/10/83
Musicbox – Bowing out – on a real treat of a night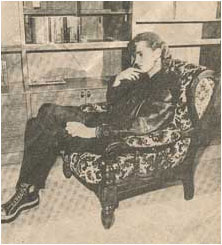 ONE of the Tamworth music scene's most colourful figures, Edward ian Armchair, will be playing his last gig in the town tonight.
And it could prove to be a nostalgic night for Edward who has been an active part of the local scene for more than six years after once singing with the legendary punk band The Reliants.
Edward, who is becoming well-known as an alternative poet, says he wants to concentrate on writing material but he has said his last live show will be a fitting farewell.
"I don't want to give too much away about my performance, but I would like to thank the Co-op for lending me the props." He said.
The gig also boasts the first live show by the Dead Captain Speaks.
The duo – Donald Skinner and Barry Douce – have been formed several months, but they have had to delay their debut because of various other commitments including Donald's much praised work with the Dream Factory.
Dead Captain Speaks are said to have an original sound which includes the use of backing tapes. If they are anything like the duo's former outfit – DHSS – then Tamworth fans are in for a real treat tonight.
And the treats continue with a headlining performance by local heroes Those Attractive Magnets.
The Magnets must be almost embarrassed at how well things are going for them at the moment, and they are sure to prove the night's biggest crowd pullers.
Line-up
The line-up is completed by Nick Lowe, the folk singer who has become a veteran of local gigs and seems to be an almost permanent fixture on certain stages.
With these four very different acts combining, there is no reason why the Arts Centre should not be packed to the rafters – and at 75p a ticket the gig is excellent value for money.
SAM HOLLIDAY
Tamworth Herald – 21/10/83
Musicbox – In the chair for a grand finale!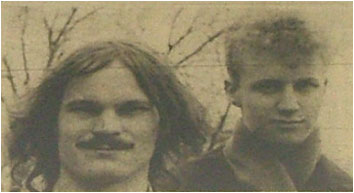 Edward ian Armchair/Those Attractive Magnets/Dead Captain Speaks/Nick Lowe : Tamworth Arts Centre
EDWARD Ian Armchair said goodbye to the Tamworth music scene in the best possible way on Friday night – with an excellent performance at the Arts Centre.
Edward gave a marvellously enlightening show of modern poetry, which delighted the audience and must have made him wonder whether he really should retire from live gigs.
His poetry was occasionally rude, occasionally witty and always perceptive. It revealed an incredibly alert mind at work and often delved into beautiful passages of prose.
Edward now looks forward to taking his poetry to a wider audience but his departure from Tamworth's music scene added a touch of sadness to an otherwise uplifting performance.
But such is the state of the local scene that as one flower dies another starts to bloom. The new bloom is the Dead Captain Speaks, a unique duo who played their first-ever set before Edward played his last.
The band gave a remarkable and intriguing show of music that has certainly never been heard in the town before. To put a label on their sound is as impossible as trying to describe the taste of water. Suffice to say this is not pop music!
But what certainly is pop music is the always interesting sound of Those Attractive Magnets. The Magnets had only 20 minutes to wind up the gig, but they did it magnificently. Every one of their five songs was a highlight in itself, but without doubt the outstanding track was "The Age of Innocence".
Straight after the gig and during the ensuing week-end there was unconfirmed rumours that the Magnets had split up. If this is true, it, will be a disaster for the town's music scene and we must just hope the band patch up their differences soon.
The evening was completed by another solo show by Nick Lowe who played an enjoyable, if perhaps overlong, set packed full of original folk numbers.
But the night undoubtedly belonged to Edward. It was a fitting end to a varied and enterprising live career and if he manages to translate his words into print we could have a major alternative star on our hands. In fact, this could just be the beginning…
SAM HOLLIDAY
---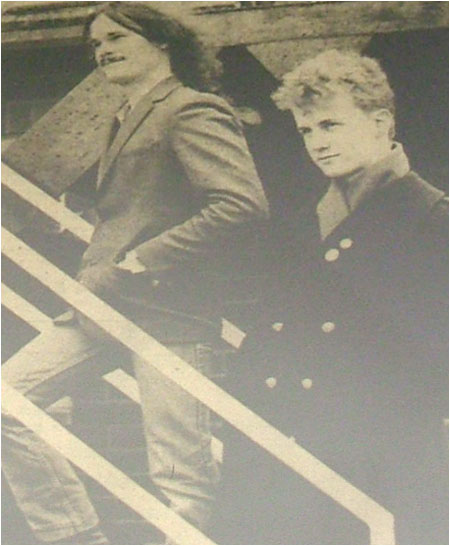 Looking up…'Dead Captain' duo Barry Douce (left) and Donald Skinner.
If you have any further information about this band please email: info@tamworthbands.com