Ulterior Motives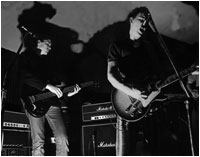 Ulterior Motives
Pic courtesy: Steve Thompson
The Gallery
Musical Genre/Type: New Wave
Formed: 1981 Split: 1982
Band Members
Chris Barlow - Guitar and Vocals (Lichfield)
[Also in: Ultimate Sway, Sway]
John Wilcox - Guitar (Lichfield)
[Also in: Ultimate Sway, Sway]
Steve Thompson - Bass (Lichfield)
[Also in: Ultimate Sway, Sway]
Brian Cropper - Drums (Lichfield)
[Also in: RPM, Ultimate Sway, Sway, Pakistani Brothers]
Edward ian Armchair - Vocals (Tamworth)
[Also in: Ed Ake & the Painkillers, The Reliants v1,The Reliable Duo, The Reliants#2, DHSSv1, DHSSv2, The Ornaments, Ulterior Motives, Norman Conquest, Formaldehyde Daffodils, DHSSv4, DHSSv5, The Foundation]
Gigs
12/03/81
Victorian Parents
The Ulterior Motives
The Middle Man (formerly 45 rpm)
Lichfield Arts Centre
19/01/82
Ulterior Motives
Data Control
The Chequers
12/03/82
Classified Ads
Ulterior Motives
Data Control
Tamworth College
23/03/82
Ulterior Motives
The Chequers
16/04/82
Ulterior Motives
Data Control
The Chequers
19/04/82
Ulterior Motives
Data Control
Virus
Lichfield Civic Hall
19/03/81 - Lichfield Mercury
Sounds Around - Ulterior Motives reaching fruition
ULTERIOR Motives will soon be a musical force to be reckoned with. That prediction comes after a sample of their work at a double bill in Lichfield's Art Centre last Friday.
The four-piece band its erratic and somewhat nervous entry into the local music scene by paving the way for the daunting Victorian Parents.
Undaunted by the fact they had no sound check, the band forged ahead with a set that got better and better and...the audience seemed to like them too!
Bassist Steve Thompson introduced each number with obvious enthusiasm and some of the music which was produced throughout the evening generated its own excitement.
Basically the band was led with guitars, each with their own sound and rhythm creating some rousing effects. The interesting result, helped by Brian Cropper's drumming, improved as confidence grew.
DUBIOUS
Chris Barlow and John Wilcox make up the other half of Ulterior Motives, but they were joined on three numbers and an encore by a dubious character called, I think, Edward ian Armchair
The idea of his abstract ideas in spoken voice across a background of music was good, but didn't quite come off somehow but as predicted earlier, Ulterior Motives are likely to mature into an excellent band.
Tamworth Herald – 15/01/82
Musicbox – Chequers date
TOP Lichfield band Ulterior Motives return to the Chequers in Hopwas on Tuesday (January 19).
The band, who cite The Cure as their main influence are making their first venture into the recording studios in February and may be touring Europe in the summer.
Support will be another popular Lichfield band Delta Control.
Tamworth Herald – 12/03/82
Musicbox – College date gives 'Ads chance on wider scene
ROCK returns to Tamworth College in a big way tonight, with what promises to be an exciting triple bill concert.
Data Control, a Lichfield-based new wave outfit, head a bill which also includes another top cathedral city band Ulterior Motives and our own favourites, Classified Ads.
FIRST
It will be the first gig in the area for Data Control, but Ulterior Motives have appeared before, at the popular Chequers venue.
DC have been going in one form for four years and last year went into a Worcester studio to record their first single.
"Prosecution Time", "Brainwash" and "Pig Mire" are three tracks the band laid down, and they are hoping that the single will be released in the next few weeks.
For the 'Ads, the presence of some Lichfield punters will give them a chance to impress their distinctive new wave pop sound on unfamiliar ears.
Admission for what promises to be a fine evening's entertainment is 75p.
Tamworth Herald – 19/03/82
Musicbox
LICHFIELD band Ulterior Motives are appearing at The Chequers pub in Hopwas on Tuesday night.
The four-piece outfit have just recorded two songs, "Here We Stand" and "Always Waiting", for a double-A-side single to be released shortly.
So if you're bored with heavy metal and want to see a band in the Echo and the Bunnymen/Comçat Angels mould try to get along to the gig which starts around 8pm.
Tamworth Herald – 16/04/82
Musicbox – 'Motives' and 'Data' dates
LICHFIELD bands Ulterior Motives and Data Control return to Tamworth tonight after the success of their recent gig at the town's college.
They will be appearing at the Chequers pub in Hopwas.
Three days later both bands join up with Wolverhampton outfit Virus for a triple-header gig at Lichfield Civic Hall.
Tickets for the Civic Hall gig can be bought from Bradshaw's record shop in Lichfield and Rock-It Records in Tamworth.
Admission on the door is £1.25. There is a licensed bar.
---
Memories
It was 1981, I was unemployed both economically and musically and hadn't made the transition fully from band member to solo performance poet and I was looking for something to do. I'd known Brian Cropper from his days in RPM and my days in The DHSS and at this time Brian had a new band but was struggling for songs and a band name. I had "The Complete Works of Edward ian Armchair" a marbled-cover notebook with 200 or so poems, Brian asked if he could borrow it.
A couple of weeks later, I hear from Brian - "We've got a name - taken from one of your poems (Ulterior Motive) - we're called The Ulterior Motives, and we'd like to use some of your poems as lyrics and wondered if you'd like to join the band as vocalist?"
OK, I was desperate - Lichfield is Lichfield and Tamworth is Tamworth - there's a difference - mainly revolving around money i.e. Tamworth has none Lichfield has it in abundance. Initial band practices took place in Brian Cropper's living room with girlfriends and friends in-tow, not exactly conducive to an enthusiastic Armchair performance. Thankfully a rehearsal room was booked as we neared out first gig at Lichfield Arts Centre and things looked OK.
The night of the Ulterior Motives' debut, supporting the Victorian Parents, was 'average', a good venue, a large audience but the rest of the band were concerned that we hadn't had a sound check "...a sound check...what's that?" I thought.
At the end of the performance, I headed straight for the bar down the back of the room, who should be there but old buddy Rikk Quay and Andy Baldwin - I could tell from their polite reaction, this was going to be a one-off performance. The Motives went on their merry way the Armchair back to Tamworth and on to his days as a performance poet. Edward ian Armchair
---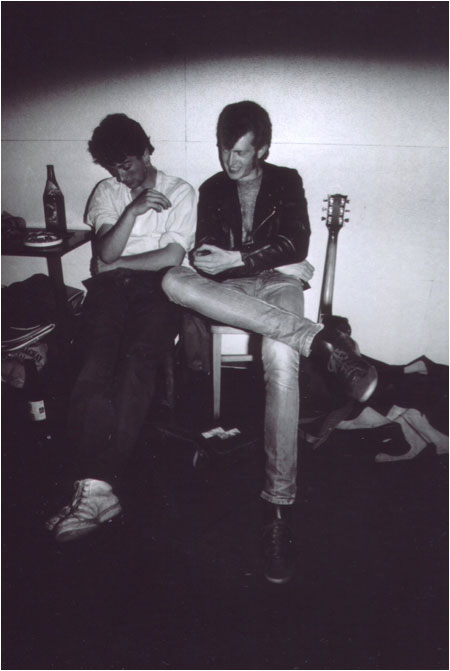 Chris Barlow and Edwardian Armchair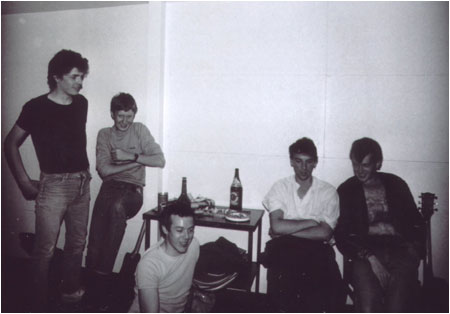 Ulterior Motives and Edward ian Armchair
Ulterior Motives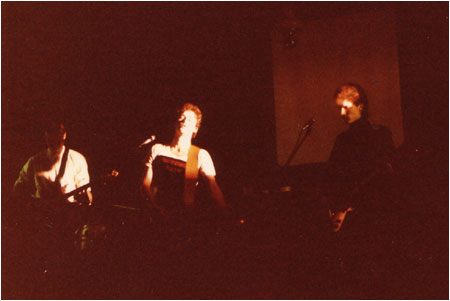 Ulterior Motives at the Chequers pub in Hopwas - 16/04/82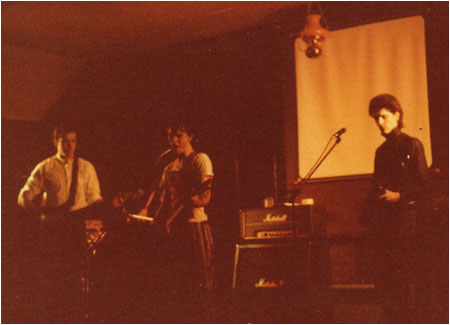 Ulterior Motives at the Chequers pub in Hopwas - 16/04/82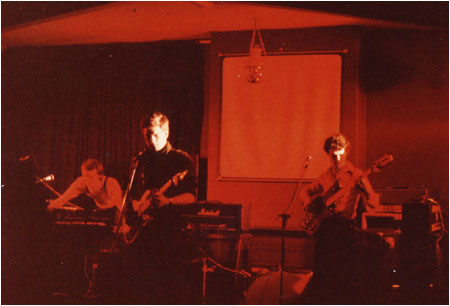 Data Control at the Chequers pub in Hopwas - 16/04/82
If you have any further information about this band please email: info@tamworthbands.com