The Restricted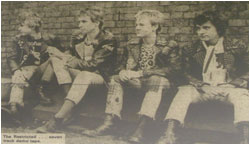 The Restricted
Photograph courtesy: Tamworth Herald
The Gallery
Musical Genre/Type: Punk
Formed: 1980 Split: 1983
Band Members
Lead Vocals: Andy Wiggall (Coton Green)
Lead Guitar: Roger Moore (Leyfields)
Bass Guitar: Andy Tuffield (Belgrave)
Drums: Brian Pear (Leyfields)
Gigs:
12/06/82
Private Property
Classified Ads
The Restricted
Wigginton Village Hall
Tamworth Herald – 26/03/82
Musicbox – A restricted output might have been better
TAMWORTH'S one and only punk band, The Restricted, have made their first venture into the recording studios and produced a seven track demo.
Yes, that's right SEVEN. Not content with the usual three, four or even two tracks, The Restricted have gone predictably over the top and recorded seven numbers.
The tape was laid down in Castle Bromwich – where the Classified Ads recorded their tape – in a frenetic six hour session.
Now The Restricted will be going through the usual procedure of sending the tape off to punk fanzines and radio stations as well as small record companies in a bid to win wider recognition.
The Restricted – Roger Moore, guitar, Brian Pear, drums, Andy Tuffield, bass and Wiggall, vocals – have been going for six months with their current line-up but were well known to town punters as The Assets before that.
Their tape is raw, raucous and, I'm afraid, just a little too rough and ready for my ears.
It thunders along like a London to Glasgow express with no brakes, barely giving Wiggall time to breathlessly shout out the lyrics to numbers like "Terrorist", "Don't Believe in Anarchy", "Political Nightmare" and "State Execution".
"Political Con" is my favourite number, sounding just a little like the Classified Ads. It's a tiny but more restrained and for that reason the message comes over that much more clearly.
Overall it's a very creditable and praiseworthy effort by these four young lads, but I feel that perhaps three tracks done with more time to get things right would have probably produced a better final result.
The Restricted are one of Tamworth's most enthusiastic and dedicated bands, and for that reason alone they deserve some recognition.
Live they are, and always will be, a treat, and I feel that's still where their real strength lies.
Tamworth Herald – 18/06/82
Musicbox – Let's get up and dance
Cheers to a bright young outfit
Private Property / Classified Ads / The Restricted : Wigginton Village Hall
SOME months ago Private Property's Mark Mortimer said he wanted his new band to put some much-needed excitement back into the Tamworth music scene.
Saturday night's enjoyable, dance-orientated set by the band went a long way to achieving this end.
The audience danced, sang and cheered more than any other seen by me since The Fretz's classic debut of three years past.
However it has to be said that the band relied too heavily on their repertoire of Jam cover-versions. Hopefully the group will use these songs less as they mature and their own songwriting talents will become somewhat more apparent.
However it seems that, by the end of this year, Private Property will be the most popular band in Tamworth – and for such a young outfit that's really saying something.
The Classified Ads appear to have problems. Their set, easily the most passionate, imaginative and inspiring of the night, was ignored by the crowd.
Simon Webster's brilliant, deft drumming, Sam Holliday's passionate vocal performance and Derek Goodwin's essential synth playing all contributed to a group who are becoming more introspective and refreshing by the month.
However, it seems that dance music was the order of the day and Private Property showed that 'Tears are not enough.'
Unfortunately, The Restricted's messy set was a great disappointment considering their brilliant seven-track demo tape recorded earlier this year.
Brian Pear, however, once again proved himself to be the best drummer in the area.
Tamworth Herald – 07/01/83
Musicbox – Bands set for studio session
TWO OF TAMWORTH'S most hardworking bands – The Classified Ads and The Restricted – will be returning to the studios in the spring to record new demo tapes.
The Restricted, Tamworth's finest punk band, released a powerful seven-track cassette last year to a decidedly mixed reception, but the band are convinced that their next venture into the studio will show considerable musical progress.
The Classified Ads, meanwhile, have been quiet of late because three of the band's members have gone to college. However, the band are still very much alive and keen to return to the studio.
They intend to add the new tracks to the previously-released cassette, making a six-track maxi-demo which should be available in April.
Tamworth Herald – 25/02/83
Musicbox – New spark from The Restricted
The Restricted : Tamworth Youth Centre
AFTER a period of Tamworth music falling into a sadly apathetic state, a sudden spate of live performances has brought a new injection of enthusiasm.
The Restricted gig was one of the more refreshing dates.
For a long time the band has seemed to be in a rut, but the enthusiasm of 18 months ago returned at this gig. They played a set with plenty of new songs plus some old material and showed that they have a long way to go before their song-writing talents are exhausted.
All four band members now seem very competent musicians, with the great Bryan Pear still showing he is one of the town's best drummers.
Handful
The only sad thing about what was a very entertaining performance, was that only a handful of Tamworth's numerous punks bothered to turn up. The Restricted need and deserve their support.
Let's hope other local bands follow suit with performances as creditable as this.
Paul Clements
Tamworth Herald – 15/04/83
Musicbox – SOUND WITH A SIZZLE
TAMWORTH'S top punk band, The Restricted have been back into the recording studio. They have just released a second demo-tape, which shows increasing musical maturity.
Recorded at Birmingham's Fairmorn Studios, that tape includes four tracks – 'El Salvador', 'Chaos', 'You're Condemned' and a re-work of the old favourite 'Terrorist'.
'El Salvador' is the pick of the bunch. The track has a guitar intro that sizzles.
If the band continues to play like these few moments, they could move into a new era of punk.
Perhaps the addition of a keyboard player would help by taking them away from their wild thrash approach into darker, layered sounds like those favoured by bands such as Killign Joke.
Production of the tape is far better than that on the first. It has kept a lot of their live sound, especially Andy Wiggall's unusual vocal style.
Copies are available by contacting members of the band. Let's hope a record company takes an interest in it so that The Restricted are able to release a single.
Paul Clements
Tamworth Herald – 06/05/83
Musicbox – Unrestricted shivers down the spine!
The Restricted : Tavern in the Town
SOUL music is supposed to be full of passion, energy and belief, and above all, able to make your spine shiver. It must be said The Restricted play soul music.
Credit must be given to the band for remaining solid through three years of apathy and criticism. It seems to be paying off for them – at last.
The Tavern was packed with the many colours of the youth culture spectrum – a crowd that transcended all fickle barriers of fashion and ignored labels.
They enjoyed The Restricted for what they are – a very entertaining band.
Tightest
Using a good sound system, they played their tightest set to date.
Even the older songs were played with a new freshness. And their new songs are becoming stronger – 'Chaos' and 'El Salvador' being the highlights.
If this is the brontosaurus then where has the butterfly been hiding?
Paul Clements
N.B.: References to 'soul music' and the 'brontosaurus' are in reply to a recent reader's letter who claimed local bands played with no soul and dubbed The Restricted the Tamworth brontosaurus – Music editor.
---
Memories
Rehearsals were every Sunday lunchtime in Brian's bedroom when Brian's dad had gone to the pub and Jean (Brian's Mum) was cooking Sunday dinner. How Jean and the neighbours put up with the volume is beyond me. Best gig was at the Tavern (they even moved the pool table for us) we were all a bit apprehensive but got loads of encouragement from Rikk Quay and went down a storm.
El Salvador was my favourite song, Andy Tuffield's bass was the bizz with loads of distortion and Brian's drumming was brilliant. Best gigs were at The Tavern and Polesworth Top Club.
In the studio, we all took a packed lunch and Andy Tuffield's sandwiches stank of Brut 33 and he ate 'em!!!
Tamworth Herald – 03/02/84
Musicbox – Unrestricted Power from a so-crazy quartet!
The Restricted – The Rugby Club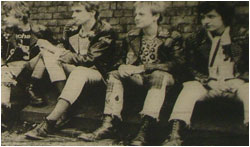 OH how good it was to see the Restricted again…with so much wimpy, listless music around, watching Tamworth's hardest, meanest quartet back in head-splitting form brought a definite smile to my face.
Compromise is a word that the Restricted can probably only say through gritted teeth because their music shows no sign of taking the easy option of weakening up or selling out.
It fact it has probably gone to the other extreme. In the past whe they hurtled through 'Don't Believe in Anarchy' you could almost hum to the well-structured tune.
Now you can't even hear the tune as it tanks along at a steamrolling pace that sounds like the Sex Pistols at 78rpm.
It may not put the Restricted on Top of the Pops but I can't help thinking their music is some of the most honest and powerful around.
Long may they continue to experiment in their glib, break-neck but ultimately highly endearing brand of musical chaos.
Sam Holliday
Tamworth Herald – 03/08/84
Musicbox - Snips
THE RESTRICTED still Tamworth's only hardcore punk band, are looking for a new bassist and drummer to join them. The band who are influenced by everyone from Discharge to The Damned and Death Cult are determined to carry on as a band even though there are only two remaining members – vocalist Andy Wiggall and guitarist Roger Moore.
Tamworth Herald – 16/03/90
Musicbox – Great bands of the 80s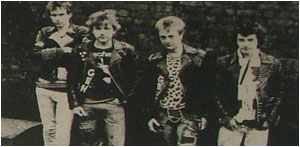 The Restricted
Tamworth's boldest exponents of the new punk phenomenon that was established around the likes of GBH and Discharge. A charming four piece whose bark was always worse than their bite but who had a very happy knack of writing good, snappy tunes. Wiggall (left), Andy Tuffield (second right) and Brian pear went on to various other pursuits, but I'm happy to say that Roger Moore (second left) is still blasting out great tunes for the First Conspiracy. A personal favourite of mine these were, we shared many great Youth Club gigs.
Songs
El Salvador (Restricted)
Chaos (Restricted)
Your Condemned (Restricted)
Terrorist (Restricted)
Don't Believe in Anarchy (Restricted)
It's Up To Us (Restricted)
The Groover (Restricted)
Religion Causes Wars (Restricted)
Anthony Wedgwood Benn (Restricted)
Other Songs: Death Dealers – Discharge, No Government - Anti Pasti State, Executioner - GBH
Gigs
First Gig: Tamworth Youth Club - 1980
Last Gig: Tamworth Rugby Club - 1983
Other Gigs: St John's Youth Club The Tavern in the Town Polesworh Top Club Some where in Bedworth Someone's Wedding
Recordings
El Salvador (Demo)
Track List:
El Salvador
Chaos
You're Condemned
Terrorist
---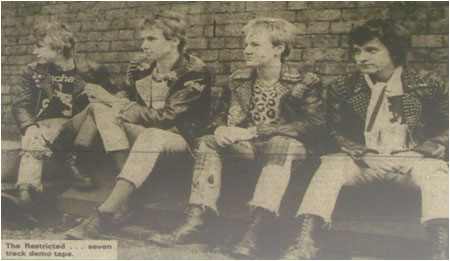 TAMWORTH'S one and only punk band, The Restricted, have made their first venture into the recording studios and produced a seven track demo.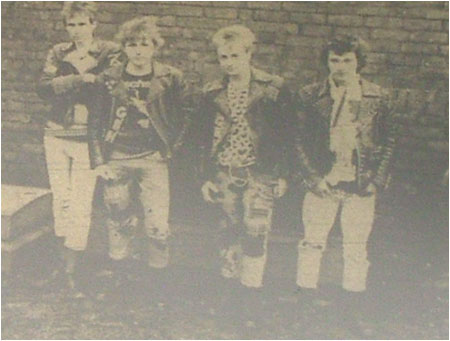 The Restricted
If you have any further information about this band please email: info@tamworthbands.com