Sitting Pretty
Courtesy : The Tamworth Herald
The Gallery
Musical Genre/Type: 80's Pop
Formed: 1982 Split: 1990
Band Members:
Mike Turner - Lead Vocals (from Belgrave)
Julian Amos - Lead Guitar/Backing Vocals (from Stonydelph)
Pete Long - Rhythm Guitar/Backing Vocals (from Two Gates)
Steve Parkin - Bass Guitar
Clark Stewart - Drums
Greg Stevenson - Keyboards (Dosthill)
Other Band Members/Instruments:
Jon Peat (Drums), Anice Byfield (Vocals). Mike Turner was also on Drums at one point.
Memories of Jonathan Peat:
Tim Whittington joined Sitting Pretty on bass, for either one or two gigs, after Pete Long left the band for the first time, whilst I was playing for them. Tim and I were in a band called Limpin' Spider with guitarist Pete Brooks of Birchmore. We never gigged though. Then I joined Trojan. I'm currently still playing in a band called 'Getfusioned' all band members / characters are here on this site, consisting of, Brad Riley, guitar and vocals. Paul Lewis, bass, Dave Mercer, chad, keyboards and vocals, and myself, Jonathan Peat, drums. Last gig we played, Dylan Haddon played guitar as Brad cut his finger really bad at work. Two Trojans back together again.

Jonathan Peat

Gigs:
29/08/83
Tamworth Rock Festival
Sitting Pretty
Those Attractive Magnets
Hardware
Royal Family
Omen 2
Time Bandits
Tamworth Castle Grounds
02/09/83
Classified Ads
Sitting Pretty
Masonic Rooms
23/10/83
Tamworth Young People's Arts Festival
Sitting Pretty
Select Elect
BHX
Tamworth Arts Centre
27/01/84
Sitting Pretty
Select Elect
Tamworth Arts Centre
13/04/84
Friday The 13th Blitz
Classified Ads
Sitting Pretty
Mystic Hero
Tamworth Arts Centre
04/05/84
Sitting Pretty
Select Elect
Tamworth Arts Centre
26/05/84
Sitting Pretty
Love On Board
Tamworth Arts Centre
22/06/84
Sitting Pretty
Mystic Hero
Tamworth Arts Centre
06/07/84
Sitting Pretty
Love On Board
Tamworth Arts Centre
24/08/84
Sitting Pretty
Classified Ads
Tamworth Arts Centre
08/11/84
Sitting Pretty
Tamworth Arts Centre
20/12/84
Sitting Pretty
The Parade
Tamworth Arts Centre
02/02/85
Sitting Pretty
Talk Back
Tamworth Arts Centre
29/02/85
Original Royal Family
Talk Back
Sitting Pretty
Jolly Sailor
22/03/85
Sitting Pretty
Tamworth Arts Centre
31/05/85
Sitting Pretty
Tamworth Arts Centre
31/05/85
Sitting Pretty
Tamworth Arts Centre
Tamworth Herald – 26/08/83
Musicbox – Local line-up for a holiday rock special
THE Castle Grounds is the setting on Monday for the biggest rock event in Tamworth this year.
Five local bands have already been confirmed for a Bank Holiday rock festival – the first in the town for four years.
And the formidable line-up promises to make it an afternoon that has something for everyone.
Hardware will be headlining the show and they have already enlisted Those Attractive Magnets, The Royal Family, Omen 2 and Sitting Pretty as support.
The whole event has been organised by Hardware and Gary Holt from the Arts Centre.
"We decided it would be nice to get a few bands together and we just hope there will be a lot of people there," said Garry Norris of Hardware.
The gig begins at 2pm and is completely free. No running order has yet been made but there is likely to be a DJ to host the afternoon and introduce the bands.
The afternoon promises to be extremely varied ranging from the synth pop of Those Attractive Magnets to the more traditional rock of Hardware.
As well as these two well-known local bands, the festival will also provide an excellent opportunity for three newer outfits to make an impression on the local scene.
Great acclaim
Omen 2 are the follow-up to the once popular men and they have promised a totally new sound.
The Royal Family are a talented blues rock band who have already gained great acclaim following performances at the Tavern.
And the gig will be the first major outing for Sitting Pretty, a new band recently formed by 'Tambeat' editor Mike Turner.
There is also a chance that other bands will be added to the line-up – the Classified Ads have still to confirm – and it all looks set to be an excellent afternoon for the town's rock fans.
All it needs is for Tamworth people to pack the Castle Grounds and ensure that the Bank Holiday festival becomes a firm date for the local music scene.
Tamworth Herald – 02/09/83
Musicbox – Synth or rock…it's a night to note
TAMWORTH's once-decaying rock scene seems to be finally coming to life. Not only did we have a bumper concert at the Castle Grounds on Monday but tonight fans have a choice of two great gigs to attend.
The first is at the Arts Centre where Those Attractive Magnets are playing with the new electronic duo Select Elect, in what promises to be an exciting night for fans of synth music.
But if more traditional rock is more to your taste, then the place to be is the Masonic Rooms in Lichfield Street where the Classified Ads will be lining up with Sitting Pretty in a gig to launch Tamdisk records.
Both gigs will be a perfect combination of the old and the new. The Magnets are one of the town's oldest groups who now seem to be having a rebirth with the release of their excellent debut single 'Nightlife'. And in contrast it is the first time 'Select Elect', the young electronic duo, will take to a main town stage.
Meanwhile over the road at the Masonic Rooms, Tamworth veterans the Classified Ads – who were twice voted Tamworth's top band in the fanzine 'Tambeat' – will provide a nice balance with Sitting Pretty who made their debut on Monday.
The Ads play new wave orientated pop music whereas Sitting Pretty describe their sound as 'music of the 80s with 60s overtones'.
Both gigs look intriguing and they reflect a general reawakening of the Tamworth music scene. All we need now is two bumper crowds to support these gigs so we can really get things moving again.
FOOTNOTE: The Ads will be back in action on Monday evening when they play at the popular Tavern in the Town.
Tamworth Herald – 30/09/83
Musicbox – Sitting Pretty, and no mistake


WHEN Sitting Pretty announced that they were going into the studio to record three of their songs, I wondered if it really was a wise move.
The band only formed a couple of months ago with just two live concerts to their credit it seemed they were rushing into the studio far too quickly.
I result, I feared would be an instantly forgettable, perhaps even embarrassing release.
Happily, I was wrong. Sitting Pretty have made a quite excellent cassette which seems destined to be the first hallmark in a very exciting future.
The main drawback of the tape is without doubt the production. The band went all the way to London to record at Duffy's Studios where the Funboy 3 recorded 'It ain't what you do'.
But the sound quality varies from average to awful and I couldn't help feeling the band would have done better to record locally, perhaps at Steve Adams studio in Birchmoor.
But not even the dreadful sound quality could take away the fact that the songs are quite brilliant.
The best of the three is the spirited "We're Apart". It has a quite magnificent hook and is very reminiscent of a Spector type 60s tune. The only problem with the track is the rather cliché-ridden lyrics which bubble along in typical Lulu style with lines like 'you messed around with every guy in town – now we're apart'.
Following "We're Apart" is another punchy, very entertaining track entitled "Touch the Moon". Again the lyrics are best forgotten but the music is quite marvellous. The band have a very clear awareness of what makes a good pop song and I feel sure "Touch the Moon" will soon become a very big live favourite.
When you flip the tape over you find "Broken Glass Lies" which inexplicably has been billed as the 'A' side. Although "Broken Glass" Lies" is a superb song, it is the least commercial number and I suspect the band will soon regret making I the premier track.
It is a very thoughtful song with a hypnotic bass line and once again a crushingly effective tune. The only thing that lets the song down is ironically, a wailing backing vocal that goes 'you let me down' which never stops and becomes very irritating.
Taken as a whole this is a splendid achievement for the band. It follows the excellent debut single by Those Attractive Magnets and coincides with the Dream Factory and Talk Back returning to the studios, underlining the growing awareness within local bands of the importance of making a permanent record of their sound.
I hope local people buy this tape – available from Tamdisk – in its hundreds because it shows how good the new crop of Tamworth bands are.
As for Sitting Pretty, everything has so far gone right for them and it has not taken them long to become one of the town's top bands. Now we will just have to see if they can prolong the honeymoon and live up to their name.
Tamworth Herald – 14/10/83
Musicbox – Sounds on Sunday
TAMWORTH rock fans can kiss goodbye to Sunday afternoon boredom this weekend when four of the town's young bands will be appearing in a special free concert at the Arts Centre.
The indoor festival is all part of the Young People's Arts Festival and the emphasis has been on relatively new groups. The four acts playing on Sunday are Sitting Pretty, the Mandettas, BHX and Select Elect.
Refreshments are available at the gig – which begins at 2pm and the organisers are hoping for a bumper turnout to ensure that rock music stays permanently on the Arts Festival line-up.
Tamworth Herald – 28/10/83
Musicbox – Suddenly Sunday's a whole lot brighter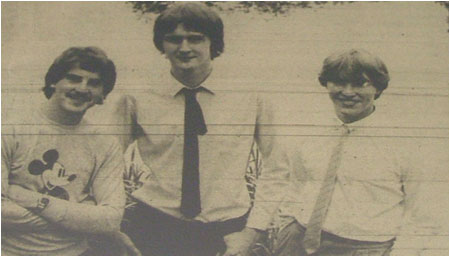 SUNDAY is traditionally known as a day of rest, peace and hangovers. It is also – frequently – extremely boring and so the decision to stage Tamworth's first-ever indoor rock festival on Sunday afternoon was a master stroke.
A healthy sized crowd turned up for the Arts Centre concert which – marred only by the non-appearance of the Mandettas – was a highly enjoyable showcase of new Tamworth music.
First up were Sitting Pretty who have done so much since forming a few months ago that they already seem like local veterans. The set they delivered – although perhaps not quite as sharp as previous performances – was extremely impressive and you could not help but be engulfed by their all-consuming enthusiasm.
Awesome
The best song on the day was a moving, slow ballad called 'Inspiration' which showed that the band are already diversifying from the clean pop sound that dominates their set.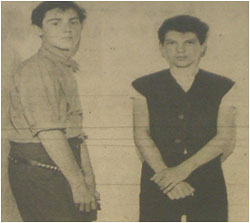 Next up were the undoubted show-stealers Select Elect. For a band so young – the duo are aged 14 and 15 – their short set was quite a revelation. Their songs were tuneful, well structured and very accessible.
With youth, a nice modern image and confidence on their side, the potential of Select Elect is awesome. If they can continue to build on the great strides they have already made, there is no reason why they should not become one of the top bands in the area.
Finally up came BHX for another powerful assault on the listeners' ears. Despite an extremely poor PA system, BHX battled on and clearly won over the large group of rockers in the audience.
Message
All five members of the band performed creditably with songs such as 'Tales of Modern Romance' and 'Superstar' in their set. BHX really have thrown down the gauntlet to other heavy rock bands in the area. Their message is clear – beat that!
BHX's energetic performance closed a unique and enjoyable afternoon. Outside it was still boring old Sunday but somehow with all the energy, spirit and potential of the three acts on view it didn't seem to matter any more…
SAM HOLLIDAY
Tamworth Herald – 18/11/83
Musicbox
Another local band attracting national interest are Sitting Pretty. The hard working trio sent copies of their debut tape to various record companies and were delighted to get a reply from the giant WEA label who have invited the band down for talks. Six months ago on one had heard of Sitting Pretty and now they are attracting interest from everyone they come into contact with. Who says there is no such thing as a meteoric rise?
Tamworth Herald – 16/12/83
Musicbox – The key to a band's success
SITTING PRETTY – surely one of the best bands Tamworth has produced in many years – are on the lookout for a keyboard player to complete their line-up.
The trio, whose music is a mixture of a whole host of Sixties and modern influences, have already received interest from national record companies and they feel that a keyboard player would further increase their chances of success.
If the thought of joining the band appeals, then the man to contact is drummer Mike Turner…
Tamworth Herald – 06/01/84
Musicbox – Sitting Pretty and set for a video debut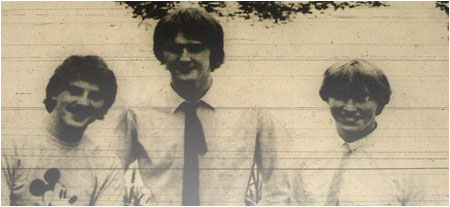 Caption: Sitting Pretty – looking forward to becoming a foursome…and to their first video.
SITTING PRETTY are in the process of completing one of the first-ever music videos in the town. The 30-minute video-tape is currently being put together and includes story-type videos and live footage.
Several of the bands most popular numbers are included on the tape which will be available from Tamdisk Records in Lichfield Street.
The video – as well as being a highly enjoyable exercise for the group – will serve as an excellent promotional device for the band who have already attracted considerable interest from national record labels.
The first stage of the recording took place just before Christmas at a special concert at drummer Mike Turner's birthday celebrations at Tamworth Rugby Club.
The band's entire set was filmed by the video director Robin Preston and on Boxing Day, Sitting Pretty continued filming at Doshill Park and Belgrave Lakes.
On the 'location set' the band did various silly sketches which will be used as the visuals to the band's three-track tape that got them off to such a brilliants start late last year.
The whole is now being edited into a digestible compilation which should serve as a great introduction for those local music fans who are still to hear the band's sound.
"We are absolutely knocked out with the way the video looks," said drummer Mike Turner. "It was great fun to do and it will be a great way of spreading our name."
The tape comes at a time when Sitting Pretty are looking in better shape than ever before. They have just added the services of a highly promising new keyboard player – one of six people to apply for he vacant post when it was advertised in Musicbox.
The new member is Greg Stevenson, an inventive, keen player.
"He has a great interest in all types of music and he clearly has a lot of playing and songwriting ability. After just 30 seconds we knew we wanted him in," said Mike.
Greg should be making his debut with the band in the near future but in the meantime, all Sitting Pretty's fans have got their eyes fixed firmly on the video-screen.
SAM HOLLIDAY
Tamworth Herald – 20/01/84
Musicbox – Snips
Tickets are now on sale for next week's exciting team-up of Sitting Pretty and Select Elect. The tickets costing just 50p are available from any band member or from TamDisk Records in Lichfield Street, Tamworth.
The Dream Factory have added another date to their tour which begins at the end of the month. The gig is at North Warwickshire's Arley Sports Centre on Wednesday February 1.
BHX have sent out an appeal to any venue or organisation willing to let them put on gigs in aid of charity. Anyone interested is asked to call Mick.
Tamworth Herald – 27/01/84
Musicbox
FOLLOWING last week's highly-successful 'rock' concert, the Arts Centre tonight plays host to two of the town's most-enterprising young pop bands.
Electronic duo Select Elect will join forces with 'video-superstars' Sitting Pretty for a gig that promises to be as entertaining as it will be varied.
Select Elect have only a small number of gigs under their studded belt but their youthful enthusiasm and attractive sound make them an extremely tasty prospect.
After Select Elect the Arts Centre will come alive to the sounds of Sitting Pretty – now with new keyboard player Greg Stevenson. The doors open at 8pm and there are a few tickets still left on the door at 50p.
The Dream Factory, who are just about to embark on their biggest ever tour, have added the services of two new brass players, Stuart Ashmore and Robin Maxwell.
Tamworth Herald – 03/02/84
Musicbox – What a great show
Select Elect/Sitting Pretty – Tamworth Arts Centre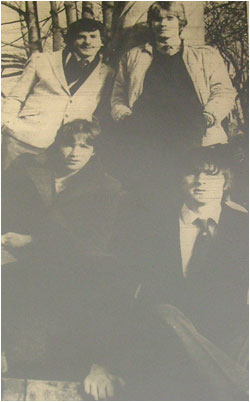 IF anyone needed proof that Tamworth's music scene is now in a healthier state than ever they should have been at the Arts Centre on Friday.
For on that night two of the area's most exciting prospects – Select Elect and Sitting Pretty – turned in a great show to a large crowd that was noisy and enthusiastic,
Four months ago – the two acts – plus BHX – played a free concert at the Arts Centre which managed to fill only half the theatre.
But now with tickets costing 50p apiece and with one less group on offer – Tamworth's music fans piled into the Arts Centre making the night a hugely successful sell-out.
Select Elect were first on stage and after beginning with a quite disastrous mix they soon settled down to play an entertaining and always interesting set of modern synth pop.
They are clearly a duo that are maturing all the time and their adventurous approach to songwriting makes them a potentially winning force.
Mark Brindley, who looks like a trainee Paul Young and sounds like a trainee Phil Oakey has a very strong voice indeed and a great line in off-the-cuff chatter between songs.
After a break Sitting Pretty – who must be congratulate for a quite splendid programme – took the stage to an unprecedented crescendo of applause from the audience.
They burst straight into a set brimming over with great tunes and sheer unrestrained energy. The band had certainly taken to the idea of sharpening their stage presence and now with talented Greg Stevenson on keyboards Sitting Pretty are almost like a totally different act.
The keyboards give the sound a new dimension which manages to fill the gaps that guitars inevitably leave. The best example of all comes in the moving 'Inspiration' where Greg must take credit from turning a very good song into a truly great one.
The biggest surprise of the night came when the band encored with the Classified Ads standard 'Black is the Night', Ironically perhaps this shows that the new guard may well be taking over where the older bands left off. In the end however – nobody loses – only music wins.
Tamworth Herald – 02/03/84
Musicbox – Sitting Really Pretty
SITTING Pretty have been voted as the top local band in the annual poll of Tamworth's premier fanzine "Tambeat".
The Top 10 local bands were:
1. Sitting Pretty
2. Classified Ads
3. The Royal Family
4. Those Attractive Magnets
5. The Dream Factory
6. Talk back
7. The Visitors
8. Select Elect
9. Formaldehyde
10. BHX
Elsewhere in the poll the readers gave an overwhelming vote for the Bank Holiday rock festival as the top local event of 1983 – a reminder for the organisers that people want another one this year.
Tamworth Herald – 06/04/84
Musicbox – Snips
SITTING PRETTY will be going into the studio on Saturday, April 14 to record their first single. In the meantime the band are busy promoting two gigs at the Arts Centre on April 27 and May 4. A third gig with kindred spirits, The Classified Ads may be announced next week.
Tamworth Herald – 13/04/84
Musicbox – Blitz trio make it a lucky 13th
TAMWORTH ARTS CENTRE will once again be under the spotlight tonight (Friday) when three of the town's most energetic and diverse bands will take part in the 'Friday The 13th Blitz'. Topping the bill are the town's longest-serving band The Classified Ads who will be playing their own unique brand of hard, melodic new wave music.
It will be the Ads' first show in three months, and they are all looking forward to it to make-up for the disappointment of having their mid-day concert at QEM School cancelled at the last moment because of industrial action by teaching staff.
Joining the Ads tonight will be two-other entertaining young bands – Sitting Pretty and the new Mystic Hero.
Sitting Pretty, whose popularity is starting to reach fever pitch, have grown steadily better and more confident with every show and tonight launches an extremely busy month for the quartet.
Tomorrow they will make their second trip to the studio and then on April 27 and May 4 they will return to the Arts Centre for two more headlining concerts.
Both Ads and Sitting Pretty have a vast number of gigs under their belts but tonight will be a stage debut for Mystic Hero.
The trio, comprising Mike Bygrave on lead guitar and vocals, Dave Goode on bass, vocals and keyboards and Bill Morton on rhythm guitar and vocals, have influences ranging from Steeley Span to Big Country.
Listening to their debut demo-cassette, the band appear as varied as their influences with high-powered, cheerful numbers like 'July beaches' sitting comfortably by more soothing and well-crafted tracks like 'It's Too Late'.
On the strength of this cassette, the trio certainly have a lot to offer the Tamworth scene.
The contrast in the styles and sounds of tonight's three bands make it look like an enjoyable event and with tickets costing just 50p, there is no excuse for the Arts Centre not to be packed to the rafters.
Tamworth Herald – 27/04/84
Musicbox – Proud day for a band that's come a long way
SITTING PRETTY last week emerged from the studio proudly clutching the tapes that will soon be turned into their first-ever record. The three-track cassette is now on its way to be pressed – and the resulting single should be in the shops by the end of May.
All three songs have a maturity and craft that shows just what a remarkable transition Sitting Pretty have made from their nervous, indiscriminate first show at last year's Bank Holiday Rock Festival.
Then, they seemed to be a band who needed time to develop, time to turn youthful enthusiasm into polished entertainment and time to realise their real direction. And just eight months later it seems that their time as come.
The songs you will soon be able to hear on record look set to transcend barriers and provide the band with a broad-based following. While it is true that they are all in the more gentle vein than Sitting Pretty's normal high-spirited pop, their impact is still very strong.
The best of the three is the sensual, 'moody' 'Inspiration'. The first time I heard this track live, I found it to be both moving and rather dreamy. Now with the complement of Greg Stevenson's superb grand piano playing and Mike Turner's genuine and passionate vocals, the song is quite mesmerising and conjures up images and colour in a way that a live song rarely can.
Choice
The band are still debating whether to make this the A-side of the single. The debate should stop – there really is no better choice.
The other two songs also show the band's variety and skill at mood-creating. Pete Long's superbly-written 'Sunshine Promises' boasts some magnificent almost Spanish-style guitar work from Julian Amos and has a far-away feel all of its own.
The third song 'Broken Glass Lies' livens up the proceedings somewhat with its chirpy, catchy melody that will already be well-known to most of Sitting Pretty's fans.
Overall, the three songs reveal a calmer, less energetic version of Sitting Pretty than I have ever heard before.
There is no bitterness, anger or real power in their sound and if I had to be critical I would say that they were playing it just a little too safe and perhaps a little sharpening up would not go amiss.
But the sheer quality of the tape makes criticism rather redundant. The record, when it is released, will delight more than just the band's followers – and it is commercial enough to creep onto the radio airwaves where the sky really is the limit.

The single should be available from Tamdisk Records in Lichfield Street by May 22. The cost will be just £1.20 and for three, excellent songs that is something nobody can complain about.
SAM HOLLIDAY
N.B. People will be able to see Sitting Pretty in action on the next two Friday nights at the Arts Centre. Although support acts have not yet been named, the Pretty will headline both gigs, and a few tickets are still available from Tamdisk Records. Tinight's show begins at around 8pm.
Tamworth Herald – 27/04/84
Musicbox – Heroes and villains pack a pretty punch
FOR SMUG, complacent souls content to drift through life, don't go to see the Classified Ads.
The experience will hit you below the belt, twist you inside out, and send you freaking to your nearest doctor. Not only do the Ads ask questions, they demand answers. Through a combination of frenzied sound, and passionate vocals, they tear at the social conscience of the audience.
Lashes out
Brandishing a whip, frontman Sam Holliday, lashes out with a venom reminiscent of early punk. And strains of punk, in fact, are clearly discernable in the rawness of the music, though the final effect is individualistic.
In the song 'Take A look At Yourself' the result is mind-bogglingly impressive. It swirls around the anguished lyric 'this society makes you selfish', before breaking into a drum-thumping chant, made even more moving by a superbly dragging bass line.
The final number 'I Fear the Outcast' is enough to send you racing for cover. Built up around a squelchy, keyboard riff it works up into a frenzy of sound that not even the most passive member of the audience can ignore.
The opening act of the night saw the Mystic Hero make a refreshingly relaxed stage debut.
The vocal harmonies of lead guitarist Mike Bygrave and Bill Morton on rhythm guitar, create a warm bank of sound pleasing to the ear. It's a quality one suspects, good enough to carry a bad song.
Not that the songs are bad. They are not. The band turned out a surprisingly bright and varied set – which though often poetical and evocative of pastel colours, contained enough drive to prevent and descent into insipidity.
'Gloria' for instance, proved an instant winner. Mike Bygrave's powerful delivery, immediately stirred the audience and would no doubt, in a larger venue, have incited many to join in the chorus.
And as if to prove they hadn't come to play safe, the band saved their most adventurous number until the end. About an alien from outer space, the music constantly threatened. A recurrent whiff throughout repeatedly surged forward and retreated, leaving everyone in suspense.
A pleasure
As for Sitting Pretty, the name says it all. Immediately they cam under the spotlight they had the evening's success sewn up.
The textures in their music, the interplay of guitars and keyboard and their easy stage style make the band a pleasure to watch. Their popularity, after all, is no fluke.
From the steely 'Concrete City', with all guitars thrashing, to the beautiful 'Inspiration', with its catchy melody, the band laid on a set with sufficient diversity in tone to prevent boredom.
In fact with three such different bands performing on the same night, variety was the hallmark of a very enjoyable event.
MARCUS DAY
Tamworth Herald – 04/05/84
Musicbox – Snips
DON'T forget Sitting Pretty will be in action again tonight for their second consecutive appearances at the Arts Centre. Supporting will be exciting synth duo Select Elect who have promised a new look set. Tickets for the gig cost 50p and the doors will open around 8pm.
Tamworth Herald – 25/05/84
Musicbox - Curtain up on a busy weekend
Band box full of tricks…
TAMWORTH Arts Centre will be under the spotlight again over the weekend when it plays host to two of the most intriguing gigs in the town for many months.
Tonight sees the welcome return to the town stage of The Magnets who will be playing with enterprising young synth duo Select Elect. And just 24 hours later the hard working Sitting Pretty will be joined by new outfit Love On Board who will be making their first town centre appearance.
Tonight's concert will be particularly interesting for it will be the first time the immensely popular Magnets will be playing live since reducing their line-up – and their name.
Rikk Quay has left, the words Those Attractive have been dropped from the moniker, and The Magnets are now a totally different proposition.
The once-familiar backing tracks have been dropped and the band are now going to play their new-look set totally live.
As an indication of what the listener can expect, the band have just released a new two-track demo recorded recently at Steve Adams' studio.
Both songs reveal a new depth and commercial aspect to the Magnets' sound and both – particularly the magnificent 'Breath On Breath' – show that the band has been given a whole new lease of life and should soon be chasing once again the crown as the town's top band.
Alongside the Magnets will be kindred spirits Select Elect, a band whose confidence and enthusiasm has never faltered since their first impressive gig last November.
Good reaction
The band whose music sounds at times like early Human league, now have several more songs at their disposal and with the right mix and a good reaction from the crowd, Select Elect can do their career a power of good by turning in an entertaining set tonight.
Another band who will be keen to win over the town's audiences are the new quartet Love On Board who are literally bursting with anticipation to play at the Arts Centre.
The group, who had to delay their debut concert when guitarist Nick Read was involved in a serious road crash earlier this year, have already won a local talent contest although they see Saturday's gig as their first real test in Tamworth terms.
"We are hoping that Tamworth will like what we have to offer and we are very keen to see how we go down on Saturday," said Nick.
The band who were recently strengthened by the addition of the energetic Glenn Lewis on bass, say their sound is similar in parts to modern pop outfit Orange Juice and Friends Again.
It is certainly a sound that will never have been heard in Tamworth before and for that reason alone, Love On Board are guaranteed a captive audience.
Also guaranteed an enthralled audience are Sitting Pretty. The band who are now coming under close scrutiny from the record companies, should be releasing their debut single in a couple of weeks and Tamworth fans will be able to hear the contents in their live form by popping along to see the group in action tomorrow.
The weekend's gigs conclude four such events in the space of just three days. At one time it would have seemed impossible in a place like Tamworth and shows just how the town scene has improved over the past few months.
All it will take is two big audiences at these gigs (which both start at 8pm) to confirm that the Tamworth scene is now healthier than it has ever been.
Sam Holliday
Tamworth Herald – 15/06/84
Musicbox – Snips
Both The Dream Factory and Sitting Pretty look as if they have broken into the prestigious university circuit. Pretty, who have a single out in a fortnight, are just putting the finishing touches to an extensive tour while The Dream Factory kick off their latest batch of gigs with a return visit to Dordon Working Men's Club tomorrow night (Saturday). They will follow up this date with an appearance at Warwick University next Saturday when they will support popular cult band The Bouncing Cheques. More details of dates will be announced shortly.
Tamworth Herald – 22/06/84
Musicbox – Sounds Varied…
SITTING PRETTY, who have their debut single out next week, will be playing another gig tonight to promote the release.
The gig at the Arts Centre is the latest in a series by the band and has been hastily arranged. In spite of this, tickets are already selling well, confirming the ever-increasing popularity of this ambitious quartet.
Supporting Sitting Pretty tonight will be Mystic Hero, the young pop outfit whose recent performance at the Arts Centre and the Tavern in the Town have made a lot of people sit up and take notice.
Mystic Hero play a varied selection of modern pop with influences varying from rock and roll to the more mainstream synth rock. Tickets for the show should be on sale at Tamdisc Records and can also be bought on the door. More details about Sitting Pretty's single will be available in next week's Musicbox.
Tamworth Herald – 29/06/84
Musicbox – Debut single is pretty fantastic
Dream became a vinyl reality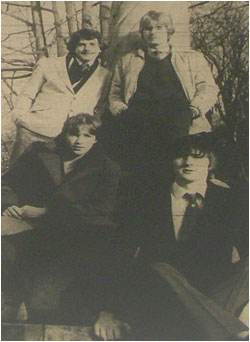 SITTING PRETTY will this weekend see the fulfilment of a dream when their first-ever single will be available on general release. The double A-sided single has been cut, pressed and packaged and the first batch of 1,000 should be arriving at Tamdisk records today (Friday).
As with all relatively unknown bands, Sitting Pretty, who admit the single has cost "a lot of money", know they are taking a big financial gamble.
Although they are confident that advance orders and curious record buyers should account for several hundred sales, a further 120 are being sent to record companies, music papers and radio operations – and they all go for free.
But as drummer and vocalist, Mike Turner, is quick to admit, Sitting Pretty do not see the single as the one that will make them into millionaires.
"We know this one isn't going to break us and we will probably lose money but we are just hoping that the record companies will like it and put up the money for the next single," said Mike.
Several record companies, particularly UB40 bosses, Graduate – have already shown considerable interest and Mike is only too aware that the best way to get across the band's music is via a single. All the talk, promoting and hyperbole count for nothing against what is on the actual vinyl and for that reason, Sitting Pretty are lucky that their disc is as good as it is.
"The Inspiration" a haunting and rather beautiful ballad, which is a far cry from Sitting Pretty's normal uptempo pop. The flip side is more standard Pretty music in the form of 'Broken Glass Lies' which has already become a live favourite.
The single, which will be available not only in Tamdisk but also Smiths, Boots and possibly other record shops in the town represents not only a vast achievement for Sitting Pretty but also a big incentive to other bands in the area.
Twelve months ago Sitting Pretty were merely a dream in Mike Turner's head, and now they are on the brink of a success that owes much to their own die-hard determination.
I would urge everybody to put this record at the top of their shopping list because it show that the food guys can win and it offers hope to everyone who has said at one stage or another, "One day I will make a record…"
Tamworth Herald – 13/07/84
Musicbox – Making news in fine style
TAMWORTH's two most active bands – The Dream Factory and Sitting Pretty – both seem on the verge of gaining the national recognition they have craved for so long.
For the Factory, a support slot with the mighty Style Council could be on the cards, and for Sitting Pretty, next month will see them enjoying a double-page spread in the popular national music paper, "No.1".
The Dream Factory's possible appearance with Paul Weller and Co. became a possibility last week when bassist Mark Mortimer had a chat with the former Jam singer at his rehearsal studios.
Mark had written to his life-time hero, Weller, to tell him all about the Factory and to ask if there was any chance of the band supporting the Style Council. The chance arrived when Weller decided he would like to do a Miners' benefit concert at Nottingham during the summer.
If this goes ahead, with the Style Council headlining, Weller has said he would like kindred spirits the Factory on the bill and understandably, Mark Mortimer is delighted.
"I couldn't believe it when I rang up and spoke to him because he seemed to know quite a bit about the band and he seemed genuinely interested," said Mark. The band are now eagerly awaiting developments in what would easily be the most prestigious gig a Tamworth band has ever achieved.
And this sort of national exposure will soon be coming to Sitting Pretty, who spent most of last Friday with a reporter from the glossy pop magazine "No.1".
The band will be featured in a special new bands section of the magazine and they ended up being photographed no less that 216 times for the spread.
Drumemr Mike Turner has assured Musicbox that he has given Tamworth a big plug and with the thousands of readers the magazine has, that can only be a good things.
The band's hectic schedule continues on Saturday when they step out to play their very own single-release party at the Assembly Rooms. This all-ticket, guest-only venture promises to mark something of a watershed in the band's career.
By the time you read this, the band's single 'The Inspiration', will have become the biggest selling single ever at Tamdisk Records in Lichfield Street leaving behind such money-spinners as 'Uptown Girl', 'Karma Chameleon' and even 'Relax'.
For both the Factory and Pretty, this run of success looks as though it might continue on a new plane. People who think getting out of Tamworth is an impossibility, please take note.
SH
Tamworth Herald – 24/08/84
Musicbox - Pretty's latest line-up goes on view


SITTING PRETTY will tonight unveil their new six-piece line-up when they step out to play at Tamworth Arts Centre with Classified Ads.
Pretty decided to shake-up their line-up several weeks ago and tonight will be the first public showing of just how changes have affected the group's sound.
The most obvious difference will be that vocalist Mike Turner is no longer behind the drum kit. Criticism had long been voiced at the band that they lacked visual interest and so Mike decided he would forsake the drums to allow himself to improve his vocal concentration and give the band a much-needed frontsman.
Jon Peat is the new sticksman who was chosen out of a whole battalion of people who tried to fill the post when it was advertised inn MUSICBOX.
Another new person the group's fans will be able to see is Anice Byfield who will be joining Mike on vocals. Anice is said to have a very confident and impressive voice and there is no doubt that this added sideline should enhance the band's sound completely.
The group see tonight's show as a chance to warm their fans up before their headlining appearance on Monday at the Castle Grounds Festival.
Joining Sitting pretty tonight will be sleaze-merchants the Classified Ads who have promised another enthusiastic watchable performance. The band whose music attempts to go in several different directions all at once hope to play some entirely new material to augment their recent songs which include 'Anger Can Be Power', 'Wonderful World of Sex' and 'Blockbuster'.
Tickets for tonight's show cost just 75p on the door and it looks like being an intriguing night of very different music.
Tamworth Herald 02/11/84
Musicbox – Snips
SITTING PRETTY have lost the services of bass guitarist Pete Long. Pete who was one of the founder members of the band, announced his decision last week, but Sitting Pretty have vowed to carry on regardless.
They have already drafted in a temporary replacement and are hoping the bass position should be filled permanently in the next few weeks. In his time with the band, Pete helped to lift them from a nervous outfit into a confident, ambitious group with an enormous local following. He helped to write a number of the group's best known songs and was also involved in the band's finest moment yet – their debut single released earlier this year. Pete is said to be going into a new band, but for Sitting Pretty the show will go on…"The decision has come as a bit of a shock after a recent upturn in our fortunes, but we are determined to go on," said vocalist Mike Turner.
Sitting Pretty will be playing the first ever Thursday night gig at the Arts Centre next week. The show starts at 8pm.
Tamworth Herald 30/11/84
Musicbox – Factory with a big heart
LUCKIEST person of the week must surely be Beatle-fan and Sitting Pretty impresario Mike Turner. For this week, Mike received a telephone call from London inviting him down to the world premiere of Paul McCartney's new film 'Give My Regards to Broad Street'.
Not only will Mike be allowed to sit among the rich, the famous and the critics at the premiere but he will also be able to join the rich, the famous and the critics the following morning for McCartney's official press conference which will also feature Ringo Starr.
Mike earned the right to attend through his work with the Beatle's magazine "Every Little Thing" and understandably, he is delighted. We hope to persuade Mike to give an account of his magical mystery trip in a future Musicbox.
In the meantime, Mike is keyed up for the Sitting Pretty Christmas spectacular at the Arts Centre. Pretty will play a host of new seasonal songs as well as all their favourites.
Tamworth Herald 14/12/84
Musicbox – Noisy carollers raise the roof
BOTH Breaking Point and Sitting Pretty will this week play their special Christmas Party gigs. Breaking Point will line up alongside popular Lichfield act Artful Dodger on Sunday and Sitting Pretty fans will have to wait until Thursday to hear their Christmas good tidings.
Pretty's Arts Centre gig will be unique for a number of reasons. Not only will the band selling videos and tapes on the night but they will also be coordinating, a strange Christmas Carol Service by many of Tamworth's local musicians.
People as varied as Mike Turner (Sitting Pretty), Brian Lacey (The Parade) and myself will join together in a series of traditional carols while a hat goes round for donations.
All the money raised will go straight to the Ethiopian appeal and any local musicians that want to help by joining in this most original of carol services is urged to come along on the night.
As well as the carol service the night will feature Sitting Pretty playing a host of new seasonal tunes and dynamic young trio The Parade – currently doing well in the Musicbox poll.
Farewell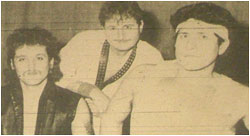 The night of fun starts at 7.30pm and everyone is urged to be early. For Breaking point their farewell to 1984 comes this Sunday and it will probably be the first time many fans have seen new powerhouse drummer Chris Orton in action.
Chris, formerly of Wild Child, has helped to instil a fresh power into the band and they are hoping to play several new numbers to make it a night to remember.
"1984 has gone pretty well for us and we are now confident that '85 can be even better," said Breaking Point vocalist Kevin Briggs.
So, two unmissable concerts which should put you really in the mood for a noisy, happy Christmas.
Tamworth Herald – 25/01/85
Musicbox - SNIPS
Putting new face in Pretty picture
SITTING Pretty, still one of Tamworth's most active and popular outfits, have sent out an appeal for a new bassist and drummer.
The band has recently had a huge internal shake-up which has left them exactly as they were almost two years ago – with just Mike Turner, Julian Amos and Pete Long remaining.
Now the band are determined to stabilise themselves and invite sincere and enthusiastic bassists and drummers to contact them with a view to reviving Sitting Pretty's fortunes.
If this sounds interesting the man to contact is Pete Long.
Tamworth Herald – 01/02/85
Musicbox – Sitting Pretty's new faces
SITTING PRETTY will unveil their new line-up tomorrow when they line-up tommorow at the Arts Centre with kindred spirit Talk Back.
Pretty advertised in Musicbox last week for a new bassist and drummer, and although auditions were not held until Monday, the band hope to work flat out to get their new line-up ready for Saturday.
The last time the band played was as a trio at the Tamworth Rocks for Ethiopia concert. Pete long and Julian Amos both played guitar, with Mike Turner returning to his former position behind the drum kit.
The band, however, hope that normal service should be returned on Saturday, with two brand new members on stage taking the group into an entirely new phase.
Joining Sitting Pretty for tomorrow's gig will be Talk Back who have recently had a virtual re-launch in Tamworth and made many friends along the way.
The concert begins at around 8pm and tickets are available on the door for just 60p.
Tamworth Herald – 22/02/85
Musicbox – Shock waves on battleground
Smashing time as riot hits stage
TOMORROW night Tamworth Arts Centre will play host to the final of the keenly-fought 'Battle of the Bands' contest.
The final, featuring five groups will be the culmination of four strong heats, the last of which is at the Arts Centre tonight (Friday),
Already the contest has attracted great interest and has been packed full of surprises and controversy.
It all began last Thursday when three very different acts – Dance Stance, One On One and The Original Royal Family took to the stage.
Controversy started to rage however, when one of the five judges was disqualified for walking out half-way through the gig of the last band The Royal Family. The disqualification gave One On One a clear victory, making them the first band into the final – and therefore the Bank Holiday rock festival.
Overflowing
Twenty-four hours later at the Arts Centre a packed-to-overflowing audience saw an amazing four-band contest. Childs Play opened the proceedings with their former guitarist, who had been dragged out of the bar because their normal player had disappeared!
The shock continued when Vicious Malicious – an unholy alliance of Select Elect and The Elusive They took to the stage and proceeded to smash up guitars and tape recorders as well as run riot with a chainsaw. The word was bizarre. All part of the act, of course.
And, if that wasn't enough of a culture shock to the audience, then the new Pulsebeat, who after starting cautiously, had the whole crowd on their feet with some brilliant, individual guitar playing.
By now nothing could be surprising – but last band Scarab almost were. They came on and gave a blinding show bashing out 100mph rock anthems which sent their loyal fans into a state of acute frenzy. They threw in volcano-style fireworks, flashing lights and fake blood to provide a riveting performance. Needless to say they won, so booking their automatic place in tomorrow's final.
The third heat was held last night (Thursday) and one of the following four acts will be in tomorrows final – Ideal Standard, Spirit of Water and Sitting Pretty.
The final heat will be tonight when Breaking Point, BHX, Sacred Oath and Caprice will battle it out.
Each of the acts has a lot going for them and predicting the result is extremely difficult.
BHX have proved their status by being offered several dates all round the country; Sacred Oath are now back fresher and more determined; Caprice get more confident with every gig and Breaking Point are Breaking point.
Surpassed
Don't forget there will also be a place in tomorrow's final for the highest scoring runner-up during the whole contest.
On the first two heats, Childs Play and Pulsebeat both with 59 points held second equal though it is likely that this total will be surpassed tomorrow night.
So an extraordinary night is in prospect. The finalists will be given only 20 minutes to impress the judges that they are Tamworth's top band. The overall winner will be invited to play at the Young People's Arts festival night in March where they will also be presented with their winning trophy.
Saturday's final starts at around 8pm and entry is 60p. it is going to be packed to the rafters so people are advised to arrive early to enjoy this potentially tremendous occasion.
SAM HOLLIDAY
Tamworth Herald – 22/02/85
Musicbox – SNIPS
DON'T forget Thursday night is another big gig night. The Jolly Sailor is throwing open its doors for a major three-band show featuring The Original Royal Family, Talk Back and Sitting Pretty. Entry to the gig is just £1 with proceeds going to the Ethiopia Fund.
Tamworth Herald – 22/02/85
Musicbox – GOSSIPBOX
THIS column's debut was very well received last week and so we hope to make it a regular feature. If you have news about local bands or musicians be sure to let us know so the truth can be told!
Well we start this week with a happy rumour that Talk Back have been linked with no less a label than EMI. According to my reliable informant, the label are very interested in the ambitious quartet and are considering sending someone up to watch them in action.
On the subject of live action. Sacred Oath are apparently planning to ask Wolfsbane to another 'Battle of the Bands' at the Arts Centre. Although Wolfsbane did a similar highly successful thing with BHX last year, the indications are that they won't pick up the gauntlet. Sacred Oath however, claim that this would be an automatic victory for their outfit.
Sitting Pretty it seems are now 'back on course' according to lead singer Mike Turner. They have recruited former Breaking Point drummer Clark Stewart and experienced bass play Steve Parkin to the line-up and although it is the latest in a series of changes, there is a general feeling that this one is going to stick.
Talking of Sitting Pretty, what have their guitarist, Julian Amos, One On One drummer Stuart Blaine and Caprice singer Mike Fleming all got in common?
Well, strange as it may seem, they have all been members of heavy band BHX at one stage. This was just one of the fascinating facts I picked up when researching BHX's history for their forthcoming national tour programme. The tour has already started to blossom with venues as glamorous as Dudley, Blackburn and Stoke-on-Trent on the itinerary. More info later.
And finally this week, news that former Classified Ads members Derek Goodwin and Paul Clements have formed a new 'sexdeath' combo on Manchester. The duo's first manic performance was described as a 'hideous noise' which apparently pleased both members very much indeed. It's all a far cry from the Classified Ads playing 'Telephone' but then again who remembers the band anyway?
SAM HOLLIDAY
Tamworth Herald – 01/03/85
Musicbox - Gossipbox
WHICH well-known local guitarist nearly discovered the rage of the train last week? The answer is Sitting Pretty's Pete Long. Intrepid Pete was in a rush to get back to Tamworth for a band rehearsal and saw his train pulling away from New Street Station.
Desperate Pete threw his books through an open window and then clung for dear life on to the door of the speeding train. He was eventually hauled in by people on the train and he arrived at the band's practice session shaken but smiling…
Also smiling are Wolfsbane because they have found a new drummer in whom they have great faith. The man, John Buckingham, is a former fan of the band and he is currently looking for a stage name…talking of stages the band have said that they are willing to play with Sacred Oath around April, although it is unknown whether this will be as a 'battle' as Sacred Oath originally requested…
Love On Board may be on the verge of adding a well-known keyboard player to their line-up…
Tamworth Herald – 08/03/85


Musicbox - Mike's all set to pen two local mags
New chapter starts for Pretty good future
SITTING Pretty vocalist Mike Turner is this week sharpening his creative pencils in preparation for two magazines.
For Mike is to launch a brand new monthly Sitting Pretty magazine. And he also plans to re-launch the popular TAMBEAT magazine.
Mike, whose literary talents have already been displayed in various programmes and articles, knows that the two ventures will keep him very much on his toes – but he is not someone frightened of a challenge.
He was once the editor of a very popular Beatles fanzine called "Every Little Thing", which built up a worldwide circulation and gained Mike many valuable music business contacts.
Mike started Tambeat while still writing the Beatles fanzine, and featured many budding youth bands during the re-birth of the Tamworth scene in the early Eighties.
He continued the magazine after opening his Tamdisk shop, but now that is behind him he feels he has once again got time to bring back the magazine.
Elaborate
The Sitting Pretty magazine, is a new idea. The band have already become well-known for doing elaborate, informative gig programmes and Mike decided the popularity of these should lead to a more regular info-sheet.
No dates have yet been set for the release of Tambeat or the Sitting Pretty magazine, but anyone who wants info on the band's fanzine can write to Sitting Pretty.
Tamworth Herald – 22/03/85
Musicbox – Pretty Promise
STOP PRESS…Sitting Pretty will be playing their first full concert with their new line-up at Tamworth Arts Centre tonight (Friday).
The band, who have promised a new set – as well as the first edition of the Sitting Pretty magazine – should be on stage at 8pm, and they are billing the gig as one of their most important in recent times.
Tamworth Herald – 05/04/85
Musicbox – SNIPS
Pretty good start for band's mag
Sitting Pretty, who have had a fantastic response to their monthly magazine, have made a plea from the heart to people wanting information about the band.
If you want to write to them please send a stamped addressed envelope. As Mike Turner explains: "It is costing us a bomb to reply to all the letters and the money we made from our last gig just covered our postal bill!"
The magazine is actually very impressive and can be picked up for 40p plus that essential SAE. The band have many plans for the future which we will be announcing over the next few weeks in Musicbox.
Tamworth Herald – 12/04/85
Musicbox – Hey, good lookin'
Love On Board/Sitting Pretty – Tamworth Arts Centre
ON the face of it, Love On Board and Sitting Pretty are quite 'old hat' these days. Both bands have played dozens of concerts in the Tamworth area and you may think their faces, songs and ideals are known to everyone who could possibly care.
Yet recently both these 'golden oldies' have had new leases of life.
Take Sitting Pretty. They have had more ups and downs in the past 12 months than most bands have in a lifetime, yet still they battle on unperturbed.
Their durability is built mainly around Mike Turner's admirable and unshakeable optimism, and last Thursday this showed no signs of wavering. This time it is because Mike truly believes he has found the best ever Sitting Pretty line-up – and he is right.
Excellent bassist Steve Parking is a real find for the local scene, and there is no doubt that the twinning of Julian Amos and the underrated Pete Long on guitars is a potentially explosive combination.
The songs have certainly improved too. Gone is the sometimes meandering old set and in comes a new, polished and uptempo pop collection.
For Love On Board it was the first 'post-Minnion' concert with returned vocalist Neil Jones. Again optimism was much in evidence, and there seemed good reason for it. Love On Board simply look RIGHT together, Although they have had internal arguments in the past, they have become like the four sides of a square. They need each other to function and when they are together in good form (like this night) they really are a live treat.
Old favourites were rattled off with an enthusiasm which was matched by that of the large, spikey-haired audience.
In fact enthusiasm is the word that bonds Sitting Pretty and Love On Board together. They both clearly love what they are doing and that really does make it a lot easier to enjoy watching as well…
SAM HOLLIDAY
Tamworth Herald – 02/05/85
Musicbox – Gossipbox
It seems something unpleasant has shot up between former partners-in-chime Love On Board and Sitting Pretty. Love On Board apparently want some money from Sitting Pretty and lo and behold, Sitting Pretty wan t some money from Love On Board. All very interesting, I'm sure…
Tamworth Herald – 10/05/85
Musicbox - Something exciting…and hopefully, rich!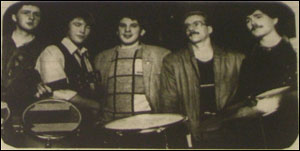 SITTING PRETTY, currently being chased by no less than four record companies, are all set to release a unique 19-track cassette album. The tape, called appropriately enough "The Complete Sitting Pretty (83-85)", features studio and live performances of all the band's most popular songs during their busy last couple of years.
As well as the single versions of "The Inspiration" and "Broken Glass Lies" the tape will contain a number of songs that have previously been unreleased.
Among them is the much-vaunted "Something Rich, Something Exciting" which looks set to be the second Sitting Pretty single later this year.
The whole of the first side of the tape was recorded recently at the Assembly Rooms Pop Quiz event which was described enthusiastically by some of the band's supporters as Sitting Pretty at their very best.
The tape, which should be available this week, will cost a mere £2.99 and can be bought either by writing to Sitting Pretty News or by visiting "Hole in the Wall" Records based at Fazeley.
Money
The band are hoping the tape will make them enough money to help them further their push for success. Only last week the band were having talks with Arista records and to confirm their fast-growing reputation they have now been invited to play a special gig with promising pop duo Strawberry Switchblade.
The gig at the Handsworth Open Air Festival which will feature a host of bands starting with Sitting Pretty and finishing with headlining Strawberry Switchblade.
It is hoped a coach will be running to the event and for more details, watch Musicbox or look out for the next copy of the Sitting Pretty News magazine which is out shortly.
The band have also booked Tamworth Arts Centre concert on May 31. Tickets cost 60p and once again are available from either "Sitting Pretty News" or Hole In The Wall records.
Tamworth Herald – 31/05/85
Musicbox – Freight in train?
SITTING PRETTY return to the Arts Centre stage tonight (Friday) and there are strong rumours that they will have a very impressive support act.
For although it was not confirmed at time if going to press, there is a good possibility that Freight Train, featuring Donald Skinner, Barry Douce and Josh Cope will line up with Pretty's. Donald who has been working hard with Julian Cope of late, is said to see the Sitting Pretty date as the first step in a masterplan to take his band to the top. If it goes ahead the band (who already have a record contract virtually signed and sealed) will be making their first Tamworth appearance in their present guise.
But if you particularly want to see them, MUSICBOX suggests you ring the Arts Centre just before leaving home to make sure the Train is stopping at the venue.
For Sitting Pretty there are no such doubts – they will be ready and raring to go. Since their new line up came together the band's desire to work has grown and grown and they will be out to give another professional performance featuring a mixture of old and new tunes. The gig starts at 8pm.
Tamworth Herald – 14/06/85
Musicbox – Treading a pretty path to progress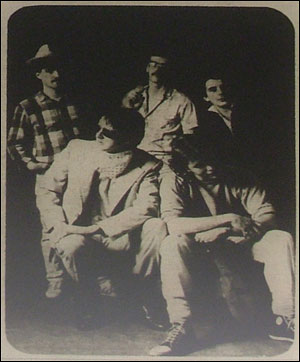 Sitting Pretty (demo)
FOR SOME strange reason, there are a lot of rock fans and musicians in Tamworth who don't like Sitting Pretty. Many dismiss them as 'just another kiddies pop band' and refuse to take them at all seriously.
But despite – or perhaps because of – this, Sitting Pretty have stuck at their job with dedication and optimism, and have refused to compromise the clean-cut pop image which has tended to distance them from every other band in the town.
And now that dedication is beginning to bear real fruit. Their following is growing all the time and now they have released their finest ever tape – a two-tracker aimed specifically for the growing list of record companies who have discovered the band.
It leaves the 'Inspiration' single at the starting post and is without doubt the most mature and professional work ever to come out of Sitting Pretty's highly-productive stable.
It is that word maturity which really sums up Sitting Pretty as they are now. Just look at the new picture here and compare it (if you can remember) to the first Sitting Pretty picture where they stood, arms folded, wearing Mickey Mouse jumpers and looking like they had formed 10 minutes ago.
Well that was then and this is now. And the band have a definite 'up-market' pop sound – and the music to compliment it.
The premier track on this demo, is 'Something Rich, Something Exciting', a lush ballad with a breezy melody and a beautiful sax background. It sounds like a fusion of Spandau English pop and modern Scottish romanticism and should prove equally palatable in either musical country.
Add to this a tender and impressive vocal from Mike Turner, and you have a winning combination, Mike's voice is in some ways a revelation. We all know he has a pretty face, but if this tape proves anything, it is that beneath the smile there is a powerful voice waiting to burst out.
'Blind to Reality' continues the theme, tending to steer more towards Spandau and adding a neat dance rhythm, making it very easy – and enjoyable – to listen to.
So a great tape and one which I hope – and believe – could start the ball rolling for Sitting Pretty.
Tamworth Herald – 12/07/85
Musicbox – SNIPS
Among Arts Centre's greatest stalwarts are Sitting Pretty, and their irrepressible singer Mike Turner has been in touch to try and squash two mysterious pieces of gossip. Firstly, he has not recently had a secret marriage as some people are saying and secondly, he has not quit the band to form another one. He is, however, very interested to find out the sources of these bizarre rumours…
DON'T FORGET
Sitting Pretty return to live action tonight when they take their new look set to The Masonic Rooms. At time of going to press it was uncertain who the support would be, but a full live-up is assured for the show which kicks off at 8pm at the Lichfield Street venue. Tickets are 50p in advance or 75p on the door.
Tamworth Herald – 06/09/85
Musicbox – Pretty Pennies
ANOTHER Save The Arts Centre concert takes place next weekend featuring one of the venue's most prolific attendants, Sitting Pretty.
Tickets for the show are available now from the band members and at just 50p it is certainly with supporting. More details in next week's Musicbox.
Tamworth Herald – 13/09/85
Musicbox – Mr. Nice Guy turns nasty
EVERYONE who has ever been involved in Tamworth's music scene – including me knows only too well that there are a lot of people who don't like what we are trying to do. These people can normally be categorised in to well-defined groups, but today I have to tell you we have a new and unexpected critic.
Mike Turner, the Sitting Pretty singer, has revealed his real thoughts about Tamworth, the local music scene and the people who try and organise it, in a new and exciting fanzine "Anarchy in Wonderland" (which is excellent and will be reviewed at length later).
According to Mike Turner the whole scene is appalling and all but three or four bands deserve 'shooting'.
He cites Wolfsbane as being 'pathetic', Love On Board as 'embarrassing' and Breaking Point as 'HM liars'. He says last year's rock festival was a shambles – win which Sitting Pretty were light years ahead of anyone else – and he claims he doesn't want to stay in Tamworth any more.
Nowhere
"As soon as we make it and get out of Tamworth I ain't bothered if we ever play here again, Tamworth is a nowhere land," he writes. Now personally I don't care what people say about the music scene when they are outside it, but Mike Turner should realise he owes EVERYTHING to Tamworth.
Sitting Pretty are about as well known as the Chinese foreign minister outside the town, and in the past a lot of bands have worked hard with the group to help Mike Turner on route to his so called fame'.
He was given a prestigious spot in this year's 'shambles' festival, and was also involved in TamAid so how he can use the town and then abuse it is beyond me. I am sure a lot of people will be very angry at what he has said.
As editor of Musicbox, I feel rather betrayed by Mike's attitude. He reckons he never reads Musicbox anymore, yet he is without doubt the most written-about person since I took on the column – mainly because of his ability for self-publicity.
It is a real case of "Et tu Brute" and as far as I am concerned, if Sitting Pretty go on to be bigger than The Beatles I don't want to write another word about them. After all they don't need Tamworth and that is a fact that won't escape their dogged fans.
*As the final irony, Sitting Pretty are tomorrow night playing a "Save The Arts Centre" concert. Mike who never reads Musicbox, remember, gave me a large press release, to promote the gig as well as free tickets and in his letter he says how important it is to keep open the Arts Centre.
The irony is that in "Anarchy In Wonderland", Mike's description of the Arts Centre is not quite as rosy as in his letter. He calls it a "dive". Tomorrow's Save The Dive Concert starts at 8pm.
Sam Holliday
Tamworth Herald – 13/12/85
Musicbox – SNIPS
A new pop band, featuring Poison Passionade singer Anice Byfield and Sitting Pretty guitarist Julian Amos, have sent out an appeal for a bassist. Anice left Poison Passionade about a month ago, but she is keen to get something going as soon as possible with her new outfit. If you would like to find out more give Anice a ring.
Tamworth Herald 03/01/86
Musicbox – Factory floor the opposition to make a hat-trick…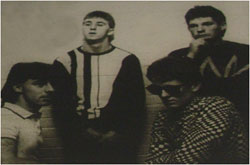 THE Dream Factory have done it again! Yes, for the third year in succession, Tamworth's favourite soul men have pipped all opposition to once again claim the top local band slot in the Musicbox poll.
They did so despite a fantastic turnout of votes for new boys Terroa, who just lost out by virtue of the masses of votes the Factory received not only for first place (which was worth three points) but also for second (two points) and third (one). Wolfsbane, Breaking Point and Royal Family fans by the score put the Factory as their second choice and as the poll entered its last frantic days, it was clear the band were going to do it again.
Landslide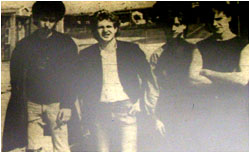 But that was not the only joy for the band. Because they have had such a big national profile all year I allowed them to be included in the Top National Band sector – and they won that with a landslide.
And the same went for the band's tremendous 'Wine and Roses' single which floored all the opposition.
Just to complete the (wine and ) rosy picture, the group had four songs in the top twenty local song section, and also had Mark Mortimer and Tim Goode voted into the top five local personality section.
Dream factory take a bow – you have won it again and you have deserved to do so.
It wasn't only The Dream Factory's poll though. Terroa as well as scooping the runners-up slot in the top local band, also won the best local song award with the excellent 'Thunder and Lightening'. If the views of the hundreds of people who voted (we passed the 500 vote mark with ease) are anything to go by, Terroa are the group you think are going to make it next year.
Still in the local band section, The Royal Family finished a strong third well ahead of the bands beneath them. Like The Factory they seem to have universal support from people of all musical tastes and there is no doubt their popularity is now at an all-time peak.
It should bring a smile of Steve Martin-style proportions from Dave Smith and Eddie Blunt!
Places four and five went to two bands from the Atherstone area Dance Stance and The Me, a band who seem pretty big in North Warwickshire and will be investigated further in the near future.
It was nice to see Dance Stance up there – and also the likeable Paul Hanlon in the personality section – and with Nick Reed now in their line-up, I have a sneak feeling '86 will be very good indeed for the Atherstone band.
Elsewhere, Freight Train showed they have made considerable impact and Wolfsbane proved that their appeal goes far beyond strict heavy metal types judging from the people who voted for Jeff, Bayley, Jase and Stakk.
Breaking Point also had their best ever poll result and it was very nice to see the now defunct Love On Board still hold a special place in a lot of people's hearts.
Delighted
Completing the top ten are Femme Fatale who will be delighted with their debut show in the poll, and then the next five or six bands all came very close indeed to one another. The Sway, Magnets and Sitting Pretty all started well but faded somewhat but overall it was nice to see that virtually every band in the whole district had some supporters.
Just missing the top twenty, for example, were Depth Charge, Banned Wagon, Scarab, Boozy Brothers and Pulsebeat.
The local songs section was pretty reflective of the local band poll but it was pleasing to see people voting for songs that were not by their favourite band, which showed there is a lot of unbiased 'general' listeners among local rock fans.
Perhaps the only surprise was that Breaking Point only managed a top twenty placing (and that was at 17) but you can't have everything.
In conclusion, everyone who votes, many thanks and to all the bands who have made the year so exciting, a double-dose of thanks. Let's now make '86 even better.
Top local band
1. The Dream Factory
2. Terroa
3. The Royal Family
4. Dance Stance
5. The Me
6. Freight Train
7. Wolfsbane
8. Breaking Point
9. Love on Board
10. Femme Fatale
11. The Sway
12. Spirit of Water
13. The Parade
14. Sitting Pretty
15. Trout Meets The Cavalry
16. Dickens
17. Judas Cradle
18. The Magnets
19. Powerplay
And no here's how I'd have voted
Just to complete the overall local music award section, here are the people, the musicians and bands that I think deserve credit in '85:
Top Band – Breaking Point
Top Local Song – 'Come The Day' – Breaking Point
Guitarist – Jase The Ace/Tim Latham/Nick Reed
Drummer – Stuart Blane/Steve Quilton
Bass – Daydo/Mark Mortimer
Keyboards – Rikk Quay
Vocalists – Dave Ingham/Dave Smith/Debbie Whitty
Best Live Band – Wolfsbane
Most Improved Band – Dance Stance
Most Likely to Make it in '86 – Dream Factory
Best Gig – Breaking Point, The Sway, The Magnets Tamworth Arts Centre
Best Demo – Wolfsbane
Best DJ – Buttercup
Best Songwriters – Kevin Briggs/Bryan Lacey/Jase The Ace/John Reeman
Best Lyricist – Bryan Lacey
Haircut – Mick Rutherford
Best Dressed Person – Jeff Hateley
Saying of the Year – "I can't get me breath' – Buttercup
Personalities of local music scene – Ian Gibbons, Tim Goode, Rikk Quay, Eddie Madden, Blaze Bayley, Dave Ingham, Mike Turner, Paul Speare, Phil Smith, John Reeman, John James, Mike Fleming, Sage Side Psycho, Mark Mortimer, Jeff Hateley, Kevin Briggs, Star Trek, Trevor Muglestone, Dave Smith, Mick Goodby, Buttercup and everyone else I've missed.
SAM HOLLIDAY
Tamworth Herald – 07/02/86
Musicbox – Gossipbox - Unlikely pair hit it off
THINK of the least likely band in the world for pleasant popsters Dance Stance to be a support to. Give in? Well how about eccentric group, the Jesus and Mary Chain.
According to straight-faced Stance singer Paul Hanlon (who has acquired an irritating habit of describing everything that is good as 'mint') the two bands almost teamed up on the Mary Chain's latest tour.
It all sounds a bit unlikely to me, but then again. If Nana Mouskouri can get into the charts, anything is possible…
Now on last week's deliberate error. Talking about the musical Mortimers. I said that Mark's sister was Michelle, which of course is wrong. She is Nicola and I must apologise to her.
I was of course confusing here with Tim Goode's sister.
On the subject of the Factory, they have now been joined by former Sitting Pretty keyboard player Greg Stevenson who has fitted in very well indeed.
With Sitting Pretty still in mind, it was nice to see Mike Turner back on the local band scene last week when he attended the Battle of the Bands show.
Let us also hope that this sudden outbreak of studio activity continues to spread. It seems that Phil and Paul at Expresso Bongo have been besieged of late from demo-hungry bands and I have been told that both Terroa and Breaking Point have recorded tremendous tapes there.
Finally, as you may have heard some council officials have slammed Tamworth Rocks for Ethiopia supported for apparently leaving a trail of litter after their Christmas show.
I find this claim both surprising and rather insulting. Many, many people helped to clear up the Assembly Rooms that night.
SAM HOLLIDAY
Tamworth Herald – 21/03/86
Musicbox – Succeeding with talent and mouth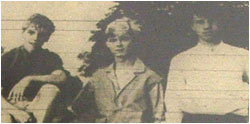 I HAVE recently been filing all my old MUSICBOX columns from the past three years or so and as one of those academic exercises, I decided to see just who has been the most featured band in the column over that time.
People often accuse me of bias in various directions but I think the 'top ten' of mentions shows that I have managed to cover the whole spectrum of local music from the 'lightest' to the 'heaviest'.
This was not a scientific exercise, I merely flicked through the columns and noted the names of bands whenever I saw them. So a 'mention' could be just one line or a full feature. Anyway here's the top ten from 1983.
1. The Dream Factory (60 mentions), 2. Sitting Pretty (57), 3. Breaking Point (53), 4. Wolfsbane (52), 5. BHX (51), 6. Love On Board (49), 7. One On One (37), 8. The Magnets (32), 9. Sacred Oath (25) and The Cradle (25), 10. The Royal Family (20).
Outside of this batch as a matter of interest were Terroa, Dance Stance, A5 and Caprice. At the other end of the scale there were local bands whose name were featured only once such as Alibi, The Fashionable Gents, Bambu Curtain and The Time Bandits.
Tamworth Herald – 23/05/86
Musicbox – Pretty bounce back with hopes for single
AFTER a lengthy period of relative inactivity, Mike Turner has returned to the scene with a new line-up – and a one-off record deal for Sitting Pretty.
A major record company (and I do mean MAJOR) have agreed to allow the band to record a single during the summer – and it looks set to be "Something Rich, Something Exciting".
The track was originally recorded on a demo just before Sitting Pretty died a premature death following Mike's controversial comments in the "Anarchy in Wonderland" fanzine.
Since then, Mike has been in close contact with the record company concerned and after a series of lengthy meetings, the single dream has now become a reality.
It is set to be recorded in June and there is talk of a 'name' producer working on the track.
The band now has a brand new line-up. Only Mike is left from the famous old line-up of Julian Amos and Pete Long and among the new musicians joining the band is former Cradle guitarist, Paul Keeton. Paul, who first shot to local attention with Scared Oath, was snapped up by Mike shortly after The Cradle split a few weeks ago.
Joining Mike and Paul will be another ex-Cradle Niz Concannon. Niz will be playing bass with Sitting Pretty although it is possible he will continue in the all-new Cradle.
Completing the nucleus of the band is former Sitting Pretty drummer Jon Peat and this quartet will be the ones who will hit the road in the summer for a 14-date UK tour – which includes two concerts in London.
In the meantime the band are working hard rehearsing an all-new set – and are also toying with the change of name. The current favourite is "Breakfast at the Adelphi", although it is not clear if this is the name under which the single will be recorded.
Whatever happens, Mike is understandably delighted to once again stoke the fire of his musical ambitions. Only time will tell if "Something Rich, Something Exciting" really does produce something rich and exciting.
Tamworth Herald – 29/08/86
Musicbox – Where are all the girl singers?


HERE is a tricky question for you. Why is it that we have a female Prime Minister, a female monarch, female MPs, female radio and TV presenters, female males (?) and yet hardly any decent local female rock singers?
This year's festival featured just one solitary female lead singer and it seems the local rock scene has become as male-dominated as the Vatican. But why? Here we let Anice Byfield the former Sitting Pretty, Poison Passionade and Orange singer, chew over the problem. So Anice, what stops women singing.
The answer is that bands around Tamworth are all made up of males, and that's the way they like it! If they do have girls in the bands, many times they are treated as "pretty little things" to brighten up the stage act, bu showing a bit of leg and smiling a lot but basically doing very little.

When you're in a male-dominated band I've found that's all that is really required.
I know some of you bands out there will be screaming "but we've been looking for a female vocalist and can't find one," Ok, there is a distinct lack of girls willing to actually get up and sing but that is because of three reasons: either they can't sing, they can sing but can't be bothered, and probably most importantly there are girls out there, with talent who just don't know how to get into a band.

When anyone in the town needs a vocalist it's put in this column and nine out of ten times it's a male that is required.
Why won't bands accept females into their bands? I'm not just talking about vocalists but musicians as well. How many female musicians are there in Tamworth bands? I can think of one or two, but there are lots out there probably just as good, if not better, than many of the males.
If bands had more open ideas about girls in bands – and girls got off their bottoms and got into bands – there would probably be some better music played in this area.
Tamworth Herald – 03/11/89
Musicbox - SNIPS
MUSICBOX is this week delighted to welcome a new member to our team. Mike Turner has joined the Herald initially on a six month contract, and he will be contributing a great deal to this column with local and national reviews. Mike, known to many of you as the former Sitting Pretty singer, the owner of Tamdisk Record shop, the editor of Tambeat and writer of Beatles fanzine Every Little Thing (etc, etc, etc.) is a most welcome addition and he joins a team already littered with stars. Team Manager Sam Holliday now has at his disposal a metal man who can dance (Martin Warrillow), a dance man who can 'metal' (Sean Atkins), a Big Noise fan with a big nose (Helen Machin) and of course freelance correspondents of the sneering quality of Jo Marsh and Jack Napier. In addition, we have literally scores of other would-be journos out there to ensure that this column reflects all YOUR tastes and has more people working with it than the Channel Tunnel. Welcome to the squad Mike and remember the golden rule – you can slam absolutely anything apart from the Stranglers.
Sitting Pretty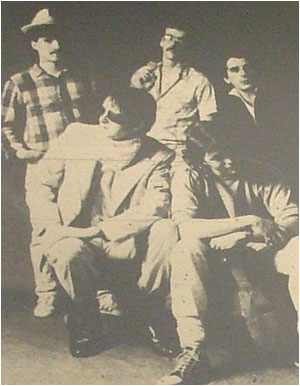 Tamworth's first teenybop stars Sitting Pretty were a group who filled more Arts Centres than Buttercup filled jumpers.
Originally a three piece featuring Julian Amos, Pete Long and Mike Turner (whoever HE is) they quickly built up a large following and an equally large band with a host of musicians such as Clarke Stewart and Anice Byfield joining the Pretty squad. Serious record company interest followed as did a single, a video, a fan club and a headline spot at the inaugural two-day Tamworth Festival. Eventually they split up, ironically at a time where I thought they were writing their best and most original music. The various members of this once very well-known band are still around and about with Mike Turner now writing his column in our very own EXTRA and now using his vocal chords mainly to scream abuse at referees at Tamworth Football Club.
---

Sitting Pretty

Sitting Pretty
If you have any further information about this band please email: info@tamworthbands.com