Tamworth Herald – 02/04/82
Musicbox – Is talent Private Property?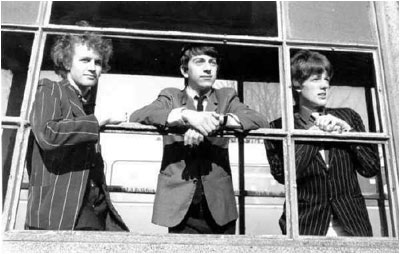 Caption: Private Property…left to right Donald Skinner, Brian Lacey and Mark Mortimer.
BOUNCING bassist Mark Mortimer chooses his words carefully before speaking: "Too many bands in Tamworth seem to lack real enthusiasm. They are really talented, but they don't seem to use their talent," he says.
It's difficult to argue with the astute synopsis from the former Thirty Frames a Second member.
Enthusiasm and energy are two words which feature heavily in Mark's musical vocabulary, and they're also two words which apply to his latest project Private Property.
In fact it's misleading to give the impression that Private Property is Mark's own project for the three-piece band has been formed by Mark and guitarist/vocalist and songwriter Brian.
After a fruitless search for a drummer Mark and Brian persuaded Thirty Frames a Second sticksman Donald Skinner to join them and Private Property were complete.
During the last few months they have put together a set featuring ten of their own numbers including "George Street" – a song about people in Tamworth – and "Welcome to the Working Week" – a number about unemployment.
They hope to start gigging shortly with possible dates at St. John's Guildhall and other youth clubs in the district.
"We want to avoid being put in any particular musical bag," says Brian.
"That's been the downfall of too many other bands," adds Mark.
"All we want to do is play some gigs and get people dancing."
Tamworth Herald – 28/05/82
Musicbox – BOOK NOW
TICKETS are now available for the eagerly awaited debut gig by Tamworth three-piece Private Property.
The band featuring Mark Mortimer, Bryan Lacey and Donald Skinner, are co-headlining a gig with Classified Ads' and The Restricted at Wigginton Village Hall on June 12.
The tickets are available from members of the bands, priced 30p, but a limited number will be available on the night, priced 35p.
Tamworth Herald – 18/06/82
Musicbox – Let's get up and dance
Cheers to a bright young outfit
Private Property / Classified Ads / The Restricted : Wigginton Village Hall
SOME months ago Private Property's Mark Mortimer said he wanted his new band to put some much-needed excitement back into the Tamworth music scene.
Saturday night's enjoyable, dance-orientated set by the band went a long way to achieving this end.
The audience danced, sang and cheered more than any other seen by me since The Fretz's classic debut of three years past.
However it has to be said that the band relied too heavily on their repertoire of Jam cover-versions. Hopefully the group will use these songs less as they mature and their own songwriting talents will become somewhat more apparent.
However it seems that, by the end of this year, Private Property will be the most popular band in Tamworth – and for such a young outfit that's really saying something.
The Classified Ads appear to have problems. Their set, easily the most passionate, imaginative and inspiring of the night, was ignored by the crowd.
Simon Webster's brilliant, deft drumming, Sam Holliday's passionate vocal performance and Derek Goodwin's essential synth playing all contributed to a group who are becoming more introspective and refreshing by the month.
However, it seems that dance music was the order of the day and Private Property showed that 'Tears are not enough.'
Unfortunately, The Restricted's messy set was a great disappointment considering their brilliant seven-track demo tape recorded earlier this year.
Brian Pear, however, once again proved himself to be the best drummer in the area.
Tamworth Herald – 30/07/82
Musicbox – Drummer Ian is now Private Property
TAMWORTH band Private Property have at last found the drummer they've been hunting for months.
Seventeen-year-old Ian Simpson has stepped into the seat that was temporarily filled by Donald Skinner.
Also joining Mark Mortimer and Bryan Lacey is Tim Goode a harmonica player and percussionist. Tim will be guesting at PP's future gigs.
Tamworth Herald – 29/10/82
Musicbox – Bands' festive plans
TWO Tamworth bands – Private Property and The Long Days – are planning a pre-Christmas tour around local club.
And they want club officials to contact them to arrange dates.
"The whole idea behind the tour is to gain valuable live experience," said Mark Mortimer, of Private Property.
"We are willing to play at any clubs, whether they're youth clubs or working men's clubs," he added.
Club officials interested can contact Mark…
Private Property have recruited two new members and the line-up now consists of Mark, Brian Lacey, Tim Goode and Ian Simpson.
The nucleus of The Long Days is Andrew Baines, Matthew Lees and Paul Clements.
The series of finalised dates will go under the banner of the 'Bop 'Till You Drop' tour.
One gig has already been arranged. It is at Polesworth Youth Club on December 1.
The bands are also hoping to stage a charity concert – possibly at Fazeley Town Hall – in aid of the June Sherwood cancer appeal.
Tamworth Herald – 28/01/83
Musicbox – Mini-tour's strong start
Private Property, The Unknown, Long Days – Tamworth Youth Club
FIRST on stage were Private Property who started the 'mini tour' set off with 'Ghosts' – a song well-known to Jam fans – which went down very well.
Next came two numbers wrapped together very nicely by Tim Goode's vocals and some ace spadework from the rest of the band, first 'Kevin' and then 'I Want to Tell You that I Love You' both in a more up-tempo vein.
Similarly, 'A-Bomb in Wardour Street' was another Jam tune and next on the agenda was the best song of the night, The Kinks 'You Really Go Me'.
The classic 'In the Midnight Hour' followed and the place was really buzzing as the band played a self-penned number 'Howard'.
Private Property signed off with 'The Gift' which ended a really good set. They had two stand-ins in the line-up, and with the addition of Lacey and Simmons, the show would have been a whole lot tighter.
The other bands, The Unknown and Long Days both played fine sets which were a credit to Tamworth and themselves – in the words of Paul Weller 'That's Entertainment'.