Elusive They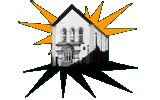 Band Members:
Richard Croxton (Guitar)
Annette Leedham (Keyboards)
Richard Cuttler (Flute and vocals)
Gigs:
01/06/84
Delusions of Grandeur
Elusive They
Rikk Quay
Tamworth Arts Centre
10/08/84
Elusive They
Talk Back
Tamworth Arts Centre
17/08/84
Elusive They
Select Elect
Tamworth Arts Centre
08/09/84
Elusive They
Love On Board
Tamworth Arts Centre
Recordings:
Wishing You Were Here
Recorded at Steve Adams studio circa 1984.

The 'pad' sounds were created using an old Roland Juno 60 with a Roland TR606 drum machine (which was a great piece of kit for the time). The bass synth was an old Roland MC202, which was a nightmare to programme and in fact this was mostly done by Annette as she was the only one who managed to work out how the thing actually worked. The Elusive They played the Tamworth Rock Festival one year, and the Tamworth Arts Centre several times, usually along with Select Elect as the genre of music was similar. Richard Cuttler later formed World Intelligence Network with Select Elect members, Mark Brindley and Jonathan Bates along with Peter Williams and Andy Simmons.
Tamworth Herald Features:
Tamworth Herald – 01/06/84
Musicbox - Synth's back and it's no delusion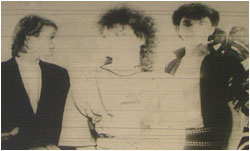 SYNTHESISER MUSIC in all its forms will be on display at the Arts Centre tonight when popular Burton outfit Delusions of Grandeur will spearhead an exciting triple bill.
With impressario Rikk Quay making his first and last – solo appearance and new Tamworth trio The Elusive They also playing, the night promises to be one of the most enjoyable showcases of modern synth pop that the town has seen since the heyday of Those Attractive Magnets.
Headlining tonight's show are Delusions of Grandeur a band who have put a lot of faith in Tamworth and are hoping to build up a big following in the area to match that which they already have in their native Burton.
The band – Geoff Noble, Julian Butt and Julie Richins – say they are influenced by top synth bands including Depeche Mode, OMD and Ultravox. However, they are quick to point out that their sound is not as simple or as formularised as some of the bands they follow.
"We are determined to be an original band because we aim to produce a far more powerful sound than most synthesiser bands," said Geoff.
The band, who also place great stress on a good visual show, write songs that deviate from traditional love themes and they are confident that the Tamworth audience will respond to what they have to offer.
"Tamworth seems to have great potential for concerts and so we are hoping a big crowd will turn up – we can guarantee a good show," said Geoff.
Another trio who will be keen to take the Arts Centre by storm are Tamworth band The Elusive They who will be making their first appearance at the popular venue.
The group who have recently been helping Rikk Quay with his demos, are influenced by similar bands to Delusions although vocalist Richard sees Tears for Fears as his main spur.
The Elusive They who recently made an excellent demo tape, say their sound is commercial enough to be well liked but original enough to keep people interested throughout.
Joining these two bands tonight will be Rikk Quay who has decided to play a short set of hiw own composition with the use of back tracking.
Rikk, who is now a member of The Sway, promises his usual high-energy show and with his normal mixture of on-stage antics and humour he is sure to be a big drawer tonight.
So a big night for lovers of synthesisers, tacking tapes and varied modern music.
Who knows, it may be the start of a synth revival, so if you want to stay one step ahead, make sure you make your way to the Arts Centre tonight at 8pm. Tickets are available on the door.
Tamworth Herald – 10/08/84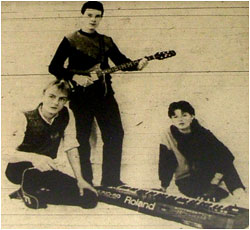 Musicbox - Come join the bands
It's going to be another hectic week end for gig-goers, with five of Tamworth's top bands in action over the next two nights at the Arts Centre.
Tonight (Friday) The Elusive They will headline the first show alongside the rejuvenated Talk Back, who have promised a totally different set.
And the tomorrow night, ever active Love On Board will headline a show which will also feature the return of The Classified Ads and confident pop outfit Mystic Hero.
Tonight's two-band show looks interesting for a number of reasons. The Elusive They, who made such an impression with the loopy Delusions of Grandeur, have a rich synthesiser based sound which has more than a touch of Soft Cell about it. Avoiding many of the normal synth band clichés, the group play an enthusiastic set of originals which are made all the more palatable by the buoyant onstage antics of the trio.
They are the sort of band who are determined to enjoy themselves no matter what anyone else thinks and it is that easy-going attitude that will probably make them a big hit tonight.
Support act Talk Back, who are probably one of Tamworth's most consistent live acts, have promised a totally different set to what spectators may have been used to in the past. The band have spent a long time writing new material in time for the Bank Holiday Rock Festival and they are keen to test the water at the Arts Centre in advance.
The gig is set for an 8pm kick-off and tickets should be available on the door.
Twenty-four hours later on Saturday night, Love On Board will step out to headline at what is expected to be a capacity Arts Centre gig. The band, who have made the summer all their own, have a very broad-based appeal wrapping up several musical passages inside a commercial framework which guarantees a big following.
They have a sound that fits into the current wave of 'modern pop', an all-embracing term covering bands such as Aztec Camera, Orange Juice, Friends Again and The Farmers Boys. The band have several other elements creeping into their sound, chiefly a touch of the late 60s/early 70s, Lou Reed and Velvet Underground, which helps to add even more colour to their overall panorama.
The Velvets are a band who have also recently influenced support act the Classified Ads. The Ads who have gone through several waves and changes in their past four and a half years appear to be coming through their very black period and have added a touch more commerciality to their hard-edged new wave music. The band have promised a good visual display and are hoping to improve on what they see as their disastrous last appearance at the Centre.
Opening Saturday's show will be lively quartet Mystic Hero who are bursting with enthusiasm and seem to improve with every show. Mystic Hero can also boast a very broad appeal and have the ability to combine simplistic pop songs with more meaty numbers packed with a carefully concealed warmth.
Tamworth Herald – 17/08/84
Musicbox - Snips
THE ELUSIVE THEY will be making a return trip to the Arts Centre tonight alongside Select Elect.
For the Elusive They the gig will be a nice warm-up for the festival and for Select Elect it will hep to introduce Joanne Calcott to the band's sound. Select Elect say they will be playing more live than they normally do, and are looking forward to their gig which is their first at the Centre for a couple of months. Tickets for tonight's show are available on the door.
A5, the unique combo formed out of the members of Lambent Lamella, have just released an excellent new demo track which MUSICBOX hopes to review in the next couple of weeks. The tape is an experimental and very adventurous four track collection which encompasses influences as varied as The Banshees and The Police. Copies of the tape are now available at the Tavern in the Town where all four tracks are currently hyped beyond proportion by the town's top DJ Buttercup.
WILL all the musicians who are due to play in the outdoor festival please attend the final meeting about the event this Sunday at the Tavern in the Town at 8pm. As this will be the very last meeting we will be able to discuss exactly everything that will happen over the two days and so it is vital that every musician involved – not just committee members – attend.
SPACES ARE STILL AVAILABLE for the Tamworth Herald/LK Records pop quiz which has now been pencilled in to take place on Thursday, September 27 at the Embassy Suite.
STOP PRESS
Elusive They and Love On Board two of the town's keenest young bands, will step out tonight to play at Tamworth Arts Centre. The gig, which starts at 8pm looks like being another enjoyable night from two of the town's most enthusiastic outfits.
Tamworth Herald – 22/02/85
Musicbox – Shock waves on battleground
Smashing time as riot hits stage
TOMORROW night Tamworth Arts Centre will play host to the final of the keenly-fought 'Battle of the Bands' contest.
The final, featuring five groups will be the culmination of four strong heats, the last of which is at the Arts Centre tonight (Friday),
Already the contest has attracted great interest and has been packed full of surprises and controversy.
It all began last Thursday when three very different acts – Dance Stance, One On One and The Original Royal Family took to the stage.
Controversy started to rage however, when one of the five judges was disqualified for walking out half-way through the gig of the last band The Royal Family. The disqualification gave One On One a clear victory, making them the first band into the final – and therefore the Bank Holiday rock festival.
Overflowing
Twenty-four hours later at the Arts Centre a packed-to-overflowing audience saw an amazing four-band contest. Childs Play opened the proceedings with their former guitarist, who had been dragged out of the bar because their normal player had disappeared!
The shock continued when Vicious Malicious – an unholy alliance of Select Elect and The Elusive They took to the stage and proceeded to smash up guitars and tape recorders as well as run riot with a chainsaw. The word was bizarre. All part of the act, of course.
And, if that wasn't enough of a culture shock to the audience, then the new Pulsebeat, who after starting cautiously, had the whole crowd on their feet with some brilliant, individual guitar playing.
By now nothing could be surprising – but last band Scarab almost were. They came on and gave a blinding show bashing out 100mph rock anthems which sent their loyal fans into a state of acute frenzy. They threw in volcano-style fireworks, flashing lights and fake blood to provide a riveting performance. Needless to say they won, so booking their automatic place in tomorrow's final.
The third heat was held last night (Thursday) and one of the following four acts will be in tomorrows final – Ideal Standard, Spirit of Water and Sitting Pretty.
The final heat will be tonight when Breaking Point, BHX, Sacred Oath and Caprice will battle it out.
Each of the acts has a lot going for them and predicting the result is extremely difficult.
BHX have proved their status by being offered several dates all round the country; Sacred Oath are now back fresher and more determined; Caprice get more confident with every gig and Breaking Point are Breaking point.
Surpassed
Don't forget there will also be a place in tomorrow's final for the highest scoring runner-up during the whole contest.
On the first two heats, Childs Play and Pulsebeat both with 59 points held second equal though it is likely that this total will be surpassed tomorrow night.
So an extraordinary night is in prospect. The finalists will be given only 20 minutes to impress the judges that they are Tamworth's top band. The overall winner will be invited to play at the Young People's Arts festival night in March where they will also be presented with their winning trophy.
Saturday's final starts at around 8pm and entry is 60p. it is going to be packed to the rafters so people are advised to arrive early to enjoy this potentially tremendous occasion.
SAM HOLLIDAY
If you have any further information about this band please email: info@tamworthbands.com