Delusions of Grandeur
Musical Genre/Type: Electronic
Formerd: 1985
Band Members:
Geoff Noble
Julian Butt
Julie Richins
Tamworth Herald Features:
Tamworth Herald – 01/06/84
Musicbox - Synth's back and it's no delusion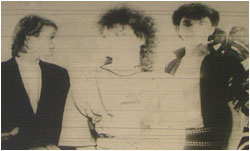 SYNTHESISER MUSIC in all its forms will be on display at the Arts Centre tonight when popular Burton outfit Delusions of Grandeur will spearhead an exciting triple bill.
With impressario Rikk Quay making his first and last – solo appearance and new Tamworth trio The Elusive They also playing, the night promises to be one of the most enjoyable showcases of modern synth pop that the town has seen since the heyday of Those Attractive Magnets.
Headlining tonight's show are Delusions of Grandeur a band who have put a lot of faith in Tamworth and are hoping to build up a big following in the area to match that which they already have in their native Burton.
The band – Geoff Noble, Julian Butt and Julie Richins – say they are influenced by top synth bands including Depeche Mode, OMD and Ultravox. However, they are quick to point out that their sound is not as simple or as formularised as some of the bands they follow.
"We are determined to be an original band because we aim to produce a far more powerful sound than most synthesiser bands," said Geoff.
The band, who also place great stress on a good visual show, write songs that deviate from traditional love themes and they are confident that the Tamworth audience will respond to what they have to offer.
"Tamworth seems to have great potential for concerts and so we are hoping a big crowd will turn up – we can guarantee a good show," said Geoff.
Another trio who will be keen to take the Arts Centre by storm are Tamworth band The Elusive They who will be making their first appearance at the popular venue.
The group who have recently been helping Rikk Quay with his demos, are influenced by similar bands to Delusions although vocalist Richard sees Tears for Fears as his main spur.
The Elusive They who recently made an excellent demo tape, say their sound is commercial enough to be well liked but original enough to keep people interested throughout.
Joining these two bands tonight will be Rikk Quay who has decided to play a short set of hiw own composition with the use of back tracking.
Rikk, who is now a member of The Sway, promises his usual high-energy show and with his normal mixture of on-stage antics and humour he is sure to be a big drawer tonight.
So a big night for lovers of synthesisers, tacking tapes and varied modern music.
Who knows, it may be the start of a synth revival, so if you want to stay one step ahead, make sure you make your way to the Arts Centre tonight at 8pm. Tickets are available on the door.
Tamworth Herald – 15/06/84
Musicbox – Chat-show turn off on a night of fun
Delusions of Grandeur/The Elusive They/Rikk Quay (Tamworth Arts Centre)
In the mid-Seventies rock and roll became a paralysed, stagnant art-form because of the elitist attitude of the bands of the time.
Groups had an arrogant self-importance that led to a severe lack of communication between group and fans. But the revolution in the mid Seventies changed all that as, suddenly, bands did not want to be put on a pedestal any more and their fans were accorded respect and equality.
So it was with a certain amount of discomfort and dismay that I had to watch Burton trio Delusions of Grandeur.
For although their sound is very much of the Eighties their attitude is so mid-Seventies that watching them was like being forced to take another look at the horrendous 'Old Grey Whistle Test' circa 1974.
Between every song the band indulged in verbose self-important speeches about what THEY like, what THEY think and what THEY feel about everything from love to soap operas. It was as if the band thought the audience was completely gaga and needed smothering. It was also very insulting.
But all this is a great pity because the band so clearly have plenty of technical merit. Their songs are tight, well-written and enthusiastically performed, particularly by the multi-talented Geoff Noble.
Most of their tunes are immediately accessible and for a synth-based band that means one thing above all – HITS!
The lick professionalism of Delusions of Grandeur proved a marked contrast to support acts The Elusive They and Rikk Quay. Both acts were bountiful in their off-the-cuff good humoured spirit and for that reason alone they both provided great entertainment value.
The Elusive They never stopped smiling and dancing, implying they had something far more sinister than ants in their pants. The sound was very reminiscent of Soft Cell – that is, synth music with a telling punch.
It made you smile and tap your feet all at once and with so many serious bands around, that is a rare and very pleasant mixture.
The occasional hiccup – for example treading on someone else's drum machines and getting an additional unrequested rhythm section – only served to make their set even brighter and I for one will be keenly awaiting the trio's next manic and highly enjoyable set.
And Rikk? Well as usual the maestro of rhythm and dance was in top form bouncing around the stage with an urgency and buoyancy that quickly won over the audience.
Ever since his Magnets days, live work had always been Rikk's forte and the more I see of his stage show, the more I'm convinced he should go solo.
The way he is all his own boss and there are no bodies to bump into as he strides, jumps and plunges from one side of the stage to the other.
The songs are well delivered, always interesting and have a strong beat which never stops drilling into the listener's ears. The music like Rikk's image has that often craved but rarely achieved quality – style.
He should not waste it for it is a precious commodity and one that has always impressed the legions of record company personnel whose interest Rikk has been trying to cultivate.
So an overtly interesting night which showed that synth-based music can still be fun. Its halcyon days may be in the past nut is a music form that can still make for great entertainment and Delusions of Grandeur's verbal onslaught apart, that is exactly what this trip to the Arts Centre turned out to be.
Tamworth Herald – 10/08/84
Musicbox - Come join the bands
It's going to be another hectic week end for gig-goers, with five of Tamworth's top bands in action over the next two nights at the Arts Centre.
Tonight (Friday) The Elusive They will headline the first show alongside the rejuvenated Talk Back, who have promised a totally different set.
And the tomorrow night, ever active Love On Board will headline a show which will also feature the return of The Classified Ads and confident pop outfit Mystic Hero.
Tonight's two-band show looks interesting for a number of reasons. The Elusive They, who made such an impression with the loopy Delusions of Grandeur, have a rich synthesiser based sound which has more than a touch of Soft Cell about it. Avoiding many of the normal synth band clichés, the group play an enthusiastic set of originals which are made all the more palatable by the buoyant onstage antics of the trio.
They are the sort of band who are determined to enjoy themselves no matter what anyone else thinks and it is that easy-going attitude that will probably make them a big hit tonight.
Support act Talk Back, who are probably one of Tamworth's most consistent live acts, have promised a totally different set to what spectators may have been used to in the past. The band have spent a long time writing new material in time for the Bank Holiday Rock Festival and they are keen to test the water at the Arts Centre in advance.
The gig is set for an 8pm kick-off and tickets should be available on the door.
Twenty-four hours later on Saturday night, Love On Board will step out to headline at what is expected to be a capacity Arts Centre gig. The band, who have made the summer all their own, have a very broad-based appeal wrapping up several musical passages inside a commercial framework which guarantees a big following.
They have a sound that fits into the current wave of 'modern pop', an all-embracing term covering bands such as Aztec Camera, Orange Juice, Friends Again and The Farmers Boys. The band have several other elements creeping into their sound, chiefly a touch of the late 60s/early 70s, Lou Reed and Velvet Underground, which helps to add even more colour to their overall panorama.
The Velvets are a band who have also recently influenced support act the Classified Ads. The Ads who have gone through several waves and changes in their past four and a half years appear to be coming through their very black period and have added a touch more commerciality to their hard-edged new wave music. The band have promised a good visual display and are hoping to improve on what they see as their disastrous last appearance at the Centre.
Opening Saturday's show will be lively quartet Mystic Hero who are bursting with enthusiasm and seem to improve with every show. Mystic Hero can also boast a very broad appeal and have the ability to combine simplistic pop songs with more meaty numbers packed with a carefully concealed warmth.
21/09/84
Delusions of Grandeur
A5
Select Elect
Tamworth Arts Centre
Tamworth Herald 21/09/84
Musicbox - On Parade for a busy weekend
TAMWORTH'S ROCK FANS can look forward to another Arts Centre 'double-header' this weekend when the venue plays host to two very diverse gigs.
Tonight energetic Burton trio Delusions of Grandeur will return to the centre to play alongside two acts which they say reflect the dual side of their music – new wave band A5 and synth duo Select Elect.
And then 24 hours later there won't be a synthesiser in sight when new trio The Parade will play alongside youthful power rock outfit Sacred Oath.
Delusions of Grandeur will be coming to the Arts Centre for the second time this evening when they hope to build on their first show a few months ago.
Then the band impressed everyone with their tight modern pop sound – but turned a few people off with their onstage verbosity. But tonight lead singer Geoff Noble has promised more music and less verbals and hopes his band will win over everyone to their powerful entertaining music.
Supporting Delusions to night will be A5, a band who made considerable impression at Tamworth's pop festival recently. A5's sound was described by everyone at the time as being new wave meets Hawkwind, which seems to be an apt description of a band who combine very modern touches with effect-induced psychedelia.
Back-up
Select Elect will need no introduction but they have promised a more 'live' set than ever before. Th eband say they have become increasingly wary of letting tape recorders do their back-up work so tonight the band will be aiming at playing live as much as possible.
Tonights gig begins around 8pm and tickets from the Arts Centre cost 60p or £1 on the door.
Then on Saturday night the Arts Centre will pay host to two guitar-based bands who couldn't be further apart musically. Sacred Oath, the young and enthusiastic new heavy group will be playing their second gig in about a month at the centre and will no doubt be out to catch the legions of rock fans who have recently taken Wolfsbane and BHX to their hearts.
Playing with Sacred Oath will be a band new to most people – The Parade. The band, formerly known as The Visitors, are a powerful trio influenced by bands such as Stiff Little Fingers, The Buzzcocks and The Stranglers. As this probably implies, they play new wave orientated music – but the story doesn't end there.
"We are influenced by a lot of people but we have a sound all of our own," said guitarist Brian Lacey.
The Parade are a band who feel they have a point to prove and are determined to get away from the image that most people have tried to hang on them that they are a Jam-copy band.
"I never even listen to The Jam anymore and we sound nothing like them. I can't understand why people think we do, unless it's just because we are a trip," said Brian.
The Parade play a set of originals that vary in speed, feeling and sound and they are not sure who they will appeal to.
The Parade will be playing alongside Sacred Oath tomorrow night in a gig that kicks-off at 8pm. Tickets are just 50p and like tonight's show, an intriguing night is in prospect.