One On One
Band Members
Dave Ingham - Lead Vocals, Guitar
Tim Latham - Guitar, backing vocals
[Also in: Omen, Mr Cyn, Badger]
Stuart Pickett - Drums
[Also in: Mr Cyn, Big Screen, Aardwolf, Badger, Bash Out The Odd v.1, Bash Out The Odd v.2, Bash Out The Odd v.3]
Andy Malkin - Bass, backing vocals
[Also in: Mr Cyn, Big Screen, Aardwolf, Badger]
Gary Lancaster - Keyboards
[Also in: Mr Cyn, Big Screen]
Gigs
20/01/84
One On One
BHX
Tamworth Arts Centre
20/04/84
Artful Dodger
One In One
Tamworth Arts Centre
11/05/84
BHX
Breaking Point
One On One
Tamworth Arts Centre
23/06/84
One On One
Wilnecote Carnival
27/06/84
One On One
Tamworth Progressive Club
29/06/84
One On One
Atherstone Memorial Hall
18/08/84
One On One
Austrey Working Mens Club
29/09/84
One On One
Redshift
Tamworth Arts Centre
22/12/84
Wolfsbane
One On One
Tamworth Arts Centre
07/04/85
One On One
Gaf The Horse In Tears
Tamworth Arts Centre
08/06/85
One On One
Chance
Tamworth Arts Centre
11/10/85
One On One
Powerplay
Tamworth Arts Centre
09/02/86
One On One
The Australians
Catch 22
The First
Battle of the Bands
Tamworth Arts Centre
28/02/86
Burnin' Sky
Breaking Point
Wolfsbane
One On One
Battle of the Bands Final
Tamworth Arts Centre
01/03/86
One On One
Bubbles
Hinckley
28/03/86
One On One
Tamworth Arts Centre
09/08/86
One On One
Coach & Horses
West Bromwich
27/08/86
One On One
The Marmion
02/11/86
Orryot
Ruffian on the Stairs
One On One
The Rathole
Tamworth Herald – 20/01/84
Musicbox – Rockin' back to a heavy revival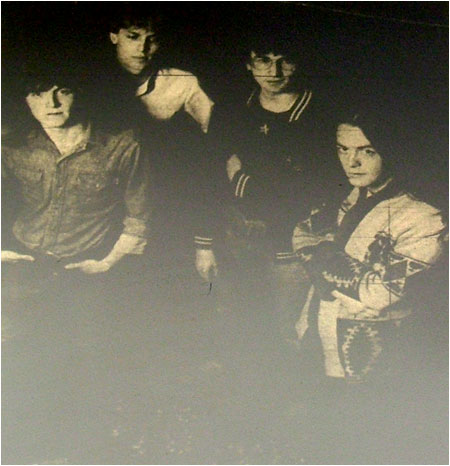 HEAVY ROCK music in Tamworth is all set for a comeback in 1984. That is the confident prediction of top rock guitarist Tim Latham who tonight launches his new band One On One at the Arts Centre.
Tim, the former Omen star, says that One On One are just the first of many heavy bands set to emerge in the town over the next few months to change the current musical climate.
Recently, heavy rock, which once dominated the town's music scene, has been in decline as new, more modern-sounding groups have taken control.
Only BHX and Hardware have managed to keep the rock flag flying, nut now Tim says One On One are ready to step into excite Tamworth's power-starved fans.
"We play traditional heavy rock with a commercial base," said Tim. "It is quite different to most labels on our sound, but I hope it will go down well."
The line-up for One On One (who were briefly called Roseham) implies that they are going to be a tour-de-force in local music circles.
As well as the highly talented Tim on guitar and backing vocals, One On One also boast Dave Ingham on guitar and lead vocals.
The drummer – for the moment at least – is Eyes sticksman Stuart Blaine, arguably the most experienced and exciting rock drummer in Tamworth.
And just to complete the excellent line-up is former Ethis frontsman Ralph Sandland making a welcome return to the local scene on bass and vocals.
The quartet begin their campaign to turn Tamworth 'rockwards' tonight when they line-up with BHX at the Arts Centre.
BHX will be looking to further consolidate their position as the town's most popular heavy band with their original and exciting brand of accessible rock.
The gig, which begins at 8pm and costs just 50p, promises to be an exciting night for the town's rock fans.
"We are intending to go all the way with this band," said Tim. "We have all been in bands before but we are confident and enthusiastic enough to try and make this oen the big one."
Tamworth fans will have the chance to judge for themselves when the doors open tonight at around 7.30pm.
SAM HOLLIDAY
Tamworth Herald – 03/02/84
Musicbox – Snips
One on One are looking to play another gig at the Arts Centre in February following their highly enjoyable debut there last week. Now they are looking for a good band to support them.
Tamworth Herald – 10/02/84
Musicbox – Snips
One on One are at the Arts Centre on Saturday and they will be playing with a promising new rock band who we plan to feature in a future Musicbox. A night not to be missed.
Tamworth Herald – 27/04/84
Musicbox – REVIEW – One on One + Artful Dodger : Tamworth Arts Centre
Artful Dodger gave an all round excellent performance with every number of the band working as one, and the group never faltered through the set.
Most of the credit should go to the lead singer/guitarist who played an excellent part in expressing the songs.
The music ranged from Dire Straits to a more funky rock. And the overall verdict? A very promising band, very entertaining.
Next up were One on One who I think gave a more relaxed performance. Many people who haven't seen the group, think they are just another heavy metal outfit, they are very much mistaken. There is something about them that is a bit special.
Although their set wasn't as polished as Artful Dodgers', One on One created a far more lively atmosphere.
What makes the band special for me is the communication with the audience, the sing-along choruses and the excellent vocal work.
Dave Ingram (Ingham – Ed.) has an excellent night – his voice getting better all the time.
Tim Latham played some superb lead at times but others became a bit predictable. And it was also nice to hear two people working as one in the rhythm section. Ralph Sandland playing some good funky bass and Stuart Blaine showing he is progressing all the time with his skilful drumming.
S. T.
Tamworth Herald – 11/05/84
Musicbox - All set for 'big three' sell out
THREE OF Tamworth's top bands will tonight (Friday), converge on the Arts Centre to play a special charity concert.
The bands – BHX, One On One and Breaking Point – have all volunteered to give their services free in aid of the Marie Curie Fund aiming to fight cancer.
And with tickets costing just 50p, it means that local people can do their bit for charity – and have a great night out in the process.
The idea to do a charity concert came from top rockers BHX, who will tonight be aiming to re-state their case that they are Tamworth's most popular heavy band.
The quartet, who recently gave a fine show alongside glam rockers The Sumo Giants, ahev a varied, melodious rock sound that many local punters have likened to Rush. The group who are getting more ambitious with every gig, will probably headline tonight's show which begins at around 8pm.
Alongside BHX are One On One who have been steadily building up a following since they launched they launched themselves on the area earlier this year.
Much praise
One On One's sound, although rock orientated, has a feel all of its own which distances them somewhat from the straight rock sound that some people have tried to confer on them.
Their recent show at the Arts Centre brought widespread praise, and they will be keen to keep up the momentum when they step out for tonight's performance.
Also aiming to keep up the momentum are the excellent Breaking Point, who, after just two viewings, have convinced me that they are potentially the best band in Tamworth.
With passion
The trio play a set of nearly all their own material packed full of rousing guitar breaks, sing-along choruses and that vital spark of passion that can send shivers through an audience.
They are Tamworth's answer to the Alarm, U2 and New Model Army, and I would urge anyone who likes bite and feeling in their music to come along and cheer them tonight.
All three bands have a lot to offer, and with a worthy cancer charity standing to benefit, Tamworth's rock fans should pack out the Arts Centre and make it a night to remember.
SAM HOLLIDAY
Tamworth Herald – 18/05/84
Musicbox - Crowd savours this platter of treats
BHX/One On One/ Breaking Point
TAMWORTH'S music fans turned out of force on Friday night to give a bumper boost to a leading local charity.
For the Arts Centre was packed to near capacity to enjoy the special charity gig which was held in aid of the Marie Curie Fund for fighting cancer.
And the reward for Tamworth's big-hearted music followers was a varied and highly enjoyable gig by three of the town's best groups.
Opening the proceedings were the spirited Breaking Point, who had to battle not only against a fairly rock-orientated audience, but also some terrible sound problems.
The latter hampered the trio's set from the beginning but despite this, the sheer awesome power and passionate delivery that characterise the band still shone through. Newer numbers like 'Resurrection' fitted in comfortably by 'old' favourites such as 'My Love Lies Bleeding' and the apocalyptic 'Nicholas Romanov' which still sends a shiver down my spine every time I hear it.
After the gig, Breaking Point were clearly very unhappy because of their sound problems – but the crowd still loved it and gave the band one of the best receptions ever.
Next up were One on One and although I prefer Breaking Point's songs and style, I have to admit that they were the real show-stealers on the night.
Playing with a relaxed air of confidence, they delivered a set which had the audience mesmerised and the compliments flying round the room.
Musically they have no equals in the town, from the solid drumming of Stuart Blaine to the sheer skill and inventiveness of guitarist Tim Latham. For me the real icing on the cake is still the cool and harmonious vocal work of Dave Ingham, who seems to get better and more confident with every show.
How long Tamworth will be able to keep One on One remains to be seen for I have no doubt that sooner rather than later, someone is going to pluck them out of the town and make them very, very big indeed.
In the meantime just enjoy them while you can…
Thundering
Completing Friday's line up were the gig organisers BHX, who brought their own original brand of rock to the still-enthusiastic Arts Centre crowd.
BHX turned in their normal high-powered selection of thundering heavy numbers and more gently melodious rock numbers. They have come on in leaps and bounds recently and now look like a total rock package.
They have sharpened up their image (always important in these look-conscious days) and they have become a tighter, more accessible outfit.
Perhaps they could have shortened their set somewhat – we had to wait until the encore to hear the excellent 'Superstar' – but that apart, they played a crowd-pleasing and entertaining set which has probably gained them even more followers.
So closed a highly-successful night which was good for the bands, goof for the crowds and, best of all, good for the Marie Curie Cancer Fund.
With the success of this one, it strikes me we ought to have more charity concerts…
Tamworth Herald – 22/06/84
Musicbox – Sounds Varied…
SITTING PRETTY, who have their debut single out next week, will be playing another gig tonight to promote the release.
The gig at the Arts Centre is the latest in a series by the band and has been hastily arranged. In spite of this, tickets are already selling well, confirming the ever-increasing popularity of this ambitious quartet.
Supporting Sitting Pretty tonight will be Mystic Hero, the young pop outfit whose recent performance at the Arts Centre and the Tavern in the Town have made a lot of people sit up and take notice.
Mystic Hero play a varied selection of modern pop with influences varying from rock and roll to the more mainstream synth rock. Tickets for the show should be on sale at Tamdisc Records and can also be bought on the door. More details about Sitting Pretty's single will be available in next week's Musicbox.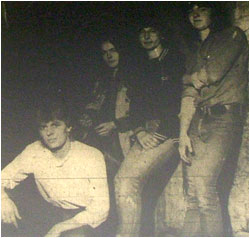 ONE ON ONE, the ever-improving rock outfit who are filling various venues everywhere they go, have announced a series of dates to promote their soon-released demo tape. The gig kicks off on Saturday when the band will enjoy a prestigious spot at the Wilnecote Carnival at Ninefoot Park. The band will be on at around 5.40pm and it is hoped that they will be selling their long-awaited tape on the day. Other gigs so far confirmed for the outfit are June 27 at Tamworth Progressive Club, June 29 (provisionally) at Atherstone Memorial Hall and July at Donisthorpe Colliery.
Tamworth Herald – 06/07/84
Musicbox – Snips
ONE ON ONE would like to say thank-you to all the people who turned out to see them at Wilnecote Carnival recently – where severe sound problems hampered their performance.
A surprising outbreak of rain clogged up the sound system producing a somewhat neutered version of One On One's normal rock sound and they hope people were not too disappointed.
NB…We hope to be featuring the band's new demo tape in next week's Musicbox.
Tamworth Herald – 13/07/84
Musicbox – Getting it taped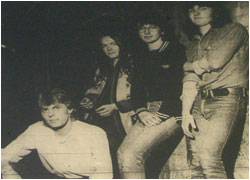 One On One – debut demo cassette
IN JUST a few short months, One On One have managed to completely conquer Tamworth. Every gig they play in the town is nearly always a sell-out as people from punks to rockers, loyally turn up to cheer on this hard-working and very ambitious quartet.
But what is the secret of One On One's undoubted pulling power? Well the answer is simple – they have a healthy capacity for writing lively and original songs which cut straight across normal rock and pop barriers and should appeal to most people who like modern, varied rock.
At times, for example, this tape reminds me of Genesis, but then at the other extreme, some of the guitar work (and I doubt whether this will have struck the band at all) sounds very much like that adopted by latter day Stiff Little Fingers.
The unpredictability of sound makes One On One's set – and this tape – constantly interesting. The demo opens with the tune that reminds me of an uptempo Genesis – 'Alibi Smiles'.
With the addition of Ralph Sandland on keyboards, this track coasts along comfortably, undulating and changing like an erratic symphony, but reaching a well balanced climax.
The only thing I was not sure about were the lyrics – one of which, 'spiral staircase compromise is overwhelming you' is either very clever or pointless. Either way, it adds to the feel that you are listening to a Fish or Collins' composition.
But it's all change for the next track which is a far more commercial, pop-orientated number called 'Hold On'. This is superbly sung by Dave Ingham and has a very nice feel to it throughout. It is here where the conflicting guitars of Dave Ingham and fret-master Tim Latham remind me of SLF and it adds to the intrigue of trying to suitably label this very varied outfit.
Over on side two of the tape, we find the more traditional rock of 'Midnight Man' which, as the title perhaps indicates, is very much in the Rainbow mould. However it is brightened up completely by a short but effective Brian May-style guitar break at the end of the track.
And so to the fourth and final track – which to my ears is by far and away the best, 'Poppy Red' is based around a memorable, punchy chorus which is the natural climax of a series of subtle and always threatening verses.
It has the sort of tune that is just so simple and wholesome that it makes you wonder why no-one else has used it before and if I had to criticise One On One's judgement, I would say that putting this track last is an unwise move.
Record company bosses who are not impressed by the first minute or two of a tape rarely give it a chance to get better, and although opener 'Alibi Smiles' is my second favourite number 'Poppy Red' should have held the premier place because it is so immediate that few people could dislike it.
Still, that apart, this is another fine example of just how a studio can really bring out the best in a band. The tape has a crisp lively, well-produced feel and as well as satisfying their own army of supporters, it should convince the people that matter in this business that One On One are a band to be taken seriously.
Copies of the tape should be available from members of the band and when you're buying them, would you do me a favour by asking what the heck a 'spiral staircase compromise' is?
SAM HOLLIDAY
Tamworth Herald – 20/07/84
Musicbox – Shock for band as Ralph quits
ONE ONE ONE received a shock last week when bassist Ralph Sandland announced that he was quitting the band – just days after the release of the group's excellent new demo cassette.
Ralph's decision is apparently based around musical differences with the rest of the group, but his decision to leave while the band were on such a high is the biggest surprise.
The remaining three members of the band – Stu Blaine, Dave Ingham and Tim Latham – immediately had to cancel a number of gigs, but they say they will hope to go ahead with the concert with glam-rockers Wolfsbane, pencilled in for July 28 at the Arts Centre.
By then the group hope to have replaced Ralph and anyone who would like to fill the vacancy is asked to ring Stu.
Tamworth Herald 28/09/84
Musicbox - 'Alternative' night as the visitors move in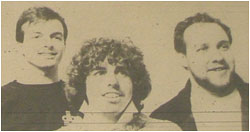 TAMWORTH ARTS CENTRE which has been under virtual siege from local bands recently, will this weekend welcome three groups from outside the Tamworth area. Tonight it will be the turn of two of Lichfield's finest acts Soul Exit and 20/20 Vision to attempt to take the town by storm and then tomorrow sees Leicester-based Redshift teaming up with One On One for a double rock package.
Tonight's show looks like being one of the most original the town has seen for quote a while. Headliners Soul Exit describe their sound as a form of 'psychedelic jazz' influenced by everyone from Simon Garfunkel to The Teardrop Explodes.
They say their sound is normally most popular with 'art-college types and by all accounts it is rarely, if ever, heard in this town.
Already they have quite a following in Lichfield and their set of original and sometimes very uplifting numbers has led Lichfield Mercury music writer Alan Boughey to describe them as his favourite local band.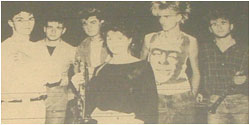 Playing alongside Soul Exit are another band who – if their influences alone are anything to go by – should prove a tasty treat. 20/20 Vision are an experienced powerful pop band whose sound is said to have undertones of The Buzzcocks, Velvet Underground and The Doors.
It is a sound that is based on power first and they have a reputation for hitting their audience hard. All in all it looks like being a great night for all the various strands of Tamworth's 'alternative' sector for just 75p.
Beautiful assets
But if it's rock you want, then the Arts Centre is the place tomorrow night when arguably the town's most musically advanced band One On One will play alongside powerful trio Redshift.
One On One's bountiful assets are well know to everyone but tomorrow will probably be the first chance for most people to see new bassist Andy Malkin in action following the departure of Ralph Sandland earlier this year
Andy, who used to front Badger and Aardwolf, is a well-respected musician and there is no doubt that if anyone can fill the great gap caused by Ralph's departure, it is him.
Playing with One On One, will be Redshift – who like One On One have a strong link with former Tamworth favourite's Omen. For Redshift are fronted by ex-Omenite Rick Liggins who discovered how tow fellow musicians Tim Myers and Richard Chapman whilst studying at Leicester and has now developed a strong bond with the duo.
Rick is quick to point out that Redshift – who are actually making the debut tomorrow – are a far cry from Omen and have numbers influenced by acts as extreme and varied as Rush, Kiss and Triumph. They describe their sound as original rock which is very powerful in its approach and sound.
"We have spent a long time getting the music as tight and powerful as we can and now we are ready we are looking forward to testing ourselves out at Tamworth," said Rick.
The trio are now hoping to take their sound all round the Midlands and they say a good reaction in Tamworth will really set them on the right road.
"I feel we could go down pretty well because our music is powerful and exciting," said Rick.
Tomorrow's two-band affair costs just 50p and tickets are available from the Arts Centre, band members and on the door.
SAM HOLLIDAY
Tamworth Herald 21/12/84
Musicbox – Big bands set for seasonal sound-off
MUSICBOX is having a seasonal break this week in preparation for a bumper full page special next week which will give you all the details of who has won what in out record breaking poll.
The polls have been piling in since Day One and we have now passed the magical figure of 500 votes – including those for 20 different local bands.
Everything will be revealed next week but in the meantime there are three good gigs to put I your diary over the Christmas period.
'Rock' ranks
Tonight (Friday), rock hits the Arts Centre in the shape of two of the areas biggest and boldest outfits – BHX and Scarab.
And then tomorrow, the outrageously wonderful Wolfsbane will join up with the equally wonderful One On One for a Christmas special that promises a lot. Wolfsbane who were delighted to be banned from The Railway tavern for being too outrageous – have promised their normal high spirits, and with One On One's consistent style, the Arts Centre looks like being packed to the rafters.
Better late…
And finally The Dream Factory will be playing a belated Christmas show on December 27 at Grendon Working Men's Club. The Factory are expecting hordes of people to turn up to a gig that will be the culmination of a year that the band are unlikely to forget.
It just remains for me to wish all Tamworth's musicians and music fans and MUSICBOX contributors a very happy Christmas packed full of your favourite Yuletide spirit.
SAM HOLLIDAY
Tamworth Herald – 01/02/85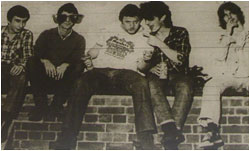 Musicbox – Bands get set to do battle in gig five-nighter
TAMWORTH is to stage its first-ever 'Battle of the Bands' competition next month. The contest, to find Tamworth's top group, is part of the Young People's Arts Festival event which is held in the town every two years.
The contest will stretch over five nights at the Tamworth Arts Centre and 16 bands have been lined up to chase the first prize of a special trophy.
The way the contest is run is simple. There will be four qualifying heats with the winners of each earning themselves a guaranteed place in the final.
In addition, there will be a place for the best runner-up, to make a five-band final on Saturday February 23.
The idea for the contest has been around for a long time, following the repeated success of a similar venture in Burton. When the idea was put before Tamworth's bands, the contest was greeted with universal enthusiasm.
The award follows hot on the heels of Musicbox's own popular top band contest in which Dream factory took first place.
Competing
The contest gets underway on Thursday, February 14, when Dance Stance, One On One, Love On Board and The Original Royal Family will be competing for a final place.
On each of the four nights each band will be given a maximum of 25 minutes to impress the five judges, who will each give points on content, presentation and, in tru 'New Faces' style, star quality.
The acts will be marked out of 10 for content and five for the other two categories, enabling the five judges to award a maximum of 100 points between them.
For the overall winner in each heat, their place in the final is ensured, but for the second-placed bands there will be a nail-biting wait to see which runners-up have the highest points.
As an added incentive, all the five finalists have been guaranteed a place in the August Bank Holiday Festival.
Each of the qualifying heat concerts will cost just 50p admission, and the final, on February 23, will cost 60p. For the bands themselves it will be a unique chance to see who is the local 'top of the pops', but for the Tamworth public, it will mean five very good – and very cheap – concerts.
The full night by night line-up is printed below.
Thursday 14th
Dance Stance, One On One, Love On Board, Original Royal Family
Friday 15th
Child's Play, Wolfsbane, Pulsebeat, Scarab
Saturday 16th
A5, Spirit of Water, Ideal Standard, Sitting Pretty
Friday 22nd
Breaking point, BHX, Caprice, Sacred Oath
Tamworth Herald – 22/02/85
Musicbox – Shock waves on battleground
Smashing time as riot hits stage
TOMORROW night Tamworth Arts Centre will play host to the final of the keenly-fought 'Battle of the Bands' contest.
The final, featuring five groups will be the culmination of four strong heats, the last of which is at the Arts Centre tonight (Friday),
Already the contest has attracted great interest and has been packed full of surprises and controversy.
It all began last Thursday when three very different acts – Dance Stance, One On One and The Original Royal Family took to the stage.
Controversy started to rage however, when one of the five judges was disqualified for walking out half-way through the gig of the last band The Royal Family. The disqualification gave One On One a clear victory, making them the first band into the final – and therefore the Bank Holiday rock festival.
Overflowing
Twenty-four hours later at the Arts Centre a packed-to-overflowing audience saw an amazing four-band contest. Childs Play opened the proceedings with their former guitarist, who had been dragged out of the bar because their normal player had disappeared!
The shock continued when Vicious Malicious – an unholy alliance of Select Elect and The Elusive They took to the stage and proceeded to smash up guitars and tape recorders as well as run riot with a chainsaw. The word was bizarre. All part of the act, of course.
And, if that wasn't enough of a culture shock to the audience, then the new Pulsebeat, who after starting cautiously, had the whole crowd on their feet with some brilliant, individual guitar playing.
By now nothing could be surprising – but last band Scarab almost were. They came on and gave a blinding show bashing out 100mph rock anthems which sent their loyal fans into a state of acute frenzy. They threw in volcano-style fireworks, flashing lights and fake blood to provide a riveting performance. Needless to say they won, so booking their automatic place in tomorrow's final.
The third heat was held last night (Thursday) and one of the following four acts will be in tomorrows final – Ideal Standard, Spirit of Water and Sitting Pretty.
The final heat will be tonight when Breaking Point, BHX, Sacred Oath and Caprice will battle it out.
Each of the acts has a lot going for them and predicting the result is extremely difficult.
BHX have proved their status by being offered several dates all round the country; Sacred Oath are now back fresher and more determined; Caprice get more confident with every gig and Breaking Point are Breaking point.
Surpassed
Don't forget there will also be a place in tomorrow's final for the highest scoring runner-up during the whole contest.
On the first two heats, Childs Play and Pulsebeat both with 59 points held second equal though it is likely that this total will be surpassed tomorrow night.
So an extraordinary night is in prospect. The finalists will be given only 20 minutes to impress the judges that they are Tamworth's top band. The overall winner will be invited to play at the Young People's Arts festival night in March where they will also be presented with their winning trophy.
Saturday's final starts at around 8pm and entry is 60p. it is going to be packed to the rafters so people are advised to arrive early to enjoy this potentially tremendous occasion.
SAM HOLLIDAY
Tamworth Herald – 01/03/85
Musicbox – Cream of the bands surfaces in fine battle
LAST SATURDAY saw the climax of one of Tamworth's biggest ever rock contests – with the trio, Breaking Point, being hailed as the town's top band.
Fore the past fortnight, Tamworth's music scene has been monopolised by the "Battle of the Bands" competition. It has been a full-blown fight between 16 competitors to find out the cream of the local groups.
After a series of heats which have seen musicians smashing up their instruments on stage, lead singers "bleeding" fake blood, a judge being disqualified for seeking refuge in the bar during the heat of the action and the Arts Centre filled to the brim night after night, there was no knowing what would appeal to the judges of the final.
Breaking Point did. The three musicians delivered a potent package with professional verve. Where other bands leaned heavily on the impact of barrages of sound, they concentrated on detail. Vocals were clear and rhythm and bass powerful and gripping.
Breaking Point were awarded 88 points out of a possible 100 and will receive their trophy at the Young People's Arts Festival night later this month.
Five bands qualified for the last leg of this sonic spectacular. The five brought with them the crowds of faithful fans who were packed like sardines into the rainbow-lit auditorium.
Unlike sardines they represented five wildly different types of music. The discrepancies of opinion in the audience were mirrored in the judges' panel…each judge showed a tendency towards extreme reaction to the bands – they loved them or hated them.
Poor imitation
Joint fifth place went to BHX and Spirit of Water. BHX were the first to perform and it was a disappointing start to the evening. The band were a poor imitation of some of the more forgettable heavy-metal groups.
No matter how much the vocalist screamed and bawled, he didn't manage to put himself over at all. I did detect a melody at one point but it fizzled out pretty soon beneath the drummer's monotonous onslaught. I hear BHX have a national tour on the cards. Perhaps they were having an off night?
I was surprised that Spirit of Water didn't do better. There was plenty of variety in their performance and the group had the advantage of a talented vocalist. They were seen at their best in their final number called The Fox.
One On One were placed next. They produced a well rounded sound though unfortunately the performance was a little disturbed by microphone trouble.
The outrageous Scarab were the runners-up. If there had been a prize for the highest number of decibels achieved, they certainly would have won. After the fireworks, the fake blood, the amazing verbal ad-libbing from the band and the blatant flouting of the 20-minute time limit. I scarcely noticed the music. But frenzied fans seemed to like it. And that, as the lead singer pointed out in no uncertain terms, is what it's all about.
Tamworth Herald – 05/04/85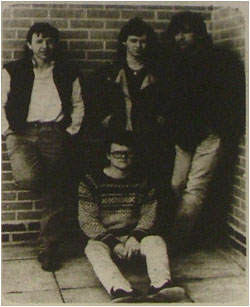 Musicbox – Sip this – a real musical cocktail
TWO of Tamworth's most original bands will hit the Arts Centre stage on Saturday for one of the most eagerly awaited gigs in the town this year. The highly-rated One On One will join forces with a band going by the bizarre name of Gaf The Horse in Tears for a very promising double-bill.
For Gaf, it will be their first ever gig in Tamworth, while for Bank holiday festival entrants, One On One, it will be another chance to sharpen up their stage show in front of a capacity audience.
Gaf have only been together a short while in the present format. Three of the members Tony Cole, Stuart Bailey and Robin Bowne used to play with Eyes, while the fourth member Ted Wilson will best be remembered for playing in Omen a few years back.
All four musicians have been itching to get back on stage and have worked flat out to prepare for tomorrow's event.
Different
"Eyes were a very lazy band really so I wanted this one to be different," said Robin. "After just a couple of practices with Ted we knew it was going to work and we set ourselves a time for playing our first gig," he added.
For Ted, finding Gaf was a great relief after several months of doing virtually nothing.
"I tried other bands but they never came up to much and I was ready to give it up altogether until I met this group," he said.
Like One On One the band is made up of experienced musicians who feel their music cuts across normal barriers. Trying to pin them down to what they sound like is about as easy as crossing the Atlantic on a rubber duck.
"Ever song is different which makes it impossible to label us," said Ted. The group did admit a few influences but even those didn't help as they ranged from The Police to Rush.
The emphasis is on short relatively commercial songs which the band hope will appeal to w wide cross section. But what I am sure most people want to know is where on earth did they get that name?
"It's from a book. We wanted to get away from one word names," said Robin. Tomorrow looks like being a testing time for Gaf but for headliners One On One there are no such worries.
Superb
Few people would argue that as musicians they have no equals in the town. Tim Latham is in my opinion the best and most consistent guitarist in the area for the past five years. Andy Malkin is a first class bassist; Nigel Rowed one of the most inventive keyboard players around; Davie Ingham has a superb voice and Stu 'Have-drums-will travel! Blaine is certainly the best drummer in Tamworth at the moment.
Put together, you have an amazing musical cocktail and one which will probably be drunk eagerly by the Arts Centre crowd.
Tamworth Herald – 19/04/85
Musicbox – A dedicated pair offers style – and smile!
One On One/Gaf the Horse In Tears – Tamworth Arts Centre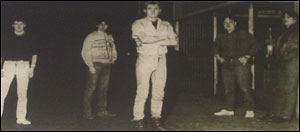 ALTHOUGH attendances at Tamworth gigs have never been better, there are still a great deal of young music fans who never go to concerts.
Many do not go because they suffer from that age-old Tamworth disease of apathy, but many even less inspiring people refuse to go because they moan 'none of the bands in the area can play their instruments.'
Well, there is little we can do to stop the apathy, but if One On One and Gaf The Horse In Tears have anything to do with it, the myth of unprofessional musicianship can be blown forever.
For here are two bands who have so much technical ability as any I have seen in my six years as a Tamworth music follower. Even those who do not like the music the two bands create, cannot help but admire the way they create it which smacks of dedication and talent from start to finish.
Gaf's ability is particularly noteworthy as they have only been together in their present format for a few months. Altough musically they tend to veer towards the mid-Seventies (which I regard with the sort of affection that a pretty teenager regards a facial wart) they do have a certain spring in their step which is endearing.
Their opening number for example was a jovial, well-paced song called 'Time Dancing' which appeared to mix the commerciality of Phil Collins with the feel of King Crimson or Crème.
"Machine Motion" is even better, as it is built around a mesmerising much-repeated guitar riff from Ted Wilson – a superb guitarist who has been away from the scene far too long.
Triumph
What also makes the band a treat is that unlike many technically impressive outfits they do have a great sense of humour. Tony Cole has a neat line in between track chat (although I wish he hadn't worn those shorts!) and the band as a whole seemed happy to play a two minute minuter which (I kid you not) sounded like an unholy alliance between Supertramp and The Wombles. All I all a very interesting debut set indeed.
For One On One the gig was yet another personal triumph which was lapped up by their eager followers. They hardly put a note – let alone a foot wrong and once again the key word of the night was professionalism.
But I do have a 'but'. The thing that slightly disappointed me about the band was the direction their new material seems to be taking.
What used to make One On One so special – and unique – was that they could combine a progressive rock feel with a nice array of melodies. This ensured that not only rock fans could enjoy their progressive sound.
However, it seems that the melodies and commercial elements have been pushed aside in search of ever-more technical prowess. This became noticeable when One On One played their oldies such as "Fade Away" and "Don't Stop The Captain".
These are clearly songs that can appeal to everyone whereas I thought some of the new material as perhaps a little self-indulgent and potentially less attractive to a wide audience.
Still, that apart, it was nevertheless an enjoyable set. Everyone performed with exuberance and enthusiasm particularly Gary Lancaster (who is not Nigel Roe in disguise!) on keyboards and Dave Ingham on vocals.
To me, Dave is a man who belongs on a far bigger stage that the Tamworth Arts Centre. He has the looks, talent, charisma and style to go a very long way and although a strong team unit, I feel the more they promote Dave the better their chances are of attracting national interest.
So, a memorable gig for a number of reasons. It showed two bands with similar appeal in the full flight of enjoying the music they produce. The market for their music is potentially enormous and I sincerely hope that both bands will seek out that hole in the market and fill it before someone less worthy does so.
Tamworth Herald – 07/06/85
Musicbox – What a Dickens of a good time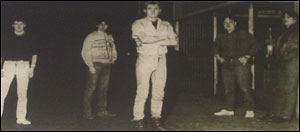 A HOST of Tamworth bands will be on show in the next few days in what promises to be the most exciting week so far this year.
The Dream Factory, Dickens, One On One, Gaf The Horse In Tears and Love On Board will all be in action in the next few days making it a week to remember.
Top 'billing' must go to The Dream Factory who on Saturday will step out in front of an amazing 20,000 at Castle Donington.
Major event
Then on Thursday the Dickens world tour comes to Tamworth Assembly Rooms for a three-band show which looks like being a major event in itself.
And finally tomorrow night sees One On One bringing their rich talents to the Arts Centre where they will be lining up with Birmingham outfit Chance.
For the Factory there is no doubt that their appearance at the Monsters of Soul event is a career highlight so far. The band were confirmed on to the bill two weeks ago and it means they will be playing with the burly, boisterous Bad Manners and the highly-rated Meteors. The event is seen as the scooter event of the year and there is no doubt that hundreds of local riders will travel along to cheer on their heroes.
Neo-legendary
The Factory, who looked in good form when I caught them at The Warren last week – should include the neo-legendary Dave Smith in their line-up making sure that one Royal Family – if not the other – is represented at the event.
The gig is the highlight of a spate of shows for the band and with all the expected media and spectator interest, it could really be a big break for the enthusiastic outfit.
Enthusiasm is also something which Mick Rutherford and Dickens will bring to the Assembly Rooms on Thursday. The band have many prestigious gigs lined-up all around the country but there is no doubt that there is something special about 'coming home'. The gig, to start at around 8pm costs £1.50 and punters will also have the chance to see two exciting support acts. They will be joined by the hard-to-define but easy-to-enjoy Gaf The Horse In Tears and the happy-go-lucky but determined-to-succeed Love On Board.
Dickens will be selling copies of their excellent album 'Standing Out' on the night and there is a good chance music company executives will be watching. EMI, CBS and Virgin have all confirmed they will be sending A and R men to watch the band on tour and the group have also heard that they are to get a half-hour show on the Steve Williams Radio Mercia show on June 16.
On film
As well as coming out of the airwaves Dickens may also come out of the little screen shortly as two gigs at Stafford and Nuneaton are being filmed for possible television shows. A Thursday night gig not to be missed.
Less grandiose maybe, but equally important to the group, is One On One's show at the Arts Centre tomorrow. There the band will be able to test out the numbers they are hoping to record on to new demo next week.
It will be the band's second trip into the studio following an excellent demo early last year. One On One will be playing with Chance a band who are not unfamiliar to me! Entry to this gig is just 60p and it looks like being another enjoyable night.
So a week full of excitement. For One On One to test out new material to be recorded. For Dickens a chance to get the 'home' verdict on 'Standing Out' and for The Dream Factory a chance to go further down the road to their inevitable success. It is further proof that Tamworth's music scene is buzzing at a wonderfully alarming rate.
Tamworth Herald – 19/07/85
Musicbox – Turning on the States style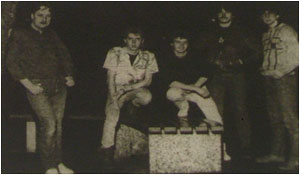 One On One – Demo
SOMETIMES WHEN you listen to a group's music you get the distinct feeling they have been born 10 years too late – or even 10 years too early. With One On One, however, their timing is not the problem – they have just been born 3,000 miles away from their natural home!
For after just one playing (and several more to confirm my 'suspicions') I could hear America all over this tape. Listening to it like listening to American FM radio – it is neither 'rock' nor 'pop', just, something vaguely between the two.
Personally, I don't particularly enjoy this style of music, but I pride myself ona t least being able to separate the good the bad – and this is definitely in the first category.
Its greatest asset is the sheer quality and purity of the sound which leaves all – and I mean ALL of the 50 or so demos I have heard in the last couple of years – well behind. It sounds like vinyl quality and the only noises you get on the tape are the musical ones you are supposed to – there's not a hiss in sight.
The sings – to my surprise – are all relatively brief which is an advantage for possible radio play, but personally, I think a disadvantage for One On One.
We all know the band's most outstanding feature is the sheer professionalism of their musicianship, but not once do they allow themselves even the minor self-indulgence of a decent guitar break by Tim Latham.
This is a guitarist of the highest quality but apart from a couple of skilful Lathamesque tricks, Tim's true ability, sadly, does not really come out of the speakers on this demo. Still, at least that gives Dave Ingham more prominence and once again this modest singer really turns on the style.
I have often harped on about his undoubted talent, but on this tape, it really does speak for itself. He is capable of both tender sensitivity and more jovial vocalising and I would boldly say he is the best local singer I have ever heard in my six years of following the Tamworth music scene.
Elsewhere, the rest of the band also perform well (Stuart Blaine is becoming a drumming dead ringer for Phil Collins to my ears) and I am sure the whole group listen to this tape with immense pride.
I still can't help wishing they were still producing the sort of rock that made 'Poppy red' and 'Don't Stop The Captain' such treats, but I suppose I will have to accept that One on One have matured beyond the barriers of my musical taste.
Tamworth Herald – 04/10/85
Musicbox – GOSSIPBOX
One On One are also sharpening their spurs for another show at the Arts Centre next week. They will be playing with the very hardworking Powerplay who have lined up to more shows – at the Railway on October 27 and JBs Dudley on December 5.
Tamworth Herald – 11/10/85
Musicbox – Powerful pair out to kill
ONE ON ONE join forces with Powerplay tonight in a show that looks set to be another Arts Centre sell-out. Both groups are currently riding on the crest of a wave thanks to two very, different – but still very well received – demo tapes.
One On One whose following is probably as strong and committed as anyone's in Tamworth, play music which blends English ideals and approach, with American influences and style.
It is a mixture which has earned them almost universal praise – not least from former Dexys man and Expresso Bongo producer Paul Speare who said the group shone out at this year's festival as having the best musicians in the town.
Expresso Bongo has also helped Powerplay recently, producing for them a very strong and well orchestrated demo tape. The group have an image and style that has aready made them many friends among Tamworth's shock-metal fraternity, but their American cars and girls style, is sure to appeal to a great deal of Springsteenian followers, who want a good night out. A fine double-bill tonight, which kicks off at 8pm.
Tamworth Herald – 13/12/85
Musicbox – SNIPS
One On One, who have been very busy lately attempting a gentle metamorphosis of their sound, have lined up a special gig at JB's Dudley shortly after Christmas. They are hoping to take a coachload of supported to back them up. Prices are expected to be a reasonable £1.50 and if you would like to book, contact any member of the band.
Tamworth Herald – 17/01/86
Musicbox – Bands tune up for five nights
TAMWORTH'S second annual Battle of the Bands contest looks set to be a great success with 16 groups – some completely new to the scene – taking part. The event has been stretched over five nights, with four heats and a final which will possibly be judged by a celebrity.
And as well as winning the accolade of Tamworth's best band, and a Young People's Arts Festival trophy, the successful band will also win £50 worth of recording time at the Expresso Bongo studios.
The whole event will get underway two weeks on Sunday at Tamworth Arts Centre.
Sunday February 2 – Caprice and Femme Fatale take on the unknown quantities of Coleshill's Burnin' Sky and new Anice Byfield group Precious Toys.
Sunday February 9 – The Australians, One On One, Dance Stance and another new one, Drowning Pool.
Sunday, February 16 – Depth Charge, Wolfsbane, The Me and The Parade.
Sunday, February 23 – Terroa, Spirit Lake, Judas Cradle and Breaking Point.
Friday February 28 – The Final.
Tamworth Herald – 07/02/86
Musicbox – New faces set to turn on the heat…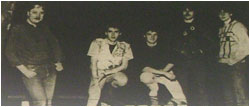 THREE groups new to the Tamworth scene burst into action this weekend in the second exciting heat of the 'Battle of the Bands' contest.
Two alternative-influenced acts, The Australians and Catch 22, open the show and they are also joined on this virtual 'New Faces' bill, by a relatively unheard outfit, The First.
Sandwiched between these three newcomers is a band who are a little more familiar – the popular One On One, who are making their first Tamworth Arts Centre appearance for some time.
Put it all together, and you have a fascinating four-band heat, which should prove to be an excellent concert in its own right, and one that will probably bring a lot of pop-punters out on Sunday night.
First up will be The Australians, a band who unfortunately are as new to me as they are to you, making them something of an unknown quantity. I understand they hail from the Atherstone area (which is becoming increasingly productive I am pleased to say) and it seems they play a cocktail of Everything But The Girl and The Cocteau Twins.
They should set the concert off to an intriguing start and the interest will be maintained by another new band, Catch 22 who will play second.
Catch 22 are a very young band who make up for their lack of experience with a refreshing burst of enthusiasm and ambition. They play music which seems to have its heart in that wonderful Jam/SLF time of life and member Ray Clenshaw describes the whole sound as 'aggressive but with a lot of melody'.
The band, who recently played a successful gig at Atherstone School, are very keen to take part in the contest and to introduce themselves to the local scene, and they will come under close scrutiny on the night.
By virtue of their experience and proven track record, the third band up, One On One, start as hot favourites to win the heat and break through to the February 28 final.
The five-piece band have grown steadily more mature and confident over the years and their intelligent songs and exemplary musicianship has won them admirers across the whole spectrum of the local music scene.
When I spoke to bassist Andrew Malkin he told me the band were moving into a new phase with their songwriting and performance so it is possible we may see a new look One On One on the night.
Candy Floss
Also with a new look will be the band who will close the show, The First. They have emerged out of the Tribal Sweatshirts, Richard Deane's band, and if they are anything like The Sweatshirts they should sound just as professional as the group that precedes them.
The sound the Sweatshirts produced was commercial pop - without the candy floss – and if The First maintain that tradition, they could prove a difficult outfit to beat.
So once again it looks like being a good night at the Arts Centre on Sunday. Four potentially very interesting bands all chasing the same prize – a place in the February 28 Battle of the Bands final which hopefully will be judged by soul singer Edwin Starr.
The gig starts at 7.45 – and is free – so support the Young People's Arts Festival, support the four bands involved and have a great night out. It is even worth missing 'Spitting Image' for!
*Catch 22 have come in as late replacements for Dance Stance who are sadly unable to play as two members will be missing on the night. For those who are confused, The First were originally called The Drowning Pool. Judges on Sunday will be Paul Speare, Phil Smith and local music buff, Martin Webster.
Tamworth Herald – 14/02/86
Musicbox – A dazzling night of variety
Review
ONE ON ONE became the second band to book their place in the Battle of the Bands final on Sunday night, in a triumphant and very varied night of music.
All four of the bands turned in tremendous shows to leave a big headache for judges Paul Speare, Phil Smith and Martin Webster who could only choose one group to go forward. In the end, the sheer professionalism of One On One won them the concert.
First to take to the stage were The Australians who I discovered to my amazement had only been together a matter of weeks. Well it certainly didn't show. Their original material (which had shades of everything from The Who to Echo and the Bunnymen) had a deceptively light feel with occasionally arresting melodies. Guitarist and singer Chris Thomas was particularly impressive and when his voice combined with the harmonies of Toby Stafford the sound was quite intriguing. It was overall a fine mature set which showed a great deal of promise for the future.
Promise is also a word that cannot be understated…Catch 22
They did a spirited 'Alternative Ulster' but even that classic was outweighed by their own inventive and thoughtful originals which far belied their teenage years. Full marks to drummer Jason Notman who was simply magnificent and also a big pat on the back for the lead guitarist Dave Stevenson.
And so to One On One. Or not as the case may be. For when they hit the stage it was as if a new band had appeared. OK, so they still had that distinct One On One feel but they have added far more meat and commerciality to their sound which I found very exciting. The songs had greater strength and power – a touch of the old One On One in fact – and it was as if that change was certainly appreciated by a lot of people I spoke to afterwards. To say that musically they were outstanding is almost unnecessary these days, but just a word for bassist Andy Malkin and drummer Stuart Blaine who worked together brilliantly.
The First…between bass and guitar having a distinct U2 feel. In fact if I had to put The First into any camp it is possibly the U2 one as they play music which combines the rawness of rock with the more subtle edges of the post-punk sound. A neat, mature and potentially I think, a winning one.
So overall that word potential is the one that rings loud and clear from this eventful – and very well attended – concert. One On One proved that they are getting better and better and The Australians, Catch 22 and The First all won over a lot of new admirers. In terms of judges score every one rated very highly and as an indication of the strength of the line-up, each band had a score big enough to beat any of the equally impressive outfits from the first heat.
Tamworth Herald – 21/02/86
Musicbox – Sounds out of town
FIVE of Tamworth's top bands have just lined up out of town concerts – and they are all planning coaches to ferry supporters to the shows.
First on the agenda is a terrific double bill on Monday night, featuring the varied dynamics of Wolfsbane and Terroa. The show is at Bubbles in Hinckley, and it promises to be a very enjoyable night out. Tickets – costing £2 – are available from any band member of the two groups or by contacting Brian Edwards.
Then, on Thursday night (February 27), kindred spirits Femme Fatale and The Parade have been lined up for a winebar concert in Coventry. Once again, the two bands are hoping to generate enough support to be able to run a coach to the gig.
Finally the very tasty One On One are lining up another show at Bubbles at Hinckley – this one is on March 1.
Tamworth Herald – 28/02/86
Musicbox – Here comes clash for battle honours
LOCAL ROCK fans are expected to swarm to Tamworth Arts Centre tonight to watch the exciting finals to the hugely-successful "Battle of the Bands" competition.
The contest has been a marvellous celebration of the local rock scene with packed houses every night and good performances all round.
And to cap the whole event off, one of the four heat winners – Burnin' Sky, Breaking Point, Wolfsbane and One On One will tonight be crowned as local rock champions.
Another full house is expected for the intriguing four-way battle and although it wasn't confirmed at time of going to press, it was hoped that world-famous soul favourite Edwin Starr will chair the judging panel.
The draw for the final positions was held during Sunday's heat and it will mean that last year's winners Breaking Point will open the event.
Breaking Point just secured their place in the final on Sunday night, and there is no doubt that they would like to hold onto the Battle of the Bands crown at all costs.
The trio will once again produce a set mixing their old material with the new, and they will literally set the contest alight and leave the other three bands following with a mighty hurdle to clear for victory.
Second up on the night will be Coleshill's finest Burnin' Sky. The group emerged as surprise victors of heat one and they will be hoping to increase the support they found in the Tamworth audience on the night.
The sound they produce is a light, progressive rock and although on paper Burnin' Sky are probably the outsiders if President Marcos can claim victory in the Phillipines, anything is possible.
Third band on the night will be One On One – who scored the highest marks in the heats. The band have undergone something of a radical transformation of late, and their new brand of rock shocked many people who saw them defeat Catch 22, The Australians and The First in perhaps the best heat of the whole contest.
They should prove a hard act to beat and although One On One are wisely trying to play it down, there is a grounds' well of opinion that tonight will be their night.
Finally Wolfsbane will hit the stage and will aim straight for the jugular. The band only just scraped into the final with a slightly below-par show two weeks ago and they will be determined to cast that performance aside and turn on some of the acknowledged Wolfsbane magic tonight.
So, four bands all with a good chance of victory. Sandwiched between Burnin' Sky and One On One there will also be the sardonic and rabid humour of Tamworth's answer to John Cooper Clarke – Jed Moore.
All in all it makes for a night when no self-respecting rock fan should be seen on the streets. Entry to the gig will be just 75p and the winner will be crowned as the 1986 Tamworth Young People's Arts Festival Band of the Year. They are all at the starting post, the bets have been placed, now watch them go.
Tamworth Herald – 07/03/86
Musicbox – Starry tribute to superlative finale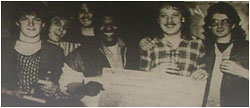 Caption: Edwin Starr with One On One – the 1986 Battle of the Bands winners. Edwin and Andy Malkin are pictured with the £50 free recording time cheque presented by Expresso Bongo.
DELIGHTED ONE ON ONE emerged as the new champions of the Tamworth rock scene on Friday night when they won the 1986 Battle of the Bands contest.
Hundreds of spectators enjoyed a night packed from start to finish with frenzied, powerful music which was a tribute to the whole local scene.
Among them were international soul singer Edwin Starr and his multi-talented musician brother Angelo. The duo's appearance was a boost to all the bands involved and the enthusiasm they showed surprised everyone.
"I came here expecting to be disappointed but I have been shocked at the real talent on show," Edwin Starr told the mass ranks of spectators. "I don't care where I am or what I am supposed to be doing at the time, when you have your festival, I will be there because these local bands deserve every success."
Edwin and Angelo's enthusiastic support for the result of a four-band show that was every…Breaking Point, Burnin' Sky, One On One and Wolfsbane, all played better than they did in the heat stages and the high marks all round reflected this.
Breaking Point opened the proceedings with – in my opinion one of the greatest sets they have ever produced. I have lost track of the amount of times I have seen this, my favourite band, but watching them on Friday was like watching them for the first time all over again. They were direct, powerful and dynamic with Kevin, Jason and Daydo sounding as confident and clear-sighted as ever.
"Brotherhood of Israel" was the set-stealer but there was a loud cheer for that old nostalgic classic "My Love Lies Bleeding". A set to remember.
Burnin' Sky followed and their show was far better than the one that won them the first heat of the competition. They played with a relaxed air that belied their relative inexperience. Their original r 'n' b rock was one with a potential cult appeal that is perhaps only just being hinted at.
And so to the victors – One On One. The moment they hit the stage you knew they meant business. Dave Ingham was supposed to have had a cold, yet he showed all the usual confident and vocal ability that has made him the undisputed king of singers in Tamworth.
All the other members of the band weighed in with their normal faultless musical performances with guitarist Tim Latham being described afterwards by Edwin Starr as "like a young Eric Clapton". Praise indeed for Eric Clapton.
Best number of an electric set was "Different Drums" which fused together all the bands assets into one mesmerising number.
The night was concluded by Wolfsbane whose power-blasting set put their show in the heats in the shade. They were fast, furious and great fun in the true Wolfsbane tradition with several numbers, notably "I'm Not A Baby" and the 800 mph "Manhunt" splitting heads in two.
Wolfsbane were clearly pleased with their show, the audience loved it and the night ended on the highest possible note.
Pleasure
In the middle of the concert the audience also had the dubious pleasure of a 15-minute tirade by tasteless poet Jed Moore who risked life and limb and prosecution with a set brimming with nastiness. (As for the attack on me, well there's nothing wrong with Sigue Sigue Sputnik anyway Jed, and they have got more chance of being number one than Everton!)
The whole event closed with the speeches, presentations and congratulations. The atmosphere at this stage was a festival-style friendliness and genuine mutual appreciation, that was truly heartening to witness.
Dave Ingham summed it all up for me by saying "The Tamworth music scene is brilliant and so are every band who've been involved".
Amen to that one David.
Tamworth Herald – 21/03/86
Musicbox – Succeeding with talent and mouth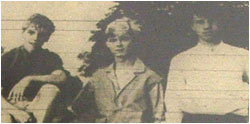 I HAVE recently been filing all my old MUSICBOX columns from the past three years or so and as one of those academic exercises, I decided to see just who has been the most featured band in the column over that time.
People often accuse me of bias in various directions but I think the 'top ten' of mentions shows that I have managed to cover the whole spectrum of local music from the 'lightest' to the 'heaviest'.
This was not a scientific exercise, I merely flicked through the columns and noted the names of bands whenever I saw them. So a 'mention' could be just one line or a full feature. Anyway here's the top ten from 1983.
1. The Dream Factory (60 mentions), 2. Sitting Pretty (57), 3. Breaking Point (53), 4. Wolfsbane (52), 5. BHX (51), 6. Love On Board (49), 7. One On One (37), 8. The Magnets (32), 9. Sacred Oath (25) and The Cradle (25), 10. The Royal Family (20).
Outside of this batch as a matter of interest were Terroa, Dance Stance, A5 and Caprice. At the other end of the scale there were local bands whose name were featured only once such as Alibi, The Fashionable Gents, Bambu Curtain and The Time Bandits.
Tamworth Herald – 28/03/86
Musicbox – SNIPS
ONE ON ONE return to live action on Friday still buzzing from their excellent victory in the 1986 Battle of the Bands. The group will be playing at the scene of their successful crime – Tamworth Arts Centre – For a show that will start at around 8pm.
Tamworth Herald – 01/08/86
Musicbox – Gossipbox
Things certainly seem to have been happening in my absence with both XPD and One On One recording new demos. The XPD one really is something special and sounds to me like Sigue Mary Chain – in a disgustingly tuneful barrage of Noise. Great stuff.
Also planning to hit the studio soon are new Rock Festival recruits Attica who have lined up a pre-festival Rathole date and have also recently had a strange photo session on an unopened part of the M42. According to singer Eddie Madden, the whole thing was very eerie but if you are planning something similar, Musicbox has just one piece of advice – make sure the road you're being photographed on IS unopened!
Talking of photographs and things, someone told me recently that King recorded their video for 'Love and Pride' somewhere around the Kingsbury/Alvecote area. Anyone shed any light on that? It wouldn't be the first time we have been on video.
Anyone who has seen the Geno video (that's by Dexy's for the under 12's) will see that there is a split second shot of a bus going to Tamworth on it. Now that's real fame!
Still on fame, it seems That Drayton Bassett's premier citizen Julian Cope is lining up a short tour in the near future. If he's looking for any good low-key warm up dates, can I tactfully suggest The Rathole?
That really would be a justifiable reward for your passionate fans around here Mr. Cope.
Tamworth Herald – 01/08/86
Musicbox – SNIPS
One on One have lined up a concert at the Coach and Horses on August 9. A coach will be leaving Tamworth for spectators and will cost just £2, all inclusive. See any member of the band or contact Dave.
Tamworth Herald – 22/08/86
Musicbox – Here's the fabulous festival line-up
TAMWORTH'S fourth annual Bank holiday rock festival blazes into action this weekend and promises to be the biggest and best the Town has ever seen.
Eighteen bands will take to the Castle Grounds stage on Sunday and Monday offering a varied and exciting package of local talent.
And, to give the festival the best possible start, Tamworth Arts Centre will tonight (Friday) and tomorrow stage two festival party nights featuring among others Wolfsbane, Breaking Point and a one-off show from Love On Board.
All in all it looks like being a festival to remember and here in full details is what is happening where and when.
Tonight
The festival starts with an Arts Centre triple bill featuring three bands from the heavier side of life. New boys Shellshock will join up with not-so-new boys Kara and positively-old boys Wolfsbane for a sparkling three band show. As with last years, the Arts Centre pre-festival nights are designed to be party-style events and everyone petting into the spirit (and spirits) of the weekend. It starts at 8pm costs 50p and should be excellent.
Saturday
ANOTHER enticing triple bill will especially interest people of an alternative (sic) persuasion. Breaking Point, who hope to have their debut single out this week, will headline the show and in support will be two unusual acts. First is 13th Reunion featuring the immortal Gerald on bass and second is Love On Board making a special one-off comeback gig to join in the party atmosphere. It adds up to a superb bill which marks the debut show for 13th Reunion, and once again is a meagre – nay, measly! – 50p
Sunday
AND SO to the main event. Two days of exciting, varied rock music in the Castle Grounds. Once again the stage will be set up in front of the tennis courts at the far end of the Castle Grounds, and as with the past couple of years, it will cost you nothing to watch. Here is a quick one-line description of all the bands on show and their (approximate) appearance times…
Heavy
Freefall (12.20) A Coventry heavy band (that's all I know!)
Attica (1.05) Powerful bass-driven combo who crimp their hair and slice their guitars.
Shellshock (1.40) Young lusty metal sound, who smile a lot.
Soil Brothers (2.15) Skiffle-style pop played with coconuts, cardboard and oodles of enthusiasm.
One On One (2.50) Nose-perfect rock music played by soon-to-be superstars.
Noise
Kara (3.25) loud Americanised noises played by local Anglicised noise-makers.
XPD (4.00) Stylish alternative pop music, which cab be summed up as 'ego-shock' rock.
Catch 23 (4.35) Pure-punk-period pop music with panache, power and passion.
The Magnets (5.10) Modern synthesised pop music played by modern synthesised pop people.
Monday
ONCE MORE the Castle Grounds plays host to nine more varied outfits who line up like this.
Burnin' Sky (12.30) Coleshill-based r 'n' b band who revel in the smoky, sleazy way of life.
Beyond Elysium (1.05) Dark sombre sounds with a modern appeal and feel.
Funky
Cuddly Spiders (1.40) Laid-back harmless flares rock.
Breaking Point (2.15) Passion-packed soaring, roaring rock music.
Dance Stance (2.50) Tight, funky nouveau-pop with a burning soul.
Wolfsbane (3.25) Gentle, middle of the road folk band made up of four charmingly polite young boys. A mud afternoon break from all this rock nonsense.
Depth Charge (4.00) Cuddly rock and roll pirates bursting with good times.
Orange (4.35) Deceptively light pop music with a telling edge. Bright, breezy, orangey.
The Royal Family (5.10) regal r 'n' b with guaranteed dance-ability and toe-tapping tendencies.
Tamworth Herald – 22/08/86
Musicbox – SNIPS
One On One start a new Wednesday night concert season at the Marmion this week. Its doors will be opening to many different styles of local rock over the next couple of months and we hope to give more details about this whole exciting venture in the next few weeks. One On One open the whole project this Wednesday and as with all the subsequent Wednesday gigs (which are the brainchild of the always enthusiastic Colin Wall entry is fee.
Tamworth Herald – 17/10/86
Musicbox – Gossipbox
I have been told that Gary Lancaster from One On One could well be the next in line for the altar. If anything should alter I will let you know.
Tamworth Herald – 31/10/86
Musicbox – 'One' head his hearty special
ONE ON ONE spearhead a special charity gig in aid of the Birmingham Hospital at The Rathole on Sunday night.
The 'Battle of the Bands' winners will team up with Orryot and Ruffian on the Stairs – both of whom have strong local connections.
All the proceeds from the show will go towards the special 'Heartbeat' appeal which has been running for some time in and around Birmingham, It has already raised thousands of pounds and organisers of this weekend's gig are hoping to add even more to this tally.
Appeal
"It's mainly the band who are regulars at Hamlets because the pub has been very supportive of the whole appeal," said one of the organisers, Mike Fleming, "We think that it will be an interesting and varied show."
The idea of the gig with Hamlets bar staff member Margaret with Mike Fleming picking up the gauntlet to arrange the show. The Rathole kindly agreed to let the organisers have the venue for free and the Heartbeat Concert started to breathe.
It will be One On One's first gig at the venue – making them the last major Tamworth band to tread The Rathole stage. The group have deliberately kept a low profile of late but have now emerged with clearer understanding of what they want to do – and with a host of new ideas.
Intriguing
"We have been rather quiet of late because we wanted to sort out a few things, but now we are raring to go," said leader Dave Ingham. As well as Sunday's show, on November 8 the band make a return trip to The Coach and Horses.
Supporting One On One will be Lichfield-based band Ruffian On The Stairs and a Tamworth all-stars band Orryot. Ruffian, who feature our very own Mike Fleming on bass, play energetic jazz/soul-style music with touches of The Style Council and The Dream Factory.
Glitter
They have already recorded a highly successful demo with the intriguing title "Unnatural Practices" and to add further glitter, they have supported bands such as Terry and Gerry and The Chevalier Brothers. They are currently trying to build a permanent base in Birmingham and are already on the university and poly circuit.
Orryot are perhaps less well known throughout the Midlands but their faces are certainly better known around Tamworth. Lead singer is one of my favourite solo artists Dave Hewitt (he of the long Dr. Whoo-style scarfs) the drummer is Stretch who under that name at least is new to me while the two guitarists are both former members of Gaf the Horse in Tears.
Enticing
Ted Wilson (who used to be with Omen and bears a striking resemblance to Craig Johnston) plays guitar while Tony Cole (whose legs are almost as famous as Marilyn Monroe's) is on bass. Collectively they have what is said to be a high-energy, high-powered, brand-new original sound. Sounds enticing!
So three very different bands who between them should provide one very good show indeed. It costs just £1 and with all the proceeds going to the very worthy Heartbeat appeal, there is no reason not to have a 'Rathole' full-house once again.
Tamworth Herald – 14/11/86
Musicbox - One On One – The Rathole
Despite sticking a huge custard pie in my face (I still haven't got the stains out boys!) this was a show that impressed me from the start. One On One seem to have recovered their enthusiasm and purpose and produced a far meatier, exciting set than at the Festival.
Everyone seemed in tremendous heart and bopped around as if it was their first concert which is always nice to see. Undoubted…once again was "Different Drums" which sounded as good as it did at the 'Battle of the Bands'. The long lay off seems to have done the band a great deal of good and they now sound like they are once more on course for glory.
Tamworth Herald – 01/05/87
Musicbox – Rock Kings Bow Out
TAMWORTH'S music scene was this week mourning the loss of one of it's longest established and most talented bands – One On One.
Although at time of going to press, MUSICBOX was not able to confirm the exact reasons behind the split, I understand that singer Dave Ingham decided to quit the band and the rest of the group agreed to pack it in at the same time.
Whatever the reasons for One On One's split there is no doubt that it will cause a lot of genuine sadness among the town's many music fans.
One On One formed a number of years ago and almost immediately established themselves as the most musically talented group around. Although they were never Tamworth's most prolific live performers, they were always among the most impressive and they were one of the first local bands to successfully export their sound out of the town.
In their time they released two first class demos (the first of which still ranks as one of THE classic Tamworth demos) and there was talk of the group making a single later this year.
Probably their greatest local triumph was last year when Dave, Tim, Gary, Stuart and Andy turned in a masterful show to win the "Battle of the Bands". Many people praised their show, not least celebrity judge Edwin Starr who was bowled over by the group's professionalism and spirit. Everything then seemed to be going their way, and after a fine show at the Rock festival they were voted fifth top band in the annual MUSICBOX poll.
Four of their songs also made the top 30 local songs section. This year however, there were ominous signs that things were not going quite so well for the quintet. First they pulled out of the Battle for the Bans final despite having automatic entry and then they failed to turn up for the 1987 festival meeting. In Tuesday morning this week I received a memo that One On One had split, and the rest of the week rumours and counter-rumours abounded.
On a personal note, I have always had tremendous respect for the band and like many people I could never understand why such obvious talent was not picked up on by sleepy record companies. Musically they were first class, as people they were genuine and enthusiastic and as a band they were treated with admiration and respect by fans and fellow musicians alike.
Probably the greatest compliment of all to the band came on Sunday night when Wolfsbane played One On One's classic "Hold On, Don't Let It Fade Away" by way of a tribute. "They influenced me a lot and this is to show our respect," Blaze Bayley told the Arts Centre audience. It was the ultimate compliment for one of Tamworth's ultimate bands. They will be greatly missed.
Tamworth Herald – 03/07/87
Musicbox – SNIPS
ONE On One have recruited former Depth Charge man Dave Fitzgerald as their new lead singer. The band's guitarist Tim Latham meanwhile is all set for a trans-Atlantic trip where he will be working as a session man for some of the time. One On One's former singer Dave Ingham recently completed a highly-successful demo tape at Expresso Bongo studios which will be sent off to star-hungry record companies.
Tamworth Herald – 05/01/90
Great Local Bands of the Eighties

As the Eighties are now nothing more than a blur, I decided it would be nice over the next few weeks to just step back and remember some of the great local bands of that period. Thus I dug deep into my old vaults of MUSICBOX photos and discovered many gems and many great old bands who we will be spotlighting in the next few weeks. Hopefully these photos (as well as embarrassing those pictured with naff haircuts) should remind many of you older BOX readers (and inform many of you younger ones) of the roots that led to the massive current scene of ours. Week one features two very good but very, different bands – Love On Board and One On One, more memories next week hopefully…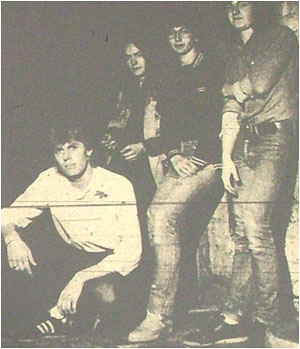 One On One
Former winners of the Battle of the Bands contest and a band who had soul king Edwin Starr absolutely spellbound. Formed out of the embers of Omen, One On One played distinctive, intelligent AOR and had several line-ups and several musical changes. The line up above features Stu Pickett (as was), Ralph Sandland, Tim Latham and the wonderful singer Dave Ingham. The pic was taken on Dec 1, 1984.
---
Memories
Following Muz Pickett's comments, I would just like to point out, merely as a matter of historical record, with not a hint of malice or ill-feeling for the band that were brilliant and should have been massive, that I wrote Fools Gold, along with many of One On One's earlier songs - Poppy Red, Hold On, Alibi Smiles, and lots of others. And yes, those keyboards trashed my song!!! I have in my possession a tape of the full One On One live show at the Arts Centre 7 April 1984. Our set opened with Fools Gold, which I had just written at the time, with Tim and Dave playing cranked guitars and Stu and Me trying our best to out-loud them. It's a MUCH heavier version with no keyboards in sight, and it's a much superior version to the over-produced-could-be-Duran-Duran-studio recording that later appeared, in my humble opinion!! If Muz or anyone else would like to hear the REAL version of Fools Gold, just let me know.
Thanks to Ralph Sandland

---
Album Name: Unseen Visions Of A Future Past



01. Don't Disturb The Water
02. Rags To Riches
03. Crown Of Thorns
04. No More Heaven
05. Green Light
06. Fools Gold
07. Wheels In Wheels
08. I'll Be There
09. You're Too Proud
10. Helpless
11. Against The Grain
12. Fiction Friction
13. Different Drums
14. Pride
15. Spikin' All The Drinkies
16. Derailed
---
August 24th 1986 - click on the thumbnail images to play the video clips.
By kind permission of: Andy Malkin
---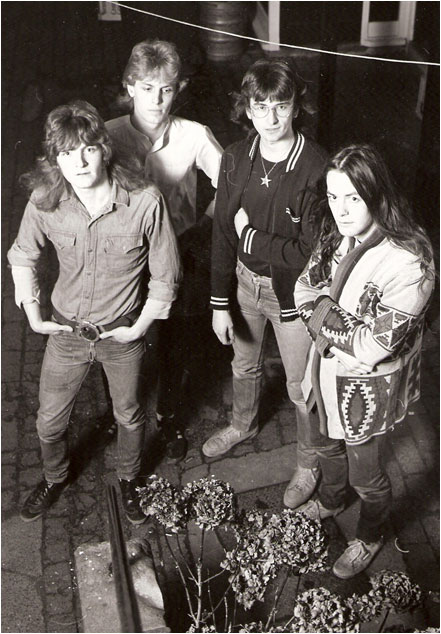 One on One 1982
One on One with Ralph Sandland on bass (pre-Andy Malkin),
taken from the back steps of the Old Stone Cross (the band's old rehearsal place).
Photograph courtesy: Tim Latham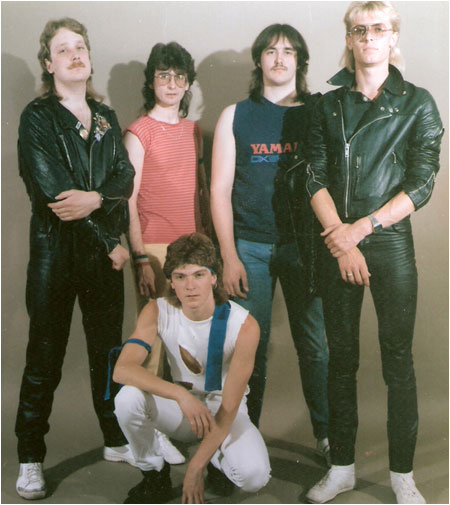 One on One 1985
Photograph courtesy: Pete Williams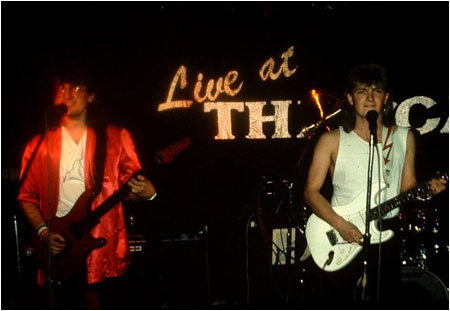 One on One Coach & Horses 1986
Photograph courtesy: Tim Latham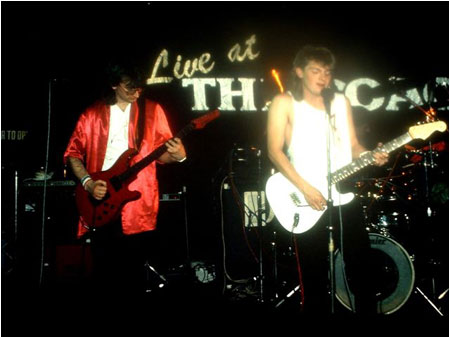 One on One Coach & Horses 1986
Photograph courtesy: Tim Latham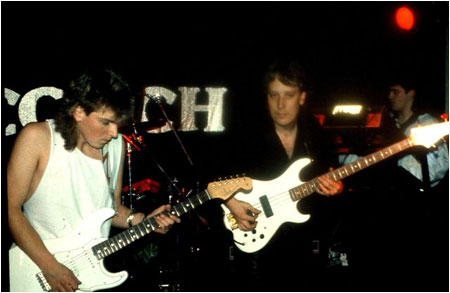 One on One Coach & Horses 1986
Photograph courtesy: Tim Latham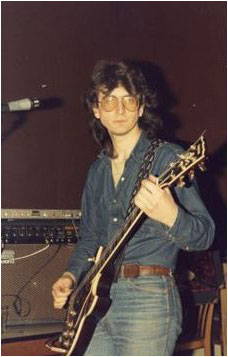 Tim Latham 1985
Photograph courtesy: Tim Latham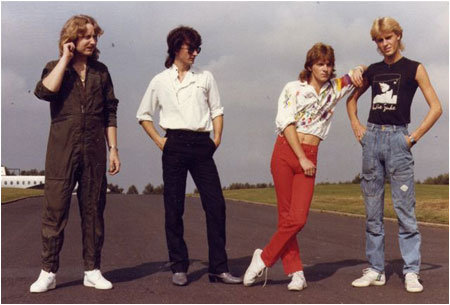 One on One 1984
Photograph courtesy: Tim Latham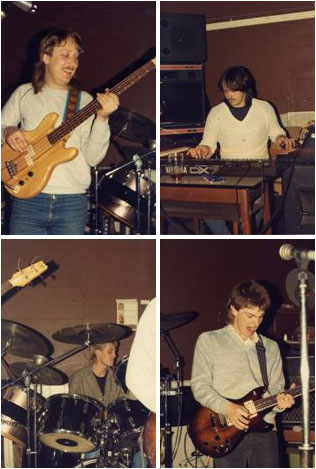 One on One 1985
Photograph courtesy: Tim Latham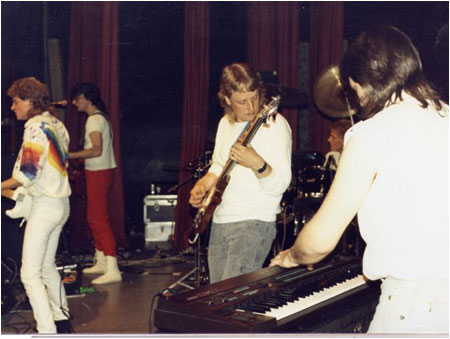 One on One 1985
Photograph courtesy: Tim Latham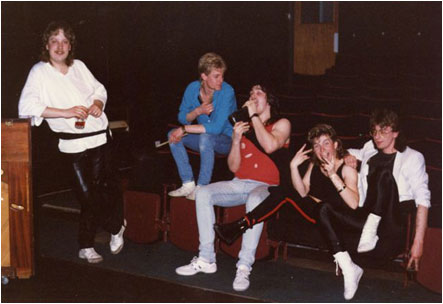 One on One 1986
Photograph courtesy: Tim Latham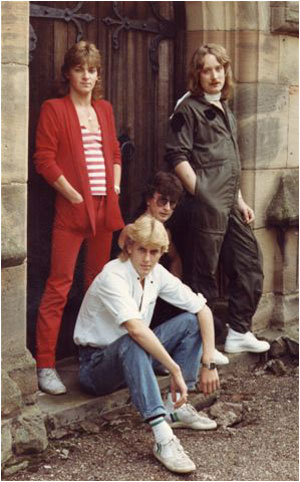 One on One 1984
Photograph courtesy: Tim Latham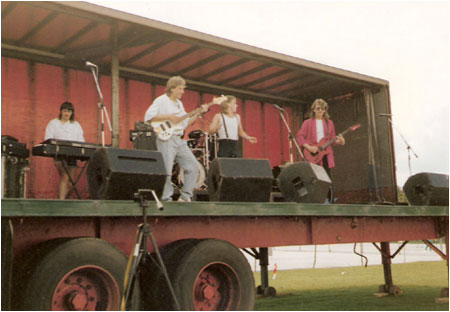 One on One Tamworth Rock Festival 1986
Photograph courtesy: Tim Latham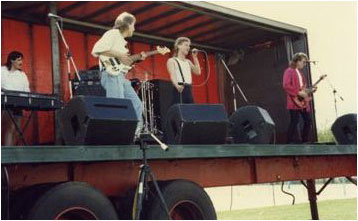 One on One Tamworth Rock Festival 1986
Photograph courtesy: Tim Latham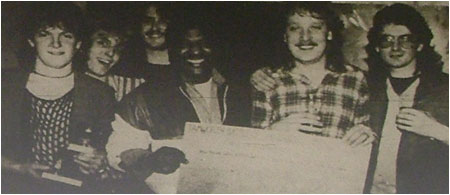 Caption: Edwin Starr with One On One – the 1986 Battle of the Bands winners. Edwin and Andy Malkin are pictured with the £50 free recording time cheque presented by Expresso Bongo.
If you have any further information about this band please email: info@tamworthbands.com