Childs Play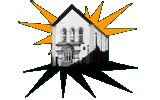 Musical Genre/Type: Rock
Formed: 1982
Split: 1990
Band Members
Norman Yates - Lead Vocals/Lead/Rhythm Guitar (Tamworth)
[Also in: Spirit Lake, Wild Child]
Graham Phelps - Guitar
Sharron Captain Piglet - Lead Vocals (Tamworth)
[Also in: Wild Child]
Jason Farrow - Drums
[Also in: Dream Factory]
Mike Fleming - Bass Guitar (Birmingham)
[Also in: Caprice, Wild Child]
Gigs:
28/07/84
Wolfsbane
Child's Play
Tamworth Arts Centre
29/11/84
Child's Play
Caprice
Tamworth Herald Previews and Reviews
Tamworth Herald – 17/02/84
Musicbox – Snips
Child's Play, Tamworth's newest rock band, got off to a great start last week when they were called back for an encore in their debut gig at the Arts Centre. The band members now feel they need a vocalist/frontman to complete their line-up. Any good strong singers prepared to buckle down and work hard at making the band a success are asked to contact Graham Phelps.
Tamworth Herald – 24/02/84
Musicbox – SOUNDS GALORE FOR '84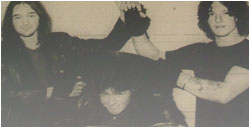 IN TAMWORTH music terms at least, 1984 has got off to a cracking start. Confidence in bands like the Dream Factory, Sitting Pretty and BHX has never been higher and the town is eagerly awaiting the debut of several new and varied bands that are springing up throughout the area.
Already we have had the chance to see the exciting One on One and now Musicbox can welcome another potentially superb rock band to the area – Child's Play.
Child's Play were formed late last year and took their name from bassist Norman Yates' former town favourites Wild Child.
Norman had always been an enthusiastic member of the heavy blues band and when the group split he immediately started pining for a new act to take to Tamworth stages.
And then Norman discovered Graham Phelps. At the time, guitarist Graham was musically unemployed and after discussing some ideas with Norman, the two decided to form a new band.
The duo then enlisted former Dream Factory sticksman Jason Farrow on drums and set about writing original songs. Now they have built up a good strong set and are bursting with that now universal Tamworth feeling – confidence, ambition and sheer determination to succeed.
"We want to go all the way with this band. We think we have the sort of sound that should go down well in Tamworth and beyond and we are very excited about the future," said Norman.
Child's Play find it virtually impossible to generalise about their sound although they accept that they play a broad-based rock sound.
"Although it is heavy, we do sometimes sound a bit like U2, so putting a general label on the music is very difficult," admitted Norman.
And Norman believes the key to what he hopes will be the band's eventual success is the original enterprising guitar work of Graham.
"I couldn't believe it when I first heard Graham. I really believe he has the potential to be the best guitarist not only in the town but also in the Midlands. He really is very good indeed."
Child's Play made their debut as a trio with One On One and earned an encore in just their first show. But now the band feel they could do with a vocalist just to make the line-up complete.
"We always thought we could handle the vocals between us but now we think it is best if we let someone else take over to give us more time to get better on our own instruments," said Norman.
Anyone who thinks they would like to front this bright new outfit is asked to contact Graham.
One thing is for certain, singing for such a committed and ambitious band is going to be hard work. In fact it will be anything but child's play.
SAM HOLLIDAY
Tamworth Herald – 03/08/84
Musicbox – May the curse be with you
Wolfsbane/Child's Play – Tamworth Arts Centre
"WE ARE WOLFSBANE and the curse be with you!" With this menacing cry the curtains of the Arts Centre opened to reveal Tamworth's newest and most outlandish act – the delightfully eccentric Wolfsbane.
Dressed like renegade extras from the 'Mad Max' films the group hit the audience with the effect of a thunderbolt – demolishing most of the spectators eardrums' in the process.
Without inhibitions or worries they tore into a set packed full of well-written and for the most part very original numbers which at the close brought the audience to their feet – a rare sight indeed Tamworth.
It was hard to believe as you surveyed the packed, enthralled audience that this was the band's first ever gig in Tamworth and even more surprising was the complete and utter absence of nerves on behalf of the quartet handing out the onslaught.
Bayley Cooke, who for all his acrobatic posing, still managed a superb vocal performance teased, tormented and tantalised the audience with a show of gritty self-confidence. On his left, Jeff Hateley (who gets my award for the coolest looking person on the night) turned in an enthusiastic performance and he was helped in the rhythm section by the solid drumming work of 'Poo Poos' who had also clearly left her nerves at home.
But for me Wolfsbane's start of the night was the self-effacing guitarist Jase The Ace.
For his tender age, Jase really has awesome talent and one particularly memorable break in 'Clutching at Straws. Brought an unnatural silence from an otherwise boisterous audience. He brought delicacy where delicacy was needed and fire where fire was required. Given time Jase could easily become one of the best guitarists in the town and I for one will be keen to see his progress over the next few months.
So closed a unique and wholly enjoyable set. As a gig, it was excellent but as a debut it was outstanding.
Following such an eye-opening act as Wolfsbane should have been if not impossible, at least very difficult. But Child's Play took it all in their stride. Bassist Norman Yates delighted everyone with his off-the-cuff chatter which perfectly complemented the band's relaxed and very confident performance.
I a similar manner to Wolfsbane they broke down barriers by giving all the varied people in the crowd at least something to cheer about. Their nicely-balanced set sped up and slowed down and with the addition of a number of popular cover versions they soon won over the crowd who gave them support right until the end.
The me the band's greatest asset was their musical ability – particularly timing which was faultless. Graham Phelps was particularly impressive on guitar playing a number of always interesting breaks throughout the set.
By the time they had finished, everyone – band and crowd – was smiling and as the people began to file out of the Centre with the contrasting styles of Wolfsbane and Child's Play firmly engraved on their mind. It seemed as of rock had finally returned to Tamworth.
SAM HOLLIDAY
Tamworth Herald 23/11/84
Musicbox – Snips
Child's Play one of Tamworth's most endearing rock bands, will play their last-ever gig next Thursday, with new-boys Caprice.
Child's Play, who only burst onto the scene earlier this year, have decided to throw in the towel and rumours of their members' new acts are flying around.
Memories
Tamworth Rock Festivals from the beginning.
Thanks to: Sam Hagar
Tamworth Herald – 22/02/85
Musicbox – Shock waves on battleground
Smashing time as riot hits stage
TOMORROW night Tamworth Arts Centre will play host to the final of the keenly-fought 'Battle of the Bands' contest.
The final, featuring five groups will be the culmination of four strong heats, the last of which is at the Arts Centre tonight (Friday),
Already the contest has attracted great interest and has been packed full of surprises and controversy.
It all began last Thursday when three very different acts – Dance Stance, One On One and The Original Royal Family took to the stage.
Controversy started to rage however, when one of the five judges was disqualified for walking out half-way through the gig of the last band The Royal Family. The disqualification gave One On One a clear victory, making them the first band into the final – and therefore the Bank Holiday rock festival.
Overflowing
Twenty-four hours later at the Arts Centre a packed-to-overflowing audience saw an amazing four-band contest. Childs Play opened the proceedings with their former guitarist, who had been dragged out of the bar because their normal player had disappeared!
The shock continued when Vicious Malicious – an unholy alliance of Select Elect and The Elusive They took to the stage and proceeded to smash up guitars and tape recorders as well as run riot with a chainsaw. The word was bizarre. All part of the act, of course.
And, if that wasn't enough of a culture shock to the audience, then the new Pulsebeat, who after starting cautiously, had the whole crowd on their feet with some brilliant, individual guitar playing.
By now nothing could be surprising – but last band Scarab almost were. They came on and gave a blinding show bashing out 100mph rock anthems which sent their loyal fans into a state of acute frenzy. They threw in volcano-style fireworks, flashing lights and fake blood to provide a riveting performance. Needless to say they won, so booking their automatic place in tomorrow's final.
The third heat was held last night (Thursday) and one of the following four acts will be in tomorrows final – Ideal Standard, Spirit of Water and Sitting Pretty.
The final heat will be tonight when Breaking Point, BHX, Sacred Oath and Caprice will battle it out.
Each of the acts has a lot going for them and predicting the result is extremely difficult.
BHX have proved their status by being offered several dates all round the country; Sacred Oath are now back fresher and more determined; Caprice get more confident with every gig and Breaking Point are Breaking point.
Surpassed
Don't forget there will also be a place in tomorrow's final for the highest scoring runner-up during the whole contest.
On the first two heats, Childs Play and Pulsebeat both with 59 points held second equal though it is likely that this total will be surpassed tomorrow night.
So an extraordinary night is in prospect. The finalists will be given only 20 minutes to impress the judges that they are Tamworth's top band. The overall winner will be invited to play at the Young People's Arts festival night in March where they will also be presented with their winning trophy.
Saturday's final starts at around 8pm and entry is 60p. it is going to be packed to the rafters so people are advised to arrive early to enjoy this potentially tremendous occasion.
SAM HOLLIDAY
Tamworth Herald – 27/09/85
Musicbox – TamAid's genial chief pops up
Midnight guy still smiling
WOULD YOU buy a second-hand demo fro the pictured-above gypsy? No? Well think again, for the gentleman above is none other than Paul Speare, the man who produced TAMAID and also added the sax on the tracks.
Paul is pictured from the inner-sleeve of the last Dexy's album "Too-Ry-Aye" where our resident Rosie Lee performed on such mega hits as 'Come On Eileen' and 'Jackie Wilson Said'.
The question is how can anyone who has spent hour after hour with that difficult genius Kevin Rowland still be smiling? Questions on a postcard to Expresso Bongo Studios, Lichfield Street, Tamworth.
Warning
A slightly less famous band than Dexys are Gaf The Horse In Tears who have decided to split up. The band, who have made quite an impact in their short career, have decided to change their name, line-up and sound. Ted, Stuart and Robin are staying together and now they are seeking new musicians to build a fresh group altogether.
Bass players and keyboard players are especially welcome…
Also changing are Depth Charge who appear to have recruited the ever-loveable Mick Goodby as lead vocalist. A wise move indeed lads, but just a warning – Mick's dog is a killer. In a word, AVOID!
Certainly not to avoid are Breaking Point who have completed their line-up by acquiring a new drummer, Jason Farrow. The ex-Wolfsbane, Childs Play amd Lost Johnny drummer has delighted bassist Daydo, who even had a shave by way of a celebration.
"He seems to fit in really well and we are delighted he has joined us," he said.
Still on joining things, Ian "When does he find time to sleep?" Gibbons has been appointed as the first ever rock representative on the Arts Advisory Council which overseas the Arts Centre. Ian has more devilish tricks to unveil and all will be revealed in the near future.
And finally, a sad farewell this week to Femme Fatale bassist 'Jean-Jacques' Higgs who is leaving the area at the weekend to go to college.
According to the handsome man-in-black bassist, he will still be returning occasionally to keep the Femme Fatale ball rolling.
The real question is how will he ever be able to drag himself away from the beautiful, picturesque and completely unviolent (!) City of Coventry?
If you have any further information about this band please email: info@tamworthbands.com