Dance Stance
Musical Genre/Type: Soul
Formed: 1984
Band Members:
Paul Hanlon - Lead Vocals
Neil Sheasby - Bass Guitar
Nick Thomas - Lead Guitar
Phil Ford - Drums
Jim Stretton - Trumpet
Gigs:
27/02/86
Dance Stance
Wilnecote Youth Club
12/04/86
The Dance Stance
Polesworth Memorial Hall
20/04/86
Dance Stance
Bondgate
Nuneaton
30/05/86
Dance Stance
Sacred Heart Centre
15/06/86
Dance Stance
The Rathole
10/10/86
Dance Stance
Two Gates Working Men's Club
09/02/87
Dance Stance
Loughborough University
13/03/87
Geno Washington
Dance Stance
Keele University
21/02/87
Dance Stance
Catch 23
Lichfield Arts Centre
10/04/87
Dance Stance
Embassy Suite
15/05/87
Dance Stance
Spizz Sexual
Jaz Defector
Latin Quarter
May Ball Aston University
17/06/88
Hazel O'Connor
Dance Stance
Aston University
09/09/88
Gig for Life
Dance Stance
Space Seeds
Nuneaton Co-op Social Club
04/02/90
Dance Stance
Herb Garden
Lincolns
08/04/90
Dance Stance
Rhythm Damage
Night Moves
29/04/90
Dance Stance
Rhythm Damage
The Rathole, Lincolns
10/06/90
Dance Stance
Bash Out The Odd
The Rathole, Lincolns
18/06/90
James Brown Band
Dance Stance
Cambridge
26/08/90
Dance Stance
Slow Club
The Rathole
30/12/90
Dance Stance
Honeyjump
Little Americans
The Rathole
Tamworth Herald Features:
Tamworth Herald 05/10/84
Musicbox – Snips
THE Dance Stance, the lively and enthusiastic young Atherstone band were forced to pack in their prestigious gig at Atherstone Memorial Hall when a riot broke out which ended with glasses being thrown onto the stage. Dance Stance were understandably said to be shattered by the trouble and MUSICBOX would like to add its condemnation of the violence which ruined what the band hoped would be a triumphant night. The Dream Factory have already cancelled a proposed show at the club and the few who caused the trouble should realise they could kill Atherstone as a live centre altogether. N.B. The Dance Stance are on the lookout for a new brass section or saxophonist.
Tamworth Herald 02/11/84
Musicbox – Snips
THE DANCE STANCE have sent out an urgent appeal for a saxophonist or trumpet player to join their tightly-knit youthful outfit. The band who already have quite a following, feel they are being hampered by the lack of a brass section and they urge anyone who may be interested to ring them as soon as possible.
Tamworth Herald – 01/02/85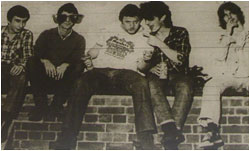 Musicbox – Bands get set to do battle in gig five-nighter
TAMWORTH is to stage its first-ever 'Battle of the Bands' competition next month. The contest, to find Tamworth's top group, is part of the Young People's Arts Festival event which is held in the town every two years.
The contest will stretch over five nights at the Tamworth Arts Centre and 16 bands have been lined up to chase the first prize of a special trophy.
The way the contest is run is simple. There will be four qualifying heats with the winners of each earning themselves a guaranteed place in the final.
In addition, there will be a place for the best runner-up, to make a five-band final on Saturday February 23.
The idea for the contest has been around for a long time, following the repeated success of a similar venture in Burton. When the idea was put before Tamworth's bands, the contest was greeted with universal enthusiasm.
The award follows hot on the heels of Musicbox's own popular top band contest in which Dream factory took first place.
Competing
The contest gets underway on Thursday, February 14, when Dance Stance, One On One, Love On Board and The Original Royal Family will be competing for a final place.
On each of the four nights each band will be given a maximum of 25 minutes to impress the five judges, who will each give points on content, presentation and, in tru 'New Faces' style, star quality.
The acts will be marked out of 10 for content and five for the other two categories, enabling the five judges to award a maximum of 100 points between them.
For the overall winner in each heat, their place in the final is ensured, but for the second-placed bands there will be a nail-biting wait to see which runners-up have the highest points.
As an added incentive, all the five finalists have been guaranteed a place in the August Bank Holiday Festival.
Each of the qualifying heat concerts will cost just 50p admission, and the final, on February 23, will cost 60p. For the bands themselves it will be a unique chance to see who is the local 'top of the pops', but for the Tamworth public, it will mean five very good – and very cheap – concerts.
The full night by night line-up is printed below.
Thursday 14th
Dance Stance, One On One, Love On Board, Original Royal Family
Friday 15th
Child's Play, Wolfsbane, Pulsebeat, Scarab
Saturday 16th
A5, Spirit of Water, Ideal Standard, Sitting Pretty
Friday 22nd
Breaking point, BHX, Caprice, Sacred Oath
Tamworth Herald – 22/02/85
Musicbox – Shock waves on battleground
Smashing time as riot hits stage
TOMORROW night Tamworth Arts Centre will play host to the final of the keenly-fought 'Battle of the Bands' contest.
The final, featuring five groups will be the culmination of four strong heats, the last of which is at the Arts Centre tonight (Friday),
Already the contest has attracted great interest and has been packed full of surprises and controversy.
It all began last Thursday when three very different acts – Dance Stance, One On One and The Original Royal Family took to the stage.
Controversy started to rage however, when one of the five judges was disqualified for walking out half-way through the gig of the last band The Royal Family. The disqualification gave One On One a clear victory, making them the first band into the final – and therefore the Bank Holiday rock festival.
Overflowing
Twenty-four hours later at the Arts Centre a packed-to-overflowing audience saw an amazing four-band contest. Childs Play opened the proceedings with their former guitarist, who had been dragged out of the bar because their normal player had disappeared!
The shock continued when Vicious Malicious – an unholy alliance of Select Elect and The Elusive They took to the stage and proceeded to smash up guitars and tape recorders as well as run riot with a chainsaw. The word was bizarre. All part of the act, of course.
And, if that wasn't enough of a culture shock to the audience, then the new Pulsebeat, who after starting cautiously, had the whole crowd on their feet with some brilliant, individual guitar playing.
By now nothing could be surprising – but last band Scarab almost were. They came on and gave a blinding show bashing out 100mph rock anthems which sent their loyal fans into a state of acute frenzy. They threw in volcano-style fireworks, flashing lights and fake blood to provide a riveting performance. Needless to say they won, so booking their automatic place in tomorrow's final.
The third heat was held last night (Thursday) and one of the following four acts will be in tomorrows final – Ideal Standard, Spirit of Water and Sitting Pretty.
The final heat will be tonight when Breaking Point, BHX, Sacred Oath and Caprice will battle it out.
Each of the acts has a lot going for them and predicting the result is extremely difficult.
BHX have proved their status by being offered several dates all round the country; Sacred Oath are now back fresher and more determined; Caprice get more confident with every gig and Breaking Point are Breaking point.
Surpassed
Don't forget there will also be a place in tomorrow's final for the highest scoring runner-up during the whole contest.
On the first two heats, Childs Play and Pulsebeat both with 59 points held second equal though it is likely that this total will be surpassed tomorrow night.
So an extraordinary night is in prospect. The finalists will be given only 20 minutes to impress the judges that they are Tamworth's top band. The overall winner will be invited to play at the Young People's Arts festival night in March where they will also be presented with their winning trophy.
Saturday's final starts at around 8pm and entry is 60p. it is going to be packed to the rafters so people are advised to arrive early to enjoy this potentially tremendous occasion.
SAM HOLLIDAY
Tamworth Herald – 15/11/85
Musicbox – GOSSIPBOX
DANCE STANCIANS Paul Hanlon and Neal Sheasby get the Gossipbox award for hob-nobbing with the famous this week.
For recently the duo ended up backstage at a Dexys Midnight Runner show and came face to face with the immortal Kevin Rowland and his fellow celtic soul brothers.
The Atherstone would-be superstars chatted happily for half an hour to the Birmingham rather-wouldn't-be superstars but surprisingly Neil and Paul never mentioned one thing – that their group Dance Stance is named after a Classic song.
Talking of names, The Sage Side Psycho who has the most bizarre monicker of them all has taken his infamous fanzine 'Anarchy in Wonderland' into the Arts Centre after a somewhat disappointing sale so far.
In fact the loveable Sage is still left holding a great amount of anarchistic ramblings and so he is hoping people visiting the Arts Centre will now put their hands in their pockets to see what all the fuss is about.
Ambitious
Still on the Sage, he very kindly sent me a tape full of obscure bands featured in his fanzine. Best stuff of all is the tremendous Buzzcockian June Brides whose new LP is really something special. But that's another story…
Also 'another story' is the imminent success of former BHX bassist Rob Rea. Rob has joined much-noted Platinum Hi. They are an ambitious Liverpool band who have decided to go for broke by setting off for London.
It means Rob, always one of the most likeable and glamorous members of the local rock fraternity, will be leaving the area for a good while. See you on 'Top Of The pops' Bobby boy…
And finally, as you may know, Wolfsbane bassist J. F. Bombshell has just changed his name to 'The slut'. The reason for this is partly because he has changed his haircolour to black in the belief that bleach was slowly killing it. As a 'natural' blond I wouldn't know anything about all that, but I look forward to seeing it. 'The Slut's' change of name and hair colour affects the way he thumps those strings on Sunday.
Tamworth Herald 03/01/86
Musicbox – Factory floor the opposition to make a hat-trick…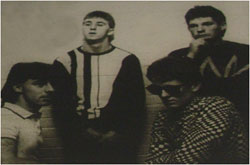 THE Dream Factory have done it again! Yes, for the third year in succession, Tamworth's favourite soul men have pipped all opposition to once again claim the top local band slot in the Musicbox poll.
They did so despite a fantastic turnout of votes for new boys Terroa, who just lost out by virtue of the masses of votes the Factory received not only for first place (which was worth three points) but also for second (two points) and third (one). Wolfsbane, Breaking Point and Royal Family fans by the score put the Factory as their second choice and as the poll entered its last frantic days, it was clear the band were going to do it again.
Landslide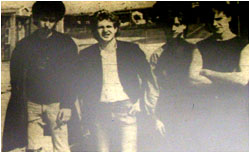 But that was not the only joy for the band. Because they have had such a big national profile all year I allowed them to be included in the Top National Band sector – and they won that with a landslide.
And the same went for the band's tremendous 'Wine and Roses' single which floored all the opposition.
Just to complete the (wine and ) rosy picture, the group had four songs in the top twenty local song section, and also had Mark Mortimer and Tim Goode voted into the top five local personality section.
Dream factory take a bow – you have won it again and you have deserved to do so.
It wasn't only The Dream Factory's poll though. Terroa as well as scooping the runners-up slot in the top local band, also won the best local song award with the excellent 'Thunder and Lightening'. If the views of the hundreds of people who voted (we passed the 500 vote mark with ease) are anything to go by, Terroa are the group you think are going to make it next year.
Still in the local band section, The Royal Family finished a strong third well ahead of the bands beneath them. Like The Factory they seem to have universal support from people of all musical tastes and there is no doubt their popularity is now at an all-time peak.
It should bring a smile of Steve Martin-style proportions from Dave Smith and Eddie Blunt!
Places four and five went to two bands from the Atherstone area Dance Stance and The Me, a band who seem pretty big in North Warwickshire and will be investigated further in the near future.
It was nice to see Dance Stance up there – and also the likeable Paul Hanlon in the personality section – and with Nick Reed now in their line-up, I have a sneak feeling '86 will be very good indeed for the Atherstone band.
Elsewhere, Freight Train showed they have made considerable impact and Wolfsbane proved that their appeal goes far beyond strict heavy metal types judging from the people who voted for Jeff, Bayley, Jase and Stakk.
Breaking Point also had their best ever poll result and it was very nice to see the now defunct Love On Board still hold a special place in a lot of people's hearts.
Delighted
Completing the top ten are Femme Fatale who will be delighted with their debut show in the poll, and then the next five or six bands all came very close indeed to one another. The Sway, Magnets and Sitting Pretty all started well but faded somewhat but overall it was nice to see that virtually every band in the whole district had some supporters.
Just missing the top twenty, for example, were Depth Charge, Banned Wagon, Scarab, Boozy Brothers and Pulsebeat.
The local songs section was pretty reflective of the local band poll but it was pleasing to see people voting for songs that were not by their favourite band, which showed there is a lot of unbiased 'general' listeners among local rock fans.
Perhaps the only surprise was that Breaking Point only managed a top twenty placing (and that was at 17) but you can't have everything.
In conclusion, everyone who votes, many thanks and to all the bands who have made the year so exciting, a double-dose of thanks. Let's now make '86 even better.
Top local band
1. The Dream Factory
2. Terroa
3. The Royal Family
4. Dance Stance
5. The Me
6. Freight Train
7. Wolfsbane
8. Breaking Point
9. Love on Board
10. Femme Fatale
11. The Sway
12. Spirit of Water
13. The Parade
14. Sitting Pretty
15. Trout Meets The Cavalry
16. Dickens
17. Judas Cradle
18. The Magnets
19. Powerplay
And no here's how I'd have voted
Just to complete the overall local music award section, here are the people, the musicians and bands that I think deserve credit in '85:
Top Band – Breaking Point
Top Local Song – 'Come The Day' – Breaking Point
Guitarist – Jase The Ace/Tim Latham/Nick Reed
Drummer – Stuart Blane/Steve Quilton
Bass – Daydo/Mark Mortimer
Keyboards – Rikk Quay
Vocalists – Dave Ingham/Dave Smith/Debbie Whitty
Best Live Band – Wolfsbane
Most Improved Band – Dance Stance
Most Likely to Make it in '86 – Dream Factory
Best Gig – Breaking Point, The Sway, The Magnets Tamworth Arts Centre
Best Demo – Wolfsbane
Best DJ – Buttercup
Best Songwriters – Kevin Briggs/Bryan Lacey/Jase The Ace/John Reeman
Best Lyricist – Bryan Lacey
Haircut – Mick Rutherford
Best Dressed Person – Jeff Hateley
Saying of the Year – "I can't get me breath' – Buttercup
Personalities of local music scene – Ian Gibbons, Tim Goode, Rikk Quay, Eddie Madden, Blaze Bayley, Dave Ingham, Mike Turner, Paul Speare, Phil Smith, John Reeman, John James, Mike Fleming, Sage Side Psycho, Mark Mortimer, Jeff Hateley, Kevin Briggs, Star Trek, Trevor Muglestone, Dave Smith, Mick Goodby, Buttercup and everyone else I've missed.
SAM HOLLIDAY
Tamworth Herald – 17/01/86
Musicbox – Bands tune up for five nights
TAMWORTH'S second annual Battle of the Bands contest looks set to be a great success with 16 groups – some completely new to the scene – taking part. The event has been stretched over five nights, with four heats and a final which will possibly be judged by a celebrity.
And as well as winning the accolade of Tamworth's best band, and a Young People's Arts Festival trophy, the successful band will also win £50 worth of recording time at the Expresso Bongo studios.
The whole event will get underway two weeks on Sunday at Tamworth Arts Centre.
Sunday February 2 – Caprice and Femme Fatale take on the unknown quantities of Coleshill's Burnin' Sky and new Anice Byfield group Precious Toys.
Sunday February 9 – The Australians, One On One, Dance Stance and another new one, Drowning Pool.
Sunday, February 16 – Depth Charge, Wolfsbane, The Me and The Parade.
Sunday, February 23 – Terroa, Spirit Lake, Judas Cradle and Breaking Point.
Friday February 28 – The Final.
Tamworth Herald – 07/02/86
Musicbox – Gossipbox - Unlikely pair hit it off
THINK of the least likely band in the world for pleasant popsters Dance Stance to be a support to. Give in? Well how about eccentric group, the Jesus and Mary Chain.
According to straight-faced Stance singer Paul Hanlon (who has acquired an irritating habit of describing everything that is good as 'mint') the two bands almost teamed up on the Mary Chain's latest tour.
It all sounds a bit unlikely to me, but then again. If Nana Mouskouri can get into the charts, anything is possible…
Now on last week's deliberate error. Talking about the musical Mortimers. I said that Mark's sister was Michelle, which of course is wrong. She is Nicola and I must apologise to her.
I was of course confusing here with Tim Goode's sister.
On the subject of the Factory, they have now been joined by former Sitting Pretty keyboard player Greg Stevenson who has fitted in very well indeed.
With Sitting Pretty still in mind, it was nice to see Mike Turner back on the local band scene last week when he attended the Battle of the Bands show.
Let us also hope that this sudden outbreak of studio activity continues to spread. It seems that Phil and Paul at Expresso Bongo have been besieged of late from demo-hungry bands and I have been told that both Terroa and Breaking Point have recorded tremendous tapes there.
Finally, as you may have heard some council officials have slammed Tamworth Rocks for Ethiopia supported for apparently leaving a trail of litter after their Christmas show.
I find this claim both surprising and rather insulting. Many, many people helped to clear up the Assembly Rooms that night.
SAM HOLLIDAY
Tamworth Herald – 21/02/86
Musicbox – SNIPS
DANCE STANCE complete with Neil Sheasby's famous new bass amp, will be back in Tamworth on Thursday to play a special concert at Wilnecote Youth Club. The concert is due to start at around 8-9pm.
Tamworth Herald – 07/03/86
Musicbox – SNIPS
Dance Stance are looking for a new trumpet player to join their widely-praised outfit. The suitable applicant will join a band with a host of important gigs on the horizon and more details are available from Nick Reed or Paul Hanlon.
Tamworth Herald – 21/03/86
Musicbox – They're dedicated to the Dance…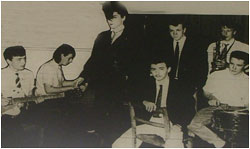 THE DANCE STANCE have lined up a whole host of prestigious concerts and events which they hope will make them the most successful local band in 1986.
The group are currently negotiating for a series of university gigs and with a debut single also on the horizon, the feeling in the Dance Stance camp is that they are now all set to go for glory.
"We have matured a lot over the last few months and we really believe in ourselves now," said singer Paul Hanlon. "The sound we are producing now is better than ever and we want as many people as possible to hear it."
The Dance Stance have certainly come a very long way since their embryonic days as The Crowd. Then they were very much seen as a mod band and although they soon tried to distance themselves from this, it was only with a new line-up and a new name that they finally managed to shake off the unwelcomed mod tag.
The only elements remaining from the original band are founder members Neil Sheasby and Paul Hanlon and the tremendously talented young drummer Phil Ford whose hands move quicker than Paul Daniels.
This trio had been joined by Dave Delaney (guitar), Dick Delaney (keyboards), Pablo De Angelas (saxophone), Nick reed (guitar) and most recently Mark Allison on trumpet. It certainly makes them the largest group in the area but doesn't this cause problems?
"There are obviously some places we can't play," admitted Neil. "We couldn't play the "Battle of the Bands" because Pablo couldn't make it, but it would have been hard for us to fit on the stage anyway."
The group's progress is being carefully monitored by enthusiastic manager Ray Sheasby. He has made the wise decision that the band should be allowed to concentrate on just the music and let him get on with all the concert-finding and legwork. And it is certainly something the band appreciate.
"It is nice just to go to a gig, plug in and play," admitted Nick, "When I was with love On Board we used to have to do it all ourselves which isn't the best of ideas."
Among Ray's plans are a special promotional concert in Mile Oak in September open only to Press and A and R men who have shown interest in the group. Such ideas are obviously based on a belief in the band that is almost infectious.
You only have to speak to them for a short time to realise that they really believe they are on the road to success.
"Nick Reed was offered the chance to join The Dream Factory and he turned it down which shows to me how much Dance Stance believe in themselves," said Ray Sheasby. They are determined to go all the way."
The next time you can catch the band – and make your own mind up on their potential – is on April 12 when they visit Polesworth WMC. They have worked very hard indeed and now they feel it is time the public saw the fruits of their considerable labours. I for one am very keen to see what they are going to serve up because any band that are named after a Dexy's song simply can't fail in my book…
Tamworth Herald – 21/03/86
Musicbox – Succeeding with talent and mouth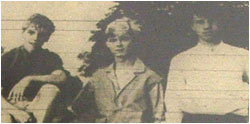 I HAVE recently been filing all my old MUSICBOX columns from the past three years or so and as one of those academic exercises, I decided to see just who has been the most featured band in the column over that time.
People often accuse me of bias in various directions but I think the 'top ten' of mentions shows that I have managed to cover the whole spectrum of local music from the 'lightest' to the 'heaviest'.
This was not a scientific exercise, I merely flicked through the columns and noted the names of bands whenever I saw them. So a 'mention' could be just one line or a full feature. Anyway here's the top ten from 1983.
1. The Dream Factory (60 mentions), 2. Sitting Pretty (57), 3. Breaking Point (53), 4. Wolfsbane (52), 5. BHX (51), 6. Love On Board (49), 7. One On One (37), 8. The Magnets (32), 9. Sacred Oath (25) and The Cradle (25), 10. The Royal Family (20).
Outside of this batch as a matter of interest were Terroa, Dance Stance, A5 and Caprice. At the other end of the scale there were local bands whose name were featured only once such as Alibi, The Fashionable Gents, Bambu Curtain and The Time Bandits.
Tamworth Herald – 04/04/86
Musicbox – SNIPS
Dance Stance have added a new trumpeter to their ranks to replace the short-stay man Mark Allison. The new man is Guy Greenway.
Tamworth Herald – 11/04/86
Musicbox – A buzz of gigs takes off and the choice is yours
THE LOCAL rock scene is set for its busiest weekend of the year so far with a whole host of bands playing impressive shows over the next three days.
The buzz of local activity is proof that after a slow start to the year, local bands have at last found their feet and are breathing fresh, optimistic air once again.
It means rock punters in the region have the chance to see bands as varied as the Dance Stance, Burnin' Sky and Depth Charge in a variety of gigs across the region.
Depth Charge and The First open the proceedings with an Arts Centre show tonight (Friday) and then on Saturday you can catch The Dance Stance at Polesworth Memorial Hall.
And to round off the weekend on Sunday night 'The Rathole' stages its second major show with Depth Charge, Spirit Lake and Burnin' Sky.
The healthy amount of concerts shows that the highly-successful 'Battle of the bands' event has put musicians back in the 'mood' for action as they begin the long build-up to the August Bank Holiday Festival.
One band who should figure prominently in the festival, Depth Charge, set the rocking weekend off to a powerful start when they team up with The First tonight. Depth Charge who have just released their first demo (To be reviewed shortly) play progressive, melodic rock that has won them many admirers at recent shows.
Unlucky
They were desperately unlucky not to win their 'Battle of the bands' heat and if they are half as good tonight as they were then, it should be a fine show.
Headlining the gig are The First – as you must have gathered by the billboard-size posters around the town – they are a perfect foil for Depth Charge, playing music that owes as much to modern 'epic' rock as the traditional rock base which is their roots. U2 and INXS comparisons abound, but don't go along expecting to hear 'I Will Follow'. The First are very definitely their own band.
Saturday night sees one of the most eagerly-awaited shows of the year so far when the legion of Dance Stance members bring a fresh, new set to their legion of fans at Polesworth Memorial Hall.
The band printed 150 tickets in advance and were pleasantly surprised to see them all snapped up, so with people playing on the door as well, there should be a packed audience to watch an intriguing show.
And so to Sunday, The Rathole opens its doors for the second week running hoping for another night to match last week's dazzling opening. Depth Charge will make their second appearance of the weekend alongside Burnin' Sky and progressive outfit Spirit Lake.
Sleaze
Burnin's Sky will bring a mixture of sleaze and blues rock to Tamworth's favourite 'hole' and for people who like an almost literal trip down memory lane, there should be much to appreciate in Spirit Lake's sound.
We must hope that they forget their lethal smoke bombs this time, otherwise people will swarm for the exits like rats leaving a smoking hole.
So a great weekend all round. Ticket prices obviously vary but if you take along about £1 for admission and arrive at about 8pm you should be safe at all the events.
Tamworth Herald – 18/04/86
Musicbox – SNIPS
THE DANCE STANCE whose show at the Top Club last week (and not the Memorial Hall as the idiot from Musicbox said) was voted a 'triumph' are in action at the Bondgate, Nuneaton on Sunday night. It all starts at 8pm.
Tamworth Herald – 30/05/86
Musicbox - JUST TAKE YOUR PICK!

Caption: The Factory's brass and keyboard section (Left to right) Greg Stevenson, Neil Gledhill, Paul Scragg, Paul Stansfield and Nigel Atherley.
IT'S GOING to be a crazy night for Tamworth's rock scene tonight (Friday) with no less than three excellent concerts on offer.
At the Sacred Heart Centre, the increasingly popular Dance Stance will hit the boards, at Tamworth Arts Centre there is another Rock Against The Dole show featuring The Green Swings and Depth Charge and finally at Polesworth Top Club there is the eagerly-awaited return of The Dream Factory.
Most local rock fans are going to be spoilt for choice so here is a description of what exactly is going on so you can make your decision on where to head for.
Probably the most talked about concert of the three is The Dream Factory's return with their new line-up. The band haven't played Tamworth since Lloyd Barnett and Steve Quilton quit and it will be the first time local punters will be able to assess the talent of new guitarist Dave Stevenson and drummer Batman. The success of a few warm up gigs for The Factory have left them in no doubt that tonight will be the triumph we are all hoping for.
"The gigs at Salisbury and Cannock were great and we are all feeling very confident indeed now," said bassist Mark Mortimer.
A relatively new set is also anticipated at the Top Club so the band say that the new sound they are producing is better than ever, and no one should leave disappointed.
There is a chance a support band may join the bill, but regardless of this the band will be joined by a full supporting disco. It costs just £1.50.
Meanwhile up the road at Glascote. The Factory's keenest rivals The Dance Stance will bring the legion of members (an increasing the legion of supporters) to the Sacred Heart Centre. A great deal of glowing praise has been uttered about the new look.
Dance Stance, lately their sound is now a tight, funky one – drawing on influences from the 60s, 70s and 80s. At everyone of their concerts recently they have won over new converts and their confidence is almost at fever pitch. They are due to hit the stage at around 9.30 but if attendance at recent concerts are anything to go by the message is get there early!
Finally, tonight, completing a quite incredible night of top quality concerts, is the Tamworth Labour Party sponsored 'Rock Against The Dole' gig. The concert is a good humoured evening of entertainment to focus young people's minds on the most serious problems affecting the town at the moment. Spearheading the gig are powerful rock outfit Depth Charge – (whose excellent demo I still haven't had time to review as they keep on telling me!) and the Green Swings; probably one of Tamworth's newest bands. The two bands will be supporting tonight's 75p Arts Centre show, and will probably also be in the running for a much larger Assembly Rooms concert to be organised by the labour party which may see Billy Bragg in town.
So a trio of concerts that offer a simply excellent choice for local rock fans. I can understand the dilemma facing people over 'choice' as I would personally like to go to all three gigs. But the simple message is make sure you go to at least one!
Tamworth Herald – 13/06/86
Musicbox – Rocking in with a whole new look


THE DANCE STANCE make their eagerly-awaited 'Rathole' debut on Sunday night in what promises to be a cracking concert. The band have been picking up a host of spectators of various venues throughout Tamworth and Atherstone over the past few months but this will be their most central Tamworth concert since the Rock Festival.
As well as seeing a new confidence and self-belief spectators will also see a drastically changed line-up since Dance Stance turned in their impressive Castle Grounds show.
Polish guitarist Nick Reed (formerly of Love On Board) is just one of the new men and he is as confident as anyone that the band are on the verge of something very big indeed.
"Things are going very well and we are looking forward to 'The Rathole' show," said Nick.
Dance Stance's music is likely to appeal to a wide cross-section of people as it is influenced by 60s and 70s new wave and pop as well as dollops of soul and funk.
It is a sound the band believe much faith by attending in utterly and you will be able to assess why they have so Sunday's show. It starts at 8.00pm and the band will be supported by an alternative disco.
Tamworth Herald – 20/06/86
Musicbox – I'm backing these boys to the top
Dance Stance – The Rathole
LET'S GET the moans out of the way first. Yes the band did leave it too late to arrive on stage considering there was no support act, yes £1.50 was a bit steep for a one band local show, yes it was a mistake to bring a pre-recorded tape when people want to hear their own records and yes the PA didn't do the band too much justice.
Right, that should satisfy the people who moaned about this concert and didn't smile too much, but now it is time to be positive. Very positive. I have been following the local music scene for about seven years now and I can honestly say that for me only One On One come close to this band for all-round professionalism, style and class.
Dance Stance don't just want to be stars, they act like they already are and while this may depress some cynics, to me it shows an admirable self-belief which is going to carry them a very long way indeed.
In fact (and this is where I put my head firmly on the chopping block again) Dance Stance are the band I am now predicting as 'our' greatest hope for national success.
After starting rather poorly (bands should never start with their weakest song) the group grew in stature, presence and sheer might until they reached the unspeakable height of a new number 'Other Side of Paradise' which was simply brilliant.
The powerful driving guitars (Nick is getting better and better) Paul's passionate vocal, and the dynamic brass section combined to make a song that was nerve-tinglingy exciting in the classic Dexys tradition.
That admirable Dexys thread runs through a lot of the band's sound as does influence as divers as Lloyd Cole, Style Council, Sade and (as Rikk Quay rightly pointed out) Soul Exit. Maybe this wasn't the sort of gig the average Ratholian would be particularly impressed with, but to me it was a revelation. At the start of the show I kept thinking about the World Cup game I was going to miss, but by the end I didn't care. This was one of the finest gigs, I have ever seen in Tamworth by potentially the finest band.
I will now risk life and limb by concluding that this band are definitely going to make it. They are sheer class.
Tamworth Herald – 22/08/86
Musicbox – Here's the fabulous festival line-up
TAMWORTH'S fourth annual Bank holiday rock festival blazes into action this weekend and promises to be the biggest and best the Town has ever seen.
Eighteen bands will take to the Castle Grounds stage on Sunday and Monday offering a varied and exciting package of local talent.
And, to give the festival the best possible start, Tamworth Arts Centre will tonight (Friday) and tomorrow stage two festival party nights featuring among others Wolfsbane, Breaking Point and a one-off show from Love On Board.
All in all it looks like being a festival to remember and here in full details is what is happening where and when.
Tonight
The festival starts with an Arts Centre triple bill featuring three bands from the heavier side of life. New boys Shellshock will join up with not-so-new boys Kara and positively-old boys Wolfsbane for a sparkling three band show. As with last years, the Arts Centre pre-festival nights are designed to be party-style events and everyone petting into the spirit (and spirits) of the weekend. It starts at 8pm costs 50p and should be excellent.
Saturday
ANOTHER enticing triple bill will especially interest people of an alternative (sic) persuasion. Breaking Point, who hope to have their debut single out this week, will headline the show and in support will be two unusual acts. First is 13th Reunion featuring the immortal Gerald on bass and second is Love On Board making a special one-off comeback gig to join in the party atmosphere. It adds up to a superb bill which marks the debut show for 13th Reunion, and once again is a meagre – nay, measly! – 50p
Sunday
AND SO to the main event. Two days of exciting, varied rock music in the Castle Grounds. Once again the stage will be set up in front of the tennis courts at the far end of the Castle Grounds, and as with the past couple of years, it will cost you nothing to watch. Here is a quick one-line description of all the bands on show and their (approximate) appearance times…
Heavy
Freefall (12.20) A Coventry heavy band (that's all I know!)
Attica (1.05) Powerful bass-driven combo who crimp their hair and slice their guitars.
Shellshock (1.40) Young lusty metal sound, who smile a lot.
Soil Brothers (2.15) Skiffle-style pop played with coconuts, cardboard and oodles of enthusiasm.
One On One (2.50) Nose-perfect rock music played by soon-to-be superstars.
Noise
Kara (3.25) loud Americanised noises played by local Anglicised noise-makers.
XPD (4.00) Stylish alternative pop music, which cab be summed up as 'ego-shock' rock.
Catch 23 (4.35) Pure-punk-period pop music with panache, power and passion.
The Magnets (5.10) Modern synthesised pop music played by modern synthesised pop people.
Monday
ONCE MORE the Castle Grounds plays host to nine more varied outfits who line up like this.
Burnin' Sky (12.30) Coleshill-based r 'n' b band who revel in the smoky, sleazy way of life.
Beyond Elysium (1.05) Dark sombre sounds with a modern appeal and feel.
Funky
Cuddly Spiders (1.40) Laid-back harmless flares rock.
Breaking Point (2.15) Passion-packed soaring, roaring rock music.
Dance Stance (2.50) Tight, funky nouveau-pop with a burning soul.
Wolfsbane (3.25) Gentle, middle of the road folk band made up of four charmingly polite young boys. A mud afternoon break from all this rock nonsense.
Depth Charge (4.00) Cuddly rock and roll pirates bursting with good times.
Orange (4.35) Deceptively light pop music with a telling edge. Bright, breezy, orangey.
The Royal Family (5.10) regal r 'n' b with guaranteed dance-ability and toe-tapping tendencies.
Tamworth Herald – 10/10/86
Musicbox – DANCE STANCE
Tonight (Friday) will be playing a special charity concert in aid of the Baby Kelly appeal.
The concert at Two Gates Working Men's Club is part of a night of entertainment including other various acts aimed at raising much-needed fund for an important charity. The big-hearted Dance Stance put the finishing touches to their debut single at the weekend and if THEY are anything to go by it is sensational.
Tamworth Herald – 24/10/86
Musicbox – You're right – they ARE brilliant
I PREVIOUSLY missed the Tamworth Rock Festival so I went to Two Gets WMC recently particularly to see Dance Stance play.
All 'Music box' (which I read regularly) has been saying about this band is true. They are brilliant.
Nearly 300 people who watched them impress must now be waiting eagerly as I am for their debit single record which I believe will be released about the end of the year.
J. Brook
Lichfield Road
Sutton Coldfield
Tamworth Herald – 28/11/86
Musicbox – Paradise regained – as single hits decks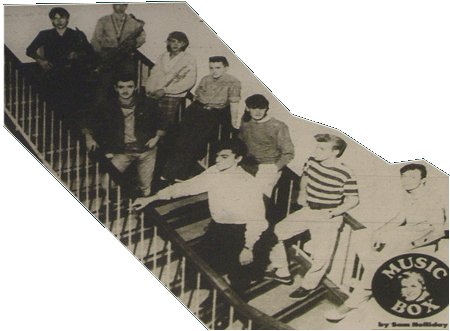 THE DEBUT SINGLE from Dance Stance has just (finally) been released. The single officially came out on Saturday and already a staggering 200 copies have been snapped up by the band's large Nuneaton following.
The single 'Other Side of Paradise' is backed by a new arrangement of 'Sweetest Pain' which has been restructured with the record's producer Paul Speare.
Although at time of going to press I hadn't heard the record myself (shame!) the band are ecstatic about it and indications are that it is going to set them right on the road to glory.
Already tapes of the single have been set to various venues and we can reveal that the band have been set up to play a host of top university gigs next year. Aston, Keele, Warwick and Nottingham Universities have already been pencilled in for early 1987.
All the venues agreed to put on the band after hearing the sheer quality of the two songs on the single. The record comes out on the band's own 'What Records' label and comes in a very tasteful sleeve designed by guitarist David Delaney.
Even before you put the record on the deck, the whole operation smacks of something the band have long portrayed – sheer professionalism.
!There is no point in doing this by halves," said the band's tireless manager Ray Sheasby. "We wanted the best and we think we have got it."
Ray and every member of the band are also quick to point out the massive impact that Paul Speare has had on Dance Stance. Like me, Paul has often praised Dance Stance very loudly and his sheer enthusiasm for the group has helped him put in a very positive contribution on every aspect of the single.
The band have repaid that support by declaring that whoever they are contracted to in the future, Paul Speare will remain as their producer. Praise indeed.
I will be reviewing the single soon. If you can't wait, you can get it off any band member or 'What Records', Dugdale Street, Nuneaton.
As is the sheer delight of having a Dance Stance single isn't enough to keep me smiling, next week, sees the release of the first Breaking Point single. To celebrate the fact, Kevin, Daydo and Jason will be playing a special charity launch party at the Rathole with the wonderful Attica in support. It will only cost 60p (all proceeds to the Blind) and it should be a brilliant night. More info next week.
Tamworth Herald – 05/12/86
Musicbox – Single of the Week
Dance Stance – The Other Side of Paradise (What Records)
LADIES and gentlemen, I give you the best record ever to come out of the local scene. I knew in advance that this was going to be special. Paul Hanlon's smile is a big giveaway but I just didn't realise how special it was.
This is a tremendous, exciting single which has a first-class sound, first-class melody and fist-class production. Brilliantly played and expertly sung this is a triumph which should dispel any doubting cynic's belief that local bands just cannot compete with the outside world. It deserves to make Dance Stance superstars and no amount of praise can be seen as hyperbole.
It is one of my Singles of the Year and has the word 'hit' inscribed indelibly all over it's tasty sleeve. If you like Dexy's, Haircut 100 or just skilful, commercial pop music you should love it.
If you don't believe me, buy a copy and see for yourself.
You can buy the single from inner Sleeve (Tamworth) What records (Nuneaton) or any band member.
Tamworth Herald – 02/01/87
Musicbox - Dance Stance take a bow – You're top of the poll


ALL hail the Dance Stance! For the Atherstone-based soul kings have deservedly won the annual MUSICBOX poll, top band award for the first ever time.
The group held the top spot from the first day of the poll until the last, and despite a strong challenge from XPD in the latter days, the good money was always on Paul and the lads to snatch the title.
The Dance Stance won the top band award in what has been a record-breaking MUSICBOX poll. After throwing out several dubious entries we were still left with well over 600 votes – a proud record and one which proves that the local scene is as health as ever.
As well as winning the top band award, Dance Stance also won the top concert (two of their other shows made the top twenty), were just pipped for the top local song award, and had four members in the local personality section. In addition their "Other Side of Paradise" 45 finished as 22nd best single, making it a year to remember for this tremendous band.
They won it and deserved to win it, and judging by the massive amount of votes they polled, an awful lot of people agree with me that next year will be Dance Stance's year. Their 1986 has been brilliant – and their '87 could be better still.
Coming in a strong second in the top local band award were XPD who obviously caught a lot of people's perverse imaginations with their extraordinary approach to music.
Rikk, I am delighted to say, also ended up as second personality of the year – a fine tribute for this Peter Pan popstar. He may not be 14 any more but his youthful enthusiasm and genuine belief in Tamworth's music scene is an inspiration to us all. Well done Rikk, and I reckon you know ought to buy me a pint with your pension money.
Best ever
Elsewhere in the top local band section, Kara showed they have really picked up a lot of supporters. Catch 23 made another strong representation and perhaps most pleasingly One On One came in with their best ever poll result – a strong fifth. They had have a marvellous 12 months including of course winning the Battle of the Bands and with four songs in the top local song section it shows that there is a lot of genuine respect for this excellent quintet throughout the whole local music scene.
There is also plenty of respect for Wolfsbane (what's "well done chaps" in Saudi Arabian?) who continue to hold a big place in everyone's hearts, and new boys Soil Brothers, Attica and Thirteenth Reunion, who also polled well. One pleasant surprise was now defunct Cradle coming in at 15th and polling ten times as many points as 'Cradle 2' The Calling. The message is simple Paul, Niz, Murray et al – reunite!
The rest of the local band section is quite straightforward, but just to let you know, there were three points for the band you chose first on your poll form, two for second and one for third.
Finally in this section, just to say that in all 32 acts were voted for, so to the following (in no special order) someone DOES love you – Ruffian On The Stairs, Beyond Elysium, The Calling, Orryot, Mutant Zombies, Cuddly Spiders, Love On Board, Burnin' Sky, Kevin McGough, The Great Express, Spartan Cruise and the very wonderful Classified Ads.
TOP LOCAL SONG: Won with style by XPD whose Sigue Sigue Mary Chain 'Bombs Away' exploded to the lead early on. As those of us who recently sung on it for TAMAID know, it is a lively, exciting track, and for winning this section the XPDians will be able to put a special gold disc up in the Tavern.
Elsewhere there were strong votes for several new faces and one or two older ones. It was nice to see 'Ode to Nicki' by Breaking Point gaining it's (belated) recognition and also good to see the likes of 'Get Up', 'The View', 'In My Car' and 'Love Explosion' doing rather well. And no, I haven't heard 'Exploration Cul De Sac' by Emma Gibbs either, so don't ask me about that one!
TOP LOCAL CONCERT: It was a good indication of how many good local gigs there have been this year, in that around 50 different shows were voted for in the poll. Dance Stance cleaned up with XPD, Strap on Jack and Wolfsbane all proving popular, but I was particularly leased to see so many votes for the Tamworth Rock festival and the Battle of the Bands concerts in general. Those two events really were the outstanding ones of the year and deserved their top ten billing.
It's 'Gibbo'
TOP MUSIC PERSONALITY: Well it had to be Gibbo didn't it? The man has done so much this year that if anyone else won I would have called for a re-election! Well done Ian, you've done brilliant work all year and I hope this vote of confidence will give you the boost to make '87 even better.
Elsewhere it was nice to see recognition for Ray Sheasby, Paul Speare, Denis Byfield and Buttercup, four vital 'backroom boys' who stoke the engine of the local rock scene. Without such people we wouldn't be in the healthy state we are now in. Oh, by the way the TWO sets of people who tried to hype their dogs were 'rumbled' and I stopped all votes for Terry Torso – who happens to be a mannequin with XPD. I mean, there are enough dummies around here anyway!
TOP ALBUM: Well what a reactionary bunch you are! Genesis, Madonna, Peter Gabriel and Paul Simon? Is this some kind of joke? Still, never mind. Three of the top four albums are excellent, and it was nice to see that Sigue Sigue Sputnik (who I adore) are also well supported, and that New Model Army continue to be a popular act around here. Incidentally, we have all sorts of rubbish voted for here (not only Genesis!) which shows just what a bad year it has been for long players. So what about the singles then?
TOP SINGLE: Again there were some right royal turkeys voted for here, but how fitting that '"World Shut Your Mouth' should take the top slot. Julian and Donald take a bow, your home town loves you! Elsewhere, The Smiths continue to tickle your collective fancies while Bon Jovi show that among the metallic ones out there (hello Murray Pickett) they are the face of the glam year. Pleasingly, 'Other Side of Paradise' (Dance Stance), 'Ode to Nicholas Romanov' (Breaking Pint), 'Clutching at Straws' (Wolfsbane) and 'Cold Turkey' (Dream Factory) all picked up votes in this section. Next Year let's hope one of our local bands can win this section again.
TOP NATIONAL BAND: As an indication of the variety of bands followed by MUSICBOX readers, more than 100 national bands were picked, ranging from the marvellous to the horrendous (Marillion managed TWO whole votes, amazingly). Once again your choices for the top twenty are hardly packed with radical revolutionary new bands.
Dire Straits – emphasis on the dire – Level 42 and Paul Simon, for crying out loud!) but there were enough decent bands lower down in the poll to make me smile – Psychedlic Furs, Ramones, The Waterboys etc.
So what conclusions so we draw from this year's poll? Well it showed conclusively that this area is a boom zone for music, and the enthusiasm local bands seem to be whipping up is very exciting. All we can do is await 1987 with renewed optimism and I would like to take this opportunity not only to thank all the local bands, managers and followers for making this a wonderful year for us all. And to all those who voted for The Stranglers for whatever dubious reason – I have one last message – I love you.
And now for my personal choice
HERE are my annual awards to the people who I think deserve a final pat on the back for 1986. These are strictly my choice and have not been voted for as the rest of the poll has…
TOP BAND – Dance Stance
TOP SONG – 'Feel your Touch' – The Dream Factory
TOP GUITARISTS – Tim Latham, Nick Reed, Paul Anthony, Jase The Ace, Trevor Mugglestone, Les Jones.
TOP DRUMMERS – Phil Ford, Stu Blaine, Gavin Skinner, Rob Chivers, Jason Notman, Richard Deane.
TOP BASSISTS – Pete Wright, Daydo, Glen Lewis, Mark Mortimer
TOP KEYBOARD PLAYERS – Joss Cope, Rikk Quay, Nick Smith
TOP SINGERS – Dave Ingham (again!), Paul Hanlon, Bayley Cooke, Mick Goodby, Steve Webster, Dave Smith
OTHER INSTRUMENTALISTS – Andy Codling, Paul Speare, Adrian Goodman
BEST LIVE BANDS – Wolfsbane, The Soil Brothers
MOST IMPROVED BANDS – Catch 23, Kara
BEST GIG – Tamworth Rock Festival (all of it!)
BEST DEMO – Terroa
BEST SINGLE – 'Other Side of Paradise' (Dance Stance)
BEST SONGWRITERS – Kevin Briggs, One On One
BEST LYRIC WRITER – KEVIN BRIGGS
BEST HAIRCUT – Mike Fleming
WORST TROUSERS – Mike Fleming
BEST DRESSED PERSON – Jeff Hateley
BEST DJ – Buttercup
BEST ESTATE AGENT – Eddie Madden
WORST BARMAN – Rikk Quay
BEST EXAM RESULTS – Steve Webster
BEST EVENT – The Rathole selling Thunderbird wine
BEST CUSTARD PIR THROWERS – One On One
BEST OVERALL MUSICIAN – Duane (Thirteenth Reunion)
PERSONALITIES of '86: Ian gibbons, Rikk Quay, Chippy, Mark Mortimer, Steve MacNamee, Eddie Madden, Paul Hanlon, Buttercup, Rob Cross, Blaze Bayley, Paul Speare, Richard Cuttler, John Reeman, Denis Byfield, Ray Sheasby, Jase The Ace, Dave Ingham, Murray Pickett, JF Bombshell, Dave Smith, Clive Bartram, Kevin McGough, Edwin Starr.
SAM HOLLIDAY
Tamworth Herald – 06/02/87
Musicbox – Dance Stance big night on campus
THE MUSICBOX local band of the year Dance Stance will attempt on Monday to broaden their sphere of influence when they play their first prestigious university concert. The band have been lined-up for several top college shows throughout the spring and summer and it all begins on Monday at Loughborough University.
Dance Stance will headline the show with support from Leicester-based band Ella. Among the band's other future ventures is a concert on February 21 at Lichfield Arts Centre. There they will be joined by fellow Atherstonians Catch 23 in an intriguing-looking double-header. Monday night's Loughborough show promises to be a big night for our chaps so if you want to help them through the 'sweetest pain' get along and cheer them on!
Tamworth Herald – 13/02/87
Musicbox – SNIPS
Another piece of good news from Atherstone is that the Musicbox band of the year Dance Stance have secured a prestigious support slot with soul legend Geno Washington. Dance Stance will team up with the great man on Friday March 13 at Keele University. We wish the lads the best of luck on the night and music fans will probably find the line-up of Geno and Dance Stance quite amusing. After all they are both titles of Dexys Midnight Runners songs!
Tamworth Herald – 13/03/87
Musicbox – Raring to meet a 60s legend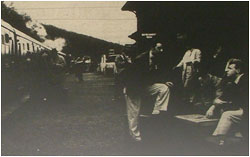 CONFIDENT Dance Stance will tonight (Friday) play their biggest concert to date – as support act to the legendary soul star Geno Washington.
The Musicbox band of the year will travel to Keele University for this prestigious gig and they are bursting with enthusiasm for the impressive show.
"We are definitely looking forward to it and as Geno is in the same sort of ballpark as we are musically, it should be an interesting night," enthused rubber-legged guitarist Nick Reed.
The fact that Dance Stance are even on the same bill as Geno shows the amazing strides they are now making. Under the wise and committed management Ray Sheasby the band have started to really believe in themselves and follow the edict that the sky really is the limit.
On Saturday they played in front of an estimated 1,000 people at Warwick University and tonight they can expect another rhuge audience. It seems a far cry from their local concerts and Nick admits that after a while even the nerves start to calm down a little.
Nervous
"I think I have got used to it by now but this sort of concert would have frightened me to death three years ago if I was still in Love On Board. Generally though, things are going so well that we don't get too nervous anymore," he said.
Dance Stance already have a whole series of major gigs lined up for the rest of the year. These include concerts at Trent Polytechnic, Nottingham University, Aston University and one highly secret 'megabash' which the whole band keep teasing me about but won't actually reveal!!
Just as pleasingly for their local fans the groups have lined up a special show at the Embassy Suite on Friday April 10. That promises to be a very exciting party night but for now all the band's attentions are focused on tonight's prestigious and important show.
"It is a very important night for the band and I am sure they will not let anyone down," said Ray.
Tamworth Herald – 20/03/87
Musicbox – What a night!
Dance Stance – Keele University
AT FOUR o'clock on Saturday morning I crawled into bed suffering from a headache, earache and the start of a truly evil cold.
It felt as if I had just come back from a crazy, wild party – and in a sense I had. For I had spent the past twelve hours being bowled over by a group who can no longer be considered on a 'local band' basis.
For in every sense Dance Stance have now arrived. On Friday, in support of the mighty Geno Washington (who was quite wonderful) Dance Stance were treated like, acted like and (most importantly of all) played like STARS.
Their dressing room was bigger than some venues, their audience was large and enthusiastic and their sound showed it had matured and prospered amazingly the past few months alone.
All the potential some of us have noticed in the past is being realised and to add to my statement last year that Dance Stance were destined for stardom. I now feel convinced that the area can brace itself for its first, truly homegrown success.
Songwise, I was particularly impressed with 'Win or Lose', 'Sweetest Pain', 'Falling Down' and the crowd-pleasing Blues Brother cover 'Going Back to Miami'. My overall favourite though was still the band's first sell-out single 'Other Side of Paradise' which is a truly remarkable song which deserves to rip the national charts apart. It even caused me to do a most un-Sam-Holliday-like thing – dancing. And any soul music that can get ME dancing can impress anyone!
Individually it is hard to pick out anyone because all nine musicians – and I mean all of them – are extremely talented and would shine in any band they played with. But I guess, a special word should go to singer Paul Hanlon. His cocky arrogance is endearing in itself and his on-stage personality and voice has matured beyond belief in the past few months. He now sounds and looks every bit a star and even his lingo (everything is 'wicked' and everyone is a 'dude') makes you realise he has that little bit extra that puts Dance Stance one major step ahead.
On the night the sound didn't help the bound much, but they still showed enough confidence, ability and talent to convince me that here is a band we can all feel proud of. Gradually an awful lot of people are waking up to the inevitability of Dance Stance's imminent success. I may have gone to bed feeling appalling on Saturday morning but Dance Stance went to bed happily thinking 'we are one step closer now'. It was some night.
SAM HOLLIDAY
Tamworth Herald – 10/04/87
Musicbox – Witches brew some wicked sounds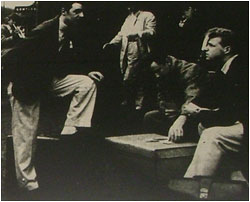 IT'S a big night for local music fans tonight (Friday) with two cracking, contrasting concerts on view. At the Embassy Suite, everyone's favourite tip-for-the-top, Dance Stance make a triumphant return, while down the road at the Arts Centre the r 'n' b might of The Witch Doctors and Crosstown Traffic team up for an exciting double-header.
For those who just can't decide which one of these tasty morsels to eat up, there is a solution. Dance Stance will not be on stage until around 10.30 so there is time to pop to both concerts ensuring a rock and roll night to remember. Anyway here are what both shows offer you lucky, lucky punters…
DANCE STANCE
Fresh from the triumph of several prestigious university shows, Dance Stance will hit a Tamworth stage for the first time in months tonight. Their slick, powerful sound is guaranteed to get the Embassy floor shaking with dancers and for many of their fans it will be the first chance for several months to see just how much tighter and more professional this excellent nine-piece have become.
As the MUSICBOX band of the year they have clearly got alarge following ready to enjoy tonight's special show but there are also a lot of outsiders who will no doubt go along on the night to find out just what all the fuss is about. So all you 'dudes' out there who want to hear some 'wicked' sounds (words courtesy of Paul Hanlon) get your bodies along and do some bopping!
THE WITCH DOCTORS
Making their Tamworth debut, this brand new r 'n' b outfit are bound to get the town's many fans of this musical genre piling into the Arts Centre. Their sound, as displayed on their fun new demo, is full of the sort of Royal Family appeal that should ensure a right royal Tamworth welcome.
The band who have had past links with La Grange and have future links with the likes of Steve Gibbons, will be joined by Crosstown Traffic, a powerful outfit who are top of the Tavern pops. Both bands should provide a good night out for all concerned, so head for the Arts Centre tonight, from 8pm onwards.
Tamworth Herald – 17/04/87
Musicbox – SNIPS
Happy mix down at the Embassy
Dance Stance – The Embassy
I DON'T WANT to review this concert in full, as I have only recently turned my bright spotlight on Dance Stance, but I couldn't let this gig slip away without making a couple of comments.
"The Embassy has the potential to be a very good venue indeed. The always progressive Jayne Fletcher deserves praise for mixing normal Embassy disco with a live show which ensures two entirely separate audiences. Let's hope it's not the last marriage of convenience.
Dance Stance played what I thought was another extremely enjoyable and professional set, and immediately afterwards DJ Noel Walker put a record on by The Blow Monkeys. And you couldn't tell the difference. The ultimate testimony.
Tamworth Herald – 15/05/87
Musicbox – SNIPS
Dance Stance play another one of the mega-mega shows tonight (Friday) when the soul searchers play a special May Ball event at Aston University. The event which is sold out and is for students only, will feature Dance Stance alongside the likes of Spizz Sexual, Jaz Defector, Latin Quarter and another headline band yet to be confirmed. It was supposed to be the Bangles and the Dance Stance (understandably) are rather disappointed that those young ladies won't be playing.
Tamworth Herald – 19/06/87
Musicbox – Festivals, fun, gigs galore
SNIPS
Dance Stance have finished recording another two songs. The band are hoping to record all their material in the next few months so that when record companies ask to hear a selection of their songs they will have them all 'on tap'. The latest two tracks recorded are 'Heaven Help Me' and 'Falling Down' both of which are bright, bouncy and very commercial. Lead singer Paul Hanlon and bassist Neil Sheasby have just returned from foreign climes looking browner and sunburnt, but being as other members of the group are due to fly off to places like Canada shortly, Dance Stance are enjoying a summer break. They promise to come back with something very big in a matter of weeks and if it is as impressive as Paul's suntan, it could be very groovy indeed.
Tamworth Herald – 10/07/87
Musicbox - Pulling off a Jersey treat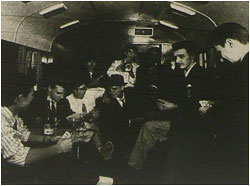 TAMWORTH'S most popular band, Dance Stance have scooped another mouth-watering booking which ranks as their finest achievement to date.
For over the August Bank holiday while most of us will be sweating it out in the Castle Grounds, Dance Stance have been invited to play two major concerts in the Channel Islands as guests of the Jersey Tourist Board.
The band were spotted at their marvellous university show at Keele and after a great deal of negotiating, the outfit have been booked for one indoor and one outdoor show over the holiday weekend.
They will fly to the Channel Islands, stay in four-star hotels and become the first non-name band to play at prestigious venues for many years.
"We couldn't be more pleased with the way everything has gone because it has taken a lot of hard work and planning to pull this one off." Said the group's ever-active manager Ray Sheasby. "Needless to say everyone is looking forward to a hectic but welcome three days in 'Bergerac' country," he added.
Dance Stance's itinerary will see them play at the Howard Davis Park, a major outdoor venue more used to big bands like Kenny Ball and his Jazzmen the pop groups like Paul Hanlon and his Soulmen.
After this the group will play at Jersey's top nightspot the 'Inn on the Park' which has a capacity of 1,250 and recently featured no less of a knee-trembler than Tom Jones. Dance Stance here will be joined by a top London DJ for a night that runs from 9pm until 2am.
Dance Stance are understandably over the moon to have earned this tremendous double-booking – one which will provide them with an enviable holiday as well as tremendous exposure. They are to be featured in both the Jersey Evening Post and on radio Jersey and there is no doubt it will boost their growing credibility.
And of course it clears up the mystery of why the band wouldn't be topping this year's Rock Festival line up. Several members of the group had said they would have loved to have played but 'something big' was on the horizon. Well, 'something big' has now arrived and I am sure most local fans and bands will send their best wishes to Dance Stance as they begin this, their first-ever World tour!
"We are really upset to have to miss the Rock festival but you have to admit this is a bit special," said Ray Sheasby.
Yes, I've got to admit that…Jammy swines.
Tamworth Herald – 28/08/87
Musicbox – 'Stance' off to Jersey
THE ONLY major local band who are not playing this year's festival are of course our old favourites Dance Stance.
But these chaps didn't give up their prized festival place for nothing. In fact it took the lure of Bergerac, and the Jersey sun, to take Dance Stance away from the Castle Grounds, because this weekend they play two major concerts in the Channel Islands.
The soul superstars will be playing one outdoor show and one indoor one, both at very prestigious venues and both destined to give Dance Stance some of their biggest exposure to date. We wish the boys well as they make their bid for overseas supremacy.
Tamworth Herald – 11/09/87
Musicbox – SNIPS
Atherstone's very own soul superheroes – the very wonderful Dance Stance – returned bronzed and grinning from a storming series of shows in the sunshine isle of Jersey.
The boys' performances impressed tourist officers in Bergerac-land so much that a return trip is very much on the cards.
Said the irrepressible Paul Hanlon: "We could not have been better received anywhere and I know the whole band would love to go back next year."
Tamworth Herald – 09/10/87
Musicbox – Get set to get fresh

The ever-ambitious Dance Stance have just announced details of their first-ever major headlining tour.
The MUSICBOX band of the year, fresh from a triumphant tour of Jersey, will be playing at a host of top Universities throughout Britain on what they hope will be the tour which will 'break' them nationally.
The tour, which goes under the title of 'The Freshness and Youth Tour' will take the band to venues as far apart as Southampton and York and will see them playing to big audiences at every turn. Apart from the college dates the band will also be in action at other venues including Richard Branson's 'Goldiggers Club' in Chippenham which is now run is association with Virgin (Is there a hint there boys?)
As well as the date sprinted here, the group are hoping to add several more and they are determined to do another one in Tamworth as soon as possible.
…first concert at Loughborough university on Saturday October 17. Coaches will run from Tamworth…Atherstone and Nuneaton for the meagre price of £2 you will be able to travel along to cheer the soul wonders on at a very impressive venue. If you want to reserve seats on the Dance Stance supported coach contact either Nick or…
on a regular basis running right up until Christmas. They anticipate the success of the shows will lead to yet more bookings and they have said that their policy of 'we will play anywhere' means they could turn up in the most unlikely places in the next few months. They have even been appointed to…for themselves at last.
On the recording front the band are continuing their policy of getting all their material down on tape and they have just put together their latest trio of tunes – years of Production', 'Higher Ground' and cover version 'Snatching It Back'. There is talk of a new single in the not-so-distant future but hopefully that will be on a label that has coughed up much-deserved readies to grab Dance Stance.
Elsewhere the band have told punters to look out for the band's first feature film – 'Dance Stance in Jersey' which apparently shows the TRUTH of their Channel Islands adventure and they have also warned their vast army of supported that Andy Codling has acquired a tasteful new haircut AND a tasteful new jacket. It all sounds a little hard to believe.
But new jackets or not, there is no doubt that this new tour will be a great boost to Dance Stance's future plans to conquer the rock and roll world. The band carry with them an awful lot of local hopes so if you want to cheer them to success ring these numbers, get to Loughborough and get set…
Tamworth Herald – 16/10/87
Musicbox – SNIPS
TWO big out-of-town concerts for you to look out for this weekend. Tomorrow (Saturday) Atherstone heroes Dance Stance set forth on their 'Freshness and Youth' tours with an opening concert at Loughborough University. The show is seen as a very important one for the band who are now receiving interest for record companies at a pleasingly regular rate. Some tickets for a special Tamworth and Atherstone coach to the concert may still be available if you want to know more (and you do don't you?) ring guitarist Nick 'Hunky' Reed. On Sunday night it is the turn of Fetch Eddie to try to make their mark in the wide world. The four popsters will join three other top Midlands Bands at a special show at Birmingham Town Hall. The concert which is to be recorded by BRMB is regarded as a major showcase which is a further illustration of the increasing power of Aaron and the team.
Tamworth Herald – 23/10/87
Musicbox – AMAZING!
WELL, what a con!
We made an 80 mile round trip to see a 'local band' and instead of seeing a local band we saw this slick, ultra-professional and quite amazing national chart act called 'Dance Stance'. After getting over the 'disappointment' of not seeing a local band with local enthusiasm and local limitations, I decided to settle down and enjoy what was on offer – and believe me that was an awful lot.
Dance Stance have not only improved of late they have undergone a total metamorphosis from the local band most Tamworth and Atherstone audiences remember at their last local show (which I think is probably about 12 months ago amazingly!)
What we have now is a group, oozing professionalism and power is now so overpowering it makes you wonder what on earth can stop them from achieving their destiny. The stageshow itself is a revelation as the band bounce around with the look and confidence of a group who know they are half way there, and feel the other 'half' is imminent.
Musically the group seem to have defined their sound more clearly and their brass 'crew' now sounds like an integral part of the whole attach instead of just a pleasing sideline as it was when it was first I introduced. Thus we have a strong 60 minute set which never falters once and in which oldish classics (aka 'Sweetest Pain' and 'Action Stations') have a new life and spirit, which is quite overwhelming. Best of all was the slightly newer songs like the stylish 'Years of Production' and the pick of the bunch 'Higher Ground' which show that this band have a commercial strength which will soon prove irresistible to a record company man with pound signs in his line of vision.
Comparisons? Well in among the set I spotted ABC style, Dexys emotion, James Brown danceability, Curiosity Killed The Cat commercialism and best of all Dance Stance originality. Up against an impressive audience most of whom had never witnessed the band before, this combination proved a totally winning formula, and by the end of the night the whole dance floor was burning and the band were literally dragged back for two killer encores.
From the very first time I saw this band, I knew they had something special. That potential they hinted at then, is being realised even more than even I suspected and am now even more convinced that those of us who have had faith in the band from the start are about to be rewarded for our loyalty by seeing this band right at the top where they deserve to be.
Dance Stance can now forget about merely getting INTO the race – they can now go for the gold. The other side of paradise is getting even closer.
Tamworth Herald – 30/10/87
Musicbox - SNIPS
The Dance Stance's wildly wonderful concert at Loughborough University last week was followed by an interview by a suitably fawning Radio Leicester. The group are in action again tonight (Friday) when they take their soul shoes to North Staffs Poly on the latest of their 'Freshness and Youth Tour' dates.
Tamworth Herald – 20/11/87
Musicbox – Soul boys spinning a slice of CD history

Caption: The prestigious CD single from Dance Stance: it is a history-making move.
HERE IT IS, the Dance Stance CD Single, which has put the band in the rock and roll history books. For our favourite soul kings have become the first unsigned band ever to release a single/EP on compact disc. Until now the only bands to have tried this new genre in single/EP form are 'small' outfits like U2 and Pink Floyd and that is why Dance Stance decided to go for it.
They were commissioned by their independent label backers, What Records to reproduce the four-track EP on CD form, and after keeping the whole thing a state secret, the final product arrived just before the group's triumphant show at Warwick University.
"When we were asked by What Records to do this I thought at first they were joking," admitted the band's manager Ray Sheasby. "But when we realised we would be the only band to have attempted a CD without a big label behind us, we decided to really go for it."
The four-track EP – of which 1,000 have been cut on CD – features the group's magnificent single 'The Other Side of Paradise' and three top-class recent recordings – 'Heaven Help Me', 'Love Parade' and 'Falling Down'. The latter three were all recorded at Paul Spear's Expresso Bongo studio and Paul, along with everyone involved in the release is delighted with the end product.
"It sounds superb" admitted bass guitarist Neil Sheasby, "The quality of the sound is just what you expect from a CD and we are all very please indeed with it."
As a yuppie-CD owner myself (!) I can vouch that the quality IS superb. The music is crystal clear, the sound perfectly balanced and of course the music staggeringly good. It has all the hallmarks we now expect from Dance Stance – class, professionalism, style, nerve and originality.
To produce a CD single is a brave, bold but hugely commendable idea, and if WE are all impressed (most people refuse to believe it even now!) imagine what it will do for the band's national standing with record company big wigs.
The special limited CD is available at £5.00 plus 18p postage from What records, The record Centre, Nuneaton. It can also be purchased from What Records shops in Bedworth or Coalville or from individual band members.
It is worth every penny and should shock a lot of people who need to be shocked both around here and beyond. Dance Stance mean business – and this could well make the record companies realise they have no option but to sign this amazing act.
Tamworth Herald – 27/11/87
Musicbix – SNIPS
Dance Stance…Chippenham at the start of December now beckons and the band are looking for local people to get along and cheer them on. If you want to book for a special coach you must do so by Sunday at the very latest by ringing Nick. It will leave the Assems at 6.15pm which should give most people a chance to get away from work. The concert is the latest in a series of successful shows for the local CD kings including a recent mega-bash at Warwick University lapped up by a crowd of 1,400 people.
Tamworth Herald – 04/12/87
Musicbox – Gems among a week of gigs
MUSICBOX reviewers have been out and about in the last week or so catching up on a host of bands at various venues. Here is a selection of their comments with the code to the reviewers being SH – Sam Holliday; DC – Dan Collins; HM – Helen Machin and DR – David Reeves.
Dance Stance – Leicester University
It's two years since I last saw them – and it won't be that long until the next time. They are, quite simply, brilliant. They played a host of great songs in a set that lacked nothing. Paul Hanlon's white soul voice was a revelation with drummer, Phil Ford, bassist Neil Sheasby and the ever-present brass trio impressing also.
DC
Tamworth Herald - 01/01/88
Musicbox – The heart and soulmen take the honours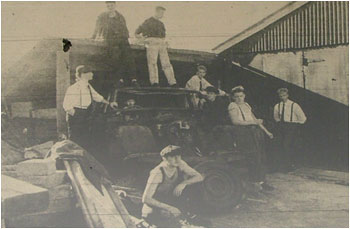 Slick Dance Stance have been votes as your favourite local band for the second year running. The wonderful soul combo – who have had an incredible year – have retained their Musicbox top band award after another hugely successful poll which saw hundred of you put pen to paper.
Dance Stance earned their top billing despite a very exciting fight with fellow Atherstonians Catch 23. The lead swapped hands on several occasions during the poll at the end of the day Dance Stance just nicked the highly-prized top slot.
They have won the award in recognition of the year that has seen them – like third-placed Wolfsbane – pass out of the local band scene and onto a national platform. Every gig they have done – from supporting the legendary Geno Washington to headlining in front of 1,400 university students – has been warmly received and fantastically praised.
Their live show has become an example of class professionalism and their sound on tape, record and yes even CD, proves they have quality built to last. They are a truly superb band and they have thoroughly deserved their impressive position in nearly all aspects of this year's poll.
As well as winning the best band they have also won best local song, had five entries in the top personality section, four in the top concert section and a second-place in the top single.
Tremendous
It has been another year of tremendous progress for the group and one which should be a springboard to a major record company contract next year. They go for that goal with your fullest support – and that should fill them with a lot of hope.
Also with every right to feel delighted are Catch 23 who have easily has their best poll result. They were a strong second on the top local band and made up for the minor disappointment of not taking the top slot by winning the best single of the year; the top personality (in singer Steve Webster) and by having three songs in the top local songs section.
It is a morale-boosting performance from a band who can do no wrong in my books and have achieved their superb success by combining a love for music with a basic positive humanity I personally find very inspiring. I am delighted to have seen them do so well.
Magnificent
In third place in the poll was Wolfsbane, a group who will never, ever forget 1987. They have clearly made a permanent mark on the local scene and the way they picked up votes from all sorts of local music fans proved conclusively that they have a stranglehold on the whole area and not just on people with long hair, plastic guitars and sex obsessions.
Elsewhere in the top local bands section, it is good to see wide-ranging support for the rejuvenated A5 and Shellshock, while Mark Mortimer will take great comfort from the success of The Great Express – easily the most popular new band this year.
Looking further down the best local bands list it is interesting to see Breaking Point are still held in affection despite their sad final Arts Centre show, and it also seems that Atherstone is looking musically stronger than ever before.
Still with local bands, the final tally of outfits voted for was an amazing 52 (including the likes of Christ in Shades and even the defunct Dream Factory and Orange) and the 'next ten' after the top twenty were Kraze, The Witness, Hamilton Hammond, DHSS, Jabberwockie, Emma Gibbs, Soil Brothers, Jim Crows and Stranger Than life. All in all, however, it seems the scene is getting more and more diverse and more and more groups are being formed locally. Both facts augur very well indeed for the future.
Tamworth Herald - 29/01/88
Musicbox – SNIPS
The Tamworth Rock Festival got off to the best possible date on Sunday night when nearly 30 bands turned up for the opening meeting. The new date of July 16/17 was agreed although it sadly looks as though MUSICBOX band of the year Dance Stance will be unable to play due to holiday commitments.
Of those that were represented the majority had never played at the festival before, proving once again that the area's music scene is continuing to produce new, exciting bands at a refreshingly alarming rate.
Tamworth Herald - 28/02/88
Musicbox – SNIPS
Sits vac…and a standing ovation
THE Dance Stance have parted company with the Delaney brothers. Although they intend to carry on with just one guitarist in the shape of Nick Reed, they are keen to recruit a new keyboard player to fill that tinkling gap. If you can play keyboards well and want to join a band bursting with ambition and quality contact Neil.
Tamworth Herald - 04/03/88
Musicbox – SNIPS
Taking a new stance
The Dance Stance have recruited two new members to their ranks. First is a Hinckley-based keyboard player called Richard Ward and second is a young trombonist called Simon Hall. Both have made an immediate and impressive impact on the band who are busily writing new material before hitting the road again in the spring.
Tamworth Herald - 15/04/88
Musicbox – SNIPS
Rumours abound that Dance Stance are about to remerge on the world after a busy time writing new material and practising with their slightly re-arranged line-up. We hope to have more details of the band's future movements shortly.
Tamworth Herald - 29/04/88
Musicbox – A funky move by the Dance Stance
Dance Stance – Rugby Harris School
POLISHED, lively and funky – the new-look Dance Stance took to this Rugby stage looking and sounding like they'd spent the last few months in hiding, checking out the sounds at rare groove thrashes at The Wag – know what I mean?
Since cutting out one guitar, introducing a trombonist and changing keyboard players the band have matured and metamorphosed. Nowadays they seem to owe more to James Brown and the flare brigade than the 60s besuited soul of Chuck Jackson, say, or Garland Green.
Judging by the reaction they received from the audience at this strictly warm-up gig, they have made the correct career move – and to my ears, the punchier, funkier Dance Stance have more power and versatility that before.
Paul Hanlon's vocal style can fairly be compared to that of many soul singers, black and white. He needs a little more power, which will come with age, but he is streets ahead of any other vocalist. He should also hang on to his tongue-in-cheek banter – it adds a lot.
The new keyboard player is an improvement on the old one, and the new style brass section oozes power. As always, Nick Reed, Phil Ford and Neil Sheasby provided the metronome backing needed to project the band – especially in their new JB vein.
I was mightily impressed, the band seemed to have enjoyed themselves and to call ray Sheasby – the band's manager – happy would be a wild understatement. He gabbled something at the end about 'putting their heart and soul into it' and he was quite right.
Suggestions – none really, except that a slower, hip-hop type track or two, perhaps along the lines of Bobby Byrd's 'I Know You Got Soul' or a Hamilton Bohannon cover, wouldn't go amiss. And the en ending cover version of 'Satisfaction/Respect' sounded a bit hackneyed and out of place these days. Still, a great performance and speaking as an out-and-out 60s and 70s soul fan, I can highly recommend Dance Stance. Make sure you check them out when they play around here.
DAN COLLINS
Tamworth Herald - 27/05/88
Musicbox – Review Special
Dance Stance, Atherstone School
SLY STONE, is alive and living in Atherstone! Fred Wesley and Bobby Byrd are there too, and they're writing material for The Dance Stance.
That praise might seem a little fulsome but on the basis of last week's Atherstone show – a warm-up for a probable national tour supporting a major pop act – it's only a teeny-weeny bit over the top.
The band has left its old naïve brand of white soul far behind and is now producing a funkier, rarer sound which owes more to the Seventies than the Sixties.
All I can say is Git down on it, y'all.
DAN COLLINS
Tamworth Herald - 10/06/88
Musicbox – STOP PRESS
SPIRAL Eye, Dance Stance and The Ravens have all announced concerts for next weekend.
Spiral Eye will be joined by a special guest band at Tamworth Arts Centre a week today (Friday) while Dance Stance will line-up with a very special headline act. More details in next week's MUSICBOX.
And next week a new band based in the Newton Regis area, The Ravens make their town centre debut with an Arts Centre show on Sunday June 17. Once again more details in next week's paper of this triple attack of top local concerts.
Tamworth Herald - 17/06/88
Musicbox – Showcase for the big boys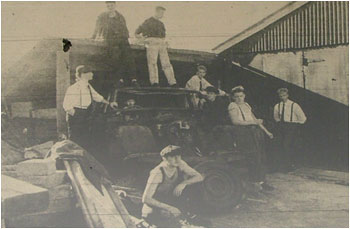 MUSICBOX Band of the Year Dance Stance return to live action with a vengeance tonight (Friday) with a major support slot with Hazel O'Connor.
The Atherstone outfit will unveil an all-new line-up and several all-new songs to show than absence has made their hearts go stronger.
The group who have played a number of low-key warm-up gigs of later, team up with former 'Breaking Glass' star Hazel O'Connor at an Aston University show tonight. It is another big night in the band's history, and they are convinced that all these impressive shows are major steps in the right direction.
"We remain extremely optimistic about the future and hopefully all our efforts over the past couple of years will be rewarded," explained bassist Neil Sheasby.
Dance Stance's fans will note that their line-up has changed somewhat. One or two members have departed to be replaced by new keyboard player Richard Ward and a trombonist Simon Hall. It is only a relatively small change in a massive nine-piece set up, but the band believe it is a change very much for the better…
"Although we remain a nine-piece outfit we have never had such feel or confidence as we have now with this line-up," said Neil. "This is the definitive Dance Stance line-up."
During the past few months of self-imposed public exile, the band have been sharpening both their live and studio work. They have continued to visit Paul Speare's Expresso Bongo studios to record a host of new material; and they have received a great deal of interest from record companies.
Manager Ray Sheasby believes the group are now poised to finally 'break' and the only one thing they need – patience.
"There has been a lot of interest, but when you are talking about a big band with big ambitions you have to get a big deal," he said. "We must have the right deal and I am sure that eventually we will get it because a lot of people realise the real quality of the group."
Dance Stance's sophisticated soul music has evolved amazingly since they began some years ago as The Crowd. Then, as Neil Sheasby explained they were fired by hero Paul Weller's rallying call to new bands following the split of The jam…
"What Weller said inspired us to start a group. Our only ambition at the time was to play a gig, so looking back it is no wonder we are very proud of what Dance Stance have already achieved in their relatively short career," he said.
The achievements list (first unsigned band in the world to release a CD single, a string of headlining university shows, etc.) will be greatly supplemented by tonight's show with Hazel O'Connor at Aston university.
The show will then launch Dance Stance on a series of major concerts including one locally as soon as it is possible. Their only regret at the moment is that band holidays have prevented them appearing in the Tamworth Rock festival, but that apart, there is very little else to worry this very, very exciting band at the moment.
Tamworth Herald - 24/06/88
Musicbox – QUALITY ON PARADE
Here are a selection of demos that have found their way to my ears lately.
Dance Stance – Grandmas…
SOMEONE who recently saw Dance Stance told me that they appeared to be moving away from their more commercial sound – and this appears to confirm that. What this two-track record company baiter proves, is that the band are aiming for an altogether more slick and sophisticated dance sound, one which aims to be less throw-away and more complex. The music therefore has a more pure, crafted edge which gives the band more opportunity to explore the music than just exploit the tune. A very interesting departure indeed and another useful step on the path of inevitable world domination.
Tamworth Herald - 26/08/88
Musicbox – Stance cross the waters to fame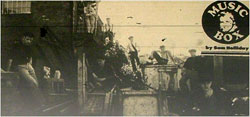 MUSICBOX Band of the Year, Dance Stance take their new line-up and sound across the Channel this weekend to enjoy a series of top quality concerts in Jersey.
The group impressed so many people on their trip to Jersey last year that they were immediately invited back for a bigger and more extended trip this time around.
In all the group will do three shows, all at big prestigious venues and all set to further establish the band's reputation as one of the Channel Island's favourite imports.
"There has been a lot of feedback since out last visit," said the band's ever-enthusiastic manager Ray Sheasby, "We have had a lot of good press coverage in newspapers and on the radio and there is a real buzz about the visit," he said.
The band fly off to the shows tomorrow (Saturday) and will play the first of a hat-trick of concerts on Bank Holiday Monday. That will be followed by two more shows on consecutive days and according to Ray Sheasby the band are really looking forward to the experience.
"This will be an ideal preparation for a national tour which we are embarking on shortly after we return," said Ray. "Because of holidays and other commitments we haven't been able to play too many concerts but when the band return they will be back in full swing."
Jersey will witness a different Dance Stance to the one they enjoyed so much last year with the band not only fronting a new line-up but playing a set made up of 50 per cent new material. The old faves are still there but many are re-vamped and improved to an extent that the band believe they are at their musical peak at the moment.
"We are now just waiting for the right deal to come along," said Ray Sheasby. "We have had offers which would have suited a four piece down to the ground but being as there are nine in Dance Stance we have to hold out for more. It is all a question of staying patient and believing in yourself," he said.
The band will announce full details of their forthcoming national University tour shortly after returning from Jersey. Watch this space for more info on the future plans of the Atherstone-based soul kings.
Tamworth Herald - 09/09/88
Musicbox – SNIPS
Dance for Charity
TOP band Dance Stance and The Space Seeds spearhead the second special 'Gig For Life' concert being held at the Nuneaton Co-op Social Club tonight (Friday). The charity show in aid of the Paul Walker fund and the George Elliot Hospital Coronary Care Unit, costs just £1 to get in with all the money going to those excellent causes. Last week's first gig for the event – where our own Heavy Metal Thunder and A5 stole the show – was a fine success so why not get along tonight and enjoy this one?
Tamworth Herald - 23/09/88
Musicbox – Soul Kings Hit The Road Again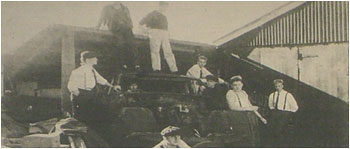 AMBITIOUS Dance Stance this week announced details of a major University tour.
The band fresh from another triumph in Jersey, will be in action at a host of top venues throughout the UK.
Among them are a relatively local shows including North Staffs Poly and Warwick university – and with other dates sill to be announced it makes for the biggest and most ambitious undertaking the band has yet managed.
"There are some very good, prestigious dates and if we can build on our success of our last tour we will be very happy indeed," said band manager Ray Sheasby.
The group – who also have two substantial private promotional parties in the pipeline – hope the tour will bring that inevitable record deal even closer. They have already been placed on the audition lists of two major record companies and they have to send away every new recording they do through Paul Speare's Expresso Bongo studio.
"It is a bit frustrating because we know we are just a whisker away from real success," said Ray Sheasby.
"Everyone who has seen us recently with company links has told us we are right on course and that will keep us going and keep us believing in ourselves."
The Dance Stance 1988 Tour begins next week at Aston university and continues at regular intervals until the middle of December when the band hit Rugby College. Other dates may yet be added and following the response of their last tour it seems the band will be welcome almost anywhere…
"It's amazing the letters we are getting from all around the country. We picked up a lot of followers at shows like Warwick University last year and hopefully we can build on this more this time around," said Ray. "The Jersey trip was similar and our 'fan club' is now well and truly international."
Dance Stance are still looking into the possibility of playing a concert in or around the Tamworth area in the near future. They have been frustrated by the lack of a suitable venue but have stressed to their legions of Tamworth and Atherstone fans that if one becomes available they will gladly take it.
In the meantime the band will settle down to enjoy this vital and impressive tour – the one which we all hope will finally break them into the (very)big time.
The '88 Dates
Sep 28 – Aston University
Oct1 – Lancaster Poly
Oct 5 – Sheffield Poly
Oct 7 – North Staffs Poly
Oct 14 – North Staffs (Stoke)
Oct 21 – Leicester Poly
Oct 22 – Loughborough University
Oct 29 – Warwick University
Nov – Bath Uni (Date to be confirmed)
Nov – Reading Uni (Date to Be confirmed)
Dec 2 – Southampton University
Dec 15 – Rugby College
Tamworth Herald - 07/10/88
Musicbox – SNIPS
The Dance Stance tour is due to hit North Staffs Poly tonight (Friday). The show is the first of two Dance Stance will be playing at the Poly in consecutive weeks. Next Friday they play the Stoke site of the Poly while tonight it is the Stafford site which welcomes the soul warriors.
Tamworth Herald - 04/11/88
Musicbox –Mr. Ray Sheasby
MUSICBOX was very shocked and saddened last week to hear of the sudden death of Dance Stance manager Ray Sheasby.
Ray, will have been known to most people on the local scene for his never-ending enthusiasm and hard work for the band which he grew to love. Ray was understandably proud of the band's many achievements and indeed was responsible for many of them. Under his excellent and intelligent management the band released a superb CD single, played a host of top University shows and became known as one of the most stylish and exciting unsigned bands in the country. On a personal note, Ray always treated me with great respect and I always found him open, informative and genuine. His enthusiasm for the band was infectious and powerful and I am sure Y speak on behalf of the whole of the Tamworth area music scene in saying how sorry I am to hear of his death.
I feel I have lost more than a contact and I hope Dance Stance now go on to be bigger than ever as a tribute to the man who really put them on the way to the other side of paradise…
Sam Holliday
Tamworth Herald - 09/12/88
Musicbox – SNIPS
I am delighted to say that Dance Stance are now back in action following the sad death of their manager Ray Sheasby. At their first comeback show the Stance boys gave an excellent account for themselves at Sheffield Poly where they were supporting no less than, Showaddywaddy.
Tamworth Herald – 17/02/89
Musicbox – Snips, News
Dance Stance who are currently treading the boards across Universities throughout the UK look set to make their eagerly-awaited return to home action in the summer. They have indicated their willingness to appear at the Tamworth Rock Festival and if they do it will clearly be a boost for the event.
Tamworth Herald – 03/03/89
Musicbox – Knock Knock!
ATHERSTONE soul supremos Dance Stance have just booked themselves a slot on BBC's 'Opportunity Knocks' programme. The band will play in front of ten million viewers on Saturday March 11 in the one-hour talent seeking special.
The delighted link between the cool Atherstonians and the slimy Bob Monkhouse came as a major surprise to the band. Their former manager Ray Sheasby who sadly passed away last year, set the band up for what he called a 'showcase' and they went along unknowing what they were letting themselves in for. When they were getting ready for their show someone said it was 'Opportunity Knocks' and they nearly left there and then…
"Andy Codling started to pack up and we all looked at each other and said 'no-way" admitted bassist Neil Sheasby. "But we decided to go for it after having gone to the trouble and we thought we hadn't a hope of getting through.
But despite the band apparently playing their slot in near tears of mirth – the producers of the programme were delighted with their find and lo and behold they were invited onto the programme.
What it means is the band who travel down to London on Monday and will enjoy an all-expenses paid week in the capital. As well as recording the show with Bob 'Grease' Monkhouse they will be kept in a classy hotel, enjoy very generous Musicians Union rates and get to record in the luxurious BBC studios. On the night they will get to play a 2.40 minute song on the show and then you, the MUSICBOX reader, will have the chance to ring and vote for them on Saturday night (March 11). If they then win they will be invited to a grand final and get more excellent tv exposure and national publicity.
The band are treating the whole experience in exactly the right way. They are only too aware that 'Opp Nox' is not exactly the world's coolest show (to put it mildly) but they know that the exposure, tv coverage and financial benefits (which are considerable) mean they must grab the opportunity.
"You have to take every chance you can get," said guitarist Nick reed. "It could lead to other things and if nothing else we are going to have a good week in London and get to record in a brilliant studio."
Stop Press – the band have booked a very prestigious headline show at The Mean Fiddler, London on Feb 25.
Tamworth Herald – 10/03/89
Musicbox – SNIPS
Watch the box and don't forget to vote
Dance Stance will hit your TV screens tomorrow (Saturday) when the former MUSICBOX Band of the Year appear on 'Opportunity Knocks'. The band have spent all week in London preparing for the show and they are hoping they will make an impression on someone out there in Contract-Land. It kicks off at 6.30ish (I think) on BBC1 so as well as being able to watch and cheer on our local boys you can phone in and vote for them. Miss it and you're a dead man/woman. Fail to vote for them and I will send Buttercup round.
Tamworth Herald – 10/03/89
Musicbox – SNIPS
Dance Stance have been booked for a prestigious gig at the Mean Fiddler, London at the end of the month. They are looking for as much support as possible.
Tamworth Herald – 17/03/89
Musicbox – Dance stance as ten million viewers saw them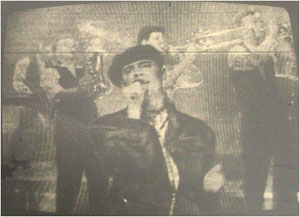 DANCE Stance made their tv debut on Saturday night when they took their soul/funk sound into the world of 'Opportunity Knocks'.
Hanny's heroes joined four other quite appalling acts in the first heat of the Opportunity Knocks 1989 search for a star. Dance Stance seemed to be head and shoulders over the rest of their brass-dominated sound blasted over the airwaves. In the end it was good enough to only earn them a fourth from the 'clappometer' but looking at the brain-dead nature of those clapping this is no surprise at all.
People were then invited to phone in and vote for their favourite act when the show had finished and although the result of that wasn't known at the time MUSICBOX reached its deadline it may be somewhere else within the Herald pages.
Best moment of all as far as I am concerned was when the band had to stand, staring at the tv camera while their clappometer score was accumulated. They all tried to look as cool as possible but the faces eventually cracked and they all looked as if they wanted to die laughing. With Bob Monkhouse on the show that would have been the only laughter possible! Slimy Bob 0, Dance Stance 7.
Tamworth Herald – 24/03/89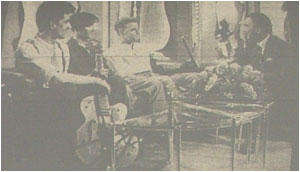 Musicbox - Dance Stance get 'knocked off'!

Predictably perhaps our very own soul stars Dance Stance failed to win their heat of BBCs 'Opportunity Knocks' screened last Saturday night.
Millions of peak-time viewers saw the nine-piece band perform one of their self-penned numbers 'Like Sister, Like Brother' before finishing a disappointing fourth on the viewers 'Clap-o-meter'
The band were then hopeful that tv viewers who phoned in their votes on the night would give the band an overall victory. But it wasn't to be and one of the other acts stole the day which proves that most 'Opp Knox' viewers have IQ's smaller than their shoe size.
But the band were still quite pleased especially after getting glowing praise from that slimiest of comperes Bob Monkhouse.
"It's not really our sort of show but Bob Monkhouse wished us all the best and good luck for the future", said Nick Reed.
Nick admitted he was 'dead nervous' at the thought of appearing before 14 million people but took it philosophically in the end…
"You just have to try and think bout it as if it's just another gig, but its very difficult to look at it like that," he admitted.
Record company talent scouts were alerted to the band's appearance on the show and they are also expected to be out in force at a highly prestigious gig they are playing at the Mean Fiddler in London on March 28.
"That concert is very important to us and the exposure we got here as well as the Mean Fiddler show should hopefully get us some response", said Nick.
Tamworth Herald – 11/08/89
Musicbox – The Boys are back in (London) Town!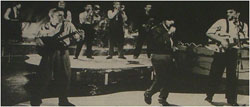 ATHERSTONE soul kings Dance Stance return to London again tonight (Friday) for their most prestigious Capital date yet.
The band will be in soul-ful action at the Mean Fiddler in North West London in what is their first weekend headline slot.
Traditionally at the popular venue, a band must earn their 'spurs' with several midweek shows before being offered a slot over the weekend and Dance Stance have clearly impressed the venue's hard-to-please chiefs.
"We regard this as a fairly prestigious event as it marks our first London appearance at a weekend," explained bassist Neil Sheasby.
The Dance Stance crew will be joined by two London groups – T Cone Hiney and Brazil – for tonight's biggie and they hope to show once again that the Midlands can wipe the floor with London acts any day of the week(end).
The band have organised a special coach to try and give them the best possible support for the show. The price will be £4 for the coach and £2.50 on the door, it will pick up at Tamworth Assembly Rooms at 6.30pm, at Atherstone Memorial hall at 6.45pm and at 7pm at Nuneaton Bus Station.
It's a big night for the former MUSICBOX poll kings and let's hope they put their heart and soul into it and come out with more than just a good show for their memories.
Tamworth Herald – 25/08/89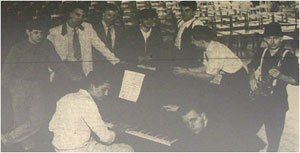 Musicbox – Dirty Dancin'?
Dance Stance (Mean Fiddler)
All the ingredients were here tonight – one of London's top band venues, an all-important Friday night headlining slot and a packed house with a willingness to dance.
Dance Stance came to conquer with self-confidence and an absolute belief in their own ability. They duly took the stage and proceeded to whip the crowd into an electrified mass of movement with only one law, 'bop till you drop'.
Now running like a well oiled machine, the groove merchants blasted through a medley of numbers for a good twenty five minutes, one song ran into another with almost ridiculous ease 'Like Brother', 'Certain Feeling', 'Mighty Mighty', 'Push Comes To Show', all reeled off keeping up an impossible tempo.
A short break for 'The Sweetest Pain' and then the second half of the onslaught, 'Grandma's Philosophy', 'Reward' sent the funkmongers to the dressing room only to be called back for the encore by a near frenzied outburst of stomping from the dance-hungry sell-out punters. A special mention for Paul Hanlon whose vocal presence was assured and ran the show in his own unique style, and also the new cutting edge of Mr. Read's gordy funkmaster.
This was Dance Stance functioning on all cylinders, if you weren't there you should've been.
Review N.A. Jones
*Dance Stance were all set to sign a major management contract this week. The band are said to be delighted with the deal which is said to include considerable backing for studio and live work. More details shortly.
Tamworth Herald – 29/09/89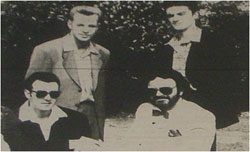 Musicbox – Stance's management boost

FORMER Musicbox band of the year, Dance Stance, have just signed a lucrative long-term management contract..
The nine-piece soul act completed the formalities of the deal last week and are now left with a good deal which has delighted both parties.
Dance Stance have been signed to a top Midlands management group called Goodyer Associates Ltd. The company has extremely diverse interest which includes other noteable signatories like Radio One dj Mike Read, spoon-bender extraordinaire Uri Geller and England cricketer Jack Russell.
The is however the first time that the company has signed a group like this – but they are convinced the Atherstone-based soulmen will repay their faith ten-fold.
"We have many fingers in the music industry but we have never signed an individual group before," explained the company's millionaire owner Ron Goodyer. "We have listened to a lot of bands but have heard nothing to compare with Dance Stance. I honestly believe they could hold their own next to anyone on stage and we're going to do everything to help these guys to the top."
Dance Stance are equally pleased with the deal and are confident they have secured a contract which will benefit them greatly.
"This is a real breakthrough for us," commented vocalist Paul Hanlon. "We have always believed in our ability and now such a respected company as Goodyer are backing us, we can go forward and really show what we can do."
Dance Stance have been with us now for around five years. In that time they have twice won the coveted MUSICBOX band of the year award and have used their Midlands base to propel them to a series of very big and very impressive shows in the UK mainland and in Jersey. They have become one of the most sought after college acts and have picked up a great deal of campus support to boost their bedrock following in Tamworth, Atherstone, Nuneaton and Bedworth.
In addition they have recently hit London in a big way (including a sellout show at the Mean Fiddler) and have also found their way on to the airwaves by becoming the first local band to play on primetime TV on 'Opportunity Knocks'.
Now they have got behind them a company who promise to give them the best possible boost for the future.
"The management contract simply couldn't have come at a better time for everyone," enthused bass king Neil Sheasby.
"We have just produced a demo which is unquestionably our best material to date."
Fans who wish to follow the progress of Dance Stance should write to Melissa or Dave at Goodyer Associates Ltd. And Neil and Hanny had better send a demo to Sam Holliday at the Tamworth Herald or face being hit over the head by a giant haddock!
*The band are looking for a keyboard player to complete their line-up. Dedication and ambition are absolutely ESSENTIAL.
Tamworth Herald – 13/10/89
Musicbox – SNIPS
My thanks to Melissa Goodyer from Dance Stance's management who kindly sent me a plastic fish this week. The reason for this is that I said I would hit the band over the head with a giant haddock if they didn't send me a demo. Well boys you've got a little longer because I am armed now!
Tamworth Herald – 27/10/89
Musicbox – SNIPS
Dance Stance's management crew Goodyer Associates have added another (almost) as well known name to their books. The man in question is Ian Botham, undoubtedly one of the finest Britons alive and someone who shares Stanceman Paul Hanlon's shy, retiring nature. My thanks to Melissa Goodyer for finally getting me the band's recent demo which I hope to look at very shortly indeed.
Tamworth Herald – 17/11/89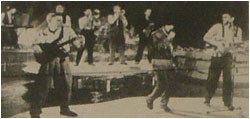 Musicbox – Demo Review
Scene-Stealers!

Dance Stance – Live Sampler
ONE of the saddest things in recent local music history has been Dance Stance's self-imposed exile from the 'scene'.
Because of the sheer size of their operation, not to say their ability to attract mega-bucks elsewhere, the Atherstone based crew have lost a lot of their local presence and presumably a lot of their local support at the same time.
Where once they were one of the jewels in the local music crown recently they have become like a Julian Cope configuration – local in roots only.
This I have to say is a major tragedy and listening to this tape shows exactly why Dance Stance were borne out of this area and such was the initial and immediate impact of their soul-based cocoon that within months of forming they had built up a large following which resulted in two MUSICBOX poll victories and everyone who knew their local music putting them on the same high plateau as old trailblazers, The Dream Factory and the (then) new trailblazers Wolfsbane.
In the two years or so since they have played within 15 miles of this area Dance Stance have matured and improved enormously and it is sad that the mass of local people who initially gave them the self-belief to go forward have missed out on the action. This demo is a wonderful collection of tracks, recorded in a 'live' format where the band just waltzed into the Expresso Bongo, rattled off their tracks one after another and ended up sounding as if they had spent millions putting the tape together.
Such is the strength and presence of the tracks that they are almost literally indistinguishable as one smooth, soulful moment runs into another in a classy and disciplined way which shows the band have become as watertight as (to quote the immortal Blackadder) 'a mermaids brasserie'.
One of the things that does seem to have changed since I last heard the band in action is that they have now promoted two key elements in their sound right to the forefront. I refer here to Paul Hanlon's splendid voice and the entire purpose and position of the brass crew. Paul who has always been a vocalist of considerable power and style, has come on leaps and bounds and is almost starting to sound (and believe me this is a compliment) 'black'. His vocal range and depth has increased tremendously and a Dance Stance song is now worth listening to for his voice alone. How many other bands can you say that about?
The other exciting development is the way the brass section has now become a totally integral part of the sound. Too often groups use brass as a pleasant distraction or worse a mere 'pointscorer' in the musical credibility stakes. But with Dance Stance the sound of those trombones and saxes is as vital and as integral as that of the bass and drums. The brass works amazingly well throughout this demo, supplying useful riffs here and vital rhythms there and making the brass sound as whole and important as anything since 'too Rye Aye'.
Of the four songs here it is the latter two: 'Push Comes To Shove' and 'Worlds On Fire'…
Put together these four tracks represent some of the finest music to have come out of this area all year.
It's a shame that they don't feel the need to be part of the scene that spawned them and as such I appeal publicly to the boys to get back onto a local stage SOON. There are a lot of people out there in MUSICBOX land who had a great deal of faith in Dance Stance and I feel sure they would think all their faith has been rewarded by hearing the sheer quality of the product the group is now producing.
Dance Stance are STILL a wonderful band and still one of my fave-raves. I just wish Tamworth and Atherstone people could see (and hear) how good they really are for themselves again.
Music of this quality deserves to be played at 'home games' as well as far flung away matches. Think on it boys, because if you returned to 'base' I am sure a whole new generation of local music followers would fall in love with you afresh.
Great tape. Great band.
Sam Holliday
Dance Stance have recruited a new keyboard player in the shape of Atherstone man Dean Harvey. Stance man Neil Sheasby describes him as 'amazing' and feels the final piece of the jigsaw has been put together.
Tamworth Herald – 08/12/89
Musicbox – ATHERSTONE INVASION!
THE two greatest bands ever to come out of Atherstone descend on Tamworth this week for a brace of top quality gigs.
Dance Stance (Tuesday)

The Amington Old Liberal House can expect to be pretty full again on Tuesday night as the soulful Dance Stance return to a local stage at last. The band, who for various reasons have had to hibernate of late are keen to show their loyal local followers just how much they have learned on their trips around the country. The former MUSICBOX band of the year (they won the poll twice) have gone through several soulful stages since their last appearance in the area but they have never once lost their position as being one of THE most outstanding live performers ever to surface locally. I for one am busting a gut or three to see them again and I fancy many more people will be too. They are backed by 'Huggy' Jones (hi Neil!) and the action starts at 8pm at the Old Liberal House, Amington. Groovy night guaranteed.
Tamworth Herald – 15/12/89
Musicbox – SNIPS
TV Times!
LOCAL bands are being offered the chance to follow Catch 23 and Dance Stance into TV 'stardom' through a new programme to be screened on Central in the New Year.
'First Night' a listings programme about the acts in the Midlands, plans to feature local bands playing live in the area.
"We are looking for bands who are playing live locally to appear on the show to publicise their concerts in the area," said researcher Jo Dyer, of programme makers, Mentorn Films.
Tamworth Herald – 22/12/89
Musicbox – Sophisticated Pleasuredome
Dance Stance – Amington Old Liberal House
DOES absence make the heart grow fonder? Well, in this case it would certainly appear so, for after being away from these shores for nigh on three years dance stance managed the remarkable feat of absolutely PACKING out this atmospheric venue on a cold, wet Tuesday evening. They were pouring in from both sides of the A5 from very early on and by the time they hot the stage, Dance Stance must have been very touched indeed at this mass show of loyalty and solidarity from their undeniably strong following.
The night began with Huggy Jones who frankly never stood a chance. One man and a guitar was simply not enough to overpower a massive volume of noise and gossip, a.p.a. that was ready for literally 'bigger' things and also the police who took the opportunity in the midst of Huggy's set to warn people (via the club officials) that they were going to book a lot of people outside for illegal parking. Huggy had no hope and you ended up feeling a bit sorry for him. He needs a more intimate audience and a more intimate venue and then we will be able to discover if this really is an intimate pleasure.
And so to the main act – the soul-funk kings Dance Stance. Coming on stage to a huge roar and a cry of 'welcome one of the best lice acts in the Midlands' the band launched straight into a set brimming with quality and professionalism. I have seen this band a lot of times over the years and the transformation from earnest pop-modsters to accomplished funksters has been quite amazing. What they now have is an abundance of technical skill. THE most polished live sound I have heard from any local band and a stunning brass crew who supplement the overall sound with thunderous style. Paul Hanlon has become a very watchable and effortlessly listenable lead singer and the individual skill of Nick reed in particular makes the band a shining example of just how good you can get if you give your life and soul to your music. Songwise the band have taken a perhaps deliberate departure from commerciality to write songs of craft and imagination. As I found with their excellent new demo, the tunes the band now produce may lack the immediacy of some of their previous blasts but if you've got the time and the inclination to give the songs some 'air' you will discover much to delight. 'The Sweetest Pain' was given a refreshing new burst of life but the vast majority of this set was relatively new material making the impressive reaction to each track even more notable. It didn't take long for the audience to start hitting the dancefloor and that is clearly the area that Dance Stance can now command in the rock and roll world. The age of their followers showed that they have left the teenybopper pop audience well behind and are aiming for an altogether different market, one that the likes of Simply Red have already proven can be huge. Those of us who want something instantly whistleable may be disappointed but those who love to dance 'a razzledazzle' 'em are going to lap this up.
Dance Stance are totally different to anything else that this area has produced and they are the sort of band who are going to bring people into live venues who would never bother going to any other gigs. They have enormous class and supreme potential and even if the days of 'The Other Side Of Paradise' are now as far behind them as supporting the Dream factory, their world-beating qualities remain firmly intact.
This is pop for the discerning (middle-of-the-road?) ear and it boasts sophistication aplenty. It is no co-incidence that they were the first unsigned band to release a CD single because this is the sort of music that will sell millions to those for whom vinyl is now a dim memory. Modern dance music for modern dance people. That is the Dance Stance Manifesto of 1989 and it has the potential to attract millions of 'voters'.
Sam Holliday
Tamworth Herald – 12/01/90
Musicbox - Great Local Bands of the 1980's - week number two

Dream Factory
The Dream Factory were one of the most exciting bands ever to come out of this area and one who inspired the likes of Catch 23 and Dance Stance to pick up their guitars and play. A group who had an amazing following locally and nationally they earned massive press coverage and played several huge concerts in a hectic three year period. They ended up having dozens of members but it all came to a sad end when the key men started drifting away from one another. Their place in local music history is assured however because to many people they were the first real stars of the 80s. A great live act who were responsible for a killer single in 'Wine And Roses'. A memorable outfit.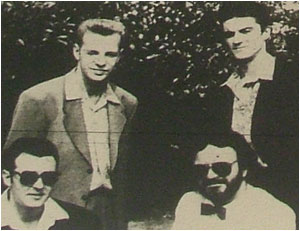 Tamworth Herald - 26/01/90
Musicbox – SNIPS
Lincolns has announced a string of shows for the next few Sundays. On Feb 4 Dance Stance are back alongside The Herb Garden, on Feb 11 it's the Motorcycle Boy and support, on Feb 18 Rumblefish will be joined by The New Puritans and on Feb 25, Where Gardens Fall will headline. More info as and when.
Tamworth Herald - 02/02/90
Musicbox - Dance in the Attic
Tamworth's wildly extravagant music scene offers you, the punter, no less that THREE very differing shows this weekend.

Tonight (Friday) the Euphoria experience takes over the Arts Centre and then on Sunday night once again you are faced with a choice.

At the Tamworth Arts Centre, Bunnyboy's Flowers In The Attic team up with The Sonics while down at the Lincolns soulsters Dance Stance will make their second appearance in recent months alongside the Herb Garden.

It leaves you once again with a puzzler about where to park yourself on Sunday but here are a few clues to what you can expect throughout the whole weekend…
Lincolns - Dance Stance/ The Herb Garden

The new Lincolns venue provides the backdrop for one of the areas best old bands and one of the best new ones. The Dance Stance - who were in action at the Empire, Leicester Square on Monday - will be bringing about their big, bold and brassy soul sound to your ears with the able backing of the sweet alternative pop of The Herb Garden. For the Stance it will be a chance to cash in on their triumphant Amington Liberal House show before Christmas while for the Herb Garden it will be a chance to show off their new line up and their fine array of original material. It lasts between 7.30 and 10.30 pm and looks to be a big fun event.
Tamworth Herald - 09/02/90
Musicbox - Herbs Grow And Dance Dance On!
Dance Stance, Herb Garden - Lincolns
Dance Stance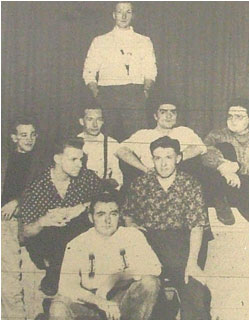 Back for their second Tamworth show in three months and back with a vengeance. having discovered that the best place to watch a band is down the side of the stage I was able to see and hear the outfit at closer range than before which gave me a chance to really understand the professional strengths and sheer craftsmanship of the group. The tight funk of the groups sound has rarely sounded better but what you see and hear at close quarters is that there is a hell of a lot of power and precision with the band these days. This was a far better show than their impressive Liberal House bash because the band seems to have more energy and looked far more relaxed which allowed for a more enjoyable show for all concerned! Musically they never put a note wrong and the general level of instrumentation was first class.
The keyboard playing of Dean Harvey was magnificent, the solid power of Sheasby and Ford in the rhythm section was dramatically powerful and lead singer Paul Hanlon was in a fine spirited mood which probably had something to do with the fact he had just become a daddy! (Hello Jasmine) Of the songs 'Certain Feeling' , 'Like Brother' and one which I think was called 'Home' were the pick but all these took second best to brilliant finale of 'Grandmas Philosophy'. This was a cracker of a song; full of a mass of 'false' endings, stunning instrumentation and with so many facets and movements that it was like watching a 12 inch remix being played out live in front of your eyes. It was a brilliant finale to a highly enjoyable show which showed Dance Stance at their strong, funky best. They may be an outrageous bunch of smoothies but its a smooth groove that bodes well for the future. So good its wicked.
Sam Holliday
Tamworth Herald - 09/02/90
Musicbox – NEWS – SNIPS
Dance Stance, who are due at the Mean Fiddler later this month, have been booked into a major studio for the start of March. The band have been invited into Tony Visconti's studio, the Basin in London, for several days work. It promises to be the most important recording session in Dance Stance's career, watch this space for more info.
Dear Sam,

I recently attended the gig at Lincolns, 4th February to watch Dance Stance/The Herb Garden. I saw you in the crowd, but I'm not at all sure you were paying attention judging by your reviews last week.

You have reviewed The Herb Garden before, and while you are always very careful not to offend, I detected an underlying opinion suggesting that this band were not really worth watching. So I went to watch, and what I saw (I must be taller than you) was a band who looked very nervous, but quite determined as they began their first number. Quite good, I thought.

Then as the next six or so tunes pumped out of the speakers, they grew in confidence and an important fact dawned on me: I was listening to a set of (all but one if I'm not mistaken) original material with a varied and melodic sound, which, even if played with fairly obvious amateurism, got to me much more than the tighter, and more professional offering from the more experienced headliners, Dance Stance.

Don't get me wrong, I have seen Dance Stance a couple of times before, and I can see that their several years experience has produced a band who rarely put a musical note wrong. But, isn't it all a tiny bit similar?

I mean, I only recognised the number they performed on Uncle Bob's T.V. show by the chorus lyrics. I'm sorry, but the tunes are too 'samey'.

Still I enjoyed the evening very much, Lincolns have a very good venue there - let's hope it continues to pull the crowds.

But, finally Sam, could you be a bit more encouraging towards Tamworth's 'young hopefuls', and remember that this is the Tamworth Herald, not the N.M.E., and the gig was a couple of unsigned bands playing Lincolns, not The Rolling Stones (Overpaid and overproduced) at the Hollywood Bowl!

Yours
Kerry McHugh
Glascote Heath

'N.M.E' Sam Holliday replies-
This is a truly remarkable letter because it flies in the face of all the criticisms that is usually thrown at me. Most people say that I am far too kind to our local bands and write too many nice things about them and yet here is a suggestion that I need to be MORE encouraging. In a sense I see that as a compliment that at last someone has spotted the devil in me! As for The Herb Garden well, there is definitely promise there but it will take more time to fully blossom and I'm sure the band realise that. I think they have got better with every gig and at this stage no one can ask for more. Your views on the Dance Stance are up to you and I know the band are not everyone's taste. But to me they represent true professionalism and real class and when they do hit upon that one killer tune which you perhaps rightly point out is still missing, I predict they will blow the charts apart. Thanks for writing anyway and I WILL try and remember that these are Tamworth venues and not the Hollywood Bowl. I don't think that will be too hard actually.
Tamworth Herald – 06/04/90
Musicbox – Loads-a-Gigs!
With the Dance Stance and Rhythm Damage show at Night Moves (see separate story on the right) it leaves Tamworth with another four gigs this week – three of which take place on Sunday.
Sunday Night…
Night Moves – Dance Stance/Rhythm Damage
An unusual combination of soul and nausea extensively previewed on the right of this story.
Tamworth Herald – 06/04/90
Musicbox – Extremes meet for FUN!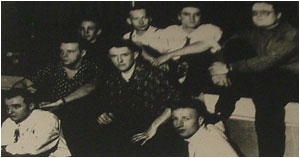 The unlikely combination of smooth soul sensation Dance Stance and self-confessed vulgar-boys Rhythm Damage team up at night Moves on Sunday for a special double-header.
The two bands who are going to be teaming up again together soon, represent two kinds of musical extreme and should produce a very unusual audience indeed. If offers those who like stylish dance a chance to hear the Rhythmic nightmare of Rikk Quay's latest combo and offers the Night Moves audience a very special night indeed.
For Dance Stance it will be the latest in a series of concerts 'back home'. After a lengthy local absence the band have played one or two local shows of late – and sold them out – and they have been delighted to see that absence really has made the hearts grow finder from their loyal followers. They play good, intelligent and solid soul which has lost none of it's shine over the years and remains one of the glitziest sounds ever to come out of this area.
Glitzy sounds is not quite how I would describe Rikk Quay, Chris Wain and John 'Windy Miller' Damage's lot. The Damage boys who made their debut a couple of weeks ago went down an absolute storm and if you want to know what they sound like well this is how the whole band describe themselves…
"The Vulgar Squad have all the appeal of a Bririani curry splattered all over the paving slab – and we are just as hard-hitting" they say "Experimentation is the only way forward in music – if it moves sample it."
The band represent a joint attack on the eyes, ear nose and throat which is intended to HURT. The contrast with Dance Stance is absolutely amazing and the end result I feel should be exactly the same.
The venue is Night Moves the time is 8pm on Sunday, so get along and get set for one of the oddest combinations sine Ian Ormondroyd met Tony Daley.
Tamworth Herald – 06/04/90
Musicbox – Letterbox
DEAR SAM,
AT 46 I might be classed as a 'Golden Oldie' even so I can and still do appreciate good sounds and more to the point can recognise talent when I see and hear it.
In my opinion one of the best sounds to come from this area in a long time does not seem to get press support it deserves. I refer to 'Dance Stance'.
The talent of these lads can be appreciated even more on their two latest numbers as they differ from their 'typecast' soul sound
I bet you will agree that in the last six months their professionalism has increased 100 per cent.
Stan Taylor,
Atherstone
Sam Holliday replies:
Age is no barrier to taste I can see! I hardly think we 'underestimate' Dance Stance though, as this column has been serious fans for a long, long time.
Tamworth Herald – 13/04/90
Musicbox – Sunday View
Rhythm Damage/Dance Stance – Night Moves
A JOINT effort this by Box scribes Sam Holliday and Sean Atkins. It was intended to be a Holliday solo-effort but during the course of Dance Stance he was well and truly 'Bayled' and his vision of the mighty soulsters was somewhat blurred. Right, on with the show….
Rhythm Damage
A band who dares to be different. A band who dare to confront audiences with images and sounds that they may not want to face and dare to keep the pressure up until the final moment. A band who thrive on the obnoxious, revel in the mire and love to crawl through their murkiest of undergrowths. And yet despite it all, a band who can still put a smile on your face. Whether it is Rikk's outlandish song links. Chris and Jon's outlandish hair pieces or those annoyingly nagging samples, there is always something to keep you smirking and few bands have the pleasure factor that this combo have. And they also have the beat to boot. The word rhythm (even if it is a yucky one for me to spell) has a well justified place in the band's name because the tribal early Ants drum attacks dominate the sound and keep your toes twitching throughout. It works best of all on a track called 'Energise' which has a huge commercial appeal and the sort of melodic rhythms that would suit Night Moves on its non-gig nights. Elsewhere the excellent version of Catch 23's 'Twisted Mind' and the final track with its TOTALLY unprintable title were undoubted highlights and the whole set was an honest, no compromise collection which earned an enthusiastic and genuine reaction. A daringly exciting band who are doing exactly what they want to do and look set to take a pretty large audience with them as they travel into the sampling equivalent of the Twilight Zone. The natural successors to Abba.
Sam Holliday
Dance Stance
THIS was the first time I had seen Dance Stance (apart from on 'Bob says Opportunity Knocks') and I was just glad I got to see them in Tamworth while they are still playing locally. The band are so professional, the songs are so catchy, and the sound is so powerful that even if you don't like Dance Stance, you have to appreciate what they do and the way they do it. But I did like them and their Hue and Cry/Curiosity Killed the Cat style showed yet another dimension to the healthy local music scene. Sadly though, the big Night Moves crowd dwindled during the consistently good set as people left early for their buses/taxis/chips etc… But that's Tamworth on a Sunday night.
Sean Atkins
Dear Sam,
Since a letter was printed in a recent copy of the Tamworth Herald, we at Rock Against The Poll Tax have been very pleased with the response from local as well as national bands.
On a national level we have received backing from bands as diverse as Spandau Ballet, The Primitives, Jimmy Summerville, Beat International, Egypt, Wolfen and Tony MacFee and the Groundhogs, on a more local level, Dance Stance, Shock Culture, Crosstown Traffic, Big Noise and The Jessie Presley Mystery have shown their support.
We are now in the process of negotiating for a venue for the poll Tax Mega-fest and we are hoping to make an announcement about this in the near future.
We still need, however, other local bands to get in touch.
Also needed are local venues who will donate them for concerts to raise money to finance the outdoor festival.
The money, after expenses, will be put into a trust fund, to be used to help people over the legal difficulties caused by the Poll Tax.
We would like to thank you for your support in this matter.
Local groups and venues who wish to donate their services for this cause please ring Mick.
Yours faithfully,
Mick, Rock Against the poll-Tax
Tamworth Herald – 20/04/90
Musicbox – Local gig reviews and comments
Dance Stance/Rhythm Damage – Nightmoves
(An alternative version of our review last week…)
It has been the best part of three months since I last saw Dance Stance perform live. So tonight would either put the icing on the cake or blow the candles out.
The stage was set, the atmosphere tense, their build up absolute and to a tee. The opening number just a moment away and wham! The power failed on us. Complete darkness. Was this an omen. I wondered.
Power restored, it was on with the business. Dance Stance were here to do one thing and one thing only – to funk out. Wasting no time 'Words on Fire' and 'Picking Up On Changes' put them well on line for a hot night ahead. 'finding Another Way' was next in the set. The front lines of the audience strutting away to their pulsating beat. You'd have thought this was the rehearsal for the Top of the Pops TV show.
This band has started to more than impress me. Front man Paul Hanlon was not only a very good singer, but was very watchable even from a distance. The individual skills of each player were so much improved since my last encounter with them. They were proving to be much more than a local bunch of guys having fun. They were tight playing together, and each song was more notable for its own character, and much improved awareness of what an audience was really after.
For me this was a totally new experience on the local scene. They were 'hot', they were 'Funk', they were 'Havin' a good time' but most of all so were the crowd.
New songs included 'Home' and 'Gather People', 'Sweetest Pain' shone out as a ballad I won't forget in a hurry. Here were a band following in the footsteps of 'Level 42', with a ring of 70's nostalgia in the new 90's mould. If any A&R scout was out that night, I'd say a record deal isn't so far away. What's the betting 'Push comes to shove' isn't their first single.
In the support roll, 'Rhythm Damage' proved their potential as Tamworth's leading acidic contenders for the 90's.
Rikki [sic.] Quay and the boys have a sound which has never really been covered in the town and if taken seriously could bring them a record deal for the underground sound which is becoming more of an asset to the music of this country.
He may look like Gary Glitter but his music is far afield from the Glitter sound.
Report by Colin Wall
Tamworth Herald – 27/04/90
Musicbox – Sunday's Best
SOME of the area's top bands hit the Town this Sunday as local gig-goers have another crop of concerts to choose from.
Bands like Dance Stance, Rhythm Damage, Sa Sa, Banned In Yellow and a brand new combo called Trappzat will all be competing for your attentions at the three major venues in Tamworth ensuring another Sunday feast for the musical faithful.
Here are the line-ups in a nutshell followed by more detailed previews…
SUNDAY
Nightmoves – Banned in Yellow/Good Question Derek/Sa Sa
The Rathole, Lincolns – Dance Stance/Rhythm Damage
Tamworth Arts Centre – Trappzat
And now for some more information (where we have it) on what you can expect to see should you make the Sunday night move to the dancefloors.
Dance Stance/Rhythm Damage (The Rathole, Lincolns)
The return of one of the area's most unlikely – but still most successful – combinations which combines wild Foetus style music with calm, cool and controlled soul gear. The Damage boys, who will be producing their own free 'Vulgar' fanzine for the night, have already impressed with their anarchic agit-pop which is played and presented with real showmanship. Ugly to look at, ugly to listen to but immensely popular already. Strange tastes these Tamworthians. Joining these monsters of shock will be the all together more chirpy Dance Stance. The band, who have really re-established their local profile in recent months, have developed their punchy pop/soul crossover to a fine degree now and as this will be their last Tamworth shown for some time they are hoping to go out with some kind of a bang. You will all know what Dance Stance sound like, you all know it's smart stuff and you all know this will be a good gig. So what the hell am I rambling on about then!!! It's at the Rathole, it starts at 8pm.
Tamworth Herald – 04/05/90
Musicbox – Local Reviews
Dance Stance – Lincolns

A set that began full of life, energy and strength but ended up leaving a slightly bad taste in the mouth. The reason for that was that during the usually upbeat and dramatic finale to the set, the Stance-boys descended into the most self-indulgent and pretentious ending I have ever heard by a local band. Amidst whelps from the faithful but grimaces from the rest the band began a lengthy amble through their respective star signs and instruments which made you wonder what on earth was going on. It was enough to cause a lot of people to change their opinions on what had been a generally very impressive set highlighted by splendid renditions of 'Love and Peace' and 'Higher Ground' plus some quite stunning brass. A sad end to an otherwise happy night, perhaps the band next time should remember that there are more people watching that the 110 per cent committed. Sorry chaps.
Sam Holliday
Tamworth Herald – 01/06/90
Musicbox – News and Snips
Dance Stance have been lined up for their biggest gig yet supporting James Brown's band at Cambridge on June 18. Wolfsbane meanwhile will be teaming up with fellow Tamworthians Magnum in an open air festival on Saturday July 14.
Tamworth Herald – 24/08/90
Musicbox – Dance Club meet the Slow Club!


The Rathole turns itself over to sophisticated dance music on Sunday with a combination of two classy acts.
Our very own Dance Stance team up with the much-mooted Slow Club for a double header for those who like to see their pop played with style and distinction.
Dance Stance fresh from a return to form Festival appearance, will be known to most of you but Slow Club are a new act to Tamworth one who are keen to develop a base-following here.
Slow Club are described as being a funk-rock dance act and are regarded as band who followers of the likes of Dance Stance, Catch 23, Dream Factory and Bash Out The Odd should enjoy greatly. They have already built up a large amount of contacts and followers throughout the Midlands and Sunday night should show why.
Two good bands then for those who don't necessarily think that gigs require leather jackets. It starts at around 7.30 and costs a mere £2.
Tamworth Herald – 07/09/90
Musicbox – Local reviews and views
Dance Stance/The Slow Club – The Rathole, Tamworth Herald
The Slow Club were so, ermm, affluent.
The exuded brazen self-confidence, bronze Mediterranean sun tans and a kind of 'we're well-off, but we'll dress down to be street-cred kids' attitude.
The singer had bags of stadium-rock pretentions and a voice which bellowed dramatically around the Rathole's smart nightclub atmosphere. But cool, they were not.
Undoubtedly one of the most professional-sounding bands to have played at the Church Street venue. Sutton's The Slow Club admittedly cranked-up a good dance groove for the first three or four numbers, but I'm afraid no band is going to succeed unless it has tunes or some kind of gimmick.
The Slow Club have neither, and for me, they were so affluent-looking to the point of being your perfect yuppie band!
If someone could write them some decent tunes and teach the singer how to dance, then maybe, just maybe, their superb musicianship could sail them on to charts success. But I wouldn't bet on it.
Dance Stance were missing a trombonist, and in their first three or four songs, sounded bland, stuttering and not up to tonight's task of pleasing a disappointingly low turnout.
The out-front sound didn't help at times, and it wasn't until half-way through the set that things picked up, with a much harder-sounding Nick reed on guitar really in outstanding form.
Although most of the songs are getting very familiar now, Nick's guitar-playing and backing vocals, were something to behold and it gave extra power and spice to a set which feels outdated in places.
Improve
Singer, Paul Hanlon's voice seems to improve every gig through, and he's far more adventurous than ever before, taking his high falsetto bits to even higher places.
Highlight of the night was their raising version of Sly Stone's 'Dance to the Music'.
But myself, and several other people around me, felt cause to wonder whether Dance Stance are plodding round and round in circles, getting nowhere, or are they slowly, but surely, reaching their ultimate goal of chart success? I think it is a narrow line which divides it, and I'm not the one to say which side of the line they currently lie on.
Mark Mortimer
Tamworth Herald – 07/12/90
Musicbox – Snips
Dance Stance are desperately seeking a new keyboard player. The band, who are currently recording a new set of songs in advance of a major tour in 1991, seek someone committed and talented.
Tamworth Herald – 28/12/90
Musicbox – Dance Away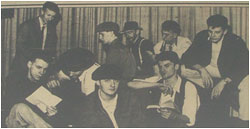 THREE top quality pop bands hit the Rathole on Sunday for a stylish dancey end to 1990.
Dance Stance, Honeyjump and Little Americans will team up together for the eve of New years Eve bonanza which should provide a calm and pleasant end to a turbulent year.
Dance Stance will headline the event to round off a year where they have regained their local live presence and produced many fine shows to boot. Recent personnel changes should make the band very interesting and the gig will be an important warm up to a planned major tour in the New Year.
Support will come from two well-established out of town acts. The Little Americans breeze in from Coventry with a big reputation while Honeyjump have their heart in Birmingham nut include popular Tamworth man Glen ' Rabbit-Hutch' Lewis. Honeyjump have already won over Tamworth audiences before and on a night like this they should shine.
Drivin' South are in action at the Cricketers Arms in Atherstone on Sunday night. The band who play a hard blues sound, feature Alan Cherry, Pete Riley, Simon Hayward and Terry Cooper and have already performed well at the venue a fortnight ago. A good night is assured so if you're in Atherstone on Sunday you know where to go.
---