Hardware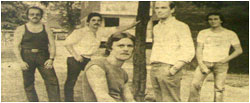 Hardware
Photograph Courtesy: Tamworth Herald
The Gallery
Musical Genre/Type: Rock
Formed: 1983
Gigs:
22/07/83
Hardware
Tamworth Arts Centre
12/08/83
Hardware
The Chequers
12/08/83
Hardware
The Chequers
29/08/83
Tamworth Rock Festival
Sitting Pretty
Those Attractive Magnets
Hardware
Royal Family
Omen 2
Time Bandits
Tamworth Castle Grounds
06/04/84
Breaking Point
Hardware
Tamworth Arts Centre
Tamworth Herald – 29/07/83
Musicbox – Back with a hard sound
ONE of Tamworth's all-time popular band have returned to the local scene.
Brewster were considered by many heavy fans to be the greatest group of their kind ever produced by the town and there was a lot of disappointment when they split up two years ago.
But now they are back in business, with a new name – Hardware – and a new positive approach.
And their return to the scene began on Friday with their first gig at the Arts Centre.
"It all went very well," said drummer Garry Norris. "Everybody was shouting for more and considering it was our first gig in so long we were very pleased with how it went."
Although the band are essentially the Brewster of old, they have added a new guitarist – another well known local face, Steve Birch formerly of Flash Harry.
But why did the band decide to get back together after a two year absence? Garry explains: "Everybody was getting a bit fed up doing nothing, so we decided we had nothing to lose by reforming."
Garry says the sound hasn't changed a great deal although the band do now include more originals in their set. But one thing that has stayed the same is the band's loyal following who turned out in impressive numbers on Friday.
"It is all going very well," said Garry, "I am certainly glad we reformed."
The band will be back in action in two weeks time when they play the Chequers on Friday, August 12.
Tamworth Herald – 12/08/83
Musicbox – Hardware follow up their successful first gig at the Arts Centre with another performance tonight at the Chequers in Hopwas. The gig begins around 8pm and rock fans who remember Brewster – from whom Hardware were formed – are in for a treat.
Tamworth Herald – 26/08/83
Musicbox – Local line-up for a holiday rock special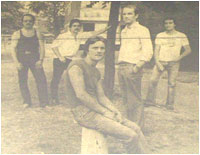 THE Castle Grounds is the setting on Monday for the biggest rock event in Tamworth this year.
Five local bands have already been confirmed for a Bank Holiday rock festival – the first in the town for four years.
And the formidable line-up promises to make it an afternoon that has something for everyone.
Hardware will be headlining the show and they have already enlisted Those Attractive Magnets, The Royal Family, Omen 2 and Sitting Pretty as support.
The whole event has been organised by Hardware and Gary Holt from the Arts Centre.
"We decided it would be nice to get a few bands together and we just hope there will be a lot of people there," said Garry Norris of Hardware.
The gig begins at 2pm and is completely free. No running order has yet been made but there is likely to be a DJ to host the afternoon and introduce the bands.
The afternoon promises to be extremely varied ranging from the synth pop of Those Attractive Magnets to the more traditional rock of Hardware.
As well as these two well-known local bands, the festival will also provide an excellent opportunity for three newer outfits to make an impression on the local scene.
Great acclaim
Omen 2 are the follow-up to the once popular men and they have promised a totally new sound.
The Royal Family are a talented blues rock band who have already gained great acclaim following performances at the Tavern.
And the gig will be the first major outing for Sitting Pretty, a new band recently formed by 'Tambeat' editor Mike Turner.
There is also a chance that other bands will be added to the line-up – the Classified Ads have still to confirm – and it all looks set to be an excellent afternoon for the town's rock fans.
All it needs is for Tamworth people to pack the Castle Grounds and ensure that the Bank Holiday festival becomes a firm date for the local music scene.
Tamworth Herald – 13/04/84
Musicbox – Pounding, Punching Powerful!
Breaking Point/Hardware – Arts Centre
When you go to see a new band for the first time it is normally dangerous to either dismiss or praise them on the strength of just one performance.
Many local groups need to be heard several times to be fully appreciated – and it takes a very special band indeed to have an immediate, over-powering impact.
But such a band is Breaking Point. After just 45 minutes in their company, I was left quite breathless after a show which exuded energy, style and power from start to finish.
With the impact of a giant cannon ball crashing into a china shop, Breaking Point took to the stage with a dynamism and fire that is sadly lacking in most Tamworth bands.
Their original and melodious sound soon became irresistible and the trio's undoubted enthusiasm quickly transferred itself to the paying customers – many of whom clearly had never seen the band before.
The sound is similar to the new wave/rock crossover spearheaded by the likes of U2, The Alarm and Big Country. Based mainly round infectious melodies, they use stirring guitar breaks, pounding rhythms and airpunching lyrics, slaying the audience into voluntary submission.
Sparkle
At times the music does slip into ancient rock riffs but no sooner do they start to lose their sparkle when they hit straight back with anthemic numbers like "My Love Lies Bleeding", "Run For Your Life" and "Fighting For the Gods".
But the best number of all was saved right until the end, "The Ode To Nicholas Romanov" closed their set and was both exciting and very moving, making it without doubt the best new song I have heard a local band perform in a long time.
It was simply magnificent and I for one will be waiting with excitement to see them perform that and many of their other fine numbers when they take to the Tavern in the Town stage next Thursday. A band to support, a band to enjoy and a band for the future.
After the sheer delights of Breaking Point I felt Tamworth's die-hard, enthusiastic rockers, Hardware would prove to be a little of an anti-climax.
But to their eternal credit the band soon won over the audience – many of whom were Hardware's loyal clan-like followers – and they turned in a set which showed that the passing years had not dented their enthusiasm, drive and sheer enjoyment at making rock music.
Triumphant
Unfortunately the band had to pack in after around half an hour when illness forced one of their members to retire. The band promised to re-appear at the Arts Centre when everything is back to normal and judging by their determination to regain the crown as Tamworth's top rock band, it promises to be another triumphant night for the fans.
So an evening of disappointment for Hardware but 100 per cent success for Breaking point. Leading into one of their cover versions U2's "I Will Follow", Breaking point's lead singer Kevin Briggs said "Thank God for U2".
Looking at the trio's potential in Tamworth terms it is really a case of thanks God for Breaking point. See them as soon as you can – you cannot fail to be impressed.
SAM HOLLIDAY
---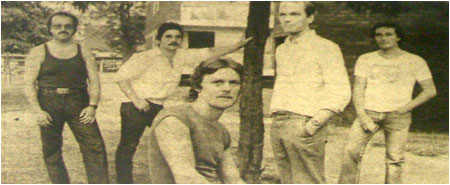 Hardware
The full profile and history of Hardware has yet to be added to TamworthBands.com Call back soon to read the full band details.
If you have any further information about this band please email: info@tamworthbands.com