Dickens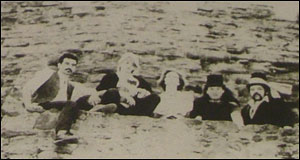 Musical Genre/Type: Rock
Formed: 1983 Split: 1988
Band Members:
Mick Rutherford : Lead Vocals (Baddesley)
Paul Braimbridge : Lead Guitar/Backing Vocals (Nuneaton)
Dave Gordon : Bass Guitar (Nuneaton)
Paul Reeves : Drums/Yes (Nuneaton)
Dave Farndon : Keyboards (Nuneaton)
Band Variations
Variation No.1 - From: late 1983 to: Mid 1984
Mick Rutherford – Vocals, Paul Braimbridge - Lead Guitar, Ronnie Hall - Bass Guitar, Paul Reeves – Drums, Dave Farndon - Keyboards.
Variation No.2 - From: Mid 1984 to: 1986
Mick Rutherford – Vocals, Paul Braimbridge - Lead Guitar, Ronnie Hall - Bass Guitar, Paul Reeves – Drums, Brian Johnson – Keybords.
Memories:
Dickens were formed by members of various local bands. Paul Reeves was from Nuneaton Band Sneak Preview and Tamworth band ICE. Paul Braimbrige was with nuneaton Rock band FIREBRAND. Although mainly Nuneaton lads, they played regularly in and around Tamworth including gigs at The Chequers at Hopwas and the Arts Centre. They released their self-produced album "STANDING OUT" on the Hawkmoon Label in 1985. Paul Reeves
Gigs:
15/11/84
Dickens
Tamworth Arts Centre
18/01/85
Dickens
Nuneaton Arts Centre
14/01/85
Dickens
Gaf The Horse In Tears
Love On Board
Tamworth Assembly Rooms
01/03/86
Dumpy's Rusty Nuts
Dickens
General Wolfe
Coventry
12/03/86
Dickens
Aston University
14/03/86
FM
Dickens
General Wolfe
Coventry
19/03/87
Dickens
Colin Campbell
Coventry
20/03/87
Dickens
Tamworth Arts Centre
Songs
The Poser
Take Off and Fly
Listen To Me
Standing Out
Hit and Run
Going Over
Confused
Travelling Home
Come Running
Debutante
(All songs by Dickens)
Recordings
Standing Out (LP) on Hawkmoon Records
Track List: side 1 The Poser Take Off and Fly Listen to Me Standing Out side 2 Hit and Run Going Over Confused Travelling Home
Tamworth Herald Features:
Tamworth Herald 09/11/84
Musicbox – Mick's rocking right back from the Ice age!
ONE OF TAMWORTH'S best know musicians of all time returns to the local scene on Thursday night when he brings his new band to the Arts Centre.
The re-appearance of Mick Rutherford will bring back floods of memories to former Ice fans who look set to fill the Arts Centre once again.
Mick's new band are called Dickens and they are part of the new Organisation set up which has sprung up in Tamworth. Already Dickens have supported the hugely popular Budgie on a national tour and now they have their own plans for a single and album and a European tour.
Their decision to start their rebirth in Tamworth shows the faith Mick has in the town which springboarded him to fame. Just for the record, Mick has made a staggering 21 singles, six albums and a maxi-disc, during his long career.
He has also made a solo album and has worked with a host of people including The Alexis Korner Blues Band, Tank, Power and Glory, The New Spencer Davis Group and many, many more.
Toured
Mick is not the only 'name' in Dickens. Drummer Paul Reeves is another ex-Ice man who has toured the country extensively and also played as a session musician on a number of TV commercials and theme tunes.
Another Dickensian is guitarist Paul 'Bram' Braimbridge, who, as well as working throughout Europe, has also toured the world with Gillan stablemates Firebrand.
Just to complete the picture is the bassist of the band Ron Hall who used to be in No Comment, a band who played support to the irrepressible Ian Dury. With keyboard player Brian Johnson this is the line-up of Dickens a band packed full of experienced musicians and five highly-charged musical brains.
Their sound is original rock displayed perfectly on their powerful and memorable four-track cassette spearheaded by the excellent 'Hit and Run'. This song will be one of many the band will be performing at Thursday night's show where they will be ably supported by local r 'n' b outfit La Grange who have become a Tavern in the Town favourite. All in all a terrific night out is in prospect for just £1 a ticket.
For Mick and for Tamworth's music scene it promises to be a night of nostalgia and hope. Kick-off is around 8pm on Thursday. Miss it at your peril.
Tamworth Herald 30/11/84
Musicbox – Dickens of a night out – LETTER
I ALWAYS read your music page in the Herald and your article on 'Dickens' interested me enough to go along to the Arts Centre.
Like many people I felt a great sadness when Mick Rutherford left 'Ice' and the inevitable split came.
It was with mixed feelings that I went along with two of my daughters. I wondered whether Dickens would be a poor substitute for Ice or, Mick's voice would be as good three years on.
However, Dickens are the best band I have ever heard. No way are they a substitute for Ice. The sound and the atmosphere they create, left me feeling exhilarated, to say the least.
Mick Rutherford's voice is better than ever before and it's hard to believe that he's been away for so long. Paul reeves has always been a great drummer and I believed that no-one could improve on perfection…but he has!!
Mrs. M. Ford
Glascote Working Mens Club

Musicbox understand that Dickens are in line to support Slade on their forthcoming tour. At the moment this is unconfirmed.
Tamworth Herald – 11/01/85
Musicbox – Dickens date
DICKENS, who made such an impact in the Musicbox poll, have arranged tow major concerts in the next two weeks. Tonight they are hitting the valleys, for a concert in Cardiff, and then next Friday, they are back a little nearer home when they play Nuneaton Arts Centre, with the unforgettably-named Remember.
Tickets for the Nuneaton concert cost just £1 on the night, or van be bought by ringing Mike Adcock.
Tamworth Herald – 17/05/85
Musicbox – Off on tour with great expectations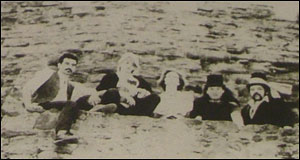 Dickens…the world really is their oyster
TAMWORTH rock band Dickens, have unveiled plans for a mini-world tour which will encompass gigs in places as far apart as France and Hong Kong. The group have been working hard recently getting the tour ready and the whole thing will kick-off at the start of June, when they will embark on a 13 date British tour.
And just to complete an ambitious and wide-ranging schedule, the band will be releasing their first ever album "Standing Out" on June 1.
Tamworth Herald – 31/05/85
Musicbox – Dickens fulfil their great expectations…!
DICKENS - STANDING OUT (Album)
IF THERE is one thing worse than being able to easily categorise a band's music it is NOT being able to categorise them.
Fir, try as I might, I just couldn't find any convenient label to stick on this, the debut album from Tamworth's own Dickens.
At times it is unashamed, unabashed pop music, but the very next moment you could be listening to Genesis or Deep Purple or Ultravox, or any number of other bands who completely destroy and label that ma be slotting into place in your confused mind.
But, perhaps for the very reason of its diversity, I am glad to report that this really is a very impressive debut work.
Vocalist Mick Rutherford may well be the Godfather of the Tamworth scene, but the youthful enthusiasm he shows on this record is something the keenest teenager would find hard to match.
Own league…MISSING TEXT
Tamworth Herald – 07/06/85
Musicbox – What a Dickens of a good time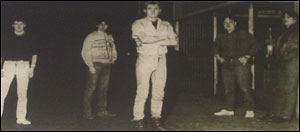 A HOST of Tamworth bands will be on show in the next few days in what promises to be the most exciting week so far this year.
The Dream Factory, Dickens, One On One, Gaf The Horse In Tears and Love On Board will all be in action in the next few days making it a week to remember.
Top 'billing' must go to The Dream Factory who on Saturday will step out in front of an amazing 20,000 at Castle Donington.
Major event
Then on Thursday the Dickens world tour comes to Tamworth Assembly Rooms for a three-band show which looks like being a major event in itself.
And finally tomorrow night sees One On One bringing their rich talents to the Arts Centre where they will be lining up with Birmingham outfit Chance.
For the Factory there is no doubt that their appearance at the Monsters of Soul event is a career highlight so far. The band were confirmed on to the bill two weeks ago and it means they will be playing with the burly, boisterous Bad Manners and the highly-rated Meteors. The event is seen as the scooter event of the year and there is no doubt that hundreds of local riders will travel along to cheer on their heroes.
Neo-legendary
The Factory, who looked in good form when I caught them at The Warren last week – should include the neo-legendary Dave Smith in their line-up making sure that one Royal Family – if not the other – is represented at the event.
The gig is the highlight of a spate of shows for the band and with all the expected media and spectator interest, it could really be a big break for the enthusiastic outfit.
Enthusiasm is also something which Mick Rutherford and Dickens will bring to the Assembly Rooms on Thursday. The band have many prestigious gigs lined-up all around the country but there is no doubt that there is something special about 'coming home'. The gig, to start at around 8pm costs £1.50 and punters will also have the chance to see two exciting support acts. They will be joined by the hard-to-define but easy-to-enjoy Gaf The Horse In Tears and the happy-go-lucky but determined-to-succeed Love On Board.
Dickens will be selling copies of their excellent album 'Standing Out' on the night and there is a good chance music company executives will be watching. EMI, CBS and Virgin have all confirmed they will be sending A and R men to watch the band on tour and the group have also heard that they are to get a half-hour show on the Steve Williams Radio Mercia show on June 16.
On film
As well as coming out of the airwaves Dickens may also come out of the little screen shortly as two gigs at Stafford and Nuneaton are being filmed for possible television shows. A Thursday night gig not to be missed.
Less grandiose maybe, but equally important to the group, is One On One's show at the Arts Centre tomorrow. There the band will be able to test out the numbers they are hoping to record on to new demo next week.
It will be the band's second trip into the studio following an excellent demo early last year. One On One will be playing with Chance a band who are not unfamiliar to me! Entry to this gig is just 60p and it looks like being another enjoyable night.
So a week full of excitement. For One On One to test out new material to be recorded. For Dickens a chance to get the 'home' verdict on 'Standing Out' and for The Dream Factory a chance to go further down the road to their inevitable success. It is further proof that Tamworth's music scene is buzzing at a wonderfully alarming rate.
Tamworth Herald – 21/06/85
Musicbox – A kaleidoscope of sounds – despite PAs!
There have been several interesting gigs in the town recently and Musicbox has been keeping tabs on most of them. Sam Holliday took a look at the Dickens/Gaf The Horse in Tears and Love On Board show; metal correspondent Kev Unwin saw Scarab's BHX benefit and the ever-enthusiastic Martin Webster put pen to paper about The Folk Circus. Here are a few snippets of opinions on these very different gigs…
SCARAB – Opening with 'Tonight We Take No Prisoners' they played their usual set in a different order. After a brief moment when lead singer Paul tried to excuse the rather expensive entry price, the audience lapped it up. The flame fountain was there again as was the 'gas mask'.
Unfortunately the power of Mick Goodby's voice was too much for the Scarab P.A. and it blew a fuse, 20 seconds into the song.
LOVE ON BOARD – Not even an extremely and unhelpful and stubborn PA could stop Love On Board impressing me that they have improved greatly recently. The old numbers seemed insignificant next to new powerblasts like 'Responsible For this' which was as exciting as it was memorable. Particularly impressive was the general musicianship of Nick Reed, Neil Jones and Glen 'Lofty' Lewis all played skilfully but the real honours were won by drummer John twist who was simply superb and sounded better than he has ever done.
GAF THE HORSE IN TEARS – Despite the fact that Tony Cole was still wearing THOSE shorts, Gaf turned in another interesting, varied set. They have so many facts and influences in their sound, that tying them down to one musical style is like trying to climb up a wall covered in grease. You get so far towards your goal and then you slip down again. Best number was a newie with an unpronounceable German title although I still have a soft spot for the catchy 'Machine motion' which was given two refreshing airings.
Friendly
FOLK CIRCUS – Perhaps Folk Circus is not such an apt title for this motley crew because you will never hear 'Greensleeves' or 'Wild River' at this gathering. No, mainly it is a celebration of what is good about modern contemporary acoustic music where all styles, blues, country, rock and roll and so on are covered. It's free, fun and friendly and yet further proof of Tamworth's rapidly expanding kaleidoscope of modern music.
DAN (part of Folk Circus)
All the way from the wilds of Canada we have Dan who is easily the most popular performer ever to grace the Tavern in the Town stage. He sung of "Wildwood Wood" and "Two Women Blues" with an infectious good humour that touches your heart and makes your soul sing.
DICKENS – With a spirit and enthusiasm that has always been Mick's hallmark, Dickens took to the stage. The set (I had to leave early unfortunately) was largely made up of the band's fine album 'Standing Out' and was for me dominated by 'Hit and Run' a show stealer if ever there was one. The sound coming out of the PA speakers, however, was not nearly as sharp as the one that comes out of the speakers of your record player and some of the more delicate touches that symbolise the band's panorama of sound were perhaps sadly lost in the vast Assembly Rooms arena. Still a very enjoyable set and let us hope it helps them to conquer the world as they begin their epic global adventure.
Tamworth Herald – 28/06/85
Musicbox – Chance to win real Dickens of a treat
HERE'S your chance to win a special white-labelled copy of the excellent debut album by Dickens – 'Standing Out'.
The well-crafted album is a tribute to the continuing talent of Mick Rutherford who, backed with the fine musicianship of Paul reeves, Paul Bainbridge and Brian Johnson, has managed to produce an album which covers all forms of modern pop and rock music.
The album we are giving away is a specially autographed white label version which is a rare test pressing. The winner of that saucy treat will also receive an autographed poster and tour programme.
The second prize winner will also receive an autographed poster and tour programme. All you have to do is answer the simple question below and get your entry in as soon as possible:
1. Name Mick Rutherford's former popular band
2. Name the first venue in Tamworth where Dickens played.
It couldn't be easier so send your answers as soon as possible to Sam Holliday, Dickens Contest, Tamworth Herald.
Tamworth Herald – 19/07/85
Musicbox – GOSSIPBOX
A RECENT Musicbox contest for the Dickens album was won by Miss Antonina Allsop of Rosemary Road, Amington. The second prize of an autographed poster and programme went to Theresa Heaven, Glascote Heath.
Tamworth Herald – 09/08/85
Musicbox – Snips…Snips…
Another band who are treading the national boards are Dickens who have lined up quite a few gigs. On Saturday Mick will be leading his troops into war at South Wigston and on Sunday Dickens will be headlining the Nuneaton Festival. On Wednesday, August 21, you can catch Dickens at Queens Hotel, Stoke, and on Sunday August 25, they will be headlining day one of Tamworth Rock Festival.
Tamworth Herald – 04/10/85
Musicbox – GOSSIPBOX
AREN'T things quiet at the moment. After all the heady action of the summer with the Festival, TamAid and a million other things, the Tamworth music scene seems to be having a well-earned siesta.
This week, for example there are no Arts Centre concerts at all but fear not, things are still happening.
The chirpy Dickens will be taking their stageshow – Mick Rutherford hat et all – to Hinckley nightclub on Monday night for a headlining slot. I have a few free tickets if anyone wants one.
Tamworth Herald – 25/10/85
Musicbox – SNIPS
Both The Sway and Dickens have both been working on videos lately. More news shortly on the high-tech duo.
Tamworth Herald – 29/11/85
Musicbox – SNIPS
DICKENS will be playing one of their first major shows for some time tonight (Friday) when they bring a two-hour set to Tamworth Arts Centre. The band, who are due shortly to record the follow-up to the highly successful 'Standing Out' album, will be playing a mixture of old and new material and are hoping they will be well supported by the town's rock followers. For those new to Dickens, they play AOR style music with touches of traditional rock and modern pop. They have a lively good-humoured stage show and are sure to provide a good night out for people wanting to hear well-written rock music played with genuine skill.
Tamworth Herald – 06/12/85
Musicbox – SNIPS
DICKENS who are all set to record their second album, are on the lookout for a new drummer. The group have split with their former sticksman due to musical differences, and it is now imperative they find a high quality replacement as soon as possible. They have many forthcoming gigs on their books and are also putting the finishing touches to the songs that will make the follow up to the 'Standing Out' collection. What they need is a highly-talented and preferably commercial, powerful AOR music. If you can fit the bill, the band are arranging auditions, and you can find out more details by ringing Mick.
Tamworth Herald – 28/02/86
Musicbox – SNIPS
DICKENS re-appear from a quiet period to play a trio of prestigious shows. On Saturday, March 1, they will be supporting Dumpy's Rusty Nuts at the General Wolfe in Coventry; on Wednesday March 12, they are at Aston University and on Friday, March 14, they have lined up another General Wolfe show with FM.
The band are due to record their second album shortly and they are also busy working on a … for the band. Another thing of interest in the Dickens camp is that loveable fruitcake Mick Rutherford is now a fully fledged American footballer with the Tamworth Trojans. So if you play the sport and hear somebody raging at you whistling 'Standing Out'…get out of the way!
Tamworth Herald – 13/03/87
Tour band plays on after £5,000 raid
A TAMWORTH rock band who could be on the verge of 'making it big' have pledged to continue an imminent British tour…despite having £5,000 worth of crucial equipment stolen.
Thieves broke into Dickens' coach and stole instruments and equipment in a midnight raid. A brand new mixing desk – used to control sound levels during live performances – and a case full of 24 vital microphones went as the raiders plundered the bus.
Also stolen in the Nuneaton raid was a valuable Yamaha electric piano and a high quality Westone bass guitar – both vital to the band's enigmatic melodic rock sound which has won them fans up and down the country.
The band were all set to start on a major tour which will take them to venues in places as far apart as Cardiff and London. And because they were not able to afford insurance premiums on their equipment, the tour looked certain to be scrapped.
But they dug deep into their pockets and came up with £1,500 – enough to buy 13 replacement microphones. They will use second-choice instruments to take the place of those taken and are ready to hit the road.
And shortly after the current tour, Dickens are set to travel to Germany where a series of important dates have been lined up. Lead singer Mick Rutherford said "I can't describe my feelings about the people who took the equipment."
Tamworth Herald – 13/03/87
Musicbox – SNIPS
Dickens are back! Mick Rutherford's outfit have hit the road again and following two successful Nuneaton gigs last week they play the strangely-named Church (that's up North somewhere according to Mick) on Saturday, then the Colin Campbell venue in Coventry on Thursday, 19 and possibly Tamworth Arts Centre.
Thanks to: Paul Reeves