Flowers in the Attic
Musical Genre/Type: Indie / Alternative
Band Members
Steve Coniff - Lead Vocals
Ashley Crump - Lead Guitar
Mick Fenton - Rhythm Guitar
Richard Cooksey - Bass Guitar
Stuart Ward - Drums
Gigs:
02/09/88
Sonic Noise Happening
Emma Gibbs Loves Badges
Ruby Blaze
The Outside
Flowers in the Attic
The Eppies
Ferocious Apaches
Tamworth Arts Centre
04/02/90
Flowers in the Attic
The Sonics
Tamworth Arts Centre
20/02/90
Emma Gibbs
New Puritans
Flowers in the Attic
Hare and Hounds
Birmingham
08/04/90
Flowers in the Attic
Money Gods
Broken Dreams
Lincolns (The Rathole)
04/05/90
The DHSS
Flowers in the Attic
Three Tuns
Atherstone
03/06/90
Chemikill (plus Blaze Bayley)
Rhythm Damage
Flowers in the Attic
Tamworth Rock Festival fundraiser
Tamworth Arts Centre
Songs
Rock N Roll Niggar (Patti Smith/ The Flowers)
Steamboats and Candles (The Flowers)
Sorry (The Flowers)
Lead Ranorck (The Flowers)
Blue Books (The Flowers)
Emily Lloyd (The Flowers)
Synopsis (The Flowers)
Memories
At the Festival in the Castle Grounds ('89 or '90) we struck up a relationship on the day with the Sherbet Trees - who decided it would be appropriate to join us on stage and dance.
Ashley Crump
Tamworth Herald Features:
Tamworth Herald - 02/09/88
Musicbox – Six band show for new sensation seekers
TAMWORTH Arts Centre tonight (Friday) stages a unique six-band show aimed at anyone who rejects the established town music scene and craves for something different.
Actually LIKE the local scene, it would be unfair of me to attempt to describe or dilute what the concert IS about so I will leave it up to Rob Cross and Mark Hynds to give you the details.
The floor is yours boys to SPOUT!
Hello Sam,
After this year's Festival (undoubtedly the worst ever) it seems the Town's music scene is slowly grinding to a halt with the same old people under different labels but none the less desperate for new ideas, decent tunes and above all enthusiasm.
In an attempt to remedy this we are organising a 'sonic noise happening'. On September 2 at Tamworth Arts Centre, bringing together six groups who all share a similar attitude to music endorsing youth, enthusiasm and arrogance, and other important punk ideals which seem to have been forgotten in a fashionable haze of studded leather and spiky hair.
Six bands are involved including four making their first live appearance. The bands are:
Ruby Blaze: Young, enthusiastic rock noise, with a telling edge.
The Outside: Hard, satanic, fumbling guitar blast.
Flowers in the Attic: Hurtling guitar meets Velvets trash melodies.
The Eppies: Howling mad avant garde dirge trash scuze.
Emma Gibbs Loves Badges: True pop with arrogant appeal, something to make you think you saw God.
Ferocious Apaches: Sonic metals sub-catatonic soundheads.
The whole things starts at seven and costs just 50p, because there are six bands playing be early – first band on stage about 7.30. Also free magazine explaining the ideology behind the night and future hopes.
Could you please give this as much space as possible as it is the only new thing to happen in Tamworth for ages.
It's a direct response to the apathy in the local music scene and all those people content to wait until the next festival and their fifteen minutes of 'fame' in the Castle Grounds.
Participate, organise, get involved or get out of the way.
Sonic love.
Mark and Rob
Tamworth Herald – 10/02/89
Musicbox – Holliday gets slagged off parts 1257-1260!
Dear Sam,
Just dropped you a line to say how really tripped out I was by the gig at the Arts Centre on Sunday night.
All the bands were excellent, Flowers in the Attic went down really well, good one lads!
The Psychedelicatessen were cool as well, I had seen them play before, but last night's gig was sheer excellence. Andy has got a really powerful voice.
And finally, Big Muff, like the name, love the sound, totally sky-high, mind-blasting stuff. I loved their first one, I think it was called 'Mary Anne'. And the Chainsaw Massacre film went brilliantly with the music. All the band looked like they were on another planet. Great!
Oh yeah, didn't see YOU there, you missed a goof one this time.
Yours,
Well Happy
Tamworth Herald – 31/03/89
Musicbox – Big noises at the Arts Centre
Tamworth Arts Centre opens its doors for another fine night of entertainment on Sunday when three relatively new acts hit the boards.
The stylish guitar-act Big Noise lead the charge with the able support of MUSICBOX poll favourites Flowers in the Attic and new Smithites Shock Culture.
The gig described as an 'April Fools Binge' (but it's April 2nd boys!!!) has been organised by Big Noise and it is possible they will add a fourth act before the big day.
This very interesting looking new band showcase will cost just one pound of you hard earned cash and that should bring a big and noisy crowd into the Arts Centre. Sunday's the day!
Tamworth Herald – 05/05/89
Musicbox – Flowers in the Centre
ACCORDING to our Arts Centre 'informer' those loveable Flowers in the Attic are at the Centre again on Sunday night. Sadly at time of going to press we knew no more details than that but if you want to contact your local flower or the Centre itself I am sure they will provide you with more info so get along…
Tamworth Herald – 18/05/89
Musicbox – The French Connection
SCREAM Dream have just grabbed a tasty slice of the international action. For the five piece cult (or is that Cult?) act have been booked to take part in a major European festival at the start of August.
The group will join three other British bands at the Lyons (France) festival on August 5 in front of an estimated 25,000 strong crowd.
The band earned this marvellous trek after their tape was eagerly snatched up by a European agency. They agreed to out the band on at Lyons in what has become recognised as a very popular outdoor event.
"This is obviously the biggest thing that has happened to the band and we are all delighted," explained guitarist Paul Keeton. "We are going to be playing in a massive bullfighting arena which last year was full of Europeans dying to hear good British music."
The concert will give the band not only their biggest ever gig but also their first major taste of the high-life. They will be flown out to France and will be put up in a hotel during the course of their stay. It all sounds too good to be true, but the group have the contract to prove it.
"It is all a bit unreal at the moment but we have it in black and white and so everything is finalised. It should be a great weekend.
," said Paul.
Local fans will be able to catch Scream Dream a little closer to home in the next couple of months. On June 2 they play the third "Scum Ball" gig at Tamworth Assembly Rooms up with DHSS, Flowers in the Attic and Sheffield band The Edge Of Faith.
Scream Dream follow this on Sunday July 16 when they play on one of the major slots at Tamworth Rock Festival. And then it is off for a bit of 'ooh la la!"
Tamworth Herald – 02/06/89
Musicbox – Scummy-types head for the Assems!
TAMWORTH Assembly Rooms is the setting tonight (Friday) for a splendid line-up in the second 'Scum Ball' event.
The Assembly Rooms will open its doors to the power of Scream Dream, Flowers in the Attic, Sheffield missionaries The Edge of Faith and the MUSICBOX band of the year, DHSS.
The quartet will join forces for what Scream Dream guitarist Paul Keeton confidently believes will be a real party.
"The great thing about playing at the Assembly Rooms is that everyone seems to enjoy the spectacle," said Paul. "For the bands it is a wonderful ego trip being able to play on such a big stage, and all the punters seem to enjoy going to the Assems as well."
Scum Ball Two aims to be more that-yer-average gig. The organisers have splashed out considerable expense to hire the Assembly Rooms and according to Paul that extra expense (and extra risk) is very worthwhile.
"The Arts Centre is good for smaller gigs but you can't beat getting out onto a stage like the Assembly Rooms and giving it some stick," he said. "Everyone liked the last couple of Assems shows we did and we are confident that a big crowd will turn out on Friday night."
Opening tonight's Scum Ball will be Flowers in the Attic, easily one of the most popular new bands on the scene. The show organisers are hoping that the Atticers will bring in a whole new audience to the Scum Ball scene and a good set is assured.
Following on from the Flowers will be the Edge of Faith, a band who you won't have seen yet. They hail from Sheffield and such is their pedigree that they have already toured with the famous alternative act Salvation. The Edge of Faith are described as unashamed Mission-ites and they sound like good Tamworth material.
Third up tonight will be Scream Dream, the main organisers of Scum Ball '89 and the only band to have played all the three Assembly Rooms rock bonanzas. The band promise a set featuring one or two newies and they are looking to show the world that they have hardened their alternative base.
"We've definitely got a bit heavier," said Paul, "That's entirely because of our drummer whose a real metal-head."
Following on from Screamers and the Metalhead, will be the walking, wailing nightmare that is DHSS. This four-piece have been keeping busy of late and are keenly awaiting the chance to play in the luxurious Assembly rooms arena. It is the same stage that had held The Beatles and The Rolling Stones remember so DHSS should feel well at home with those fellow mega-stars…
"We're gonna be as mega as ever," said eloquent keyboard fraud Rope Quay, "It should be even more fun than watching grass grow."
Reggie Quay added that DHSS would feature a 'very large surprise' in the middle of their set and without giving too much away it is ONE of a) Jason Donavan b) Julius Caesar or c) Buttercup. We don't know which one at this stage.
That's the package then – Flowers in the Attic, Edge of Faith, Scream Dream and DHSS. Throw in the excellent Hamlets bar, a big noisy sound and a lot of fun and you can get for a fine show.
It starts at 8pm so get your scummy selves along to Scum ball 2!
Tamworth Herald – 09/06/89
Musicbox – Spaced out at Scumball II
FOR THE MANY Scumballers who obviously overdid it at the Assems bar and are having difficulty remembering the evening, let me assure you that you did enjoy it…
FLOWERS IN THE ATTIC
With Sheffield's Edge of Faith apparently enjoying the delights of Britain's motorways (they never did arrive) it was left to Flowers in the Attic to set the Scumball rolling. It's never an easy task to be first on but with the large hall filling up slowly from the back – the band had to look far into the dark and distant reaches of the Assems for their audience.
It was an impressive set and my only complaints would be that the vocals didn't match up to the Flower's powerful music and that the band failed to make use of the fairly big Assems stage.
I'm sure they'll go from strength to strength before we've seen many more Scumballs however.
SCREAM DREAM
LOOKING and sounding undeniably like a cross between The Cult and any good old-fashioned Heavy Metals band you care to name, the Kings of Scumball showed how much they enjoy the venue and the event as they put on a powerful performance.
Part of the timid crowd had ventured nearer the front and it was clear that Scumball II was living up to its expectations.
'Not their best' said a source close to the band, who shall remain nameless, but it was certainly good and will have whetted a few appetites for their Rock festival appearance.
DHSS
THE SCUMBALL demonstrated the strengths and weaknesses of DHSS quite clearly. Their strengths are their ability to play in a large-ish venue and to get the crowd enjoying a load of their now familiar songs, plus splendid new tunes like 'Pennies from Heaven'. The stage also gave Rikk Quay plenty of room to leap around without knocking too much over.
The weakness was the inevitable cock-up as the band's Computer Studies CSE proved insufficient to keep the music to certain songs going for longer than a few seconds. Musically and technically they are excellent but on far too many occasions they show all the organisation of a British rail timetable…and it's a shame. When they are good, they are absolutely brilliant, but when things go wrong, they can be embarrassing.
Shock news following Friday's gig is that Scream Dream vocalist Steve has parted company with the band. Band spokesman Paul Keeton blamed good old traditional 'Musical differences' for the split. Musicbox understands a replacement singer is already being lined up.
Sean Atkins
Tamworth Arts Centre – tonight (Friday)
Bash Out The Odd return to the Arts Centre with their new line-up and new set. The band, who are embarking on a series of dates at the moment, will join and alternative-based line-up which also features new local heroes Flowers in the Attic. The Flowers, who describe themselves in their festival biog as having a Bunneymen/Doors sound, will be joined by yet another flowery band in the Herb Garden. A fourth group may also be added to an impressive looking line-up and if the bands can get people out of the 'I won't go to a gig on a Friday' mode, it should be a good night.
Tamworth Herald – 14/07/89
Musicbox – Reviews in Brief
Flowers in the Attic – Arts Centre
This band improves with every gig and Steve's vocals seemed really polished on the night. The first song was the best and was that a catchy bass line or what? Review Mark from Kingsbury.
Tamworth Herald – 18/08/89
Musicbox – Flower Power!
Tamworth Arts Centre will stage a unique 'Flower Pop Festival' on Sunday night.
The gig will feature five bands described as representing the crème of Indie talent in the Midlands.
Spearheading the whole show will be Andy Lane's new act Infinity Incorporated. This features former Birdland and Psychedelicatessen man Andy lane, another Psych export Marie Hayes, ex-Reptile Paul Aspel and Sons of Rest mad Tim Adkins.
Together the group will be making their debut under their new name although a demo they have already produced has already earned a Brum Bear review of 'wonderously awful'.
The full line-up for this five act happening is as follows…
Big In Texas – A strong Coventry based band who have apparently earned their place in the gig because one of them 'fancies Steven'. Don't ask me I only write this stuff.
The Herb Garden – Described as 'the unsung heroes of Tamworth's Indie scene' they feature Tim and Lisa of 14 Jackies fame and former Apache Rob Cross.
The New Puritans – Wonderful Buzzcock-guitar ripping act described by my Flowers in the Attic informant as 'David Gedge style hurtling guitar pop music'.
Flowers in the Attic – Described by Flowers in the Attic as 'the best indie dance band in Tamworth' (well they would say that wouldn't they) I can confirm that is a mighty outfit with echoes of the Echo's amazing vocal and guitar work. Excellent gear.
Infinity Incorporated – Otherwise known as Friction, this new band promises to be quite the show stealers. Composed of a seriously experienced line-up, they promise to be an eye-opening and toe-tapping headliner.
That's the package then, and a pretty good one it is too. The local Indie scene continues to thrive and if you want to see why, get along at 8pm PRONTO on Sunday night to find out.
The venue is the Arts Centre, the cost is a mere £1.50 and the scenario is for FUN!
Tamworth Herald – 25/08/89
Musicbox – Review Special
Flowers in the Attic – Tamworth Arts Centre
What a great night this turned out to be. Straight after the Indie elegance of The Big Muff, the Herb Garden and then the New Puritans, we had this tasty wall of post modernist new wave sound. Opening in great style with the highly memorable 'Outside' the band went on to produce a fluent and fluid set full of Bunneymenesque influence and 1990s relevance. Steve Coniff has the supreme ability to look and sound amazingly cool without actually doing anything and the band as a whole have a uniform sound and look which makes them a very attractive package indeed. Great sound, great band. Only one query – what has candles go to do with steamboats chaps.
Tamworth Herald – 22/09/89
Musicbox – Letters
Dear Sam,
Just a quick line about last Friday's Sonic Noise Show. Considering the lack of publicity (not your fault of course) it was a fair turnout on the night, and a good night was had by all.
A wide selection of musical styles were on offer, and all bands came across well. However, two bands really caught the eye. Firstly Flowers in the Attic played a set which was not up to their usually high standards, but was still powerful and enjoyable.
Secondly, a new band called Ruby Blaze played a strong, if rather short debut. However, they lacked a bass player badly, and I hope to see this band in the near future with a full line-up and set.
Yours in anticipation
MATT BARTON
BOX REPLIES…
Thanks for the review Matt. We would have liked to have given this gig a much bigger push but as various members of the various bands will confirm there was a lot of confusion about whether or not the show would go on. As a reminder to all groups our absolute deadline for putting things in this column is Monday at 10am. If you want a BIG preview for a show or whatever then get your stuff to me at least seven or eight days before.
Thanks.
Tamworth Herald - 26/01/90
Musicbox – SNIPS
The mighty Flowers in the Attic, fresh from their impressive performance at my New Years party, are back in action again on Feb 4 at the Arts Centre with Sonic Gauge. That is followed by a trip to the Hare and Hounds, Kings Heath on Feb 20. A new demo is also in the offing.
Tamworth Herald - 02/02/90
Musicbox - Dance in the Attic
Tamworth's wildly extravagant music scene offers you, the punter, no less that THREE very differing shows this weekend.

Tonight (Friday) the Euphoria experience takes over the Arts Centre and then on Sunday night once again you are faced with a choice.

At the Tamworth Arts Centre, Bunnyboy's Flowers In The Attic team up with The Sonics while down at the Lincolns soulsters Dance Stance will make their second appearance in recent months alongside the Herb Garden.

It leaves you once again with a puzzler about where to park yourself on Sunday but here are a few clues to what you can expect throughout the whole weekend…
Tamworth Arts Centre - Flowers In The Attic/The Sonics
(Sunday night)

After various rumours about split ups etc, Flowers In The Attic come in from the 'outside' for a key concert at the Arts Centre. The band, who are also in the process of demoing, are back on the scene with avengeance and keen to show they have lost none of their pre-Christmas edge. Joining them will be the Sonics a band from the indie side of life who will no doubt provide perfect accompaniment to the Flowers. One point here The First Conspiracy, who were originally on the line up, will not be playing. Regardless it starts at 8pm.
Flowers in the Attic
Birmingham Poly/ Euphoria

'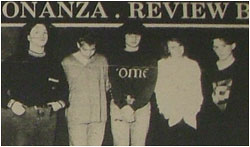 What have Pink Floyd, Genesis, The Stranglers. The Clash and Flowers in the Attic got in common? Answer: None of them appeared in the 1989 Best Tamworth Band, part of the Herald's MUSICBOX poll, and yet these are all mighty bands. And on Wednesday The Flowers' proved it.

To a packed Birmingham Poly the lads rocked the night away (With some help of the Flowers' formation 'Bezitupers'!) There new song got 'em out for the count. This was a truly wondrous show, and chants of 'more, more, more' echoed around the sweat stained room.

Next came their part in Euphoria 3. A depleted audience did not help much, but they managed to pull through (the drummer only dropped his sticks once) The set was short, but to the point and left everyone with bated breath waiting for Sunday nights gig to prove, yet again that they are the only decent band in Tamworth.

Review by Mr Brady
Emma Gibbs, New Puritans and Flowers in the Attic are staging a Euphoria trip to Birmingham on Tuesday Feb 20. You MUST book tonight at the Arts Centre's Euphoria bonanza. Coach and entrance is a ludicrously low £3.
Tamworth Herald – 06/04/90
Musicbox – Loads-a-Gigs!
Lincolns (The Rathole) – Flowers in the Attic/Moneygods/Broken Dreams
A very varied trio indeed which offers everything from good Indie sounds to Americanised rock.
Spearheading the duo are Burntwood based outfit The Moneygods who come with a very strong reputation. The band, signed to Reptile Records have a debut 12 inch single due out very shortly and they have already earned good praise from reviewers around the Midlands. Joining them will be fellow Indie force The Flowers in the Attic. Heralding their return to the world, sultry Steve wrote me a note explaining…
"For this performance there will be six members of Flowers in the Attic as we now feature 'Big J' on backing vocals, tambourine, violin and sexy dancing. Only 'Outside' survives our overhaul of songs and new songs include 'Ugly man' and 'Spitting Snakes'. The crowd is sure to be dancing."
Teaming up with this duo is a Tamworth band making their world, universe and Rathole debut – Broken Dreams. I knew nothing of this group until I met one of them in the urinal of the Arts Centre on Sunday and he rather merrily told me they were an Americanised rock band influenced by Journey.
"The other bands are a bit different to us," he admitted. "But it is a gig after all."
Certainly an intriguing trio, get along to the Rathole on Sunday to find out more.
Tamworth Herald – 20/04/90
Musicbox – Local gig reviews and comments
The Moneygods/Flowers in the Attic/Broken Dreams – Lincolns
The debut performance of 'Broken Dreams' led to the arrival at the 'Rathole' of countless parents, brothers and sisters, not forgetting aunties and uncles, all of whom turned up to encourage their loved ones.
The band were visibly nervous early on, but the large crowd put them at ease with noisy responses to the majority of the standard rock numbers that they churned out.
Perhaps at times, some of the songs could have done with being a bit shorter and although auntie Agnes thought it was all rather loud there were encouraging signs for the future.
'Flowers in the Attic' were a total contrast to 'Broken Dreams' with their Wedding Presentesque' guitar sounds that were reminiscent of the 86 area. The frontman's haircut kept me fascinated for a good while, and although the tunes were there, more stage presence is needed to keep the interest of the paying public.
The 'Moneygods' have recently signed a record deal and are building up quite a reputation for themselves with rave reviews in the press as well as frequent airplay on the radio.
Tonight they dished up a set that went someway to justifying the media exposure they are receiving.
Their half-hour set consisted of short, punchy tunes with biting lyrics whilst visually the band were brilliant. They jumped around the stage constantly and the singer's clubfooted gymnastics aided and abetted by a collection of cheap children's toys certainly caught the audience's imagination.
Their originality resulted in enthusiastic shouts for an encore, and they deserved it. What a shame Auntie Agnes had already left!
Report by D. Seckham
Tamworth Herald – 01/06/90
Musicbox – Killer night assured
BLAZE Bayley, the Wolfsbane crooner, offers his vocal charms to Chemikill at Tamworth Arts Centre on Sunday night in a special fundraising gig for the Festival.
Chemikill team up with Rhythm Damage and Flowers in the Attic in a three band show which promises to be a fun event for all concerned. And to give it that extra, unusual edge, Chemikill will be joined for one song by Blaze Bayley who will add a touch of Wolf to the Chemi-stry.
The idea of the show originally came from everyone's favourite metal monsters Chemikill who wanted to raise money for the festival. The wanted a varied line-up to attract a varied audience and they have certainly got that now.
Chemikill – with their one-off appearance by Bayley – top off the bill and will produce their usual wham-bam-slam attack on the senses via their new line-up of Gaz on bass, Chris on drums, Ant on guitar and Gordon Tea Pot Throat Ripout on vocals. Great name Gordon!
In support of these looneys will be the Flowers and the Damage boys. The Flowers are comfortably the most sensible act on the bill with their wirey, stylish Bunny sounds certain to attract a good percentage of the audience while Rhythm Damage provide the sampled anarchy of the night.
Rhythm Damage have certainly had a high profile lately for their manic sounds but when your watching them on Sunday just listen closely to some of the bass line and you nay realise that they are a killer dance band as well. Just take an ear's worth of new fave 'Taste the Rod' if you doubt that opinion.
That's the lot then – Chemikill, Rhythm Damage and Flowers in the Attic – and an exciting line-up it is too. Once all the expenses have been taken out, all the funds will go towards the festival so if you want to enjoy yourself as well, why not get along. Entry is a highly reasonable £1.50.
Tamworth Herald – 08/06/90
Musicbox – Those Festive fundraisers
HUNDREDS of pounds were raised last week by two special concerts to raise money for the Tamworth Rock festival.
The major event was the eight band show at Nightmoves which was a huge success and that was followed on Sunday by another good fundraiser at the Arts Centre.
We haven't got space to do an in-depth report on both shows but using what I have heard and what I have seen here is a brief resume of what took place.
Friday, Monday began with Fat Moggy who delighted most of the audience with a show full of originality and wild abandon. Even Mike Fleming said they could potentially be a BIG cult band. The Naked Touch were apparently quite sedate and calms as were Never Say Die who boasted some fine guitar work. The Magnets weren't too happy with their sound but it seemed OK to most people while the Yogots also came off stage with a frown despite one or two absolute gems including a relative newie which was good. Vindaloo Breakfast were mine and many people's band of the night with a killer show of attacking guitars and punchy vocals that brought back happy echoes of 1977. Excellent. Banned in Yellow stunned my 'oppo' Sean Atkins but didn't quite reach their Mean Fiddler heights in my opinion although 'going Green' was CRUCIAL. Finally, Rhythm Damage played a hugely popular set of anarchic pop which delighted most. Personally I thought they were far better at the Arts Centre on Sunday where they played what I regarded as their best set yet. Even technical hitches couldn't ruin a set in which two songs – 'Energise' and 'Taste the Rod' were absolutely magical. Also at the Arts Centre, Flowers in the Attic showed that they have become a bit more sombre in recent months and have perhaps lost some of their angelic charms while Chemikill played with stunning precision and ear battering power with Bayley's contribution adding sugar to the metal strawberries. End result, two successful nights and a lot of much needed DOSH.
Sam Holliday
Tamworth Herald – 22/06/90
Musicbox – SNIPS
Flowers in the Attic have changed their name to The Red Cardigans. The band are hoping it may increase their 'Angelic charm' in response to my recent slag off!! No chance boys.
---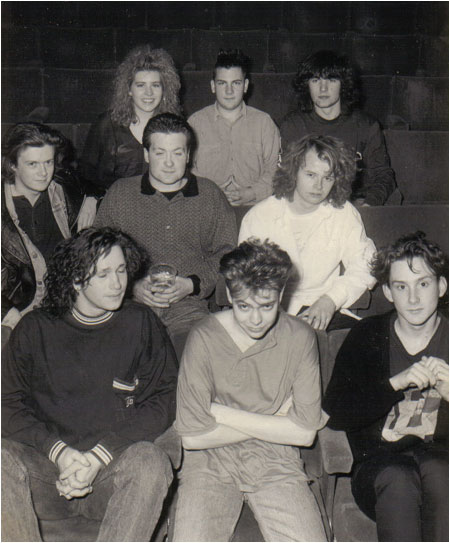 Flowers in the Attic
Thanks to: Isabelle Lang
If you have any further information about this band please email: info@tamworthbands.com