Rhythm Damage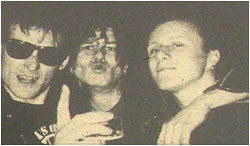 Musical Genre/Type: Electro-Thrash
Formed: 1990
Band Members:
Rikk Quay
John
Chris Miller
Gigs:
11/03/90
Bash Out The Odd
Rhythm Damage
Lincolns
08/04/90
Dance Stance
Rhythm Damage
Night Moves
29/04/90
Dance Stance
Rhythm Damage
The Rathole, Lincolns
28/05/90
Tamworth Indoor Rock Festival
Fat Moggy
Naked Touch
Never Say Die
The Magnets
King Woderick and the Yogots
Vindaloo Breakfast
Banned in Yellow
Rhythm Damage
Night Moves
03/06/90
Chemikill (plus Blaze Bayley)
Rhythm Damage
Flowers in the Attic
Tamworth Rock Festival fundraiser
Tamworth Arts Centre
01/07/90
Banned in Yellow
Spiral Eye
Rhythm Damage
Mean Fiddler
London
02/08/90
Wolfsbane
Vindaloo Breakfast
Rhythm Damage
The Rathole
19/08/90
Korova Milkbar
Rhythm Damage
The Rathole
20/12/90
Rhythm Damage
Catch 23
Emma Gibbs Loves Badges
Vindaloo Breakfast
Big Noise
Guilty Party
Sindy's Sonic Garden
The Rathole
Tamworth Herald - 02/02/90
Musicbox – SNIPS
Two very different local bands are seeking support acts in the next few months. First a pop/soul band called The Naked Touch are seeking to team up with a similar act and if that sounds interesting to you then ring… Secondly, the Damage boys (that's Rikk Quay's new combo) want a support act soon. Contact Rikk at the Tavern.
Tamworth Herald – 09/03/90
Musicbox – Rikk's boys set for a real Bashing!
RIKK Quay's latest musical creation – Rhythm Damage – make their live debut on Sunday night in support of the mighty Bash Out The Odd at Lincolns.
The two bands – with hopefully another group in tandem – will combine their very different styles to make for one of the area's most interesting gigs for some time.
For Bash Out The Odd it will be a chance to return to a venue which brought them great praise and adulation on their last visit. The group were delighted with the way the crowd responded to their first Lincolns show and they are hoping to further capitalise on that enthusiasm with a slice of pure pop on the night.
Joining them will be Rhythm Damage which is the latest in a long line of Rikk Quay projects. This is one the wild old buzzard feels particularly excited about because it is hard, no compromise alternative electro pop with an emphasis on dance and destruction. Quay feels he has really found his forte – and his perfect playing partners – and he is keenly awaiting the gig. The Damage boys promise a short but sweet set which should prove a real appetizer for future events.
Also on the bill are a third band (apparently) but MUSICBOX has no idea who they are so go along and get set for anything from Mannilow to Motorhead. Lincolns fun starts at 8.
Down the road at the Arts Centre on Sunday will be metal outfit Resist. Much more than that we don't know so please contact the Centre for more details or if you are a metal fan why not take a risk and test the water for yourself. If you do let us know what it was like.
Tamworth Herald – 16/03/90
Musicbox – Rikk's Boys – 1 Muffandbash – 0
MUFF-ED / RHYTHM DAMAGE / BASH OUT THE ODD – Lincolns
MUFF-ED
Muffled, messy, moronic, mad mayhem – The reason I loathe thrash metal (Thanks, Denis!)
RHYTHM DAMAGE
Rocket Rikk's long awaited return, and the old boy was in absolutely stirring form. Five songs, each one a corker, a long, hearty populist diatribe against the poll tax, and tapes and drum machines that worked. For the first time in a while, Rikk was up front, giving it everything with some surprisingly excellent vocals in a band that is 100 per cent harder and more uncompromising than DHSS ever were. Longstanding Quay watchers might remember the Pakistani Brothers, and this is not dissimilar, if vastly updated. Quintessential Quay, back doing his sort of music, whatever the consequences and if you don't like it, go away (or something like that!) Me, I love it.
BASH OUT THE ODD
It hurts to do this, but I'm going to have to, Bash Out The Odd are extremely good at what they do, superbly professional, always likely to attract a crowd, but ultimately, very, very dull.
I've always admired Mark Brindley as a singer, and his voice is extremely well suited to Mark Mortimer's soul-influenced anthems, with a rhythm section that is tighter than Sean Atkins wallet, and horns all over the place.
But the sad fact is that it still sounds like late-period Jam, a concept which the Dream factory, did far better five years ago.
The limited audience reaction (no call for an encore, but they did one anyway) seems to suggest that as far as Morty is concerned, his Tamworth following seems to have come and gone. Sad but soulless.
Review by Martin Warrillow
Tamworth Herald – 06/04/90
Musicbox – Loads-a-Gigs!
Sunday Night…
Night Moves – Dance Stance/Rhythm Damage
An unusual combination of soul and nausea extensively previewed on the right of this story.
Tamworth Herald – 06/04/90
Musicbox – Extremes meet for FUN!
The unlikely combination of smooth soul sensation Dance Stance and self-confessed vulgar-boys Rhythm Damage team up at night Moves on Sunday for a special double-header.
The two bands who are going to be teaming up again together soon, represent two kinds of musical extreme and should produce a very unusual audience indeed. If offers those who like stylish dance a chance to hear the Rhythmic nightmare of Rikk Quay's latest combo and offers the Night Moves audience a very special night indeed.
For Dance Stance it will be the latest in a series of concerts 'back home'. After a lengthy local absence the band have played one or two local shows of late – and sold them out – and they have been delighted to see that absence really has made the hearts grow finder from their loyal followers. They play good, intelligent and solid soul which has lost none of it's shine over the years and remains one of the glitziest sounds ever to come out of this area.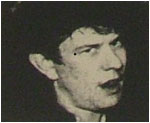 Glitzy sounds is not quite how I would describe Rikk Quay, Chris Wain and John 'Windy Miller' Damage's lot. The Damage boys who made their debut a couple of weeks ago went down an absolute storm and if you want to know what they sound like well this is how the whole band describe themselves…
"The Vulgar Squad have all the appeal of a Bririani curry splattered all over the paving slab – and we are just as hard-hitting" they say "Experimentation is the only way forward in music – if it moves sample it."
The band represent a joint attack on the eyes, ear nose and throat which is intended to HURT. The contrast with Dance Stance is absolutely amazing and the end result I feel should be exactly the same.
The venue is Night Moves the time is 8pm on Sunday, so get along and get set for one of the oddest combinations sine Ian Ormondroyd met Tony Daley.
Tamworth Herald – 13/04/90
Musicbox – Sunday View
Rhythm Damage/Dance Stance – Night Moves
A JOINT effort this by Box scribes Sam Holliday and Sean Atkins. It was intended to be a Holliday solo-effort but during the course of Dance Stance he was well and truly 'Bayled' and his vision of the mighty soulsters was somewhat blurred. Right, on with the show….
Rhythm Damage
A band who dares to be different. A band who dare to confront audiences with images and sounds that they may not want to face and dare to keep the pressure up until the final moment. A band who thrive on the obnoxious, revel in the mire and love to crawl through their murkiest of undergrowths. And yet despite it all, a band who can still put a smile on your face. Whether it is Rikk's outlandish song links. Chris and Jon's outlandish hair pieces or those annoyingly nagging samples, there is always something to keep you smirking and few bands have the pleasure factor that this combo have. And they also have the beat to boot. The word rhythm (even if it is a yucky one for me to spell) has a well justified place in the band's name because the tribal early Ants drum attacks dominate the sound and keep your toes twitching throughout. It works best of all on a track called 'Energise' which has a huge commercial appeal and the sort of melodic rhythms that would suit Night Moves on its non-gig nights. Elsewhere the excellent version of Catch 23's 'Twisted Mind' and the final track with its TOTALLY unprintable title were undoubted highlights and the whole set was an honest, no compromise collection which earned an enthusiastic and genuine reaction. A daringly exciting band who are doing exactly what they want to do and look set to take a pretty large audience with them as they travel into the sampling equivalent of the Twilight Zone. The natural successors to Abba.
Sam Holliday
Dance Stance
THIS was the first time I had seen Dance Stance (apart from on 'Bob says Opportunity Knocks') and I was just glad I got to see them in Tamworth while they are still playing locally. The band are so professional, the songs are so catchy, and the sound is so powerful that even if you don't like Dance Stance, you have to appreciate what they do and the way they do it. But I did like them and their Hue and Cry/Curiosity Killed the Cat style showed yet another dimension to the healthy local music scene. Sadly though, the big Night Moves crowd dwindled during the consistently good set as people left early for their buses/taxis/chips etc… But that's Tamworth on a Sunday night.
Sean Atkins
Tamworth Herald – 20/04/90
Musicbox – Local gig reviews and comments
Dance Stance/Rhythm Damage – Nightmoves
(An alternative version of our review last week…)
It has been the best part of three months since I last saw Dance Stance perform live. So tonight would either put the icing on the cake or blow the candles out.
The stage was set, the atmosphere tense, their build up absolute and to a tee. The opening number just a moment away and wham! The power failed on us. Complete darkness. Was this an omen. I wondered.
Power restored, it was on with the business. Dance Stance were here to do one thing and one thing only – to funk out. Wasting no time 'Words on Fire' and 'Picking Up On Changes' put them well on line for a hot night ahead. 'finding Another Way' was next in the set. The front lines of the audience strutting away to their pulsating beat. You'd have thought this was the rehearsal for the Top of the Pops TV show.
This band has started to more than impress me. Front man Paul Hanlon was not only a very good singer, but was very watchable even from a distance. The individual skills of each player were so much improved since my last encounter with them. They were proving to be much more than a local bunch of guys having fun. They were tight playing together, and each song was more notable for its own character, and much improved awareness of what an audience was really after.
For me this was a totally new experience on the local scene. They were 'hot', they were 'Funk', they were 'Havin' a good time' but most of all so were the crowd.
New songs included 'Home' and 'Gather People', 'Sweetest Pain' shone out as a ballad I won't forget in a hurry. Here were a band following in the footsteps of 'Level 42', with a ring of 70's nostalgia in the new 90's mould. If any A&R scout was out that night, I'd say a record deal isn't so far away. What's the betting 'Push comes to shove' isn't their first single.
In the support roll, 'Rhythm Damage' proved their potential as Tamworth's leading acidic contenders for the 90's.
Rikki [sic.] Quay and the boys have a sound which has never really been covered in the town and if taken seriously could bring them a record deal for the underground sound which is becoming more of an asset to the music of this country.
He may look like Gary Glitter but his music is far afield from the Glitter sound.
Report by Colin Wall
Tamworth Herald – 27/04/90
Musicbox – Sunday's Best
SOME of the area's top bands hit the Town this Sunday as local gig-goers have another crop of concerts to choose from.
Bands like Dance Stance, Rhythm Damage, Sa Sa, Banned In Yellow and a brand new combo called Trappzat will all be competing for your attentions at the three major venues in Tamworth ensuring another Sunday feast for the musical faithful.
Here are the line-ups in a nutshell followed by more detailed previews…
SUNDAY
Nightmoves – Banned in Yellow/Good Question Derek/Sa Sa
The Rathole, Lincolns – Dance Stance/Rhythm Damage
Tamworth Arts Centre – Trappzat
And now for some more information (where we have it) on what you can expect to see should you make the Sunday night move to the dancefloors.
Dance Stance/Rhythm Damage (The Rathole, Lincolns)
The return of one of the area's most unlikely – but still most successful – combinations which combines wild Foetus style music with calm, cool and controlled soul gear. The Damage boys, who will be producing their own free 'Vulgar' fanzine for the night, have already impressed with their anarchic agit-pop which is played and presented with real showmanship. Ugly to look at, ugly to listen to but immensely popular already. Strange tastes these Tamworthians. Joining these monsters of shock will be the all together more chirpy Dance Stance. The band, who have really re-established their local profile in recent months, have developed their punchy pop/soul crossover to a fine degree now and as this will be their last Tamworth shown for some time they are hoping to go out with some kind of a bang. You will all know what Dance Stance sound like, you all know it's smart stuff and you all know this will be a good gig. So what the hell am I rambling on about then!!! It's at the Rathole, it starts at 8pm.
Tamworth Herald – 04/05/90
Musicbox – Local Reviews
Rhythm Damage – Lincolns
A set that got steadily better from a band who are getting steadily more eccentric and obnoxious. Their onstage antics and bile-inducing lyrics make them about as attractive a proposition as sticking your head in a furnace but you still come out of it with a stupid grin on your face. Vocally you couldn't hear a great deal (and big thanks for that!) but musically it was loud, powerful and very ear grabbing. Once again they saved their best stuff until last (they probably need to re-arrange the set methinks) and it ended on a thrilling high with the combination of a gruelling 'Twisted Mind' and a chirpy 'O.F.F.' Initially messy but ultimately triumphant and fully deserving of their very, very enthusiastic reaction.
Sam Holliday
Tamworth Herald – 25/05/90
Musicbox – The indoor gig of the year
NIGHTMOVES stages a Bank Holiday bonanza on Monday when no less than eight bands combine for an all-day indoor festival.
Top groups such as Rhythm Damage, The Yogots and Banned in Yellow combine with several new acts in a special gig which is designed specifically to raise money for the Tamworth Rock Festival in July. As you know the outdoor festival needs every penny it can get to ensure it stays free to you the punter and so Monday's multi-band extravaganza is one of the key fundraisers of the year.
For just £2 you will be able to taste a huge variety of different musical styles from indie-flavoured lasts, via traditional pop and rock to touches of AOR. It will exactly like the normal Tamworth Rock Festival except this one will have a roof over its head and drinks on tap!
There will be debut performances from the likes of Fat Moggy. Tamworth-returns for the likes of Naked Touch and The Magnets and a thrilling finale which features the quality of Banned in Yellow, Vindaloo Breakfast and The Yogots.
The whole day will be run very much like the outdoor festival. All the bands involved will have just 20 short snappy minutes to perform and with only ten minute breaks between the sets the music should be running smoothly throughout the session. And there is also the considerable advantage that if the festival runs a bit late we can keep going until midnightish so there could be solid musical entertainment for five long hours.
Musically you can expect a complete varied package as befits the Rock festival principal. It all begins at 7pm with the Birdland inspired FAT MOGGY a band of Atherstonians who promise to be wild, wacky and about as far away from music as it is possible to be. Expect chaos. Following on a 7.30 will be the all together calmer sounds of THE NAKED TOUCH who will be combining their show on Monday with a gig at the NEC for Telethon on the same day. It's modern, stylish soul music and you should find it a restful relief after the hazards of the Moggy men. 8.00pm brings NEVER SAY DIE to our stages for one of their all too rare Tamworth shows. The guitar-wizzards with added OOOMMPPHH!!! Have long been servants of the Tamworth music scene and this will be an important gig for them. Swiftly following on at 8.30 will be another Tamworth legend in the shape of THE MAGNETS. Nothing needs to be said about this lot because frankly if you don't know them you wouldn't be reading this page anyway. 9.00pm brings to the stage one of the area's best bands for many years, KING WODERICK AND THE YOGOTS. A band of immense power and character they have come on bundles in recent months and their 20 minute blast on Monday is certain to be one of the highlights of the whole night. At 9.30 VINDALOO BREAKFAST enjoy a high profile slot to play one of their biggest shows to date. The band are a distinctive and unique agit-pop lot who combine late 60s and late 70s influences is a set of grizzly smiles. At 10.00 we then welcome the all too wonderful BANNED IN YELLOW who have certainly began the 1990s with a very loud bang indeed. I am particularly looking forward to their many joys which will followed finally by RHYTHM DAMAGE who are the ideal closing act of a very mixed package. What can we say about the Damage men that hasn't already been said about Eric Honeker? Nothing, just enjoy the anarchy.
That's yer lot then, and what a package it is. Eight very different bands, five hours of music and all for a ridiculous £2. We must stress again that all the money raised on the night will go towards the very needy coffers of the Tamworth Rock festival so as well as having a truly enjoyable night you will also be helping keep the event on an even keel.
Don't miss this gig. It's Bank Holiday Monday there is practically nothing else to do so you have no excuses. Get along and enjoy yourselves enormously.
*All bands please note the comments at the bottom of the line-up.
Monday Line Up
Tamworth Indoor Rock Festival 1990
(Nightmoves, Monday 28th May, 6pm-12pm)
7.00 – The Fat Moggy
7.30 – The Naked Touch
8.00 – Never Say Die
8.30 – The Magnets
9.00 – King Woderick and The Yogots
9.30 – Vindaloo Breakfast
10.00 – Banned in Yellow
10.30 – Rhythm Damage
*All bands to report to Nightmoves at 4pm on Monday. Twenty minute sets with ten minute changeovers.
Tamworth Herald – 01/06/90
Musicbox – Festival Update
FOLLOWING last week's decision by Festival chairman Sam Holliday and Vice Chairman Rikk Quay to resign their positions, Catch 23 manager Alan Webster has become the acting chairman of the festival.
He will hold the position until Sunday June 17 when a full vote will take place of the new chairman and vice chairman at what should be a very lively meeting indeed.
Alan Webster has made it clear he does not want the job but several people are already thought to have thrown their hats into the ring for the top two positions.
The situation is this. If you would like to be considered for the position of either chairman or vice chairman you must contact Alan on 715581 and let him know your interest. Then the first item on the agenda of the June 17 meeting will be the election. One band one vote will be the order of the day (democracy always wins) and then a new chairman and vice chairman of the festival will be installed.
Dear Rock Festival Committee

After the fiasco of last Sunday night's rock festival meeting we, Rhythm Damage, have decided to withdraw our application and terminate our placing in the 1990 event after a unanimous band decision. We feel that the egotistical values of a certain percentage of bands overshadowed the ethos of the concept of the festival as a whole. We do hope that the future of the Tamworth Rock Festival will go from strength to strength and wish the new committee all the best in forthcoming years and maybe at that point Rhythm Damage will be able to play an active role again. But unfortunately the Tamworth Rock festival in its present format is totally incomprehensible and we find it completely against our moral principles to comply with pettiness of pre-77 values. Do egos rule? Long live the 1990's Tamworth Music Scene.
Chris, John and Rikk, Rhythm Damage.
Tamworth Herald – 01/06/90
Musicbox – Killer night assured
BLAZE Bayley, the Wolfsbane crooner, offers his vocal charms to Chemikill at Tamworth Arts Centre on Sunday night in a special fundraising gig for the Festival.
Chemikill team up with Rhythm Damage and Flowers in the Attic in a three band show which promises to be a fun event for all concerned. And to give it that extra, unusual edge, Chemikill will be joined for one song by Blaze Bayley who will add a touch of Wolf to the Chemi-stry.
The idea of the show originally came from everyone's favourite metal monsters Chemikill who wanted to raise money for the festival. The wanted a varied line-up to attract a varied audience and they have certainly got that now.
Chemikill – with their one-off appearance by Bayley – top off the bill and will produce their usual wham-bam-slam attack on the senses via their new line-up of Gaz on bass, Chris on drums, Ant on guitar and Gordon Tea Pot Throat Ripout on vocals. Great name Gordon!
In support of these looneys will be the Flowers and the Damage boys. The Flowers are comfortably the most sensible act on the bill with their wirey, stylish Bunny sounds certain to attract a good percentage of the audience while Rhythm Damage provide the sampled anarchy of the night.
Rhythm Damage have certainly had a high profile lately for their manic sounds but when your watching them on Sunday just listen closely to some of the bass line and you nay realise that they are a killer dance band as well. Just take an ear's worth of new fave 'Taste the Rod' if you doubt that opinion.
That's the lot then – Chemikill, Rhythm Damage and Flowers in the Attic – and an exciting line-up it is too. Once all the expenses have been taken out, all the funds will go towards the festival so if you want to enjoy yourself as well, why not get along. Entry is a highly reasonable £1.50.
Tamworth Herald – 08/06/90
Musicbox – Those Festive fundraisers
HUNDREDS of pounds were raised last week by two special concerts to raise money for the Tamworth Rock festival.
The major event was the eight band show at Nightmoves which was a huge success and that was followed on Sunday by another good fundraiser at the Arts Centre.
We haven't got space to do an in-depth report on both shows but using what I have heard and what I have seen here is a brief resume of what took place.
Friday, Monday began with Fat Moggy who delighted most of the audience with a show full of originality and wild abandon. Even Mike Fleming said they could potentially be a BIG cult band. The Naked Touch were apparently quite sedate and calms as were Never Say Die who boasted some fine guitar work. The Magnets weren't too happy with their sound but it seemed OK to most people while the Yogots also came off stage with a frown despite one or two absolute gems including a relative newie which was good. Vindaloo Breakfast were mine and many people's band of the night with a killer show of attacking guitars and punchy vocals that brought back happy echoes of 1977. Excellent. Banned in Yellow stunned my 'oppo' Sean Atkins but didn't quite reach their Mean Fiddler heights in my opinion although 'going Green' was CRUCIAL. Finally, Rhythm Damage played a hugely popular set of anarchic pop which delighted most. Personally I thought they were far better at the Arts Centre on Sunday where they played what I regarded as their best set yet. Even technical hitches couldn't ruin a set in which two songs – 'Energise' and 'Taste the Rod' were absolutely magical. Also at the Arts Centre, Flowers in the Attic showed that they have become a bit more sombre in recent months and have perhaps lost some of their angelic charms while Chemikill played with stunning precision and ear battering power with Bayley's contribution adding sugar to the metal strawberries. End result, two successful nights and a lot of much needed DOSH.
Sam Holliday
Tamworth Herald – 15/06/90
Musicbox – Mean night out in July
THREE of the area's best bands are joining forces for the Second Tamworth London Showcase in July.
The first London Showcase featuring Catch 23, Banned in Yellow and The New Puritans ranks as the best gig of the year to date and this second one on July 1 promises to be equally exciting,
This time Banned in Yellow will be joined by Spiral Eye and Rhythm Damage in a show full of quality and variety. The Spirals already have a base in London but one of the nicest things about this show is that after more than ten years in the local music business, Uncle Rikk Quay will be making his London debut. A very good reason to get along indeed.
It takes place on Sunday July 1 and tickets including coach and admission are a flat £5. The buses will run from the Assembly Rooms and possibly Atherstone and you MUST book in advance by contacting either Rikk at the Tavern, Neil at The Rathole, Lee at Notes or the Spirals probably at Hamlets.
Tamworth Herald – 22/06/90
Musicbox – SNIPS
Don't forget July 1 sees three of the area's best bands – Banned in Yellow, Spiral Eye and Rhythm Damage in action at the Mean Fiddler in London. Special coaches have been booked and to ensure you have a got a place on one of them contact either Neil at Nightmoves, Rikk at the Tavern or any of the Spiral men at Hamlets.
Tamworth Herald – 29/06/90
Musicbox – 'London calling to the faraway Town'
THREE of Tamworth's best bands combine their multi-faceted talents in London on Sunday night for a special Mean Fiddler bonanza.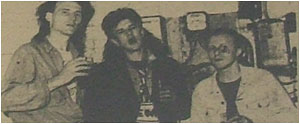 Banned in Yellow, Rhythm Damage and Spiral Eye are the three bands who will be in live action on another night which is certain to help promote the good name of Tamworth in the capital of British music.
Last time a 'Tamworth Showcase' was staged at the Mean fiddler, Catch 23, Banned in Yellow and The New Puritans brought the house down with a classic combined show and there is every indication that Sunday's Capital-bash will be just as tasty.
This one has been put together by the Banned in Yellow who are confident they have produced a varied and exciting line-up.
Spiral Eye look set to headline the whole spectacular. These electrically-charged modern rocksters have been playing around the country with regularity and gaining good notices wherever they go. The simple reason for this is that quite simply they are brilliant and are almost as good as a Paul Gascoigne cross, a Des Walker tackle or a Stuart Pearce free-kick. (Yes, I've got World Cup fever too…)
Equally tasty are the two bands that will provide the powerful platform for the Eye boys. Rhythm Damage have played but a handful of concerts but have already established a formidable reputation. Their appeal lies in their originality, their brash and uncompromising stance and their love of the peculiar. There is a chance that Sunday's show will enjoy the added appeal of an appearance by rappers Suicide Petch and The Juice MCs in a sparkling combination of rap and rasp.
Competing a strike force almost as lethal as Platt, Lineker and Waddle (sorry, slipped again!!) will be Banned In Yellow. This show will be particularly poignant for the group because it was at the Fiddler last time where they really seemed to have come of age. There had been dark hints for some time that they had made a dramatic bid for world stardom and their Fiddler bash earlier this year proved that all the rumours were true. They were spellbinding that night and with the same wicked sound system and same enthusiastic support on Sunday they should be wicked again.
Quite a collection of talent I am sure you will agree. If you fancy getting along, tickets and coach details should be available from Neil at Lincolns, Rikk at the Tavern or any of the members of any of the bands involved.
It should be a great night out and it's about time that London experiences some REAL culture.
Tamworth Herald – 27/07/90
Musicbox – Wolfsbane Party Night with Vindaloo Breakfast and Rhythm Damage
The Rathole, Thursday
Every so often you see a gig which makes you realise that music at its best is the most exciting thing you can do with your trousers on. This was such a gig. It was not widely publicised, it was not widely hyped and yet it attracted a big audience who were served up with what I can only describe as several hours of pure magic. Take note o'regular Musicbox readers – this gig was one of the classics of all time Tamworth shows and proved once and for all that Wolfsbane now have no peers. If Iron Maiden had seen this gig they would have thrown Wolfsbane off the support slot of their forthcoming tour for genuine fear of being blown to smithereens.
The facts…
Vindaloo Breakfast
Sadly I had to miss this show by my latest raves because I was trying on my best-man's garb for the wedding of Musicbox deputy editor Martin Warrillow. However, I asked three people I respect to sum up the Brekkies and their view was unanimous: 'They were excellent' (Ed Armchair), 'they played brilliantly' (Rikk Quay) and 'it was a wonderful set' (Neil Marklew). All three seasoned voices in enthusiastic support proves what I have suspected for some time, that Vindaloo Breakfast are seriously happening. Catch them before its too late.
Rhythm Damage
Buoyed on by receiving the first copy of their debut single on the same day, Rhythm Damage coolly and stylishly slipped into playing their best set to date. It was fresh, alive and very noisy as a result of a sound system which ranks among the best I have ever heard. Facing hundreds of Howling mad Wolfheads (I think that's what they call them!!!) the Vulgar Squad joined in a mutually abusing session and went on to show that they have finally got exactly the sound they want. 'Energise' was great, the boys looked great and even one or two Damage-doubters had to admit to being impressed afterwards. Luvverly.
Wolfsbane
OK, mark these words – this was the best set I have EVER seen a 'local' band play. I have seen many great Wolfie shows over the years, as well as spinetinglers by Catch 23, Dance Stance, Dream Factory, Spiral Eye, Breaking Point, Terroah, DHSS and more but nothing came anywhere near watching this magnificent 75 minutes or so. Wolfsbane were just out of this world, playing as if their lives depended upon it and [roving that as showmen and entertainers they have no equals at all. If there is a singer in rock n rollsville who is as sleazy, as funny AND as talented as Bayley well I have yet to hear him and Jeff, Steve and Jase are now so good with their weapons (ooh-err sounds a bit rude) that you would have to be deaf, stupid or brain dead not to disintegrate with pleasure at the sound. As well as being in a riotous and deliberately playful mood the band also managed not to put a single note wrong and sounded like it would be a physical impossibility to get any tighter. And the songs? Well the 'oldies' (all of 12 months some of them!) were as good as ever with my favourites this time being a dramatic version of 'Shakin' and a stunning rendition of 'Pretty baby' which brought tears to my eyes but the 'newies' were of equal power. If there had been any doubt about the Wolfmen it was that they wouldn't be able to keep up their incredibly high standard of songwriting but this show blew that theory apart. 'Tough As Steel' could become an absolute rock-standard classic, 'Totally nude' is Totally Infectious, 'Hey Babe' is as cute as it's title, 'Cathy Wilson' is amazing and the list just goes on. Throw in the usual Bayley stagemanshp, the brilliant relationship between band and loyal fan and the united spirited betwixt those four musicians and you have a stageshow par excellence. It was so good that I felt immensely proud to even come from the same Town as these boys, let alone to regard them as mates, and I just left the gig on such a high that the Wolfies jumped into my list of long-standing heroes along with Woody Allen, Brian Clough, Marlon Brando and The Meninblack. They possess Allen's class, Clough's arrogance, Brando's style and the Stranglers dedication and they can count on my loyalty forever.
If you missed this show I'm sorry for you. If you witnessed it you will know that not one word I have said is over the top. Wolfsbane can be as big as Wolfsbane want to be. And when I say big, I mean BIG!!!
Sam Holliday
Tamworth Herald – 17/08/90
Musicbox – It's Three Cheers
THERE are three lovely gigs for local music fans to tuck their teeth into this week.
Sunday Night – The Rathole
Korova Milkbar/Rhythm Damage plus possible special guests.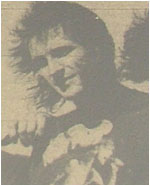 Sunday – The Rathole – Korova Milkbar and Rhythm Damage
A promising double-bill this, combining one of the most popular Tamworth acts with one of the most popular out of Town teams. Korova Milkbar always play well in Tamworth and their combination of New Order sounds and Indie awareness makes them a hit across the musical board. The band have emerged from the embers of old faves The Surf Drums who themselves moved in the same circles and boasted the same class as Wonderstuff and PWEI. A fine band. Joining them will be our very own Damage Boys who will be aiming to repeat their incredible success at the recent Wolfsbane Party Night. On that night everything went well for the Vulgar ones and if they can play half as well on Sunday they should go down a storm. Other special guests may yet be added to the bill. Get along on Sunday and all will be revealed. Kick off is 7.30pm.
Tamworth Herald – 31/08/90
Musicbox – Damage News
We have received an amazing review of the recent Rhythm Damage gig by new people to the area 'The Fish Sisters'. We will hopefully print it next week because they've got a wicked sense of humour.
Tamworth Herald – 07/09/90
Musicbox – Local reviews and views
Rhythm Damage – Lincolns
Upon entering this establishment of near solitude, there came a sudden realisation that at least there would be no problems getting served at the bar.
This was going to be our premier viewing of the Rhythm Damage.
The three so called members of the band clambered onto the stage with all the elegance and grace of a Mutant Ninja Elephants rendition of Swan Lake.
Cowabunga! The throbbing trash rhythms had started as Quay proceeded to demolish every conceivable idea that he was ever a singer.
Sick!
The ramblings of this sick individual were comparable to that of a certain name-less Iraqi leader, after which they burst into a track which they claimed to be taken from their new single 'Taste The Rod'. This track has as much chance of being played on Radio One as (the following metaphor was far too controversial to appear next to Scooper! – Sam).
Then suddenly, after twenty minutes of destruction, a sound of sheer delight echoed around the room – the band had left the stage.
They came, they saw, they got drunk. So did we. They were an absolute wonderful experience, and like all wonderful experiences, they're over too quickly.
The Fish Sisters
PS We wish to remain anonymous as we have recently moved to the area and wish to review more groups in the near future!
Tamworth Herald – 28/09/90
Musicbox – Snips and News
Tamworth hip-hoppers Suicide Petch and the Juice MCs hit the Marmion again on Tuesday October 2. Fresh from their appearance on the new 'Rhythm Damage' single, due to be reviewed here shortly, the lads will also be airing tunes from their new demo, which is released this weekend and should be on sale at the gig. Support is expected to come from an as yet un-named acid-house combo.
Tamworth Herald – 12/10/90
Musicbox – Band-made to wrap up deal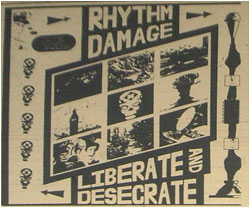 Rapidly rising (and ageing) would-be superstars Rhythm Damage have taken the first tentative steps on the road to the top, by securing themselves an impressive management deal – with a Manchester agency.
The deal, which will link Rikk's boys (surely the most un-Manchester band in existence) with two other like-sounding outfits, namely Unit 93 and Borderland, is with Band-Made Management, and came about thanks to legendary local photographer Steve Ellis, who is a friend of Band-Made supreme Steve Jensen.
The new deal looks sure to give a boost to Rhythm Damage's soon-to-be released single, while a top Manchester gif is already being lined-up for the threesome, sometime in the New Year.
Meanwhile, having absolutely nothing whatsoever to do with the above at all, Lincolns have started a 'Bass in Yo Face' night every Wednesday, with rave sounds provided by Damage Control.
The fun kicks off at 9pm and goes on 'til late. Be there or be triangular, (what??)
Tamworth Herald – 07/12/90
Musicbox – Snips
Rhythm Damage are currently making a major impact on the nations airwaves. Radio One? Radio WM? Radio Four perhaps? No, it is the pirate radio station Starlight FM who have found a liking for the band's 'liberate and Desecrate' single and are pumping it out saying that the band are a bunch of 'Tamworth Massives' (whatever that means!). Gigwise the band look set for their first big major out of Town test in January with a show in Manchester. More facts when we get them.
Tamworth Herald – 07/12/90
Musicbox – Snips
The winners of our recent Emma Gibbs and Rhythm Damage competitions were Hester Trivent from Ratcliffe Culey and my good friend Emma Storer from Gillway. Emma is a committed Tamworth F.C., Steve Webster and Licquorish Allsorts fan and as they are three things that I like as well she simply had to win didn't she?
Tamworth Herald – 14/12/90
Musicbox – What a week!
Tamworth's music lovers are set for a real Christmas treat this week with no less than FOUR major concerts on offer.
Everyone from firm favourites like The Yogots and Rhythm Damage to the all-new Foundation and the revamped Scream Dream will be in action this week in easily the busiest week since the Festival.
In a nutshell here is what is happening, where and when…
SUNDAY NIGHT
Tamworth Arts Centre
The Foundation/Empire Falls plus Special Guests.
The Rathole
Scream Dream plus Guests
TUESDAY NIGHT
The Jolly Sailor
The Yogots/Crystal Injection/The Sherbert Trees/Fly on the Wall
THURSDAY NIGHT
The Rathole
Rhythm Damage/Catch 23/Emma Gibbs Loves Badges/Vindaloo Breakfast/Big Noise/Guilty Party/Sindy's Sonic Garden
Here in a bit more detail is what you can expect to see on the various nights, so take your pick of the shows on offer and get your dancing boots on.
Thursday – The Rathole
Rhythm Damage/Vindaloo Breakfast/Catch 23/Guilty Party/Emma Gibbs Loves Badges/Big Noise/Sindy's Sonic Garden
Some big names here on what should be a big night – with all proceeds going to the Rock Festival Fund. Catch 23 will be dropping in just to play three quick tracks from their new demo. Rhythm Damage will be cranking it up to ruin everyone's Christmas and The Guilty Partner will be shooting down from Manchester to razzle , dazzle 'em. In addition The Big Noise will be providing just that. Emma Gibbs will be laying on the sweet pop-tones and Sindy's Sonic Garden will be planting some splendid blooms. Completing a hectic crazee line-up will be the lovely Vindaloo Breakfast who will blast their way to more undoubted glory on a night brimming with noise and quality. The actual line-up won't be known until the night but all proceeds will go towards the Tamworth Rock festival fund.
Tamworth Herald – 28/12/90
Musicbox – Bags of smiles at festive shows
PRACTICALLY every local band worth is (or her) salt has been in action over the Festive period and here we try and catch up with two of the biggest shows on offer.
Guilty Party – The Rathole
Rhythm Damage – The Rathole
Despite spending a lot of time damaging Catch 23's rhythm recently, the busy trio have also been expanding their own vulgar but brilliant set. The new tracks sat well with 'songs' such as 'Taste the Rod', 'Twisted Mind', and 'N-R-Gyze' from the quite-well-selling Rhythm Damage single although there were the usual technical problems. During the breakdown Rikk 'Scrooge' Quay gave us his controversial views about the festive season.
Sean Atkins