Willow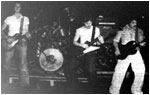 Willow at Tamworth Arts Centre 1977
Photograph courtesy: Tamworth Herald
(Full-size Image)
Formed: February 1977
Split: December 1977
Line-up:
Mick Rutherford – Singer (Baddesley Ensor)
(Also in: ICE)
Andy Radek – Guitar (Tamworth)
(Also in: ICE)
Colin Richardson – Bass (Lichfield)
(Also in: ICE)
Steve Sheldon – Drums (Wilnecote)
(Also in: ICE)
Paul Watts – Guitar (Lichfield)
(Also in: ICE)
Colin Stewart – Guitar
Gigs:
01/10/77
Willow
Tamworth Arts Centre
02/12/77
Willow
Tamworth Arts Centre
Tamworth Herald – 07/10/77
Musicbox - Chance for local rock bands by Peter Brown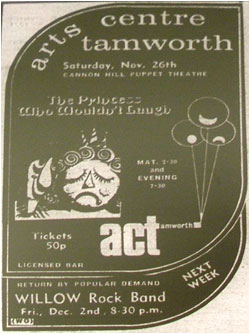 A major breakthrough for Tamworth rock bands was announced this week.
Dave Armour, manager of the town's Arts Centre, has given the go-ahead for concerts in the Church Street building providing the demand is there.
It is a move that could solve one of the biggest headaches for rock bands.
Most of the previous local venues for concerts have been at working men's clubs and youth centres.
And in all fairness, a mixed club crowd does not give the best reception to a rock band – which is, after all, playing specialist music.
But crowds at the Arts Centre will be paying specifically to hear rock. There's a difference.
The new rock platform for Tamworth blasted off on Friday with a show by new local band Willow
And they proved that given the right outlet, musical talent in the town could take a prominent stand.
The Arts Centre gig was Willow's first – a fact that at times was hard to believe.
Their only outward sign of a first public appearance was a slightly restrained stage manner – understandable in front of a local crowd.
Instrumentally, the band were good and singer, Mick Rutherford excelled. At times though, their music cried out for backing vocals – which never came.
The one question mark hangs over sound balance at the Arts Centre. Colin Stewart and Andy Radek were obviously very capable guitarists – but their sols didn't really cut through the overall sound.
Tight drumming and bass playing set the pace for 90 minutes of solid rock – and all but one of the songs were written by the band.
Willow, formed only eight months ago, have covered a lot of the ground work.
But they need the stage experience that only more gigs can give them. On this showing they shouldn't have any trouble getting them.
Willow will play the Arts Centre again on December 2.
Further Information:
Willow were the first rock band to play Tamworth Arts Centre - a pivotal moment in the history of Tamworth bands - on October 1st 1977. Mick Rutherford and Colin Richardson left to form a new band in March 1978 (ICE) with Paul Watts formerly of Five Hand Shuffle. Mick Rutherford and Colin Richardson had a five year publishing deal with Patch Music and a three year recording deal with Tabitha Records.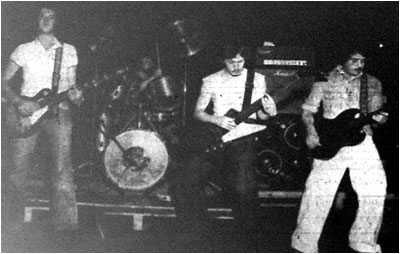 Willow at Tamworth Arts Centre 1977

The full profile and history of Willow has yet to be added to TamworthBands.com Call back soon to read the full band details.
If you have any further information about this band please email: info@tamworthbands.com