Mick Rutherford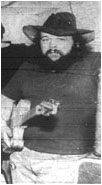 Return of the Ice King
I'd like to thank the few people that turned up for our gig.
It was great to see Eddie, Mike and a few other faces I hadn't seen for many a year but I have to be honest I was gutted at the lack of bodies there to see two bloody good bands.
I met someone who actually has a fully signed copy of 'Saga of the Ice King' and with Carl Axon (ex-Doctor and the Medics) in the band and after our success in the USA I was reminded of something I said many years ago in the Herald: "The apathy of Tamworth people amazes me."
Although I was disappointed in the turn out for my return to my Tamworth roots, the tour was a success with sell out signs going up in Bolton, Manchester, Norwich and Worcester. Packed houses in Bournemouth and Bolton and good crowds in Birkenhead and York. The second part includes my return to The Cavern Club in Liverpool where I will receive my engraved brick and be inducted into the Cavern's world famous 'Wall of Fame', the only ex-Tammy to get this honour. Oh, and The Cavern has already sold 200 tickets, that's 160 more than Tamworth and is on target to sell out.
Still, those who were there know what the rest missed.
Mick Rutherford
---
The Early Years
I was born on the 18th January 1949 in my grandmothers upstairs front bedroom, At 6 months old the family moved to Banbury, in Oxfordshire. My Mother, Lillian, died during the asian flu epedemic in 1957 and in 1961 we moved to Cinderford, in Gloucestershire.
In November 1962 I heard the Beatles first single played on, the then, only 'pop' show on radio, Brian Matthews Saturday Club.
January 1963 the family moved to Newbury, in Berkshire, and at the beginning of March I heard the Beatles second single 'Please Please Me'. It was so fresh and new that I wrote down 'singer' in my homework book. But what could I do to become a singer? I was only just 14.
Then I saw an advert in the local Newbury paper 'Singer wanted for a thrusting teenage combo, must have experience', and a telephone number. I rang the number and explained that I had plenty of experience having played in at least 5 groups (lying through my teeth of course). They asked me to an audition and on March 30th 1963 I saw a microphone for the first time. I looked through there song list and saw 5 numbers that I knew, 'The Girl Can't Help It', 'Long Tall Sally', 'Love Me Do', 'Bo Diddley' and 'Twist and Shout'.
After the audition I was asked if I wanted to join and I, of course, said yes. The next night, March 31st 1963 I made my public debut with the band at Inkpen Village Hall, near Newbury. The band was The Black Diamonds and I was hooked.
The '60's were great times. When a big band played a tour through your area, the promoter always had the best local band to support them. I played with The Black Diamonds from March 31st 1963 to March 1964 we supported The Searchers, The Rolling Stones (3 times), The Animals (three times), The Mojo's, The Kinks (four times), Manfred Mann, The Fourmost, The Dave Clark 5, Brian Pool and the Tremeloes. I then joined The Voyds which were a blues band and supported The Who, Yardbirds, John Mayall, The Merseybeats, Zoot Money, The Small Faces, Georgie Fame and The Spencer Davis Group. The strangest thing was the first recording by The Voyds for C.B.S. We went into their London studio's and as we hit the first notes of the first take of the first song the door swung open and a man in overalls and a small ladder came into the studio. As we recorded our first single he painted the room, very surreal.
The Soul Vendors played, oh OK, soul. We backed a lot of the American artists that came over to tour (it was at a time when you had to use musicians in the country you were touring) and we did supports with Gladys Knight, Sam and Dave and Martha Reeves. Then in June '65 I was approached by Alexis Korner to join his band as a tambourine player as well as a backing singer and sometimes lead singer. In my time with Alexis he taught me all I know about blues, it's history and how to improvise a vocal line. I toured the world and, at 17 years old was earning £250 a week (The average earnings at the time was £17/15 shillings (£17.75) so I was happy.
This state lasted till March '66 (March keeps cropping up in my history - my Dad died in March 2000) when I joined The Six Percent. I left them in '68 and moved into the Tamworth area, and so my association with the Tamworth music scene began. It lasted until January 1992 when I moved to Nottingham (24 wonderful years).
The highlight of these early years was the year I spent as a member of Alexis Korners Blues Incorporated, one of the top two British Blues Bands of all time (The other was, of course, John Mayall's Blues Breakers), the January 1967 tour of the South of England, twelve great shows supporting the late, great Jimi Hendrix Experience (it was on this short tour that I first met Lemmy [Motorhead] who was Jimi's roadie.. The American tours with Alexis Korner taught me a lot, especially just how tough it was for the black population in the southern states, but we were accepted by them because we did there music, and acknowledged them as the instigators of the blues. 1967 was the summer of love (1968 in England, so I lived through it twice). Memories like these can never be forgotten. By the time I came to Tamworth in '68 I had, in 5 short years, done 492 shows. By the time I left Tamworth 24 years later I had managed 1,972 gigs. In January 2006 I achieved 3,000 gigs. I'm now 57 years old. I started playing bass in 1998 (after 30 years of just singing) and I'm still going strong.
The Mick Rutherford Band will be topping the bill (at Jakes Bar) at the Skegness Rock and Blues Weekend in January 2007. I have tried to retire twice, once after Ice folded and again when I moved to Nottingham, but the lure of the blues was too great. So many gigs, so many memories, mostly good, but some bad ones too. Still, you've got to keep the faith.
The Tamworth Times
In 1968, I moved in with my grandmother in New Street, Dordon and soon after joined The Power and Glory and so began my association with the Tamworth music scene which lasted until I moved to Nottingham in January 1992.

While living in the Tamworth area I was a member of many local bands. The first was The Power and Glory which included Kippa, (last heard of as a DJ). We recorded 'For Your Love' and 'Eleanor Rigby' on Zella Records. I was a member from 1968-1972 (the band changed their name to Duterium in 1971). The original name for The Power and Glory was Four Aces (Four XXXXs - Ed.) , they changed their name just before I arrived in Tamworth in '68.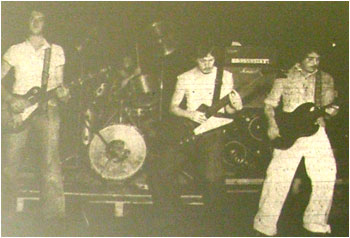 Willow, the first rock band to play Tamworth Arts Centre (01/10/77)
Another local band were one of Power and Glory's biggest competitors in the late '60's called The Evan Lyric Sound, they were based in Fazeley, I think. Also, although not strictly Tamworth (but 2 members were) were The Bakerloo Line, later Bakerloo with Terry Pool (Polesworth) on Bass and 'Clem' Clemson (Dosthill) on guitar. Clem later went on to be part of Colloseum. Phil Bates (Wilnecote) was also in a late '60's band (name escapes me) he went on to be part of Bullet and is still playing as a solo artist.
I was then a member of Creation and Pregnant Mary for a while (the same band) and in 1972ish I joined Red Cloud (with Colin Richardson) in the late 70's Red Cloud became Willow and with a member change turned into Ice. Ice recorded 'Saga of the Ice King' in '79. This album is now collectable and valued at over £150. Ice played many bike rallies and performed twice at the Tamworth Assembly Rooms (once with The DHSS as support). After Ice disbanded in 1982 I went on to play with Dickens (again played at the Assembly Rooms, the Arts Centre and Lichfield Arts Centre). Dickens changed their name to Heavy Metal Thunder in 1988 and toured with Mammoth and did the Friday Rock Show on Radio One.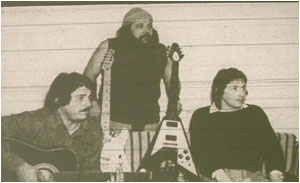 Colin Richardson, Mick Rutherford and Paul Watts formed ICE, March 1978.
I then formed a band called Loose Connection and played in the Gulf (during the first Gulf war build up). On my return (January 1990) I co-reformed Ice for one last tour (with members of Ginty).
I left Tamworth in '91 and retired but, the pull was too great and in 1995 I got my own band together, and it's still going great, as long as I still play there will always be a Mick Rutherford Band. The current band has played the Bulldog Bash, the Rock and Blues, Nantwich Blues Festival, Colne Blues Festival, The West of England, Donington Park, The National Welsh Show, The National NABD rally and many more.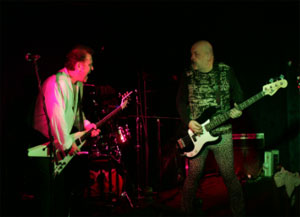 Carl Axon (Medics) and Mick Rutherford on Stage at The Full Moon, Newcastle - 2006
The Mick Rutherford Band have arecording contract with Blues Matters Records and our new album 'Are You Ready' can be downloaded and purchased from their website.
October 2006
The Mick Rutherford band reached no. 14 in the USA iTunes Blues Singles chart with 'Spirit in the Sky' from our album 'Are You Ready'. 'Love in the Fast Lane' also from the album is on a Blues Matters sampler album which reached no. 2 in the UK iTunes album chart. So there you go, 43 years waiting for a hit and two come along at once.
The Mick Rutherford Band have just been voted
'Best Blues Band of 2006'
by
'It's Only Rock and Roll'
magazine.
Mick Rutherford
March 2007
This is a direct copy of the article in Record Collector. Not bad is it. Didn't even think of Ice as a Progressive band, but in retrospect I suppose it was. I've had, as a musician, the best 6 months of my 44 year career. Top 15 hit in USA; Song on a UK number 2 album; Awarded 'Best Blues Band 2006' and now this blast from the past.

'Saga' was re-released in CD format in 1995 on the Kissing Spell label. But for a little old Tammy band having one of the most sought after albums has amazed me.

Keep the faith - Peace
Mick Rutherford
RECORD COLLECTOR APRIL EDITION page 28.
THE UK's MOST COLLECTABLE PROGRESSIVE ROCK RECORDS

ICE Saga Of The Ice King (Storm, with booklet. 1979) £150***
This quintet (derived mostly from Tamworth band Willow) led by ex-Alexis Korner Blues Incorporated singer, Mick Rutherford, was formed in March 1978 and issued their debut concept album a year later, before splitting in 1982. Featuring the Staffordshire Youth Orchestra, with string arrangements by Rutherford, it's riven with changes of both mood and tempo, as well as boasting some blaring horns and sweet electric and acoustic guitar from Andy Radek, as highlighted on airy tunes like The Bridge. This LP has been described as 'the rarest album of 1979', but as Rutherford recalls. 'It was recorded in Lichfield in a garden shed studio. The control room was an added lean to attached to the side. I got the idea for the story from a Marvel comic on Thor and told the musicians in the band-Colin, Andy, Paul Watts and Steve Sheldon-what kind of song I wanted for each part of the 'saga'. We borrowed a Revox four-track from a musician friend of ours. Paul Hinch, who used to work in Abbey Road Studios. He told us that the machine was one of two used to record The Beatles' Sgt Pepper. There was going to be narration a la The War of the Worlds, but I soon realised that this would take too long, so we didn't use it. We recorded it between November 1978 and February 1979. Once the thing was finished and mixed, I took the master to Blackpool, where the pressings were done. As the engineer went through the tape it broke during Journey into exile. Although it was repaired, half of one verse is missing on the finished release. I wrote all the lyrics and arranged the strings on The Ice King. What I didn't know was that, although we tuned all our instruments by ear, the Staffordshire Youth Orchestra tuned to concert pitch, so throughout the song we're out of tune with the orchestra! The album was released in the summer of '79 and sold well, but 10 years later I binned 20 copies that were cluttering up the house! Apparently, by then the album was much sought after in Scandinavian countries because of the Viking myth element, and a copy sold for £375 at a Birmingham record fair in 1994.

Mick's now played over 3,000 gigs and leads The Mick Rutherford Band (signed to the Blues Matters label, and an iTunes Top 20 act in October 2006 with Spirit in the Sky).

Thanks to: Mick Rutherford