New Puritans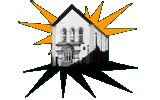 Musical Type/Genre: Alternative
Formed: 1990
Band Members:
Ben Machin
Carl Harris
Rob Frymus
Gigs:
04/02/90
New Puritans
Sonic Gauge
Tamworth Arts Centre
18/02/90
Rumblefish
New Puritans
Infinity
Lost Sons
Lincolns
20/02/90
Emma Gibbs
New Puritans
Flowers in the Attic
Hare and Hounds
Birmingham
15/04/90
Catch 23
Banned in Yellow
New Puritans
Mean Fiddler
London
06/05/90
The Moment
The New Puritans
Peter Tuesday
The Rathole (Lincolns)
14/06/90
Bradford
The New Puritans
The Rathole, Lincolns
16/11/90
Beach Party
Pig in Shades
New Puritans
Chemikill
Tamworth Arts Centre
Tamworth Herald Features:
Tamworth Herald – 05/01/90
Letterbox - Big Moans from the Big Noise Man

Hello Sam/Martin,
This might be a long letter but please bear with me because I am quite annoyed.

Firstly, our gig with The Yogots and Sherbert Trees. Mr Martin Warrillow, who reviewed it seemed to think it was 'dodgy', 'shambolic', 'sacrilege' and not 'sensible'. What we tried to do (my idea originally) was to do something 'different', but as I have learned in 1989, a band can't do 'different' things, even in Tamworth because of people like Mr. Warrillow.

'Whatever happened to conventional gigs?' he says. I may be wrong, but I thought it would be boring to see The Big Noise and The New Puritans yet again, so we tried to enjoy ourselves, in an original way- something Mr. Warrillow obviously has no perception of at all.

'Better audience reaction than Catch 23 last week.' He said. It's so difficult for Martin to understand, it's a week before Christmas, the last gig of the year for most people, balloons, a Christmas tree, a vicar, a monk, a nun, etc…on stage, everyone just wanted to party, which they did, I've never seen so many people dancing at the Arts Centre.

Admittedly, we played not very well, but live gigs are not about musical ability: the Musicbox poll would be very different if this was the case. (Editor's Note: You came fifth, remember!).

Obviously, Mr Warrillow would enjoy himself more at a 'Bash Out The Odd' gig, where they play their instruments properly, note perfect and technically good.

I know what you're thinking, if you've read this far- it was Mr. Warrillow's personal opinion, yes, and this was mine!

Secondly, this Arts Centre business. The band was playing for the paying of the lights and the stage. Well, perhaps I'm being very cheeky, but I think it's a disgrace. New bands often make a loss on gigs there, £40 for an acoustically awful room, and a bar (which they must make money on). It doesn't open until after 5 o'clock, so you have to rush to get the gear in, set up the PA and sound-check four bands (expected by Tamworth for some reason). Fortunately, the new bar staff are very helpful. The best thing that could be done is for the money 'raised' to be spent on polystyrene tiles or old carpet for the walls, to get rid of the dreadful reverb of the room.

I know that all this bitching is not your scene at all, but too many people just accept everything as they are. I don't want to sound like a ******* but I am!

As for Mr. Warrillow, I don't want him to come to any more of our gigs, because he will definitely be appearing in future handouts.

Yours,
Carl (The Big Noise)
(P.S. This is all my view only, not The Big Noise or the New Puritans.)

Sam Holliday replies…

- In defence of Martin Warrillow – I thought this review was quite fun and conveyed to those who missed the gig that it wasn't your average Arts Centre bash. I thought his tongue was in his cheek and his comments were fair, and I'm amazed you took so much offence. Perhaps, bands in Tamworth are so used to getting 'nice', 'positive' reviews from me that when someone even slightly criticises, they can't cope. Sad really.

- In defence of the Arts Centre – The debate around the Arts Centre has not fallen on deaf ears, and I have been impressed by the genuine desire to improve matters shown by manager Dave Fortune. Many groups, Catch 23, Kraze, Fetch Eddie, etc. – have rallied around since the last public attack and I for one feel that the criticism is a little unfair while they are trying to change things. Ask yourself this Carl, where would The Big Noise (or for that matter any local band) be without the place? Not fifth in the poll, that's for certain!
Tamworth Herald - 26/01/90
Musicbox – SNIPS
Lincolns has announced a string of shows for the next few Sundays. On Feb 4 Dance Stance are back alongside The Herb Garden, on Feb 11 it's the Motorcycle Boy and support, on Feb 18 Rumblefish will be joined by The New Puritans and on Feb 25, Where Gardens Fall will headline. More info as and when.
New Puritans/Infinity - Lincolns
(Sunday)
Infinity have been brought in as a replacement for Two Lost Sons and bring to Lincolns the Indie/alternative pop you will have seen before in their previous guises as Psychedelicatessen and Infinity Incorporated. Highly watchable stuff it is too. As for the Puritans, well as you all know these cheeky chappies are a major First Division squad. Loud, guitar-buzzing, post punk sizzlers are a speciality! Get along, it's only a pound!
Emma Gibbs, New Puritans and Flowers in the Attic are staging a Euphoria trip to Birmingham on Tuesday Feb 20. You MUST book tonight at the Arts Centre's Euphoria bonanza. Coach and entrance is a ludicrously low £3.
The New Puritans – Lincolns
A band whose two main protagonists seem so young, fresh-faced and sweet it seems ridiculous that they can create such biting and bristly material. But they certainly do and, although my limited view of proceedings rather hampered awareness, my feeling remains the same that the New Puritans are a very 'big noise' indeed. As I have often said, their strength lies in the song writing which leaps from all-out guitar war at one juncture to softer more dreamy material at the next without you being able to spot the join. The guitar work is exemplary from start to finish but credit also to Ben and Carl who provide able and impressive back up and are now as much a feature of the band's permanent state as Rob's quiff. Best tracks of the night were 'The Jailer' and the impeccable 'Rainy Hour' the latter of which is a minor masterpiece. Another useful show from one of my local favourites and if anyone has a tape of theirs to give away, I would gratefully accept it as a 'Wedding Present'…

Review by Sam Holliday
Tamworth Herald – 09/03/90
Musicbox – London Calling
THE TAMWORTH music scene is all set for a Capital Night Out.
For following Catch 23's recent triumphant appearance at the Mean Fiddler in London the band were asked to return to the venue and bring a couple of other bands from the area with them for a Tamworth showcase.
So, that is exactly what they have done and they have now booked Easter Sunday for a Tamworth Showcase Special which will also feature The New Puritans and Banned In Yellow.
What makes the event so special is that it is certain to be attended by a great deal of record company bigwigs. The usual crop of Catch 23ophiles will be there of course but both Banned in Yellow and The New Puritans should also benefit with the Wedding Present management for example coming along to have a look at the Puritans.
The whole evening will be promoted as a Tamworth bands night and it came about after a recent Catch 23 show at the prestigious Mean Fiddler which had the management there in raptures.
"Their set included three brand new songs all of which were very well received and by all accounts it was their best gig to date," said group manager Alan Webster. "As this new gig will be the night before the Mandela show at Wembley Stadium a sell out is assured and we hope to have one or two 'names' there so all the groups should benefit."
Catch 23 are now in the process of organising a veritable convoy of coaches. With the popularity of both the Yellowites and the Puritans around five or six coaches are expected to go from Tamworth and Atherstone and the whole cost is a mere fiver. I for one think this will be a great night out and if you do too why not ring Alan Webster and book your place. It will be a very big night for Tamworth's music scene – dare you miss it?
Tamworth Herald – 13/04/90
Musicbox – A big Easter bonanza!
It's another CRAZY week for local music fans who have so much entertainment to choose from it's mindboggling.
Catch 23/New Puritans/Banned In Yellow (The Mean Fiddler, London)
A big night this for all three bands and a real tribute to Tamworth. The Mean Fiddler which has been delighted with Catch 23's recent appearances offered the venue to the band for a night for a special Showcase and they invited two kindred spirits (i.e. the Puritans and Banned In Yellow) to join them in a bonanza of the best in local music. Five coaches will be travelling and some places should still be available. We won't be back until late but you haven't got to get up on Monday have you?
Tamworth Herald – 27/04/90
Musicbox – Gig of the year


Banned in Yellow/New Puritans/Catch 23 – Tamworth Showcase, Mean Fiddler, London
EVERY so often you go to a 'local' gig which makes you remember why you got involved in the local music scene at all. This was such a show.
For sheer quality and atmosphere I can only compare this amazing night to a Tamworth Rock Festival or perhaps a final of one of the Battle of the Bands events of old. It was a night when simply everything went right and it meant that this show must now go down as one of THE classic local gigs – and by far and away the best of 1990 so far.
For a start there was the crowd. Around 250 local people from Tamworth, Atherstone and their environs travelled down the M1 to view this gig and when supplemented by a few hardy Londoners they helped to create a wonderful atmosphere. Even though many people had gone to see one band specifically all three bands were accorded a respect and an enthusiasm that was very touching, and all (deservedly) received encores for killer shows. Throw in a great DJ, a splendid sound system and a hungry anticipation, and the stage is set for a cracking show. And oh boy did we get it.
First up were Banned In Yellow who were simply STUNNING. It had been a relatively long time since I had seen this bunch, and the transformation is quite mindnumbing. All of a sudden they seem to have come of age, musically and personally, and they now look and sound quite brilliant. Their set was laced with some of the sharpest, strongest and most naggingly loveable tunes my ears have been treated to in years, and with Graham Harwood dominating the stageshow they were as much a treat visually as they were soundwise. They were full of confidence, new found aggression and contemporary relevance and in the space of one 30 minute set they jumped from being a mid-table first division team to being right up there challenging for the championship. They were quite magnificent and if you don't believe me see them the next time they hit Town and I guarantee you will be as knocked out as I was. Welcome to the big time O'Yellow ones.
Following that mouth watering starter should have been difficult but The New Puritans made it look easy. They were relaxed and jovial throughout their snappy set and the power that they managed to produce would have blown the speakers of many a heavy metal act. Like Banned In Yellow, The New Puritans base their stance on strong, attractive melodies and powerful ear-grabbing presentation, and tonight was as good a set as I have seen from them. Relative oldies like 'The Jailer' and 'No Such Chance' were equalled by new material of a distinctly 1978 variety, but all had to take second place to that gorgeous ditty with the 'keep me in the circle' hook, that reminded me of early Balaam and the Angel. Another terrific show from a band who can do no wrong in my books. Apart from Rob's abysmal jokes that is!
And so to the grand finale – Catch 23. On any other night with any other support you would expect Webster's Warriors to wipe the floor with the opposition without really trying, but tonight they really had their work cut out to justify their headline slot. Well, surprise, surprise, they DID rise to the occasion. Despite starting weakly with the unsuitable opener 'What You Want' the band went from strength to strength and by the end of their powerful set they sounded as good as they have ever been. New material like 'I Believe' and the anthemic 'Pride and Joy' stuck in the mid long after the amps had been switched off, but the band's fresh approach to older songs like 'Catch This' and 'Stand Back' gave them a new burst of life that proves that you CAN improve on seeming perfection. As with both Banned In Yellow and The Puritans, they were as good to look at as to listen to and as with the two bands that preceeded them, they were called back for more and delivered in real style. Another killer show from a band who surely can do no more now but wait for the ink to dry on the paper of the record contracts.
Sadly Catch 23's departure saw the end of this quite magical night. For those of us lucky enough to be on Bayley Cooke's coach there was still the treat of a solo show by the Wolfie king on the way home but I am sure everyone else had enough magic moments of their own to reflect upon.
The Mean Fiddler is a tremendous venue which was graced with three tremendous bands on the night. I strongly urge these same three bands to get together again and arrange a return trip NOW. They may not be able to repeat the sheer joy of this night but if they produced a gig that was half as entertaining it would still be superior to most other local shows you will see this year.
When the Tamworth area can produce three bands as good as this, you are left wondering whether we really need top name out of Towners hitting the area. All three of these are serious challengers themselves and if they arrange a second trip to the mean City take a tip from a rejuvenated MUSICBOX Editor and don't miss it. It was a night to treasure.
Review by Sam Holliday
Tamworth Herald – 04/05/90
Musicbox - Sunday Gig Spotlight
It's Pure Eddie
TWO of the area's hottest properties Fetch Eddie and the New Puritans are among the band's featured in this Sunday's gig bonanza.
For the Puritans it will be the latest in a series of local shows while for Fetch Eddie it will be their first for a relatively long period of time.
Sadly the two bands are playing at separate gigs on Sunday as Tamworth becomes a two gig town yet again. Thankfully their appears to be no concert at the Arts Centre but the choice between the main two events is enough to cause confusion in itself.
The two concerts feature…
The Rathole (Lincolns) – The Moment/The New Puritans/Peter Tuesday
Nightmoves – Fetch Eddie/The Magnificent Linkage
You want more info? Well, to quote Roy Orbison 'anything you want, you got it…'
The Rathole – The Moment/ New Puritans/Peter Tuesday
A very exciting line-up this one. Obviously most local attention will be focused on those guitar wizards of the New Puritans fresh from their Mean Fiddler triumph, but there are two more joys to behold as well. Headliners are a band from Cambridge called The Moment of whom much is expected…Alongside them are a new Lichfield troup called Peter Tuesday. This elegantly named combo draw a host of modern comparisons not least The Wonderstuff, which can't be bad cannit? Put these two alongside the mighty New Puritans and you have a three band show that looks very tempting. Venue; The Rathole, start 8.00pm, expectation: high.
Tamworth Herald – 01/06/90
Musicbox – Pure Genius
The New Puritans – Night Moves
There are more local gigs than ever at the moment – and The New Puritans appear to be playing quite a few of them.
But their hard-working attitude and their habit of always putting on a good, powerful show is obviously not enough…because Night Moves wasn't even one-quarter full for the gig.
The Puritans were at their best – with powerful songs like 'The Jailor' and 'No Such Chance' followed by the inevitable Polish version of 'Green Door' – that all went down very well with the 'crowd'.
But the handful of people watching the puritans were the same enthusiastic crowd that travel to Bradford or the Mean Fiddler to see them…and I couldn't help getting the impression that it was all a bit of a shame.
Sean 'Two Haddocks, One Brain Cell' Atkins
Tamworth Herald – 08/06/90
Musicbox – An Action-Packed Week
TAMWORTH boasts three top shows this week – and thankfully none of them clash with one another.
Top out of Towners like Bradford and the Trashcan Sinatras will be on show as will local favourites like The Searching and Scream in a week of smiles for local gig-goers.
Friday night, Sunday night and Thursday night will all offer music for the discerning ear and serious gig-hoppers can expect an expensive week.
In brief the line-ups read…
Friday (Tonight) – Tamworth Arts Centre: Scream, Chemikill and Litany of Fear.
Sunday – The Rathole, Lincolns: Trashcan Sinatras, The Laurels and The Searching.
Thursday – The Rathole, Lincolns: Bradford; The New Puritans.
A brief resume on who is doing what based on the limited info we have…
Bradford/The New Puritans – The Rathole, Thursday.
A VERY big band this one. Radford are as big on the music scene as the Town is on the map, and their appearance at Tamworth is another one of those coups that The Rathole appears to be making with increasing regularity. As I am just an old punk reactionary who rarely knows about new out of Town bands, I asked fellow Heraldites what they knew about Bradford and received such enlightened comments as 'they are very famous I think' (Helen Machin), 'I've seen them mentioned in Music Week a few times' (Mike Turner), 'never heard of them' (Sean 'Eight Nicknames' Atkins) and 'who' (Martin Warrilow).
What this says about us is hard to attain but if YOU want to find out exactly who Bradford are and see one of the busiest bands of the 'mo' then Thursday night at the Rathole is a must. And if you are still not convinced then the New Puritans are also on the bill and Helen, Sean, Martin and me all agree that they are brilliant.
A busy week indeed.
Tamworth Herald – 26/10/90
Musicbox – Local live reviews and comments
Banned In Yellow/Sindy's Sonic Garden/The New Puritans plus more – The Rathole
Despite the presence of a couple of Birmingham bands, this was very much a Tamworth show. It was rather like being back at the Arts Centre but with wallpaper and carpet instead of NME's and cigarette ends.
The 9.00 explosion was Sindy's Sonic Garden, still regarded as a relatively new band although they made their debut over a year ago. Their youthful approach to music, fairly reminiscent of early Birdland, showed much promise but even more fulfilment . Unlike most bands of this genre, the varied sequence of 'wah' and 'eeeeekk' distinguish one three minute blast from another. Loud, harsh and vigorous, yet fresh, raw and almost kittenish, they're enticing of one lone self-mutilator was not a true reflection of the audiences opinion of those blooming Rupert Bear type musicians. Too flabbergasted to hurl while being seized by their melliferous toffee is an accurate appropriation. Follow with gusto.
Yet the next band didn't and followed almost immediately, sufficiently unnoticeable for our ears to recover from the atrocities inflated by the Sonics. The song construction was finely simplicite [sic. Ed] but the overall musical style seemed to have been taken from whoever or whatever was passing at the time.
The follow-up to this annoying disturbance comprised of more troops of Birmingham would-bes. A positive identification of Mick Jones, some funky bass, a wood-block and a couple of doo-be-dos thrown in for good measure – pesky me! Shouldn't be so pessimistic. After the feeble yawps of the previous Birmingham band I expected an equally dismal dismay [sic. Ed] from these but was slightly surprised.
And surprised again. Who was it that said 'I like watching the New Puritans because I haven't been lucky enough to see the Wedding Present yet? An ultimate quote but a little outdated. At least they have a sound all of their own and quite a pleasure! Did they unknowingly alter their monosyllabic monochordic ploddings or did one announce 'it doesn't go like that anymore, arrrghhh'. Whatever, here's hoping this change in originality is not monocarpic is just the beginning. They were alright before, but they have shown us they can be good.
Banned in Yellow however share a different opinion, the one which goes along the lines of 'if it worked once stick with it'. What's the betting they are the same songs as well. Their close set showed experience but they have had those uncountable years to perfect it. Whereas Munchies and Mr. Dog modify only the name, Banned in Yellow have incorporated this along with much time ad line-up transfiguration, yet neither succeed in altering the taste of composition. The one unsettling perplexity was the impressive vocals, capable of bewitching submission. Perhaps they had anaesthetised the accompanyist [sic. Ed] into a palsied repetition.
Melba Washington
An amazing review with occasional touches of brilliant insight and occasionally baffling analogies. Incidentally are MUSICBOX writers becoming steadily more intelligent or am I just slowly going senile? Whatever the case, intriguing stuff Melba. SH [Complete bollocks methinks – Ed.]
Tamworth Herald – 16/11/90
Musicbox – Shady Business
Tamworth Arts Centre stage a unique 'beach party' tonight (Friday).
The concert starring the all new Pig in Shades featured on our right is part of the Tamworth Borough Council Tamworth Tasters' package aiming to introduce the local populace to local art.
Pig In Shades are regarded as an exciting new band who proudly boast that they are trying to 'put the spectacle back into live music'. It costs £1.50 to get in and you are actively encouraged to wear beach wear, support will be provided by The New Puritans and Chemikill.