The DHSS v5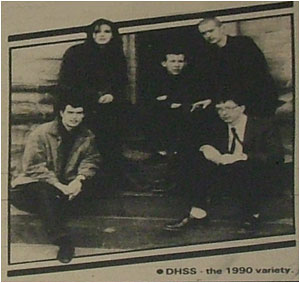 Musical Genre/Type: Punk
Formed: 1990 Split: 1990
Band Members:
Edward ian Armchair - Vocals
Jessic Pitcher - Vocals
Adam Cukrowski - Guitar/Backing Vocals
Andy Stokes - Bass Guitar
Martin Watts - Drums
Gigs:
01/04/90
The DHSS
The First Conspiracy
Vindaloo Breakfast
Tamworth Arts Centre
12/04/90
Guana Batz
The DHSS
The Rathole (Lincolns)
04/05/90
The DHSS
Flowers in the Attic
Three Tuns
Atherstone
06/05/90
New Fast Automatic Daffodils
The DHSS
King Woderick and The Yogots
Night Moves
11/05/90
The DHSS
Golden Cross
Aston
18/05/90
The DHSS
Hare and Hounds
Kings Heath
Tamworth Herald – 22/12/89
Musicbox – DHSS appeal for members
THE once four-strong DHSS unit has been reduced to just one member.
After months of frustrating inactivity the band's lead singer Edward ian Armchair has decided to 'sack' fellow cohorts John Reeman and Anice Byfield. Ed says he is still very friendly with both John and Anice but felt that the future of DHSS depended on the band getting back into action with renewed enthusiasm.
"They have both got other commitments at the moment and I really want to hit the stage again. I am now looking for similar-minded musicians to join me and help get DHSS back onto the road," he said. "I want us to be a strong and powerful band and I am convinced that we can be that again."
If you share the DHSS ideals and want to join Ed (he is really looking for a bassist, guitarist, drummer and female backing singer) then ring him on 50954.
Tamworth Herald- 19/01/90
Musicbox – Snips
The Ed Armchair version of DHSS have now completed their brand new line-up – at least they will have done when one of YOU comes forward to drum for them. Ed has recruited Adam Cukrowski (guitar), Andy Stokes (ex-Parade on bass) and Jessica Pitcher on vocals. All they now need is a drummer and if you can help out why not ring Ed. He is very excited at this new start for the band and rumours abound that they could make their debut at an April 1 Arts Centre bash being organised by a new promotion firm, Angus Promotions.
More details from Also Smith and Jones and/or Lincolns itself.
Tamworth Herald- 19/01/90
Musicbox – DHSS – the arguments still rage on
The 'Why The DHSS Split' letter written by Edward ian Armchair in last week's Herald has somewhat enraged fellow/former members John Reeman, Anice Byfield and Rikk Quay. John and Anice insist that THEY are the real DHSS and will continue to be so and Rikk has been angered by suggestions he was 'apathetic' to live performances. Both have written letters to MUSICBOX and to keep a sense of balance both will be printed next week.
Stay tuned to this BOX!!!
Tamworth Herald - 09/02/90
Musicbox – NEWS – SNIPS
Lincolns have added a few more gigs to their busy agenda. On Feb 18 The New Puritans team up with Londoners Two Lost Sons, on Feb 25 Where Gardens Fall are in action and on March 4 there is a trio of acts in Magnificent Lkage, Honeyjump and Bob Baroque. March 11 sees Bash Out The Odd and Rhythm Damage together and then on March 25 the Eddie Armchair version of DHSS team up with the First Conspiracy.
Tamworth Herald – 16/03/90
Musicbox – SNIPS
DHSS have switched the venue for their forthcoming Tamworth show. Ed's outfit will now be playing at Tamworth Arts Centre on Sunday April 1st rather than at Lincolns on March 25. Support on the night will come from the First Conspiracy.
Tamworth Herald – 30/03/90
Musicbox – One week, One Town, FIVE gigs!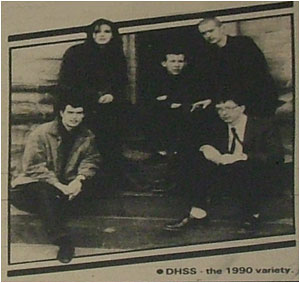 TAMWORTH elevates itself to the status of a major gigging City this week when no less than FIVE local concerts aim to grab your interest.
With one tonight (Friday), a further three on Sunday and then a fifth on Thursday night Tamworth's gig-goers look set to be bamboozled and broke by this time next week.
And, it is not as if it is easy choosing which one, two or three gigs you are going to see. Big national names like Carter The Unstoppable Sex Machine, the Penny Candles and Benny Profane will be vying for your 'wad' against the debut of the all new DHSS and the return of the Yogots, and local gig-goers have every right to feel truly confused.
MUSICBOX is equally under pressure at the moment to try and give a fair and representative view of who is doing what and it seems to me that this is all getting a little bit silly. It is great for Tamworth to have so much going on but there surely isn't the audience to justify all these gigs.
Some very big names are going to play to some very small audiences in the next few weeks and that will do Tamworth no good at all. Still, gripe over, here is a broad view of what is going on. We don't have enormous amounts of details on some of the gigs but we hope at least that this will give you a bit of a guide as to where to spend your hard earned cash. Here is the list of who is doing what, followed by a more details breakdown.
Tonight (Friday) – Tamworth Arts Centre: King Woderick and the Yogots/Shock Culture/Shakespeare Monkey/The Fireflies
Sunday – The Rathole (Lincolns): Carter The Unstoppable Sex Machine/Support
Sunday – Tamworth Arts Centre: The DHSS/The First Conspiracy/Vindaloo Breakfast
Sunday – Night Moves: Penny Candles/Hallelujah Trail
Thursday – Night moves: Benny Profane/Support.

Despite the bug-name attractions elsewhere, methinks that this bash at the Arts Centre may well be the one that really pulls those punters in. The First Conspiracy don't play gigs too often these days so every one is a treat and as their last one was a real BLASTER I for one an looking forward to hearing those surging melodies yet again.
Also on offer will be the Vindaloo Breakfast boys, a group as intriguing as their name. The four Hamleteers (or is it five) serve up a heady brew which led to Jack Napier's 'Jimi Hendrix on mogodons' comparison. Topping them all off will be the all new DHSS making their live debut with their fresh line-up. Only Ed Armchair remains of the 1989 variety of the band and he has now been joined by a former DHSS drummer Martin Watts, ex-Parade bassist Andy Stokes, former Green Swings man Adam Cukrowski and vocalist Jessica Pitcher who has never performed live before. The music remains the same power-driven pop of yer-old DHSS but it is now played with traditional instruments rather than computers and the end result has delighted all the band members.
"Everyone is very excited about it all," explained Ed. "I was very lucky to get such like-minded musicians and they are all convinced that it is the best thing they have been involved in. I agree totally and feel that we have the capabilities to be the best band to come out of Tamworth for many years."
The new band will combine several former DHSS favourites alongside newies like 'Better Times', Slavedriver' and 'The Scandal of Billy Randall' and the entire mixture is one which Ed feels will prove very popular.
To find out if he is right – and also to enjoy the multi-pleasures of The First Conspiracy and Vindaloo Breakfast, get along to the Arts Centre on Sunday.
Benny Profane plus Support – Night Moves (Thursday)
Thursday night promises to be a real treat for Indie fans as one of the Midlands best bands hits Night Moves. Benny Profane, who recently played to 800 people at Burberries in Birmingham are exactly the sort of high profile, big name act that Night Moves is determined to attract and they are certain to prove a winner with the Thursday night Indie movers. As the indie scene is a bit of a barren area to me I can't say much more but I can confirm that this lot come highly recommended.
Tamworth Herald – 06/04/90
Musicbox – Loads-a-Gigs!
Thursday Night
The Rathole (Lincolns) – Guana Batz/The DHSS
A potentially winning combination of psychobilly romping and DHSS power. Headlining of course are the six-album cult heroes The Guana Batz who made such a massive impact on their first Tamworth appearance some years ago. Most of you will know what the Batz are all about and their enormous travelling support should make Tamworth a colourful place on Thursday night as quaffs, scooters and chicken dancers hit the town for the first time in eons. In support will be DHSS making a quick follow-up to Sunday's Arts Centre debut. Those impressed by Sunday will have a chance to enjoy a second portion and those less impressed will be able to see if my review below was right, wrong or right ridiculous. Thursday night, The Rathole, fun.
Tamworth Herald – 06/04/90
Musicbox – Sunday View
DHSS/First Conspiracy/Vindaloo Breakfast – Tamworth Arts Centre
Vindaloo Breakfast
Breakfast is the first meal of the day and one which is supposed to set you up nicely for the rest of the waking hours. As such it is important that the first course of it is refreshing and palatable and unfortunately this wasn't the case on Sunday. Vindaloo opened with a track that seemed to be going nowhere and it took a while for them to recover from it. But by the time we were into the main course – the bacon and eggs of the set – things had started to perk up and the final course was very tasty indeed. At best Vindaloo Breakfast are a post-punk modernist industrial outfit who have touches of Gang Of Four and the Psychedelic Furs and have a stark and grey look which reflects their sound. It is a wee bit bleak and it is certainly not music to take to bed with you if you're pondering suicide, but a final and powerful last track perked things up considerably and left the band with a very encouraging reaction for what was only their second gig. They are not ready yet to storm the world but I think it is worth sticking around for the Vindaloo Lunch to see how things develop. A curiosity.
The First Conspiracy
This wasn't actually vintage Conspiracy – bit it was still probably the highlight of the night. Coming on to a roar that implies that the band have a touchingly loyal following, the group sizzled and jerked their way through a surprisingly short set which again showed that they are a tighter, stronger and strangely happier band than I think they have ever been. They appeared to have reconstructed many of their earlier numbers and supplemented them with a couple of relative newies and a cracking Smithereens cover to make for a wholly satisfying collection. Suntanned Lisa bellowed it out like a 'good un'. Beth and John combined for a powerhouse backing and Roger again tickled my fancy with some lovely guitar touches that again reminded me of early Stuart Adamson. Bands don't last this long unless they've got something about them and the First Conspiracy really have. Nice one.
DHSS
I am probably the worst person in the world to preview the new DHSS. I was so close to all four members of DHSS '89 (professionally and personally) that I knew that no matter what I said about DHSS '90 it would upset friends as well as musicians. Well I am sorry but it has to be done. Put as simply and as kindly as I can, this was NOT DHSS. The image I have of that band was of a powerful punk-inspired collection of strong personalities with a wicked and irreverent outlook on life. The computers of old fitted in with their 'the present is crap, we are the future' philosophy and their image, their style and of course their tunes made them one of the best bands we have ever seen in Tamworth. Sadly, this was like watching K-Tel plays DHSS. I have previously slagged off the computers, but compared to the limp noise that emerged from 'real' musical ' instruments, Atari ST's have acquired a magical appeal. Oldies like 'DHSS' and especially 'Vicar's Hand' were massacred beyond belief and no matter who wrote the songs (and the arguments were raging afterwards) pinching obvious Quay screams or Reeman guitar solos made it all a bit embarrassing. On the plus side the version of 'Clark Gable' was significantly tasty and the anthemic 'Until The Love Bites Fade' was quite excellent, but I really believe that the only way DHSS 90 stand a chance is to totally divorce themselves from DHSS 89. They will always be compared to the old combo – and I always fear unfavourably – and perhaps their best hopes lie in the one or two new Adam Cukrowski tracks that sound pretty good to my ears and show the way forward rather than they way back. This is a very hard review for em to write but I just left the gig feeling depressed. Imagine if you will how a Wolfsbane fan would feel if Bayley left the band and then 12 months later turned up with a new band playing 'Fell out Of Heaven' And 'I Like It Hot'. It wouldn't be the same because it isn't the same' This was the first time I have ever seen DHSS fail to get an encore and that speaks volumes itself. The band are keen to get out of Tamworth as soon as possible and maybe they will be more fairly judged then. But for the time being the whole thing made me feel sad and I really feel that Adam, Ed, Jessica, Andy and Martin need to assess whether they want to be a first rate band of their own or a second rate version of someone else. Sorry, but true.
Reviews by Sam Holliday
Tamworth Herald – 13/04/90
Musicbox – Your letters, Views and Comments
DHSS 'an April Fools Day joke?'
Dear Sam,
I've just come back from the DHSS gig and still can't decide whether it was just another of Eddie Armchair's April Fools Day jokes! Having read Ed's pre-gig hype of the DHSS being the best band to come out of Tamworth in ages and then seeing them in the flesh, I can only assume that he is the greatest comic talent since Sid James!
The new members gave a classically hamfisted performance in the style of Tommy Cooper whilst the new singer did her best to drag it down even further throughout the set of abysmally played oldies. Listening to them bumbling through once great numbers like 'Body on a Slab' or 'Vicar's hand' reminded me of the nauseous feeling you get as a working men's club band plunge hopelessly into 'Jailhouse Rock!'
The old DHSS had their problems, but they made up for them with a towering stage presence, a lorry load of killer tunes and a sound completely removed from anything Tamworth has ever heard.
The 1990 DHSS have nil stage presence, look incredibly boring and sound like just another fifth rate indie band. I felt quite embarrassed for Ed, and even more so for the members he kicked out, who obviously made the band what they were.
So come on Ed, get your act together. Even your mother wouldn't have enjoyed this gig!
Love, Maxine (DHSS Fan, Tamworth)
Tamworth Herald – 20/04/90
Musicbox – The DHSS debate rages on
MUSICBOX has received another letter from a distraught DHSS fan following their debut concert at the Arts Centre a couple of weeks ago.
The letter from a Tamworth-based fan called Goldie – who has written to the Box about the band before – included lines like 'what a complete and utter shambles' and 'what took 18 months to create took 20 minutes to destroy' and even 'what was once great is now a laughing stock.' We had intended to print the letter in full as we want to give all our readers their say but after some thought I decided against reproducing the whole letter. MUSICBOX is, by tradition, a very positive and optimistic column and it makes me feel a little uncomfortable that on top of my less than complimentary review of the above gig we have now had two other 'knocking letters' about the DHSS show. It struck me that although we expected a lot because of the name DHSS, we maybe overlooked the fact that two of the band's members in particular had hardly trod a stage in their lives before and it was after all, a debut concert. I am therefore offering either the band – or people who saw the above gig and enjoyed it – the 'right of reply' to try and redress the balance. I never want this column to be just a fanzine-style knock-knock-knock section and although I know that I – and my two correspondents – genuinely didn't like the DHSS gig in question, I am equally keen to hear from anyone who DID. If the band want to reply to criticisms I will be happy to print those as well, because this column is not in the business of attacking talent but promoting it. Has Sam Holliday become a censor of opinion I hear you cry? Ye he has because this is, after all, the Tamworth Music Scene and not the Manchester one. My original review was damning enough without adding further salt to the wounds.
Tamworth Herald – 04/05/90
Musicbox – STOP PRESS – DHSS hit Atherstone
DHSS make the short journey down the A5 tonight (Friday) when they play their first gig in Atherstone.
Ed's squad will be in action at the Three Tuns in Atherstone possibly alongside Flowers in the Attic.
This will be the fifth gig from DHSS and they have already recorded a four track demo.
It's also nice to see gigs taking place in Atherstone itself as Tamworth has had so much benefit from the Atherstome music scene, it's nice to be able to give something back.
The gig is due for an 8pm start.
Tamworth Herald – 11/05/90
Musicbox – The Fast Risers!
NIGHTMOVES proudly opens its doors on Sunday to one of the hippest Manchester bands of the moment. The group, The New Fast Automatic Daffodils are currently sitting very nicely thank-you in the Top Five of the National Indie charts and they are a band who are really buzzing.
Their appearance in Tamworth is quite a coup for Nightmoves and the fact that two of the area's most popular bands – King Woderick's and DHSS – are in support implies that this will be a packed-to-the-rafters affair.
For those that don't know, The New Fast Automatic Daffodils are what is generally regarded as a happening act. Here is just a selection of some of the national press they have already received….
*"This is prime, gritty Indie noise." (Sounds July89)
*"The New Fads are the current leaders in the annual 'death of rock' sweepstakes. Best seen while still fresh." (Melody Maker)
*"The New Fads are uniquely derivative, but clearly special." (NME July 89)
The comparisons role on and among the many press reports I have seen, I have heard the band compared to (get ready…) The Sisters of Mercy, Pop Will Eat Itself, The Fall, Big Flame, The Talking Heads, The Pop Group and more.
Publicity types are tripping over each other to find the right comparisons and to make you feel that this band is going to be BIG so we might as well jump on the bandwagon and tell you that this lot look to be real likely lads and are well worth an eye or two.
And what of the support bands? Well, if you were going to put two bands on with an out-of-town act to ensure a big turn out you probably wouldn't have to go much further than DHSS and The Yogots.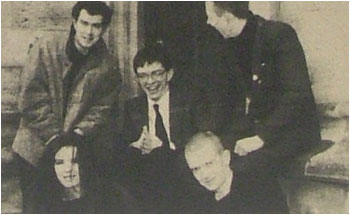 For DHSS this will be their third Tamworth venue in their short career and it will be another chance to prove to the doubting Thomases that they have the touch of greatness. What that now legendary first gig proved was that DHSS can no longer be placed in their former pigeon hole and indeed they have moved very much into an indie sphere. It divorces them from the late Eighties and takes them more into the realms of perhaps the Fast Daffs with more than a touch of the late 70s thrown in. The poor reaction to their first gig (we asked for positive letters of support and never received any) has certainly strengthened the band's resolve and they remain as committed as ever. Sunday would be a nice platform indeed to regain the main territories.
King Woderick and The Yogots should have no such problems as they remain on of the finest collections of musos within sight of the Peel statue. Now playing less gigs locally than in recent months, every Yogotty flavoured gig has become a treat and their popularity seems to be growing all the time. They have been working very hard in the studios as well as cultivating important links out of it and their hard working management crew have been lining up some very tasty morsels indeed. Catch them in Tamworth while you still can.
That's the line up then. Daffodils, DHSS and The Yogots. It makes for a formidable line up and one which I am sure will have them piling into Nightmoves on the night. Sadly your friendly neighbourhood MUSICBOX Editor will be away all week so I will have to miss it but the rest of you have no excuse whatsoever. It should be a very jolly happening indeed.
Tamworth Herald – 18/05/90
Musicbox – Review…Review…Review
DHSS – Night Moves
Oh dear, oh dear, oh dear. Like Sam I'm really too close to this band to pass an absolutely unhindered critical judgement but frankly this was utterly dismal.
While this show wasn't quite as embarrassing as their first Arts Centre gig, Ed and co. should not delude themselves that they have any future at all in their present format.
Calling themselves DHSS and doing the same songs is a major mistake and should be dropped instantly.
The songs I'm talking about ("Vicar's Hand, Sweet Sixteen, Love Bites, DHSS) were designed and written to be played through computers and through 'ordinary' instruments they simply don't work.
The one way they might work is to be turned into 100mph three-chord thrash, which is what they tried to do with 'Vicar's Hand' but put bluntly the musicianship isn't good enough. Weedy guitar riffs, limp singing, poor tunes (the 'new' songs don't stand out at all) and absolutely zero stage presence do not make great bands. And this is a very long way from being a great band.
They should call this off, before a once-great reputation sinks into the sand.
Martin Warrillow
Tamworth Herald – 25/05/90
Musicbox – What's happening at the Rathole?
THE RATHOLE hosts two more gigs this week combining out of town favourites with local talent.
We're Going To Eat You and The Rain Garden will both be claiming headline slots with varying support from the likes of DHSS, Shock Culture and The Hamilton Hammond Extension.
First off on Sunday We're Going To Eat You spearhead a three band show which also features DHSS and Shock Culture. We're Going To Eat You have a strong following for their powerhouse pop sound but much more than that we do not know I'm afraid. What we do know is their two support acts both command loyal followings with DHSS attempting once again to bridge their self-imposed credibility gap and Shock Culture trying to show once again that they have become a serious local force. A great troupe, the Shock Culture-ites and a splendid band despite rumours that they include serious West Bromwich fans. Sunday night, The Rathole. 7.30-11.
Tamworth Herald – 10/08/90
Musicbox – Video-man offers treats for £100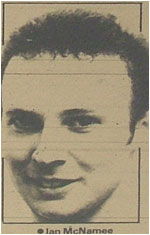 A TAMWORTH pop-video maker – who has already made a cracking promo for DHSS – is looking to work with more bands in the area.
Ian MacNamee – whose brother Steve plays for The Soil Brothers – is hoping to get into Film School in a couple of years and in the meantime he has set up a video-business with a special interest in pop and rock bands.
Ian tested his wares a couple of weeks ago with the new-look DHSS and the end result is sensational.
"We were delighted," said singer Ed Armchair. "Ian was such an easy bloke to get on with and it was fun to do. We thought the end result was excellent."
The video, to accompany a stirring version of 'Clark Gable' features Ed and the very photogenic Jessica in various scenes to a backdrop of startling colour and a host of vivid and imaginative camera tricks. It is very reminiscent of the sort of top quality Indie promos shown on the Chart Show and Ian is confident he can work with all types of music.
"My own tastes are irrelevant to my work and I would feel comfortable doing a pop band on one day, an indie one the next and a metal one the day after. If bands have their own ideas about how they see their song I will do my best to accommodate them and I hope I can also advise them in my own way," he said.
Ian took only a day shooting the DHSS tape but a full four days editing it. The end result has pleased everyone and the cost of around £100 is incredibly cheap for the quality produced. Ian feels he can produce promos for that cost for anybody and sees it as a useful tool for bands seeking record company interest.
"When bands send off their demos to record companies I am sure a lot of them fear their tapes are just thrown away because of the volume received. If a video appears through the door it might just capture the attention needed," said Ian.
Ian is able to peg the costs of the videos because he has brought all his own equipment through a Government scheme. £100 is a rough guide to what you would pay for the tape and considering bands can spend four of five times that amount on producing demos alone it is extremely good value. Just ask DHSS man Ed if you want that confirmed.
"I couldn't recommend Ian enough," he said "The tape has come out really well and I am sure he can help a lot of bands."
Ian also gets the MUSICBOX seal of approval for the excellent DHSS demo and he has already interested Yogots boss Ian gibbons who was knocked out by the DHSS tape. If you are interested in working with Ian, ring him to discuss when you van get your mugs on the box…
Sam Holliday
*A copy of the DHSS video was lost in the George at the weekend.