Chemikill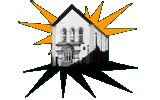 Musical Type/Genre: Thrash Metal
Formed: 1989
Band Members:
Gaz - Bass Guitar
Chris - Drums
Ant - Guitar
Gigs:
25/02/90
Chemikill
Deviance
Tamworth Arts Centre
03/06/90
Chemikill (plus Blaze Bayley)
Rhythm Damage
Flowers in the Attic
Tamworth Rock Festival fundraiser
Tamworth Arts Centre
08/06/90
Scream
Chemikill
Litany of Fear
Tamworth Arts Centre
01/07/90
Chemikill
Eight Ball Joe
Tamworth Arts Centre
12/08/90
Scream
Chemikill
Tamworth Arts Centre
12/10/90
Phoenix Productions
Eight Ball Joe
Chemikill
WDK
Satellite Spy
Tamworth Arts Centre
16/11/90
Beach Party
Pig in Shades
New Puritans
Chemikill
Tamworth Arts Centre
Tamworth Herald – 27/01/89
Musicbox – A Bogey Solution
Dear Sam,
I would like to put my band's name forward for the Tamworth Rock Festival, the band's name is Chemikill. We are also on the lookout for a singer, so if you could help us in finding someone we would be very grateful. We play Power, Thrash Metal in the vein of bands like Slayer, Metal Church , Nuclear Assault.
The band's line-up is as follows: Gaz – bass; Chris – drums; Ant – guitar.
We don't care if the vocalist is male or female, but we need someone who likes a challenge and who is not going to waste our time.
The quicker we find a vocalist the quicker Tamworth gets a band who put out the real stuff to 'mosh' to. So it's up to the Tamworth/Lichfield people who moan they haven't seen nothing new and are bored with the scene at the moment, so take up the challenge.
Interested? Phone Ant.
Tamworth Herald - 24/03/89
Musicbox – DHSS to do a gig shock horror shock?
First there was the Sunday Sport story that Hitler was a woman. Then the tale that Elvis was alive and working as a taxi driver in hull. And now, more sensational than all of that is the claim that DHSS are to do a gig!!
The band, who by their own admission have played less gigs in the last couple of years than the Beatles, are rumoured to have booked a gig at the Arts Centre on April 9. The MUSICBOX phone has been red hot all week as journalists from all around the globe have rang to see if this seemingly impossible story could be true.
In an exclusive interview at the Tavern in the Town the band's sex-change keyboard player Ridiculous Quay confirmed the amazing story.
"Yes, we are playing." Said the suspect one. "And what is more we are gonna blow the *** of every *** that ever *** walked the *** earth," he said.
The rumour is that *** (I can't even bring myself to say their name) will be playing on April 9 with King Wodericks, Chemikill and The First Conspiracy.
I'll believe it when I see it, but if it comes off you have been warned. Stay clear of the Arts Centre on that night at all costs.
Tamworth Herald – 07/04/89
Musicbox – SNIPS
What's This Heads Down Mindless Boogie have finally found themselves a singer and as such have put themselves in the Festival frame. They conclude this bit of info by stating 'given half the chance, Chemikill will be the next Wolfsbane because they are so good'. Now THAT makes you want to have a look on Sunday doesn't it!
Tamworth Herald – 14/04/89
Musicbox – On the ball!
The Town's biggest pop band – DHSS – are to perform a special Wembley song for the Town's biggest football club – Tamworth FC
The town's favourite shock-rockers are to re-write their chirpy anthem 'Ooh, Ooh, Ooh, La, La, La' with a football theme to mark Tamworth FC's first ever trip to a Wembley cup final. It was hoped that last night (Thursday) one or two of Tamworth FC's big stars would descend on the Expresso Bongo studio to add their vocal skills to the track which will then be rush released.
In the meantime the band are still celebrating a highly well attended Arts Centre show which brought a massive crowd through the doors on Sunday night. Here is how it went…
Chemikill
Excellent debut set from a band who are noisy, nasty and nicely Neanderthal. They call this speed thrash metal, but to my old punk schlonk ears it sounded like a vicious variation on Sham 69, Anti-Nowhere League and The Ramones. They looked a lean, mean fighting machine and their attitude and language prove that they clearly came from the Wolfsbane charm school. Horribly attractive stuff.
King Wodericks
Regular readers will note that I have said that the Wodericks add a new dimension very time they play. This time round it was dance-ability. The normally erratic rhythm base was replaced by a kind of fledgling funk and the new tunes produced showed that the band are making more commercial, dance-orientated music these days. A good, well-balanced set highlighted for me by some truly wicked and wild keyboard work. Mention of this show cannot pass without commenting on one of the biggest and loudest supporters. Karen…who verbally attacked me afterwards on everything from God to sexism. Nice girl I'm sure but the sort who belongs behind bars instead of in front of them. Long live Ghandi hey Karen!
The First Conspiracy
Strong set from a band whose epic themes and epic sounds still go down well with their home audience. Their lack of recent live action made them sound hungrier and angrier and even though they still weren't exactly leaping around the stage, their visual impact was stronger than in recent gigs. Best thing of all was the way the relative newies (Beyond the Pale' and 'Touch My Heart' for example) came over more powerfully than the golden oldies, which shows that the band have moved on well and can now look forward with confidence, safe in the knowledge that their songwriting ability is continuing to improve.
DHSS
OK, I'll admit it, this wasn't the best DHSS gig I've seen. It ended up in somewhat of a triumph with the bands many delights pouring out of the speakers with increasing degrees of smileability, but it just took too long to get going. A slight error in the first song seemed to weaken the band's confidence and it wasn't until they reached the mid-point of the set that they began to climb back to the top of Division One with their sound. The last 30 minutes f the set was extremely enjoyable …absence from our stages for several months made them lose their killer edge. A couple more (quick) concerts under their belts and the band will be back on course for world domination but this show proved that there is no substitute for live experience and the band need to find the same sort of love for the stage as they have for the studio. Right, there goes my free drinks in the Tavern!
Review by Sam Holliday
(curiously described on the night as looking like a 'vampire from the Lost Boys) and having a 'footballers haircut' and from Quay at least as being 'a total ***head'!
Tamworth Herald – 20/10/89
Musicbox – Local Reviews
Just Brilliant!
Chemikill – Tamworth Arts Centre
A band so loud, smelly, filthy and raucous they make Wolfsbane sound like the Three Degrees. What we have here is an all-out attack on the senses that has the ability to deafen and distress before the intro to a song has even finished. It's vile and totally uncompromising and a fair percentage of the crowd loved it to death.
Personally it was a little extreme for my tastes but as Catch 23's singer Steve Webster (hardly a metal man) said it's got a certain something you know. Not Radio Two music.
Sam Holliday
Tamworth Herald – 01/12/89
Musicbox – SNIPS 'N' NEWS
Chemikill are (yet again) seeking a vocalist to complete their line-up. They want someone dedicated and willing to put in 100 per cent and don't want (and I quote) 'time wasters like previous vocalists'.
Tamworth Herald- 19/01/90
Musicbox – Snips
The lovable Chemikill – who took part in a five band bill at Sudbury last week – are looking for a second guitarist for their wham-bam-thank-you-mam group. If you play to their speed (!) ring Ant.
Tamworth Herald - 23/02/90
Musicbox - Gardens Fall and Chemi-kill!

Once again Tamworth is a 'two-gig Town' on Sunday night - but the shows couldn't be more different.
At Lincolns there is an alternative pop-pairing in Where Gardens Fell and The Big Trip while down the road at the Arts Centre it is time for a trip to metal hell with Chemikill and Deviance.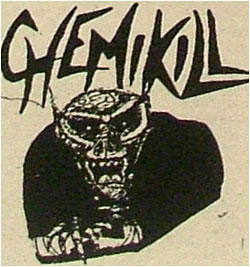 The Lincolns duo are somewhat unknown quantities to the area but both come highly recommended Where Gardens Fall - who already have a 12 inch single out - have been featured heavily on the radio throughout Europe and this gig will be the first of several to promote their new single. In support will be The Big Trip who claim to have 'notorious energy and charisma' and have been compared to everyone from Joy Division, Mudhoney and Hendrix to New Kids on The Block! Lincolns entry is a solitary pound note.

Meanwhile down the road at the Arts Centre the legend of Chemikill returns. The band, surely the loudest, fastest and ugliest of Tamworth's metal fraternity, have lost none of their unique charm and warn that this concert is only for the mentally insane. Support will be Nuneaton metal merchants Deviance who come very highly praised and the whole car-bashing experience is set for an 8pm start. 'The Mosh Will Begin' promise Chemikill but you've got to be at the Arts Centre first.

There, couldn't be a simpler choice could it? Now take your pick and get moving on Sunday night.
Tamworth Herald – 09/03/90
Musicbox – SNIPS
Chemikill have lined up a gig at the Arts Centre which they are going to use as a Tamworth Rock Festival fundraiser. If you want to join them (and they are looking for two bands of any musical denomination) contact the Herald and we will sort it out.
WOTCHA SAM
THIS IS an apology for last Sunday night's total mess up! We would like to say thank you to the people that did turn up for our gig and sorry for the bad sound.
The reason e walked off through the 'Heaven to Hell' track was that when we started the gig we had a total 'duff' sound that got worse as it went on then during the 'Heaven to Hell' track we got a total white noise boom over everything (So we couldn't hear one another!). So we did the best we could do but we couldn't bear it any longer so we stopped! It wasn't fair to subject anymore on the dwindling crowd. The next time we play we will have a PA that understands our needs and sounds. That's Tamworth own Reverb sounds that said that the sound was not that good (in our words *****).
We personally think that the PA we used couldn't handle rock band sounds.
The next gig according to Reverb was that we will return to destroy the Arts Centre!
So, once again. Chemikill are sorry!
Love,
Chemikill, Tamworth Herald
Tamworth Herald – 01/06/90
Musicbox – Killer night assured
BLAZE Bayley, the Wolfsbane crooner, offers his vocal charms to Chemikill at Tamworth Arts Centre on Sunday night in a special fundraising gig for the Festival.
Chemikill team up with Rhythm Damage and Flowers in the Attic in a three band show which promises to be a fun event for all concerned. And to give it that extra, unusual edge, Chemikill will be joined for one song by Blaze Bayley who will add a touch of Wolf to the Chemi-stry.
The idea of the show originally came from everyone's favourite metal monsters Chemikill who wanted to raise money for the festival. The wanted a varied line-up to attract a varied audience and they have certainly got that now.
Chemikill – with their one-off appearance by Bayley – top off the bill and will produce their usual wham-bam-slam attack on the senses via their new line-up of Gaz on bass, Chris on drums, Ant on guitar and Gordon Tea Pot Throat Ripout on vocals. Great name Gordon!
In support of these looneys will be the Flowers and the Damage boys. The Flowers are comfortably the most sensible act on the bill with their wirey, stylish Bunny sounds certain to attract a good percentage of the audience while Rhythm Damage provide the sampled anarchy of the night.
Rhythm Damage have certainly had a high profile lately for their manic sounds but when your watching them on Sunday just listen closely to some of the bass line and you nay realise that they are a killer dance band as well. Just take an ear's worth of new fave 'Taste the Rod' if you doubt that opinion.
That's the lot then – Chemikill, Rhythm Damage and Flowers in the Attic – and an exciting line-up it is too. Once all the expenses have been taken out, all the funds will go towards the festival so if you want to enjoy yourself as well, why not get along. Entry is a highly reasonable £1.50.
Tamworth Herald – 08/06/90
Musicbox – An Action-Packed Week
TAMWORTH boasts three top shows this week – and thankfully none of them clash with one another.
Top out of Towners like Bradford and the Trashcan Sinatras will be on show as will local favourites like The Searching and Scream in a week of smiles for local gig-goers.
Friday night, Sunday night and Thursday night will all offer music for the discerning ear and serious gig-hoppers can expect an expensive week.
In brief the line-ups read…
Friday (Tonight) – Tamworth Arts Centre: Scream, Chemikill and Litany of Fear.
Sunday – The Rathole, Lincolns: Trashcan Sinatras, The Laurels and The Searching.
Thursday – The Rathole, Lincolns: Bradford; The New Puritans.
A brief resume on who is doing what based on the limited info we have…
Scream, Chemikill, Litany of Fear – Tamworth Arts Centre tonight.
A powerful line-up of local talent this one and one which should produce a large Friday night audience.
Topping off the night will be Scream who will be making their first Arts Centre show with their recently re-organised set up. The band have already impressed with the shows at The Rathole and in Leicester and they are keen to establish a form base for local domination at tonight's key show.
In support will be eccentric metal madmen Chemikill making a swift return to the venue after Sunday's Festive Fundraiser and Litany of Fear who will be in outdoor Festival action for the first time in 1990. Many nice things have reached my ears about Litany of Fear and as they feature the delightful Kev Urwin they can do no wrong in my book.
A powerful way to spend your Friday night this.
Tamworth Herald – 08/06/90
Musicbox – Those Festive fundraisers
HUNDREDS of pounds were raised last week by two special concerts to raise money for the Tamworth Rock festival.
The major event was the eight band show at Nightmoves which was a huge success and that was followed on Sunday by another good fundraiser at the Arts Centre.
We haven't got space to do an in-depth report on both shows but using what I have heard and what I have seen here is a brief resume of what took place.
Friday, Monday began with Fat Moggy who delighted most of the audience with a show full of originality and wild abandon. Even Mike Fleming said they could potentially be a BIG cult band. The Naked Touch were apparently quite sedate and calms as were Never Say Die who boasted some fine guitar work. The Magnets weren't too happy with their sound but it seemed OK to most people while the Yogots also came off stage with a frown despite one or two absolute gems including a relative newie which was good. Vindaloo Breakfast were mine and many people's band of the night with a killer show of attacking guitars and punchy vocals that brought back happy echoes of 1977. Excellent. Banned in Yellow stunned my 'oppo' Sean Atkins but didn't quite reach their Mean Fiddler heights in my opinion although 'going Green' was CRUCIAL. Finally, Rhythm Damage played a hugely popular set of anarchic pop which delighted most. Personally I thought they were far better at the Arts Centre on Sunday where they played what I regarded as their best set yet. Even technical hitches couldn't ruin a set in which two songs – 'Energise' and 'Taste the Rod' were absolutely magical. Also at the Arts Centre, Flowers in the Attic showed that they have become a bit more sombre in recent months and have perhaps lost some of their angelic charms while Chemikill played with stunning precision and ear battering power with Bayley's contribution adding sugar to the metal strawberries. End result, two successful nights and a lot of much needed DOSH.
Sam Holliday
Tamworth Herald – 29/06/90
Musicbox - SNIPS
STOP PRESS – Chemikill return to the Arts Centre on Sunday night with the powerful Eight Ball Joe in support. Entry is £1.50 it runs from 7.30 onwards and a fun night is assured. Incidentally, Chemikill are after a second guitarist into Metallica, Slayer and Metal Church.
Tamworth Herald – 03/08/90
Musicbox – SNIPS
STOP PRESS
Scream have confirmed that they are playing at the Arts Centre on Sunday August 12. Support will be from Chemikill and A.N. Other. More info next week.
Tamworth Herald – 10/08/90
Musicbox – Gig bonanza!
Tamworth turns into a 'four gig' Town again this week with two contrasting Sunday night shows, a Wednesday night Chequers gig and then a remarkable six band local event on Thursday night.
SUNDAY
The Rathole – The Honeyturtles/Divine Pet
Tamworth Arts Centre – Scream Dream/Chemikill
Scream Dream/Chemikill – Tamworth Arts Centre – Sunday
Splendid double-header this from two of THE bands of Festival 90. Chemikill are loudly and correctly vaunted as being the band that really broke the Festival ice and there is no doubt that their outside Castle Grounds show earned them a great deal of new friends. They should see the benefit of that with an increased turnout on Sunday night. Scream Dream also turned in their usual high-standard Fest-set and as a result are sure to have strengthened their already formidable base following. It's hard, it's driving, it's whistleable and it's fun. A good night to sweat this one. Arts Centre. £1.50ish and well worth a visit.
Tamworth Herald – 17/08/90
Musicbox – Local Reviews and Views
Chemikill – Tamworth Arts Centre
An unholy row and a pretty damn thrilling one at that. Chemikill have improved and matured by considerable degrees in recent months and this show was the culmination of all that hard work. It's still loud, brashy and uncompromising but the tunes are a lot more accessible these days and the whole thing seems to have more of a Ramones-like fun about it. As their individual musicianship has improved, so the band have relaxed and although they still bash it out with the same speed and venom the whole thing is just a lot more jolly now. Vocally it was exactly as it should be – like demonic, rabid and raging. Not the sort of stuff you would play to your Great Auntie - unless that is, you were in her will…
Sam Holliday
Tamworth Herald – 28/09/90
Musicbox – Chemikill shoot to the top in fine Arts Centre bash
Chemikill – Tamworth Arts Centre
I was on my way to the pub when I was astounded to see that Chemikill were playing at the Arts Centre as support to The Sherbert Trees and Litany of Fear. I didn't review those bands as no doubt there is someone who enjoys their sounds better than I do but it was great to see Chemikill as a late addition to the bill.
At last it seems as if they have got a stable line-up with an extra guitarist called Mick and old veteran Mick Goodby on vocals. As I watched it soon became apparent that even though Mick was a little worse for wear this was going to be a great gig. Their music has changed a lot with the extra guitarist adding edge and the vocalist singing very well. They even resurrected the old BHX standard 'The Reaper' which sounded even better that the original. The highlight of the set was 'The Ripper' and the instrumental 'Into The Unknown'. Also smilemaking was the way the new guitarist played 'Last Of The Summer Wine' on the mouth organ!
Malcolm The Metal God of Glascote.
Tamworth Herald – 12/10/90
Musicbox – Gig Guide
Friday Phoenix Productions present Eight Ball Joe/Chemikill/WDK/Satellite Spy Tamworth Arts Centre, 8pm till Late, Admission £1.50.
Tamworth Herald – 16/11/90
Musicbox – Shady Business
Tamworth Arts Centre stage a unique 'beach party' tonight (Friday).
The concert starring the all new Pig in Shades featured on our right is part of the Tamworth Borough Council Tamworth Tasters' package aiming to introduce the local populace to local art.
Pig In Shades are regarded as an exciting new band who proudly boast that they are trying to 'put the spectacle back into live music'. It costs £1.50 to get in and you are actively encouraged to wear beach wear, support will be provided by The New Puritans and Chemikill.