The Hamilton Hammond Extension
The Hamilton Hammond Extension – Tamworth Rock Festival summer 1987. Mark Mortimer - right (rhythm guitar), Rob Cross - left (fuzz guitar).
Band Members:
Gavin Skinner (Hamilton Hammond) - Vocals
Mark Mortimer - Rhythm Guitar
Rob Cross - Fuzz Guitar
Barry Douce - Bass
Gigs:
31/05/90
Rain Garden
Hamilton Hammond Extension
The Rathole
The story behind The Hamilton Hammond Extension was that we informed the Herald of this cult 60s psychedelic garage band fronted by the mysterious and enigmatic Hamilton Hammond (who we dreamed up as a sort of crazed loon who was some parts Sky Saxon of the Seeds, some parts Rocky Ericsson of The 13th Floor Elevators and some parts Syd Barrett) and we said this band were going to play the rock festival as a special one-off date.
Amazingly, quite a few believed this obviously silly ruse and at the actual rock festival some people were asking for autographs - ludicrously!! The 'band', such as it was, consisted of Mark Mortimer on rhythm guitar, Rob Cross (ex-Ferocious Apaches and future member of Mr. Ray's Wig World) on fuzz guitar, Barry Douce (ex-DHSS) on bass and Gavin Skinner (Donald's younger brother who was soon to join Primal Scream as their drummer) as the wig-wearing lead vocalist. We used a drum machine to complete the sound.
Musically it was a manic psychedelic mess of cacophonous garage/punk but it was tremendous fun. Mark Mortimer
You need to upgrade your Flash Player.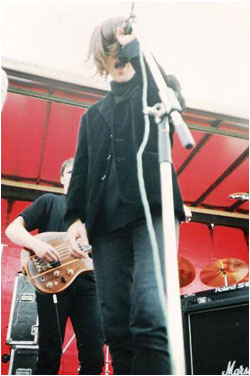 The Hamilton Hammond Extension at Tamworth Rock Festival 1987 - Barry Douce (bass) and Gavin Skinner (wearing the wild 60s wig).
Tamworth Herald – 04/09/87
Musicbox – Gig reviews
The Hamilton Hammond Extension – The Rathole
A CASE of Tamworth All Stars versus the world. The All Stars were represented by Gavin 'Bag On My Head' Skinner (Primal Scream), Barry 'What Am I Doing Here' Douce (Mighty Lemon Drops), Mark 'Down on His Knees' Mortimer (Great Express), Bayley 'Dig The Wig' Cooke (Wolfsbane), Clifford 'Barmier Than thou' Chipman (Rathole), Vince 'I Could Have Played All Night' Watts (DHSS) and Nick 'Bad Driver' Reed (Dance Stance). Together these boys jammed through two open-ended songs with unbridled glee. A multi-million pound line-up and a highly listenable racket.
Tamworth Herald – 30/10/87
Musicbox - SNIPS
The Hamilton Hammond Extension are due to go into the studio soon to make a one-off tape of a song called 'She's Smug'.
Tamworth Herald – 25/05/90
Musicbox – What's happening at the Rathole?
THE RATHOLE hosts two more gigs this week combining out of town favourites with local talent.
On the following Thursday, The Rathole opens its doors to the Rain Garden – another well respected out of Town outfit who are joined by the Hamilton Hammond Extension. This name may well ring a bell in the head of one or two longer serving music fans because they once ended up sort of headlining in the Rock Festival and producing the most chaotic sounds ever heard on the Castle Grounds lorries. If it is the same crew as last time it is extremely STAR-STUDDED and very interesting. We will say no more. Suck it and see between 8-1.