Litany of Fear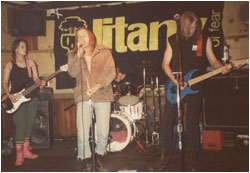 Musical Type/Genre: Freak Rock
Formed: 1988
Gigs:
13/05/90
The Honey Smugglers
Emma Gibbs
Moneygods
Litany of Fear
The Rathole, Lincolns
08/06/90
Scream
Chemikill
Litany of Fear
Tamworth Arts Centre
14/09/90
Litany of Fear
Sherbert Trees
Tamworth Arts Centre
02/12/90
Litany of Fear
The Ancestry
The Sherbert Trees
Tamworth Arts Centre
As an excuse for heightened social status during degree finals Litany of Fear came into being in Stafford '88, as a three piece with vocals, guitar, bass and drum machine.
Latest News
We have a myspace site (myspace/litanyoffear) with music, photos and press cuttings from back in the day and a Facebook group called Litany Of Fear with 20 members to date from the distributed Tamworth crowd and loads of photos - hopefully some video soon.
Kev Urwin (Litany Guitarist) (www.litanyoffear.co.uk)
Tamworth Herald – 30/06/89

Two relatively new bands – Litany of Fear and Whats This Heads Down Mindless Boogie About Nothing – get warmed up for the festival with a double header on Sunday night.. 'What's This' are a new Tamworth goth band who list Fields of the Nephilim at their main sound-a-like/source. It's a big night for Dugi, Paul, John, Y.A.Maha and Kriss so get along and enjoy them. Heading the duo will be Litany of Fear who describe their sounds as 'psycho-goth-thrash-alternative' and by all accounts have a wham-bham sound which should appeal to all Tamworth's spiky tops. Seems like a good old-fashioned LOUD bash – and a fun one at that.
Tamworth Herald – 15/09/89
Musicbox – Local Demo Blitz
Demo ratings
***** Mega pretty
****Very pretty
***Pretty pretty
**Pretty ugly
*Kylie
Litany of Fear – Doppleganger***
Odd, black leather and Sisters of Mercy – type stuff from a bunch of unrepentant Goths coming way out of left field.
Extremely well produced, yet still managing to sound appropriately doom lade, it's the sort of stuff that on record you probably either love or hate, but that no doubt comes across very well live.
If you can stand the manic depression that this stuff brings on, you'll love it. Me? Well they do what they do very well, but I wouldn't want to hear it every five minutes.
Martin Warrillow
02/07/89
Whats This Heads Down Mindless Boogie About Nothing
Litany of Fear
Tamworth Arts Centre
Tamworth Herald – 07/07/89
The Tamworth Rock Festival 1989 gets the best possible launch this weekend with three excellent concerts at the Arts Centre.
Gigs will take place tonight (Friday), Saturday and Sunday night as a tempting appetiser for next week end's outdoor Caste Grounds bash.
So what can you see this weekend.
Here's the menu…
Sunday July 9 (Tamworth Arts Centre)
Special Show – The Wilsons, Litany of Fear, Spiral Fish. Starts 8pm
The most unusual of the three nights featuring as it does two rather mysterious bands – The Wilsons and Spiral Fish alongside alternative wham-bammers Litany of Fear. Describing The Wilsons should be be an unnecessary for those of you who know anything about anything but let's just say to discover who they are you need to go on a manhunt. Spiral Fish are also well worth keeping a (spiral) eye on and completing a fine line-up is the weird and wacky Litany of Fear.
Tamworth Herald – 14/07/89
Musicbox – Reviews in Brief
Litany of Fear – Festival Party (Sunday)
Elegant and classy stuff from a real gothic experience. Thundering guitars and catchy tunes were the order of the say as the band set about their 'mission' with skill and direction. Extremely impressive stuff and the best band Kev Urwin has been near by about 2000 miles. Review Sam Holliday
Tamworth Herald – 10/11/89
Musicbox – Gig Reviews
Freelance correspondent ROBERT HODDLE kindly supplied me with reviews of these two gigs last week. Our thanks to him and on with the show(s)…
Whats This Heads Down Mindless Boogie About Nothing/Litany of Fear (Tamworth Arts Centre)
I group these two together because I can't distinguish between them. They are both quite entertaining admittedly and both have a strong, heavy sound but all this death, gloom and despair business was used up years ago. This is nearly 1990 and surely there are more stimulating sounds out there than this 'goth' business. The music was left standing by the smoke machine.
Sam Holliday's comment: Watch it Robert, these Heads Down chappies are a mean bunch!!!
Tamworth Herald – 24/11/89
Musicbox – Letter Box
Dear Sam,
Not having seen the whole 'Whats this…' set at the recent Arts Centre gig I did not feel that I would be able to give a fair review of the evening's entertainment, however, having read last week's Herald, I would make the following comments:
1. Mr. Robert Hoddle should learn the difference between a REVIEW and a biased opinion.
2. Mr. Hoddle was unable to distinguish between What's This and Litany of Fear in what must be compared to a heavy metal fan not being able to distinguish between Jason Donovan and Rick Astley. It is clear that Mr. Hoddle is not a 'goth' fan so what was he doing as the gig in question?
3. Even if musically the group were a …both groups have a very different form of presentation, both verbally and physically, surely as a freelance correspondent Mr. Hoddle should have taken in the whole package!?!?!
4. When Mr. Hoddle was ignoring the 'whole package' did he also ignore the audience, who being one myself, did not think that all this 'death, gloom and despair business was used up years ago'. In future when Mr. Hoddle makes such sweeping statements could he at least have some solid facts behind him.
5. Would Mr. Hoddle also bear in mind that everyone is entitled to their own musical taste and that his few words in a newspaper is not going to make everyone change to his taste!!!
Let's hope in future What's This Heads Down Mindless Boogie About Nothing and Litany of Fear get the fair and INDEPENDENT reviews that both groups deserve. Criticism is constructive, biased criticism is just a waste of space.
Yours,
Karen Woodall
Amington
Tamworth Herald – 11/05/90
Musicbox – Reggae and Fear!
THE RATHOLE stages two concerts this week bringing together a host of different musical styles – including the much neglected art of reggae.
For on Thursday night, the wonderful Progression return to Tamworth from their Wolverhampton base to play a reggae set which is sure to keep the punters very happy indeed. Progression as MUSICBOX readers may remember, appeared a number of times in Tamworth over recent years and at each one their smooth and silky reggae sounds brought a very warm response indeed.
Their return on Thursday should bring a big turnout especially and they are supported by a group hailed as 'Nuneaton's version of The Soil Brothers.' That band, The Edselfs, are regarded as good time yee-hah music which should have all the fans of the MacNamee Jamboree piling into the Rathole. That's your Thursday night fare then and what a jolly night it looks to.
Meanwhile on Sunday night, The Rathole stages three very different bands in one enticing looking line-up.
Headliners are Indie pop kings The Honeysmugglers who have been making waves throughout the various regions with their accomplished pop. In support will be Burntwood-based The Moneygods who have been enjoying a lease of very positive publicity throughout the Midlands and Litany of Fear a gothy/metally crew who feature the absolutely legendary Kev Urwin. Kev, one of the longest surviving local music fans, always has a jolly good time and his dark and broody set should appeal to people who like to smile and grimace simultaneously.
That's Sunday then – The Honeysmugglers, The Moneygods and Litany of Fear – and don't forget Thursday's bash which combines the talents of Progression and The Edselfs.
Tamworth Herald – 08/06/90
Musicbox – An Action-Packed Week
TAMWORTH boasts three top shows this week – and thankfully none of them clash with one another.
Top out of Towners like Bradford and the Trashcan Sinatras will be on show as will local favourites like The Searching and Scream in a week of smiles for local gig-goers.
Friday night, Sunday night and Thursday night will all offer music for the discerning ear and serious gig-hoppers can expect an expensive week.
In brief the line-ups read…
Friday (Tonight) – Tamworth Arts Centre: Scream, Chemikill and Litany of Fear.
Sunday – The Rathole, Lincolns: Trashcan Sinatras, The Laurels and The Searching.
Thursday – The Rathole, Lincolns: Bradford; The New Puritans.
A brief resume on who is doing what based on the limited info we have…
Scream, Chemikill, Litany of Fear – Tamworth Arts Centre tonight.
A powerful line-up of local talent this one and one which should produce a large Friday night audience.
Topping off the night will be Scream who will be making their first Arts Centre show with their recently re-organised set up. The band have already impressed with the shows at The Rathole and in Leicester and they are keen to establish a form base for local domination at tonight's key show.
In support will be eccentric metal madmen Chemikill making a swift return to the venue after Sunday's Festive Fundraiser and Litany of Fear who will be in outdoor Festival action for the first time in 1990. Many nice things have reached my ears about Litany of Fear and as they feature the delightful Kev Urwin they can do no wrong in my book.
A powerful way to spend your Friday night this.
Tamworth Herald – 07/09/90
Musicbox – Demo Watch by Sean Atkins
Litany of Fear – Jesus (Rating (Out of Five) *
I like to think I've got a fairly broad taste in music, but I couldn't enjoy this tape. The five tracks on this demo are very heavy going to listen to and they don't sound any better on the second or third hearing.
As to whether they sound any better when you play the tape a fourth time. I don't think I'll ever know.
The music is serious goth – and I mean serious. You just can't imagine anyone smiling when this was recorded. It really is depressing music with only the occasional bit of good guitar work to make it bearable.
The only good point (and it's a very important one) is that you'll love this tape if you're a LOF fan.
I've seen them play a couple of time and I can guarantee that if you like them you'll like this.
'Jesus' is a good example of what LOF do, they are good at what the do, but (unfortunately) I don't like what they do.
Sean Atkins
Tamworth Herald – 14/09/90
Musicbox – Gigs Galore
We have no less than five fine local concerts for you to think about this week featuring top local faves like Wolfsbane, Catch 23 and Sherbert Trees as well as classy out of Towners like Walk on Fire, The Prudes and more.
The gigs – three in Tamworth and one each in Lichfield and Bedworth – offer local punters a chance to enjoy a whole array of talents so without further ado here is gig-list followed by a more detailed breakdown.
Tonight (Friday)
Tamworth Arts Centre: Litany of Fear/Sherbert Trees
Lichfield Arts Centre: Wolfsbane/Roma/Gates of Purity
Sunday:
The Rathole: Walk on Fire/The Wilsonz
Thursday:
The Rathole: The Prudes plus support
Bedworth Civic Hall: Catch 23
And a little more detail? Well tonight, Friday you can make the short journey to Tamworth Arts Centre to enjoy the double talents of Litany of Fear and The Sherbert Trees. The duo, both of whom walk on the wilder side of life, offer an interesting mixture of gothic enterprise and modern experimentation and the gig costs just £1.50 on the door and runs from 8pm onwards. Meanwhile up the road at Lichfield Arts Centre, Wolfsbane play one of their final warm-up shows before the Iron Maiden Tour when they join forces with Roma and Gates of Purity. Lichfield fans – and a fair sprinkling of Tamworth travellers – are sure to lap this one up and it costs just £3.50 with a £1 reduction for the unemployed.
Sunday night has only one show on offer – the pairing of Walk On Fire and The Wilsonz. Headliners Walk On Fire are a rock inspired act whose big lists of names of the calibre of Bryan Adams, Alex Harvey, Frankie Miller among influences and they offer 'strong' songs, memorable melodies and most of all 'a voice'. Having recently recorded with a man who has worked with Big Country and The Cars they look a different kind of band for Tamworth and could go down well. Support is provided by The Wilsonz, a band who have been compared in the past to Wolfsbane and have the same kind of 'live fast, die fast' style material. MUSICBOX has heard good things about this band. Nuff said.
And so on to Thursday night where Atherstone heroes Catch 23 make a welcome return to live action with a concert at Bedworth Civic HALL. We don't know a great deal about this one.
Meanwhile nearer to home. The Rathole hosts the highly-rated Prudes. This is a band of serious note who have made regular incursions into the Indie and Alternative charts and boast a mixture of good guitars, Smiths-appreciation and a bevy of adoring press critics in their pockets. Big band, big night and big (as yet unknown) support act which admirably rounds off a BIG week of gigs.
Tamworth Herald – 28/09/90
Musicbox – Chemikill shoot to the top in fine Arts Centre bash
Chemikill – Tamworth Arts Centre
I was on my way to the pub when I was astounded to see that Chemikill were playing at the Arts Centre as support to The Sherbert Trees and Litany of Fear. I didn't review those bands as no doubt there is someone who enjoys their sounds better than I do but it was great to see Chemikill as a late addition to the bill.
At last it seems as if they have got a stable line-up with an extra guitarist called Mick and old veteran Mick Goodby on vocals. As I watched it soon became apparent that even though Mick was a little worse for wear this was going to be a great gig. Their music has changed a lot with the extra guitarist adding edge and the vocalist singing very well. They even resurrected the old BHX standard 'The Reaper' which sounded even better that the original. The highlight of the set was 'The Ripper' and the instrumental 'Into The Unknown'. Also smilemaking was the way the new guitarist played 'Last Of The Summer Wine' on the mouth organ!
Malcolm The Metal God of Glascote.
Tamworth Herald – 30/11/90
Musicbox – three to make you smile!
Tamworth Arts Centre and The Rathole will be competing for your attention this week with three fine looking shows to choose from.
Sunday night offers two good strong alternative/Indie/pop line-ups and then on Thursday it is a very big night at the Rathole when the doors are opened to welcome the powerful Telesopes in a much vaunted show.
Here are more details of what to expect this week, so take your pick and plan your night(s) out…
SUNDAY NIGHT
Tamworth Arts Centre – Litany of Fear/The Ancestry and The Sherbert Trees
The Rathole – The Australians/Honeyjump
THURSDAY NIGHT
The Rathole – The Telescopes/Slow Drive/The Big Trip
That's the line-up in general then, here are the previews in a wee bit more details for those who may not know much about who or what is on offer…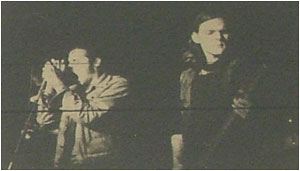 Litany of Fear/The Ancestry/Sherbert Trees – Tamworth Arts Centre
A rip-roaring line-up this, one which combines some fine local talent with some splendid out-of-town music. Litany of Fear and The Ancestry are kindred spirits who will be in action on Sunday as the first part of a series of link-ups between the bands in future months. Litany of Fear you know all about, a talented and powerful band from the alternative/neo-gothic frame of mind while The Ancestry are a three piece alternative group influenced by the likes of Ghost Dance and Siouxsie and the Banshees. It is hoped that the two bands will be on a major national tour together very soon and this will be the first chance for Tamworth fans to see them on the same stage. The Sherbert Trees meanwhile make a relatively rare Tamworth appearance as well bringing their unique charm to the proceedings and making it a very strong line-up for you all to enjoy. Tamworth Arts Centre, Sunday.