Tamworth Rock Festival : 1979
Monday April 16th - Tamworth Castle Pleasure Grounds - Band Stand area
Ramblin' Band, Brewster, Asylum, Flash Harry, Ice
---
Tamworth Herald – 06/04/79
Seeing stars…at Tamworth festival
Extravaganza with something for all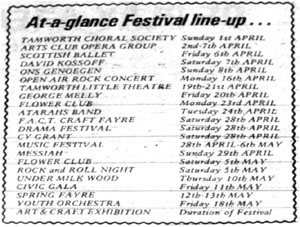 The spotlight turned on Tamworth this week as the town launched its first major Arts Festival – a springtime extravaganza promising entertainment for everyone.
The feast of music, song, drama and comedy is spread over two months and organisers have aimed to cater for all tastes.
Hear a Shakespearian actor and an international jazz pianist…toe-tap to the stirring strains of a top brass band…have fun with flowers…browse around an arts-and-crafts exhibition…get chuckling with master-of-comedy Alan Ayckbourne.
It's all happening in Tamworth over the next two months.
Well over 20 events, some of them spread over several days are lined up for the town's SPRING ARTS FESTIVAL.
On Easter Monday, rock and country-and-western fans can warm up at an Open Air Concert in the Castle Pleasure Grounds.
It will feature bands including Ice, whose new album should be out by then, the Ramblin' Band and Brewster.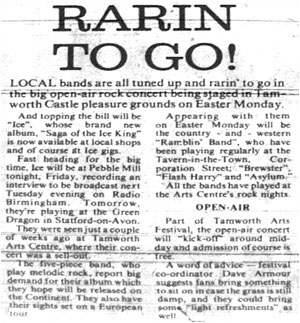 16/04/79
Arts Festival
Castle Grounds
Ice, Brewster, Ramblin' Band, Flash Harry, Asylum
Tamworth Herald – 27/04/79
Scene Around - Tamworth's Open-air Rock Festival
MORE than 300 people converged on Tamworth's Castle pleasure grounds on Easter Monday to watch the town's first open-air rock festival.
Topping the bill were Tabitha recording artists Ice. The band who play melodic rock performed a selection of tracks from their debut album release "Saga of the Ice King."
The five-piece outfit received an enthusiastic reception from the crowd. Particularly impressive was drummer, Stephen Sheldon.
Appearing with them were the country-and-western "Ramblin' Band", "Brewster", "Flash Harry" and "Asylum" all of whom were warmly received.
The concert which was part of the Tamworth Arts Festival, lasted throughout the afternoon.
Ice have set their sights on a European tour later this year and have hoped that their album will be released on the continent.
Tamworth Herald – 25/05/79
Festival stock-taking
IT'S stock-taking time on the arts scene at Tamworth.
The town's major Arts Festival is over now, and organisers are reviewing its success and totting up the balance sheet.
And thoughts are turning to next year, when many people hope there will be another festival, not necessarily on the same lines.
Full reports will be going soon to the Borough Council's leisure committee. But in the meantime Festival Director Dave Armour has said that all the shows were very successful in that people who went along really enjoyed them.
However, the picture wasn't so bright as far as the size of the audiences was concerned.
"We lost money, but then this was anticipated and allowed for," Mr. Armour said.
"What disappointed me was that certain shows attracted fewer people than I had expected. For example, I had certainly expected the George Melly show to sell out and it didn't.
"I would also have thought there would be a better turnout for the Scottish Ballet performance at the start of the Festival."
But, it is thought that the guarantees put up will cover the Festival and there is optimism that not all the guarantees offered will actually be taken up.
Some criticism of the Festival came from people who were unable to go to some events because they were involved in locally-organised shows on the same days.
It has been suggested that events next time could be more spread out, but then there is a danger of losing continuity.
So will there be a festival in 1980? Said Mr. Armour: "This is very much a matter for the borough council.
"Probably, I see no reason why there shouldn't be one, though whether the format should be changed is another matter. There could be a case for organising it on rather different lines and perhaps setting up a special festival committee."