13th Reunion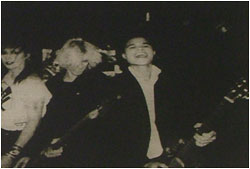 Thirteenth Reuinion
Photograph courtesy: Tamworth Herald

The Gallery
Musical Genre/Type: Alternative
Formed: 1986
Band Members:
Edwin Young - Guitar
Barry Fox - Guitar
Gerald Winston - Bass Guitar
Arri 'Duane' Relevante - Drums
Gigs:
23/08/86
Tamworth Rock Festival Party
Breaking Point
Thirteenth Reunion
Love On Board
Tamworth Arts Centre
05/10/86
Thirteenth Reunion
The Rathole
28/11/86
Thirteenth Reunion
Tamworth Arts Centre
Tamworth Herald – 22/08/86
Musicbox – Here's the fabulous festival line-up
TAMWORTH'S fourth annual Bank holiday rock festival blazes into action this weekend and promises to be the biggest and best the Town has ever seen.
Eighteen bands will take to the Castle Grounds stage on Sunday and Monday offering a varied and exciting package of local talent.
And, to give the festival the best possible start, Tamworth Arts Centre will tonight (Friday) and tomorrow stage two festival party nights featuring among others Wolfsbane, Breaking Point and a one-off show from Love On Board.
All in all it looks like being a festival to remember and here in full details is what is happening where and when.
Tonight
The festival starts with an Arts Centre triple bill featuring three bands from the heavier side of life. New boys Shellshock will join up with not-so-new boys Kara and positively-old boys Wolfsbane for a sparkling three band show. As with last years, the Arts Centre pre-festival nights are designed to be party-style events and everyone petting into the spirit (and spirits) of the weekend. It starts at 8pm costs 50p and should be excellent.
Saturday
ANOTHER enticing triple bill will especially interest people of an alternative (sic) persuasion. Breaking Point, who hope to have their debut single out this week, will headline the show and in support will be two unusual acts. First is 13th Reunion featuring the immortal Gerald on bass and second is Love On Board making a special one-off comeback gig to join in the party atmosphere. It adds up to a superb bill which marks the debut show for 13th Reunion, and once again is a meagre – nay, measly! – 50p
Sunday
AND SO to the main event. Two days of exciting, varied rock music in the Castle Grounds. Once again the stage will be set up in front of the tennis courts at the far end of the Castle Grounds, and as with the past couple of years, it will cost you nothing to watch. Here is a quick one-line description of all the bands on show and their (approximate) appearance times…
Heavy
Freefall (12.20) A Coventry heavy band (that's all I know!)
Attica (1.05) Powerful bass-driven combo who crimp their hair and slice their guitars.
Shellshock (1.40) Young lusty metal sound, who smile a lot.
Soil Brothers (2.15) Skiffle-style pop played with coconuts, cardboard and oodles of enthusiasm.
One On One (2.50) Nose-perfect rock music played by soon-to-be superstars.
Noise
Kara (3.25) loud Americanised noises played by local Anglicised noise-makers.
XPD (4.00) Stylish alternative pop music, which cab be summed up as 'ego-shock' rock.
Catch 23 (4.35) Pure-punk-period pop music with panache, power and passion.
The Magnets (5.10) Modern synthesised pop music played by modern synthesised pop people.
Monday
ONCE MORE the Castle Grounds plays host to nine more varied outfits who line up like this.
Burnin' Sky (12.30) Coleshill-based r 'n' b band who revel in the smoky, sleazy way of life.
Beyond Elysium (1.05) Dark sombre sounds with a modern appeal and feel.
Funky
Cuddly Spiders (1.40) Laid-back harmless flares rock.
Breaking Point (2.15) Passion-packed soaring, roaring rock music.
Dance Stance (2.50) Tight, funky nouveau-pop with a burning soul.
Wolfsbane (3.25) Gentle, middle of the road folk band made up of four charmingly polite young boys. A mud afternoon break from all this rock nonsense.
Depth Charge (4.00) Cuddly rock and roll pirates bursting with good times.
Orange (4.35) Deceptively light pop music with a telling edge. Bright, breezy, orangey.
The Royal Family (5.10) regal r 'n' b with guaranteed dance-ability and toe-tapping tendencies.
Tamworth Herald – 05/09/86
Musicbox – GOSSIPBOX
Well waddya know…
THERE has been so much pre-festival. post-festival and festival-festival gossip that we could cover all this page and lovely old Scooper's too, so here is a short, snappy 'did you know' session. Did you know that…
Catch 22 changed their name to Catch 23 because of a misprint in the Herald.
The engaging Buttercup has recorded a tape called 'Buttercup Live at Kimberleys'.
Edward ian Armchair sold more than 100 festival t-shirts.
'Clawing at Angels' and 'Kicker Conspiracy' the two new local fanzines, were both released last week and were immediately sold out.
The fanzine writers Rob and Mark nominated Dance Stance's Neal Sheasby as number one in the Tamworth Ego Chart. Neil loved it…
New Single
13th reunion drummer Duane actually liked being called the world's most awful drummer.
Attica roadie and ace poet Kevin KcGeough is lining up an alternative poetry night at the Arts Centre with Jed Moore and Edward ian Armchair.
Mike Fleming has now left the Cuddly Spiders and is after a new band.
Dream Factory bassist Mark Mortimer is getting married next month.
Awful
Julian Cope's new single "World Shut your Mouth" is out in a couple of weeks and the very wonderful Donald Skinner plays all guitars on it.
Wolfsbane are planning a mega-launch for their new single in the next couple of weeks.
Shellshock's young talented singer Jason has had to leave the band because his family has moved away from the area.
Festival stage manager Denis Byfield loved the event so much that he is already counting the days to the next one.
Orange should be changing their name to Orange Blossom Special shortly.
Well did you know all that?
Tamworth Herald – 12/09/86
Musicbox – Gossipbox
WHATEVER happened to taste? There we were queuing outside the Rathole last week, and two disgusting visual sights greeted our eyes.
First came Richie Coffee sporting his 'I am an advertising executive' haircut and then came the normally sane Jim Pighand wearing revolting green clogs.
Still on the bright side. IOTA is getting more tasteful. Their second edition of the fanzine was on sale on the night and was a million dollars better than the first, nervous copy. It included reviews of every band in the festival plus bits on Wolfsbane, 13th Reunion, Dream Factory, Jim Pighand and cartoons, jokes and single reviews. All for just 25p from Kim and Donna.
Tamworth Herald – 03/10/86
Musicbox – We're a mess, just enjoy us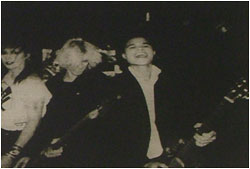 THIRTEENTH Reunion, a band who describe themselves as a 'horrible mess' will be playing a special 'Rathole' fund raising gig on Sunday night.
The band will team up with an alternative disco for a low-price night aimed at putting the venue back on it's financial feet.
The band are certainly the most original to have hit Tamworth for eons and boast an admirably honest and positive approach to their bizarre, extreme music.
"All the alternative bands around Tamworth just rip everyone else off," said guitarist Edwin Young, "We are totally different and don't sound like anyone.
The band have been together for around six months. They are the brainchild of joint guitarists and singers Edwin Young and Barry Fox. First they recruited bassist Gerald Winston (who wins the 1986 Derek Goodwin award for good haircuts) and the reluctantly – they employed drummer Arri 'Duane' Relevante who like they say 'can't drum at all but at least he has a kit'.
Audience
The band's first git was at the Festival party at the Arts Centre, where to put it mildly they left the audience open-mouthed. No one was quite sure what to make of them but Thirteenth Reunion were delighted with the stunned reaction.
New songs
"Everything went according to plan, it was very good indeed," beamed Gerald. The group's anarchistic approach to music is reflected by the fact that at the Arts Centre they only had one discernible song which they played endlessly with just a change of words and vocalists. On Sunday they have promised several new songs and a set that will go on as long as people can take it.
"People take themselves far too seriously round here. There are too many student bands. We are just an absolute mess and we are totally different to everyone," said Edwin.
The band's collective influences include everything from the Texas Chainsaw Massacre to Iggy Pop, Sid Vicious, Velvet Underground and in Duane's case a host of top goth bands. Tamworth has certainly never witnessed anything like it before.
Different
"We see ourselves going on a long way but not necessarily in this fashion. We could be totally different by tomorrow," said Edwin.
So if you want to catch Thirteenth reunion as they stand now (and believe me it is a real experience) don't miss Sunday's gig. It will help the Rathole and help show Tamworth music can be more diverse than ever.
Tamworth Herald – 10/10/86
Musicbox – Thirteenth Reunion – The Rathole
Imagine a cross between Abba, The Nolan Sisters and Five Star. Well Thirteenth Reunion are nothing like that. In fact Thirteenth Reunion are like nothing on earth, sounding like a nightmare acid trip through hell.
Refreshing
Manu old punky postars I spoke to thought exactly the same as me – this was really a refreshing change from the normal note-perfect Tamworth bands. The cacophonic, climactic, cataclysmic noise the band produced was like a breath of unfresh air which reminded me of The Classified Ads and The Restricted rolled onto one unholy alliance.
Barry is amazing. Gerald and Edwin ludicrously cool. Honesty compels me to say that no matter how much we try and kid ourselves, Duane IS the worst drummer in this – and probably every other – world. He's still a cutie though.
Tamworth Herald – 28/11/86
Musicbox - SNIPS
Thirteenth Reunion will be playing the Arts Centre tonight (Friday). Get along. If you want to travel a bit further afield tonight our very own Soil Brothers (whose singer Steve MacNamee was left out of my personalities of the year last week, but definitely is one) are playing at Aston University tonight, with punk poetess Joolz. Another goodie.
---