The Birth and History of Tamworth Arts Centre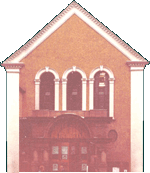 The Beatles and The Stones may have played the Assembly Rooms, Status Quo may have played the Foseco Sports and Social Club and Genesis may have played Wood End Youth Centre. But...if there's one venue in Tamworth that was to actually be an integral, vital part of the development of Tamworth's 'local' music into the vibrant scene it became, it was Tamworth Arts Centre.
The Arts Centre finally opened on November 21st 1975 - click on the links above to read how this momentous day finally came about: the costs, the plans, the protests and the fantastically successful first year of operation. Then read on for the full history.