The Power and The Glory

The Power and The Glory
Photograph courtesy: Tamworth Herald
(full-size image)
Musical Genre/Type: Pop/Rock
Formed: 1967 Split: 1971

Band Members:
Tony Cole (rhythm guitar) - Leyfields
Ian Parson (drums) - Gillway
Terry Young (lead guitar) - Two Gates
Chris Pallett (bass guitar) - Dosthill
"Kip" Wood (vocals) - Offa Street, The Leys
From 1968
Mick Rutherford - Lead Vocals (Dordon)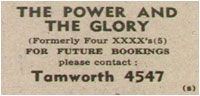 06/10/67 - Advert Tamworth Herald

Gigs

1967
04/11/67
Mile Oak Rovers FC Grand November Dance
The Power and The Glory
Mile Oak … Centre, 8.00pm-12 midnight
Admission: 6/-
11/11/67
Power and Glory
Fazeley Swifts Dance
Drayton Manor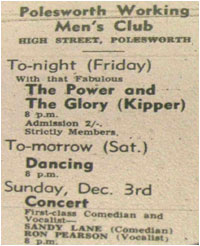 01/12/67
The Power and The Glory (with "Kipper")
Polesworth Working Men's Club, 8.00pm-10.45pm
Admission: 2/-
09/12/67
The Power and The Glory
Fazeley Youth Club

1968
19/01/68
The Power and The Glory
Polesworth Working Mens Club
28/01/68
The Power and The Glory and The Teen Beats
Atherstone Memorial Hall, 8.00pm-11.30pm
Admission: 5/-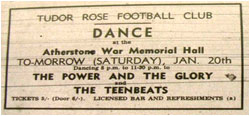 05/04/68
Power and Glory with 'Kippa'
Polesworth Working Men's Club
11/05/68
Power and Glory
Fazeley Youth Club Dance
Fazeley Parish Hall
12/07/68
"Kippa" and The Power and Glory
Polesworth Working Men's Club
14/09/68
Power and Glory
Kingsbury Working Mens Club
10/10/68
Power and the Glory
Kingsbury Working Mens Club
28/10/68
Power and the Glory
Dosthill Cosmopolitan Club
02/11/68
Beat Dance
Atherstone Cricket Club
The Paper Sun and The Power and Glory
Atherstone Memorial Hall
1969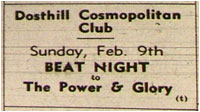 09/02/69
The Power and the Glory
Dosthill Cosmopolitan Club
First Gig with Mick Rutherford on vocals:
Fazeley Victory Club - 1968
Other Gigs:
Dosthill Club - 1971

Songs
Birthday (Lennon/McCartney) Eleanor Rigby (Lennon/McCartney)
Daybreak (Lord) Land of a Thousand Satisfactions
For Your Love (Samwell-Smith) (Graham Gouldman - Ed.)

Additional Info:
Recorded For Your Love and Eleanor Rigby for Zella Records in 1969

Recordings
Title: For Your Love
Label: Zella Records Format: 45rpm single
Track List:
1. For Your Love (Samwell-Smith) 2. Eleanor Rigby (Lennon/McCartney)

Memories
Name changed from The Four Aces (Four XXXXs - Ed.) in 1967. Mick Rutherford joined in 1968 on vocals. Played regularly at The Coalville Grand Ballroom and the 76 Club in Burton. Also Fazeley Victory Club, Drayton Manor Ballroom and The Belfry. Supported the Moody Blues at the Belfry in 1969. Changed the name to Duterium in 1971 with Mick Rutherford on vocals, Harold Lord keyboards, Ronnie Aucot (Allcot - Ed.) bass and a drummer from Woodville who's name escapes me.
Played at the Red Lion in Ripley many times, always to great audience reactions. Kippa was known to do a handstand and flip over onto his feet in the audience. Once, at the Co-op Hall in Nuneaton, during Land of a Thousand Satisfactions, Kippa did a 'Full Monty' strip and the amp he was behind rolled across the stage leaving Kippa to run off, hiding his embarrassment!!

Thanks to: Jon Smith/Mick Rutherford
---
Pete Hatton
Pete Hatton was in the Power and Glory as the replacement drummer for Ian Parsons. He joined them in 1967 after his previous band he and his brother were in i.e. The Fiends.
His name is Pete Hatton he is in the photo at Fazeley Swifts Football Club Dance standing next to Kippa .
Pete was with the band for about six months when he left to form another band with his brother Phil.
Pete and Cheryl Hatton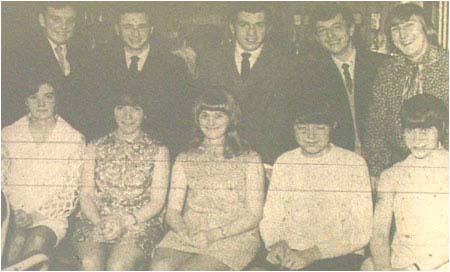 The Power and The Glory and guests at the Fazeley Swifts Football Club Dance,
Drayton Manor Park - 11th November 1967
If you have any further information about this band please email: info@tamworthbands.com