Tamworth Rock Festival : 1989 - Programme
Friday 7th July 1989 - Tamworth Arts Centre
Saturday 8th July 1989 - Tamworth Arts Centre
Sunday 9th July 1989 - Tamworth Arts Centre
Friday 14th July 1989 - Tamworth Arts Centre
Saturday 15th July 1989 - Tamworth Castle Grounds
Sunday 16th July 1989 - Tamworth Castle Grounds

Friday July 7 (Tamworth Arts Centre)
Whats This Heads Down Mindless Boogie About Nothing, Limited Edition, Lincoln Dirty Duncan and The Jim Crows Blues Company, Armchair Thrash. Entry £1 – starts 8pm.

Saturday July 8 (Tamworth Arts Centre)
Shock Culture, Spirit of the Gypsy Khan, The New Puritans and Curious Oyster. Entry £1 – starts 8pm.

Sunday July 9 (Tamworth Arts Centre)
Special Show – The Wilsons, Litany of Fear, Spiral Fish. Starts 8pm

Friday July 14 (Tamworth Arts Centre)
Flowers in the Attic, Chemikill, Eight Ball Joe, Bash Out The Odd. Entry £1 – starts 8pm.

Saturday July 15 1989
Tamworth Castle Grounds
Admission free 11am-8pm
Sunday 16th July 1988
Tamworth Castle Grounds
Admission free 11am-8pm

The Cuddly Spiders
Never Say Die
Stench
A5
The Soil Brothers
The DHSS
The Searching
Divine Intervention
King Wodericks and The Yogots
Fetch Eddie.


Nightshade
Psychedelicatessen
Emma Gibbs Loves Badges
Rape In Yellow
Scream Dream
Catch 23
Kraze
The First Conspiracy
Big Noise
Spiral Eye

DJs: Buttercup; Bue; Rikk Quay
---
Tamworth Herald – 07/07/89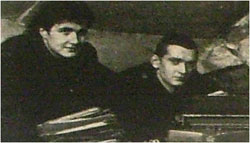 Musicbox - The Big Kick Off!
The Tamworth Rock Festival 1989 gets the best possible launch this weekend with three excellent concerts at the Arts Centre.
Gigs will take place tonight (Friday), Saturday and Sunday night as a tempting appetiser for next week end's outdoor Caste Grounds bash.
Stars aplenty will take to the Arts Centre stage this weekend to spur the festival and you will be able to get your eyes, ears and noses around the likes of Spiral Fish, Whats This Heads Down, Shock Culture, The New Puritans and new additions Armchair Thrash.
Throw in several more great bands and also the highly mysterious Wilsons and you have a triple sandwich of indoor festival shows which should bring a smile to everybodys face.
So what can you see this weekend.
Here's the menu…
Tonight (Friday), Tamworth Arts Centre
The Rock Festival's Arts Centre weekend gets off to a great start with five scheduled bands lining up for duty. The groups who will appear in an order to be finalised tonight are Stranglerites Limited Edition, the Norman Yates outfit Lincoln Dirty Duncan, blue combo The Jim Crows Blues Company, new Nephilim squad Whats This Heads Down Mindless Boogie About Nothing and late additions Armchair Thrash. The Thrashites have been pulled in because of doubts about the appearance of the Duncans and the Crows Co. but whatever happens there is going to be some cracking music on show. Armchair Thrash for those who don't know are a DHSS spin-off who made a startling debut some months ago. So, a fine five band line-up is due. It costs just £1 and as the line-up will not be known until the night you must get there as near to the 8pm start as possible. The Festival starts tonight, so miss it not.
Saturday (Tamworth Arts Centre)
The second night of the indoor festival features four very varied bands. From the more alternative side of life we can welcome Shock Culture and Banshee-ites Curious Oyster, from the rockier end of the spectrum we can welcome Atherstonians Spirit of the Gypsy Khan and from the more indie direction our can see the glory of the coming of The New Puritans. This is an excellent four band line-up and once again it makes the £1 admission fee somewhat laughable. All door fees again go to the overall festival fund so get along and boogie.
Sunday (Tamworth Arts Centre)
The most unusual of the three nights featuring as it does two rather mysterious bands – The Wilsons and Spiral Fish alongside alternative wham-bammers Litany of Fear. Describing The Wilsons should be be an unnecessary for those of you who know anything about anything but let's just say to discover who they are you need to go on a manhunt. Spiral Fish are also well worth keeping a (spiral) eye on and completing a fine line-up is the weird and wacky Litany of Fear.
As this gig has been organised by The Wilsons as part of the fest, the entry fee had not been confirmed at time of going to press but it is unlikely to break anyone and the gig is VERY likely to delight you all.
That's the full line-up then for this weekend's Rock Festival nights. Remember all these gigs are official Rock Festival shows so we want to see massive crowds on each occasion to really set off the festival with a bang. Hopefully festival t-shirts and programmes will be on sale and there will be a party feels at each show. The outdoor event is only eight days away now so a roaring send of this weekend will put us all in great stead for the best festival ever.
Tamworth Festival '89
THIS is the definitive line-up for the Tamworth 1989 Rock Festival, which we will be plugging until the event takes place.
The Indoor Festival
Friday July 7 (Tamworth Arts Centre)
Whats This Heads Down Mindless Boogie About Nothing, Limited Edition, Lincoln Dirty Duncan and The Jim Crows Blues Company, Armchair Thrash. Entry £1 – starts 8pm.
Saturday July 8 (Tamworth Arts Centre)
Shock Culture, Spirit of the Gypsy Khan, The New Puritans and Curious Oyster. Entry £1 – starts 8pm.
Sunday July 9 (Tamworth Arts Centre)
Special Show – The Wilsons, Litany of Fear, Spiral Fish. Starts 8pm
Friday July 14 (Tamworth Arts Centre)
Flowers in the Attic, Chemikill, Eight Ball Joe, Bash Out The Odd. Entry £1 – starts 8pm.
The Outdoor Festival
Saturday July 15 (Tamworth Castle Grounds)
The Cuddly Spiders, Never Say Die, Stench, A5, The Soil Brothers, The DHSS, The Searching, Divine Intervention, King Wodericks and The Yogots, Fetch Eddie. Entry is free, concert lasts between 11am-8pm.
Sunday July 16 (Tamworth Castle Grounds)
Nightshade, Psychedelicatessen. Emma Gibbs, Rape In Yellow, Scream Dream, Catch 23, Kraze, The First Conspiracy, Big Noise, Spiral Eye. Entry is free, concert lasts between 11am-8pm.
Tamworth Herald – 14/07/89
Musicbox – Rock on Tamworth!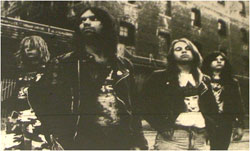 Tamworth Castle Grounds will this weekend play host to the biggest pop and rock festival the area has ever seen.
For throughout all of Saturday and Sunday, the crème of the local music scene will combine their talents to produce a musical marathon of entertainment.
For midday Saturday until 8pm Sunday there will be no less than 21 bands battling it out under the summer sun, providing FREE and exciting entertainment for Tamworth's fun-starved youngsters.
The Tamworth Rock Festival 1989 promises to be the biggest and best pop package ever served up in the immediate area. It will take place in the Castle Grounds area, just in front of the tennis courts and will be free and easy for the whole of the two days.
The variety of music – all of which is provided by bands from the Tamworth and Atherstone areas – is quite bewildering, ranging from the almighty power of the metal men Wolfsbane to the delicate pop of the stylish Fetch Eddie.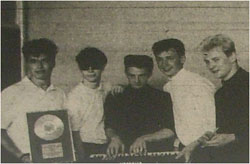 All of these exciting bands, who are paying to play the festival so that it stays free for the Tamworth public, are eagerly awaiting the chance to show YOU just what they have to offer. They have worked hard for several months to make the festival as good as it can be and now it is your turn to prove to them it was all worthwhile. Tamworth should be very proud of its exciting varied music scene and you can show your pride by packing out the Castle Grounds for the whole of tomorrow and Sunday.
So what will you see when you get there? Here is a rough guide of what is happening and when…
Tonight (Friday) Tamworth Arts Centre 8pm-11pm
To set the festival off to the best possible start, the fourth pre-Festival party will be held at the Arts Centre. Four great bands on offer here, the metal machinists Chemikill, the stylish pop merchants Bash Out The Odd, the alternative indie-popsters Flowers in the Attic and rough and ready r and b power-drivers Eight Ball Joe. Four great bands – one great price. It costs just £1 for a super festival party and we are expecting a lively happy crowd tonight. It must be stressed at this stage that the festival looks to be heading for serious financial problems so we need as many people as possible at tonight's fundraising event. And, when all that is over it is time for…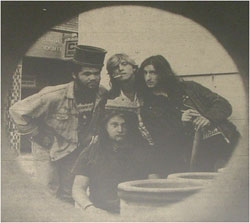 Saturday – Tamworth Castle grounds 11am-8pm
This is it, the start of the outdoor Castle Grounds, Tamworth Rock Festival, the fifth of its kind and undoubtedly the biggest and best. The sound will be at least twice as loud as ever before, there will be more stalls and a bigger stage and there will be the following lovely collection of fun-makers…
11am – The Festival kicks off with a disco provided by Tamworth's most famous disc jockey Buttercup. He will be helped throughout the weekend by the likes of Bue and Rikk Quay.
12.45 – The Cuddly Spiders – The festival music gets under way with some bluesy fun from Norman Yates's Cuddly combo.
1.15 – Never Say Die – The delicate sound of thunder…strong guitar music performed by talented and experienced personnel.
1.45 – Stench – Double basses and happy hairy haircuts will be on view as the psychobilly rockmen Stench get the scooter boys movin'.
2.15 – A5 – Post new wave/U2 style guitar and keyboard rock by one of the area's most persistent and dedicated outfits in their recently expanded format.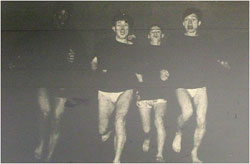 2.45 – The Soil Brothers – Real funtime here as the yee-hahing country jamboree men make a welcome return to the festival.
3.15 – DHSS – Computerised shock rock from the band with the most sale-able t-shirts in Town! Hard, fast and powerful punk fun.
3.45 – The Searching – One of the most original and impressive acts on offer over the festival weekend, this is intelligent and listenable modern pop.
4.15 – Divine Intervention – A world first debut from a band combining the talents of two of Tamworth's greatest ever acts – Breaking Point and Terroah. No one knows what to expect but EVERYONE is looking on with interest.
4.45 – King Wodericks – Teenybopper heroes with a very original and distinctive Indie pop feel. Kinda strange.
5.15 – Fetch Eddie – World class pop music that has made friends wherever it lays its hat. Good dancin' gear.
5.45 – Wolfsbane – The headlining heroes all the way from L.A. The Wolfies, who have played every festival to date are now fully fledged recording artists and their debut Phonogram metal collection has been previewed in 'Sounds' as being 'the best British rock album of the decade'. Believe it and listen to it. Genuine Tamworth heroes, get set for a genuine heroes wham-bam-thank-you-mam gig. Lovely.
These time are provisional at the moment and expect the event to run a lot later than the 6pm deadline this appears to represent. You will be there all day and as there is bags of food on site you won't even need to think about going home at all. There is however no alcohol on sale so bring your own booze OK!!!!
Sunday Tamworth Castle Grounds 11am-8pm)
And so it begins again. Another nine hours of music which once again covers the whole musical spectrum and should provide something for just about everyone who likes their rock and roll. It's all loud and fun so grab your cans (and brolly?) and get there early to secure the best possible position. Remember, there's bags of food on site so make no other plans – Sunday is Festival Day.
11am – Cranking it up again will be legendary dj Buttercup who will be your host throughout the weekend. His loud blasts should keep everyone happy in betwixt the fab array of bands that starts with…
12.25 – Nightshade – Mike Fleming's seventies style rock nerchants Nightshade open proceedings with their own brand of guitar fun.
1.15 – Psychedelicatessen – Making their festival debut and out to display their ability at hard, fast guitar orientated alternative rock.
1.45 – Emma Gibbs – Castle Grounds debut again here for one of Tamworth's most enigmatic and watchable pop groups. Soothing and biting all at once.
2.15 – Rape In Yellow – Once the Bros boys of Tamworth, now an altogether more harder Cure-orientated rock outfit. Always interesting
2.45 – Scream Dream – The only 'moth' (that's metal and goth music) combo in the world and a band making their home town debut with new singer, ex-Sacred Oath man Star Trek. Powerhouse performers.
3.15 – Catch 23 – One of mine – and clearly your – favourite bands, this slick and classy pop group recently were voted as the best British School Age rock band, taking cash prizes of over £2,000 – being seen on the national TV network twice and earning praise from a mass of pop stars, especially Aswad who are interested in working with the lads – and may even be at the festival. Want to see what all the fuss is about? Then watch them!
3.45 – Kraze – Sunday's biggest and most metallic sound, and one which will delight everyone with long hair, leather jackets and Bon Jovi tendencies. Lap it up.
4.15 – The First Conspiracy – A welcome return to one of the area's most popular live performers. Well written Cultish new wave.
4.45 – The Big Noise - - Great guitar sounds from one of the area's newest – but most enjoyable – discoveries. Pump it Up!
5.15 – Spiral Eye – Closing the whole festival is undoubtedly one of the best and most original acts you will see this weekend. Inspired by the late Sixties, its mood and its substance, the band produce a cracking set of Lou Reed/Velvets rock with the ability to surprise at every note turn. A wonderful end to a wonderful weekend.
That's yer lot then, The Tamworth festival 1989 – bags of great bands, bags of smiles and the ONLY chance you will get to see Wolfsbane. Get to the Arts Centre tonight and then head for the Castle Grounds on Saturday and Sunday to enjoy the best weekend of the year. We need as much support as possible tonight and over the weekend so buy yourself a programme and some raffle tickets, throw money into the buckets to ensure that we can keep the music coming in future years.
This Town has a wonderful music scene – and this weekend is the best way to show your appreciation for it or to discover a rock and roll romance afresh.
Have FUN, FUN, FUN and do not under any circumstances whatsoever miss a moment!
Tamworth Herald – 14/07/89
Musicbox – Reviews in Brief
The Wilsons – Festival Party (Sunday)
A totally wonderful Wolfsbane show which must rank as one of the greatest they have ever produced in their native venue. As tight as a duck's proverbial but far more pleasant to delve into. Absolutely so complaints whatsoever just magic from start to finish. After all that I want to be sedated too. Review by Sam Holliday.
Big Muff – Tamworth Arts Centre
A good set from the four lads but I think they should try some of their own songs, instead of just Spaceman 3 covers. Why did the singer have an American accent though? Review by Mark from Kingsbury.
Spirit of the Gypsy Khan – Festival Party (Saturday)
Atherstone's heads-down hippy-metal strikes again! Very good at first, they eventually went on a bit, and frankly should cut lumps out of the middle of their songs. I enjoyed them, shame no-one else seemed to much. Review – Martin Warrilow.
Limited Edition – Festival Party (Friday)
Splendid stuff from a band with their hearts and minds in exactly the right place. Any all powerful outfit that can combine their own excellent ditties with covers of the quality of 'hangin' Around' (Stranglers), 'Career Opportunities' (Clash) and 'tin Soldiers' (SLF) has to be worthy of serious consideration. Quite delicious. Review Sam Holliday
Expresso Bongo Orchestra – Spread Eagle, Polesworth
Mild-mannered record producer Paul Speare changes miraculously into Superband leader and conducts, vocalises and of course turns out some stunning sax work. So what does this brass section play? Big band and swing? Trad jazz? Soul in the Motown tradition? Jollity farm or all of them? Those who answered all of them move to the top of the class or alternatively get a ticket for the Embassy on July 28. Do I get a cheap rate or the next demo now Paul? Review – Mike Fleming
Armchair Thrash – Festival Party (Friday)
Eddie reads poetry, Reeman strums quietly and the audience leaves. Don't know why, because this was a lot more original than most of the rest of the weekend. "Vicar's Hand" was distinctly odd, "Too Heavy" took a sly dig at the Wolfies and a snails-paced version of 'Anarchy in the UK' had to be heard to be believed. A wry smile among all the earnest seriousness. Review – Martin Warrillow.
Curious Oyster – Festival Party (Saturday)
Bleak and occasionally oppressive sounds from a band with a gothic complexity. Impressive vocals from the enigmatic Joanne give the band an eerie feel although the rather downbeat monosyllabic tones of the tunes can make for rather depressing scenario. Review Sam Holliday
The Herb Garden – Tamworth Arts Centre
A new band in Tamworth, but I was impressed with their original sound. The girl singer had a really nice voice although she wasn't quite loud enough. I thought their last song was fabby! Review Mark from Kingsbury.
Litany of Fear – Festival Party (Sunday)
Elegant and classy stuff from a real gothic experience. Thundering guitars and catchy tunes were the order of the say as the band set about their 'mission' with skill and direction. Extremely impressive stuff and the best band Kev Urwin has been near by about 2000 miles. Review Sam Holliday
Whats This Heads Down Mindless Boogie About Nothing – Festival Party (Friday)
What indeed? Doom-laden depressive New Order-type weirdness, that's what! This stuff usually sends me to sleep, but they went down well with the punters, did a competent "Love Will Tear Us Apart" and the singer was fun to look at. Review – Martin Warrillow.
Sam Holliday footnote – Coolest lead singer in Tamworth contender?
New Puritans – Festival Party (Saturday)
A major change for the better since I last saw these boys, what we have now is a full frontal Buzzcocks attack which has an endearing atmosphere and a dramatic appeal. The vocals and guitar work are of a very high standard, the tunes are memorable and well arranged and the general impression is of a band who now know what they want, how they want to sound and where they are going. One of the best bands of the weekend methinks. Review Sam Holliday.
Lincoln Dirty Duncan – Festival Party (Friday)
Cheery, beery stuff from a festival institution in the leather-clad shape of Norman Yates. It went down a storm and proved that blues can give you the smiles. Review Sam Holliday.
Bash Out The Odd – Arts Centre
Extreme, infectious tunes which made even the most timid bounce around. The band put so much energy into their performance I thought they might explode but thankfully I was wrong. In the end it was the music that exploded in a fine show. Review Victor Clarkson.
Spiral Fish – Festival Party (Sunday)
Another rip-roaring attack on all sides from a quartet who are getting bigger, bolder and stronger with every single set. Complete with what Jeff Hateley describes as 'the best rhythm section in Tamworth', the Spiral boys make for an always 'interesting' and always unpredictable proposition. One of the best band this town has ever produced, lap 'em up on Sunday. Review Sam Holliday
Flowers in the Attic – Arts Centre
This band improves with every gig and Steve's vocals seemed really polished on the night. The first song was the best and was that a catchy bass line or what? Review Mark from Kingsbury.
Tamworth Herald – 21/07/89
Musicbox – Town is Rocked!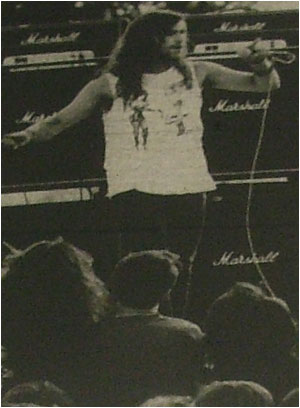 THE sheer might of Tamworth's extraordinary and unique music scene was displayed at its fighting best at the weekend.
For under a bright and welcoming summer sun, thousands of young people revelled in the sixth successive Tamworth Rock Festival.
It was billed in advance as the biggest and best festival yet, and for once it was a case of DO believe the hype as the festival more than delivered its' promised goods.
The crowds stayed the course in massive and appreciative numbers and even though complaints reigned in from around the town about the levels of noise, there was no complaints at all from those for whom these two days are the best Tamworth can offer throughout the year.
The event had a marvellous atmosphere, once again displaying the community feeling among musicians that makes Tamworth stand several miles ahead of similar sized towns. This was best crystallised by the fact that on Sunday afternoon, chief Wolfie Blaze Bayley, he of the front cover of 'Sounds' and superstar status – went around flogging raffle tickets to ensure that money was there for future festivals. He did so without complaint and without prompting and it proved that no matter how big a star festival individuals become, they appreciate that this is, above all, a collective effort for a collective good.
And the music? Well, this is after all, the raison d'etre of the event and once again it was up to its pure and powerful best. There were three excellent bands at the Arts Centre on Friday and fully 21 varied and exciting outfits on Saturday and Sunday in the sun-drenched Castle Grounds.
Who was the best? That's certainly a matter of opinion but what really pleased me was the amount of different bands named by people for that top honour showing that the festival makes friends for all groups. The headliners may have stole the show but they were certainly not the only ones to engrave themselves on the public's mind. Here we highlight the weekend of Festival '89…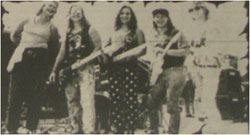 Friday – Tamworth Arts Centre
A very pleasing night this. The previous Arts Centre warm-ups had been somewhat disappointing in terms of attendance but on Friday the message got out and we had a bumper crowd for three fine bands. Flowers in the Attic opened with a startling and impressive Bunneymenesque act which displayed first class vocals and tremendous bass playing. Eight Ball Joe then chipped in with a powerful attack on the ear-oles that reminded me of The Red Beards at their best and the night was concluded with an earth-shatteringly hard attack from Chemikill. They are clearly a band who want to take no prisoners and they went down a storm. It all added to an expectant atmosphere for the major days to come…
Saturday – Castle Grounds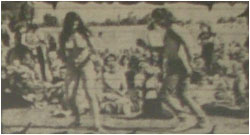 A very, very long day for most of us but a very memorable one at that. A technical problem meant that things didn't get going until two hours late which caused all the problems you will probably have read about elsewhere. But the organisers decided to go ahead full steam in spite of it and the glorious weather ensured that everyone was more than happy to let the rock and roll flow out of the speakers whatever the big hand and the little hand said. It all began with the jolly japes of The Cuddly Spiders, a group who were as 'watchable' as ever (hello Piglet!) and seriously listenable as well. Never Say Die followed on with some confident and well balanced guitar music before the unique and unmistakeable Stench blasted onto the stage to perform what I regard as one of Saturday's greatest sets. They may look a mean 'n' nasty crew but there's nothing nasty about their crowdpleasing qualities. A5 (A Five – Ed!) were next up with their usual brand of U2 guitars and complex melodies, to be swiftly followed by The Soil Brothers whose yee-hahing wonderments were somewhat dampened by a rather unhelpful sound. The DHSS had no such problems and they produced a short, stylish set dominated by the dazzling 'Pennies From Heaven' I still would have liked to see Mr. Quay up there bopping about, but there was no complaints about the sound that came out of the computers. The Searching were next to hit the ears and they produced a quite brilliant set in my opinion, one that raised a lot of eyebrows and a lot of appreciative cheers. The reaction was similar for the strident Divine Intervention who took the stage with the expected mixture of arrogance and belief. Batman reconfirmed his reputation as THE drummer to judge other drummers by, and Divine Intervention proved that all those years of Breaking Point and Terroah were not in vain. King Wodericks then calmed things down in their usual quirky way before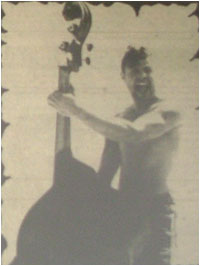 Fetch Eddie took to the stage and took the audience apart. Most people I spoke to afterwards pointed to them as the package of the whole festival and there was no doubt that their slick and highly professional set ranks as easily the best they have yet played at the festival. By now however the time was 8.30pm – half hour past the official deadline – and phone calls were raging in from throughout the borough saying 'stop that noise NOW'. Instead, the noise level rose considerably as Wolfsbane took their rightful headlining place on the stage and proceeded to murder the audience. Their short, sharp shock of a set delighted everyone (not least the band themselves) with singer Blaze Bayley in excited and excitable form and Jase the Ace producing some of the hottest guitar licks my trembling ears have yet encountered. They were quite wonderful and they completed an amazing – if occasionally fraught – day with real style.
Sunday – Castle Grounds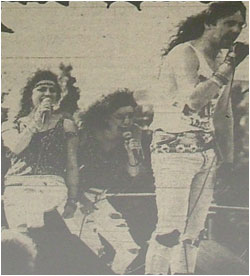 The second and final Castle Grounds event was (thankfully) a great deal calmer than the previous day. There were no technical problems, no crowd worries and the whole thing was wrapped up and hour before the 8 o'clock deadline. Personally I though the music was far better than Saturday as a whole and there was not a band that didn't enjoy some distinction. Nightshade opened in their traditional slot and they served up some useful noises which were greatly enhanced by some excellent drumming and the visual spectacle that is a near-naked Mike Fleming. Pyschodelicatessen were next up and their slightly-mire-jangly-than-I-thought set served as a perfect alternative grunt for what was too follow. Emma Gibbs were 'up' soon afterwards and to me they produced one of the very best sets of the festival. They have defined a very clear Aztec Camera sound and its pure melody and earnest vocal approach won over just about everybody and proved that this is a treasure to treasure. Rape In Yellow then walked on and went on to shock a lot of people with a far harder and direct set than previous Rape incarnations. Thumping drums and powerful vocals dominated the fray and there was one or tow oh-so-precious tunes behind that powerful front. Power was also very much the word that springs to mind when remembering Scream Dream. Vocalist *** *** was quite superb carrying a very strong neo-metallic sound with a confidence and grimy arrogance. With his voice and their toons, Scream Dream were, quite simply, first class. Catch 23 replaced the Screams with an altogether calmer and more commercially orientated sound. What they lacked in power they made up for in imagination and melody and proved that they have moved light years away from the raw and hungry sound of old. Steve Webster was the shining star of the day and the fact that the band sold around £150 worth of goodies on Sunday alone showed that they made more than a few friends from their professional show. Kraze restored the power to the stage and I must confess that I went on to enjoy their set more than I have done for a long time. The returning guitar duo of Graham and Carl enriched the excellent sound still further and the rest of the band should get down on hands and knees and beg them to return on a permanent basis. As with Kraze, the gig by the First Conspiracy also stood out proudly above more recent shows. Lisa looked and sounded a lot happier, Paul and Roger bounded around like maniacs and the sound that poured out of those nasty big speakers was as good as its ever been from the group. They were all smiling at the end of the set and so were a lot of other people. The Big Noise took to the rostrum next for a short set of punch and fire to be followed by a bizarre ten minute interlude by the Reiner Weiss Experience, a trio of guitar merchants spearheaded by a Berliner who just happened to be in Tamworth over the weekend. Odd! Yes very odd. And so to the concluding event – the joy that is Spiral Eye. They for me were the stars of the whole gig. They produced a startling and dramatic 30 minute set of sheer exhalted and exhalting atmosphere. Guitars collided head on with one another and brilliant bass and drum work made everybody's toes go crash bang wallop. The quality of the songs – not to say their immaculate delivery – was mindblowing and the Spirallers not only lived up to their headline slot but proved it to be an under-statement. I loved every second and for me they completed the weekend in the best possible way.

The Overall Verdict
Verdict is indeed an apt way to end this piece because according to a lot of people the rock festival is already guilty. Guilty of too much noise, guilty of too late noise, guilty of onstage swearing and guilty of drunken behaviour. The only thing I will plead guilty to however is of providing a cracking concert for the Tamworth area and a cracking weekend for us all. The police received thirty or so complaints but on the other side of the coin we received far more bouquets from people who see the festival as the best thing that happens in Tamworth all year round. When a financial crisis th`reatened, people put their hands in their pockets to cough up donations in a self-less and inspiring way. Everyone from the Tavern Motorcycle Club to young Wolfsbane t-shirted school children, dug deep to support the event and prove that they want it on again. Following the level and number of complaints it looks as though we may really struggle to hold the festival in the future so its up to you, all those not so silent Tamworth music watchers to help us now. Its through your support and belief that we will be able to keep the festival going and lets face it, without the event summer may not be quite so much fun again.
I had a brilliant weekend and I am sure you did too. Let's just hope we can still say that this time next year…
Report by SAM HOLLIDAY
(Proud to be the Chairman of the Tamworth Festival)
*We will hold an important post-festival meeting a week on Sunday. More details next week.
Tamworth Herald – 28/07/89
Musicbox – Vital festival meeting called this week
The Rock Festival post-mortem meeting will take place at the Tavern in the Town on Sunday night.
This is a meeting designed for current or (potentially future) committee members mainly but we want any interested musicians to turn up as well.
As you know we have had various problems with the festival this year and so these are all in the debating shop for Sunday. We want to discuss what was good about the festival (and there was an awful lot that WAS good) and anything that didn't go quite so hunky-dory.
It starts at 7.30pm and all those that care about the festival are welcome to attend to look at festivals past, present and (most importantly) future. See you there.
Tamworth Herald – 28/07/89
Musicbox – Festival Letters
Dear Sam (and all those involved with the 1989 Tamworth Rock Festival)
May I thank you for what has been two glorious weekends of great music. Tamworth [and surrounding areas] should be proud of the variety of musical talent it is producing and of the professional standards being raised.
It would be unfair to single out any particular bands, as the fact that they participated, free of charge, makes them number one in anyone's books!
Tamworth Rock Festival is in a class of it's own.
Karen, Amington Tamworth Herald
Thanks Karen and thanks for the fiver towards the fund. The amount raised by donations over the weekend has inspired us all – Sam.
Dear Sam,
As one of the slightly older generation who has a young daughter interested in music, I took the opportunity to visit the Tamworth Rock Festival. Can I take this opportunity to thank all those involved in the event, the organisers and the bands for providing so much good entertainment free of charge. I particularly enjoyed Fetch Eddie who I thought played an excellent set. One sour note however. Did Rikk Quay have the wit to realise he was in a public park or is he really that inarticulate that he couldn't introduce a band without a tirade of four letter words?
Mr. D. Titterton
In Rikk's defence he certainly wasn't the only one swearing over the two days and although we don't wish to upset anyone, all Rikk's hard work in getting the festival on outweighs the odd verbal slip up in my book. He's part of the festival furniture and without him I couldn't do a thing. I find him a very inspiring guy and I thought he compered the event brilliantly – Sam.
Dear Sam,
The Rock Festival was BRILL! Congratulations to all concerned. Although I may have ten years on most of the people at the event I can listen to and enjoy almost anything. But there's always those who have to complain isn't there? Do they complain on bonfire night? No! And I bet they wouldn't complain if it was a mass biblical event with choruses of Allelujahs billowing out for miles either? (Big boo for Mondays Evening Mail write up) Me and me chap attend the concert every year and always enjoy it.
Joy
Thanks for the comments and as regards the second part of your letter (unprinted) – I will see what I can do – Sam.
Dear Sam,
May we congratulate you and your committee on achieving the (I suppose thankless) task of another Rock Festival. I know how much hard work and heartbreak goes into these things.
So thank you and well done.
Yours ever,
Ian Gibbons
Cheers Gibbo! Actually we did get one or two thanks this year including even a bizarre thank-you from The 'Gobi Desert' in last week's Herald congratulations column. Personally I smell a rat behind that or perhaps a Carla Cordell. – Sam
Tamworth Herald – 04/08/89
Musicbox – YOU saved the Fest
THE amazing generosity of Tamworth's army of music fans has ensured that the Rock Festival WILL go ahead in the future.
Several late financial blows meant that the festival was destined to lose more than £500 – a figure that would have probably sunk the event without trace.
But, thanks to a huge surge of public support over the festival weekend, the event actually (and remarkably) made a small profit.
The reason it did so was because of the huge sale of fundraising raffle tickets, plus general collections which saw the Tamworth public dig deep into their pockets to ensure that the show must go on…
"We really must thank the Tamworth public for their support," said festival vice-chairman Rikk Quay, "We got the message over that we needed help and they responded brilliantly. It restored all our faith in the event and proved how important it is to Tamworth music lovers."
It was increased p.a. costs (plus other late financial crises) that put the festival under a dark financial cloud just before the event. There was a real feeling that it could mean that this fest would be the last fest – and that's where YOU stepped in.
Repeated calls from the stage to help and support the festival met with an incredible response and as well as selling hundreds of pounds of raffle tickets, the organisers were delighted that people were chucking money into buckets like nobody's business. Among the nicest moments were when two youngsters went forward to buy raffle tickets, found there were none left and threw their four pounds in anyway saying that the festival was their best weekend of the year. Also pleasing was the way the Tavern Motorcycle Club went round collecting cash and also donated a tenner from their own funds. It was such moments of selflessness which brought forth nearly £500 worth of contributions and inspired all the festival organisers.
"We have had a few problems and complaints this year and the money problem threatened to kill the whole thing," said Rikk Quay. "Now we all feel confident for the future and determined to keep the festival alive and kicking."
A festival post mortem meeting was held on Sunday night at the Tavern and provoked a good turnout and much reasoned debate. It was decided to try and improve the quality of the sound and facilities still more in future years and to keep the event as an exclusively local showcase.
It all added up to a positive end to what has turned out to be the most roundly enjoyable festival of them all. The public has shown its support for the festival in a big way (note all the praising letters we received last week) and everyone has now set their sights on next year.
The Tamworth Rock Festival remains the jewel in the music scene's crown. Long may it shine.