Armchair Thrash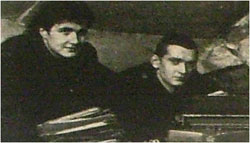 Musucal Type/Genre: Anarcho-Poetic Punk
Formed: 1989 Split: 1989
Band Members:
Edward ian Armchair - Vocals
John Reeman - Guitar and Backing Vocals
Gigs:
30/04/89
WIN
Shock Culture
Fetch Eddie
Emma Gibbs Loves Badges
Armchair Thrash
Catch 23
Hillsborough Benefit Gig
Tamworth Arts Centre
Tamworth Herald – 12/05/89
Musicbox – Disaster leads to glory
Hillsborough Benefit Gig
And once again Tamworth's gig-goers prove themselves to be generous sorts. More than £370 was raised from this excellent show and it further illustrated the point that when the chips are down Tamworth area bands are always happy to try and put the coffers up. This show for Hillsborough was good because it was designed for helping those in tragedy but it never dwelt upon pain. We all knew why we were there but we all enjoyed the gig as well. That's the best recipe for charity events – pleasure through pain equals success.
It all began with WIN who went on at a ridiculously early time and were therefore missed by these eyes. Lead singer Mark Brindley said it wasn't much cop but then again he always was a modest kinda chap. Next up were Shock Culture who played a short but tantalising set which was much enjoyed by their lusty young following. The highlight for me was a splendid rip-roaring version of 'Going underground'. There is still hope for our future when young bands choose to cover songs like THAT. Fetch Eddie were next to present themselves and a powerful set was then produced. It was a mix of one or two golden oldies and a couple of strong new numbers with the undoubted key point being a superb finals track called 'Dance' which featured a fine old tune and some marvellous dancing from Phyllis. Emma Gibbs followed and they gave a harder attack than we have been used to, and a very successful one at that. The band are becoming very much guitar orientated these days and those six stringers carry forth some of the sweetest melodies these ears have encountered of late. All together different were Armchair Thrash (that's DHSS minus Rikk and Anice) who turned in the most surprising but also one of the most enjoyable sets of the night. It was basically Ed pontificating on how own curious and somewhat perverted past, future and present with the mad axe man Rocking Reeman for once cooling down and playing some skilful accompaniment. I thought it worked magically. And so to the finale – and what a finale. Catch 23 played a short but dynamic set full of bravado and spirit. Their new tracks showed a maturing songwriting awareness while their oldies were given a new lease of life. 'Gotta Get out Of Here' was the song of the set, the night, the week, the month, the year while the joint tracks with Fetch Eddie's Aaron showed that the band are as versatile as they are skilful. They rounded off a superb night excellently and showed that as Liverpool FC have proved universal sadness can lead to a new sense of universal community.
Review – Sam Holliday.
Scream Dream have apologised for their non-appearance which was due to a misunderstanding. They will be back in action at the Scum Ball at the start of June.
Tamworth Herald – 07/07/89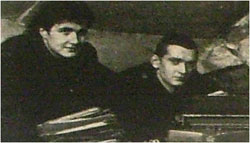 Musicbox - The Big Kick Off!
The Tamworth Rock Festival 1989 gets the best possible launch this weekend with three excellent concerts at the Arts Centre.
Gigs will take place tonight (Friday), Saturday and Sunday night as a tempting appetiser for next week end's outdoor Caste Grounds bash.
Stars aplenty will take to the Arts Centre stage this weekend to spur the festival and you will be able to get your eyes, ears and noses around the likes of Spiral Fish, Whats This Heads Down, Shock Culture, The New Puritans and new additions Armchair Thrash.
Throw in several more great bands and also the highly mysterious Wilsons and you have a triple sandwich of indoor festival shows which should bring a smile to everybodys face.
So what can you see this weekend.
Here's the menu…
Tonight (Friday), Tamworth Arts Centre
The Rock Festival's Arts Centre weekend gets off to a great start with five scheduled bands lining up for duty. The groups who will appear in an order to be finalised tonight are Stranglerites Limited Edition, the Norman Yates outfit Lincoln Dirty Duncan, blue combo The Jim Crows Blues Company, new Nephilim squad Whats This Heads Down Mindless Boogie About Nothing and late additions Armchair Thrash. The Thrashites have been pulled in because of doubts about the appearance of the Duncans and the Crows Co. but whatever happens there is going to be some cracking music on show. Armchair Thrash for those who don't know are a DHSS spin-off who made a startling debut some months ago. So, a fine five band line-up is due. It costs just £1 and as the line-up will not be known until the night you must get there as near to the 8pm start as possible. The Festival starts tonight, so miss it not.
Saturday (Tamworth Arts Centre)
The second night of the indoor festival features four very varied bands. From the more alternative side of life we can welcome Shock Culture and Banshee-ites Curious Oyster, from the rockier end of the spectrum we can welcome Atherstonians Spirit of the Gypsy Khan and from the more indie direction our can see the glory of the coming of The New Puritans. This is an excellent four band line-up and once again it makes the £1 admission fee somewhat laughable. All door fees again go to the overall festival fund so get along and boogie.
Sunday (Tamworth Arts Centre)
The most unusual of the three nights featuring as it does two rather mysterious bands – The Wilsons and Spiral Fish alongside alternative wham-bammers Litany of Fear. Describing The Wilsons should be be an unnecessary for those of you who know anything about anything but let's just say to discover who they are you need to go on a manhunt. Spiral Fish are also well worth keeping a (spiral) eye on and completing a fine line-up is the weird and wacky Litany of Fear.
As this gig has been organised by The Wilsons as part of the fest, the entry fee had not been confirmed at time of going to press but it is unlikely to break anyone and the gig is VERY likely to delight you all.
That's the full line-up then for this weekend's Rock Festival nights. Remember all these gigs are official Rock Festival shows so we want to see massive crowds on each occasion to really set off the festival with a bang. Hopefully festival t-shirts and programmes will be on sale and there will be a party feels at each show. The outdoor event is only eight days away now so a roaring send of this weekend will put us all in great stead for the best festival ever.
Tamworth Festival '89
THIS is the definitive line-up for the Tamworth 1989 Rock Festival, which we will be plugging until the event takes place.
The Indoor Festival
Friday July 7 (Tamworth Arts Centre)
Whats This Heads Down Mindless Boogie About Nothing, Limited Edition, Lincoln Dirty Duncan and The Jim Crows Blues Company, Armchair Thrash. Entry £1 – starts 8pm.
Saturday July 8 (Tamworth Arts Centre)
Shock Culture, Spirit of the Gypsy Khan, The New Puritans and Curious Oyster. Entry £1 – starts 8pm.
Sunday July 9 (Tamworth Arts Centre)
Special Show – The Wilsons, Litany of Fear, Spiral Fish. Starts 8pm
Friday July 14 (Tamworth Arts Centre)
Flowers in the Attic, Chemikill, Eight Ball Joe, Bash Out The Odd. Entry £1 – starts 8pm.
The Outdoor Festival
Saturday July 15 (Tamworth Castle Grounds)
The Cuddly Spiders, Never Say Die, Stench, A5, The Soil Brothers, The DHSS, The Searching, Divine Intervention, King Wodericks and The Yogots, Fetch Eddie. Entry is free, concert lasts between 11am-8pm.
Sunday July 16 (Tamworth Castle Grounds)
Nightshade, Psychedelicatessen. Emma Gibbs, Rape In Yellow, Scream Dream, Catch 23, Kraze, The First Conspiracy, Big Noise, Spiral Eye. Entry is free, concert lasts between 11am-8pm.
Tamworth Herald – 14/07/89
Musicbox – Reviews in Brief
Armchair Thrash – Festival Party (Friday)
Eddie reads poetry, Reeman strums quietly and the audience leaves. Don't know why, because this was a lot more original than most of the rest of the weekend. "Vicar's Hand" was distinctly odd, "Too Heavy" took a sly dig at the Wolfies and a snails-paced version of 'Anarchy in the UK' had to be heard to be believed. A wry smile among all the earnest seriousness. Review – Martin Warrillow.
Tamworth Herald – 08/09/89
Musicbox – Cheesy Fun
THE 'POST-FESTIVAL' no-pop silly season, officially ends this Sunday, when the Arts Centre houses 'A Cheese & Wine Party'. It is headed by Emma Gibbs Loves Badges who will be ably supported by Armchair Thrash, Fetch Eddie and a new band to Tamworth eyes: One Happy Song. This line up, at the time of going to press, was incomplete and it is a near certainty that more bands shall be added to make a pulsating party night.
Opening proceedings will be Sutton Coldfield's One Happy Song, who whack out drum machine orientated Cole-esque pop toons by the binfull and will doubtlessly appeal to the gentle Indie fan bred in the area.
Two Bob Ted is the rather silly name given to three members of Fetch Eddie upon ditching of their trademark dance-beat and reaching for the most primitive of weapons…acoustic guitars. It will be the trio's first Tamworth appearance under this guise and is the perfect opportunity to witness the awesome songwriting talent of the gorgeous, pouting (etc) Aaron James.
Next in line are Armchair Thrash, alias Armchair and Reeman from Musicbox poll-toppers DHSS. You know that overused simile about an eagle in full flight…? Well, it has nothing whatsoever to do with the Thrashies, who are more like a charity-shop Fall, with a bit more raunch (courtesy of Reeman's axe-lickin'), a bit more sauce (ooer!) and a lot of very strange tales that have gained this duo rave reviews and a reputation for being ever-so-slightly odd.
Finishing the show will be Emma Gibbs, a band who manage to be DEEP and WIDE and TALL all at once. Their skilful Aztec meanderings and basic pop sensibility make for a set full of pure pop sounds which have started to warm the cockles of everyone's hearts. An enlightening experience is assured.
ANYONE willing to stay and party following the 'Gibbers' will be given free wine and some of those sticks with cheese and pineapple on them that you always had at school Christmas discos. The music played will be a mixture of indie, house, hip-hop and anything vaguely dance-inspiring, the idea being that a good time should be had even if the evening's bands have not been enjoyed (of course they WILL be, so it should be a double good night). Anyone attempting this in the past has been greeted with standard Tamworth apathy, and the big fun good times will only commence if the 24-hour party people are out in force, uninhibited and ready for…euphoria. The doors open at 7.20 and, if enough people meet the challenge, the fun starts immediately.
Reports by JO MARSH.
Additional reporting by Sam Holliday
Tamworth Herald – 15/09/89
Musicbox – Sunday View
The Cheese and Wine Party – Tamworth Arts Centre
TWO BOB TED
First off, apologies for missing One Happy Song, but we arrived a little late just in time for this combo. The silly name thinly disguised the fact that we were being treated to a performance by the majority of Fetch Eddie early in the evening. They ran through acoustic versions of a umber of old faves which came as a refreshing spin-off to their usual shows. Hopefully this style will win over some of the Tamworth people who are automatically put off Fetch Eddie by their irrational fear of pop music.
ARMCHAIR THRASH
Another acoustic spin-off from a big local band, but in this case the novelty is wearing off. For the first few times this was good for a laugh but there can be surely no future in it when DHSS is bursting with such potential. It is great what two men and a guitar can do – but it is no more than busking and can be done just as easily in a Tamworth street.
EMMA GIBBS
A couple of gigs ago it became clear to me that Emma Gibbs are good – and now they are just getting better. They put in another professional performance which went down well at a considerably less-than-full Arts Centre. Emma Gibbs are now a very well established band with a number of catchy tracks that really stand out. And best of all, it wasn't an acoustic set – the first two were good but quite enough thanks.
Review by SEAN ATKINS