Two-Bob Ted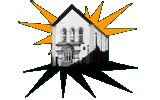 Formed from the ashes of Fetch Eddie, Two-Bob Ted was an acoustic trio comprising Paul O'Donnell, Rosaleen Glennon and Aaron James. The group performed Fetch Eddie favourites and new compositions. The photograph below shows the band performing at the wedding of Rosaleen and Emma Gibbs Loves Badges guitarist, Martin Sketchley. Aaron James is still recording and regularly playing live with Fetch Eddie bass player, Lloyd McKenzie.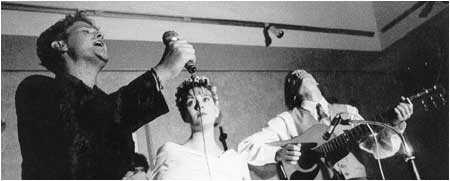 Thanks to: Martin Sketchley
Tamworth Herald – 15/09/89
Musicbox – Sunday View
The Cheese and Wine Party – Tamworth Arts Centre
TWO BOB TED
First off, apologies for missing One Happy Song, but we arrived a little late just in time for this combo. The silly name thinly disguised the fact that we were being treated to a performance by the majority of Fetch Eddie early in the evening. They ran through acoustic versions of a umber of old faves which came as a refreshing spin-off to their usual shows. Hopefully this style will win over some of the Tamworth people who are automatically put off Fetch Eddie by their irrational fear of pop music.
ARMCHAIR THRASH
Another acoustic spin-off from a big local band, but in this case the novelty is wearing off. For the first few times this was good for a laugh but there can be surely no future in it when DHSS is bursting with such potential. It is great what two men and a guitar can do – but it is no more than busking and can be done just as easily in a Tamworth street.
EMMA GIBBS
A couple of gigs ago it became clear to me that Emma Gibbs are good – and now they are just getting better. They put in another professional performance which went down well at a considerably less-than-full Arts Centre. Emma Gibbs are now a very well established band with a number of catchy tracks that really stand out. And best of all, it wasn't an acoustic set – the first two were good but quite enough thanks.
Review by SEAN ATKINS
If you have any further information about this band please email: info@tamworthbands.com