Steve Adams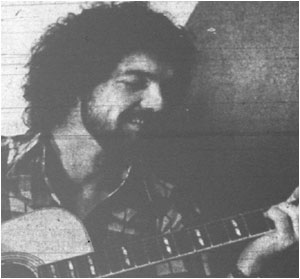 Steve Adams (1977)
Photograph courtesy: Tamworth Herald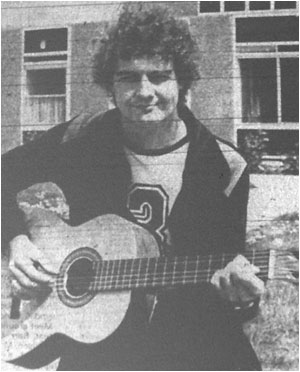 Steve Adams (1978)
Photograph courtesy: Tamworth Herald
Singer/Songwriter from Birchmoor
Gigs:
29/04/77
Steve Adams
Unicorn Folk Club
11/09/77
Unicorn Folk Club - Opening Night
Every Sunday
Steve Adams
07/04/78
Steve Adams (winner of EMI Folk Contest)
Globe Folk Club
26/03/80
Steve Adams
Folk at the Manor
Songs:
Pubsinger's Blues (or I'm sorry I won't play Streets of London)
But for You
Tamworth Herald – 29/04/77
Musicbox - Steve at Unicorn
Steve Adams, last year's "Melody Maker" folk competition winner, appears at the Unicorn Folk Club tonight.
Steve, who recently moved from the Bristol area to Polesworth, won through this year's heats in the "Melody Maker" competition on Saturday and is all set for the forthcoming area final to be held in Birmingham.
Tamworth Herald – 01/07/77
Musicbox - Top award for Steve
Birchmoor singer-songwriter Steve Adams has gained national recognition for his talents.
The former industrial chemist who gave up his career for music, has won a top Melody Maker award and won for himself a country-wide tour.
Steve topped the soloist section in the leading music paper's national talent-seeking contest to add to the Melody Maker award he received last year as the "most outstanding performer."
His prize this year includes £250 in cash and a tour of universities and colleges.
He warded off the challenge of four other finalists after sailing through area and regional finals.
Steve's set was a mixture of humour and sentiment and included songs such as "Pubsinger's Blues (or I'm Sorry I Won't Play 'Streets of London')" and "But For You".
Tamworth Herald – 16/06/78
Musicbox - Steve set for repeat
KIDS at Greeneacres School, Amington, must think they have got a wonderful teacher in Steve Adams.
Last year he won the National Melody Maker Rock Folk competition – and now he looks set to do it again.
Last Sunday he won the semi-finals at Barbarella's Club, Birmingham. And now he's hoping his luck will continue into the finals at The Round House, London on July 2.
Steve, 30, of Dormer Cottage, Green Lane, Birchmoor, Tamworth, got a lot of work in pubs and folk clubs after winning last year's contest.
And at the end of last year he bought out his LP, "Steve Adams".
He writes and sings his own compositions, and it is the top soloist award that he hopes to win for the second time.
But in spite of his success, Steve has no plans of turning professional. He is quite happy teaching at Greenacres Junior School where he has been since last September.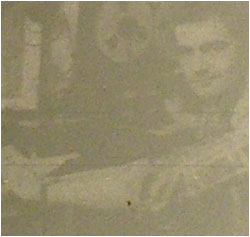 Tamworth Herald – 05/12/80
Musicbox – Cottage is a power-house
THOSE Attractive Magnets recorded their cassette at the Steve Adams Studio in Birchmoor. But how many readers knew that local bands had such excellent recording facilities on their own doorstep.
For schoolteacher Steve has concerted part of his Green Lane cottage home into a sirst-class recording studio where bands like The Magnets can go along at weekends and holiday times to use the studio which won't cost them the earth.
A past winner of Melody Maker's annual folk/rock award, Steve started producing about 18 months ago and he says it's really just a hobby.
Steve was a full-time professional musician for a while but says he now much prefers to restrict his musical activities to his small but well equipped studio which is literally his "second home".
"I really enjoy doing this," he says. "It's much better than just gigging." And he's certainly made some customers very happy as the Magnets' Rikk Quay, speaking on behalf of the band, is only too quick to point out…
"We think Steve Adams is a great producer and we would urge any band just starting off and interested in recording should go there," he says.
Tamworth Herald - 15/01/88
Musicbox – SNIPS
Former Birchmoor studio boss Steve Adams – one of the respected people in local music – has returned to 'action' with a special tape in aid of Greenpeace. Steve recorded the four songs, under the collective name of 'Bring Back The Dodo', on his own portastudio and has promised that half of the £2 hw will charge will go automatically to Greenpeace. We hope to review the tape shortly but if you want to find out more now – and support a worthy organisation at the same time – you can out in an advanced order by sending £2 including post and packaging to Steve Adams.
Tamworth Herald - 28/02/88
Musicbox – SNIPS
Steve Adams, whose excellent tape I hope to review shortly, has now put the pleasing product on the market and invites orders. What makes this demo that little bit different is that the respected Mr. Adams (whose Birchmoor studios helped countless local bands in the past) is giving half of all the proceeds from his tape to 'Greenpeace'. So if you support this worthwhile organisation and want to hear some good music to boot, send £2 including postage and packaging to Steve Adams.
Tamworth Herald - 28/02/88
Musicbox – SNIPS
Local metal favourites Shellshock will be playing two gigs in the Tamworth area this weekend. Tonight (Friday) they will be travelling to The Chequers at Hopwas for a special show alongside new metal men Racer. The Chequers on former days of rock and roll glory used to be THE local venue and if it is opening its doors to groups once again then it deserves to be supported.
Following Friday's show, the Shellshock chappies will be at the Arts Centre tomorrow (Saturday) for another loud and lusty rock night. Teaming up with the shocking-boys will be Atherstone's Kubla Khan and a Lichfield metal outfit called the Brooklyn Dogs.
Tamworth Herald – 10/08/90
Musicbox – Demo watch by Sean Atkins
Steve Adams – Knight of the Long Knives. Rating (Out of Five Stars) ***
Most demo tapes on the MUSICBOX desk feature studio versions of songs that have been played at the Arts Centre, Rathole, festival etc. and are usually quite familiar.
These two tracks, by Amington-man and former studio chief Steve Adams, were clearly born in the studio and they are both very, very polished songs. In true SAW tradition Steve wrote, produced and performed the songs with guest vocalists Vicky Leigh in 'Long Knives' and Gayle Force (Wind?) in 'Silences'.
The unusual aspect is that much of 'night of the Long Knives' is spoken by Steve's ten-year-old daughter Chloe. It's got to be difficult to do something like this without it sounding corny – but it just about works.
'Knight of the Long Knives' is a haunting song which appears to be about the destruction of the rain forests. This is a good contrast with 'Night of the Silences' which is a more powerful and conventional pop song.
I can't imagine NME raving about this tape or John Peel playing it – because its note exactly alternative stuff. But it is a good tape and another example of the depth and diversity of musical talent in Tamworth.
Sean Atkins
Keep those demos coming to Sean Atkins. Musicbox, Tamworth Herald, 10 Aldergate, Tamworth, Staffs.