RITS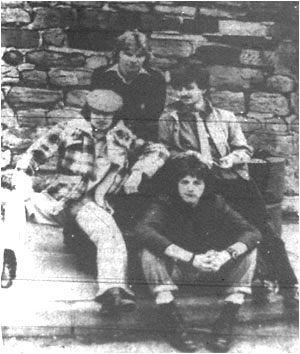 RITS - 1979
Photograph courtesy: Tamworth Herald
Formed: July 1978
Line-up:
Robert Horne – Drums
[Also in Flash Harry]
Ian Hatton – Lead Guitar
Tony Norchi – Bass
[Also in: The Reliants v.1, The DHSS v.1, Somethin' Else]
Steve Hawker – Rhythm Guitar / Keyboards
Gigs
03/11/78
Rits
Tamworth Working Mens Club
12/11/78
Rits
Coton and Hopwas British Legion Club
17/11/78
Rits
Tamworth Working Mens Club
01/12/78
Rits
Tamworth Working Mens Club
02/12/78
Rits
Coton and Hopwas British Legion Club
17/12/78
Rits
Glascote Working Mens Club
26/12/78
Rits
Tamworth Working Mens Club
30/12/78
Rits
Austrey Working Mens Club
1979
24/03/79
Rits
Glascote Working Mens Club
14/04/79
Rits
Birchmoor Working Mens Club
16/04/79
Rits
Grendon Working Mens Club
28/04/79
Rits
Coton and Hopwas British Legion Club
05/05/79
Rits
Dosthill Cosmopolitan Club
01/06/79
Rits
St. John's Club
09/06/79
Rits
Dosthill Cosmopolitan Club
08/07/79
Rits
Dordon Working Mens Club
---
Tamworth Herald – 27/04/79
Musicbox - Disco numbers take 'Rits' into the bright lights
TAMWORTH pop group Rits, formed only last summer, have just made their first record.
And the A side of the new single, due out soon, is their own composition, "Disco Shuffle".
The record, on the double-B label, will be in local shops within the next few weeks and is also being released on the Continent and in Scandinavia.
And that's not all – things are happening in a big way for the group.
Radio and TV spots are in the offing, a 21-day tour of Germany and Scandinavian countries is coming up, and a national disc-jockey chain is taking a keen interest in the new disc.
And on September 8. Rits are supporting chart-toppers Showaddywaddy at an open-air concert in Atherstone.
In the Rits line-up are drummer Robert Horne (20), lead guitarist Ian Hatton (16), bass guitarist Tony Norchi (18) and 21-year-old Steve Hawker, who plays rhythm guitar and keyboard. Three of them also double as vocalists.
At the moment, Robert is devoting all his time to music, while Steve works as a draughtsman and Ian and Tony are still at Tamworth College.
And they're not just based in Tamworth – they all live in the town, in St. George's Way and Comberford Road.
They took the first letters of their Christian names to make the name for the group.
Their on-the-spot manager is Robert's father, business man Mr. John Horne, and he's delighted at the way things are going for Rits.
"They are really doing well, but then they work very hard – they deserve their success," he said.
On the B-side of Rits' disc, being distributed by Lightning Records is another disco number "Evil Woman".
---
If you have any further information about this band please email: info@tamworthbands.com