The Vipers
Formed: 1961*
Split: 1967
Name Change: Harwell Reaction
Line-up:
Dave Cotton - Lead Vocals (Grendon)
David (Clem) Clempson - Lead Guitar/Backing Vocals (Wilnecote)
Karl Robinson - Rhythm Guitar (Wilnecote)
Kevin Day – Bass Guitar (Wilnecote)
Billy Saunders – Drums (Hurley)
Additional Info: David Clempson went on to join Bakerloo, Humble Pie, Colosseum and others - brilliant!
Gigs: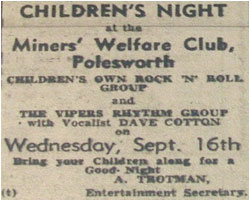 16/09/64
Children's Night at the Miners Welfare Club, Polesworth
"Children's Own Rock and Roll Group"
The Vipers Rhythm Group with vocalist Dave Cotton
07/10/64
The Vipers
Polesworth Working Mens Club
22/11/64
The Vipers
Warton Working Mens Club
18/12/64
The Vipers
Rose Inn Baxterley
Admission: 2/6 8.00pm-10.30pm
25/12/64
The Vipers
Rose Inn, Baxterley
24/01/65
The Vipers
Austrey WM Club
07/02/65
The Vipers
Warton WM Club
26/03/65
The Vipers
Hurley WM Club, 8.00pm-10.30pm
02/04/65
The Vipers
Hurley WM Club, 8.00pm-10.30pm
27/08/65
Jimmy Powell and the Five Dimensions, The Ricochettes, The Vipers
Assembly Rooms
Admission: 6/6
30/08/65
Tamworth Young Farmers Club
August Bank Holiday Dance
The Vipers
Polesworth Memorial Hall, 9.00pm-1.00am
Admission: 3/-
30/10/65
Tamworth Young Farmers Club
The Vipers
Polesworth Memorial Hall, 9.00pm-11.45pm
Admission: 5/-
03/12/65
The Vipers
Dordon Village Hall
24/12/65
The Vipers
Progressive Club
06/01/67
The Gate Inn Riding Club Professional Section Grand Dance
The Vipers
Shustoke Village Hall, 8pm-1am
Memories:
Our first name was The Vipers. This came about because we formed while at Atherstone Grammar School and pupils there were known as Adderstonians. This was shortened to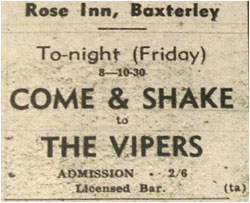 Adders but didn't sound "gritty" enough so Adders became Vipers. We kept this name for a few years then changed to Harwell Reaction because we discovered the name Vipers was used by other organisations. We supported Screaming Lord Sutch and The Savages at a gig at Coalville Village Hall. Also played at Atherstone Grammar School, our old school. Does anyone have any photos of any of our gigs in the Tamworth area? Would love to have one. Kevin Day
If you have any further information about this band please email: info@tamworthbands.com

Thanks to: Kevin Day
*The original plan was for the history of Tamworth bands that will appear on TamworthBands.com to commence in 1975 but with this contribution from Kevin Day the plan now is to go as far back as 1960.