Expresso Bongo Studios
Opened: 1985
Owners: Paul Speare and Phil Smith
Tamworth Herald – 25/01/85


Friends sound idea
Two friends are planning their first business venture together – a sound recording studio in Tamworth.
Phil Smith and Paul Speare hope their studio will be used not only by local bands, but also by any music-making groups, ensembles, and societies.
They plan to launch a fully sound-proofed eight-track studio – hopefully expanding to a 16-track later on - at the rear of the former record shop, Tamdisk, at 17 Lichfield Street.
The shop closed last summer and has been vacant since then.
Phil and Paul now have planning permission for their studio which they hope will be fully functional by March.
"We have both done some professional work in the past and have been looking round for quite some time for somewhere to start up a small recording operation," said 31-year-old Phil, who is married and lives at Maypole Road, Warton.
Both he and Paul 29, who lives at Polesworth, are music teachers.
"This is our first business venture so naturally we're a bit apprehensive about it, and to start with at least we will be carrying on with our jobs," Phil said.
"But we are far from green – we have done quite a bit of recording and we already have all the equipment. We have gone into everything very carefully.
"Besides local bands, we hope to attract choral and instrumental groups, and schools too – anyone who is interested in making a tape."
Tamworth Herald – 26/07/85
Musicbox - Tam Aid will put sound duo on right track

TAMWORH'S music scene has been given a much-welcome shot in the arm – the opening of a new recording studio right in the heart of the town centre.
The Expresso Bongo studios have been set up by two keen local musicians Phil Smith and Paul Speare, who are determined to give Tamworth's musicians first class facilities on their doorstep.
The studio boasts all the latest equipment and is ideal for the most experienced groups – or new outfits making their first tentative steps into the recording world.
"We aim to give bands just what they want. If they need a lot of help and advice we can give it, but if they have a clear notion of what they want to do we won't interfere with their plans," said Paul.
The studio – which is a 16 into eight track – is based in Lichfield Street at the back of what used to be "Tamdisk Records." Phil and Paul rented the site and have spent the last four or five months constructing a modern, well-equipped studio out of what was a virtually derelict building.
"There has been so much work to do, everything from wiring and sound-proofing to things like painting which itself takes a lot of time," said Phil.
The Expresso Bongo studios have had a little luck on their side so far. At just the time they were trying to get something together, Steve Adams' studio at Birchmoor sadly gad to close down, allowing Phil and Paul to pick up some tried and tested equipment at the right price.
Since then they have also brought in their own equipment and the studios are now bulging with equipment including polyphonic synths, Roland drum machines, digital delays and a full Premier drum kit.
In addition – if needed – musicians can use other keyboards, amps, and guitars. In fact, all the musicians need to bring is themselves and their ideas and Phil and Paul will probably be able to do the rest.
Quality
"We spent time making sure we got a lot of good equipment because we want to make sure everything that leaves this studio is of a good quality. We want to gain a reputation for making demos and no one should leave here disappointed."
The studios are hoping to produce jingles and tapes for schools and musical societies but there is no doubt that they also hope to become the recording focal point of the local rock scene.
To get the ball rolling in this direction the studios have agreed to offer their services and facilities free for the recording of the Tam Aid tape "Just Take A Look At Yourself" which should be recorded in the second week of August, proceeds which will go to the Ethiopian Famine Relief Fund.
The duo are enthusiastic about doing their bit for the Ethiopian cause, and they are also hoping the tape will really put them on the map.
The prices at the studio are below the average charged by most similar sized places - £8 per hour or £70 for a full 10 hour session. They are now open for initial bookings and enquiries.
Tamworth Herald – 17/04/87
Musicbox – Bombs away…it's a slice of Quince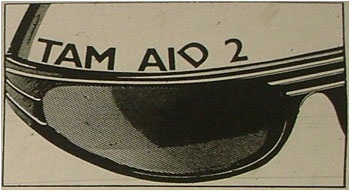 TAMAID has this week launched its second major fund-raising cassette – and it looks all set to be a moneyspinning sell-out. The songs, recorded at the end of last year, were put together as part of the 'Children In Need' campaign and all the proceeds will go to the Quince Tree Special School at Amington.
In classic Band Aid style, the two-track tape features a host of top local singers each singing a line apiece from songs written by Terroa and XPD.
You need Flash Player.

Youth Is Our Future

---
The lyrics for the tracks – 'Bombs Away' and 'Youth Is Our Future' – have been specially written to fit in with the 'Children in Need' theme, and organisers are hoping the specially limited number of tapes will sell-out within a few weeks.
Mong those who added their vocals to the final mix were members of One On One, Attica, Soil Brothers, Catch 23, Cheesey Helmets and many more, all of whom gave their time, effort and money to take part in this exciting fund-raising venture.
The first of the two songs to be recorded was 'Youth Is Our Future' which was put together at the Expresso Bongo studio in Lichfield Street.
Paul Speare gave his queipment and recording time free to produce the song which started life as 'Thunder and Lightning' a old Terroa standard. The music was played by John Reeman, Eddie Madden, Batman, Pete Wright and Paul Speare's wife, Paula who added extra piano.
Vocalists on this track were Mike Turner, Rikk Quay, Dave Ingham, Sam Holliday, Eddie Madden and Mick Goodby, and the end result is a powerful blast of commercial, punchy new wave music. The song is catchy, danceable and very striking with the main vocal attack being: "Youth Is Our Future, our precious future ands we're calling you just to open your eyes…"
The second track on this, TAMAID's second recorded fund-raiser is 'Bombs Away' a song originally recorded by John Reeman and Rikk Quay as XPD. This time the venue for the recording was switched to Richard Cuttler's studio at Freasley, and once again Richard gave all his time, equipment and expertise free of charge.
The main singers on the track are Andy Baldwin, Mark Brindley, Anice Byfield, Steve MacNamee, Steve Webster and John Reeman with the additional help from Denis Byfield and Steve Ellis. Steve only came along to take a photograph and still ended up in the recording booth!
The song, for those that don't know is a wonderful slice of Sigue Sigue Sputnik style electronic anarchy, with a gorgeous hook and the sort of irresistible beat that could make anybody bop!
The song has also been wickedly 'studioised' by the likes of Cuttler, Quay, Reeman and Speare, which give it plenty of silly quirks and sampling diversions which add a touch of humour to an otherwise deliberately serious track.
The main chorus on this song sums up the whole point of the TAMAID exercise – 'Bombs Away, let's set our children free, from fear and sadness and poverty…'
Put the two songs together and you have a very original tape, for which everyone who took part can feel extremely proud of. The songs are lively and entertaining and they will bring a flood of memories back to all of those of us who were lucky enough to be involved with the project.
The tapes come in a specially designed sleeve (see above) instigated by Jed Moore and completed and printed by Edward ian Armchair. It looks superb, sounds superb and every penny raised from its sale will go towards the very deserving cause of the Quince Tree Special School.
So how do you get hold of one of the beauties? Well, TAMAID are producing just 100 copies of the tape at the special price of £1. As all the costs have already been met by musicians' contributions and money raised from the 'Battle of the Bands' it means that all the cash will be heading for charity so while you get your hands on this tremendous slice of Tamworth music at its best, you will also be helping people less fortunate than yourself.
Copies are available from me, Sam Holliday or by writing to TAMAID, 327 Masefield Driver, Leyfields, Tamworth, Staffs. Copies are limited and there will be no repressing so don't waste a minute. Help TAMAID by giving TAMAID.
*NB – cheques and postal orders should be made payable only to Tamworth Rock Festival Association.
Tamworth Herald – 11/09/87
Musicbox – SNIPS
The Expresso Bongo is set to re-open shortly as a 16-track studio. The whole complex has been completely improved and upgraded and owners Paul Speare and Phil Smith are hoping their newly-modernised studio will prove irresistible to loal and not-so-local bands.
Tamworth Herald – 24/08/90
Musicbox – Paul's 24 cheers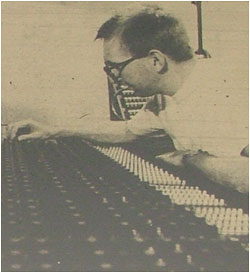 THE TAMWORTH music scene has been given a health shot in the arm this week with the opening of the Town's first ever 24 track recording studio.
The Expresso Bongo re-opened it's Lichfield Street doors at the end of last week to unveil the revamped 24-track studio which will increase the options and possibilities open to local musicians of all shapes, sizes and sounds.
The acquisition of that 24-track capability is the realisation of a dream for the studio owner Paul Speare who first opened his doors with a humble eight-tracker some five years ago.
"I always hope to increase the size of the studio in due course and I am just about on target," he said. "When we first opened a lot of people said there wasn't enough work to sustain a studio in Tamworth but we have proved them wrong and business is going very well indeed.
Paul Spear first let Expresso Bongo loose on the world in the summer of 1985. His first recording and his first introduction to the local scene – was the first TAMAID tape for local charity and since them he has worked with practically every local band worth their salt. Old favourites like the Dream factory and Breaking Point were regular visitors and in more recent years it has hosted all the best in Tamworth and Atherstone acts including Catch 23, Dance Stance, Bash Out The Odd and of course Wolfsbane. The Wolfies have spent a long time at the studio over the years including recording their debut single 'Clutching At Straws'.
"Working with Wolfsbane has really helped me," admitted Paul, "Whenever metal bands ring up from around the Midlands and ask who has worked with me I only have to say Wolfsbane and I can feel their interest level rise."
A lot of other people's interest will also now rise as a result of Paul's conversion from 16 to 24 track complex. He did it, he said to accommodate and attract bigger names but he is adamant that he doesn't want to scare anybody local away.
"The rate we will be charging for a 24 track is far, far lower than anyone else in or around the Birmingham area. New local bands should not be scared by the size of the studio now, they should see it as being able to bring the very best out of them, "Everyone should benefit from it and I am very excited to be working with the 24 tracks," he said.
The 24-track facility has been boosted with an 'auto-muting device' ('which is wonderful' enthuses Paul) and digital mastering ensuring your demo will sound better than ever.
"We should be able to do bigger and better acts now but we will still be able to look after all the local bands who have been so loyal over the years," said the former Dexys Midnight Runner.
The rate for the 24 track is £15 per hour weekdays – compared to around £25 on average in and around Birmingham – and for that Paul offers guaranteed quality and the usual relaxed and happy atmosphere that the Bongo provides.
"People seem to enjoy the spirit here. We work hard but try and enjoy ourselves as well and the amount of people that come back proves that we must be doing something right!"
If you would like to know more about this excellent studio Paul's number is (as ever) Tamworth 64600.