Tamworth Rock Festival : 1990 - Programme
Friday 13th July 1990 - Tamworth Arts Centre
Saturday 14th July 1990 - Tamworth Castle Grounds
Sunday 15th July 1989 - Tamworth Castle Grounds

Friday July 13 1990
Tamworth Arts Centre Indoor Party
Admission £1.50
Broken Dreams, Never Say Die, Vindaloo Breakfast, The Magnets, Eight Ball Joe

Saturday July 14 1990
Tamworth Castle Grounds
12 noon – 7pm. Admission free.
Sunday July 15 1990
Tamworth Castle Grounds
12 noon – 7pm. Admission free.

12.30 – What's This Heads Down Mindless Boogie About Nothing
01.00 - Sherbert Trees
01.30 – The Red Cardigans (formerly Flowers in the Attic)
02.00 – The Big Noise
02.30 – Chemikill
03.00 – Catch 23
03.30 – Kraze
04.00 – Bash Out The Odd
04.30 – Emma Gibbs Loves Badges
05.30 – Spiral Eye


12.30 – The Naked Touch
01.00 – Litany of Fear
01.30 – Cuddly Spiders
02.00 – Breaking Point
02.30 – Shock Culture
03.00 – Dance Stance
03.30 – Banned in Yellow
04.00 – The New Puritans
04.30 – Scream
05.00 – Wolfsbane

DJs: Buttercup; Bue; Rikk Quay
---
Tamworth Herald – 13/07/90
Musicbox – Tamworth Rocks!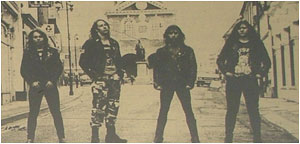 TAMWORTH's huge army of music fans will be out in force this weekend for their greatest event of the year – the annual Tamworth Rock Festival.
The event, which will take over the Castle Grounds for the whole of Saturday and Sunday kicks off with a special party at the Arts Centre tonight (Friday) ensuring a wonderful rocking weekend from start to finish.
Relative giants of the local music scene like Wolfsbane, Dance Stance, Catch 23 and Kraze will team up with new bands like Vindaloo Breakfast and Broken Dreams to make for three days packed with tingling quality.
As usual most attention will be focused on the Castle Grounds on Saturday and Sunday where no less that 20 local bands will parade their wares totally free of charge. The line-up is excellent, the atmosphere is unique and exciting and the spirit of the whole weekend should be exceptional.
So, who will you see, where will you see them and what time will they be on? Here is your MUSICBOX cut-out-and-keep guide to the weekend to come. Don't forget the Castle Grounds is totally and utterly FREE, refreshments and various stalls will be on the site and you might as well park yourself there for two long and happy days.
Your festival weekend looks like this…
FRIDAY NIGHT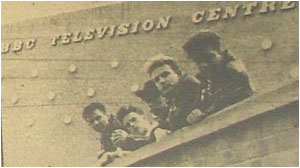 Tamworth Arts Centre
Vindaloo Breakfast/Broken Dreams/Eight Ball Joe/Never Say Die
The traditional pre-festival party night which costs a mere £1.50 and offers you the punter, four great bands and one great atmosphere. These nights have become know as real scene setters and have produced some cracking shows to boot and tonight should be no exception.
Eight Ball Joe are set to headline with their powerful brand of brash and moody, boozy rock and they will be joined by the silky guitar skills of Never Say Die, the brand new and as yet unheard Broken Dreams and one of the area's very best new bands Vindaloo Breakfast who turned in a killer show to grab the limelight at the indoor festival some months ago. Four fine bands all told and with the exciting festival programme (produced by messrs Revelle and Hynds) on sale for the first time, tonight is a night NOT to be missed. It runs from 7.30 onwards so be there. Entry is a ludicrous £1.50 a head at the Arts Centre.
SATURDAY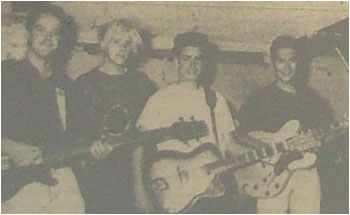 Tamworth Castle Grounds – Ten bands on offer – 12-7pm
And so we turn to the Castle Grounds. Ten great bands, one great price (nothing) and plenty of smiles. Our timings are approximate, bands should be on anything between 15 minutes before or after these printed times.
11am – Disco
Throughout the various gaps during the days you will have sounds galore from a variety of guest djs which could include Lee Revelle, Suicide Petch and the Juice MCs, Gary Byfield, Mark Hynds and more. It starts at 11am on Saturday.
12.30 – What's This Heads Down Mindless Boogie About Nothing
Your first festive sounds will arrive from this 'cult' group of alternative musos who look terrifying but are actually big soft teddy bears underneath. A hard and angry way to start.
1.00 – Sherbert Trees
Everyone's favourite sherbert dip, this crazy bunch of axe-wielding Indie boys have established a reputation for strong and memorable live sets. Saturday's set should show why.
1.30 – The Red Cardigans
The boys from Flowers in the Attic parade their angelic Bunneymen charms once again in this their outdoor debut. Straight from playing a gig on World Cup Final night this lot are certain to score a big hit.
2.00 - The Big Noise
A strong trio of cricketers this, and not a bad bunch of musicians either. Recently won the punters over in a National bands contest in Bradford and this will be their second successive attempt to win over the punters of the Castle Grounds.
2.30 – Chemikill
A very high profile position for this band of thrash eccentrics who are about as cuddly as a rottweiler covered in spikes. It's loud, it's brash, it's uncompromising and it will probably scare half of Tamworth to death.
3.00 – Catch 23
Atherstone's leading heart-throbs with the ability to write the cutest of pop toons. Not as regular visitors to Tamworth as they were, ensuring that ever gig is a treat for young, old and very, very old (Rikk Quay) ALWAYS interesting.
3.30 – Kraze
More metal mayhem from a band who are as traditional to the festival as raid and dodgy burgers. A newish line-up compared to previous festivals but the same combination of good looks, good sounds and good fun.
4.00 – Bash Out The Odd
A festival debut this one and potentially one of the very best sets of the weekend. Bash Out The Odd have a deserved reputation for slick and powerful sounds and this promises to be an eye-opening 20 minute session. One I am particularly looking forward to.
4.30 – Emma Gibbs Loves Badges
And yet more lovely pop music from a group of lovely pop musicians. The Gibbos don't play too often these days but as with good England performances when they do play well it lifts the spirits. Immensely watchable.
5.00 – Spiral Eye
Saturday's headliners – and how. One of the finest things to come out of Tamworth since the Robin Reliant and just as powerful. The look amazing, sound amazing and leave you amazed that they are not bigger than Jason, kylie and Bros put together. These boys can do no wrong whatsoever and anyone who suggests they can will be run over by their second-hand ambulance. Nuff said.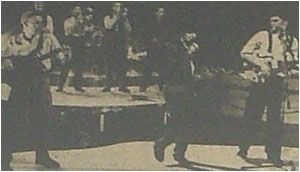 SUNDAY
Tamworth Castle Grounds – Ten bands on offer. 12-7pm
And so it begins again. Ten more great bands, dozens more great memories and lots to tuck into. Here's the guide but please bear in mind that times are approximate.
11am – Disco
12.30 – The Naked Touch
It is one of the oldest festival traditions that Michael J. Fleming opens the event on one of the days. 1990 continues this proud (?) tradition with some naked fun which should set the morning off to a nice start.
1.00 – Litany of Fear
A band with an excellent name and a plethora of admirers who look so hard as butter from the fridge and play from the heart. Powerful, endearing and leather-jacketed. Great gear.
1.30 – The Cuddly Spiders
Another r festival institution brings Uncle Norman and Auntie Piglet to our stages yet again. It might be the Blues but it is designed to lift the spirits and keep you grinning throughout.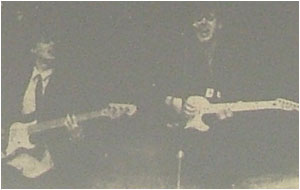 2.00 – Breaking Point
More Tamworth legends here in the shape of a band who once reduced me to tears with their power and melody. A lot of water has passed under the bridge since then but they always have the capacity to touch parts that other bands cannot reach.
2.30 – Shock Culture
A high profile appearance for one of the area's genuinely nicest bands. They make good solid Wonder-stuff kinda sounds which betray a host of excellent influences and this really could be a major show for them. One to impress methinks.
3.00 – Dance Stance
The eagerly-awaited return to the festival stage of one of the most highly-regarded outfits in the area's musical history. Not even meeting Bob Monkhouse has shaken this lot off the tracks and what they have is musicianship of the highest quality and soul down to their boots. They will go down a storm.
3.30 – Banned in Yellow
A contender for the best surprise of the year this lot, a band who have matured beyond belief and now represent one of the very best musical happenings in the Town. Stylish pop, well played, well presented and well sung. Terribly lovable.
4.00 – The New Puritans
Another mighty band (good day Sunday!) and one capable of slaying everybody. It's guitars, wicked lyrics, singable melodies and big smiles. It's as tasty as a huge Mars bar smothered in fresh cream.
4.30 – Scream
Scream? You probably will while seeing this lot because their powerful hybrid mixture of power goth and power metal will get your toes tapping from start to finish. The ideal band to keep the Wolfsbane hordes on their toes and a vital ingredient of Festival 90 in their own right.
5.00 – Wolfsbane
The kings return to their Tamworth throne. Just 24 hours after earning the best part of £2,000 in a festival in Cumbria, Wolfsbane will PAY their £24 to play at Tamworth as an indication of their love for this Town and it's music scene. If America and fame has changed them at all, it has actually made them nicer and even more committed and their appearance in the Castle Grounds again is an indication of their respect for what Tamworth has done for them. Music fame and music fortune is just around the corner for our boys and Sunday's epic finale to the Festival should show you all why. Get set to go 'LOCO!!'
Tamworth Herald – 20/07/90
Musicbox – Hot fest is Hot Stuff!
Musicbox Special on the Tamworth Rock Festival 1990
A WILD and crazy thunderstorm brought a dramatic finale to two hot and sweaty days at the Tamworth Rock Festival during the weekend.
The monsoon-like blitz stunned the hordes of festival-goers early on Sunday evening and brought a shock end to what had been the hottest festival the Town has yet experienced.
By 7pm on Sunday, most of the 1,200 or so festival fans were sunburnt to varying extremes and were totally unprepared for the avalanche that hit them right in the middle of a cracking set by headliners Wolfsbane.
It was as if the sheer power had split the cloud into bits and it resulted in the quickest exodus from the Castle Grounds since the Danes were sent scuttling home by Ethelfleda.
Still, rain apart Festival 90 will be remembered with affection by all who played it and all who watched it. The blazing ball of fire in the sky tended to dominate the whole weekend producing the biggest crowd yet and the most leisurely and relaxed atmosphere which left everyone calm, peaceful and sunburnt.
Among those who felt the sun and heard the noise was the Tamworth Mayor Coun. Ron Birbeck and the Mayoress Ann Birbeck who paid a full civic visit to the festival and admitted they were bowled over by what they saw.
"If you just went on appearances alone when you look at people you could get totally the wrong impression," explained the mayor. "But, as I walked around the crowd and talked to people I found them to be very friendly, very positive and very pleased to see the mayor at the event. The people I talked to were among the friendliest I have met," he said during the event.
This civic boost was one of many weekend smiles which began on the Friday night at Tamworth Arts Centre with a fundraising party. A huge crowd set the scene for Saturday and Sunday's record attendance as they piled in to enjoy the skills of four very different bands.
Broken Dreams kicked off the whole thing an impressive debut which offered great promise for the future while at the opposite extreme one of Tamworth's oldest acts Never Say Die produced comfortably their best set for many moons as they cranked it up high and produced some powerful metallic touches which surprised many of us. Headlining were Eight Ball Joe whose skilful manipulation of the audience was the result of some stylish guitar work and clever melodies but for me the highlight of the night was the splendid uplifting show by Vindaloo Breakfast who produced some classic slices of '77 and '78isms, complete with Mick Jones guitar licks, thundering rhythms and excellent guitar and vocal work. Truly one of Tamworth's greatest hopes this lot.
Once Friday was successfully dispatched all attention switched to the Castle Grounds again for the two days of sun, fun and sound. News that both Kraze and Banned in Yellow had both pulled out meant that there was no immediate rush to get things moving in the searing heat so the first band did not hit the stage until around 2pm – 90 minutes late. No-one seemed to mind however because the weather was already creating a very relaxed atmosphere. First up were What's This Heads Down who I am delighted to say, will soon be changing their name to the much more apt Vampire Circus. The Boogie men, rather like Litany of Fear on Sunday suffered a little bit because their stark, broody Sisters sound, is more suited to black rooms and dry ice than outside in the summer sun. In spite of that Duggie led the boys home well and perfectly warmed the crowd up for the rest of the day. The Sherbert Trees and The Red Cardigans were next up and both sadly failed to grab the audience's undiverted attention by fluffing around a bit too much on stage. Neither played as well as I know they can but they seemed happy enough with their lot and proved that they are almost as good onstage as they are on the footie field. The Big Noise took over next and also took a little while to get going. They showed a little more fire than of late however and by the time they reached a thundering version of 'Can't Help Myself' things were looking decidedly more promising. Sadly however rumour has it that the show has led to a split in the Big Noise ranks which means they can't have enjoyed themselves too much.
Chemikill hit the stage next and they were (by popular acclaim) one of the best bands to play the whole event. The Festival was crying out for something loud, heavy and obnoxious and Chemikill weighed in with all these ingredients and more to really wake up some of those who had succumbed to sunbathing. It was without doubt the best I have ever seen Chemikill and I am assured that the massive amount of bottles thrown at them was a perversely positive reaction. Well so they tell me! Catch 23 were next and they were joined on stage half way through by the Mayor who looked a little bit older than the Atherstonian teenagers he teamed up with! The Catch boys in truth never hit the heights we might have expected mainly because they simply couldn't live up to the sheer power and strength of splendid opener 'Stand Back'. The band tried hard to get the audience moving and 'I Wanted To' was pretty damn gorgeous but I can't help feeling this wasn't quite the joyous celebration I was hoping for.
Bash Out The Odd however were at the peak of their form and produced one of the three or four best sets of the whole weekend. The brass provided a welcome and powerful alternative to what had come before and the band were riveting to watch. Mark Brindley sand as well as I have heard him sing in a long while and it made me tingle to hear that classic old 'Memories' track again. Other Bashite material also impressed me and by the end of the set many of the musos I talked to felt we had seen the band of the day. I think it was a toss up with Spiral Eye myself but there was no doubt it was close.
Programme scribe Lee Revelle took his Emma Gibbs loves Badges troupe onto stage next and (bless their little cotton socks) they actually got people DANCING. From all around the Grounds young would-be Mancunians strode up to the stage and bopped around to some gently meandering dance pop which led to a feast of Happy Mondays comparisons and gave Tamworth audiences their first and only RAVE of the weekend.
The departure of Emma, led to the arrival of The Eye. We had all been looking forward to Spiral Eye and we are not to be disappointed.. These boys just look so at home in a Festival format that reading, Glastonbury and the like must be informed immediately. They handled the audience brilliantly and entertained them thoroughly with a killer set dominated for me by one new track and one old. The new track was a thumping, punchy rap-dance number which was made all the more visually and audibly absorbing by the remarkable appearance of Tamworth rap man 'Wordz' who left most of the audience open-mouthed in surprise. The old track that really hit me was that old fave of mine 'Uncertainty' which rather like good wine and good Stranglers records (sorry!) gets better with age. It was STUNNING, as was the set, as was the atmosphere of Tamworth Festival Day One.
Sunday swiftly followed Saturday (no shocks there) and a horde of sunburnt music fans headed for the Castle Grounds again for more heat and for more fun. It all started late again (no one minded a jot) and it began with The Naked Touch who were quite simply The Naked Touch. Sisterites Litany of Fear were next and were pretty damn frightening in their own gothic way but suffered in the same way as I mentioned above with Whats This. When Litany of Fear returned to the coffin it led to the altogether more traditional rock sounds of The Cuddly Spiders who proved to be a pleasant surprise for me in that this was a lot closer to Fleetwood Mac than the usual blues label I associate with them. It was listenable, watchable and popular with the biggest cheer reserved for Norman's annual 'hello Donington' cry. Breaking Point were next up and they to provided a surprise or two. They had clearly decided that the festival crowds wanted to hear oldies as well as newies and so we were treated (and treat it was) to a revived blast of the classic 'Guns of Ambergold' next to impressive newies like 'Go'. They seemed fresher than they had done at the Rathole some weeks ago and who knows maybe there's life in the old boys yet?
One of the newer breed – Shock Culture were next and there's certainly some life in them. They have matured amazingly over the past few months and they now have a fuller sound which is boosted by neat keyboard work and more driving guitars. Songwise they sounded better too and they certainly went down well proving that all the recent positive noises around them should be heard.
The brass men were back soon after. On Saturday, Bash Out The Odd had won over the audience with the help of brass and Dance Stance did exactly the same on Sunday. This was a much tighter and more disciplined show from the Dance troupe with the tracks having an extra edge than of late and as a result grabbing more respect and appreciation from the crowd. They finished in dramatic style and went down very well indeed. They looked pleased afterwards and deserved to do so.
One of the Holliday fave-raves The New Puritans were next to warm the cockles of our hearts and although they had a little problem trying to get the sound they wanted early on, when they got it they ROCKED. Those guitars were red-hot and the version of 'Fat Man' stands out for me as one of the songs of the weekend. They looked good, sounded good (in the end) and gave me a t-shirt. Three reasons to vote the New Puritans a HIT!
Scream Dream (yes they've added the Dream again) followed swiftly on and really were mega-powerful. They seem to have waved a final farewell to any hints of gothic influences and have now cruised straight down the Guns and Roses road with gay abandon. I've always liked these chaps and feel entirely comfortable with this cranked up sound which earned its usual festival adulation.
And so to the grand finale…Wolfsbane. The festival crowds had been looking forward to seeing them since, well last year's event, and they did not disappoint. Clearly buoyed up be their triumph at the Cumbria Metal Fest on Saturday, Wolfsbane were in absolutely wicked form and looked set to produce one of their killer sets to end all killer sets until the rain got in the way. Before it did however we were treated to a crop of the old 'Live Fast' collection faves and most excitingly of all two newies of classic status, the aptly titled 'Tough As Steel' and the sleazy style of 'Totally Nude' which was wickedly good. Musically all four members of the band were in dazzling form. Jeff and Steve never put a foot wrong and looked like they were having a ball, Blaze was magnetically watchable and sounded amazing but best of all was Jase the Ace who seems to get better by the day. He teases and cajoles his guitar into producing such delicious sounds that it made me want to rush home and grab my tennis racket again. Everything was pointing in the right direction until the lightening pointed at the stage. Steve The Roadie nearly exploded and the heavens opened. With the final crashing bat of .Manhunt' Wolfsbane left the stage and the Festival went out in memorable style.
It had been a weekend of fun, scorching heat and an incredible peace-loving atmosphere. Organisers of the likes of Neil Marklew, Den Byfield, Gaz Byfield, Alan Webster, Mike Fleming and Blaze Bayley deserve immense credit for getting the thing on and Tamworth deserves immense credit for being able to stage such a marvellous event once again.
Musically I don't honestly believe this was the best festival ever but the atmosphere and sunbathing it took some beating. As I sit here now with my face as red as the Russian flag, I look back on the weekend with pleasure. It was hot, it was (at the climax) very, very wet but at the end of the day I wouldn't have been anywhere else at the weekend.
The Tamworth Rock Festival remains a jewel in the Town's entertainment crown. Long may it stay that way.