Tamworth Rock Festival : 1988 : The Album
Tamworth Herald - 01/07/88
Musicbox – Oh Boy. What a terrific tape!
Tamworth Festival Album Verdict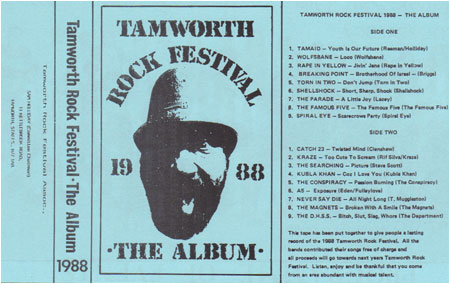 THE TAMWORTH Rock Festival Album is released this weekend. The special 18-track tape features all the area's best bands and is designed as the perfect accompaniment to the festival itself, which is now just a couple of weeks away. Here MUSICBOX writers Sam Holliday and Martin Warrilow give their verdict on the songs on offer. If you want a tape they cost £2.50 and will be available at the festival or by writing to Tamworth Festival Tape…
TAMAID – Youth Is Our Future
SH: A great opener, but then again I'm biased about this one. A corking tune (bring back Terroah!) and some very strange varied vocals. Yep, like this one.
MW: Sam Holliday's finest hour, what more is there to say? The charts should be full of stuff like this.
WOLFSBANE – loco
SH: Terrific fun which seems almost as fast as the live version. Positively rattles along and sounds more like glorious punk than heavy metal to me.
MW: High speed thrash metal of the very highest quality from the masters, not just locally but nationally. Great churning riffs and a shout-along chorus; marvellous.
RAPE IN YELLOW – Jivin' Jane
SH: One of the most underated bands around basically because they find it hard to translate their sound 'live' This shows their real quality and sounds like Beatles circa '68.
MW: "Quirky" is the word I'm looking for. Better on tape than live and most enjoyable.
BREAKING POINT – Brotherhood
SH: One of the band's acknowledged classics which works even better now its length has been trimmed. Excellent stuff even if Kevin Briggs does sound about 14-years-old vocal wise.
MW: The first Tamworth band I ever saw, which makes me biased, I think. Raw stripped down power and another great chorus. Daydo's bass could be a bit higher in the mix though.
TORN IN TWO – Don't Jump
SH: This will prove quite a surprise for most people I think. Anything that involves Mike Fleming is normally rock-based but this is a very chirpy pop song. A pleasant surprise.
MW: Surprising is definitely the word. Intelligent pop with a nice strong lead vocal which reminds me of somebody, but I can't think who. Good stuff.
SHELLSHOCK – Short, Sharp, Shock
SH: Frantic slice of metal mayhem which sounds very mush like Wolfsbane to me. Anyone would think Shellshock's drummer was related to Wolfsbane's guitarist listening to this…
MW: Indeed, Wolfsbane's crazed offspring in more ways than one. Another one that sounds better on tape. Frantic, fast and fun.
THE PARADE – A Little Joy
SH: My admiration for The Parade is well-known and this tune should show why. The verse, chorus and melody are skilful and original. Tasty, tasty, very, very tasty.
MW: Try as they might, The Parade still end up sounding like Secret Affair. That doesn't mean this is anything less than a damn good commercial pop song though. Nice one, Brian.
THE FAMOUS FIVE – The Famous Five
SH: We are trying to keep the identities of this band secret but it should be pretty obvious when you hear it. Let's just say its very sexy indeed.
MW: A female lead vocal baths this fine tune with class. Top-grade pop, and you wouldn't expect anything less from the folks involved.
SPIRAL EYE – Scarecrow's Party
SH: The one we all started off saying 'what the hell' and all ended up whistling. A hypnotic oddity which proves Barry Fox is a total psychopath. Bizarre.
MW: Very, very, very, very odd. I actually quite like Spiral Eye at times, but this isn't one of them. Strange, experimental, echo-ridden and totally lunatic.
CATCH 23 – Twisted Mind
SH: We all love this one. It shows Ray Clenshaw at his grittiest songwriting wise, and is a track that proves Catch 23 are a pogo band first and a dance band second. Wonderful.
MW: Quintessential Catch 23. Young Steven Webster is on top form, the organ sound is quite wonderful and the whole thing is quality.
KRAZE – Too Cute To Scream
SH: Classy band this destined to go a very long way. A well constructed track which is cleverly sung and infectious. In danger of making heavy metal likeable.
MW: Asking me to comment on this is like asking Sam for a Stranglers review. Explosive metal from a band destined to go far. Why didn't they do 'Dance Till Dawn' though?
THE SEARCHING – Picture
SH: A lot of people will sit up and take notice of The Searching when they hear this. It is pure Roxy Music from that pre-cocktail sleaze period and it's very good indeed.
MW: Makes you understand why they are big in Birmingham. A gorgeous sax sound and a nice swirling vocal. The sort of song that should make you want to see them live.
KUBLA KHAN – Coz I Love You
SH: Votes in the studio when we put the tape together as the surprise 'hit' of the tape. Very catchy tune, very smart song and a very useful contribution. I like the word 'very'.
W: I keep finding myself singing this. Kubla Khan do their reputations no harm at all with this intelligent metal-pop. Another dashed good tune.
THE CONSPIRACY – Passions Burning
SH: I liked this the very first time I heard it and my opinion hasn't altered. T's got real fire and quality and is one of the best dance tracks on the tape.
MW: Should make the world realise how god this band can be. Driving power pop with a lovely lead guitar line. Lisa's good too!
A5 – Exposure
SH: Totally wicked guitar playing on view here and a typically original piece from the band. One of the area's most prolific and consistent acts.
MW: A riff that walked straight off the last U2 album leads into a surprisingly good tune. Liked the backing vocals too.
NEVER SAY DIE – All Night Long
SH: As reviewed in this very page last week, a languid, stylish piece with a Whitesnake sound to me. So you agree with me Martin?
MW: No difference that a massive LA production job wouldn't solve. Whitesnake/Rainbow styled metal from the veteran rockers.
THE MAGNETS – Broken With A Smile
SH: Paul Spear thinks this one's brilliant because it provides a real contrast. It is the Magnets at their most peaceful and melodic and it brings back memories.
MW: Now this is what I'd call languid. Moody, peaceful and just sets you in the right frame of mind for the next track(?)
DHSS – Bitch, Slut, Slag, Whore
SH: Don't let your granny anywhere near this one. Splendid track with a 3,000mph speed and a hugely loveable tune. I hate to say it but it's brilliant.
MW: Totally, magnificently awe-inspiringly tasteless from some of the nicest people in the business. More stuff like this and I may be forced to admit that Rikk Quay is a star. Gives the tape the most shocking ending since "Fatal Attraction".
THE OVERALL VERDICT…
SH: There is genuinely not a bad track on it. We can all be very proud of this tape and we should all have a copy. Crucial
MW: I never cease to be amazed at the sheer volume of musical talent in the Tamworth/Atherstone area. Like the man says, there isn't one duff gtrack on this. At a mere £2.50 for 18 bands, it's cheap at twice the price, buy it and be proud to be part of a scene that most other Town's would die for.
N.B. All the bands in the festival were given the opportunity to be on the tape – those missing chose to be that way.
Tamworth Rock Festival – July 15/16/17 2008
Tamworth Herald - 08/07/88
Musicbox – Festival Fever Strikes
Excitement for next week's Tamworth Rock Festival has now reached fever pitch.
The event brought forward from its traditional August Bank Holiday time, takes place on Friday, Saturday and Sunday next week and looks set to be the best festival yet.
Tasty
Twenty two bands will be on view over the weekend from the legendary (Wolfsbane) to the little-known (The Green Swings) all united in one aim – to give Tamworth youngsters their best weekend of the year.
In case you've been on the moon and need refreshing here is a taster of what to expect from a very tasty weekend.
Friday, July 15 (a week tonight)
The Festival has its traditional Arts Centre party night featuring four very contrasting bands – The Jim Crows Blues Company, The Magnets, The Green Swings and The Parade – plus possibly on or two surprises. Entry here is just £1 and you will have your first opportunity to get your hands on festival programmes, T-shirts, badges and even musicians who will be out in force! Tamworth Rock Festival Albums will also be on sale.
Saturday July 16
The Castle Grounds will awake to the sound of pure R.O.C.K. for no less than eight hours. In the usual site (in front of the tennis courts) the music will begin at around 11am and continue unabated until the early hours of the evening. As well as great bands (Wolfsbane, DHSS, Conspiracy for example) there will be one or two surprises, loads of thumping disco sounds, videos, side-shows, food, programmes, T-shirts, albums etc, etc, etc. to leave you on a permanent high. It will be some occasion and what's even better is that it is just a few hours until…
Sunday, July 17
Yes, there's more! Sunday throws up ten more cracking bands including the likes of Catch 23, Fetch Eddie, Kraze and Breaking Point for another eight hours of rock and roll fun. As with the previous day the main event will be up on stage but don't be surprised to see strange people wandering around making videos, selling paraphernalia or generally doing odd things. It will be a fun day and the climax of a fun weekend.
Meeting
Before all this takes place ALL the bands and committee people are called to a full, final meeting at the Tavern in the Town on Sunday night. It will start at 7.30pm to give everyone a chance to go on to the Arts Centre, and it will be your last chance to sort out with other groups about shared equipment etc. it will also be a chance to pick up festival albums and t-shirts and as a warning, they are going FAST.
Tamworth Herald Midweek Extra – 13/07/88
Rock kings all set to dazzle…
Tamworth's most famous rock band, Wolfsbane, are the centre-piece attraction of this weekend's eagerly awaited Castle Grounds Rock Festival.
The event promises to be a triumph for all the groups involved – but especially heavy metal men Wolfsbane who are expected to draw hundreds of fans from all over the country.
Twenty-two bands will take part in the Tamworth rock festival, regarded as the biggest of its kind in the Midlands this year.
Warm-up
The Festival kicks-off at the warm-up night at Tamworth Arts Centre on Friday, July 15.
Saturday, July 16 takes the event to the Castle Grounds and features the main attraction in the form of the highly-acclaimed Wolfsbane.
The concert will be one of their last British shows, as they have just secured an eight-album deal with a major American Record Label, and they will fly off to LA shortly to record their first LP.
Sunday's highlights include Catch 23 who recently came third in the national final of the TSN Rockschool contest and Young People's Arts Festival winners Scream Dream.
All the bands will play free of charge in the Tamworth Castle grounds during the weekend.
Festival chairman Sam Holliday says: "This year's festival promises to be the best ever and people from all over the Midlands will be able to see just how strong the Tamworth music scene has become."
Limited
A special 18-track tape has been released featuring a hot of the bands in the festival. It will be a limited edition making it a collectors item.