Tamworth Rock Festival : 1986 - Programme
Friday August 22nd and Saturday August 23rd 1986 - Tamworth Arts Centre
Sunday August 24th and Monday August 25th 1986 - Tamworth Castle Pleasure Grounds
Friday 22nd August 1986
Tamworth Arts Centre
Saturday 23rd August 1986
Tamworth Arts Centre

Shellshock
Kara
Wolfsbane

13th Reunion
Love On Board
Breaking Point

Sunday 24th August 1986
Castle Grounds
Monday 25th August 1986
Castle Grounds

Freefall
Attica
Shellshock
Soil Brothers
One On One
Kara
XPD
Catch 23
The Magnets

Burnin' Sky
Beyond Elysium
Cuddly Spiders
Breaking Point
Dance Stance
Wolfsbane
Depth Charge
Orange
The Royal Family

DJs: Phil Ball, Buttercup, Bue, Debbie Witty, Mighty Midge
---
August 24th 1986 - click on the thumbnail images to play the video clips.
By kind permission of: Andy Malkin
Tamworth Herald – 22/08/86
Musicbox – Here's the fabulous festival line-up
TAMWORTH'S fourth annual Bank holiday rock festival blazes into action this weekend and promises to be the biggest and best the Town has ever seen.
Eighteen bands will take to the Castle Grounds stage on Sunday and Monday offering a varied and exciting package of local talent.
And, to give the festival the best possible start, Tamworth Arts Centre will tonight (Friday) and tomorrow stage two festival party nights featuring among others Wolfsbane, Breaking Point and a one-off show from Love On Board.
All in all it looks like being a festival to remember and here in full details is what is happening where and when.
Tonight
The festival starts with an Arts Centre triple bill featuring three bands from the heavier side of life. New boys Shellshock will join up with not-so-new boys Kara and positively-old boys Wolfsbane for a sparkling three band show. As with last years, the Arts Centre pre-festival nights are designed to be party-style events and everyone petting into the spirit (and spirits) of the weekend. It starts at 8pm costs 50p and should be excellent.
Saturday
ANOTHER enticing triple bill will especially interest people of an alternative (sic) persuasion. Breaking Point, who hope to have their debut single out this week, will headline the show and in support will be two unusual acts. First is 13th Reunion featuring the immortal Gerald on bass and second is Love On Board making a special one-off comeback gig to join in the party atmosphere. It adds up to a superb bill which marks the debut show for 13th Reunion, and once again is a meagre – nay, measly! – 50p
Sunday
AND SO to the main event. Two days of exciting, varied rock music in the Castle Grounds. Once again the stage will be set up in front of the tennis courts at the far end of the Castle Grounds, and as with the past couple of years, it will cost you nothing to watch. Here is a quick one-line description of all the bands on show and their (approximate) appearance times…
Heavy
Freefall (12.20) A Coventry heavy band (that's all I know!)
Attica (1.05) Powerful bass-driven combo who crimp their hair and slice their guitars.
Shellshock (1.40) Young lusty metal sound, who smile a lot.
Soil Brothers (2.15) Skiffle-style pop played with coconuts, cardboard and oodles of enthusiasm.
One On One (2.50) Nose-perfect rock music played by soon-to-be superstars.
Noise
Kara (3.25) loud Americanised noises played by local Anglicised noise-makers.
XPD (4.00) Stylish alternative pop music, which cab be summed up as 'ego-shock' rock.
Catch 23 (4.35) Pure-punk-period pop music with panache, power and passion.
The Magnets (5.10) Modern synthesised pop music played by modern synthesised pop people.
Monday
ONCE MORE the Castle Grounds plays host to nine more varied outfits who line up like this.
Burnin' Sky (12.30) Coleshill-based r 'n' b band who revel in the smoky, sleazy way of life.
Beyond Elysium (1.05) Dark sombre sounds with a modern appeal and feel.
Funky
Cuddly Spiders (1.40) Laid-back harmless flares rock.
Breaking Point (2.15) Passion-packed soaring, roaring rock music.
Dance Stance (2.50) Tight, funky nouveau-pop with a burning soul.
Wolfsbane (3.25) Gentle, middle of the road folk band made up of four charmingly polite young boys. A mud afternoon break from all this rock nonsense.
Depth Charge (4.00) Cuddly rock and roll pirates bursting with good times.
Orange (4.35) Deceptively light pop music with a telling edge. Bright, breezy, orangey.
The Royal Family (5.10) regal r 'n' b with guaranteed dance-ability and toe-tapping tendencies.
Tamworth Herald – 22/08/86
Musicbox – Finally…it's all eyes on the Rathole
ON MONDAY night all attention switches to the 'Rathole' where alternative DJ Paul Clements will serve up a post festival disco party night in aid of 'Children in Need'.
This will continue jumping until 2am and should give the festival a perfect ending.
So put it all together and you have four days of pure rock and roll self-indulgence. Four days to eat, drink and breathe rock music, four days to enjoy immensely and four days that simply cannot be missed.
Over the next two night the Arts Centre will be packed to bursting with people and then hopefully all days Sunday and Monday the Castle Grounds will be alive with colour, atmosphere and wall-to-wall music.
The Castle Grounds concerts start at 11.30 with a disco, courtesy of Buttercup, Booey, Debbie Whitty et al, and with all these attractions, it adds up to a might 25 hours of music over the weekend.
How can you POSSIBLY miss it?
Tamworth Herald – 29/08/86
Festival fever that just refused to give in to the rain
ROCK-SOLID SUCCESS!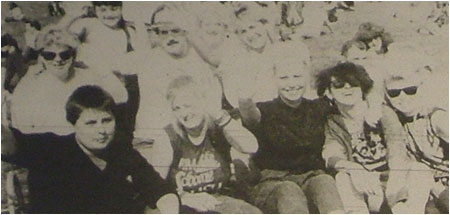 Caption: Isn't it fun when the sun is shining and the music is flowing? This happy bunch obviously thinks so as they rock to Sunday's sounds in the crowded Castle Grounds.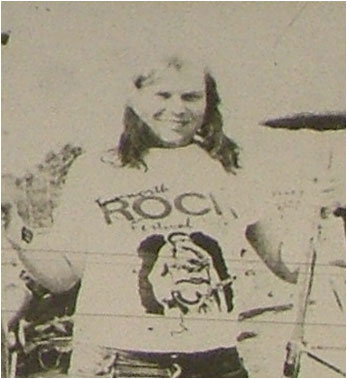 Caption: Mike Fleming resplendent in rock festival T-shirt gets ready for action with Cuddly Spiders.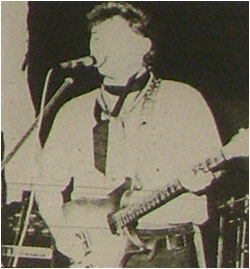 Caption: Kevin Briggs of Breaking Point…a powerful set in the hastily-arranged setting of the Rathole.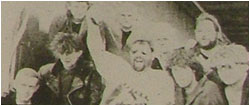 Caption: What are we going to do now? The Festival Committee members chew over the problem before their lifesaving trip to the lavatory.
TAMWORH'S third annual Bank Holiday Rock Festival was dramatically saved on Monday afternoon – thanks to an impromptu trip to the men's toilets!! For with rain threatening to turn the festival into a joyless wash-out an emergency meeting was held by the concert organisers in the main toilet block in the Castle Grounds.
There, the organisers decided the 'show must go on', so the whole festival was moved lock, stock and amplifier to the Rathole.
Within two hours, the festival was rocking again and until12 o'clock on Monday night, music filled the Rathole and gave the whole four day event a triumphant conclusion.
Afterwards, enthusiastic organisers were describing the festival as the best ever – mainly because it had managed to leap over more hurdles this year that it has had to do for the past two put together.
None of the problems could have been envisaged at 8 o'clock on Friday night when the Festival began in earnest in the Arts Centre. Shellshock, Kara and Wolfsbane all turned is useful sets to widely-differing responses – which summed up the reaction to the three bands at Saturday's second Arts Centre party night.
Bizarre
The absolutely bizarre 13th Reunion (who boast the world's most awful drummer but one of the world's coolest singers) opened the proceedings. Love On Board turned in a nostalgia-packed, much-acclaimed set and the Breaking Point played a long, powerful set sadly ignored by most of the audience.
During the night, a host of festival organisers ran around the town giving out last minute hand-outs about the Castle Grounds event to follow – and judging by the turnout the following day, it worked.
Sunday's turn-out was the best ever for the first day of the festival. In the rather surprising sunshine people poured into the Castle Grounds until the peak at around 3-4pm when upwards of 1,000 people were watching. As an indication all 250 programmes – which were meant to last the two days – had been sold by 3 o'clock on the first day, raising £60 for Children in Need.
Musically, every band turned in good, strong sets with a particular mention going to The Soil Brothers, who started their show without two of their members.
XPD lived up to all the outrageous hype with a literally electrifying set. Attica showed they have the best bassist in the area in Pete Wright. Kara produced a fiery rock set. Catch 23 earned the acclaim of almost everyone with their hi-energy sounds.
…One On One…Shellshock o belated but entertaining Magnets…
The rain hit the Castle Grounds at about 12 o'clock and stayed there until everyone involved in the festival was tucked up in bed. With a quite barmy hardcore set of people waiting in the rain to watch…Beyond Elysium… went through their sets before organisers said enough is enough.
Acting on a suggestion by Tamworth's Alternative Mayor Clifford Chipman and Manhattan owner Clive Bartram it was decided to move everything to the Rathole.
The hardier musicians stayed to dismantle the huge PA stacks and take them into town, and by 5.30pm the first band was raring to go.
The atmosphere in the Rathole was electric as Wolfsbane hit the stage and turned in what I thought was their greatest-ever set. They were simply magical.
Dynamite
After them came Cuddly Spider chaps and chapesses and then Dance Stance who were in dynamic form. The enthusiastic reaction they received seemed to surprise even them, but it just convinced even more that they are firmly on the path to greatness.
Depth Charge then turned in what is sadly their last set in their present line-up. Orange followed with a harder, stronger sound than they have previously mustered and then came the ultimate climax – the Royal Family. By now the onstage musicians were the only ones sober, creating an atmosphere that is quite indescribable. People danced, pogoed and leapt around wildly before the festival committee were called onstage to join in a blistering version of "Anarchy In the UK" which almost literally brought the house down.
And then it was all over. All the problems of insurance, staging and bands splitting up were left behind. The rain had been snubbed with contempt and to the eternal credit of everyone involved, not one band missed their set.
Put everything together and you have a week-end that will probably never be forgotten by those close to it. It was a triumph all round which produced real heoes (Denis Byfield, Rikk Quay, Ian Gibbons and Phil Ball), to mention but four and no villains.
There was no trouble, no bitterness and no disappointment. Rock and Roll had won again.